New Age Islam News Bureau
24 Dec 2012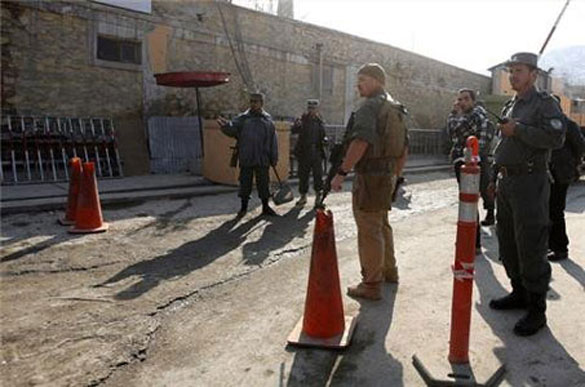 • Saudi Women Add Divorce to List of Smoking Dangers
• Providing Education and Options to Sex Workers in Indonesia
• Four Women Elected To Municipal Council in Oman
• An 'Awareness Walk' Seeks Workplace Conducive To Women
• Minor Girl Raped In Pakistan by Her Close Relative
• Wife of Malaysian Terror Suspect Faces Charge
• Afghan Policewoman Kills US Security Adviser
• Former Movie Star of Bangladesh Encouraging Women in Politics
• Indian Institute of Management-Ahmedabad likes Facebook girls' comments
• Man, In Pakistan, Angry With Wife Targets In-Laws, Kills One
• Threatened With Dire Consequences, Girl Commits Suicide
• Pakistani Woman Loses Appeal in Dubai, Will Serve 15 Years in Jail
• Policeman's Wife Appeals to File Murder Case with Court against OC
Compiled by New Age Islam News Bureau
Photo: Afghan policewoman kills US adviser
URL: https://newageislam.com/islam-women-feminism/woman-slaughters-six-year-old/d/9782
------------
Woman Slaughters Six-Year-Old Daughter after Spiritual Instructions in Her Dream
December 24, 2012
KARACHI - A mentally-sick woman slaughtered her six-year-old daughter and burnt her body at her house in Landhi area on Sunday.
The victim was identified as six-year-old Aroosh. Amber's husband Aamir, a worker at a garments shop, told police officials that his spouse was mentally sick. She recently came back home after remaining under treatment at a hospital for a month. Hamid was not available at the house at the time of the incident. Police have arrested the woman and recovered the knife used in slaughtering the child.
SHO Khalid Nadeem Baig, while quoting the accused woman, said she did it when she got some kind of spiritual instructions in her dream.
The victim was a nursery class student. Her two brothers were also present at the house, but they remained safe.
The victim's body was taken to the Jinnah Postgraduate Medical Centre for autopsy.
http://www.nation.com.pk/pakistan-news-newspaper-daily-english-online/national/24-Dec-2012/woman-slaughters-six-year-old-daughter
------------
Saudi Women Add Divorce to List of Smoking Dangers
By Habib Toumi
December 24, 2012
Manama: Saudi women have added divorce to the risks and dangers associated with smoking, court data have indicated.
According to a report published on Monday in Saudi Arabia, more than 100 women in the Western city of Madinah have filed for divorce after their husbands refused or were unable to quit smoking.
"Courts in other cities in Saudi Arabia have also accepted cases filed by unhappy wives who wanted a divorce over the issue of smoking," Okaz daily said. "Attempts by reconciliation committees to keep the spouses have failed to convince the wives who insisted on smoke-free husbands. The issue is now being addressed before the wedding and several young women in Madinah have rejected marriage proposals from men who smoked," the daily said, citing a report on the status of smoking-related divorces.
The report was prepared based on studies and research on the effects of smoking on marital relations.
The daily said that around 40 per cent of Saudi university graduates flatly rejected to marry husbands who smoked.
The young women attributed their uncompromising decision not to "marry themselves into a smoking home" to health concerns about themselves, their future husbands and their future children.
A Saudi judge in summer ruled that women who suffered as a result of their husbands' smoking were allowed to file for divorce.
In October, Saudi judges set a new trend in the country by using cigarette smoking as a factor in child custody cases.
"A parent could now lose the custody case if he or she is proven to be a smoker," a legal official said.
"Under the emerging trend, the smoking factor is now being treated like the drinking factor and can decide the outcome of the custody case," he said.
The court would favour non-smoking parents and would factor smoking into custody cases to protect the child from the negative impact of passive smoking.
A top Saudi football team in August imposed heavy financial penalties on a group of players caught smoking shisha in a coffee shop in Abu Dhabi, where the squad was taking part in a friendly tournament.
According to official figures, Saudi Arabia is home to six million smokers, including around 800,000 teenagers, mainly intermediate and high school students, and 600,000 women.
However, expatriates also account for a significant proportion of cigarette consumption in Saudi Arabia despite the increase in awareness campaigns about health risks related to smoking and passive smoking and the adoption of several legislative restrictions.
http://gulfnews.com/news/gulf/saudi-arabia/saudi-women-add-divorce-to-list-of-smoking-dangers-1.1123015
------------
Providing Education and Options to Sex Workers in Indonesia
Zack Petersen
December 24, 2012
In Indonesia, the sex trade is a wink-and-nod industry — everyone acknowledges its existence, but refuses to talk about it openly. One group fighting a lonely battle to change all that is P3M, an independent organization based in Medan, North Sumatra.
P3M stands for Perempuan Peduli Pedila Medan, or Women Who Care For Medan's Female Sex Workers. The group was established to encourage women, who join the sex trade usually from a lack of education and options, to free themselves.
The grassroots program was started in April 2012 by two former sex workers and a former drug user. Volunteers there not only teach women and men about condoms, sexually transmitted diseases and HIV/AIDS, but also offer a way out of the city's massage parlors, hotels, bath houses and brothels. Free tutorial classes open up alternative career paths, such as hairdressing, sewing and cooking.
The organization, which has touched the lives of more than 400 women in Medan, was established by and for women trapped in a life of prostitution. Those who managed to break free have now dedicated their lives to helping others find a way out.
"In Medan there is a great deal of prostitution around town, with more than 50 hotspots with high rates of concentrated prostitution," said Wilda R. Wakkary, a former sex worker and one of the founders of P3M. "The women all range in age. Unsurprisingly, women in the poorest areas tend to be less concerned about how important it is to take precautions while having sex."
The workers at P3M do not narrow their eyes at the idea of the world's oldest trade, or ignore rumors that there are girls as young as 14 working on the streets in Medan. Instead of pretending that the organization can eliminate prostitution, volunteers and staff members use love and empowerment to encourage women to take a leap of faith and break free from Medan's sex industry.
Volunteers not only teach much-needed English and life skills classes throughout the week, they also readily take to the streets at night, ducking into narrow alleyways or simply showing up at prostitution hotspots in the North Sumatra capital to show women how to use condoms and encouraging them to come to free English classes or take internships as hairdressers, cooks, seamstresses or small-business owners.
Amber Pryor, an American living in Medan, has gone beyond traditional volunteering and fund-raising efforts and taken to the Internet to help shine a light on P3M and the sex trade in Medan.
Pryor created a website and a crowd-funding site that is almost midway toward its goal of raising $2,000 to help build a halfway house for the sex workers.
Pryor also hits the streets with other volunteers, handing out condoms and explaining the dangers of unprotected sex. And while some people get upset about the idea of handing out condoms and talking openly about sex, Pryor says she has never encountered anyone who disagreed with what P3M was doing.
"The times I have gone out with P3M at night, I never seen anyone get upset or anything negative really happen," Pryor said. "It's actually the opposite, people get really excited about it and want to learn about how to protect themselves. The lack of knowledge about condoms, HIV/AIDS, and STDs is unbelievable, and P3M provides them with this life-saving education. I think the prostitutes all recognize this and are thankful to P3M for caring about their lives and empowering them."
Wilda, who serves as the coordinator and linchpin of most P3M activities, explained that the reason the organization P3M has such success is that 99 percent of women the organization has come into contact with want to leave that lifestyle.
Wilda went on to say that P3M is currently trying to focus on building a home base, a house where volunteers can come and train the women in any number of skills.
The Indonesian government has also taken a strong stance against the AIDS epidemic, and is committed to helping educate and protect its citizens. Health Minister Nafsiah Mboi explained earlier this month at an event marking World AIDS Day that next year her ministry would distribute 10 million condoms to commercial sex workers.
But no matter how many condoms are handed out, if there is no support system in place and no volunteers taking to the streets to educate women about STDs, HIV/AIDS and alternatives to the sex-trade industry, prostitution will continue to run rampant.
"P3M offers Medanese the opportunity to truly fight evil in a very real way. Every day they pull those who are in darkness toward the light," said Jason Baerhold, a supporter, who teaches English in Medan.
"These are people who do not simply shake their head and 'tut, tut' at the hidden evil in the world. These are the shining souls who get up every morning and seek out the places of the deepest suffering. They face the blackest evil every day. Not for money or fame, but because someone has to do something."
P3M (Perempuan Peduli Pedila Medan)
http://www.thejakartaglobe.com/home/providing-education-and-options-to-medans-sex-workers/563188
--------------
Four women Elected to Municipal Council in Oman
By Sunil K. Vaidya
December 23, 2012
Muscat: Four women were elected to Oman's Municipal Councils even as several others failed to get a single vote in the first ever municipal elections held in the Sultanate on Saturday.
"We are happy that women are elected and wish them success in their endeavour to justify voters' faith in them," Khalid Bin Hilal Bin Saud Al Busaidi, Undersecretary at the Interior Ministry, said during a media briefing on Sunday afternoon.
"Awesome," Shaima Bint Ali Bin Ebrahim Al Raisi told Gulf News when asked about her feelings after winning a seat from Baushar constituency with the most number of votes (346) in a field of more than 30 candidates.
"I haven't contested the elections for privileges but as a duty, to serve people," pointed out the entrepreneur, who has decided to donate her salary as municipal councillor to a charity. "I have decided to give all my salary to Al Nida Charity that works for the community in Baushar," she said.
The multi-tasking mother and businesswomen stressed that she won't have any problems in handling her new responsibilities as a councillor. "I started with one store, expanded it to three and now I have entered into new enterprises while handling my three children and family well," she said.
The double bachelor and a master degree holder would particularly like to work for underprivileged people in her area. "Rather than a beautiful park in the area, I would like to make decent dwellings for the people of Baushar," said the enterprising Omani woman, who is in her thirties but refused to say how old.
"Serving my [Baushar] community would be my top priority," she insisted.
Mahmoud Bin Abdul Qadir Bin Mirhadi Al Shahwarei, who polled the most number (1,099) of votes from Muttrah province also expressed similar views. "Serving my wilayat [province] and taking their problem and needs to the government would be the top task for me as the newly elected councillor," he told Gulf News.
After an enthusiastic start to voting in the morning, the trend slowed down in the afternoon and only 25 per cent of the votes were cast from 16,116 eligible voters in Muttrah. "I think it should be acceptable as this was the first time people were voting for the municipal council elections," Al Shahwarei said.
He hoped that like in Shura elections, the voting percentage would go up next time.
"About 50.3 per cent of the 447,557 registered voters cast their suffrage," Al Busaidi told media.
He also felt that since this was the first time Omani citizens were voting for the municipal council elections, the percentage was acceptable although it was far below the 76 per cent registered during last year's Majlis Al Shura, the Consultative Council, elections.
He revealed that three women from Muscat Governorate — Baushar, Amerat and Quriyat — secured seats in the Municipal Council while one woman from Khaboura was third among four winners.
Al Raisi (Baushar), Sana Bint Hilal Bin Salem Al Mashariyah (Amerat), Fatima Bint Nasser Bin Saeed Al Sinaniyah (Quriyat) and Mozah Bint Abdullah Bin Mohammad (Khaboura) are the four women who were successful in the municipal council elections.
Al Busaidi also revealed that 61.3 per cent voters were men but at three centres in Muscat three women candidates polled the most number of votes.
In reply to a question he denied that there was any unjustified disqualification of candidates. "We have specified conditions and if a candidate doesn't fulfil those criteria then the committee may reject their nomination," he said, stressing that transparency was maintained in all aspects of the first-time municipal council poll.
Several candidates in different provinces failed to get a single vote.
http://gulfnews.com/news/gulf/oman/four-women-elected-to-municipal-council-in-oman-1.1122759
------------
An 'Awareness Walk' Seeks Workplace Conducive To Women
Minor Girl Raped In Pakistan By Her Close Relative
December 24, 2012
Rawalpindi: A six-year-old girl was allegedly raped by her close relative at Dhoke Kala Khan, police said on Sunday.
Raja Aftab, a resident of Dhoke Kala Khan, lodged a complaint with the Sadiqabad Police Station saying that his sister took his six-year-old daughter to her house in the same locality to spend winter holidays with her a couple of days back. However, the next morning she sent his daughter back, saying that she suffered with fever the previous night.
The complainant said that his wife took her to the Benazir Bhutto Hospital when she felt severe pain, where doctors disclosed that she was raped. He said that his brother-in-law, Rashid Habib, was a taxi driver, alleging that he raped his minor daughter.
The Sadiqabad Police, when contacted, told this correspondent that the incident took place three days back. According to police, the accused tried to settle the issue but the girl's father refused to succumb any pressure from relatives and decided to take the case to the police station. Police said that a case has been registered under Section 376 of the PPC after the medical report confirmed rape and arrested the accused.
http://www.thenews.com.pk/Todays-News-6-150128-Minor-girl-raped-at-Dhoke-Kala-Khan
------------
Minor Girl Raped In Pakistan by Her Close Relative
December 24, 2012
Rawalpindi: A six-year-old girl was allegedly raped by her close relative at Dhoke Kala Khan,
police said on Sunday.
Raja Aftab, a resident of Dhoke Kala Khan, lodged a complaint with the Sadiqabad Police
Station saying that his sister took his six-year-old daughter to her house in the same locality
to spend winter holidays with her a couple of days back. However, the next morning she sent
his daughter back, saying that she suffered with fever the previous night.
Full report at:
http://www.thenews.com.pk/Todays-News-6-150128-Minor-girl-raped-at-Dhoke-Kala-Khan
------------
Wife of Malaysian Terror Suspect Faces Charge
December 23 2012
Philippine police have filed a complaint for illegal possession of explosives against the Filipino wife of a suspected Malaysian terrorist, who was killed by snipers while threatening to detonate a powerful bomb in the country's restive south, an official said Sunday.
Police Senior Superintendent Ronald de la Rosa said authorities filed the complaint before a prosecutor's office last week against Anabelle Nieva Lee. She is alleged to have helped carry a backpack with a 60mm mortar bomb that her Malaysian husband, Mohammad Noor Fikrie Bin Abd Kahar, threatened to set off on Dec. 14 in the bustling port city of Davao.
Full report at:
http://www.thejakartapost.com/news/2012/12/23/wife-malaysian-terror-suspect-faces-charge.html
------------
Afghan Policewoman Kills US Security Adviser
24 Dec 2012
An Afghan policewoman has shot and killed a US security adviser in the Kabul police headquarters, NATO and local officials say.
A senior police official told Al Jazeera that the shooting occurred at 10:15am local time (05:45 GMT) on Monday.
The adviser, a retired member of the US military, was shot at a ceremony at the compound.
The woman, a member of the police's gender equality team, is in custody, the official said. Mohammad Daoud Amin, Kabul's deputy police chief, said an investigation is under way to determine whether the killing was intentional or accidental.
Full report at:
http://www.aljazeera.com/news/asia/2012/12/2012122464348570299.html
------------
Former Movie Star of Bangladesh Encouraging Women in Politics
December 24 2012
Golkar politician Nurul Arifin marked Women's Day on Saturday by encouraging women to be more politically aware.
"We must use Women's Day [...] to realize that we need to struggle more for the sake of every woman in this country, and that's why politics seems to fit," she said as quoted by kompas.com.
Full report at:
http://www.thejakartapost.com/news/2012/12/24/guess-what-nurul-encouraging-women-politics.html
------------
Indian Institute of Management-Ahmedabad likes Facebook girls' comments
By Chitra Unnithan
Dec 24, 2012
AHMEDABAD: Palghar girls — Shaheen Dhada and Rinu Srinivasan — who experienced the ordeal of being arrested for a harmless Facebook comment last month, met students of the Indian Institute of Management , Ahmedabad (IIM-A ) to share their experiences.
The 21-year-old girls, who were invited by senior faculty at IIM-A , Prof Anil Gupta, also discussed the issue of freedom of speech and expression.
Full report at:
http://timesofindia.indiatimes.com/city/ahmedabad/Indian-Institute-of-Management-Ahmedabad-likes-Facebook-girls-comments/articleshow/17738022.cms
------------
Man, In Pakistan, Angry With Wife Targets In-Laws, Kills One
December 24, 2012
LAHORE: A man was shot dead by his brother-in-law in Sundar police limits on Sunday. Police said the wife of the accused, Pervez, left their house over some domestic issues a few months back and started living with her parents in Loharan Wala Khoe area. On the day of incident, Pervez reached the house of his in-laws to reconcile with his enraged wife, but she refused to go with him.
This irritated Pervez and he opened fire. As a result of which Allah Ditta, 23, and Arshad Ali, the accused's brothers-in-law, his mother-in-law, Jameela Bibi, and his wife, Riaz Bibi, received fatal bullet injuries. They were rushed to a local hospital where Allah Ditta succumbed to his injuries, while the condition of others injured were said to be out of danger.
Full report at:
http://www.dailytimes.com.pk/default.asp?page=2012\12\24\story_24-12-2012_pg13_1
------------
Threatened With Dire Consequences, Girl Commits Suicide
December 24, 2012
A school girl committed suicide in the capital's Manda yesterday allegedly after a miscreant's family had threatened hers with dire consequences if an abduction case was not withdrawn.
Sadia Akhter Pinky, 15, a class eight student at a Jatrabari school, hanged herself from a ceiling fan at her grandmother's residence around 4:00pm.
Family sources said Rony, 18, a miscreant from Dhalpur area in Jatrabari, had abducted Pinky on November 28. She was later rescued from Narayanganj.
Rony was arrested after Pinky's family filed a case against him and his family members with Jatrabari Police Station under the women and children repression prevention act.
He is now languishing in jail.
Full report at:
http://www.thedailystar.net/newDesign/news-details.php?nid=262347
------------
Pakistani Woman Loses Appeal in Dubai, Will Serve 15 Years in Jail
By Bassam Za'za', Legal and Court Correspondent
December 23, 2012
Dubai: A Pakistani woman lost her appeal on Sunday after a court convicted her of killing her countryman whom she claimed constantly tried to have sex with her. The 30-year-old Pakistani woman, A.G., was said to have stabbed her compatriot, businessman I.J., to death and stolen his two mobile phones following a financial dispute.
Since the interrogations started, the defendant repeatedly claimed that she was forced to defend her honour and stabbed the victim with a kitchen knife when he allegedly tried to rape her.
Full report at:
http://gulfnews.com/news/gulf/uae/crime/woman-loses-appeal-will-serve-15-years-in-jail-for-killing-businessman-she-claimed-constantly-harassed-her-1.1122706
------------
Policeman's Wife Appeals to File Murder Case with Court against OC
December 24, 2012
The wife of a Narayanganj policeman, who succumbed to his burn injuries at DMCH on December 17, yesterday sought permission from a judicial magistrate's court to file a murder case with it accusing four people, including an OC.
Full report at:
http://www.thedailystar.net/newDesign/news-details.php?nid=262356
------------
URL: https://newageislam.com/islam-women-feminism/woman-slaughters-six-year-old/d/9782