New Age Islam News Bureau
30 Oct 2015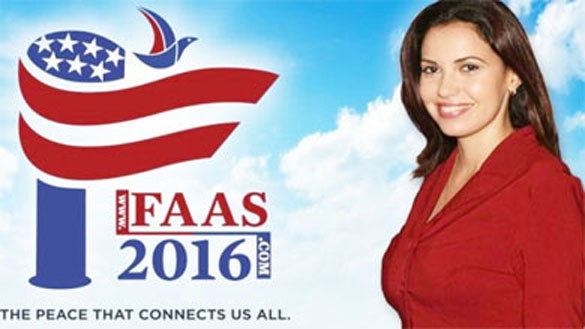 SOURAYA FAAS, an American of Syrian origin
-------
• Female Students Beaten for Playing Cricket in Karachi University by Jamiat Activists
• Assault on Muslim Woman Not Racially Motivated, Say Melbourne Police
• Saudi Shoura Council Urges Haia to Hire Women
• Let Saudi Women Reform the Nation's Education System
• Spiralling Wedding Expenses Keep Young Saudis from Getting Married
• Imran Khan, Reham Divorce with Mutual Consent
• The Turkish Government Is Ruining This Man's Life Because of His Daughter's Name
Compiled By New Age Islam News Bureau
URL: https://newageislam.com/islam-women-feminism/woman-syrian-origin-enters-presidential/d/105104
---------
Woman of Syrian Origin Enters US Presidential Race
Oct 30, 2015 608 0
SOURAYA FAAS, an American of Syrian origin, has filed her candidacy for the 2016 presidential race in the United States.
Although she was a Republican, she said she preferred to run as an independent due to the difficulty in attaining party consensus on a particular candidate.
Faas was born in 1981 in New York to her Syrian father Michael Faas, who migrated from Aleppo in 1971, and to her mother Dolly, who moved to the United States in 1981 from Venezuela.
Faas says her top priority is maintaining US national security.
She holds a degree in political science and a minor in international relations, with a certification in European studies.
She has worked in education for 15 years.
http://saudigazette.com.sa/world/woman-of-syrian-origin-enters-us-presidential-race/
-----
Female Students Beaten for Playing Cricket in Karachi University by Jamiat activists
October 30, 2015
Mansoor Khan
KARACHI - At least five students including females were wounded on Thursday in a clash between two rival student organisations at Karachi University.
Following the information, extra contingent of law enforcers reached the site and took control of the situation.
Police officials said that no student was hurt as no arms were used during the clash, adding a few students received sticks and baton injuries.
Mobina Town SHO Zafar Abbas said the clash occurred between Islami Jamiat-e-Talba and Punjabi Students' Association.
He said the students belonging to PSA were busy playing cricket when the IJT students came and a fight erupted between them over unexplained reasons, adding three members of both groups and two spectator female students were also wounded.
No case has been registered while further investigation was underway.
Talking to The Nation, varsity's campus security adviser Dr M Zubair said, "Some boys and girls were playing cricket together, when some IJT members attacked them and injured some of them.
I personally rushed to the site, however none of the students was found seriously injured.
"
Talking to The Nation, IJT spokesperson Huzaifa said the KU administration itself declined about all such allegations.
He said it was propaganda of the rival student organisation to defame the IJT.
He said student activists associated with the PSA were abusing male and female students of the varsity.
When contacted, PSA activist Mansoor said, "We were playing cricket at Terminal Point where scores of IJT activists suddenly appeared and started beating the PSA activists including females.
" He said the incident occurred when students of the evening shift were on way to home at private points.
He pointed out the IJT activists had warned female students against playing cricket three days ago.
He said at least 20 IJT workers came with sticks and batons.
http://nation.com.pk/national/30-Oct-2015/female-students-beaten-for-playing-cricket-in-ku
---------
Assault on Muslim Woman Not Racially Motivated, Say Melbourne Police
30 OCT 2015
There is no suggestion that an assault on a Muslim woman in Melbourne's CBD was racially motivated, police say.
The 21-year-old woman was walking down a CBD street on Thursday afternoon, when a shirtless man punched her in the head, causing her to fall and hit her head on the pavement.
The man said nothing to her before the attack and police say the victim, who was treated at the scene for minor injuries, was surprised to see media reports suggesting it was racially motivated.
Islamophobia Register Australia said a 16-year-old Muslim boy stepped in to stop the attack but police refute this claim.
They say an unknown boy did speak to officers at the scene but he was creating a "stir" and swearing while making certain allegations.
The 21-year-old Muslim woman is said to be "shaken up" after being allegedly punched in the face outside Victoria's State Library on Thursday afternoon.
The victim, from Dandenong in Melbourne's south-east, was attacked at 1.10pm by an unknown man.
According to the Islamophobia Register, who first reported the incident, a 16-year-old boy tried to intervene before the attacker fled the scene.
The woman was checked by paramedics at the scene, but was not injured.
Victoria Police has confirmed it is investigating the incident, and is trying to determine if it was "racially motivated".
Police also negated widely circulating reports that the attacker tried to rip the woman's hijab off her head.
"It was one blow to the head. The rest is untrue," a spokesperson for Victoria Police said.
Lydia Shelley, the vice president of the Islamophobia Register, said the group was providing support for the woman.
"Both the person who stepped in, who's only a young lad, and the victim, are both quite shaken up," Ms Shelley said.
"We've directed them to seek the appropriate counsel. That's at the forefront of our minds; make sure they are mentally well."
Ms Shelley, who is herself a young Muslim woman, said she was shocked to hear about the assault.
"It makes me feel very sad, because I don't think fundamentally that any violence against women is acceptable," Ms Shelley said.
"Unfortunately it's just becoming all too common to hear reports about Muslim women being attacked, particularly with children present. It is concerning."
Ms Shelley said she now feared younger women in Australia's Islamic communities would be deterred from engaging with others.
"Without a doubt in Australia, a woman has a right to be in public, to wear what she likes, and to fully participate in society," she said.
"What we don't want to see is Muslim women, especially in Melbourne, to use these incidents to withdraw from public life out of fear."
"This is a criminal act, and if it's religiously motivated I would expect that the crime unit would come down like a ton of bricks on this guy."
Silma Ihram from the Australian Muslim Women's Association said this latest attack added further strain on relations between Islamic communities and the rest of the country.
"It doesn't help," she told SBS.
"Each of these incidents cause a further division in society where one group feels really afraid and the other group feels really empowered to victimise that group. This encourages attacks on Muslims and causes some Muslim communities to feel more under attack and become more isolated."
Ms Ihram said she believed a united front was the only way forward, and hoped that would reduce the rate of similar attacks.
"There's not enough social infrastructure. We're not putting enough into building community resilience, into building community harmony," she said.
"It's very important that we build the community resilience, that we build that community hub. We need to bring our community together and not have it divided."
A spokeswoman from State Library Victoria said they did not believe the alleged assault took place on the library's grounds.
"State Library Victoria's security team and front of house staff were not aware of this incident and were not involved in any way yesterday," she said.
"The alleged assault reported today is a matter for Victoria Police, and the State Library is fully cooperating with their investigation.
"State Library Victoria is absolutely a safe space. Security is onsite 24 hours a day, seven days a week. State Library Victoria is monitored by CCTV and other security measures and our security patrol the library forecourt at all times."
http://www.sbs.com.au/news/article/2015/10/30/assault-muslim-woman-not-racially-motivated-say-police
---------
Saudi Shoura Council Urges Haia to Hire Women
30 October 2015
JEDDAH: The Shoura Council has unanimously praised the role played by the Commission for the Promotion of Virtue and Prevention of Vice (Haia) in upholding moral values, but also urged the body to recruit women and launch a study on harassment.
During a debate on the Haia's annual report recently, Shoura members said that women are needed to help with the organization's work, according to a report in a local publication.
Members also said that special offices must be set up at malls to deal with cases of harassment. One member, Ibrahim Abu Abbaa, said the Haia should study the issue of harassment to determine whether it has become a major problem.
He said that there was a drop in the number of harassment cases reported by the Haia and wondered whether this was because of a lack of capacity and staff in the organization.
Adnan Al-Bar, another Shoura member, said the Haia must balance the work it carries out, so that one aspect does not take precedence over another.
Abdullah Al-Sadoun, another member, said that the Haia must publish a list of what constitutes violations in public places such as shopping centers.
http://www.arabnews.com/saudi-arabia/news/827861
---------
Let Saudi Women Reform The Nation's Education System
Oct 30, 2015
Abdullah Abdulkareem
Al-Sadoon
The Kingdom is held in high esteem by citizens of Arab and Islamic countries. They love and appreciate its role in the Islamic world. I have noticed this fact several times when talking with intellectuals and writers from different Arab countries. This love will definitely grow when the Kingdom reaches the level of developed countries in terms of respect for human beings, freedom, tolerance, dialogue and the diversification of income sources.
A strong education system is the key to reaching the level of advanced countries, such as Singapore, Finland and South Korea. These three countries were among the most impoverished 30 years ago. Nelson Mandela once said: "Education is the most powerful weapon that you can use to change the world."
Our education system is currently not consistent with the Kingdom's spiritual, economic, political and military status. I believe our public education system needs sweeping reforms to make students love education more and reduce the pressure on teachers.
Anyone who wants to know how our education system is failing to work properly should go to the nearest mall or park and see the amount of trash and food on the ground. Look at how reckless our drivers are, how smoking and drugs have spread in society, and how smart devices have made us lazy.
Most families are ignorant or negligent and uneducated. We need an excellent education system that introduces comprehensive changes to school and university curricula, focuses on quality not quantity, builds strong skills, uses fun ways to teach students, and involves students in the education process, especially at the elementary level.
I suggest that the elementary level of education should be four years and that women should teach both boys and girls because women are more patient and able to control students. Reading and writing skills as well as morals and ethics should be taught to students in the first four years. Students should be encouraged to read a book each week, engage in physical exercise, avoid smoking, fight obesity and keep fit.
Secondly, we should use the help of global experts to keep our education system abreast of those in advanced countries. Several attempts have been made before but have failed due to resistance from within the Ministry of Education and the obstacles put in the way of experts. Rote memorization should be replaced with the application of skills and comprehension.
I remember seeing a little boy who was chasing a cat and throwing stones at it while his mother was sitting at a distance watching him. I stopped him and told him about the woman who entered Paradise because she gave water to a thirsty dog. He just ignored me and went on chasing the cat and throwing stones at it.
He did not care about what I said to him because he did not apply those teachings at home or at school. The same thing holds true to other things. In other words, our children learn about cleanliness, the importance of health and other values, but they do not apply them in real life.
Reforming the education system is important for the Kingdom's stability and security and will prevent our young men from joining terrorist organizations as well as reduce the percentage of school dropouts. The latter plays an influential role in the country's economy and primary healthcare services. When we develop our citizens and improve public services, we will reap the benefits in the present and future.
Building elementary schools with the partnership of experts from countries that have successful educational systems and ensuring that our teachers are qualified are important factors for improving our education system. If these changes to elementary education prove to be successful after a few years, we should reform the intermediate and secondary education systems.
Women should be given a leading role in reforming education.
http://saudigazette.com.sa/saudi-arabia/let-saudi-women-reform-the-nations-education-system/
---------
Spiralling Wedding Expenses Keep Young Saudis from Getting Married
Oct 30, 2015
Dowry prices in some parts of the Kingdom are spiraling out of control at a time when the percentage of unmarried women has reached an unprecedented level. Recently, Makkah Emir Prince Khalid Al-Faisal ordered governors to hold meetings with the chiefs of tribes in the region and draft a document to cap dowry prices and wedding expenses to deal with the higher number of unmarried women and the increasing wedding expenses.
Young men wishing to get married nowadays can no longer afford the sizeable dowries. Serious steps need to be taken to avert future social and economic problems that can arise out of this social problem, Al-Riyadh daily reports.
Salma Al-Dawsari, a college student, believes that putting a cap on dowry prices is not enough; expensive dowries are not the only reason why the percentage of unmarried women is increasing.
"Look around and you will see how young men spend tens of thousands on cars or exquisite vacations. For me, I want my dowry to be not less than SR50,000. I do not want a big wedding because I do not want to start my marital life with debts," Al-Dawsari.
She blames young men for the higher rate of unmarried women because men get their expectations high when it comes to the dream wife. They want a strikingly beautiful and pampered woman, and on top of that she should be a teacher or an employee in the public education sector.
If a man really wants to get married, he can take a loan from the charities that help young men and women get married. "If there is a will, there is a way," Al-Dawsari said.
Wafa Muhammad, a housewife, believes that SR50,000 is a lot of money for dowry and the majority of young men cannot afford it. A reasonable dowry should be SR30,000. "Let us not forget that in addition to the dowry, a young man has to provide accommodation, put furniture in it, pay for the wedding hall and food. Middle-income men find it difficult to afford all these expenses. I am not against small marriages where only the close relatives are invited," she explained.
Hamad Al-Tamimi, a real estate consultant, is in favor of capping the dowry prices as most young men receive an average monthly salary of only SR5,000. If their families do not help them, these young men cannot afford all the expenses. Today's women want to live in separate accommodation and refuse to live in the same place with a husband's family. Besides, they want a fancy wedding.
"It is these traditions that make young men suffer financially and make a dent in their family budgets," Al-Tamimi pointed out.
Naif Al-Qahtani is an official registrar of marriage contracts at the Ministry of Justice. He noticed that the average dowry for marriages contracts he executed was SR50,000. "In some cases, the dowry written in the contract was as high as SR100,000. Some parents believe that the value of a girl depends on the value of the dowry. Consenting to a less dowry means that the parents have undervalued their daughter. No doubt they will be stigmatized by other members of society," Al-Qahtani said.
Hind Al-Derayes, a sociologist, criticizes high dowries and blames social traditions and customs for this negative practice that, if anything, has resulted in an increase in the number of unmarried women.
When a young man graduates from college, he will usually face great difficulty in finding a good-paying job. If his family is a middle-class one, it will be hard for him to get married paying a big dowry, Al-Derayes said.
She called upon parents and young women to take the difficult circumstances of young men into consideration. It is better for a wife to help her husband start their marriage without any debts.
http://saudigazette.com.sa/saudi-arabia/lightening-the-dowry-burden/
---------
Imran Khan, Reham Divorce with Mutual Consent
October 30, 2015
ISLAMABAD: Pakistan Tehreek-i-Insaf (PTI) Chairman Imran Khan and Reham Khan have divorced with mutual consent after 10 months of marriage, PTI spokesperson Naeemul Haq said Friday.
Six months in, rumours that the marriage was falling apart began to circulate. While the couple was seen together on occasion, Imran last month tweeted an apparent refutation of the rumours: "I am shocked at a TV channel making slanderous statement about my marriage. I strongly urge the media to desist from such baseless statements."
Haq told DawnNews that Imran Khan had requested the media to avoid speculation and respect the sensitivity of the situation.
In a series of tweets, Imran Khan wrote that the divorce is painful for him, Reham and their respective families and requested everyone to respect their privacy.
He categorically denied the rumours about any financial settlement between them adding that he has great respect for Reham's moral character and her passion to help and work for the underprivileged people of society.
'Just not getting along'
A source close to the PTI chairman, who asked not to be named, said the two were "just not getting along."
"She wanted to get involved with politics and that is not what Khan wanted at all. She just did not want to sit at home," he said.
"There were teething problems as well over other issues which were being resolved but this was a major issue — she wanted to get into politics and was not ready to back down."
Another confidante of Imran Khan told Dawn.com that there was "a lot of pressure on Khan" from his family to divorce Reham, an apparent reference to Imran's sister Aleema Khan who had made no secret of her displeasure over the marriage.
Despite several attempts, Reham could not be reached for a comment, but posted an announcement of the divorce on Twitter:
Sources said Reham has left Pakistan for London and is expected to address a conference there.
In August this year the PTI chief had announced that Reham Khan, will not be playing an active role in party affairs, following "attacks" on his then wife in the aftermath of the party's defeat in the NA-19 (Haripur) by-polls.
The PTI chairman and television journalist Reham Khan had tied the knot in a simple Nikah ceremony which took place in January this year at Khan's Bani Gala residence.
The Nikah, which was a low-key affair, was conducted by Mufti Saeed and was followed by a photo session. The wedding had captivated the entire country, with television channels going all out to cover the event and furnished their audience with details of wedding sherwani and chappals.
In it's early days, the marriage was marked by public appearances of the newlyweds who were seen smiling and happy at various events. Reham on several occasions had candidly expressed her feelings for Imran, saying he is "no longer alone". In an early interview, she had said: "I didn't know Mr Khan was Mr Right, you wait your whole life for Mr Right and then you find Mr Most Right."
The cricketer-turned-politician was previously married to English journalist and activist Jemima Goldsmith for nine years. The marriage ended amicably in 2004 with Goldsmith stating that she was unable to adapt to life in Pakistan.
Reham Khan was previously married to psychologist Ijaz Rehman, with whom she had three children.
http://www.dawn.com/news/1216377/imran-khan-reham-divorce-with-mutual-consent
---------
The Turkish Government Is Ruining This Man's Life Because of His Daughter's Name
By Natasha Noman
October 29, 2015
Berfin.
That is the Kurdish name Abdullah Demirbas, the former Turkish mayor of a district in the predominantly Kurdish city of Diyarbakir, assigned his daughter at birth, roughly 25 years ago.
It was a subtle act of defiance not lost on the Turkish government, which has previously banned or discouraged the use of the Kurdish language. It's part of a larger effort to quell the Kurds' fight for their own state in the southeast; the ethnic group accounts for roughly 20% of the Turkish population.
It got so bad at one point, the government was suing people merely for using the letters W, Q and X in official correspondence, as those letters are only found in Kurdish and not in Turkish, the New York Times reported in 2008.
Demirbas, 49, has been consistently persecuted by the government for his attempts at ethnic inclusion — which he would prefer instead of an independent state — as they are discordant with the country's official policy. The ruling Justice and Development Party, or AKP, in power since 2002, has had a habit of dealing with dissenting minorities through aggression or suppression.
"The total amount of years they're asking for me is 200 years in prison," Demirbas told Mic from his home in Diyarbakir, several days after being released from his latest prison stint.
"This administration is pressuring and asking for me to be exiled for the work I have done in regards to [creating a] multilingual municipality and multicultural municipality," he said.
He has more than a dozen ongoing cases filed against him by the government and was released due to ill health on the condition he does not leave his city. However, he suffers from severe deep-vein thrombosis and needs to travel to Istanbul for treatment.
"If I didn't have the public pressure from the friends in America and as well as the political pressures [from supporters at home], I would probably be dead today," he said. "So, in this regards, I would like to express my thanks."
Mic reached out to AKP's headquarters in Ankara and Diyarbakir office for a comment, but did not get a response. Mic also contacted the Turkish Consulate General in New York and the Turkish embassy in Washington, D.C. — both failed to respond by the time of publication.
Peaceful pushback: Over the years, the central government has brought cases against Demirbas for a miscellany of offenses.
In 2007, he was charged after speaking Kurdish while officiating a wedding; accused of abusing municipal funds because he approved the publishing of a children's book in Kurdish (a considerable number of his constituents speak the language); and for suggesting there should be pamphlets on public health printed and phone operators who speak in Kurdish, he was initially charged with "aiding a terrorist organization," the New York Times writes.
"They have removed me from my work as a mayor," Demirbas said. "One of my projects, that I named it 'Cultural Streets,' [involved the] restoration of one mosque, one church and one synagogue and a Yazidi [Kurdish religious minority] house, to fix and get the restoration done on the same street. Our mission, our job, our intention was that multicultural and multiethnicity and -nationality folks could live together in one street."
The former mayor firmly believes resolution to the Kurds' discontent could be found in the government's recognition and inclusion of the minority. "Now, in Turkey, there is an official ideology: one language, one religion, one ethnicity and one state," he said. "I am not against one single state ideology, meaning that I would like freedom and democracy in the one state that I have currently."
"But I am against one-nationality ideology, because in Turkey everybody... of course, officially they look Turkish," he said. "In reality, in Turkey, there are Turks, Kurds, Armenians and some other small minorities. Now, I think there should be different kind of ethnicities and different kind of nationalities living together freely."
Demirbas said his sentiment applied across religious boundaries as well: "I want these different kinds of beliefs to live together."
"I'm a person that believes in democracy and freedom," he said. "And I am solving problems with peace. I am the kind of person that believes different [people can] live together. And I am going to continue on the struggle for my peoples. But, unfortunately, I have pressure."
What does the Islamic State group have to do with all this, and what does this mean for Turkey's future? The AKP enjoyed a majority rule in Parliament since it first came to power in 2002. But in the June 7 general election, while they received more votes than any other party, it failed to secure a parliamentary majority.
The ensuing inability of the winning parties to form a coalition government has resulted in a snap election to be held this Sunday, when Turkey will decide whether it wants more or less of the party that's radically changed the country over the last 13 years.
Supporters of the party credit it with economically revitalizing the country. Before AKP came to power in 2001, Turkey's GDP growth rate was -5.7%, according to the World Bank. By 2004, however, the growth rate had jumped to 9.4%.
But critics fear that should its notoriously autocratic President Recep Tayyip Erdogan, founder of the AKP, gain a simple majority on Sunday, he will use it to establish authoritarian rule and further Islamize the country.
"The election is still in the balance, but inside Turkey, the campaign has widened the fault lines between Kurds and Turks, secular and Islamic, Sunni majority and Alevi minority," the Independent writes. "Abroad, the results may determine the degree to which Turkey becomes further embroiled in the civil war in Syria and Iraq."
Turkey's government has had a convoluted relationship with Syria and Iraq, its two volatile neighbors to the south currently plagued by Islamic State insurgents. While the AKP officially denies ties with the extremist group, a wide range of people, from regional specialists to Islamic State leaders, have loudly accused the government of aiding the group when Syrian President Bashar Assad first came under international censure in 2011.
"We used to have some fighters — even high-level members of the Islamic State group — getting treated in Turkish hospitals," Abu Yusaf, an Islamic State commander, told the Washington Post in 2014. "And also, most of the fighters who joined us in the beginning of the war came via Turkey, and so did our equipment and supplies."
"The AKP and the Turkish government under the AKP was the midwife of ISIS [the Islamic State group]," David L. Phillips, a Turkey specialist and director of the Program on Peace-Building and Rights at Columbia University's Institute for the Study of Human Rights, told Mic.
Given that the Islamic State group and AKP have common enemies in Assad and the Kurds, the relationship was seemingly advantageous to Turkey at first. "I think Turkey helped to create a monster and now it can't control ISIS," Phillips said. "It may have buyer's remorse, but it plays a huge responsibility for supporting jihadis and radicalizing the battlefield in Syria."
Kurds resented Turkey's refusal to either help Syrian Kurds defend themselves from persecution by the Islamic State group or allow Turkish Kurds to cross the Turkish-Syrian border and help them fight, Foreign Policy explains, making their relationship all the more contentious.
The Turkish government might, in the big picture, be doing itself more harm than good by persecuting politicians like Demirbas who advocate for inclusion and peaceful reconciliation. Radicalism and refugees permeating its borders threaten its political stability.
Phillips invoked the words of modern Turkey's secular founder, Mustafa Kemal Atatürk, warning if the government can't make peace domestically or with its neighbors, the country is in danger of unraveling: "Atatürk's slogan was 'Peace at home and peace abroad.' Turkey has neither."
http://mic.com/articles/127480/the-turkish-government-is-ruining-this-man-s-life-because-of-his-daughter-s-name
---------
URL: https://newageislam.com/islam-women-feminism/woman-syrian-origin-enters-presidential/d/105104