New Age Islam News Bureau
28 Nov 2014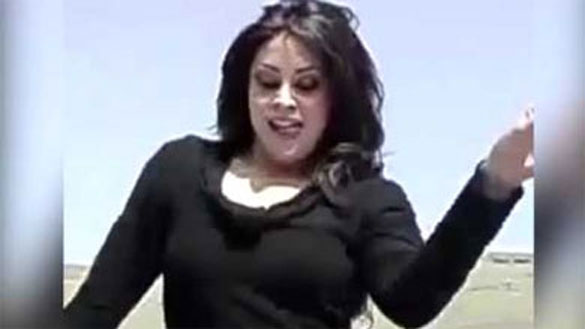 Video appears to show dancing Iranian woman removing veil
-----------
• Jihadi Bride Back On Twitter Calls for the Creation of another Islamic State in Pakistan
• Death Penalty Sought For Child Bride in Nigeria
• 'I Jumped': One Woman's Story of Escape from Boko Haram
• Canadian Mother Condemns Local Wahhabi Muslims for Radicalising Son
• Bajaur Seminary Girls Stumbling Back Home
• Saudi Female Students Exhibit Artwork in US
• Israel to Deport Palestinian Widow of Synagogue Terrorist, Revoke Her Residency Permit
• London: Muslim, Jewish and Interfaith Organisations Host Women's Event
• Pakistan's Law on Anti-Women Customs Termed Ineffective
• Turkish Prof Jailed For Barring Hijab-Clad Student
Compiled by New Age Islam News Bureau
URL: https://www.newageislam.com/islam,-women-and-feminism/new-age-islam-news-bureau/woman-break-dances-on-tehran-subway-flouting-laws-in-the-islamic-country/d/100236
----------
Woman Break Dances on Tehran Subway Flouting Laws in the Islamic Country
28 Nov, 2014
A video was uploaded to Facebook Tuesday showing an Iranian woman break dancing on a Tehran subway, flouting bans on dancing and women in public without their heads covered
The clip was posted on the site My Stealthy Freedom, a page where Iranian women upload pictures of themselves without Hijabs, defying laws in the conservative Islamic country.
The woman in the video is seen dancing to the song "Salute" by the British group Little Mix, as other female passengers look on.
The song encourages women to stand up for themselves.
In September, an Iranian court sentenced seven people to suspended sentences of prison time and lashes for dancing to US singer Pharrell Williams' hit "Happy" in a video that went viral. Recorded on a Smartphone and uploaded multiple times on YouTube, the clip shows three girls dancing and singing along to the song in a room, on rooftops and in secluded alleys with three young men.
For the youths, the homemade video now watched one million times was merely an "excuse to be happy," but for the Iranian authorities it was "vulgar" breach of the Islamic Republic's values.
Originally posted online in April, the clip gradually spread online before it led to the arrest of the dancers and their director on Tuesday for having "hurt" the country's strict moral codes, according to Tehran police chief Hossein Sajedinia.
Following their arrests, the youths appeared on state television repenting for appearing in the clip, after the girls failed to properly observe Hijab, a series of rules that oblige women in Iran to cover their hair and much of their body when outside.
Their arrest sparked international fury and criticism in the media and online, with many Iranians expressing shock and some observers questioning whether it was a "crime to be happy in Iran."
Supporting the young Iranians, Williams himself chimed in and hit out at their treatment, saying on Twitter and Facebook: "It's beyond sad these kids were arrested for trying to spread happiness."
And in Iran, their arrests highlighted a rift between conservatives and youths fascinated by the West, as shortly before the arrests, Iranian President Hassan Rouhani reiterated in a weekend speech his calls for a relaxation of Internet censorship.
He also appeared to send an apparent message of support to the dancers on Wednesday night, through a Twitter account associated with his office.
"Happiness is our people's right. We shouldn't be too hard on behaviours caused by joy," read a tweet quoting a June 2013 speech by Rouhani, who constitutionally has no power over Iran's judiciary.
Rouhani also called for greater tolerance of the internet and other modern technology earlier this month.
Facebook, Instagram, Twitter and YouTube are all banned in the country. That's despite senior government leaders like Foreign Minister Mohammad Javad Zarif being active on Twitter. There are even Instagram accounts in the names of Rouhani and Supreme Leader Ayatollah Ali Khamenei.
While top officials have unfettered access to social media, Iran's youth and technological-savvy citizens use proxy servers or other workarounds to bypass the controls.
http://www.timesofisrael.com/woman-breakdances-on-tehran-subway/#ixzz3KPCedE2P
---------
Jihadi Bride Back On Twitter Calls for the Creation of another Islamic State in Pakistan
Scottish Daily Record
28 Nov, 2014
A SCOTS jihadi war bride has called the creation of another Islamic State in Pakistan.
Aqsa Mahmood fled to war-torn Syria last year to marry a fighter for the brutal ISIS regime that swept through the north of the country and parts of Iraq.
The 20-year-old, from Glasgow, has ignored public pleas from her distraught parents to return home to Scotland.
And yesterday, she welcomed claims that some women in Pakistan want to establish another IS.
She told her followers on Twitter: "Only Allah knows how happy I was to hear my sisters from Pakistan stand up and call for the Islamic State.
"The problem in Pakistan is that they have forgotten about being a Muslim Ummah [community].
"As long as they are comfortable at home they won't bat an eyelid towards those being droned in Peshawar.
"As long ad they have their ACs and generators they won't even remember those starving in front of their very eyes.
"Ya Rabi [My God], help and guide this nation before they head towards their own destruction."
She added: "Wallahi [I swear to Allah], being under the Khilafah [Caliphate] really completely changes one and helps bring them back to the Fitrah [true human nature]."
Pakistan is already fighting its own extremist threat in the form of the Taliban. But authorities are worried that the Islamic State may also have a growing influence in the country.
Mahmood was one of the first Muslim women to flee the UK for the war zone.
She studied at £3500-a-term Craigholme all-girls' school before going to Shawlands Academy for her sixth year.
After quitting university last year, she crossed the Turkish border last November and travelled to Aleppo after dropping out of a degree course on diagnostic radiotherapy.
It's understood she now lives in the northern city of Raqqah.
She runs a blog where she offers advice to other girls looking to flee the West and join the Syrian conflict.
http://www.dailyrecord.co.uk/news/scottish-news/scots-jihadi-war-bride-back-4706291
---------
Death Penalty Sought For Child Bride in Nigeria
28 Nov, 2014
The father of a 14-year-old child bride accused of murdering her husband said Thursday he was appealing to a Nigerian court to spare his daughter the death sentence.
Wasilat Tasi'u is on trial for the murder of her 35-year-old husband, Umar Sani, who died after eating food that Tasi'u allegedly laced with rat poison.
"We are appealing to the judge to consider Wasilat's plea," her father, Isyaku Tasi'u, told The Associated Press on Thursday.
On Wednesday witnesses told the High Court in Gezawa, a town 60 miles outside Nigeria's second largest city of Kano, that Tasi'u killed her husband two weeks after their wedding in April. Three others allegedly died after eating the poisoned meal.
The prosecution, led by Lamido Soron-Dinki, senior state council from the Kano State Ministry of Justice, is seeking the death penalty.
The case calls into question the legality of trying a 14-year-old for murder under criminal law and the rights of child brides, who are common in the poverty-stricken, predominantly Muslim northern Nigeria region.
"She was married to a man that she didn't love. She protested but her parents forced her to marry him," Zubeida Nagee, a women's rights activist in Kano, told AP. Nagee and other activists have written a letter of protest to the Kano state deputy governor.
Nagee said Tasi'u was a victim of systematic abuse endured by millions of girls in the region. Activists say the blend of traditional customs, Islamic law and Nigeria's constitutional law poses a challenge when advocating for the rights of young girls in Nigeria.
Justice Mohammed Yahaya adjourned the court until December 22. Tasi'u is in state juvenile custody.
http://www.haaretz.com/news/world/1.628953
---------
'I Jumped': One Woman's Story of Escape from Boko Haram
28 Nov, 2014
Warmly welcomed on her first day of school in America, 18-year-old Mercy Paul smiles brightly — showing no sign of her ordeal in northern Nigeria. She's started a new life at a boarding school in Canyonville, Oregon.
Just seven months ago she was one of the 276 mostly Christian girls kidnapped by Islamist terrorists called Boko Haram.
"There was no way for us to run away," she says. "They told us they would kill us."
With a licensed counsellor at her side, Mercy tells us how the terrorists set the girls' school on fire, forced them onto trucks and drove them into the deep forest.
"I jumped," Mercy says, "not knowing if I would be able to walk or whether I would die."
Dozens of other girls also escaped, but more than 200 — some seen in this Boko Haram video — did not. The militants' leader said they had converted to Islam and would be sold "in the market."
Worldwide outrage sparked a "Bring Back Our Girls" movement, with some high-profile support.
Michelle Obama: "In these girls Barack and I see our own daughters. We see their hopes and dreams."
Mercy's dream now is to become a doctor. Learning a new language, and a new culture — basketball, air hockey, and yes, even Super Mario.
And she's excited that some of her Nigerian classmates will join her at school, with the help of the Christian group The Jubilee Campaign, which is raising funds so that all 57 girls who escaped can finish school in the U.S.
Mercy tells us she loves and misses her friends — her sisters — still being held captive, but asks for mercy for the men who are hurting them.
"In the bible God says that he can talk to people, even in their dreams," she tells us. "I pray that they find that god is forgiving and merciful and that they stop doing what it is that they're doing."
Her faith allows Mercy to smile ... and hope that she'll someday see the friends she left behind.
http://www.nbcnews.com/storyline/missing-nigeria-schoolgirls/i-jumped-one-womans-story-escape-boko-haram-n257451
---------
Canadian Mother Condemns Local Wahhabi Muslims for Radicalising Son
28 Nov, 2014
A Canadian woman publicly criticised the radicalisation of her own son. The Ottawa mother is the founder of the National Islamic Sisters' Association of Canada.
Michelle Walrond, who is a Muslim by faith, said that she had been fighting against the extremists in Ottawa for around two decades as they had influenced her son Luqman Abdunnur to believe in radical Islam. According to Walrond, a group of people promoted Wahhabism, an extremely conservative Saudi form of Islam, to her son. Abdunnur was arrested last October after he had allegedly refused to show his hands to police at a traffic stop. He apparently pushed a police officer and tried running away from the scene. He was eventually subdued with a Taser. An OPP officer fired his gun during the incident though the bullet did not hit anybody.
The 39-year-old man is presently kept at the Ottawa-Carleton Detention Centre. He is charged for obstructing and assaulting a police officer. Abdunnur first grabbed attention of national security officers after he had hailed the murder of Cpl. Nathan Cirillo as a heroic act. Witnesses said that Abdunnur had stood up in the Assunnah mosque and criticised an imam for condemning the killing of Cirillo. He said that the gunman who had killed the soldier should have been called a hero. Police were informed about the incident.
Ottawa Citizen quoted Walrond saying that her son did get influenced by the extremists. She said that her son was judging people on whether they were following the right kind of Islam or not. He apparently assumed that he had the right to excommunicate other people, she said. She also said that those extremists should be held accountable for what they had taught and what they continued to promote. According to Walrond, fighting extremism is all she can do to help at the moment. "I'm a mom, and if you know mothers, they will throw themselves in front of moving cars to save their kids. That's just what we do," she said.
Walrond's son has been reportedly involved in a polygamous marriage with a couple of women. He is the father of more than 14 children as well.
http://au.ibtimes.com/articles/574278/20141128/canadian-mother-condemn-local-wahhabi-muslim-radical.htm#.VHj5yNLF84U
---------
Bajaur Seminary Girls Stumbling Back Home
28 Nov, 2014
As the process for shifting minor girls from Karachi to Bajaur kicks off, Bajaur's assistant political agent assures girls will be given only to their families while an agency cleric will face Jirga for sending girls to Karachi
With details of their parentage still shrouded in mystery, most of the 36 minor female seminary students are all set to be handed over to the political administration of Federally Administered Tribal Area (FATA)'s Bajaur Agency.
Sindh Social Welfare Department Thursday took the girls into its custody and accommodated them in a shelter home located in Karachi's Gulshan-e-Iqbal Town.
"They have been shifted (from Gulberg SSP office) to the provincial government's shelter home," said Muhammad Idrees, a deputy director at Social Welfare Department. The 14 girls recently kidnapped from Lahore have also been shifted to the shelter, he said.
Al-Banaat Darul Atfaal is located in Shantinagar neighbourhood of the city, about 1,547 kilometres away from the girls' hometown.
"The kids have been accommodated safely in the social welfare institution," DIG Central Captain (r) Tahir Naveed told Pakistan Today.
According to Social Welfare Minister Rubina Qaimkhani spokesman Bilawal, one of the 36 girls was handed over to her father, Mukhtiayar of Rahimyar Khan, last night.
DIG Naveed said that the provincial government had decided to hand the minors, aged between five and 12 years, to their parents through the agency's political administration. "A political agent is a responsible entity who can be given custody of the kids," the police officer said.
Bajaur Agency's assistant political agent Muhammad Fayaz Sherpao is in the city to take the minors, who Fayaz said were sent by their families for Islamic learning in the seminary, back to their "real" parents.
Talking to Pakistan Today, the political agent said that the kids would not be handed over to their relatives, "not even to their brothers".
While six to seven families of the children were living in Karachi the rest, he said, were residing in the tribal agency.
However, Bilawal, the minister's spokesman, said that only one of the Karachi-based families responded positively. "Those left unclaimed would be owned by the government," he said.
Fayaz, however, said that investigation was underway to authenticate claims of the families from the multiethnic city.
Asked if his administration would take to task those responsible for the mishandling of children, Fayaz responded in affirmative.
Maulana Samiullah, a cleric from Bajaur Agency, he said, would be facing a grand Jirga to be convened by the political agent as soon as he reached back to the agency. "Said to be the relative of Hameeda Begum, he has sent most of these girls here," Fayaz said.
Hameeda and her debtor Ayub Siddiqui are already behind the bars for putting the lives of the minors to risk for a meagre sum of Rs 150,000, said Tahira, wife of Ayub.
"My husband was working at the madrasa and owed Rs 400,000 to her (Hameeda). Having paid Rs 250,000 we offered her to clear the remaining Rs 150,000 in instalments of Rs 25,000. But she refused to accept this and left the kids to pressure us," said Tahira.
http://www.pakistantoday.com.pk/2014/11/27/national/bajaur-seminary-girls-stumbling-back-home/
---------
Saudi female students exhibit artwork in US
28 Nov, 2014
Female students from four Saudi universities recently displayed their photographic artwork at an exhibition in the United States.
The exhibition held at the University of the District of Columbia was entitled Visionaries: Receiving Personal Identity and included 38 pieces from students at four Saudi universities. There were six participants from Dal Al-Hekma University.
The show ran from Nov. 5 to 19, and will move to Dar Al-Hekma University in Jeddah, and finally to the American University in Washington in April 2015.
The Dar Al-Hekma students were Tasneem Bhuiyan, Ragad Abonomai, Diala Tinawi, Haya Al-Garny, Noura Al-Amoudi and Qurra Al-Ain Akhter. Linda Schaefer, an assistant professor, supervised the show.
Suhair Hassan Al-Qurashi, president of Dar Al-Hekma University, said she was proud of the students. "We are proud of our students and alumni and know that they are capable of making the world a better place," she said.
The exhibit was organized by a former faculty member, Rania Razek, who is now at the University of the District of Columbia.
Cordula Peters, department chair for visual communication at Dar Al-Hekma University, said: "During the course of their studies with us in visual communication we tried to connect our students as much as possible with real-life work experiences.
"This is usually done by bringing in actual clients for projects, having students submit work for publication, or as in this case providing them the opportunity to get their work exhibited outside Dar Al-Hekma University. Events like this provide a perfect platform for cultural exchange and showing people from other countries what the young women here in Saudi Arabia are made of."
Four of the commercial photography students used Jeddah's Corniche as a backdrop for their portraiture. Two other students submitted artistic renditions that reflected their personal identity.
According to Schaefer, Dar Al-Hekma students are excited by the prospect of sharing their culture with people outside Saudi Arabia. Through their work they would like to convey the kindness and compassion inherent in the people of Saudi Arabia.
She said the students would like to keep breaking stereotypes of how others view the people and culture of the country. Through the photographs they will be able to convey different perspectives to audiences about women in Saudi Arabia, she said.
http://www.arabnews.com/saudi-arabia/news/666606
---------
Israel To Deport Palestinian Widow Of Synagogue Terrorist, Revoke Her Residency Permit
28 Nov, 2014
Interior Minister Gilad Erdan will revoke the Israeli residency permit of the widow of one of the terrorists who attacked a Jerusalem synagogue last week, Erdan announced Wednesday.
Nadia Abu Jamal, who was married to Ghassan Abu Jamal and had been allowed to live in Israel for reasons of family reunification, will be deported to the Palestinian territories and will no longer be eligible for financial assistance from Israel or any state benefits.
"Everyone who is involved in terrorism must take into consideration that there are liable to be consequences for his family," Erdan said.
Israel has already ordered the demolition of the homes of Ghassan and Oday Abu Jamal, cousins from the East Jerusalem neighborhood of Jabal Mukaber who perpetrated the synagogue attack that killed four worshippers and a policeman.
The state may also continue to refuse to return the synagogue terrorists bodies to their families, the police legal adviser informed the Abu Jamal family Tuesday.
Also this week, Prime Minister Benjamin Netanyahu said he would advance a law to revoke the residency rights of terrorists and their relatives and ban residents convicted of incitement from receiving state benefits.
And Erdan revoked the permanent residency of Mahmoud Nadi, the driver who brought a suicide bomber to Tel Aviv's Dolphinarium nightclub in 2001. Twenty-one people were killed in the attack.
The decision means he will be stripped of the right to his national identity card or state benefits, including health insurance.
"A wave of terror and incitement is engulfing the State of Israel," said Erdan this week. "It involves residents of the country, who are carrying out terror attacks, helping to do so and justifying them, and even inciting others to carry out crimes and murder. These people cannot continue to enjoy the benefits of permanent resident status, and I will act with all my strength to revoke their residency status and keep them from getting any financial benefit that this residency grants them."
Erdan has asked Interior Ministry staff to examine how he could extend his authority and revoke the permanent residency status of Arabs living in East Jerusalem who support terrorism and incitement to violence.
http://www.haaretz.com/news/national/1.628668
---------
London: Muslim, Jewish and Interfaith Organisations Host Women's Event
28 Nov, 2014
27 November 2014, Muslim women's organisation Rabia's Garden, together with Jewish community organisation JW3 and interfaith charity Three Faiths Forum (3FF), will be hosting an event for women of all faiths and beliefs. The Female Voices event, to be held at Rumi's Cave in north-west London, is the first time the Muslim and Jewish organisations have collaborated to create connections between women from different backgrounds.
The event will be part celebration of the talents of female performers and musicians, part a space for interaction and dialogue, and visitors can look forward to an evening of music, poetry and storytelling by women, for women. The female-only evening is one of a series of Female Voices events created by 3FF to give women from all backgrounds opportunities to come together, share cultural experiences and explore how women can be catalysts for change in their communities.
Onjali Rauf, previous Female Voices speaker, said: "The Female Voices event was the very first time I had ever attended a female-only event and met many others who were sharing this experience with me. It was both an eye-opening adventure and felt like a truly safe and open space where conversations that would not normally transpire were free to do so."
Female Voices gives women from minority communities an opportunity to be heard and to get involved in current discussions. Holly Jones, 3FF's Urban Dialogues Manager, also noted: "Discussions about feminism and issues facing women today can sometimes tend towards generalisation or stereotypes. Female Voices creates a space for women from a diverse range of backgrounds and cultures – religious and non-religious, young and old – to come together, to meet, and to better understand and celebrate their differences, as well as their similarities".
The Female Voices series is supported by Near Neighbours and the Mayor of Camden, Lazzaro Pietragnoli, who has chosen 3FF as his charity of the year. The Mayoress of Camden, Daniela Pears, will be attending the event.
The women-only event takes place on Thursday, 27 November 2014, 6.30 – 9.30pm, at Rumi's Cave (www.rumis.org), 26 Willesden Lane, London NW6 7ST
http://www.indcatholicnews.com/news.php?viewStory=26107
---------
Pakistan's Law on Anti-Women Customs Termed Ineffective
28 Nov, 2014
PESHAWAR: A law introduced in 2011 to check anti-women customary practices, including denial of inheritance and forced marriages, has failed to deliver the goods as the police, prosecution and society in general are mostly not aware of it, says a study done to assess the law's implementation.
The study on 'forced marriages and inheritance deprivation' was launched during a special ceremony organised by Aurat Foundation here on Wednesday.
Sarah Zaman did the study in six districts, including Peshawar, Mardan and Swat in Khyber Pakhtunkhwa; Karachi and Hyderabad in Sindh, and Islamabad Capital Territory.
On the occasion, Sarah said except one in Hyderabad and three in Mardan, the police officers interviewed didn't even know that there existed the Prevention of Anti-Women Practices (Criminal law Amendment) Act, 2011.
Study says society in general unaware of Prevention of Anti-Women Practices Act
"No trainings, orientations or briefing sessions have been held for law-enforcement agencies by any government institution regarding the law, which severely limits their ability to apply it in the relevant situations," she said.
The researcher said no FIR was registered under the provisions of the Prevention of Anti-Women Practices (Criminal law Amendment) Act in the districts.
She said the law enacted in Dec 2011 criminalised forced marriages of girls in the name of customs like Vani and Swara, depriving women of their inheritance rights by marrying them forcibly or keeping them from marrying wilfully in order to maintain control on family assets, and prescribed punishments for the acts.
Sarah said the law declared the marriage of girls with the holy Quran illegal.
She said the law didn't automatically declare a Nikah (marriage) held under duress or coercion as null and void and instead, a woman would be required to file a case for divorce if she wanted to end the marriage.
The researcher said most lawyers, some of whom occupied senior positions within district prosecution services, were also unaware of the law.
She said police officers had no means, resources or inclination to investigate matters involving domestic disturbance, which might be caused by forced marriage or inheritance-related violence.
While conducting the study, Sarah said it was evident that police officers had no training on gender-based violence or basic counselling skills needed to cater to cases of gender-based violence.
She said medico-legal sections neither existed in designated public hospitals as full-fledged departments nor did they operate separately from the casualty or emergency ward.
The researcher said medico-legal sections didn't have independent budget as part of a larger healthcare setup.
She said the women's police stations set up in different districts had failed to serve the purpose of their establishment.
"In Peshawar, the women's police station was situated in the Police Lines, where ordinary people could hardly go due to tight security," she said.
Sarah made recommendations for improvement in existing laws, performance of police, prosecution and other legal services and medico-legal examination.
Special assistant to the chief minister on parliamentary affairs Arif Yousaf, who was the chief guest on the occasion, said the provincial government was working to legislate against domestic violence and child marriages.
He said there were deficiencies in certain laws and that the government would remove them.
Yousaf said the current provincial assembly was very vibrant and had passed scores of bills during the parliamentary year.
He said the provincial government had introduced several laws for good governance, including those on access to information, access to public services etc.
The special assistant to the chief minister said the police had introduced online registration of FIRs for the benefit of the people.
Aurat Foundation director (advocacy) Rabeea Hadi said her organisation had received feedback from stakeholders on the study.
"We intend to do studies on women of non-Muslim communities and children living with disabilities," she said.
Rabeea said customary practices, including forced marriages, denial of inheritance and honour killings, were deep rooted in the society and were considered sacrosanct.
Woman MPA Nargis said it was unfortunate that the oppressive customary practices continued to be there.
She said customs like swara and vani were unjust as they allowed the marriage of minor girls to members of rival families to settle disputes.
http://www.dawn.com/news/1147229/law-on-anti-women-customs-termed-ineffective
---------
Turkish Prof Jailed For Barring Hijab-Clad Student
28 Nov, 2014
A prominent Turkish professor on Thursday began a jail sentence after being convicted of preventing a female student wearing a Muslim headscarf from entering the university where he worked, his lawyer said.
Rennan Pekunlu, a former professor of astrophysics at Ege University, was sentenced to two years in prison in 2012 for violating a headscarf-wearing student's "constitutional right to education" by barring her from entering the faculty.
Pekunlu began his sentence in a prison in the western city of Izmir, becoming the first individual in Turkey to be jailed for such an offence, his lawyer Murat Fatih Ulku told AFP.
Before heading to prison, the 64-year-old professor gave a public lecture on the "universe and evolution" to an audience including his former students, colleagues as well as members of several labour unions.
"This is not our last lecture. We have a lot more to do. This is not the end," Pekunlu said before bursting into tears, as gasps and sobbing erupted inside the packed hall.
"Professor Rennan is not alone," the crowd chanted, according to the website of Hurriyet newspaper.
"AKP dictatorship is doomed to collapse," they shouted, referring to the Islamic-rooted Justice and Development Party.
Pekunlu denies the charges, saying he did not prevent any student from entering the university or attending his classes, insisting that he would just "report them to university authorities", to which he is entitled under Turkish laws.
"I would have done the same in similar circumstances. I have done my duty," he told CNN-Turk television by phone.
His lawyer said they took the decision to the European Court of Human Rights. "It's an unfortunate decision in a secular, constitutional state," Ulku said.
Pekunlu is on trial in two other cases on the same charges and if found guilty he could face up to 12 years in prison.
He also received a suspended sentence for beating a veiled student at his university -- charges he insists were fabricated.
The Higher Education Board (YOK) lifted a ban on the wearing of the Muslim headscarf on university campuses in 2010.
However, some universities maintained the notorious ban, contesting the legality of the decree.
The highly charged headscarf debate lies at the heart of Turkey's divisions between religious conservatives, who form the bulk of President Recep Tayyip Erdogan's supporters, and more secular members of society.
The government is already under fire for what critics say are creeping efforts to force Islamic values on the predominantly Muslim country.
Last year, the parliament lifted a decades-old ban on headscarves in the civil service and in September, it allowed girls in high schools to wear the headscarf.
http://english.alarabiya.net/en/News/middle-east/2014/11/27/Turkey-jails-professor-for-denying-head-scarved-student-entry-.html
---------
URL: https://www.newageislam.com/islam,-women-and-feminism/new-age-islam-news-bureau/woman-break-dances-on-tehran-subway-flouting-laws-in-the-islamic-country/d/100236