New Age Islam News Bureau
3 Sept 2013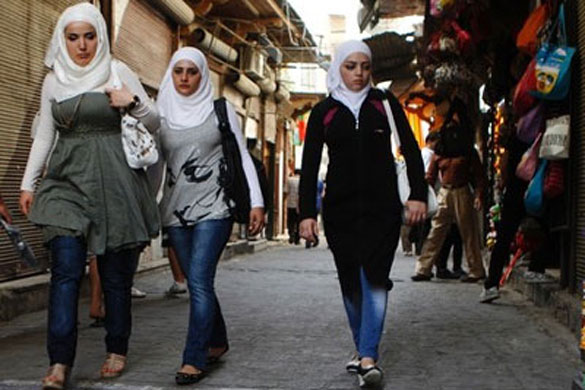 Damascus families flock to the Arnus garden in an attempt to relax and forget the war. (Photo courtesy: File photo: Reuters)
-----------
• Iranian Swimmer Denied Record Because Her 'Feminine Features' Were Visible
• Bali Governor Airs Support for Miss World Pageant
• Female Police Constable Shot Dead in Swat
• Daughter of Libya's Ex-Spy Chief, Abduallah el-Senoussi Abducted
• Asma Al-Assad Seen Splurging While Country Burns
• Damascus residents retreat to parks to forget the war
• Marriage Annulled As Palestine Sharia Court Rules Baby Illegitimate
• 12-Year-Old Saudi Girl Cleared Of HIV Given Warm Welcome
• 5,000 Qatari Women Benefit From Health Insurance Scheme
• Central Java: Painting For Women's Struggles
• Father of Abha Assault Victim Appeals Verdict
• Court Of Appeals Delays Execution of Saudi Rapist, Dubbed 'Human Wolf'
Compiled by New Age Islam News Bureau
URL: https://newageislam.com/islam-women-feminism/woman-booked-declaring-herself-prophet/d/13343
-------------
Woman Booked For Declaring Herself Prophet in Pakistan
PTI | Sep 3, 2013
LAHORE: Pakistani police have arrested a woman under the controversial blasphemy laws for declaring herself a 'Prophet'.
According to police, Salma Fatima, wife of Tanvir, who lived in the vicinity of Gulberg, a thickly-populated locality of Lahore, distributed 'blasphemous' pamphlets in the area on Monday morning.
In the pamphlets, police said not only she declared herself a "Prophet of Muslims but also had committed blasphemy in the honour of Prophet Muhammad."
The locals rushed to her residence. Police who reached there as well to control the situation.
According to an eyewitness, before the mob turned violent, the police arrested the woman and shifted her to women police station.
"We were shocked to read the blasphemous pamphlet written by Fatima. Some of the area women used to visit Fatima for resolution of their problems as she would give them 'taweez' (a bean covered in a piece of paper in which some Quranic verses were written) for the purpose," said Faisal Ali, a local resident.
"Apparently she was not abnormal or psychopath," he said. Superintendent of Police Tariq Aziz said a case had been registered against Fatima on the complaint of a local prayer leader Iftikhar Ahmad.
"Women police are interrogating her and also recording the statement of the witnesses," he said. The police have also arrested her husband and are interrogating him too.
http://timesofindia.indiatimes.com/world/pakistan/Woman-booked-for-declaring-herself-Prophet-in-Pakistan/articleshow/22251801.cms
-----------
Iranian Swimmer Denied Record Because Her 'Feminine Features' Were Visible
September 3, 2013
A female Iranian swimmer has been denied recognition of a record-setting swim by sports officials because her "feminine features" were visible, she claims.
Elham Asghari, 32, said she broke a personal record in June when she swam 20 kilometres in open water full Islamic dress, the Guardian reported.
But Iran officials agreed to acknowledge only 18km of the full 20km, nine-hour feat and refused to register the record, claiming her swimwear did not adequately hide her body.
"Although I [stuck to] the full Islamic dress code and had swimming officials present at all times, [the authorities] said no matter how Islamic my swimming gear, it was unacceptable," Ms Asghari said.
"They said the feminine features of my body were showing as I came out of the water."
Ms Asghari's custom designed swimsuit – a full hijab, covering her body from head to toe – added some six kilograms to her weight in the water and, she says, is painful to wear.
She posted a video of herself on YouTube pleading for support, and a Change.org petition now has more than 147,000 signatures.
"My 20km record has been held hostage in the hands of people who cannot even swim 20 metres," Ms Asghari said.
"I have [had] tough days and nights. This incident is unbelievable for me. I will not give in to pressure. Swimming is not exclusively for men – we ladies do well too."
Women in Iran can use public swimming pools at gender-segregated times and female-only sections, but swimming in open waters is discouraged by authorities.
"They fear that if they recognise my record then they would unwittingly approve my swimming gear and that would eventually give women swimmers access to open waters," Ms Asghari said.
In a previous open water race, Ms Asghari said her leg and hip were sliced open by a boat's propellers as water police tried to stop her.
The Women's Islamic Games in Tehran is one of the few international events open to female Iranian swimmers, who are prohibited from overseas competition.
http://news.ninemsn.com.au/world/2013/09/03/15/48/iranian-swimmer-refused-record-because-of-gender
-------------
Bali Governor Airs Support for Miss World Pageant
September 3, 2013
Denpasar. Despite mounting calls by state officials and mass organizations for the upcoming Miss World beauty pageant to be canceled, Bali Governor I Made Mangku Pastika voiced his support for the event, arguing that it will present Bali and the whole of Indonesia in a positive light.
"What is wrong with the Miss World [pageant]? What are the reasons behind the protests and objections?" Pastika asked on Monday.
He said that the contest would be conducted in line with his island's customs and not be a showcase for indecent displays of the female figure.
"[Participants] will follow our ethics and procedures. They will also act in accordance with Balinese tradition and culture," he said. "The Miss World pageant will not bring any losses to Bali or Indonesia."
It will, instead, he said, boost Bali's, and by extension Indonesia's, international reputation.
"For Bali, the event could act as a free promotion. The [contest] could lead to economic benefits and encourage tourism to the country," he said.
The Miss World contest has drawn criticism from the hard-line Islamic Defenders Front (FPI) and the more moderate Indonesian Council of Ulema (MUI).
An MUI official said the group opposed the event because exposing a woman's body violated Islamic teachings. He said the decision by contest organizers to exclude the traditional bikini contest did not overcome the problem as contestants will still be required to wear tight dresses that showed their curves.
The FPI has also vowed to disrupt the event, which is scheduled to include a gathering in Bali before the main ceremony on Sept. 28 at the Sentul International Convention Center in Bogor, West Java.
Suryadharma Ali, Indonesia's Minister of Religious Affairs, and Maneger Nasution, an official at the National Human Rights Commission (Komnas HAM), also condemned the contest as not being compatible with Islamic teachings and for putting women's bodies on display.
Pastika, meanwhile, dismissed concerns that the contestants will expose their aurat, or body parts that are supposed to be clothed as stipulated by Islam, as illogical.
Echoing the governor's sentiments, dozens of college students and youths in Bali held a demonstration in Denpasar on Monday in support of the pageant.
"We don't think the MUI should meddle [in this issue]," Gede Mas Megantara, a protest coordinator, said. "Such an attitude is against the principles of [Indonesia's state ideology] Pancasila."
The protestors also asked for security officials to ensure that the event runs smoothly.
http://www.thejakartaglobe.com/news/bali-governor-airs-support-for-miss-world-pageant/
-------------
Female police constable shot dead in Swat
September 3, 2013
MATTA: Family dispute took the life of a young woman at Kharerai village of Tehsil Matta, Swat, on Monday. Sadia, a female constable, was killed by her father-in-law who shot her during the morning hours.
The police confirmed that in the wake of domestic disputes Sadia had taken refuge in her parents' place where she was murdered by her father-in-law, Fazal Hadi, who also happens to be her paternal uncle.
An official at the Matta Police Station stated that Hadi barged into the house of Sadia's parents where she had been living for the past few months, and opened indiscriminate fire at her. A shot in her head killed her instantly.
Tehsil Matta in Swat is known to be a very conservative, Taliban-afflicted area where local customs and traditions do not encourage women to pursue education or be a part of the workforce.
Police officials said initially that they were uncertain if Sadia was a serving police constable and they referred to her as an ex-employee. Later, it was confirmed that she was serving in the police force.
Her brother, Haider Ali, got an FIR registered against the alleged killer. His version, as mentioned the police report, was that her in-laws did not like that she was working as a police-woman.
"Sadia's in-laws were against her job in the police and insisted that she quit," police officials quoted Ali as saying.
The police have arrested the accused, and are investigating.
http://tribune.com.pk/story/599003/female-police-constable-shot-dead/
-------------
Daughter Of Libya's Ex-Spy Chief, Abduallah el-Senoussi Abducted
September 3, 2013
The head of a Libyan prison says the daughter of the country's former spy chief has been abducted after leaving prison in the Libyan capital.
Mourad Zekri says that Anoud, daughter of former dictator Moammer Gadhafi's intelligence chief and top aide Abduallah el-Senoussi, was kidnapped just after she left al-Rayoumi prison in Tripoli on Monday. He says security forces are investigating.
Anoud had been held for nearly 10 months after entering Libya with a forged passport. She had come to visit her father in prison, where he has been held over his role in crimes committed during the 2011 civil war that toppled Gadhafi and left thousands dead.
Successive Libyan governments have largely failed to reign in powerful militias and bring law and order to the country since the war.
http://english.ahram.org.eg/NewsContent/2/8/80659/World/Region/Daughter-of-Libyas-exspy-chief-abducted.aspx
-------------
Asma Al-Assad Seen Splurging While Country Burns
Monday, 2 September 2013
While Syria goes through a bloody civil war, with hundreds being killed on a daily basis, Asma al-Assad, the wife of embattled President Bashar al-Assad, splurges on luxury items and watches her weight, according to media reports.
The Uk's Daily Mail has revealed the First Lady's habits of ordering Western food for her children, purchasing a $450,000 chandelier last year and posting pictures of herself wearing fitness accessories.
Asma al-Assad is currently taking refuge in a bombproof shelter to avoid the current deadly violence in her country, while Syria and the international community await a U.S. response on the latest alleged use of chemical weapons by the Syrian regime, according to the newspaper, which likens her to Marie Antoinette, a reference to the doomed French queen.
"Asma Assad has no heart. She is obsessed by how chic and beautiful she looks," Ayman Abdel Nour, a former advisor to the Syrian president was quoted as saying in the article. "She is at the centre of a fool's court."
Retail therapy
Syria's first lady has been under intense scrutiny over the last couple of years.
The Daily Mail published a story last year revealing leaked documents on how she had spent $450,000 on furniture and was refurbishing her summer palace in Latakia.
Syria's First Lady has been married to the Syrian president since 2000. She grew up in London and studied computer science and French literature at university there.
She was working as a banker at the popular JP Morgan firm in London when she met Assad, who was training to be an eye surgeon.
In March 2011, U.S.-based magazine Vogue sparked controversy when it published a profile of her entitled "A Rose in the Desert," describing her as "young, glamorous, and very chic."
The article depicts the Assad's home lives, with the president telling the author he was attracted to studying eye surgery "because it's very precise, it's almost never an emergency, and there is very little blood."
The controversial article was later removed from Vogue's website.
http://english.alarabiya.net/en/life-style/2013/09/02/Asma-al-Assad-seen-splurging-while-country-burns.html
-------------
Damascus residents retreat to parks to forget the war
3 September 2013
AFP, Damascus
As night falls on Damascus, families flock to the Arnus garden, with its statue of former leader Hafez al-Assad, in an attempt to relax and forget the war.
"At home, I'm on edge and upset watching the news. I come here to breathe," Umm Sami, a portly smiley woman says from behind her small glasses, her hair tucked under a white veil as bombing echoes from the city's outskirts.
"When I see all these people, I'm not afraid any more," she adds, gesturing towards the plastic chairs and tables set up alongside vendors selling coffee, juice, candyfloss, corn and sweets -- all to the sound of popular Arabic music in a fairground atmosphere.
Once a place where people came for a quick stroll before the conflict began with the March 2011 uprising against President Bashar al-Assad, this green corner in the central Salhiye district has been transformed into an open-air cafe.
Residents come to relax and experience a bit of human warmth and normalcy, just a few kilometres (miles) from battles between regime forces and rebels.
In the past, they might have retreated to the greenery of Eastern Ghouta, a Damascus suburb that has now become infamous as one of the scenes of an alleged deadly chemical weapons attack on August 21.
But now, Damascus residents looking for some respite go to the city's public gardens. In Tishrin, Al-Jahez, Mazraa and Baramkeh districts, crowds of locals are protected in local parks by armed security men.
Locals say the green presence is comforting.
"I come here every day, and I'm reassured because the army is everywhere," says Roqayya al-Zayyat, with a big smile.
"This is where we feel most secure," adds Samar, at the park with her mother, pushing her daughters in a pushchair.
"It's a change of scenery, and it's cheaper than the cafes," she says.
"People come here because there's life," says Munir, a travel agent.
"I work in tourism and travel. But nowadays it's just travel," he jokes bitterly.
Beefy Wassim, 33, puffs on a nargileh water pipe as children zip by on scooters, bicycles and skates, and couples walk hand-in-hand.
"We spend hours here to defy the war," he says.
But the bloody conflict is never far away, with a popular pro-regime song pounding the air: "The Syrian people in the streets are shouting 'We are your soldiers, oh Bashar!'"
The park is also a place for America-bashing.
Amir Najar recites poetry criticizing US President Barack Obama, who said this weekend he would seek congressional approval for a military strike on Syria over the alleged chemical weapons attack that Washington blames on the regime.
"Miserable Obama, you submit yourself before Assad," he sings, to applause from the audience.
But behind their apparent confidence, many residents have sad stories to tell.
"I used to work in Jaramana (southeast of Damascus), but the terrorists destroyed our sweets factory," says Osama, who has been selling juice, coffee and tea for the past year.
Syria's regime used the terminology "terrorists" to refer to rebels.
While the city's gardens stay alive until late in the evening, along with a few shopping areas, the atmosphere of Damascus at night is markedly different from before the war.
At midnight its streets are deserted, even though most Arab capitals stay awake and alive into the small hours during the summer months.
Cars drive across Abbassid Square as quickly as possible, given its proximity to the battleground eastern district of Jubar.
And Bab Tuma in Old Damascus is now almost unrecognizable, transformed into a land of barracks with checkpoints and soldiers posted on the old city walls.
The dimly lit streets are sinister, even if some backgammon players and nargileh fanatics still gather at small cafes to indulge their passions.
But despite all the changes in the Syrian capital, and even with the looming threat of foreign intervention, Umm Sami remains an optimist.
"I hope that Damascus returns to how it was before," she says.
http://english.alarabiya.net/en/perspective/features/2013/09/03/Damascus-residents-retreat-to-parks-to-forget-the-war.html
-------------
Marriage Annulled As Palestine Sharia Court Rules Baby Illegitimate
September 3, 2013
Ramallah: The Higher Sharia Judicial Council in Palestine has ruled that a baby boy is illegitimate as he was born out of a woman's second marriage, while her first husband was in an Israeli jail.
The lack of an electronic archive was blamed for the confusion that allowed the woman to have two marriage contracts.
Yousef Edais, who heads the council, said that the woman cannot have two marriage contracts at the same time and that her second marriage is illegitimate. "The woman had an illicit affair and produced illegitimate children," he told Gulf News.
Men, meanwhile, can marry four women under Islamic law.
The Sharia Courts are not connected in a unified system to create an archive to centrally record marriages and divorces in the Palestinian territories.
The advocacy group, Musawah Centre, however said that the woman's marriage contracts had been attested and approved by two Sharia courts.
Ebrahim Barghouti, executive manager of Musawah, said in a statement that the situation came to light when the woman approached the Palestinian Interior Ministry to officially register her newly born baby boy so he could be issued a birth certificate.
"It was discovered at the Interior Ministry that the woman is married to two men, the first of whom is behind Israeli bars. It was learned that the woman had tied the knot with her second husband without informing the first husband," he said.
He said that the woman provided the Sharia Court with her passport as the identity card for her second marriage's contract. "This is a major violation of the Palestinian personal affairs law and the woman's violation has seriously harmed the norms of the society," he said.
Meanwhile, the Ramallah Sharia Court has terminated the second marriage contract labelling it illegal and illegitimate. The Sharia judicial system has also labelled the children produced in the union illegitimate.
Al Barghouti urged the Palestinian National Authority (PNA) and the Palestinian Sharia Judicial System to build an electronic and computerised archive accessible by the departments and courts supervised by the Sharia Judicial System.
Sources at the council supported this demand arguing that the social status of the entire Palestinian public should be "updated". Men usually ask for bachelorhood certificates at the courts prior to marriage contracts.
Typically, sources claim, a groom would bring two witnesses to certify at any Sharia Court that the he had not already married. The witnesses' testimonies are recognised as the courts lack an official archive to verify the individual's claim.
The sources told Gulf News that women who intend marrying are also in need of official certificates to testify they had not married before.
http://gulfnews.com/news/region/palestinian-territories/marriage-annulled-as-court-rules-baby-is-illegitimate-1.1226494
-------------
12-Year-Old Saudi Girl Cleared Of HIV Given Warm Welcome
September 3, 2013
Manama: A 12-year-old Saudi girl who was administered HIV-infected blood in a botched transfusion earlier this year has been given an outstandingly warm welcome by jubilant crowds in the city of Jizan.
Reham Hakami, whose case gripped the nation and drew unprecedented support, was allowed to leave King Faisal Specialist Hospital and Research Centre in the capital Riyadh after local and international laboratory tests and HIV experts concluded she did not carry the virus, local news site Sabq reported.
Government and health officials as well as relatives, friends and local residents welcomed Reham home amid a deluge of good wishes and an improvised display of fireworks. She had spent seven months at the hospital.
"I would like to thank all those who stood by me, particularly my family and my relatives," she said. "I am grateful to all of you and I do pray to the Almighty to reward you for your words and deeds. My joy today is so immense."
Reham's case in February sparked outrage in Saudi Arabia after it came to light that she was given contaminated blood during a blood transfusion at Jizan's General Hospital on February 14.
The girl, raised in poverty and lack of attention, did not seem in the beginning to understand what was happening to her or around her family.
"I am used to going every year with my father and mother to the General Hospital in Jizan for a blood transfusion," Reham who suffers from sickle-cell anaemia said when her case hit the nation.
"Last week, I went as usual to the hospital and at around 11pm, a nurse inserted a needle into my left hand for the blood transfusion. The nurse told me to sleep until it was over," Reham, a sixth grader at a local school, said.
A doctor from the emergency department checked her before she was allowed to leave the hospital, she added.
"However, after two days, I felt excruciating pain. It was different from the pain I had felt in the past. However, we could not go to hospital because my father did not have a car. At around midnight, while I was sleeping, my uncle woke me up and took me to an ambulance in our neighbourhood and they drove me to the King Fahd Central Hospital. I was very scared," she said.
"There were several doctors there for me and as my uncle and I waited, my mother, father and aunt joined us. I was taken into a room and only my mum was allowed to stay with me," she said.
A doctor gave her medicine and painkillers at around 7am.
As details of the case emerged, activists, focus groups and columnists called for prompt action to extend all required assistance to the young girl, while demanding stringent measures against those found guilty of negligence.
The sixth grader was eventually taken to Riyadh.
The health ministry offered its apologies to Reham and her family and pledged to provide her with the best care possible.
Four days after the incident, the ministry said that it sacked the laboratory technician at the hospital where the HIV-infected blood was given and that it revoked the technician's licence.
The Jizan General Hospital manager, medical head, laboratory head and blood bank head were also sacked following the botched blood transfusion that has sparked wide condemnation and deep outrage in the Saudi kingdom.
Fines of 10,000 Saudi riyals (Dh9,789) were also imposed on the blood bank head and on the Aids programme coordinator.
http://gulfnews.com/news/gulf/saudi-arabia/saudi-girl-cleared-of-hiv-given-warm-welcome-1.1226749
-------------
5,000 Qatari women benefit from health insurance scheme
September 3, 2013
Nearly 5,000 Qatari women have been treated under the National Health Insurance Scheme (NHIS) since its July 17 launch, the Supreme Council of Health (SCH) said yesterday.
Four hospitals - Hamad Medical Corporation's Women's Hospital, Al Emadi Hospital, Al-Ahli Hospital and Doha Clinic Hospital – are part of the NHIS.
Al Wakra Hospital, Al Khor Hospital and the Cuban Hospital are scheduled to be added to the provider network this month.
The NHIS, introduced by the SCH as part of its National Health Strategy, aims to provide world-class medical care to all Qatari nationals and expatriates, with the first phase of the programme covering female Qatari nationals over the age of 12.
As of August 27, a total of 4,760 women had made use of the NHIS, which under stage one covers maternity, obstetrics, gynaecology and related healthcare services, the SCH said in a release issued yesterday.
The figure included some 1,047 in-patients and a total of 3,713 out-patients at participating hospitals and clinics, while the call centre received over 800 enquiries during its first six weeks of operations.
"To be honest, I was a bit worried because I didn't know how the insurance scheme would work and what I needed to do to get coverage," said Elham Hussein, who was one of the first women to receive services under the NHIS.
"But luckily, when I went to Al Ahli Hospital, everything went very smoothly and I was admitted right away without any difficulties. The National Health Insurance Scheme really makes things much easier because you know that you are covered and you know that you can go to hospital and be treated right away."
The first baby delivered within the scheme was a boy, born in the morning of July 17 at the Women's Hospital.
With all Qatari women aged 12 years and above automatically enrolled in the scheme, a Qatari ID issued by the Ministry of Interior is all that is needed to access NHIS healthcare services at any participating hospitals.
"We are pleased with the smooth introduction of the National Health Insurance Scheme," NHIC acting chief executive officer Dr Faleh Mohamed Hussain Ali said.
"Thousands of patients have been treated in the first month and a half since the scheme's launch in what is a strong testament to the seamless integration between the participating hospitals and the National Health Insurance Company (NHIC) to implement the National Health Insurance Scheme," he added.
The NHIS is being rolled-out in five stages over the next two years.
The next phase will expand the coverage to include all Qatari nationals, regardless of age or gender.
The second stage will also see an expansion of healthcare services to include all medical disciplines. Non-nationals and visitors will be added to the NHIS in the subsequent
stages.
"The smooth launch of the scheme reflects a lot of the work that went into preparing the healthcare sector for the launch of the scheme," NHIS project manager Husein Reka said, adding: "As more providers are added over the coming weeks, the scheme will reach out to even more of the Qatari women covered in the first stage."
Information and updates on the scheme are available at the NHIC website www.nhic.qa.
Members can also call the NHIC call centre on telephone 4020 8444 or visit one of the NHIC information booths at participating hospitals and at the SCH.
http://www.gulf-times.com/qatar/178/details/364531/5%2c000-qatari-women-benefit-from-health-insurance-scheme
-------------
Central Java: Painting For Women's Struggles
Ganug Nugroho Adi, Surakarta, Central Java
September 3, 2013
Born in Boyolali on September 12, 1975, Dewi Candraningrum never aspired to become a painter. However, on August 26-31 she displayed about a hundred paintings along with her child, Ivan Ufuq Isfahan, 13, in Surakarta, captivating visitors with the works of mother-and-child collaboration.
"A mother normally delivers her children. But this time a child has given birth to his mother. Ivan has made me born again as a painter," said Dewi in her house in Colomadu, Karanganyar, Central Java.
Dewi wasn't joking when she said Ivan had caused her rebirth. Ivan is a boy with autistic syndrome. With this mental condition, Dewi has to prepare everything whenever Ivan wants to paint and even gives finishing touches to his pictures.
"I've been doing this for years. Eventually I got desirous of painting, which I started around two years ago and has turned out what I'm showing now. So Ivan has transformed me into a painter," noted the lecturer of women's literature in the School of English Literature, Muhammadiyah University of Surakarta (UMS).
Some parents are embarrassed to have autistic children. They frequently leave such children at home with domestic servants and lock them up when there are visitors so as not to be seen.
"The first reason is embarrassment. They're ashamed of the abnormal behavior of their children, which may cause trouble to other people nearby. Ignorance of how to deal with autistic children causes frustration and disregard for their presence," said Dewi, now finishing her study for a master's program at Monash University, Australia.
She admitted she had been shocked to notice her child born with autism. But she soon managed to overcome the pressure and started planning to face the difficult days Ivan would have to go through.
"Being honest and open to other people about my child's autism will relieve my burden. I've never hidden Ivan's autistic syndrome," she revealed.
Dewi often goes with Ivan to take a walk, a sightseeing trip, attend a party, arisan (rotating savings) meeting or family gathering, without feeling embarrassed, let alone troubled.
According to Dewi, Ivan's autistic symptoms were apparent as soon as he was born. For instance, unlike the other newborns, Ivan didn't cry. When he was breastfed, Ivan was looking at other objects instead of his mother.
"An autistic child requires extra attention and energy. It's not done by providing abundant material wealth, but rather by treating him with continuous patience and tender loving care," said Dewi, who is also pursuing a doctorate at Germany's Muenster University.
Dewi explained the positive behavior of autistic children should never be formed by force. The annoying manners triggered by their mental condition result from a neurobiological development disorder.
"Autistic children badly need help in overcoming their communication and interaction difficulty. Trust me, these children never want to be defiant. We should have a lot more patience. It's the key," assured Dewi, also a guest lecturer of the University of Indonesia's postgraduate program.
The daughter of Soekirno and Dewi Ngaenah has been actively involved in various movements struggling for women's better fate, besides an editorial board member of Jurnal Perempuan (Women's Journal) and a co-founder of Jejer Wadon, a women's discussion forum in Surakarta.
Her attention to women's affairs since teenage years and her current preoccupation with women's struggle has obviously filled the themes of her paintings. "As a female member of a patriarchal Javanese family, I've felt the difference in freedom since childhood. My older brothers had fewer restrictions than I did," she recalled.
"What I studied at college later helped me understand how to respond to what was going on, especially in terms of women's issues," said Dewi, who is active in the International Journal of Indonesian Studies (IJIS) at Monash University, Melbourne, Australia.
With regard to the female body, Dewi maintained that there had been a shift in people's perception of a woman's figure.
In ancient times a woman was positioned as a Queen or the origin of human civilization.
"In modern days the public view of the female body and sexuality has changed. Women are today more shaped by cosmetic and fashion products rather than judged by their integrity and achievements," she indicated.
The concept of the body, in Dewi's view, is inseparable from ecology as the body represents part of the earth. But now the earth is damaged as culture doesn't favor ecological equilibrium, adversely affecting the body. Culture has thus caused alienation from the body.
"This is the reason for my paintings of nude women, which are in the context of ecology rather than pornography," clarified Dewi Candraningrum, who in September is scheduled to visit Sweden for her research on children's rights.
http://www.thejakartapost.com/news/2013/09/02/dewi-candraningrum-painting-women-s-struggles.html
-------------
Father of Abha assault victim appeals verdict
September 3, 2013
The Appeals Court in Asir is examining the case of Leyan Al-Aed, a school girl who was assaulted by a classmate's relative while returning home in a school bus in the suburbs of Abha.
The girl's father, Amjad Al-Aed, had also complained to the National Society for Human Rights (NSHR) about the assault since the trial court, he claimed, did not pay the case the attention it deserved.
Al-Aed said the girl was admitted to hospital with facial injuries, besides a serious injury to her right eye following the assault. The father is not satisfied with the 10-lash sentence and warning handed down by the Abha Criminal Court.
"I appealed to the higher court because the lower court's verdict did not give any consideration to the degree of trauma suffered by my daughter and the pain and anguish suffered by her parents. It also did not take into account the humiliation suffered by her, because the assault took place in front of other students," the father said.
He said there was no justification for leniency toward such behavior on grounds that the offender was a minor. "He was an adult," Al-Aed said.
He said the case was assigned to a lower court official although the seriousness of the case required it to be handled by a judge. He also wanted the court to hand out severe punishment to the offender as a deterrent to other youths.
Ali Al-Shaabi, head of the NSHR's Asir branch, said his organization noticed that school authorities did not take serious steps to protect youngsters from violence perpetrated by grown ups and others.
http://www.arabnews.com/news/463286
-------------
Court Of Appeals Delays Execution of Saudi Rapist, Dubbed 'Human Wolf'
September 03, 2013
MAKKAH — The Court of Appeals has returned the file of Saudi rapist, dubbed "human wolf", who kidnapped and raped several girls back in 2011, to Jeddah General Court after recording several objections, Al-Hayat daily reported.
The General Court in Jeddah sentenced the rapist to death over four months ago and sent the file to Makkah Court of Appeals for final approval.
During the trial, the prosecution sought strict punishment for the defendant because of overwhelming evidence that he abducted and raped eight girls aged between six and 12 years.
He also beat them up and forced some of them to drink alcohol and watch pornography with him, the court was told.
DNAs test results and fingerprints lifted from the scene proved that they belonged to the defendant. Also, medical examinations conducted on all girls showed they were sexually assaulted. The girls were able to identify the man in a police lineup.
Besides, the surveillance cameras in some malls captured the man while he talked to one of the girls and tricking her into leaving the mall with him.
According to media reports, the first kidnapping was at a wedding hall in 2008. After this the defendant lured a girl of nine to his car and requested her to take a gift he had left in the car to the bride.
The unsuspecting girl accompanied him to the car and once she was inside, the man forcibly took her to his house.
There was no one in the house as his wife had gone to her father's house along with her children.
After the rape he abandoned the girl at a remote location. He did not, reportedly, commit any crime in that year.
However, next year various police stations in the city registered seven rape cases in similar circumstances but without any clue about the culprit. The parents of girls in these cities were in a terrified state about "the stalking brute."
Since all the reported incidents were nearly identical, police set up a special team and stepped up investigations.
In 2009, police got a call from a worker at a commercial center in south Jeddah about a lone man who would often come to the place and attempt to befriend young girls. However, CCTV did not capture any clear image of the man.
In 2010, only one case identical to the past eight incidents was reported. It took place in south Jeddah. This time the victim was 10 and was lured away from a hospital.
In a following attempt in early 2011, a man was caught taking a girl to his car. Bystanders beat him up but did not report the matter to police. Three more cases were reported.
However, the last victim, who was seven, gave a clear description of the location and house where she was raped.
This helped police to locate the house. Her statements matched the statements of other victims. This led to the arrest of the man and further investigations.
http://www.saudigazette.com.sa/index.cfm?method=home.regcon&contentid=20130903179092
-------------
URL: https://newageislam.com/islam-women-feminism/woman-booked-declaring-herself-prophet/d/13343