New Age Islam News Bureau
12 Jun 2017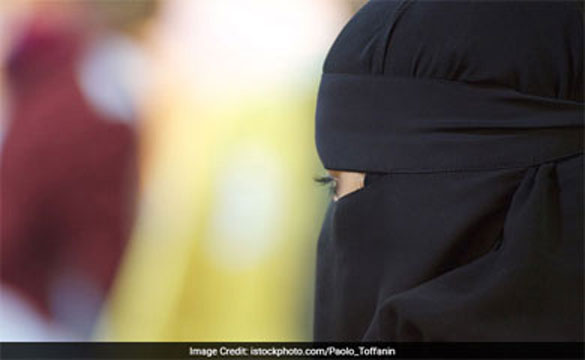 The woman was pushed from behind and knocked to the ground in front of her child. (Representational)
----
• Iraqi Govt. Forces Find Daesh Prison for Izadi Women in Western Mosul
• First Woman Detained For Radicalism in Singapore After She Planned To Join Islamic State
• Muslim Women Blame 'Toxic Masculinity' For Terror Attacks
• Woman Assaults Expat For Marrying Her Husband
Compiled by New Age Islam News Bureau
URL: https://www.newageislam.com/islam-women-feminism/woman-assaulted-hijab-ripped-off/d/111511
--------
Woman assaulted, hijab ripped off in hate crime in UK
Jun 11, 2017
LONDON: A woman in the UK was allegedly pushed to the ground and her hijab ripped off amid a spike in hate crime incidents following the two terror attacks by Islamists that claimed 30 lives.
The assault took place in Fengate, Peterborough, after the woman had just got out of her car and crossed the road with her three-year-old daughter when she was pushed from behind and knocked to the ground.
She had her hijab pulled off and thrown towards her. No words were exchanged in the assault, but police have confirmed they are treating it as a racially or religiously aggravated hate crime, Peterborough Telegraph reported.
The male offender was described as white, tall, of medium build and wearing a black hooded top with the head pulled up.
A police spokesman was quoted as saying that the victim was shaken by the attack but otherwise uninjured.
The assault comes amid a spike in hate crime incidents in the UK following a suicide bombing at a concert in Manchester that claimed 22 lives and an attack in London by three terrorists, who drove a van into pedestrians and then went on a stabbing spree, killing eight persons before being shot dead.
Anti-Muslim crimes in the British capital increased fivefold since the London attack, London Mayor Sadiq Khan said last week, warning that police would take a "zero-tolerance approach".
Following last month's concert bombing as well, the number of hate crime incidents reported to police in Manchester had doubled.
The kind of incidents reported included a bomb threat received by a Muslim school, racist graffiti and a niqab-clad woman being told she should not be wearing the Islamic outfit.
Also, a Muslim woman was spat on while a teenaged Muslim girl taunted by a passer-by who said, "when are you going to stop bombing people.
http://timesofindia.indiatimes.com/world/uk/woman-assaulted-hijab-ripped-off-in-hate-crime-in-uk/articleshow/59093253.cms
--------
Iraqi govt. forces find Daesh prison for Izadi women in western Mosul
Jun 11, 2017
Iraqi army soldiers have discovered a detention facility in the western flank of Mosul, which members of the Daesh Takfiri terrorist group used to incarcerate women from the Izadi minority group.
Iraq's Ministry of Defense, in a statement released on Sunday, announced that the government forces found the prison in the recently-liberated 17th Tammuz neighborhoods of Mosul, located some 400 kilometers (250 miles) north of the capital Baghdad.
A military official, speaking on condition of anonymity, said the building also incorporated a so-called judicial tribunal, where army soldiers could recover dozens of classified papers.
The official added that Daesh had installed a comprehensive CCTV surveillance system across the building for the principal purposes of keeping an eye on the movements of the female detainees.
An unnamed commander said Daesh militants had set up the prison in the 17th Tammuz neighborhood as they never thought army soldiers would recapture the area.
Commander of the Federal Police Forces Lieutenant General Raed Shaker Jawdat said on May 20 that his forces had fully recaptured 17th Tammuz and Eqtesadieen neighborhoods of Mosul, and set up barricades and barriers in the liberated areas, Arabic-language al-Sumaria television network reported.
He added that 66 Daesh terrorists had been killed while 13 explosive-laden cars and nine motorcycle bombs had been destroyed during the operations.
On March 13, Iraqi forces in western Mosul regained control over a textile factory that Daesh used as a jail to hold women.
"Daesh imprisoned nearly 300 women in the building," Gayath Surchi, the speaker of the Patriotic Union of Kurdistan in Mosul said at the time.
Surchi added that the women were transferred to refugee camps in northern Mosul, where they were identified and later reunited with their families.
"Their ages vary between 20 to 70 years old and some of them speak Kurdish," he pointed out.
Back in August 2014, Daesh terrorists overran Sinjar, killing, raping, and enslaving large numbers of Izadis. The town was recaptured on November 13, 2015, during a two-day operation by Peshmerga forces and Izadi fighters.
The Office of Kidnapped Affairs in the northern Iraqi city of Dohuk says around 3,500 Izadi Kurds are being held captive in the Daesh-held areas, and that a large proportion of the abductees are women and children.
Iraqi army soldiers and volunteer fighters from the Popular Mobilization Units, commonly known by their Arabic name, Hashd al-Sha'abi, have made sweeping gains against the Takfiri elements since launching the Mosul operation on October 17, 2016.
The Iraqi forces took control of eastern Mosul in January after 100 days of fighting, and launched the battle in the west on February 19.
http://217.218.67.231/Detail/2017/06/11/524938/Iraqi-forces-uncover-Daesh-prison-Izadi-women-17th-Tammuz-western-Mosul
--------
First woman detained for radicalism in Singapore after she planned to join Islamic State
12 Jun 2017
SINGAPORE: Singapore has detained its first female citizen for radicalism under the Internal Security Act (ISA), said the Ministry of Home Affairs (MHA) on Monday (June 12).
Syaikhah Izzah Zahrah Al Ansari, a 22-year-old contract infant-care assistant with the PCF (PAP Community Foundation) Sparkletots preschool programme, was detained in June this year.
Her radicalisation started in 2013 through online propaganda related to the Islamic State terrorist group, said MHA.
"She began to believe that ISIS (Islamic State of Iraq and Syria) represented the true spirit of Islam. Her radicalisation deepened over time," a press release read. "This was exacerbated by a wide network of foreign online contacts which she developed. They included ISIS militants and supporters, some of whom have either been killed in Syria or arrested for terrorism-related activities."
Since 2014, Izzah actively posted and shared pro-ISIS material online. Several of her social media platforms were removed by administrators because of such content, but she created new ones.
MHA said Izzah was also intent on joining ISIS and was actively planning to make her way to Syria, with her young child, to do so.
"She supported ISIS's use of violence to establish and defend its self-declared 'caliphate', and aspired to live in it," said the ministry. "To this end, she said that since 2015, she was looking for 'a Salafi or an ISIS supporter' to marry and settle down with him and her child in Syria."
"She said she would support her husband if he fought for ISIS in Syria as she believed she would reap 'heavenly rewards' if he died in battle. With her 'elevated status' as a 'martyr's widow', she felt she could (then) easily marry another ISIS fighter in Syria."
Izzah also said she was prepared to undergo military training and engage in armed combat to defend ISIS if called upon by the terrorist group to do so, MHA added.
Her sister and parents - who are both freelance Quranic teachers - came to know of her radical postings in 2015 and her intention to join ISIS in Syria. They did not alert the authorities and tried on their own to dissuade her, but were unsuccessful.
Izzah continued down the path of radicalism, said MHA, and in April this year, "boasted" to a contact that the Singapore authorities had not detected her.
In its press release, the MHA reiterated that importance of family members and friends to let the authorities know of anyone they suspect is being radicalised or planning terror attacks.
http://www.channelnewsasia.com/news/singapore/first-woman-detained-for-radicalism-in-singapore-after-she-8938532?view=DEFAULT
--------
Muslim women blame 'toxic masculinity' for terror attacks
June 12, 2017
A group of leading Muslim women says "toxic masculinity" lies behind terrorist acts.
In a letter published yesterday in Britain's The Sunday Times, the group also complains that the debate about tackling extremism is dominated by men and must involve women.
Challenging the government and fellow Muslims after attacks in London and Manchester killed 35 people, including two Australians, the women call for recognition of the "link between violence against women and other forms of hate".
"Hateful ideology is a vehicle for a toxic masculinity that seeks solace in extreme violence," they write. "Therefore, we must ­address this appropriately and include women in the debate who may be able to help counter how young men are raised or being indoctrinated to hate."
The letter argues: "The battle against extremism is a gener­ational struggle and one that impacts us all. It requires active engagement of all Muslim communities. It would be wise, therefore, to include, empower and support diverse Muslim women in combating extremism."
It calls for recognition of "the gendered aspect to extremism where hateful ideology also seeks to suppress women, and where violence against women is often connected to both crim­inal and subsequent extremist behaviour".
The women point out that the perpetrators of the Westminster, Brussels and Paris attacks "were violent and criminal men before they became adherents of ISIS".
Many terrorists have a record of family violence. The former wife of Khalid Masood, the Westminster attacker, fled him in terror after only three months of marriage, according to a relative. Mohamed Lahouaiej Bouhlel, who killed 86 in Nice last year, had a long history of domestic violence.
The 900-word letter asks how society can "tackle the cancer of Islamist extremism" without involving women.
Zehra Zaidi, an activist and one of the signatories, said: "At the moment it's almost a 'usual suspects'-type approach — using so-called community leaders who are all going to be men and religious. I am sick of the issues being seen through one prism. It's not just ideological. Increasingly, ISIS recruits those who are criminal, with an absence of empathy, and you also need to address it the way you address criminal and gang culture."
The women — who include Ayesha Hazarika, former special adviser to British Labour's Harriet Harman, and Sara Khan, director of the anti-extremism group Inspire — say the auth­orities' "failure to tackle restrict­ive cultural practices" aids radicalisation.
"Female genital mutilation is organised crime against women," Ms Zaidi said. "It desensitises us to violence."
Another signatory, the former Labour parliamentary candidate Amina Lone, said: "Whether we like it or not, women are still the main carers. You have a link with the next generation that men don't have. If you give (boys) a strong sense of identity and belonging from a young age, they are less likely to commit violence."
Female-led groups tended to work in a "less combative" way, Ms Zaidi said. "They don't ­always treat it as a battle for civilisations and can have the private conversations that other people can't."
http://www.theaustralian.com.au/news/world/the-times/muslim-women-blame-toxic-masculinity-for-terror-attacks/news-story/712431131c164fbc989a881c013b1816
--------
Woman assaults expat for marrying her husband
June 11, 2017
Manama: A Kuwait woman who was making an order for suhoor, the pre-dawn Ramadan meal, discovered that her husband had taken a second wife without informing anyone.
The wife called a restaurant late in the evening and ordered the food, requesting a quick home delivery.
When the restaurant employee asked for her contact, she gave her husband's mobile number. The number was stored in the restaurant clients' data with a home address, and when the employee verified the details with the woman to make sure there were no misunderstandings, she discovered that he was referring to a different address.
She became alert and went along with the employee, noting down the address, Kuwaiti daily Al Rai reported on Sunday.
She later headed to the flat mentioned by the restaurant employee and when she rang the bell, an expatriate woman opened the door.
The first wife asked about the name of the flat owner, and her worst fears came true. The expatriate told her that they had been legally married for eight months after they met at a perfume shop in a mall.
The Kuwaiti woman could not hold herself and assaulted the expatriate physically and verbally, prompting neighbours, alerted by the screams and sounds, to call the interior ministry and report the incident.
A patrol took the two women to a police station and the husband was summoned to deal with the situation.
http://gulfnews.com/news/gulf/kuwait/woman-assaults-expat-for-marrying-her-husband-1.2041727
--------
URL: https://www.newageislam.com/islam-women-feminism/woman-assaulted-hijab-ripped-off/d/111511
New Age Islam, Islam Online, Islamic Website, African Muslim News, Arab World News, South Asia News, Indian Muslim News, World Muslim News, Women in Islam, Islamic Feminism, Arab Women, Women In Arab, Islamophobia in America, Muslim Women in West, Islam Women and Feminism