New Age Islam News Bureau
16 Jun 2015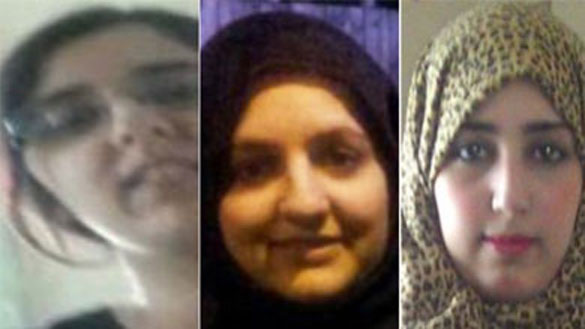 Three British Sisters Feared Heading to Syria with Nine Children
----------
• Three British Sisters Feared Heading to Syria with Nine Children
• Oman Girl Golfers Attract Attention of Arab World
• Oceana Muslim Woman Cites Discrimination over Headscarf Removal
• Assmaah Helal: Female Footballer Paves Way for Other Muslim Girls
• Activist Slams Court Letter Rule for Saudi Women's Passport
• Riyadh: Woman Prison Sergeant Honoured
• Child Marriage: Jeopardising Africa's Future
• Angelina Jolie's Powerful Speech on What Women Really Need From Men
• This 'Climate-Adapting' Hijab Wants To Make Life Easier For Muslim Women
• Sex Attacker Targeted Muslim Women Because He 'Had A Fetish' For Women Wearing Hijabs
Compiled by New Age Islam News Bureau
URL: https://newageislam.com/islam-women-feminism/with-marriage-favour,-iran-turns/d/103521
--------
With marriage out of favour, Iran turns to matchmaking
16 June 2015
TEHRAN: An alarming rise in the number of young Iranians who are shunning marriage prompted an unprecedented step from the government on Monday — the launch of a matchmaking website.
The move has been triggered by deep unease in the Islamic republic, where sex outside marriage is forbidden, that the family unit is eroding and by fears of a potential fall in population.
At pains to point out it was not an online dating service, officials said the "Find Your Equal" website hoped to reverse a surge in numbers, currently 11 million, of young single adults.
It will use a network of matchmakers — clerics and professionals of good standing in their communities, such as doctors and teachers — to try to pair people off.
Having trialled the system, which will be free, for a year in which officials said 130 intermediaries introduced 3,000 men and women — with 100 couples getting married — it will now launch fully.
The aim is for 100,000 marriages over the next 12 months.
"We face a family crisis in Iran," Mahmoud Golzari, a deputy minister for sport and youth, told reporters at the unveiling of hamsan.tebyan.net in Tehran.
"There are many people who are single, and when that happens it means no families and no children," he said, defending the need for the website.
"This should have happened a long time ago," he added.
Supreme leader Ayatollah Ali Khamenei, who wants Iran's population of 80 million to nearly double to 150 million by 2050, last year urged officials to take new steps to improve the birth rate.
The government has since reversed past policies to control population growth, with legislation to cancel subsidies for condoms and birth control pills and eliminate free vasectomies.
The matchmaking website is another step: people register online and the matchmaker tries to come up with a suitable partner from its database.
Users must state their age, height, weight and build, eye colour, education level and languages spoken, whether they smoke and list their hobbies and interests.
But in a hint at Iran's economic and social divide — millions of poor families live on a few hundred dollars a month and the middle class has been hit by sanctions — other questions dig deeper.
Women, who must be veiled in Iran, have to state their preferred mode of Islamic dress, be it a traditional loose head-to-toe black chador or a more modern tight-fitting coat.
Both sexes are also asked their religion — Iran is 90 per cent Shia Muslim — and their level of faith, and whether they would like to live abroad.
If a potential match is found, family meetings and psychological testing to try to ensure the two are compatible will follow.
Economic factors, such as high youth unemployment, are blamed for rising marriage ages — the national average is 28.1 for men and 23.4 for women. In Tehran it is higher, at 30.6 and 26.7 respectively.
Many young Iranians also cite the country's strict social mores and pressure to get married as a heavy burden, but religious families blame a Western cultural invasion for eroding traditional values.
Although online dating sites are banned in Iran, around 350 operate illegally. Millions of young adults also use Facebook and social media to hook up despite such sites being prohibited.
Zohre Hosseini, project manager for the matchmaking site, acknowledged that young people faced difficulties.
"We don't claim that we are solving all the problems," she said.
"But the problem we are tackling here is that of finding a partner."
Hitting the planned number of marriages could be a tall order, said Fatemeh, a single 24-year-old middle class engineer from Tehran who said she would be perturbed at submitting personal information online.
"I will not use this site as I do not trust cyberspace," she said. "It's a good initiative but whether it will have an impact is another matter."
http://tribune.com.pk/story/904073/with-marriage-out-of-favour-iran-turns-to-matchmaking/
--------
Three British sisters feared heading to Syria with nine children
16 June 2015
Three British sisters are feared to have travelled with their nine children to join up with militants in Syria, a lawyer for the children's parents said Monday.
The family, from Bradford in northern England, went missing after travelling to Madinah in Saudi Arabia for an Islamic pilgrimage.
Sisters Sugra Dawood, 34, Zohra Dawood, 33, and Khadija Dawood, 30, travelled to Medina with their children, aged three to 15, on May 28.
They were due to return to Bradford on Thursday, but they broke off all contact with their family back in Britain two days earlier.
Preliminary inquiries suggest at least 10 members of the family boarded a flight from Medina to Istanbul -- a commonly used route into Syria.
There are no details of an eight-year-old and a five-year-old member of the party boarding the same flight.
Balaal Khan, a lawyer for the children's fathers, said it is understood the sisters have a relative fighting for either Islamic State or another extremist group in Syria, and it is feared they have met up with him.
"The fathers are distraught, they feel helpless and they don't now what to do. They want the children out of harm's way," he said.
"They are concerned that their children's lives are in danger.
"The suspicion, and main concern, is that the women have taken their children to Syria."
The local West Yorkshire Police force has launched an investigation, saying they were working with foreign authorities.
A Foreign Office spokeswoman said: "We are in contact with West Yorkshire Police and Turkish authorities and our ready to provide consular assistance."
https://english.alarabiya.net/en/News/middle-east/2015/06/16/UK-sisters-head-to-Syria-with-9-children-.html
--------
Oceana Muslim Woman Cites Discrimination over Headscarf Removal
16 June 2015
GRAND RAPIDS, Mich. (WZZM) - A Muslim woman from Dearborn Heights is suing the Oceana County Sheriff's Department for violating her Constitutional rights after she says she was forced to remove a religious head covering while being processed at the county jail last month for a traffic violation.
Fatme Dakroub, 34, says she was forced to remove her hijab when she was falsely arrested for driving on an expired license. The May 17 arrest took place while she and several family members were vacationing at the Lake Michigan sand dunes.
After arriving at the jail, Dakroub, a U.S. citizen who travels frequently to the United Arab Emirates, was told to remove the headscarf covering her hair, ears and neck. Having her hair and neck uncovered in public is a serious breach of faith and religious practice, the federal lawsuit claims.
Dakroub told officers she did not want to remove her headscarf in front of three male officers. When she asked to have a female officer oversee her booking, she was told it was not an option.
"Simply put, Dakroub was forced to remove her headscarf, against her will, and given no other option,'' her attorney, Nabih H. Ayad said in the civil action. "Dakroub reluctantly removed her headscarf in front of the three male officers.''
She was forced to sit in a holding cell for three hours without the headscarf in front of male officers and multiple male inmates. "Dakroub was further degraded and humiliated when male inmates made advances on her and hit on her when she was not wearing her headscarf,'' the lawsuit claims.
The lawsuit filed this month in U.S. District Court in Grand Rapids seeks compensatory, punitive and economic damages in a jury trial.
Ayad says the lawsuit is venturing into unchartered territory with regards to religious freedom and heightened security measures.
Police could have patted down the headscarf much like pat-down searches are conducted at airports, he said. "No reasonable accommodations were made,'' Ayad said. "They were very insulting and disrespectful to her.''
Oceana Country Sheriff Robert J. Farber did not return a phone call Monday seeking comment.
The U.S. Supreme Court on June 1 weighed in on the issue of hijabs in the workplace. An Oklahoma woman claimed she was denied a job at Abercrombie and Fitch because of her hijab. Justices decided the company's failure to accommodate a job applicant who wore a hijab violated civil rights laws.
Ayad says the First and Fourteenth Amendments bar the government from making laws that interfere with the expression of religion. The American Civil Liberties Union says 69 percent of women who wear a hijab report facing discrimination.
http://www.wzzm13.com/story/news/2015/06/15/headscarf-removal/71271466/
--------
Assmaah Helal: Female footballer paves way for other Muslim girls
16 June 2015
When Assmaah Helal laces her soccer boots and dons her hijab, she's empowering Muslim girls to challenge culture and gender stereotypes.
"Hopefully one day we can make it a norm for Muslim girls to play sport and represent Australia," the 28-year-old said.
Ms Helal works full-time with United Football, a not-for-profit organisation based at the University of NSW, promoting soccer in schools across western Sydney with refugees, new migrants and socially disadvantaged children.
Last month she visited Indo­nesia to run a two-week pilot ­clinic with the Jakarta-based Inter­national Centre for Islam and Pluralism and the Australian embas­sy to promote football for girls, including in Islamic boarding schools.
"The majority of them had never touched a football but they watched it a lot and could list all the players," she said.
"It was great to see the support not only from the girls but from the directors of the school and their male peers."
"I was blown away because they are such a diverse population in terms of how they practise Islam — from the traditional conservatives to the more liberal and modern Muslims — and because it's such a huge population, people work together with their differences," she said.
In her spare time, Ms Helal runs futsal tournaments through the GoActive initiative, targeting Muslim girls to enable them to take part in sport within a "competitive but culturally approp­riate" environment.
"We have inter-school gala days between Islamic and government schools," she said.
These opportunities weren't available to Ms Helal, who joined a boys' team, aged five, because there were no girls' clubs in her area.
The experience of wearing the hijab on the field as a young girl had stolen some of her self-confidence.
"But as I matured and real­ly understood my religion, I used that as a tool to be proud of who I am," Ms Helal said.
http://pulse.ng/religion/assmaah-helal-female-footballer-paves-way-for-other-muslim-girls-id3866483.html
--------
Activist Slams Court Letter Rule for Saudi Women's Passport
16 June 2015
JEDDAH — A human rights activist has strongly criticized the complications put before Saudi women to obtain their own passports without the consent of their male guardians.
Suhaila Zain Al-Abdeen, member of the National Society for Human Rights (NSHR), was responding to recent statements by the Director General of Passports (Jawazat) Maj. Gen. Solaiman Al-Yahya, who said Saudi women would be allowed to have their own passports issued for them if they show a letter from a court.
"Why does the issuance of a woman's passports depend on a letter from the court?" Al-Abdeen told Ain Al-Yaum electronic newspaper, Saudi Gazette's sister publication.
She said a letter from the court might take time to process even though the traveler might have a family emergency to tend to.
"Why is a young man under 20 not asked for the consent of his male guardian or to bring a letter from the court when he wants to obtain a passport while his own biological mother may need a letter from the court if she wishes to have a passport? "Is it a case of trusting the young man while we deny this right to the woman who gave birth to him?"
Al-Abdeen said women in all Islamic countries do not need letters from the courts to be issued with passports.
"There are no conditions for the issuance of passports to women in Kuwait, which is very similar to us in customs and traditions and has a number of fanatic religious scholars."
She suggested that the condition of having a letter from the court could be applied to women under 21 but not those who are 25 or over.
"Before the oil discovery, men in the Arabian Peninsula had more confidence in women than now. "When they went out hunting or digging for jewels, they would leave their wives behind in the protection of the village's chieftains and children for more than four months."
Al-Abdeen said there is no confidence or trust in women in the Kingdom even though a number of them have reached distinguished positions and have been recognized internationally.
http://www.saudigazette.com.sa/index.cfm?method=home.regcon&contentid=20150616247385
--------
Riyadh: Woman prison sergeant honored
16 June 2015
RIYADH — A female prison sergeant has been honored for foiling an attempt to smuggle drugs into a Riyadh prison.
Sergeant Aisha Bint Jaber Al-Otaibi discovered hashish and other narcotics hidden in food a woman was taking to her inmate husband in the prison.
Al-Otaibi suspected the food the woman was carrying might contain illegal goods so she insisted on searching it thoroughly. She said the drugs were carefully hidden in pastries.
"I felt that the pastries were tough instead of having a smooth touch and when I opened them I found the drugs," she said.
The prison's director of operations Brig. Majed Bin Bandr Al-Dowaish said Al-Otaibi's intuition helped her find the illegal goods.
He said: "The female prison guards are well trained to identify all kinds of smuggling. The honoring of Al-Otaibi will encourage them to be extremely careful."
Director of Prisons in Riyadh Maj. Gen. Masaad Bin Sulab Al-Ruwaili presented a cash reward and certificate of merit to the sergeant.
http://www.saudigazette.com.sa/index.cfm?method=home.regcon&contentid=20150616247389
--------
Child Marriage: Jeopardising Africa's Future
16 June 2015
Child marriage is still a reality for millions of girls across Africa. The African continent is home to 15 out of the 20 countries with the world's highest rates of child marriage. Worldwide, approximately 15 million girls every year are married before they reach the age of 18. That is the equivalent of the entire population of Zimbabwe or Mali.
Child marriage jeopardises efforts to improve maternal and infant health and has devastating consequences for the girl, her family, and her future children. Child brides face higher risk of death and injury in pregnancy and childbirth, with girls under 15 being five times more likely to die in childbirth than women in their 20s. Their children are at risk too: when a mother is under 20 her baby is less likely live beyond its first birthday.
"I was only 15 when I had my first child and was nearly forced into getting married. I stood my ground and said no, and I went back to school" said Isatou Jeng, Project Officer at The Girls' Agenda, a Girls Not Brides member based in The Gambia. "I was able to take control of my own fate, and now I work to create an Africa where all girls can do the same".
There is a perception that the impact of child marriage is limited, but that is not the case. This practice curtails Africa's development and economic prosperity by denying millions of girls the education and opportunities that would have empowered them to lift themselves and their families out of poverty. Over 60% of child brides in developing countries have received no formal education. The persistence of child marriage has also hindered Africa's efforts to achieve six of the eight Millennium Development Goals.
Through effective partnership, Africa can lead the way to global change
Given the scale and complexity of child marriage, this practice cannot be ended by politicians alone. All actors, from lawmakers and community leaders, to the media and civil society actors and the girls themselves, have a role to play in making child marriage history.
Through the power of partnership, Girls Not Brides brings together members working in sectors as varied as health, education, poverty alleviation, human rights and humanitarian response in Africa and beyond. Members are developing innovative and effective programmes to prevent child marriage and mitigate its effects on child brides.
Françoise Kpeglo Moudouthe, Head of Africa Engagement for Girls Not Brides, said: "What happens in Africa matters to the rest of the globe. Our continent can become a model for other regions on how to end child marriage in a generation. But we can only lead the way and fulfil our responsibility for the welfare of our children by working together, in partnership with governments, civil society, community and religious leaders, families, and with the children themselves."
To emphasise the urgent need for immediate action to end child marriage in Africa, Girls Not Brides will be encouraging supporters to endorse its call to action by tweeting #EndChildMarriageNOW!
http://www.maravipost.com/life-and-style/south-south-learning/9044-child-marriage-jeopardising-africa%E2%80%99s-future.html
--------
Angelina Jolie's Powerful Speech On What Women Really Need From Men
16 June 2015
Angelina Jolie Pitt gave a powerful speech on June 11 at the biannual African Union Summit, using her star power to draw attention to women's rights across the globe.
According to The Independent, the actress and activist addressed a group of delegates in Johannesburg, South Africa, including African Union chairwoman Nkosazana Dlamini-Zuma and British foreign minister William Hague.
Her speech focused on the need for the global community to address the violence and human rights violations that impact women and girls around the world.
"There is a global epidemic of violence against women -- both within conflict zones and within societies at peace -- and it is still treated as a lesser crime and lower priority," Jolie Pitt said.
"Women and girls are bearing the brunt of extremists that revel in treating them barbarically," she added. "This is inextricably linked to our overall failure to prevent and end conflicts worldwide, which is causing human suffering on an unprecedented level."
The 40-year-old actress and Special Envoy of the UN High Commissioner for Refugees finished her address by offering solutions to the ongoing problem.
"We need policies for long-term security that are designed by women, focused on women, executed by women," Jolie explained, "Not at the expense of men, or instead of men, but alongside and with men."
Jolie Pitt spoke to the critical need to engage men in the global women's rights movement, which begins at the individual level. "There is no greater pillar of stability than a strong, free and educated woman," she said. "And there is no more inspiring role model than a man who respects and cherishes women and champions their leadership."
http://www.huffingtonpost.com/2015/06/15/angelina-jolie-africa-summit_n_7585514.html?ir=India&adsSiteOverride=in
--------
This 'climate-adapting' hijab wants to make life easier for Muslim women
16 June 2015
Wearing a hijab – a scarf that covers the hair and ears – is common among religious Muslim women.
However, the practice can get arduous, especially whilst wearing it in searing climates. To make this process more comfortable is precisely the aim of Veil.
The startup believes that the apparel industry is rapidly embracing technology to create better outfits for athletes, firemen, and astronauts and think Muslim women should be able to similarly benefit. Their 'Cool Dry' hijab's exterior is made of durable water repellant, keeping it dry at all times, and preventing water from seeping through the fabric and into your hair.
And that's just the beginning for this hi-tech wearable.
Veil claims its fabric reflects up to 80 percent of heat rays and keeps it approximately seven to ten degrees cooler than similar dark-colored fabrics. The edges of the hijab are cut by lasers, which gives it a sharp and clean look and eliminates chafing. Furthermore, the fabric is also designed to reduce absorption of stain and soil marks, incorporates oil repellency features, and is very easy to wash.
The team behind the startup state that the inspiration for their product stemmed from an observation that climate technology was being used to create better outfits for regular people. For example, business shirts for executives in hot and muggy climates were rapidly becoming breathable and cooler. However, it took them two years to make the leap from idea to execution. During that time they traveled extensively to build a team of manufacturers, partner with hi-tech fabric companies, and validate their business model.
Veil's Kickstarter project is already backed by 653 people and has exceeded its modest fundraising target by over US$20,000. The Kickstarter remains open for five more days.
https://www.techinasia.com/climateadapting-hijab-solution-muslim-women/
--------
Sex Attacker Targeted Muslim Women Because He 'Had A Fetish' For Women Wearing Hijabs
16 June 2015
A sex attacker targeted Muslim women, following them into their homes to rape them because he had a 'fetish' for Hijabs.
Emmanuel Ndegwe from Dagenham, east London, was jailed in March after forcing himself on several Somali women in 2013 and 2014.
The 25-year-old had followed the women to their homes in Lambeth and Southwark, forcing his way in when they went to open the door.
He was arrested when a Metropolitan Police Detective Inspector identified similarities in a number of cases, in all of which the victim had been wearing traditional Muslim clothing.
Speaking of the case, DI Tracey Miller told MailOnline: 'The likelihood is that there may have bee a fetish going on, the three victims were very similar looking.
'When I reviewed (the case) I set about researching previous crimes and I found two that were carried out in almost identical circumstances.
'All three were wearing traditional Muslim clothing; all were of a certain age and all of a certain body size.'
She added the women had all been followed home by Ndegwe in what is known as 'shoulder surfing.'
'It means walking closely enough behind someone so you can push them, it's a common thing used by criminals whereby they're not immediately noticed but they're able to get in to a venue.'
In one case, Ndegwe thrust himself upon a woman while her terrified children watched on. On another occasion he violently attacked a woman while she pushed an 89-year-old in a wheelchair.
Ndegwe pleaded guilty to two counts of trespass with intent to commit a sexual act and one count of stalking at Inner London Crown Court earlier this year.
He was sentenced to six years imprisonment.
Speaking of the case, DI Miller said it was one of her 'best' investigations.
'The reason it made me most proud was the impact on the victims. We were speaking to women from a community that doesn't traditionally have a huge amount of confidence in the police but my two officers did a phenomenal job at securing the victims' confidence.
'We'd never have had a prosecution without them.'
She added the would-be sex offender may have even more victims who have not yet come forward.
'I suspect there may be other victims... (Because) his offending was so prolific and very blatant. He did it knowingly in front of witnesses and wasn't put off.'
His case is highlighted in a BBC documentary about Scotland Yard. The Met: Policing London will be shown on BBC One tonight at 9pm.
Full report at:
http://www.dailymail.co.uk/news/article-3125219/Sex-attacker-targeted-Muslim-women-fetish-women-wearing-hijabs.html#ixzz3dDInXvdw
--------
URL: https://newageislam.com/islam-women-feminism/with-marriage-favour,-iran-turns/d/103521