New Age Islam News Bureau
26 January 2022
• Lisa Smith 'Enveloped Herself In The Black Flag' Of Islamic State, Hears a Court
• Muslim Schoolgirls Free To Wear Hijab – Kwara Govt
• Brunei's Women In Science Competition Crowns Nur Amanina Champion
• First Lady Of Pakistan Samina Alvi Emphasise Women Empowerment Thru Vocational Training
• Afghan Women In Pakistan Wait On Canadian Visas To Start New Life In Saskatoon
Compiled by New Age Islam News Bureau
URL: https://www.newageislam.com/islam-women-feminism/windsor-maryam-connecticut/d/126243
--------
Windsor Woman, Maryam Khan, First Muslim Woman Endorsed for House Seat in Connecticut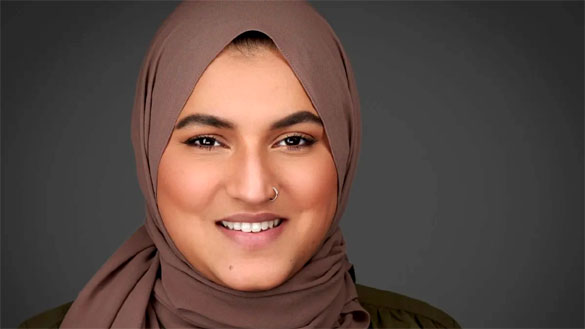 Maryam Khan, First Muslim Woman Endorsed for House Seat in CT
-----
By Shannon Miller
January 26, 2022
It's a historic moment in Connecticut politics == Maryam Khan is the first Muslim woman to be endorsed as a candidate for the Connecticut House of Representatives.
"As a woman, as a woman of color, as an immigrant, a teacher, young person, there's a lot of of diversity that I bring to the state legislature," Khan said.
Maryam was nominated for Connecticut's 5th District seat representing Windsor and Hartford and it's representation she says is part of her motivation, setting an example for young Muslim women.
"At their age, I didn't know what local politics was. I didn't know what people could do to be involved and I didn't think that there would be room for me in a place like that. So I'm happy that they're able to have that and they're able to see that, you know, you can be both Muslim and you can be, you know, part of your community," Khan said.
The 33-year-old mother of three is also an educator at heart. She is a special education teacher, four-year member of the Windsor Board of Education, and former mentor to young women at her mosque, who hopes to bring the issues of educators to the forefront of legislators' minds.
"My big concern for our schools is, if we are having teachers leave the field within their first couple years, or their first five years, what is school going to look like in the next 10,15, 20 years?" Khan said.
Maryam will have to secure the seat during a Special Election on March 1.
Source: nbcconnecticut
https://www.nbcconnecticut.com/news/politics/windsor-woman-becomes-first-muslim-woman-endorsed-for-house-seat-in-ct/2700063/
--------
Lisa Smith 'Enveloped Herself In The Black Flag' Of Islamic State, Hears a Court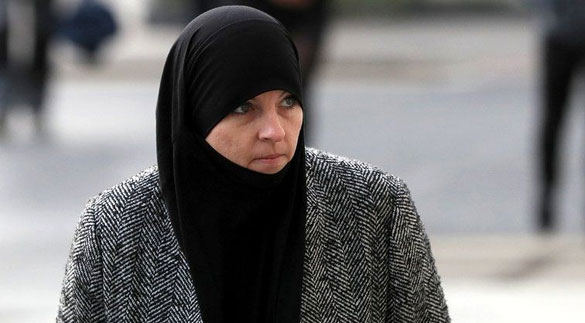 Brian Lawless/PA/BBC News
----
January 26, 2022
A former Irish Defence Forces soldier "enveloped herself in the black flag" of the Islamic State (IS), a court has heard.
Lisa Smith, 39, pleaded not guilty to charges of membership of the organisation and providing funds to it.
The Republic of Ireland's Special Criminal Court heard Smith's conduct when she travelled to Syria could "prove membership" of IS.
The court heard the County Louth woman had travelled to the country in 2015.
Sean Gillane, SC, for the prosecution said the court would hear evidence that Smith, a former Air Corps soldier, had taken part in "Hijrah" or migration to territories controlled by the IS.
"Hijrah in this context is a central act of allegiance to this proto-State, without which the organisation cannot survive. It is the very lifeblood of the Islamic State," he said.
Mr Gillane said the migration was to "self-identify as a member" of the organisation.
He said evidence would show Smith had willingly stayed in Syria, married there and that her movements mirrored that of the group when they lost territories in the region.
Mr Gillane said evidence would show Smith was part of a Telegram group in June 2015 that discussed a video by the Islamic State showing the drowning of five men in a cage.
He said members discussed why they had been drowned and Smith responded: "Ok, I understand why they were drowned. I didn't know half of the story."
The court heard Smith bought a one-way ticket from Dublin to Istanbul and from there, crossed the border into Syria and IS-controlled territory.
At this time Smith "made clear to her family her desire to stay", the court heard.
The court also heard from the first witness, Una McCartney, from Dundalk, who was a friend of Smith for a number of years.
She told the court that she and Smith had discussed religion around the time of her conversion to Islam.
She said Smith had talked about moving to a Muslim country because she wanted to be "surrounded by people who were the same faith as her", but said she did not recall Smith stating any intention to travel to Syria.
It is alleged that between October 2015 and December 2019 Smith was a member of the terrorist group.
She has also been accused of financing terrorism by sending €800 (£669) to a named individual in 2015.
Smith has denied the charges and the trial continues.
Source: BBC News
https://www.bbc.com/news/world-europe-60127178
--------
Muslim Schoolgirls Free To Wear Hijab – Kwara Govt
January 26, 2022
January 26, (THEWILL) – The Kwara State government has said that willing Muslim schoolgirls in all categories of public schools in the state are free to wear Hijab to school.
The state Commissioner for Education and Human Capital Development, Hajia Sa'adatu Modibbo Kawu, made this known during a peace meeting with Muslim and Christian stakeholders in Ijagbo, Oyun local government area of the state.
"The policy statement of the Kwara State Government allowing willing Muslim schoolgirl to wear the hijab in all public schools, including grant-aided ones, is binding. This conforms with the judicial pronouncements of the courts of law and the constitution of the Federal Republic of Nigeria", the commissioner said.
She, therefore, appealed to both Muslim and Christian leaders to allow peace to reign in the state.
Hajia Modibbo-Kawu also directed the principal of Oyun Baptist High School, Ijagbo to immediately implement the government's policy statement on the use of approved hijab in public schools.
She warned that anyone found trying to sabotage the peaceful coexistence among the people of the state will face the full wrath of the law.
The meeting was attended by the Permanent Secretary, Mrs Mary Adeosun; chairman, Teaching Service Commission, Alhaji Taoheed Bello; board members of the Teaching Service Commission, president of All Nigeria Conference of Principals of Secondary Schools(ANCOPSS), Alhaji Toyin Abdullahi and chairman of the Nigeria Union of Teachers (NUT), Alh Umar Abdullahi.
Also in attendance were the chairman, Christian Association of Nigeria, Ijagbo chapter, Rev. Samuel Ajayi, chairman, Muslim stakeholders, Offa/ Oyun, Alh Abubakar AbdulWasiu and chairman, Kwara State Muslim Stakeholders, Alh Isiaka AbdulKareem.
Source: The Will Nigeria
https://thewillnigeria.com/news/muslim-schoolgirls-free-to-wear-hijab-kwara-govt/?4C6F791B-3C89-9846-A611-E85A52D1BACA_kis_cup_C6FA3ED5_6D17_47D1_B6E2_F4B02CC905E0_
--------
Brunei's Women In Science Competition Crowns Nur Amanina Champion
26 Jan 2022
BANDAR SERI BEGAWAN (Borneo Bulletin/Asia News Network): Nur Amanina @ Siti Hawa Ariffin from Ma'had Islam Brunei, Tutong was crowned the champion of the second season of Women in Science (WIS) competition organised by Seria Energy Lab (SEL).
Over 80 female participants from schools nationwide participated in the competition, theme related to Science, Technology, Engineering and Mathematics (STEM) education or sustainable development goals (SDG).
The competition aimed to encourage more female students to pursue STEM education while fostering 21st Century skills beneficial in the future.
Participants engaged in development workshops such as science communication, entrepreneurship, leadership and proposal writing; and took part in Race to Solution challenges.
Nur Amanina impressed the judges with her innovative project titled 'Skill Enhancement and Entrepreneurship Development (SEED) Programme' – aimed to create public awareness on addressing youth unemployment within the school community.
Nur Amanina and her group were supervised by teacher Muizzah Mohd Nor.
Despite restrictions and health measures to curb the spread of Covid-19, her project was executed successfully through virtual awareness talks, upskilling workshops and entrepreneurship week; as well as collaborations with Big BWN Project, Brunei Computer Emergency Response Team (BruCERT), Foodelico and Dainty Hands & Co.
"I want to help youth in Brunei to achieve their entrepreneurship goals and prepare for their future ahead, and Big Bwn Project is my inspiration as it has similar concepts," Nur Amanina said.
"I feel a boost in self-esteem, and it motivates me to inspire girls out there that even if we're not truly sure with ourselves, we can prove that we can go beyond expectations".
Nur Amanina was also appointed the new ambassador for SEL, which the centre hopes will inspire and encourage other aspiring scientists and innovators.
Project Manager of Women in Science 2021, Nurul Fathien Mohd Amirul Hamdie said, "From day one, it was clear that the team from Ma'had Islam Brunei were strong contenders.
"They asked clever questions and took extra measures to ensure their project proposal was written excellently. Out of the dynamic, Amanina stood out and proved to us that she has what it takes to be in the top three.
"Unfortunately, during the execution months, our nation was faced with the second wave of the Covid-19 and we were advised strongly to stay home and follow the health measures set by the MoH.
"It did not stop Nur Amanina and her group to progress through the adversity. They managed to execute the SEED programme outstandingly using the means of technology creatively."
Source: The Star
The season 3 of the competition is now open for registration.
https://www.thestar.com.my/aseanplus/aseanplus-news/2022/01/26/brunei039s-women-in-science-competition-crowns-champion
--------
First Lady Of Pakistan Samina Alvi Emphasise Women Empowerment Thru Vocational Training
January 25, 2022
KARACHI: First Lady Samina Alvi stressed the need for the empowerment of women through vocational training programmes to help them meet their financial needs.
Visiting the Government Polytechnic Institute for Women in Sukkur on Tuesday, Alvi said the government was striving to provide relief to the downtrodden segments of the society since the day it assumed power.
She said the government was committed to the empowerment of women to put Pakistan on a development trajectory and promised all-out support to differently-abled persons to improve their vocational proficiency bringing them to the mainstream of national development process.
Alvi said women were provided vocational training as per job requirements before their placement to help them not only to become self-sufficient but also to be able to support their families.
She visited classrooms where she also talked to the students getting technical education. The girls presented flowers and a traditional ajrak shawl to the first lady.
Later, Alvi also visited Dar ul-Ehsaas orphanage. Speaking on the occasion, she questioned if the women, who formed 50 percent of the population, sat at home, how will the country progress?
Source: Pakistan Today
https://www.pakistantoday.com.pk/2022/01/25/first-lady-emphasise-women-empowerment-thru-vocational-training/
--------
Afghan women in Pakistan wait on Canadian visas to start new life in Saskatoon
JANICE DICKSON
JANUARY 24, 2022
In a hostel in Islamabad, more than 150 Afghans are waiting for Canadian visas so they can join members of their community who are settling into their new lives in Saskatoon. Many in the hostel, including young women, had to leave their families behind.
Last September, about 250 refugees escaped Afghanistan, with most travelling overland to Pakistan, fortunate to have had visas arranged by a Toronto-based charity, Prince's Trust Canada. They are primarily members of the Hazara minority and include students who attended Kabul's Marefat High School, which champions women's rights and democratic values.
But as those in Saskatoon ease into their new routines, with adults going to language classes and children going to school, members of their community are waiting for word from Immigration, Refugees and Citizenship Canada. There are 157 people, including 50 unaccompanied young women, in Pakistan, and 52 people, mostly girls, waiting in Afghanistan.
One young woman in the hostel said fleeing the country was her only option to survive, even though it meant leaving her family behind. She remembers watching her little brother cry, asking what was happening. She said her dream is to see her family again. Luckily, she has her sister with her. Still, they don't know what will happen and they don't feel safe where they are.
The 22-year-old said she wants to reach Canada to get a master's degree, continue her education and help others. The Globe and Mail is not identifying any of the individuals to protect their safety.
Also in the hostel is a 14-year-old who sang in a popular music group. She said that when the Taliban took over, she was frightened. The first thing to be afraid of in a Taliban society, she said, is being Hazara, being a girl and finally being a girl with social activities. She is all three, she said.
She wants to come to Canada and become someone who can help people there, and in Afghanistan. Life has not been easy, she said, adding that she feels lucky to be with her mom, two brothers, sister and her sister's husband. And her friends in Saskatoon continue to offer support, calling on video chat and trying to keep their hopes up.
Her 28-year-old sister also went to Marafat, later going to Bangladesh to take an undergraduate degree in politics, philosophy and economics. She hopes to go to Canada to work and help those left behind.
The effort to evacuate the Marefat School community began after the Taliban took control of the country in August, and was aided by Thirty Birds Foundation, Prince's Trust Canada and the Raoul Wallenberg Centre.
Mark Fell, Prince's Trust Canada chair, said he has advocated for the school community, and in the early days of evacuation efforts, reached out to IRCC to arrange visas.
Abuzar Royesh, the son of the co-founder of the school, and founding member of Thirty Birds Foundation, helped co-ordinate the evacuation, along with a small group of volunteers. The foundation was set up to support the girls in Pakistan and Saskatoon.
Mr. Royesh said Canadian officials would not accept unaccompanied minors, and so they prioritized girls younger than 18 and their families, which is why one group was evacuated before the other. Those who remain in Pakistan, he said, include 105 women and girls, and 50 are unaccompanied. As well as some younger girls and their families.
Mr. Royesh said it took Ottawa about two weeks to approve the first group of people, and it has been months since the second list of names have been submitted and they still have not heard if they will be approved. He's hoping they hear soon, and that the girls will be resettled in Saskatoon.
"For the single girls who are unaccompanied, the only family they have in this world outside of Afghanistan is in Saskatoon."
When asked at a press conference last week if Ottawa would issue visas to those left behind in the hostel, Immigration Minister Sean Fraser said he is aware of the group and will work with partner organizations to help those who qualify under the government's program.
"But we do need to focus on getting them here through pathways that protect the integrity of the process and allow more people to arrive as quickly as possible," he said.
Maryam Masoomi, 26, has safely made it to Saskatoon and is hoping her friends and community members join her there soon.
"They are so worried about their future and they are so upset. They hope to come here soon and start their life because their education, their work, is all gone."
Ms. Masoomi was one of the first to cross the border into Pakistan, a scary experience, she said. She helped others who followed with paperwork, guiding them through how to behave when stopped by the Taliban and ushering them through the process at the border.
She said her family is settling in, they have found an apartment and bought new furniture. "We are safe here, we have security here. We have many facilities here and we can dream." She said her 13-year-old sister is in school, and her 21-year-old brother and her mom are taking language classes. "They are so happy now," she said.
Ms. Masoomi was leader of the music group that included the 14-year-old from the Islamabad hostel. She said that when the rest of the members arrive, they will come together again, and continue singing.
Source: The Globe And Mai
https://www.theglobeandmail.com/politics/article-more-than-150-afghans-wait-in-islamabad-hope-to-join-their-community/
--------
URL: https://www.newageislam.com/islam-women-feminism/windsor-maryam-connecticut/d/126243
New Age Islam, Islam Online, Islamic Website, African Muslim News, Arab World News, South Asia News, Indian Muslim News, World Muslim News, Women in Islam, Islamic Feminism, Arab Women, Women In Arab, Islamophobia in America, Muslim Women in West, Islam Women and Feminism