New Age Islam News Bureau
23 Oct 2018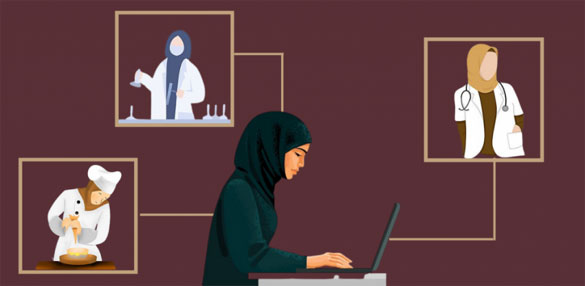 Photo: The dedicated centre at Dubai Festival City is ecxpected to take a maximum of 48 hours to process visa renewal
--------
• Empowering women's cooperatives, key for rural development: official
• Saudi woman aims to support the blind through 'Walking Friendship'
• Woman who abused police now shifted to AFIC
• Nadiya Abdul Hamid punching the way for Arab women in the boxing ring
• CII chairman clarifies statement on new marriage document
• Govt must discover problem, recognise the rights of under-age marriage couples
• Arab Women Organization organizes 1st training course for female supervisors of elections
• MLSD studying solutions for women in protection homes
• Young women arrested in August uprisings receive jail sentences
Compiled by New Age Islam News Bureau
URL: https://www.newageislam.com/islam-women-feminism/widows-divorced-women-now-sponsor/d/116695
--------
Widows, divorced women can now sponsor themselves
October 22, 2018
Dubai: Widows and divorced women can renew their residency at a dedicated centre at the Dubai Festival City, the General Directorate of Residency and Foreign Affair (GDRFA) in Dubai said on Monday.
The dedicated service centre will provide privacy for widows and divorced women to apply for residency by meeting female officers to discuss their situations.
The centre comes following major visa changes that took into effect on October 21, and also includes the extension of entry permits for visitors without the need of leaving the country and one year extendable visa for dependent students over the age of 18 years.
Major General Mohammad Al Merri, director of GDRFA-Dubai, launched the Centre on Monday, catering to widows and divorced women only.
"We want to provide the women, the privacy they need in this centre. The new visa rules aim to give women the opportunity to adjust their social and economic status," Maj Gen Al Merri said.
Meanwhile, Lieutenant Colonel Ali Malallah, acting deputy assistant of the director general for entry and residency permits, said the new centre will provide a private room for widows and divorced women in Dubai to discuss their cases privately.
"After the changes to visa regulations, we decided to open the centre for widows and divorced women. Female officers will meet the women in a private room to discuss their cases and problems," Lt Col Malallah said.
The new regulations allow extending the residency visa for widows and divorced women and their children for one year without a sponsor.
"We want our customers to be happy all the time. Women who went through tough times like divorce or husband's death need to be treated with privacy," he added.
According to Lt Colonel Jasem Ahli, director of entry permits department in GDRFA, said that each case will take 48 hours maximum to process the visa renewal request.
"Based on the cabinet order, we grant widows and divorced women the opportunity to sponsor themselves for one year if they do not have sponsors in the country. It is self-sponsorship — women can sponsor themselves and their children," Lt Col Ahli said.
He said that applicant pays Dh100 for one-year residency visa or Dh100 to cancel previous visa.
Recently, a widow presented the death certificate of her husband who had died in a traffic accident and officials granted her a one year residency after her brother agreed to sponsor her.
"We look into the circumstances of each case and make a decision. We want to ease the procedures for widows and divorced women as part of the country's policy to make everyone happy in the country."
The centre will be open from 7:30AM until 2:30 PM and people can call on 04-7074255 for enquiries.
https://gulfnews.com/news/uae/government/widows-divorced-women-can-now-sponsor-themselves-1.2292573
--------
Empowering women's cooperatives, key for rural development: official
October 22, 2018
Currently, a number of 330 cooperative companies of rural women, including 61,325 members, are working with a capital amount of 26.4 billion rials (nearly $630,000) in 2,238 villages, the public relations office of the Ministry of Agriculture said a press release published on Tuesday.
Rural women's cooperative companies are one of the most desirable structures for attracting rural women, Shirzad noted adding these cooperative companies are created in order to make policies, coordinate and direct rural women's activities.
The Rural Cooperatives Organization of Iran, with the aim of developing the cooperative movement through informing rural women, performs its legal duties, the official said, elaborating that the organization have put their quantitative and qualitative development in place pivoting on three axes of supervision, support and guidance of women's cooperatives.
https://www.tehrantimes.com/news/428848/Empowering-women-s-cooperatives-key-for-rural-development-official
--------
Saudi woman aims to support the blind through 'Walking Friendship'
October 24, 2018
JEDDAH: Seven years ago Sawsan Abdullah underwent brain surgery which resulted in partial blindness, weakness in the right side of her body and partial memory loss.
"After surgery to remove a cyst, I started a new life with a blank slate," she said. "I had difficulty speaking and understanding, difficulty in walking and even smiling."
She was a medical laboratory specialist who had practiced karate.
"I was working in the emergency room. All of a sudden, samples used to slip from my right hand. I couldn't walk and I went into a coma," said Abdullah, 33.
Her determination to recover led her to where she is now.
"It was a long journey with physical therapy, and I became a motivator for community sports with the Saudi General Sports Authority (GSA). I walk, and practice Tai chi," she told Arab News.
"I don't practice karate anymore. Tai chi is a calm, slow sport that helped me to regain my balance."
Her project, Walking Friendship, includes walking and running activities for the blind and visually impaired.
"Blind people in our group walk with a sighted volunteer at the right time and place, and they create friendships and exchange experiences. It can be done individually or in a group," she said.
Abdullah said her project has been warmly welcomed by everyone who has heard about it.
"I hope it reaches all blind and visually impaired people. I have had heartwarming responses from everyone, and most importantly from my blind and visually impaired friends," she said.
"The project is being put into effect currently in Jeddah as I am based here. It is very important for me to expand my reach to all blind and visually impaired people who want to walk. There are friends outside Jeddah who really liked the idea, so I must start."
The project began when Abdullah attended a gathering at the Ebsar Foundation, a rehabilitation center for the visually impaired.
"A year ago, I did not know many blind or visually impaired people. At the Ebsar Foundation they were very welcoming, as I was personally approaching the blind and visually impaired in the audience to explain the idea to them and get their contact information," she said.
The group officially started in January with women, then men joined too. It currently has 80 members.
Abdullah would like to see her project grow and receive support from the GSA.
"We want an official permit to practice walking/running with our blind and visually impaired friends in Jeddah," she said. "We want support from the GSA so that this team will be under their umbrella; and from this, we will come out with athletes who will represent Saudi Arabia in para-athletics.
"Transportation for my blind and visually impaired friends is personally covered. We would like support in transportation so that this activity continues to grow."
Volunteers receive full instruction before beginning the walks. "They are given explanatory pictures of walking with the blind and the visually impaired," said Abdullah. "During the walk, the blind or visually impaired person notes a few things to the volunteer. I take these notes in general, and I send these notes to the volunteers after the walk."
Abdullah says she wants to see more activities offered for this group in society. "One-on-one sessions facilitate a connection between the blind participant and the coach or club, just like we did in the karate sessions and bicycling. My goal is to have sports clubs accepting the blind and visually impaired," she added.
http://www.arabnews.com/node/1392241/saudi-arabia
--------
Woman who abused police now shifted to AFIC
October 23, 2018
ISLAMABAD: The woman, who abused police at the entry point of highly-guarded Diplomatic Enclave, was admitted to the Armed Forces Institute of Cardiology (AFIC) on Monday.
Polyclinic spokesperson Dr Sharif Astori told Dawn on Monday that medical reports had declared the woman healthy, therefore, they decided to discharge her.
However she insisted on being referred to AFIC after which the police shifted her to the hospital.
On Monday, the woman's counsel informed the court that her client was not feeling well and she was shifted to AFIC.
The court directed that she be produced on Tuesday.
A bail application was filed in the court of Civil Judge Saqib Jawad. But, it was decided that the hearing be held on Tuesday.
Meanwhile, State Minister for Interior Shehryar Afridi took notice of the incident and ordered the police to take strict action against the woman.
Though the woman was arrested on Sunday and a magistrate sent her on 14 days judicial remand to jail but she was admitted to Polyclinic because of heart issues.
The woman came to Gate-1 of the Diplomatic Enclave in a black Honda car on Saturday, which did not have a number plate. When the police officials saw the car without the number plate they intercepted the vehicle.
On inquiry, she introduced herself and said she was heading towards the US embassy. However, she was denied entry as according to the standard operating procedure, vehicles without registration number plates were not allowed to enter the enclave.
https://www.dawn.com/news/1440682/woman-who-abused-police-now-shifted-to-afic
--------
Nadiya Abdul Hamid punching the way for Arab women in the boxing ring
October 22, 2018
BUENOS AIRES: When Nadiya Abdul Hamid, a seven-time Egyptian national champion, hung up her boxing gloves almost a decade ago, she turned her talents instead to coaching.
Yet even while she last week became the first Arab female to train athletes at an Olympics, at the Youth Olympics in Buenos Aires, Hamid feels she is still fighting daily for the respect she deserves.
Hamid is a 29-year-old who gives little away, likely the result of a career in which she has been forced to overcome cultural subjugation and sexual discrimination since the day she first entered the ring 15 years ago. A late starter at 14, she quickly learnt the ropes and finished fifth at the 2008 International Boxing Association (AIBA) World Championships, competing as a light-heavyweight.
"At the time, it was something unusual in Egypt," Hamid told Arab News. "I was the first woman in my country to make a professional career out of boxing. I became Egypt's first female boxing coach and it was so hard for men to accept this idea of a woman coaching boxing, let alone boys. Some people still say 'We are in a Muslim country, how can a woman coach the men?' but with time they are accepting the idea."
Since receiving an invitation in 2009 to work alongside a new Cuban coach hired by the Egyptian Boxing Federation, Hamid has slowly negotiated her way through the system, eventually in 2016 earning the role of head coach of her country's youth team. Two of her fighters won bronze medals at the World Youth Championships in Budapest in August, while at the African qualifying tournament for this month's Youth Games, her fighters won all three slots available to them.
"Training three boxers simultaneously is nothing new," she said. "You just have to train everyone separately and give everyone their own time, that's it. It gets harder when you have a big competition such as the Olympics because you must be focused on everyone and sometimes schedule individual training. But we are used to this."
In Argentina and working alongside coach Said Hassan, Hamid watched from the corner as all three of her fighters reached the semifinals. When Youssef Ali Moussa lost harshly to eventual gold medallist Karol Itauma of Britain, it was she who carried the tearful young man back to the training area. Marwan Madboly and Ahmed El-Sawy Elbaz also lost in their final-four bouts, but Elbaz recovered to beat Canada's Tethluach Cguol and secure a bronze medal.
"Some people did not accept the idea (of a Muslim woman working with young men) until they saw me coaching," Hamid said. "Every day, I am still in a fight, but I am winning. Now it is finally being accepted and becoming more popular because many people talk about this woman who became the Egyptian national team coach. For me, you have to show your respect everywhere you go, not only with the people but also in the way you work. You need to show you deserve to be where you are."
Hamid said one of the most positive developments of the past eight years has been women in the Middle East beginning to make their voices heard, pointing to Sahar Nasar, her government's investment minister.
"Now (women) have a voice. They said 'We are here; we are not focusing our minds on war or revolution, but instead on evolving ourselves.' Arab women only want to show that if you give us a chance, we will surprise you. Now the women in my country and some other Arab countries are getting those chances and taking them."
Hamid hopes her chance will lead to the fulfilment of a dream she has retained since the first time she donned training mitts. For while people often speak of athletes setting objectives around Olympic Games, coaches are no different.
"Absolutely," she said. "It's been a dream for me for a long time, since I started coaching nine years ago. Always I wanted to go to the Olympic Games, so I am looking to Tokyo 2020. That's my target."
http://www.arabnews.com/node/1392131/sport
--------
CII chairman clarifies statement on new marriage document
Waseem Abbasi
October 23, 2018
ISLAMABAD: The Chairman Council for Islamic Ideology (CII) Qibla Ayaz has once again reiterated that women will be granted the right to seek dissolution of marriage without going to court under the new marriage document being worked out by the council. However, he clarified that inherent right to divorce would remain with the husband but the same would be surrendered to wife at the time of Nikah if both parties agree.
"The women can't divorce husband under the Shariah Law but there is a provision under which the right of divorce (Talaq-e-Tafweez) is delegated to the wife unconditionally by the husband in the Nikah contract. In that case women will have the right to dissolve marriage which was obtained from the husband through Talaq-e-Tafweez which is provided for in the Shariah," he said.
The chairman was clarifying a news report published in this newspaper titled "Women soon to be able to divorce husbands". He re-confirmed content of the story and his statement to this correspondent but disagreed with the wording of description. "Women can't divorce but can seek right to dissolve marriage under Talaq-e-Tafweez," Ayaz said referring to his previous interview. If the man surrenders his right to divorce then wife would be empowered to dissolve marriage whenever she wants.
He said the provision of women having right to dissolve marriage was part of old marriage document but the women would rarely get that right as Nikahkhawan would not inform them about their rights. "Under the new proposal Nikhakhawan will be asked to explain entitlements and responsibilities to both bride and bridegroom," he said.
According to Ayaz there are three ways of divorce in Islam's Fiqh. First is Khula under which woman goes to court to seek divorce. Second is calls Faskh Nikah, under which the marriage is automatically dissolved if certain conditions are not met by husband. Third is Talaq-e-Tafweez under which husband surrenders his right to divorce to his wife at the time of Nikah. He said for Khula the husband's consent was necessary but under the dissolution provision consent would not be required as husbands would already surrender their right to their wives.
Sources said the chairman faced pressure from religious circles after the publication of his interview with The News and the CII was forced to issue a clarification of his own chairman's statement. However chairman insisted he was not under any pressure.
But in a statement issued on Monday, CII spokesman Ikramul Haq said that council was not considering a marriage document that would include a clause allowing women to divorce their husbands. "However, the council is working on a Nikahnama and a Talaqnama (divorce document) whose language will be simple and easily intelligible," he added.
The statement added that the new document will include necessary clauses to strengthen family system in the light of teachings of the Holy Quran and Sunnah.
Also being considered are proposals to ensure details of national identity cards are entered in the Nikahnama and the "role of the Nikahkhwan is made effective and documentary".
"The scholars will be taken in confidence on the draft for the Nikahnama and Talaqnama, which will be presented for formal approval in a meeting of the council," Haq said.
The council, a constitutional body which recommends changes to Pakistani laws to make them Shariah-compliant. In his previous interview Ayaz had said that the old marriage document drafted in 1960s did not have provisions according to the requirements of 21st century. He said provision for the bride to dissolve the marriage was present in the old document too but it was not elaborate and the brides were often given the document in which the provision was deleted by Nikahkhwans.
"They won't be able to do that anymore and there would be legal consequences for that and the Nikahkhwan would not able to delete it without consent of the bride-to-be," Ayaz had told The News.
https://www.thenews.com.pk/print/384456-cii-chairman-clarifies-statement-on-new-marriage-document
--------
Govt must discover problem, recognise the rights of under-age marriage couples
22 October 2018
PETALING JAYA: The government should get to the bottom of the problems and recognise the rights of couples getting married before the age of 18 before jumping into making new laws.
Former Selangor state executive councillor and PAS central education deputy chairman Dr Halimah Ali said this in regards to Prime Minister Tun Dr Mahathir Mohamad's directive last week which ordered all state governments to raise the minimum legal age for marriage to 18 years for both Muslims and non-Muslims.
"I can see some positive points in raising the minimum legal age for marriage, but I hope this doesn't impinge the rights of Muslims who although encouraged to enter marriage at a more mature age, are still allowed to marry at an earlier age," she said.
She added that the government should fully understand issues surrounding couples who marry at a young age before "jumping" into making new laws.
"Is it incest? Or due to other factors like poverty, family problems like break-ups or divorce or even stress?" she asked.
However, Tan Heang-Lee, Advocacy and Communications Officer of Women's Aid Organisation (WAO), lauded the directive saying that it is a positive step that upholds children's rights and the best interest of the child.
She then added that the government should also abolish exceptions which allow Muslim children below the minimum age to marry with the permission of the Syariah courts.
"The federal government must also abolish exceptions in the Law Reform (Marriage and Divorce) Act which allows non-Muslim girls between 16 and 18 years old to marry with the permission of the state Mentri Besar or chief minister," she said.
Echoing the same sentiment as WAO, Sisters in Islam (SIS) communications manager Majidah Hashim expressed her concerns over possible exceptions in the directive that could create loopholes for child marriages to still take place and called on the government to place a lid on such loopholes.
"It is, therefore, our stand that there should be absolutely no exceptions and no SOP to allow any marriage under 18," she said.
http://www.thesundaily.my/news/2018/10/22/govt-must-discover-problem-recognise-rights-under-age-marriage-couples
--------
Arab Women Organization organizes 1st training course for female supervisors of elections
Oct. 22, 2018
CAIRO - 22 October 2018: The first training course for female supervisors of public elections started here on Monday, organized by the Arab Women Organization in cooperation with he Westminster Foundation for Democracy (WFD) in Egypt.
The three-day course aims to enhance the proficiency of Arab women in supervising elections and to form a skillful team of Arab women election supervisors in the Arab states.
The training is part of the potential-building program 2018 of the Arab Women Organization, the organization's Director General Dr Fadia Kiwan said during the opening session of the course.
She expounded the organization's programs related to women so far, noting that the organization is a source of knowledge and expertise in the field of serving Arab women through the studies and researches it conducts in numerous women-related fields.
Head of the National Election Authority Lashin Ibrahim expressed his appreciation of the invitation he received to take part in the training course directed to women who have shown great interest in participation in the elections.
The NEA is the first independent body to run the presidential, parliamentary and municipal elections in all stages.
http://www.egypttoday.com/Article/1/59339/Arab-Women-Organization-organizes-1st-training-course-for-female-supervisors
--------
MLSD studying solutions for women in protection homes
2018-10-22
DAMMAM —The Ministry of Labor and Social Development (MLSD) is conducting a study to provide women and girls kept in protection homes with correctional programs to help empower them to become productive members of society.
Assistant Director of the Women Social Supervision Office in the Eastern Province Eman Al-Farshouti said they were conducting a study that focused on the women and girls admitted to protection homes after the recent incidents of inmates running away in their desperate bid to escape from the facilities.
«The study will review the status of women in protection homes in Saudi Arabia in comparison with other countries and societies. We aim to provide a program that raises awareness among inmates and emphasizes the importance of their safety and protection,» said Al-Farshouti.
She said it was important to highlight the theme of social solidarity.
«The inmates have to feel that the rest of the community supports them and wishes for their rehabilitation and success. We plan to have community service programs organized with the cooperation of charity organizations,» said Al-Farshouti.
She said she had already met with members of Ufuq Charity Organization in the Eastern Province to find ways of collaboration between the organization and the ministry with regard to women inmates in protection homes.
http://saudigazette.com.sa/article/546215/SAUDI-ARABIA/MLSD-studying-solutions-for-women-in-protection-homes
--------
Young women arrested in August uprisings receive jail sentences
22 October 2018
Azar Heydari was sentenced to one year in prison. Niloufar Homafar and Mojdeh Rajabi were each sentenced to six months in jail. These young women had been arrested during the protests on August 2, 2018, in front of Daneshjoo Park in downtown Tehran.
Earlier, the Iranian Judiciary had sentenced other young women arrested in August uprisings to jail sentences. Yasamin Ariani, 23, and Saba Kord Afshari, 19, were each sentenced to one year in prison. They had been held in limbo in the Qarchak Prison of Varamin, a.k.a. Shahr-e Ray Prison. The young women were transferred to Evin Prison in Tehran after their verdicts were handed out.
The regime's security forces arrested at least 1,000 protesters during the uprisings in August 2018. The Interior Minister acknowledged that the protests in August had spread to 27 cities in 13 provinces. (The official IRNA news agency – August 21, 2018)
Security and intelligence forces also re-arrested in August a number of human rights activists and protesters who had been arrested in the December-January uprising but later released on bail.
Young women students including Parisa Rafii, Roya Saghiri, Soha Mortezaii, and Maryam (Massoumeh) Mohammadi, who had been arrested in December and January, received jail sentences of 2 to 7 years.
At least 50 were killed and 8,000 arrested during the nationwide protests in December 2017 and January 2018. According to the data compiled by the NCRI Women's Committee, at least 500 women, including a large number of young women, were among those arrested.
Iranian women had an effective impact on the wave of protests that swept the country in August, so much that the regime's Revolutionary Guard Corps and media were compelled to speak out.
Rasoul Sanaii Rad, political deputy in Khamenei's politico-ideological bureau, admitted that about 28 per cent of those arrested in the uprisings in August were women. (The state-run Mehr news agency – August 15, 2018)
https://women.ncr-iran.org/iran-women-news/5534-young-women-receive-jail-sentences
--------
URL: https://www.newageislam.com/islam-women-feminism/widows-divorced-women-now-sponsor/d/116695
New Age Islam, Islam Online, Islamic Website, African Muslim News, Arab World News, South Asia News, Indian Muslim News, World Muslim News, Women in Islam, Islamic Feminism, Arab Women, Women In Arab, Islamophobia in America, Muslim Women in West, Islam Women and Feminism