New Age Islam News Bureau
25 Feb 2019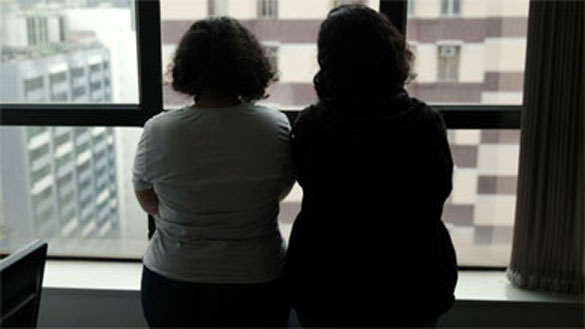 © Reuters/STAFF Sisters from Saudi Arabia, who go by aliases Reem and Rawan, are pictured at their lawyer Michael Vidler's office in Hong Kong
-----
• "I Was Like a Prisoner": Saudi Sisters Trapped In Hong Kong Recall Beatings
• Iranian Women's Soccer Team Not Allowed to Play at Azadi Stadium
• Poor Swat Women Seek Livelihood Schemes
• PML-N, PTI Women Activists Wooing Voters for By-Election
• World Is A Better Place When Women Are In Charge As Well
• Prof Masouma, First Woman Minister in Kuwait
• As 'Caliphate' Crumbles, Daesh Women Remain Defiant
• Economic Reforms for Women: Identification of Hiccups Can Help Empower Women
Compiled by New Age Islam News Bureau
URL: https://www.newageislam.com/islam-women-feminism/women-wellbeing-important-war-torn/d/117846
--------
Why Women's Wellbeing Is Important In a War-Torn Nation like Afghanistan
by Shereena Qazi
February 25, 2019
Kabul, Afghanistan - At the Momtaz Yoga Center, Afghanistan's only yoga studio in Kabul, Fakhria Momtaz gives her daughter advice on how to lead a class.
Froohar Momtaz, 18, will soon teach a group of women the positions and stretches which originated in ancient India in a one-room studio with a wooden interior. There are mirrors on the walls and a large window that allows the sun in.
It has served as a hub for female yoga enthusiasts since it was established by Fakhria in 2016.
With minutes until the class begins, four young women dressed in white leggings, long tunics and light green headscarves enter the room and take their place on their rubber mats.
Soft piano music sets the mood.
"Everyone in this country wants to find peace after suffering in years of war and conflict," Fakhria Momtaz, 42, told Al Jazeera.
"But you cannot establish peace in this society if you are not at peace within yourself."
Fakhria started the yoga business from the premises of an IT company she owns with her husband.
She was sporty from a young age; raised by a family of athletes in the Afghan capital. She particularly enjoyed gymnastics.
When the Taliban took control in 1996, she became displaced and fled with her relatives to Pakistan.
Fakhria believes it is women who have lost the most from the country's conflict.
"If women of our society are not healthy, mentally and physically, they won't be able to raise their children well," Fakhria said.
"Yoga is something that also helps with self-awareness, helps with depression, this is why I think it should be accessible to women."
Mahdia Joya, 21, has attended a yoga session at Fakhria's studio almost every day since 2017.
She says the one-hour class allows her to disconnect from the misery stemming from ongoing war and conflict.
"After an hour of doing yoga, I feel relaxed, less anxious and I am able to focus on the positive aspects of life than the negative," she told Al Jazeera.
"But many women like me who want to attend these classes are not able to come because of the security situation in our country."
To make yoga accessible to Afghan women who are unable to leave their homes, Fakhria is trying to develop a yoga app.
Her idea recently made it to the semi-final round of a US-based contest for startups.
"If I win the competition, we will develop this application and women in Afghanistan will not have to go any where to do yoga," she said. "They can practise yoga any where."
After a series of talks between the US and the Taliban in Doha, Qatar - with more meetings expected this week - many Afghans hope that the war will finally end.
But many are also concerned about women's rights should the Taliban assume greater powers in the country.
Afghan women say life was challenging for them under the Taliban, from 1996 until 2001, when a US-led invasion toppled the group.
During that time, Afghan girls were banned from going to schools and universities and women were not allowed to work or vote.
They were also not allowed to participate in sporting events and could only leave home if escorted by a male member of the family.
"If things change politically in the near future and the Taliban come back," said Fakhria, "we will make the Taliban do yoga with us as well."
https://www.aljazeera.com/indepth/features/afghanistan-yoga-studio-calm-oasis-war-weary-women-190224221945943.html
--------
"I Was Like a Prisoner": Saudi Sisters Trapped In Hong Kong Recall Beatings
25.02.2019
Two sisters from Saudi Arabia who fled the conservative kingdom and have been hiding out in Hong Kong for nearly six months said they did so to escape beatings at the hands of their brothers and father.
The pair, who say they have renounced their Muslim faith, arrived in the Chinese territory from Sri Lanka in September. They say they were prevented from boarding a connecting flight to Australia and were intercepted at the airport by diplomats from Saudi Arabia.
Journalists could not independently verify their story.
Asked about the case, Hong Kong police said they had received a report from "two expatriate women" in September and were investigating, but did not elaborate.
The Saudi consulate in Hong Kong has not responded to repeated requests from journalists for comment.
The case is the second high-profile example this year of Saudi women seeking to escape their country and spotlights the kingdom's strict social rules, including a requirement that females seek permission from a male "guardian" to travel.
The sisters, aged 18 and 20, managed to leave Hong Kong airport but consular officials have since revoked their passports, leaving them stranded in the city for nearly six months, their lawyer, Michael Vidler, said.
Vidler, one of the leading activist lawyers in the territory, also confirmed the authenticity of a Twitter account written by the two women describing their plight.
On Saturday, dressed in jeans and wearing sneakers, the softly spoken women described what they said was a repressive and unhappy life at their home in the Saudi capital Riyadh. They said they had adopted the aliases Reem and Rawan, because they fear using their real names could lead to their being traced if granted asylum in a third country.
They posed for pictures but asked their features not be revealed.
Every decision had to be approved by the men in their house, from the clothes they wore to the hairstyle they chose – even the times when they woke and went to sleep, the sisters told journalists.
"They were like my jailer, like my prison officer. I was like a prisoner," said the younger sister, Rawan, referring to two brothers aged 24 and 25 as well as her father.
"It was basically modern day slavery. You can't go out of the house unless someone is with us. Sometimes we will stay for months without even seeing the sun," the elder sister, Reem, said.
In January, a Saudi woman made global headlines by barricading herself in a Bangkok airport hotel to avoid being sent home to her family. She was later granted asylum in Canada.
Reem and Rawan said their 10-year-old brother was also encouraged to beat them.
"They brainwashed him," Rawan said, referring to her older brothers. Although he was only a child, she said she feared her younger brother would become like her older siblings.
The family includes two other sisters, aged five and 12. Reem said she and her sister feel terrible about leaving them, although they "hope their family will get a lesson from this and it might help to change their lives for the better."
Reem and Rawan decided to escape while on a family holiday in Sri Lanka in September. They had secretly saved around $5,000 since 2016, some of it accumulated by scrimping on items they were given money to buy.
The timing of their escape was carefully planned to coincide with Rawan's 18th birthday so she could apply for a visitor's visa to Australia without her parents' approval.
But what was supposed to be a two-hour stopover in Hong Kong has turned into nearly six months and the sisters are now living in fear that they will be forcibly returned to Saudi Arabia.
They have said they have renounced Islam – a crime punishable by death under the Saudi system of sharia, or Islamic law, although the punishment has not been carried out in recent memory.
The pair say they have changed locations 13 times in Hong Kong, living in hotels, shelters and with individuals who are helping, sometimes staying just one night in a place before moving on to ensure their safety.
Vidler said the Hong Kong Immigration Department told the women their Saudi passports had been invalidated and they could only stay in the city until February 28.
The department has said it does not comment on individual cases.
The sisters have applied for asylum in a third country which they declined to name in a bid keep the information from Saudi authorities and their family.
"We believe that we have the right to live like any other human being," said Reem, who said she studied English literature in Riyadh and dreams of becoming a writer one day.
Asked what would happen on Feb 28, after which they can no longer legally stay in Hong Kong, the sisters said they had no idea.
"I hope this doesn't last any longer," Rawan said.
https://en.qantara.de/content/i-was-like-a-prisoner-saudi-sisters-trapped-in-hong-kong-recall-beatings
--------
Iranian Women's Soccer Team Not Allowed to Play at Azadi Stadium
Feb 24, 2019
The Iranian women's soccer team was deprived of competing at the Azadi Stadium, and their match with the Belarusian soccer team will be held at the Ararat Stadium.
According to the previous schedule, a friendly match between Belarus and the Iranian women's soccer team was scheduled to take place at Azadi Stadium. Mehdi Taj, president of the Iranian Football Federation, had announced that the game would be held at the Azadi Stadium. Unfortunately, without paying any attention to the rights of the women's soccer players, the Football Federation and its officials, contrary to their promises, did not allow the game to be held in Azadi Stadium, and once again deprived women of their freedom to enter the stadium. (The state-run ISNA news agency – February 23, 2019)
In another event, due to the negligence of government officials, the women's soccer players' game in the women's soccer league in Iran was delayed in Tehran, causing many problems for the soccer players who traveled from Sirjan to play with the Azarakhsh team in Tehran.
The delay was caused by changing the game location from Ekbatan Stadium to Resalat Stadium and the lack of coordination and negligence of the authorities. The game, which was scheduled to begin at 12 pm (local time), began at 14 pm.
"They promised us that the game will start at exactly 12:00. Our players were waiting on the sidewalk until 13:00, at 13:30 they were authorized to enter, and the game started at 14:00. and all the players who had plane tickets between 14:00 and 16:00 missed their flight. We feel sorry for the capital's host," said Mastureh Yazdani, the head of the Sirjan Municipal Team.
Earlier, in a soccer match between the Azarakhsh and Zob Ahan teams, the game was held on a ground full of mud. The female soccer players were covered with mud and had to change their official uniform after the first half-time. (The state-run ISNA news agency – February 22, 2019)
https://women.ncr-iran.org/2019/02/24/iranian-womens-soccer-team-azadi-stadium/
--------
Poor Swat Women Seek Livelihood Schemes
February 25, 2019
MINGORA: The poor women here on Sunday said that the elected representatives and provincial government should initiate livelihood schemes for them so that they could earn for their children in a respectable way.
They received sewing kits and machines at a ceremony organised by district councillor Naseem Akhtar, who said that Swat had thousands of marginalised families affected by floods and conflict.
She said that all those families required urgent financial resources so that they could get earning for their families. "There are hundreds of widows. They have no one to support them so I mobilised the district council and allocated Rs11 million for sewing and other machines to support them," she added.
Ms Akhtar urged the elected representatives to come forward and allocate some amount from their funds for the helpless women so that they could live their lives with ease.
The women, who got the sewing machines, said that it was a big assistance and a source of earning livelihood for them.
"My husband was killed in a bomb blast in Mingora. Since then I have been living with my sisters, who support me but I want to earn in a respectable way to look after my two children. I am happy to receive sewing machine with which I will sew clothes to support my children," said Chand, a resident of Mingora.
Irfana, another woman, said that she was in dire need of sewing machine. "I am excited to get the machine. This is not a small sewing machine but a big source of income for us," she added.
The women said that government should establish skill development centres in their villages.
"I was a trainer in a centre run under the tehsil municipal administration and life was good as I got regular salary but later on the centre was closed due to militancy," said Tahira, another woman, who received sewing machine. She added that she got a sigh of relief because she would sew clothes and earn livelihood for her family.
https://www.dawn.com/news/1465888/poor-swat-women-seek-livelihood-schemes
--------
PML-N, PTI Women Activists Wooing Voters for By-Election
February 25, 2019
MANSEHRA: The women activists of Pakistan Muslim League-Nawaz and Pakistan Tehreek-i-Insaf have been campaigning hard in snowbound parts of PK-30 constituency to secure maximum female votes in the by-election scheduled to be held on Tuesday.
"We believe that women votes will determine the outcome of the by-election, and this is why we are campaigning door-to-door, even in snowbound areas, to motivate women to come out to cast their vote on the polling day," Uzma Waheed, the district president of women wing of PML-N, told reporters on Saturday.
Ms Uzma, who visited Garhi Habibullah and its adjoining union councils, said in 2018 general elections the women turnout was meager in the constituency, as a result, her party could secure the win by a margin of only 280 votes.
"This time we have equally been focusing on women voters and expecting more women votes, which might affect result in the by-election," she said.
The women wing of PTI in Hazara is also involved in electioneering to secure maximum female votes.
"Our struggle is for gender equality and this could only be possible when we could bring more and more women to the polling stations in Tuesday's by-election," Ambreen Swati, the divisional general secretary of PTI women wing, said.
Ms Swati said she was leading a group of his party in a door-to-door campaign even in snowbound villages to secure more and more female votes.
PTI aspirant Ahmad Hussain Shah and PML-N's Mazhar Ali Qasim have also been campaigning in the constituency.
The Election Commission of Pakistan has finalised preparations for the by-election and established 193 polling stations, including women's, where over 2,000 security personnel, including 1,200 army men, would be deployed.
The commission has declared 53 polling stations most sensitive.
https://www.dawn.com/news/1465895/pml-n-pti-women-activists-wooing-voters-for-by-election
--------
World Is A Better Place When Women Are In Charge As Well
February 24, 2019
I refer to Joyce Karam's article Saudi Arabia names Princess Reema bint Bandar as its first female ambassador (February 24). I am overwhelmed with joy by the good news. I truly believe the world would be a better place if women had a bigger role to play in diplomacy.
If you replace all the heads of states with bright women, I am confident we can achieve world peace.
Mariana Andersson, Dubai
Don't abandon our furry friends – protect our pets
I refer to Daniel Sanderson's article Animal shootings spark need for education and respect, say UAE welfare campaigners (February 24). Education is a first step to end violence against animals but I believe it's time we took it a step further and restrict the sale of pets. It's too easy to buy a furry friend and then abandon it by the side of the road.
It is also time to impose stricter regulation on pet shops and close down those who do not comply with the law. Pets are living beings, not disposable goods.
Rachael Ryder, Abu Dhabi
ISIS could return with greater vengeance if chaos reigns
I refer to your article ISIS re-emergence in Iraq likely unless social grievances resolved, says head of Canada anti-ISIS operations (February 20). General Colin Keiver's statement about the enduring threat of this poisonous group is very sane and balanced.
Chaos in Iraq, Syria and Libya is bound to bring ISIS back with even greater venom.
Name withheld by request
North Korean – US summit brings hope for peace
I refer to your article Donald Trump 'in no rush' to see North Korea give up nuclear weapons (February 20).
Kim Jong-un and Donald Trump are scheduled to meet for the second time on February 27 and 28 in Vietnam. I am sure that a declaration ending hostilities or at least an agreement to work towards peace would be likely should this meeting take place.
Such an agreement is a win-win.
It would consolidate the power of North Korea's leader and Mr Trump will be able to claim he neutralised a communist threat (particularly ahead of his 2020 re-election campaign).
However, China might interfere to delay a peace treaty as leverage with the US in its ongoing trade negotiations over the arrest of the chief financial officer of the Chinese telecoms giant Huawei.
One of the main objectives for North Korea is likely to be a relaxation of the sanctions imposed by the United Nations Security Council.
But I don't think this will be possible. Instead, the US is likely to offer temporary financial support and withhold substantial relaxation of sanctions until more specifics are agreed in working-level talks.
All in all, these talks are likely to have a positive impact on US-North Korean relations.
https://www.thenational.ae/opinion/feedback/world-is-a-better-place-when-women-are-in-charge-as-well-1.829705
--------
Prof Masouma, First Woman Minister in Kuwait
By Lidia Qattan
February 25, 2019
Special to the Arab Times
Professor Masouma Saleh Al Mubarak is a cultured lady, the first Kuwaiti woman appointed Cabinet Minister in the history of her country.
Activist in the women movement, columnist and writer in a number of papers, she is a lady of great energy, her philosophy in life is based on the Holy Quranic verse "Whatever goodness one does, so he will receive, whatever evilness one does, so he will reap."
Growing up in a happy family surrounding enhanced by the love of father and mother Dr Masouma developed a well balanced mind with an inquisitive bent on the world around her.
Throughout her scholastic year the support and encouragement of her family made her to excel and gain her PhD in Political Science, a field that fascinated her since early childhood.
Listening
Seeing her father listening to the news, hearing his comments and the heated discussions of neighbours coming to the house discussing what was going on in the Arab world made her pondering on questions – why there are wars and revolutions in the world? Why people are fighting and killing one another? What rules the world? How communities living together and become organized?
Questions and more questions were rising in her young mind becoming deeper and more intriguing as she grew older.
Politics is a large field; it is closely related to law, to history, to economy and economic geography.
It began with the Greek philosopher, Aristotle stating that "Man by nature is a civic animal."
Humanity has been trying to master the art of living together harmoniously since the beginning of settled communities, which through laws and Divine sanctions achieved some form of organization. Most of those organizations were soon spoiled by the conflict of power, which escalated to armed conflicts that developed into wars and revolutions, which became more terrible and bloody with every new technological development.
From the time Masouma could read and write she became an avid reader of history, eager to find some answers through delving into International Relations, International law, International Organizations, Diplomacy, Foreign Policy of the Third World and in Political Development in the Third World.
Seeking a deeper understanding in the whole situation she also deepened her study on Women Rights and on Human Rights, the answers she discovered through her reading brought her closer to the source of the problem that triggered all those questions, to which she sought the key to the best solution.
Obviously wise, holistic planning is the most crucial step in any endeavour, whether it concerns governments, corporations or one's private life, a judicious and clever planning can avoid problems and make every endeavour more successful and satisfactory. Dr Masouma Saleh Al Mubarak was born on the 19th of November 1947 in the Shark district of old Kuwait town in a middle-class family.
Her father, Saleh Al Mubarak was a religious man, a Mullah by profession. Unlike many of his colleagues in his days he was remarkably open-minded especially regarding education, which he deemed necessary for both boys and girls. He was therefore in favour of the Education Department's decision in opening the first school for girls in 1937, which the conservatives stood firmly against it deeming it was waste on girls.
Champion
Sheikh Abdullah Al Jaber was the champion in the emancipation of women in his country, being a highly cultured man he saw in the education of women the key to his country's development, hence he not only engaged some teachers from Iraq to teach women in their home as soon as he established the education department in 1936, he opened the schools for boys and girls in 1937, pointing out to the protesting conservatives that cultured mothers were needed in the development of the new generation of men and women preparing them for their active involvement in the progressive strides of their country.
When the Sheikh sent the first group of girls to the Cairo University, Egypt in 1956, there were still oppositions from the conservatives, he met greater opposition in 1966 when he opened the Kuwait University for boys and girls, but to the outraged conservatives he pointed out "This is the time when young men and women need to know one another as young adults with their own mind, their own individuality."
Because the women were excelling in their study, they were spurring the young men to compete with them; at the same time most marriages carried out at that time were very successful.
Mullah Saleh was a moderate man, affectionate and kind, he nurtured his children on the high principle of the true Islamic teaching and on the nobler cultural traits of his race. He married twice, he had 2 sons from his first wife and 4 girls from his second wife, the mother of Masouma, a sweet lady who was also strongly in favour of an education for her girls.
Masouma was the second born in her family, she was a lively little girl happy to be with other kids, but also given to pondering.
Her house was close to the sea, hence, as most kids she loved to spend time on the beach, splashing in the water, playing with the sand, watching the women doing their laundry at the water edge with their younger children playing in the water near them.
Nurtured
Sitting on the beach, nurtured by the rhythmic cadenza of hammering coming from the shipyards nearby, and the song of sailors rising the sail echoing in the distance, it engaged her imagination with reveries and dreams of far away lands beyond the horizon, lands she was hearing about with descriptions of tall mountains, luscious valleys and strange customs.
The seafront of Kuwaiti City in those days was nothing like the transformation it underwent from the sixties!
In those frugal days it reflected the picturesque laborious life it served so well, with shipyards and small harbours all along the stretch of the coast from what is now the port of Shuwaikh to the Kuwait Towers complex.
From the shipyards came the rhythmic cadenza of hammering going-on from sunrise till sunset all the year around, and in the small harbours (Neqaa) belonging to rich merchant families there were boats of many kind including the majestic Dhow, an Ocean-going sailing ship.
After a flare of exceptional activity during the Second World War, when sailing ships were in great demand,the local shipping industry began to decline, but by then the first shipments of crude oil were leaving the country and sailors sought employment in the oil industry and in other profitable occupations.
Many became the KOC (Kuwait Oil Company) employees, others engaged in commercial activities or became Government employees.
https://www.arabtimesonline.com/news/prof-masouma-first-woman-minister-in-kuwait/
--------
As 'Caliphate' Crumbles, Daesh Women Remain Defiant
2019-02-24
NEAR BAGHOUZ, Syria — "My son will grow up to become a jihadist," a woman cried proudly as she stepped off a bus ferrying people out of the Daesh (the so-called IS) group's last sliver of territory in eastern Syria.
Defiant and angry, she is one of 2,000 people evacuated Friday from the jihadists' final scrap of territory in the village of Baghouz near the Iraqi border.
At a screening point run by the US-backed Syrian Democratic Forces close to the village, women clad in black sat on the barren desert floor waiting to be searched by the Kurdish-led fighters.
When asked where they came from, a group of three veiled women sitting on the rocky terrain said they were "followers" of Daesh's so-called "caliphate".
One of them, who refused to give her name but said she was Syrian and originally from the area, burst with anger when asked about the desperate conditions among the holdout jihadists.
"Who says we were hungry?" she asked, while gently nursing a newborn baby.
"In a house that has dates, the resident don't go hungry," she added.
Like many of those with her, she refused to acknowledge the steadily approaching end of Daesh's so-called "caliphate".
Declared across swathes of Syria and Iraq in 2014, the proto-state once the size of the United Kingdom has been rolled back to just a few blocks of homes in the desert hamlet.
She insisted the jihadists had only "stumbled", adding she never wanted to leave their final patch of territory.
"Had the caliph not ordered it, we would not have left," she said, referring to Daesh supremo Abu Bakr Al-Baghdadi who remains at large. "I hope the Islamic caliphate will return and spread across all corners of the globe."
'Proud he's our caliph'
US-backed forces have evacuated nearly 5,000 men, women and children from the jihadist holdout since Wednesday, bringing the SDF closer to retaking the less than half a square kilometer still under Daesh control.
The SDF is trying to pull out the remaining civilians before pressing on with a final push to crush the jihadists, unless they surrender first.
Amid the wails of hungry infants at the screening point, another Syrian woman was similarly bold and unapologetic.
"We were scared of airstrikes and nothing else," said Umm Abdul Rahman, from the southern province of Daraa, referring to life inside Daesh-held Baghouz.
"We feel very bad right now, but the Islamic caliphate, God willing, will not be defeated," said the 25-year-old.
She said she quit the redoubt with her husband, a wounded jihadist who she claimed has not fought in battle for years. "We were comfortable" in Baghouz, she said.
When asked about Daesh leader Baghdadi, she said she was "proud he's our caliph".
"We used to only listen to his speeches," she said, suggesting she had not seen him in person.
After all, "he is the caliph and of course he is being monitored by everyone", she added. "Is it possible for him to just appear in person?" she asked rhetorically.
Pronounced dead on several occasions, Baghdadi has not been seen in public since he declared the "caliphate" in 2014.
An Iraqi intelligence official said in May that Baghdadi was still alive, and likely to be in Syrian territory along the Iraqi border.
SDF officials have said he is not believed to be among the jihadists holed up in Baghouz.
Other women said the exodus was because life inside the Daesh redoubt was unbearable.
"You can't live inside and you can't even get out", said Sabah Mohammad Chehab, a Syrian in her 20s.
Originally from the northern city of Aleppo, she said smugglers are charging up to $2,000 (1,760 euros) to get people out shrinking patch.
"We are happy to have made it out," she said.
'My son will grow up to become a jihadist' — AFP
http://www.saudigazette.com.sa/article/559872/World/Mena/As-caliphate-crumbles-Daesh-women-remain-defiant
--------
Economic Reforms for Women: Identification of Hiccups Can Help Empower Women
Rasheed Khalid
February 25, 2019
Islamabad: Farhatullah Babar, Secretary-General, , has said that only by identifying roadblocks, women can be economically empowered as Pakistan is an overly-legislated country and just faces severe implementation challenges.
The former Senator was addressing here a Public-Private Dialogue on "Gender focused Economic Reforms," organised by Centre for Research and Security Studies. The event was also attended by private sector representatives along with the representatives of State Bank, SMEDA and civil society.
Mr Babar said that He said that the informal sector – comprising nearly 8.5 million workers with a significant woman percentage – needs to be recognised and regulated. He said that the womens' economic participation issue is inseparable from their other issues. We need to have a very clear idea as to what inhibits women's' economic empowerment. We all know that women are subjected to violence, discrimination of identity and inequality before law and it's a fact that a large number of women are disenfranchised as the society refuses to give them their due right to work, discouraging them to collectively voice their concerns.
Mr Babar said that there is no recognition of their domestic work and economic contribution in the informal sector. Even if recognised, they face issues like non-payment and under-payment. He observed that the ILO Convention 189 – though signed but not ratified – calls for recognition of women's' domestic work.
PPP MNA Dr Nafisa Shah said that the recent gender gap ranking of Pakistan is quite alarming. The womens' poor economic participation is one of the major reasons that contribute to Pakistan's socio-economic and political issues, she said. The women are explicitly excluded from the economic sector. However, it must be realised that the economic exclusion of women is as bad as the discrimination against women, she said.
Women's' economic inclusion requires an all-encompassing approach with as basic measures as starting with the queries like how many women are National Identity Card holders, have a formal financial status, financial literacy, access to credit and formal banking. But unfortunately, the formal banking is a 'no-go' area for a majority of rural women, she lamented.
Ms Nafisa said that the micro financing facilities offered to women entrepreneurs should be cognizant of their needs such as low-interest loans facilities and minimum capital requirement. The higher interest rates and inadequate micro financing equate to financial discrimination.
Masooma Sibtain, former Vice President, Federation of Pakistan Chambers of Commerce & Industry called for the robust feedback of private sector on the potential avenues for enhanced economic participation of women given the impending SME policy and Strategic Trade Policy Framework and their importance to reduce the alarming gender gap and add to the Pakistan's GDP by about 30%.
https://www.thenews.com.pk/print/436412-economic-reforms-for-women-identification-of-hiccups-can-help-empower-women
--------
URL: https://www.newageislam.com/islam-women-feminism/women-wellbeing-important-war-torn/d/117846
New Age Islam, Islam Online, Islamic Website, African Muslim News, Arab World News, South Asia News, Indian Muslim News, World Muslim News, Women in Islam, Islamic Feminism, Arab Women, Women In Arab, Islamophobia in America, Muslim Women in West, Islam Women and Feminism