New Age Islam News Bureau
24 Sept 2017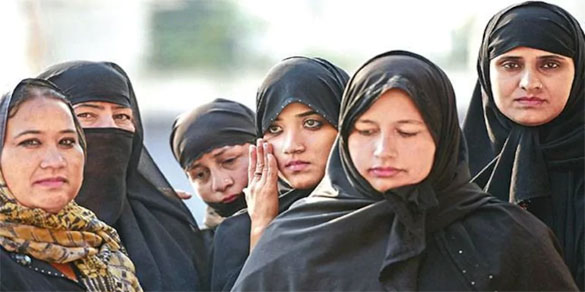 An SC bench last month ruled with a 3-2 majority that the practice of instant divorce in Islam was unconstitutional.
-----
• South Korean Cosmetics Giant Focuses on Catering To Muslim Women
• Swiss Voters Reject Raising Women's Retirement Age – Tv
• Saudi Arabia Allows Women into Sports Stadium for 1st Time
• Killing an Enemy That Hides Among Women and Children Is Never Easy
Compiled by New Age Islam News Bureau
URL: https://www.newageislam.com/islam-women-feminism/triple-talaq-ban-nothing-more/d/112641
-----------
Why triple talaq ban is nothing more than just a stamp on paper
Lucknow, September 24, 2017
The Supreme Court's ban on triple talaq has seemingly come as a shot in the arm for Muslim women in India and many of them, particularly in Uttar Pradesh, have started raising their voices against the evil practice. An SC bench last month ruled with a 3-2 majority that the practice of instant divorce in Islam was unconstitutional. The decision marked a historic victory for Muslim women who have spent decades arguing that the custom violated their right to equality. The court banned instant triple talaq for six months and asked the government to frame new legislation to replace the abolished practice the sharia law custom allowed men to end a marriage simply by saying "talaq" or divorce to their wives, three times in succession.
The first signs of "rebellion" were visible in Meerut district barely 24 hours after the verdict as 23-year-old Arshi Nida came forward to say that her husband, Siraj Khan, who owns a school, had been harassing her for dowry since the first day of marriage and had given her instant talaq- the husband was arrested. now, two fresh cases have been reported from western UP.
Basti district
The matter came under media spotlight on Monday, when a woman named Asma Khatoon reached the police to narrate her woes. Khatoon was married to Mohammad Naseen, a native of Barahpur, and they had 10 kids. Khatoon reached the office of deputy superintendent of police Satish Chandra Shukla and gave him a written complaint.
"We had 10 children out of which 7 have died. we had 4 bighas of land, out of which Naseem has already sold 2 bighas. He was insisting on selling the remaining land and was also harassing me physically. on August 27, he sent a piece of paper mentioning triple talaq through my daughter's hand," Khatoon said. The cops were in a dilemma about how to fix the problem. "The SC verdict has come as a relief to Muslim women but constitutional arrangements are yet to be made. According to Section 125 of Criminal Procedure Code (CRPC), a married woman has the right to get maintenance from her husband," Shukla explained.
All possible help would be provided, he added. legal expert Awadhesh Pratap Singh said, "Such matters should be taken to the family court and a capable court should arrange for a hearing. If both the parties disagree an appeal could be made in the upper court." Most Islamic countries, including Pakistan and Bangladesh, had banned triple talaq much before India. Activists say over the years thousands of Muslim women, especially those from disadvantaged sections, have been thrown out by their husbands using the controversial custom.
Many were rendered destitute, with nowhere to go, or forced to return to their parental homes or fend for themselves.
Aligarh district
The second incident came to light in Aligarh district when a father of 10 children gave triple talaq to his wife.
The incident was reported from the Atrauli city with a woman named Sagina Begam as the victim. She married a man identified as Dilshad a few years ago and they had 10 children, of which eight are minors. A few months ago, Dilshad landed in jail and met a man whose name is reportedly Yusuf. While Dilshad got bail a few days ago, Yusuf was still in jail. Dilshad kept meeting him and kept pursuing his case, while he also kept meeting Yusuf's wife and they grew close.
Sagina objected to this but an understanding was reached after discussions between members of the two families. "Dilshad has agreed to pay maintenance of Rs 20,000 per month and has also given the house to her in which she lives. The agreement was reached on a notary of Rs 100 stamp paper in presence of the lawyers of both the parties in the local court," station house officer of Atrauli, UC Patel, informed.
No police case was registered, he added.
indiatoday.intoday.in/story/triple-talaq-ban-muslim-women-sharia-law-islamic-divorce-law/1/1054661.html
-------
South Korean cosmetics giant focuses on catering to Muslim women
24 September 2017
South Korea is world renowned for their rising international beauty and skincare industry, and its leading brand, Amorepacific, is finally shifting its focus to Muslim women.
Due to recent political tensions with China, which is posing a threat to the South Korean beauty industry, the company has developed a solution to finally diversify its beauty line and reshift its focus to a different audience. They are now pushing into the markets of Singapore, Malaysia, Thailand and Vietnam, where they have to take into account more skin tones and adaptable products for the weather and cultural accommodations.
It's common for most South Korean beauty brands to only have 2 – 4 foundation shades since they've only served the domestic market, but now that Amorepacific is expanding into different regions with varying skin tones, its beauty lines will be expanding as well.
SOUTH KOREA IS WORLD RENOWNED FOR THEIR RISING INTERNATIONAL BEAUTY AND SKINCARE INDUSTRY, AND ITS LEADING BRAND, AMOREPACIFIC, IS FINALLY SHIFTING ITS FOCUS TO MUSLIM WOMEN.
Not only is its new line taking into account different skin tones, it's also well aware of the fact that Muslim women wash their face while performing wudu five times a day. Therefore, their products need to be longer lasting and more weather variable.
"The diversity of South East Asia was a challenge," said Robin Na, the head of Amorepacific's operations in South East Asia. "The region is a melting pot compared with China and Korea."
It has also created focus groups to find out what Muslim women are looking for in beauty products and have found that some want lightweight options that can be easily removed and reapplied after wudu whereas others want products that can put up with the humidity.
"THE DIVERSITY OF SOUTH EAST ASIA WAS A CHALLENGE," SAID ROBIN NA, THE HEAD OF AMOREPACIFIC'S OPERATIONS IN SOUTH EAST ASIA.
Also, Muslim customers who wear hijab tend to want to highlight the areas of their faces that are revealed, Na said, meaning they want more vibrantly colored lipstick and eyeshadow.
These efforts will be pushed primarily through five brands: Laneige, Innisfree; Etude House; Sulwhasoo; and Mamonde. All these brands are well known and some have even become available in large retailers such as Sephora in North America over the past year.
The Muslim population in South East Asia totals close to 300 million, according to Abas Jalil, the chief executive at the Kuala Lumpur-based consultancy Amanah Capital Group.
By 2019, the annual global spending by Muslim consumers will reach $73 billion, according to the Singapore-based Institute of Asian Consumer Insight.
THE MUSLIM POPULATION IN SOUTH EAST ASIA TOTALS CLOSE TO 300 MILLION.
More than 60 percent of the world's Muslims live in Asia, so it is about time that these major beauty companies tapped into this market.
"Brands must be confident in their understanding of Muslim consumers and combine that with a nuanced understanding of how the faith exists in the context of different cultures," said Q Akashah, Singapore-based executive director at Islamic marketing consultancy OgilvyNoor.
It's a progressive step for a leading South Korean company to diversify and emerge in the Muslim cosmetics market where they'll be catering specifically to their needs and hopefully other companies will follow their lead to diversify.
mysalaam.com/en/story/south-korean-cosmetics-giant-focuses-on-catering-to-muslim-women/SALAAM24092017050824
-------
Swiss voters reject raising women's retirement age - TV
Reuters | Published — Sunday 24 September 2017
Elderly people walk in the street, ahead of a national vote on pensions reform, in Lausanne, Switzerland, on September 22, 2017. (File photo by Reuters)
ZURICH: Swiss voters were set to reject raising women's retirement age to 65 in a referendum on shoring up the wealthy nation's pension system as a wave of Baby Boomers stops working, projections by broadcaster SRF showed on Sunday.
The package being decided under the Swiss system of direct democracy included making retirement between the ages of 62 and 70 more flexible and raising the standard value-added tax (VAT) rate from 2021 to help finance the stretched pension system.
Authorities pushing the first serious reform of the pension system in two decades had warned that old-age benefits were increasingly at risk as life expectancy increases and interest rates remain exceptionally low, cutting investment yields.
The government-supported plan sought to secure the level of pensions through 2030 by cutting costs and raising additional revenue.
Minimum pay-out rates would gradually fall to stabilise the mandatory occupational pensions system and workers' pension contributions would rise, while public pensions for all new recipients would go up by 70 Swiss francs ($72.25) a month.
The retirement age for women would have gradually risen by a year to 65, the same as for men.
"That is no life," complained one 49-year-old kiosk cashier, who identified herself only as Angie. "You go straight from work to the graveyard."
The three-pillar Swiss pension system combines public benefits with employer schemes and voluntary savings plans.
Some critics complained that the higher retirement age for women and higher VAT rates were unfair, while others opposed expanding public benefits and said the reforms only postponed for a decade rather than solved the system's financial woes.
Opinion polls had shown the reforms just squeaking by, but support had been waning.
The plan earmarked 0.3 percentage point of VAT revenue for public pensions from next year and 0.6 percent from 2021. That would contribute roughly 2.1 billion francs a year by 2030.
But actual VAT rates would go up by only 0.3 point from 2021 -- the standard rate would become 8.3 percent -- because of reallocations of existing revenue flows from VAT.
A 2014 OECD survey found Switzerland, where workers earned over $91,000 on average, spends a relatively low 6.6 percent of economic output on public pensions. Life expectancy at birth was 82.5 years. More than 18 percent of the population was older than 65.
In a separate referendum, voters were set to approve a constitutional amendment that underscores the general thrust of current agriculture policy and sets out how to guarantee that the population will have proper food supplies in the long term.
($1 = 0.9690 Swiss francs)
arabnews.com/node/1166621/world
---------
Saudi Arabia allows women into sports stadium for 1st time
24 Sep, 2017
Saudi Arabia women attend a rally to celebrate the 87th annual National Day of Saudi Arabia in Riyadh, Saudi Arabia September 23, 2017 © Faisal Al Nasser / Reuters
Saudi Arabia is celebrating the Kingdom's 87th anniversary with music, folk dance performances, and fireworks, but is also showing signs of reform by allowing women to enter public spaces typically reserved for men only, in a historic first.
Hundreds of women attended celebrations at the King Fahd stadium in the capital, Riyadh on Saturday, which is normally forbidden due to strict public segregation rules under the Wahhabi brand of Sunni Islam which informs Saudi law.
"We hope in the future that there will be no restrictions on our entrance to the stadium," Um Abdulrahman, a woman from the northwestern city of Tabuk, told AFP. "For many years ago I have hoped that women will be given the same rights as men."
Follow
RT ? @RT_com
'Women have quarter of a brain, don't deserve to drive' - Saudi cleric on.rt.com/8nxf
9:30 PM - Sep 23, 2017
27 27 Replies 74 74 Retweets 60 60 likes
Twitter Ads info and privacy
Women were seated away from single men and had to enter through a separate gate, but it does mark a change in the notoriously austere and hardline societal norms in the Kingdom.
For context, under Saudi law, women are not allowed drive and must seek the permission of a male family member to be allowed travel or even study.
"It is the first time I have come to the stadium and I feel like more of a Saudi citizen. Now I can go everywhere in my country," said 25-year-old Sultana, as cited by Reuters. "God willing, tomorrow women will be permitted bigger and better things like driving and travel."
Half of the Saudi population is under the age of 25, which may explain why the country launched the Vision 2030 program two years ago. Vision 2030 is an attempt by the authorities to wean the Saudi economy off crude oil and provide more innovation and employment for its young population.
Roughly 1.5 million Saudis are expected to attend National anniversary celebrations in 17 cities over four days.
"The kingdom will remain a bulwark for those who love benevolence, their religion and their country," King Salman of Saudi Arabia tweeted.
rt.com/news/404375-saudi-arabia-women-stadium/?utm_source=browser&utm_medium=aplication_chrome&utm_campaign=chrome
-------
Killing an enemy that hides among women and children is never easy
09/23/17
Killing an enemy that hides among women and children is never easy
"No," says General Lito Sobejana in his native language Tagalog. "You cannot pay the ransom."
I listen to him as he speaks patiently on the phone with the desperate wife of a man kidnaped by Islamic extremists. He translates the conversation when he hangs up the phone.
"She wants to try to raise ransom money," he tells me. "They told her they would cut off his head today if she didn't pay. But we have a strict 'no ransom' policy."
The day before my meeting with the general, his men attempted a rescue and there was a fatal firefight. Six of the terrorists were killed. One of the general's men was shot but survived.
We're in the Mindanao region of the southern Philippines, which is home to more than 21 million people and is considered the nation's "food basket." It's been under martial law since spring. We travel with heavily armed guards day and night.
These days, the locals can't freely move about to fish and farm without fear of being snatched off the street by Muslim terrorist thugs who raise money from the kidnappings. More than a dozen victims are currently being held. Four were captured right before my visit.
Terrorist kidnappings by Islamic extremists and insurgents have been a deadly problem here in the southern Philippines as far back as anyone can remember. And now, foreign fighters and ISIS-inspired terrorists are moving in. The U.S. is starting to pay close attention.
After the call with the kidnap victim's wife, we head out on a military fast boat.
It's the safest way to see the worst areas. He points toward the Muslim majority provinces of Sulu and Basilan where some of the most dangerous fighting is going on. He rolls up his right sleeve and exposes a badly mangled arm. It was shot to pieces by an AK-47 in a firefight with al Qaeda linked terrorists nearly twenty years ago. General Sobejano had led an operation that hunted down and killed the founder of al Qaeda-linked group "Abu Sayyaf." The founder's name was Abdurajak Abubakar Janjalani.
"Right there, that's where it happened," the general tells me as he gestures toward the island of Basilan. The arm was saved, he says, only because the U.S. flew him to Hawaii where he received the best medical treatment. He's also been shot in the leg. For his bravery, he's received the Philippine military's the highest award: a medal of valor.
Today, the general tells me they know where the terrorists are holding more than a dozen civilian kidnap victims.
"Why can't you just blow them up?" I ask.
"They hide among their wives and children and other civilians. We can't take the chance of hurting them. They are our citizens. We serve them, too," he says.
"But if they know that, how can you ever win?"
In other words: How can the good guys who value life ever defeat an enemy that kills indiscriminately? It's the same dilemma facing the U.S. in the ongoing War on Terror.
He takes a breath. "It's hard."
Sharyl Attkisson's reporting on the Philippines will be featured on this Sunday's episode of her investigative news program, "Full Measure with Sharyl Attkisson."
thehill.com/opinion/international/352053-killing-an-enemy-that-hides-among-women-and-children-is-never-easy
-------
URL:
https://www.newageislam.com/islam-women-feminism/triple-talaq-ban-nothing-more/d/112641