New Age Islam News Bureau
27 Jun 2016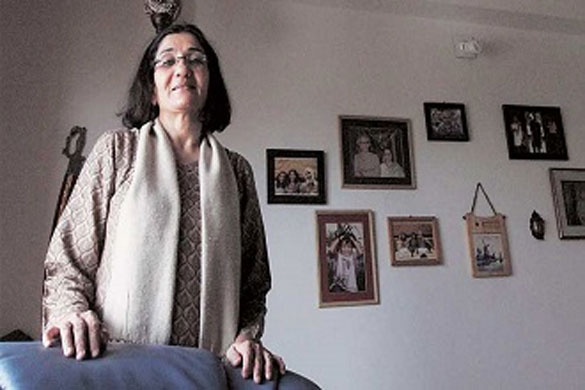 Photo: Muslim women want solution to triple talaq within the Quranic framework and not through a uniform civil code, says Zakiya Soman. (Express Photo: Javed Raza)
---------
• Trupti Desai Seeks God's Blessing Ahead of Bombay HC Verdict on Women's Entry In Haji Ali Dargah Case
Compiled by New Age Islam News Bureau
URL: https://newageislam.com/islam-women-feminism/muslim-women-leave-fold-be/d/107778
----
Why Should Muslim Women Leave The Fold To Be Treated As Equals?
June 27, 2016
In Shayara Bano's petition on triple Talaq, the Bharatiya Muslim Mahila Andolan has filed a new plea saying it is not calling for a uniform civil code but wants triple Talaq declared un-Islamic. Zakiya Soman, co-founder of the movement, describes how she is walking fine line between the Muslim right that wants triple Talaq to continue and the Hindu right that wants it replaced with a uniform civil code. Excerpts from interviews with her:
You are arguing for being strictly within the parameters of Islamic law. Why?
Muslim women, like most women in India, are believers and want a solution within the Quranic framework. Besides, it is their constitutional right to practice the faith they want to. If they are Muslim, they should remain Muslim and yet be seen as equal as Islam recognises women as equals. All communities have personal laws based on their religious texts, so why Muslim women should be made to feel they need to leave the fold to be seen as equals?
In the Shah Bano case, the argument was that Muslim women needed rescuing from Islamic law itself. How is the current case different?
A lot has changed since 1986. There are a number of Muslim women who have become aware of their rights and are demanding justice. Enlightened Muslims have also been able to reach out to women much more now since 1986.
How have other countries that have outlawed triple Talaq managed?
All Muslim countries have codified their laws, and have managed to address different aspects of personal law. The practice of triple Talaq has a history. Abu Hanifa, while addressing the problems of women at a specific time in history, who were kept hanging and not divorced, brought in this provision to ensure women could be free from marriages that were not fair and unequal. Now, a small blip in history is being used by men who want to shake off their responsibility and subjugate women under the threat of being able to divorce them in a jiffy.
Will Islamic law on India ever be codified? Isn't the problem of too many schools insurmountable?
We have to work for codification and it will happen… The many schools of argument are meant more for obfuscating the debate.
Why are even Muslim women aalimas in the All India Muslim Personal Law Board hostile to the idea of courts striking down triple talaq as un-Islamic?
That is simple to understand and is not a problem just here. This is just like some sadhvis who speak the language of VHP and Bajrang Dal… About 92% of women whom we surveyed want a ban on unilateral divorce. Moreover we have had two national hearings where women have narrated their stories. We have had publications narrating the stories of victims. Currently we have a photo campaign running on Facebook where women victims have shared their stories of victimisation. About 50,000 women signed a petition asking for a ban on oral divorce.
Does the BJP being in power make your case complicated?
Yes and no. Let us remember the courts gave justice to Shah Bano, it was political interference that overrode the verdict. The BJP no doubt has a very divisive agenda based on it three pet projects, of which a uniform civil code is one. But how can we have a uniform civil code if people feel it goes against their right of religion? We should allow the courts to do their job and reconcile gender justice and the right to religion… Will the Hindu right agree to a marriage without the kanyadan or seven pheras? No, they won't. Then why should others give up rights enshrined in the Constitution of right to worship or not worship as per your choice? Our point is that the 1937 colonial law that allows Muslim personal law [Shariat Act] should be properly implemented in the true spirit of Islam.
Will India ever see Article 44 [uniform civil code] operational?
We are not arguing for the uniform civil code. That is is not the solution, in any case once the move failed the answers were provided by the Hindu Marriage Act, the Hindu Succession Act and various amendments to the Christian Marriage & Divorce Act, etc. Plus the Special Marriages Act is virtually a uniform civil code for anyone who wants to marry as per secular law. This issue has been needlessly politicised. Women are equal in Islam and Indian Muslim women must also be allowed to exercise that right and not pushed back by either the Muslim right or the Hindu right.
Is there any scope of Muslim men speaking for women's rights?
Muslim men recently signed up to demand abolition of this practice. In a short span of a few days close to 225 men, some of them very prominent Muslims, signed up against the practice.
indianexpress.com/article/india/india-news-india/shayara-banu-case-triple-talaq-polygamy-in-islam-gender-equality-muslim-uniform-civil-code-2878014/
---------
Trupti Desai seeks God's blessing ahead of Bombay HC verdict on women's entry in Haji Ali Dargah case
June 27, 2016
Pune: Bhumata Brigade activist Trupti Desai on Monday said she will seek blessings of the presiding deity at the Shani Shingnapur temple ahead of Tuesday's Bombay High Court verdict in the Haji Ali Dargah no-entry case.
"The Bhumata Brigade had taken out a protest in regard to the entry of women in the inner sanctum of the Haji Ali Dargah. The verdict in regard to the PIL in the Bombay High Court will come tomorrow. We are going to the Shani temple today to pray that the verdict comes in our favour," Desai told ANI.
She said she is a follower of God and has full faith on the supreme authority.
"I had prayed and always kept faith on God during the Trimbakeshwar protest or Shani Shingnapur protest. So, we are going to offer our prayers today," she added.
The Bombay High Court will pronounce its verdict tomorrow on a petition filed by a women's group challenging ban on entry of women inside the sanctum sanctorum of Haji Ali dargah in the city.
Desai's efforts to enter the dargah were foiled by policemen and local residents on April 28.
The activist — who had successfully campaigned against the ban on women entering the Maharashtra's Shani Shingnapur temple — had planned to enter the dargah, one of the foremost Muslim shrines, which does not allow women in its core area.
The high court is hearing a public interest litigation (PIL) filed by activists Noorjehan Niaz and Zakia Soman of the Bharatiya Muslim Mahila Andolan urging the court to lift the restrictions imposed somewhere between March and June 2012 by the Haji Ali Dargah Trust.
The state had supported the entry of women saying that the trust would have to prove that banning entry of women is singularly essential to the practice of Islam.
The trust had claimed that separate arrangements are made for women who are allowed up to a certain point from where they can offer prayers but they cannot touch the tomb of a male saint as it is a sin in Islam.
www.siasat.com/news/trupti-desai-seeks-gods-blessing-ahead-bombay-hc-verdict-womens-entry-haji-ali-dargah-case-978834/
URL: https://newageislam.com/islam-women-feminism/muslim-women-leave-fold-be/d/107778
New Age Islam, Islam Online, Islamic Website, African Muslim News, Arab World News, South Asia News, Indian Muslim News, World Muslim News, Womens in Islam, Islamic Feminism, Arab Women, Womens In Arab, Islamphobia in America, Muslim Women in West, Islam Women and Feminism