New Age Islam News Bureau
28 Oct 2014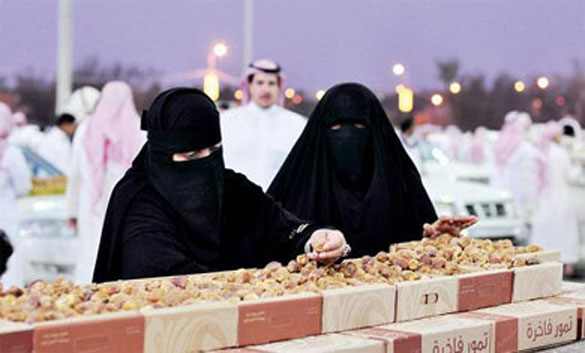 Saudi Women In search of 'Better Life Abroad'
----------
• Bangladesh Girls Speak Out Loud For Empowerment
• Dozens More Girls Abducted In Nigeria
• 3 Muslim Women among Bihar, India, Prisoners Observing Chhath Festival
• Yohana Is First Female Papuan Minister
• Jokowi, Kalla Applauded For Appointing Eight Women Ministers
Compiled by New Age Islam News Bureau
URL: https://www.newageislam.com/islam,-women-and-feminism/new-age-islam-news-bureau/why-saudi-women-fall-prey-to-the-idea-of-a-'better-life-abroad'/d/99762
-----------
Why Saudi Women Fall Prey to the Idea of a 'Better Life Abroad'
28 October 2014
Every so often, stories surface of Saudi women fleeing their family homes to live outside the Kingdom. This has been troubling families across different parts of the Kingdom, as they believe that some groups are encouraging women to engage in this behaviour.
Iman Al-Asiri, an employee in King Khaled University, disagrees. She says the main cause for women choosing to flee their homes is bad treatment in the house. "Some families suppress their daughters and prevent them from leaving the house at times, which leaves women disappointed and wanting to leave," she pointed out. Al-Asiri said her city in Asir has been home to many stories of women fleeing their homes to Jeddah or abroad. "There are men who incite women against their families and lure them under the name of love and attention. These women might join terrorist groups or practice vice," she added, hoping that families will revive their role as keepers of unity in the household.
One social worker in the Saudi-German hospital, Sabah Al-Zahar, said that in light of modernization and globalization, many women in Saudi society face problems with their families. "Women tend to want to imitate their friends and reach higher levels of freedom," Al-Zahar explained. She said that "families need to establish a loving and nurturing environment, and remain as close to their daughters as possible so that nobody can convince them to leave the house," she added, urging mothers to understand the needs of their daughters, and gain their trust.
Maduah Al-Amaduah, an expert in criminology, said that women fleeing their homes is no new phenomenon. "There are statistical standards to judge if a phenomena becomes a real social problem," he said, explaining that many researchers make a big mistake when they call female flight a crime, "Most of the fleeing cases happen with women who are victims of crime, abuse, violation of their fundamental human rights, or if they fear for their lives," Al-Amaduah said.
He noted that the cultural and economic changes in recent times, including increased poverty and unemployment, have dramatically affected child rearing methods of families. The president of the Family Development Center in Al-Ahsa, Khalid Al-Haliby, said that 1,400 runaway cases were registered in one year.
Professor of sociology at Imam Muhammad bin Saud Islamic University in Riyadh, Mansour bin Askar, has written a scientific paper about this issue. He said that around 1,500 to 3,000 women leave their homes in any given year, and that a high number of them are lured into immoral actions in Arab countries. "Their friends in other countries claim that they will provide women with safe places in Arab countries to spend the summer vacation, only for them to discover that these women are working in immoral, unethical and potentially dangerous occupations," he observed.
Askar's study suggested that fathers and sons in the family are abandoning their responsibilities within the family, and putting all of the pressure on the women. "This increased pressure, coupled with the restrictions imposed on them, creates a serious psychological problem and prompts some of them to get away from live at home," Askar said.
http://www.arabnews.com/saudi-arabia/news/651301
-----------
Bangladesh Girls Speak Out Loud For Empowerment
October 28, 2014
"Dear Father and Mother," wrote Sayeda Uchaila Rahbar, student of class nine from Malatinagar, Bogra , "As citizens of a country, run by women leaders, why are you trying to nip my dreams and wishes at its bud instead of letting it flourish?"
"I don't want to be your burden rather I want to be an invaluable asset to you," Rahbar wrote in her letter urging her parents not to marry her off at the age of 15.
Rahbar's letter won the first prize among 11,000 entries sent to Brac in response to a call for submission of writings from young girls to make their parents aware of the ills of child marriage.
The letter, along with two other award winning entries displayed inside the Osmani Memorial Hall yesterday, welcomed participants to the daylong Bangladesh Girl Summit 2014 organised by the Ministry of Women and Children's Affairs and Brac with help from UK-based development organisation the Department for International Development (DFID).
Themed "Ending child marriage and Empowering Girls", the summit was arranged in line with the Girl Summit held in the UK last July.
Young girls and boys as well as different actors who work on the issue of children and women's rights participated in the summit and shared ideas about how they can prevent early marriages and ensure women's empowerment.
Five teenagers from different parts of the country talked about how they prevented early marriage when they or someone they knew were forced to agree to such practice.
Mitu Roy, a freshman of bachelor of business administration at Bogra Government Azizul Huque College, who attended the UK summit, shared her journey from Bogra to the UK with the audience.
"My elder sister was married off at class VIII, but I never liked the idea. When my parents started pressing me to get married at class-VIII, I talked with my mother and made her understand the importance of my education," she said.
Later with the help of her family Mitu joined the Kishori (adolescent) Club, a Brac initiative assisted by the government, and participated in football and cricket. Now she works as a goal coach for girls.
"People used to taunt me when I played football, but after my return from the UK, these same people show me respect. I consider it to be the biggest achievement of my life," she said.
Meher Afroze Chumki, MP, state minister for the ministry, urged girls not to go astray following false promises of love. "You need to be aware of your own good. If you do not understand what is good for you no one can give you your rights," she said.
Pointing at the high rate of child marriage in Bangladesh, Lynne Featherstone, MP, UK parliamentary under secretary of state for international development, said they were developing a £25-million programme to prevent child and forced marriages in 12 developing countries, including Bangladesh.
Sir Fazle Hasan Abed, KCMG, founder and chairperson, Brac, called upon parents to look at girls as assets not as a burden.
He stated that Brac has pledged $280 million in funds to reach out to 2.7 million girls to provide them with primary education, training and scholarships over the next five years.
http://www.thedailystar.net/city/girls-speak-out-loud-for-empowerment-47696
-----------
Dozens more girls abducted in Nigeria
28 October 2014
MAIDUGURI, Nigeria: Dozens of girls and young women are being abducted by extremists in northeast Nigeria, raising doubts about an announced cease-fire and the hoped-for release of 219 schoolgirls held captive since April.
On Oct. 17, Nigeria's military announced a cease-fire had been agreed with Boko Haram and ordered troops to immediately comply. Officials said the cease-fire would lead to the speedy release of the 219 girls kidnapped from a boarding school in the remote northeastern town of Chibok on April 15.
But there have been a number of kidnappings and battles since then that call into question the cease-fire.
At least 70 teenage girls and boys have been kidnapped in Borno and Adamawa states since Oct. 18, according to local government chairman Shettima Maina and residents who spoke on condition of anonymity because they feared retribution.
The insurgents also launched several attacks since the cease-fire was announced. On Friday a multinational force including troops from Nigeria and Niger engaged in fierce fighting to regain control of Abadam, a town held by Boko Haram on the western shores of Lake Chad.
The continued fighting and abductions raise questions about the cease-fire. Ten days after the announcement, Boko Haram has not indicated that it has agreed to a truce.
Nigeria's minister of foreign affairs, Aminu Wali, said Monday that Boko Haram has denied recent kidnappings and suggested it might be the work of dissidents wanting to break the cease-fire.
He said the release of the Chibok girls is part of ongoing cease-fire negotiations, which would not be affected by the latest abductions.
"There is still negotiation going on and we expect a lot of progress to be made ... And we will make an effort also to bring back those that have been kidnapped," Wali told a news conference in Abuja, Nigeria's capital.
Abducted girls are subjected to horrific treatment, Human Rights Watch said in a new report Monday, quoting escapees who described forced marriages and rapes, forced conversions to Islam, forced labor and forced participation in attacks.
The insurgents mainly target Christians and girls who go to school, said Human Rights Watch.
More than 500 girls and women have been kidnapped by Boko Haram since 2009, according to an estimate by the New York-based rights group. Unknown scores of young men also have been kidnapped and forced to join the extremists as fighters.
http://www.arabnews.com/world/news/651181
-----------
3 Muslim Women among Bihar, India, Prisoners Observing Chhath Festival
Oct 28, 2014
PATNA: Several prisoners, including three Muslim women, are performing Chhath Puja in jails, sources said on Monday.
Preparations for the festivity began with the cleaning of the water body and the dedicated space allotted to these devotees. Public address systems have also been made available for blaring Chhath songs in quite a few jails.
Two of the three Muslim Chhath devotees are inmates of Motihari central jail while the other is lodged in Shaheed Jubba Sahni Central Jail at Bhagalpur. "The two Muslim women at Motihari jail are doing Chhath Puja for the second consecutive year," Motihari jail superintendent Rupak Kumar said and added the two murder convicts have been awarded life imprisonment. In all, 51 women and 39 men prisoners of the Motihari jail are performing Chhath Puja this year.
The Muslim woman at the Bhagalpur jail is also a murder convict and serving life term. She has been observing Chhath for several years now, said Bhagalpur jail superintendent Tribhuvan Singh.
At Patna's Beur jail, 12 men and 28 women are observing Chhath. "There is an artificial water body inside the jail. It has been cleaned and filled with the holy water of the Ganga. We have named the water body 'Shanti Sarovar'," said a Beur jail official. Officials of several jails where prisoners are observing Chhath puja have banned non-vegetarian food on the premises since October 25 keeping in mind the religious sentiments of the Chhath devotees. The official said the prisoners observing Chhath will be given new sari, blouse and petticoat. Seasonal fruits, milk, sugar, rice and flour besides other necessary items are also being distributed among them, he said.
A makeshift oven has been made of mud in the Beur jail for the devotees to make 'thekua'. "We also allow their family members to bring puja materials for them," the Beur jail official said.
http://timesofindia.indiatimes.com/city/patna/3-Muslim-women-among-prisoners-observing-Chhath/articleshow/44954485.cms
-----------
Yohana Is First Female Papuan Minister
October 28 2014
Yohana Susana Yembise might have had a bitter pill to swallow when she was defeated as a candidate to become the 2014-2019 Biak Numfor regent in Papua, but she was headed for a better future after being appointed as the minister for women's empowerment and child protection in the administration of President Joko "Jokowi" Widodo. She replaced Linda Amalia Sari.
Yohana, fondly called Yo, ran to become Biak Numfor regent with her running mate Friets G. Sanadi, but lost to the pair of Yesaya Sombuk and Thomas AE Ondi, who were sworn in on March 23.
Yo, who was installed as Papua's first female professor in November 2012, had no other wish than to write books.
"I've achieved the highest title in the academic field and it's time for me to write books," she told The Jakarta Post two weeks before her appointment as minister.
She said she saw the regency election as a hands-on experience and a political learning process. She even conducted her own survey to find out why she lost the election.
"I approached the residents one by one and they said they liked me but they could not elect me because earlier they had made commitments to another candidate who had provided them cash aid to build a house of worship and for other needs. So I was failed by money," she said.
Yo said she remained positive by working on a book about gender and political issues in Papua.
Born in Manokwari, West Papua, on Oct. 1, 1958, Yo has lectured at the school of pedagogy and teacher training at Cenderawasih University since 1987.
After earning an applied linguistics diploma from the Regional Language Center (RELC), SEAMEO Singapore in 1992, she completed a Master's degree program at the education department of Simon Fraser University in Canada in 1994.
She earned her doctorate in 2007 from the University of Newcastle in Australia. In 2011, she was a member of the joint selection team of the Australian Development Scholarship (now Australia Awards) in Indonesia.
The mother of three was enthusiastic in encouraging Papuan women to pursue higher education overseas.
"My team from Cenderawasih University is currently mapping out the number of highly educated women in Papua and designing positions for them. The program enables me to prepare intellectual women in Papua to become professors in the future," she said.
Pastor Neles Tebay, head of the Fajar Timur Theological Academy in Abepura, Jayapura, believed that Yohana's selection as a minister could inspire other women in Papua.
"Jokowi has raised the hopes of women in Papua that they could become ministers in the country," he said.
Neles said he considered that naming a woman from Papua as minister was part of Jokowi's "mental revolution" because people are accustomed to imagining men when they speak about ministers from Papua.
Back at home, Yo has secured a special place in the hearts of her three children. "One of mum's gifts is cooking. For me, there is no other food that is as delicious as mum's," Marcia, 27, Yohana's eldest daughter, wrote in an e-mail to the Post.
Marcia, a Fullbright scholar, has finished her graduate study at Loyola University in Chicago, the US. The second daughter, Dina Maria, 18, is currently studying climatology in London, the UK. Yo's youngest is Bernie, 16, a senior high school student in Timika.
http://www.thejakartapost.com/news/2014/10/28/yohana-first-female-papuan-minister.html
-----------
Jokowi, Kalla Applauded For Appointing Eight Women Ministers
October 27 2014
Indonesian Institute of Sciences (LIPI) political observer Siti Zuhro has applauded President Joko "Jokowi" Widodo and Vice President Jusuf Kalla for having appointed a number of women as ministers in their Cabinet.
Jokowi and Kalla inaugurated on Monday their 34 ministers, including eight women, namely Foreign Minister Retno Lestari Priansari Marsudi; Environment and Forestry Minister Siti Nurbaya; Maritime Affairs and Fisheries Minister Susi Pudjiastuti; Health Minister Nila F. Moeloek; Social Affairs Minister Khofifah Indar Parawansa; Women's Empowerment and Child Protection Minister Yohana Susana Yembise; State-Owned Enterprises Minister Rini Soemarno, and Coordinating Human Development and Culture Minister Puan Maharani.
The number of women ministers in Jokowi's Cabinet is the highest since the fall of late president Soeharto.
Former president Susilo Bambang Yudhoyono appointed only four women ministers: Health Minister Nafsiah Mboi; Tourism and Creative Economy Minister Mari Elka Pangestu; Women's Empowerment and Child Protection Minister Linda Amalia Sari Gumelar, and National Development Planning Minister Armida Alisjahbana.
"I am very happy because this is the first time women ministers account for 23 percent of the total executive body. This figure is close to the percentage of women representatives in the legislature," Zuhro said on Monday as quoted by kompas.com.
She said she applauded Jokowi's decision to appoint women to lead ministries that were traditionally headed by male ministers, such as the Foreign Ministry, Maritime Affairs and Fisheries Ministry and the Environment and Forestry Ministry.
She said she believed the higher number of women ministers would have a positive impact on Jokowi and Kalla's five-year administration.
"Women's sensitivity is higher than men's. In addition, women tend to be more careful and they go into the details of things. These are the added values you get when you choose women for leadership roles," she explained. (alz/nfo)(+++)
http://www.thejakartapost.com/news/2014/10/27/jokowi-kalla-applauded-appointing-eight-women-ministers.html
-----------
URL: https://www.newageislam.com/islam,-women-and-feminism/new-age-islam-news-bureau/why-saudi-women-fall-prey-to-the-idea-of-a-'better-life-abroad'/d/99762