New Age Islam News Bureau
10 Dec 2018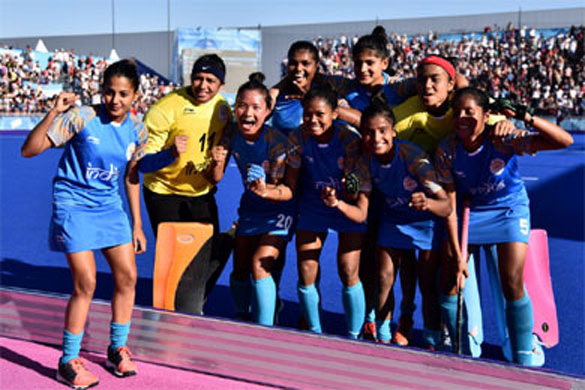 Aligarh Muslim University's ground-breaking move to form girls' hockey team ends 100-year wait - IBTimes India
-----
• For The First Time in Its History, AMU Girls Ready To Play Hockey
• Saudi Women Enjoy New Fitness Dance Craze 'Nia'
• Saudi Women Start To Take Over Jobs At Justice Min
• Construction Of Women, Children Barracks At Adiala Sought
• Princess Adelah launches event to help children suffering from cancer
• Syrian girl born without legs walks on new prosthetics
Compiled by New Age Islam News Bureau
URL: https://www.newageislam.com/islam-women-feminism/cant-women-enter-nizamuddin-dargah/d/117119
--------
Why Can't Women Enter Nizamuddin Dargah: Delhi High Court Notice to Centre, State
Dec 10, 2018
The Delhi high court on Monday issued notices to the Centre, state government and the Hazrat Nizamuddin Dargah trust on a plea seeking entry of women into the sanctum sanctorum. The court also said that they were awaiting the Sabarimala review verdict before further hearing the case. The next date of hearing is April 11.
The Supreme Court had allowed the entry of women of all ages into Kerala's Sabarimala temple and is currently hearing a review petition in the case.
The plea in Hazrat Nizamuddin Dargah case was filed on Thursday by a group of women law students from Pune requesting the Centre and other authorities to remove the ban on the entry of women into the shrine.
The petition claimed that the law students tried to reach out to authorities over the matter, including the Delhi Police but decided to move the court after not receiving any response.
In their plea the women contended that Nizamuddin Dargah is a public place and prohibiting women from entering the shrine is gender discrimination and thus highly unconstitutional. The plea cited the example of two major Muslim shrines — Haji Ali Dargah in Mumbai and Khwaja Moinuddin Dargah in Ajmer — that allow entry of women.
https://www.hindustantimes.com/india-news/why-can-t-women-enter-nizamuddin-dargah-delhi-high-court-notice-to-centre-state/story-wbVuXieyME0U8bbYHy43HI.html
--------
For The First Time in Its History, AMU Girls Ready To Play Hockey
Dec 9, 2018
ALIGARH: In this hockey World Cup season, a glass ceiling looks all set to be shattered at the Aligarh Muslim University. For the first time since it came up in 1920, AMU will boast of a girls' hockey team. And those causing this tiny revolution cannot help being kicked about it.
Naseem Zehra is only 13. Till recently, she'd often fall from her bed while sleeping, dreaming most of the time that she was scoring a goal for her team, taking it to victory.
Teammate Alia Rashid can't part with her hockey stick. She carries it everywhere, even to the classroom. "What to do?" she said. "I am hooked to hockey." Naseem and Alia are part of a groundbreaking AMU project which can open doors for Muslim girls taking up the national sport. The two, from Abdul Basheer Khan Union High School, are part of the university's first-ever girls' team — a junior venture that includes students from the 10 schools at the campus that's administered by its governing body.
If all goes well, AMU girls could play their first match in an inter-school competition in February next year.
Preparations are on, and the hockey fever has become contagious. It's a common sight in the evenings to see a group of girls practising at the university's ground near Sir Syed Hall under the supervision of their coach, Anees-Ur-Rehman, a former Indian international hockey player from the mid-80s and current deputy director of the AMU sports committee.
Seeing the enthusiasm of their juniors, the seniors (pursuing graduation) have also taken up the game. Afreen Ali, a final year graduation student, said she recently took special permission from her hostel warden to play hockey after class.
There is also the 'cool vibe' that comes with playing hockey, giving the girls an edge socially on campus among their peers.
"Playing hockey was never on my mind until one day my brother told me that a girls' hockey team was being formed. I decided to try it out and now am enjoying it very much," said Naseem. "But you know what's the best part? Everyone now wants to be friends with me since they think that girls in the hockey team are cool."
AMU has boasted of many illustrious male hockey (and football) players through the decades, with former 1980s captain, Zafar Iqbal – born in Aligarh, his father was head of the Chemistry department at AMU -- being the last Olympic gold medal winner (Moscow 1980) from the university.
Other stalwarts include Masood Minhaj (Los Angeles Olympics, 1932), Ahsan Mohammad Khan (Berlin Olympics, 1936), Lt A Shakoor, Madan Lal, Lateef-ur Rehman, Akhtar Husain Hayat (all of whom played in London Olympics, 1948), Jogendra Singh (Rome Olympics, 1960), SM Ali Sayeed (Tokyo, 1964), Inamur Rehman (Mexico Olympics,1968) as well as 1975 World Cup winner BP Govinda.
"This is a great beginning for women's hockey and, in particular, Muslim girls to get a chance to play the game. It will open many doors for them," said Aslam Sher Khan, Govinda's World Cup-winning teammate in 1975. He had a brief, fleeting sojourn with AMU, having represented the university in a North Zone championships in 1970.
"You'd be hard-pressed to name a handful of Muslim hockey players at the top level. Sirf, ikkey, dukkey hi hongey," he said, adding that Saba Anjum Karim, the 2000s Indian team mainstay and 2002 Commonwealth Games gold winner from Chhattisgarh, is probably the most well-known Muslim woman hockey player.
But AMU's mini hockey revolution hasn't come easy. This team could take shape only after sustained efforts made over decades. In 1982, Razia Rizvi, deputy director, physical education at AMU's women's college, tried hard to make girls play hockey in the university but ran into a stone wall.
Razia remembers her struggle. "After eight years of effort, when nothing happened, I decided to drop the idea," she said, listing acute funds crunch, little or no support from university authorities uncomfortable with the idea of women playing – considered a 'man's sport' -- as the main reasons for the initial failure.
"The previous VCs did not take much interest in promoting women in sports. However, things began to change a few years ago after Lt Gen Zameer Uddin Shah took over. The present VC Tariq Mansoor also supports girls who want to take up sports seriously," she added.
Things have begun to look up. "It's an absolute delight to see the girls shaping up well," smiled coach Rehman.
"Initially, we were not sure how girls would respond to the idea of playing hockey but we received an overwhelming response and girls have been diligently practising since August. All of them are working very hard and we hope they will shape up as excellent players. This is just the start, but it looks good," he said, rushing back to the middle to teach his stick-wielding stalwarts a few more tricks.
https://timesofindia.indiatimes.com/city/agra/for-the-first-time-in-its-history-amu-girls-ready-to-play-hockey/articleshow/67016809.cms
--------
Saudi Women Enjoy New Fitness Dance Craze 'Nia'
9 December 2018
A Saudi female fitness instructor has introduced women in her community to a new, fun way to keep fit by teaching them Nia dance cardio classes.
In the last few years, many Saudi fitness trainers have been opting to try new and different kinds of physical fitness training to offer women in the kingdom a variety of workout styles.
Manal Al-Dabagh fell in love with the Nia technique straight away, with its music and moves, during her time in the United States.
Dabagh learnt the Nia dance cardio fitness classes and was licensed in the Nia Technique. She first got the white belt and then moved to the blue belt. She then began teaching as an instructor in the US and then Korea, before returning to Saudi Arabia in 2013, with the black belt.
This week, she succeeded in hosting her first Nia class in a gym at the Saudi city of Kohbar, where many Saudi women have participated and expressed their excitement and astonishment.
This sport relies on interacting with music and control body movements in harmony with the mind and moving consciously.
Dabagh tells Al Arabiya English: "It is an inclusive sport that relies on the interaction of the body and the mind. It combines many sports and rhythmic styles, and that's what is attracting women to practice it. It can be practiced anywhere, anytime, by participants regardless of their age, and their body and health situations varied."
She says she hopes the fitness technique will become popular across Saudi Arabia. Dabagh teaches classes in Jeddah and Riyadh, and feels that Nia is currently gaining momentum in the kingdom.
Sara Al Rahimi, one of the women who participated in Dabagh's Nia classes, believes that it is a sport that can rid participants of accompanying daily psychological issues and stress.
https://english.alarabiya.net/en/sports/2018/12/09/Saudi-women-enjoy-new-fitness-dance-craze-Nia-.html
--------
Saudi Women Start To Take Over Jobs At Justice Min
2018-12-09
RIYADH — For the first time in its history, Saudi women employees have assumed positions in the Ministry of Justice in five main areas of work.
The ministry said the women were employed as researchers in law, sociology and Shariah as well as administrative assistants and computer program developers.
Minister of Justice Walid Al-Samaani last year said the ministry was planning to employ Saudi women among its cadre.
The ministry's women's department has prepared a comprehensive training program for the new recruits so as to further qualify them.
Fatima Al-Shiraim, director of the department, said the training programs targeted those working in the courts and notaries public within the ministry's drive to empower women and make them take over jobs that were hitherto dominated by men.
She said the trainees consisted of women employees in the reception, information and appointment desks, reconciliation departments in the family courts, documentation and others.
Al-Shariam explained that the training courses were organized by the Judicial Training Center in Riyadh.
http://saudigazette.com.sa/article/549842/SAUDI-ARABIA/Saudi-women-start-to-take-over-jobs-at-Justice-Min
--------
Construction Of Women, Children Barracks At Adiala Sought
Dec 10, 2018
RAWALPINDI: The jail administration has sent to the provincial government a summary seeking the construction of new women and children barracks at the Adiala Jail, officials said Sunday.
Superintendent Jail Mansoor Akbar while talking to APP said that beautification work of the jail building has been started while arrangements have also been made for the provision of best education and health facilities to the prisoners.
Mansoor said that currently 150 women and 55 children were incarcerated in Adiala, to whom a vocational institute, computer centre and school were imparting training and education.
He informed APP that an 80-bed hospital was catering to the needs of the patients while three lady doctors were available for female prisoners.
"X-ray, laboratory test and ECG facilities are also available for the prisoners," he said and added that foolproof arrangements had been put in place for jail security.
https://www.pakistantoday.com.pk/2018/12/09/construction-of-women-children-barracks-at-adiala-sought/
--------
Princess Adelah launches event to help children suffering from cancer
December 09, 2018
RIYADH: Princess Adelah bint Abdullah bin Abdul Aziz, chairperson of Sanad Children's Cancer Support Society, on Sunday announced the organization of a charitable event.
The proceedings from the event, the 2018 Winter Shops, will be utilized to help children suffering from cancer.
She said the exhibition is organized by Dar Al-Tamkeen Al-Sharqi for the cancer support society.
The event, to be held from Dec. 17 to 20, will provide participants from the Kingdom and abroad with a brilliant networking opportunity and will help raise awareness about the problems faced by children inflicted with the disease.
The first edition of the event was held in 2015 as a charity exhibition organized by Sanad Children's Cancer Support Society to develop its resources and improve its finances to continue its operations.
Today, the exhibition has entered its seventh year with around 336 exhibitors, 27 partners, 400 volunteers and 29,000 visitors.
http://www.arabnews.com/node/1418116/saudi-arabia
--------
Syrian girl born without legs walks on new prosthetics
December 09, 2018
SERJILLA, Syria: Eight-year-old Maya Merhi had to struggle around a Syrian displaced persons camp on artificial limbs made of plastic tubing and tin cans.
But now the girl, who was born with no legs due to a congenital condition, is walking on new prosthetics after undergoing treatment in Turkey.
Pictures of her plight, including those taken by AFP in Syria, were seen around the world in June, and she was taken to Istanbul for the life-changing procedure.
Dressed in a pink sweater and matching shoes, Maya on Saturday was able for the first time to walk along the rutted roads of the Serjilla camp after arriving back.
Finally she joined in the games and dancing with the other children.
"I was so happy when I saw her walking," says her father Mohammed, sitting in their makeshift tent.
"The whole family and all our loved ones were so happy."
Mohammed suffers the same condition as his daughter, known as congenital amputation which means the person is born without lower limbs.
He cobbled together the homemade prosthetics on which she used to shuffle around the camp.
Originally from Aleppo region, the father and daughter had to move to rebel-held Idlib province as fighting from Syria's civil war began to rage around their home.
After the pictures of Maya's difficulties sparked attention across the globe, the Turkish Red Crescent intervened.
The father and daughter were evacuated from Syria by the Turkish authorities and brought to Istanbul for treatment at a specialized clinic.
Mohammed received prosthetic limbs as well, but admits that he isn't yet as steady on them as his daughter.
Sitting on a foam mattress, his daughter unwraps the artificial legs and attaches them.
"To begin with there were difficulties getting used to them," says her uncle Hussein, who accompanied his brother and niece to Turkey.
"All of a sudden she found herself up high on the new prosthetics."
http://www.arabnews.com/node/1418251/middle-east
--------
URL: https://www.newageislam.com/islam-women-feminism/cant-women-enter-nizamuddin-dargah/d/117119
New Age Islam, Islam Online, Islamic Website, African Muslim News, Arab World News, South Asia News, Indian Muslim News, World Muslim News, Women in Islam, Islamic Feminism, Arab Women, Women In Arab, Islamophobia in America, Muslim Women in West, Islam Women and Feminism