New Age Islam News Bureau
8 Jun 2019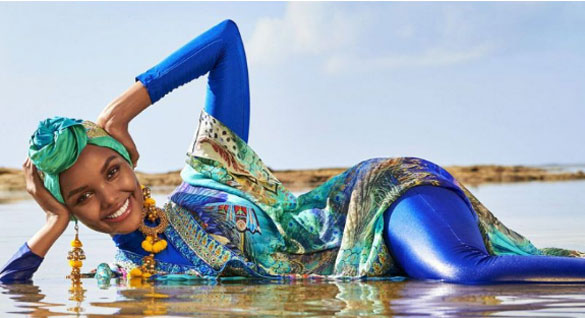 Rabat - Halima Aden is the first Muslim model to wear a hijab and burkini on the cover of Sports Illustrated magazine's swimsuit edition.
--------
• Halima Aden Stands by Burkini Sports Illustrated Cover through Criticism
• Playing Ball, Breaking Barriers: GTA Muslim Women's Softball League Growing In Popularity
• Muslim Woman Beaten At Bronx Bus Stop Accuses Officials of Failing to Conduct Proper Investigation
• Muslim Leaders Say Woman Who Burglarized Tempe Mosque in Hate Video Deserves Chance At Redemption
Compiled by New Age Islam News Bureau
URL: https://www.newageislam.com/islam-women-feminism/there-no-women-saudi-arabia/d/118830
---------
Why Are There No Women At Saudi Arabia WWE Super Showdown Event?
By KONSTANTINOS LIANOS
PUBLISHED: 17:55, Fri, Jun 7, 2019
WWE are set to stage WWE Super ShowDown tonight at the King Abdullah International Stadium in Saudi Arabia without any matches from the women's division.
Vince McMahon's promotion struck a controversial multi-million 10-year deal with the Saudi General Sports Authority last year that will see the wrestling giants putting together a series of Pay-Per-View shows.
However, that partnership has faced intense backlash and one of the reasons is that the kingdom of Saudi Arabia aren't allowing women to compete despite WWE's ongoing Women's Evolution that sees female wrestlers getting equal billing to their male counterparts.
Women in Saudi Arabia are still facing legal restrictions even though Crown Prince Mohammed bin Salman has made a lot of changes, some of which allow them to drive and join the military.
https://www.express.co.uk/sport/wwe/1137727/WWE-Super-Showdown-Saudi-Arabia-Alexa-Bliss-Natalya-Daniel-Bryan-Vince-McMahon
---------
Halima Aden Stands by Burkini Sports Illustrated Cover Through Criticism
Jun 7, 2019
Halima Aden Stands by Burkini Sports Illustrated Cover Through Criticism
Rabat – Halima Aden is the first Muslim model to wear a hijab and Burkini on the cover of Sports Illustrated magazine's swimsuit edition.
For the 2019 issue, which was released this month, Aden modeled a number of Burkinis, including a custom-designed, colour-blocked Burkini by American designer Cynthia Rowley.
The shoot took place in Kenya, which holds significance to Aden's story. The Somali-American model was born in Kenya at the Kakuma Refugee Camp. At the time her family was living in a tent as they were fleeing the horrors of the Somali civil war.
In each camp her family was transported to, hunger and malaria were common. During this period, her family made the best of life, making furniture from mud. It wasn't until she was 7 that her family finally moved to the US.
"I keep thinking [back] to six-year-old me who, in this same country, was in a refugee camp," Halima said during her photoshoot. "So to grow up to live the American dream [and] to come back to Kenya and shoot for SI in the most beautiful parts of Kenya–I don't think that's a story that anybody could make up."
At the age of 19, Halima became the first woman to wear a hijab in the Miss Minnesota USA pageant, where she was a semi-finalist. She later became the first hijabi model signed with IMG models, which manages Gigi and Bella Hadid. Aden gained international success, landing on the cover of British Vogue, appearing in Carine Roitfeld's CR Fashion Book, and walking on New York Fashion Week runways.
"It's so overwhelming, but in the most beautiful way," Aden said. "Just three years ago, there was not a single [signed] hijab-wearing model."
According to Sports Illustrated editor MJ Day, there was a message behind having Aden in the shoot: "We bonded immediately over the idea of her participating in this year's issue. We both believe the ideal of beauty is so vast and subjective. We both know that women are so often perceived to be one way or one thing based on how they look or what they wear. Whether you feel you're most beautiful and confident in a Burkini or a bikini, YOU ARE WORTHY."
Backlash
Despite the positive motives that made the ground-breaking fashion statement a reality, many people are put off by the new issue, including women from the Muslim community.
"While all representation is (generally speaking) good, not all representation is equal," writes Sarah Shaffi for London's Stylist magazine. "A quick glance through the brand's Twitter feed shows image after image of women with perfect bodies in small swimsuits. Where is this purported 'vast' ideal of beauty?"
Shaffi congratulated Aden but also recalled the controversy around the Burkini, "The Burkini has, unfortunately, gone from a personal sartorial choice to a politicized item of clothing in recent years."
In response to MJ's exclamation that women who choose to wear the Burkini are "worthy," Shaffi said, "The sentiment is nice, but underlying it is the idea that Muslim women need to be told they're worthy by non-Muslims. Why are people not willing to accept the word of the Muslim women who choose to wear the Burkini instead?"
Shaffi writes that the "congratulatory tone over [Aden's] Sports Illustrated cover makes me uncomfortable…It's annoying, to put it simply, that it's taken a magazine that largely caters to Western, white audiences to show the world that the Burkini is acceptable."
Muslim reformer Shireen Qudositweeted a reply to Sports Illustrated: "Good for Halima. More nonsense for the larger debate. If you're going to wear the hijab and cover your skin —whether you think our religion calls for it or you want modesty — it is completely counterintuitive to strike a sexy pose in a magazine known for objectifying women."
While neither Qudosi orShaffi targeted Aden in their remarks, some are indeed attacking the model for her cutting-edge spread. Regarding those individuals, "There are people that think I shouldn't be [in the magazine] and there are people that think I'm not representing [Islam] in the right way," Aden said. "So I'm getting it from both sides."
Western men have also had plenty to say about the issue. One man tweeted, "Those garments are not trendy fashion statements. They are actual tools of patriarchal oppression and in many countries women can be stoned to death for refusing to wear them. But yeah that Sports Illustrated Burkini is so wonderful and fun!"
Aaron David Lewis, a comics scholar focusing on literary theory and religious studies, said, "…the awful mag Sports Illustrated is trying to up its feminist/cultural cred by featuring a model in a Burkini and hijab for the first time. Does this call for a #NancyPelosi style clapback?"
The writer David Hansard tweeted, "Women, celebrate your oppression."
Aden appears unbothered by the backlash from men. "My choice, my decision to do the things that I've done has nothing to do with you boys and everything to do with us," Aden said.
"You don't know what it's like to experience being kicked out of a pool or banned from a beach for wearing a Burkini. I want girls to see, no matter what sometimes you are going to get backlash from your own community. But you shouldn't let that bother you. And really, the fact that in 2019 a swimsuit creates this much attention…I mean, why are women still being judged for what they wear?"
Aden mentioned that, due to the controversy surrounding the Burkini, many Muslim women often struggle with maintaining their virtue of modesty at the beach and therefore choose not to swim at all. She had a more personal message for these women: "Girls—join swimming!" Aden said.
"You don't have to wear a bikini if you don't want to wear a bikini. Wear a Burkini if you want to be a part of it. I wanted to show girls that they had an option. A lot of girls opt out of swimming because they don't think they have one."
https://www.moroccoworldnews.com/2019/06/275336/halima-aden-Burkini-sports-illustrated-criticism/
---------
Playing Ball, Breaking Barriers: GTA Muslim Women's Softball League Growing In Popularity
Ramna Shahzad · CBC News · Posted: Jun 08, 2019
Muslim women in the GTA have created a league of their own called Sisterhood Softball League. (CBC News/ Grant Linton)
"One, two three, Bismillah (In the name of God)!"
With a quick team huddle and a chant, they're off.
Every Sunday, dozens of women gather at a Mississauga softball diamond. With lots of practise swings and plenty of pep talk, the scene looks like it could be from any other recreational league.
But this one is a little different.
The Sisterhood Softball League is made up of Muslim women from the GTA who play and grow the game with other Muslim women.
It's co-founders say the league is the first of its kind in Canada and it's quickly growing in popularity.
"It's kind of similar to a concept of a church league so it's heavily faith based," Maryam Dadabhoy told CBC's Our Toronto.
"We have a lot of women playing sports who wouldn't otherwise be comfortable playing sports in front of men and that's something that you kind of have to deal with when you play in normal league, because there are spectators."
Dadabhoy and her best friend Hina Mirza started the league in 2016 after borrowing some basic equipment from a men's league. Around 20 to 25 women showed up for the first game and from then on, the league took off.
Today, they have 100 players and eight teams and hope to become even bigger.
Sisterhood Softball meets on Sundays at River Grove Park in the Britannia Road and Queen Street South area. Muslim women of all skill levels are encouraged to join the league.
Milton mom given 25 handmade hijabi dolls by mystery donor
"Coming from the Muslim faith we have some preferences of modesty ... You'll see it in the way that we dress," says Mirza.
"So to be able to translate a Muslim woman's dream into reality meant playing with that accommodation.
Other accommodations include encouraging only female spectators to come out and support the league so the women can feel comfortable while playing.
How Mani Jassal draws inspiration from her South Asian roots to redefine Canadian fashion
"We ask that all male family and friends not come to the games just to provide that safe environment for women to play who otherwise would not be comfortable wearing this clothing," says Dadabhoy.
"Some of them wear longer robes, longer scarves and they modify their wardrobe to play sports comfortably because you don't want it in your face and you want to be able to run comfortably."
The support extends beyond the softball diamond. The league has raised funds for women's shelters and served meals at local banks in the hopes of giving back to their community while shifting perceptions about religion.
American college golfer in hijab out to blaze trail for Muslim women
"There is a stigma around Muslim women, that we are either oppressed or we don't venture out," says Aisha Qureshi, a pitcher for the league.
"I really, really hope that people looking at us see that we're just like anybody else out there ... We love sports. For me it really is about breaking barriers."
The league's umpire, Janice Colachee, says in her 20 years of calling balls and strikes, she has never seen a league quite like this.
"It's just the camaraderie they have. They cheer for each other ... You don't find that usually," she says. "They just care about each other they get along. It's really nice to see."
At the end of the day, the league says their main focus isn't the sport – it's their sisterhood.
"I love the fact that we have members from opposing teams cheering on somebody when they first come to bat," says Mirza.
"It makes me feel so proud ... to be able to give opportunities to all these women to step up to the plate — pun intended — and try something different knowing that everybody, not just their team but the entire league, has their back."
cbc.ca/news/canada/toronto/sisterhood-softball-league-1.5167469
---
Muslim Woman Beaten At Bronx Bus Stop Accuses Officials Of Failing To Conduct Proper Investigation
June 7, 2019 at 6:04 pmFiledUnder:Bronx News, Christina Fan, Local TV, New York, The Bronx
NEW YORK (CBSNewYork) — A Muslim woman brutally beaten at a Bronx bus stop says she wasn't only robbed of her possessions, but also of justice.
She's accusing the District Attorney's office of refusing to prosecute her attackers.
FatoumataCamara was getting off the Bx35 bus last month when a mob of teenagers started throwing punches at her face.
"They just started attacking me. They started calling me names," she told CBS2's Christina Fan. "With my stupid hair wrap, which is a hijab."
Camara says she was the victim of a hate crime so brutal, she suffered a broken nose and head injury.
FatoumataCamara was getting off the Bx35 bus in May 2019 when a mob of teenagers started throwing punches at her face. (Credit FatoumataCamara)
She said wasn't able to pick the suspects out from a photo lineup. That's when the DA told her they'd be dropping the charges.
"It was very, very upsetting and traumatizing because besides the mental and physical pain that I went through, for them not to do anything about my case and just leave it as my life didn't matter," Camara said.
The victim says the police never conducted a proper investigation. She was the one who eventually hunted down the surveillance video. She came to the DA's office Friday demanding answers.
"If I didn't do the fight myself, I knew they were just gonna let it go, and I know I was going to be another story of a black Muslim African out there," Camara said.
CBS2 tried catching up with Camara, who looked visibly drained after her meeting. Her attorney said after an hour-long talk, the DA's office made a commitment to start taking this case seriously.
"We stress to them that they have that they have to investigate the process. What happened? How was she allowed to be attacked in this manner, and four weeks later, they cannot identify a single person that attacked her," Ahmed Mohamed, with the Council on American Islamic Relations, said.
The DA's office sent CBS2 a statement Friday saying they "never dismissed the case." They say it was the police who were "not able to ID the suspects and closed the case."
https://newyork.cbslocal.com/2019/06/07/muslim-woman-attacked-bronx-bus-stop/
---------
Muslim leaders say woman who burglarized Tempe mosque in hate video deserves chance at redemption
BrieAnna J Frank
June 7, 2019
Members of the Phoenix-area Muslim community were forgiving of the woman who sentenced Tuesday for her role in a Facebook lives-stream that depicted she and a friend burglarizing a Tempe mosque in front of her children in March 2018.
Tahnee Gonzales was sentenced to 225 hours of community service and two years of supervised probation during proceedings before Judge Mark Brain in Maricopa County Superior Court.
Gonzales, who in the live-stream made anti-Muslim remarks, also was ordered to write a letter of apology to the Islamic Community Center of Tempe.
Gonzales later made a statement denouncing her actions as "reprehensible'' and apologizing, saying she was wrongly influenced by fringe voices. Her attorney said Gonzales, as part of her community service, would work to help facilitate positive interaction between Non-Muslim and Muslim voices in the community.
Omar Tawil, an assistant imam at the mosque, said he forgives Gonzales for the "wildly ignorant" stereotypes she promoted in the video but that he mostly blames the sources that gave her those ideas.
"The people who definitely know better, who still willingly spew false information and rhetoric that just encourages hate, that encourages and promotes fear are definitely far more responsible than people who are on the receiving end of that," he said.
"It's not people like Tahnee Gonzales I need to be worrying about - it's people who have the microphone or people who have the keyboard they can type on or people who have the TV screen that they get their airtime on."
For more stories that matter, subscribe to azcentral.com.
Tawil said the mosque has not dealt with anything as serious as Gonzales' case since she recorded the video, but that there have been numerous incidents of groups and individuals harassing mosque members using racial or religious slurs.
One Christian group stands on the sidewalk directly outside of the mosque each Friday to preach to members and attempt to convert them, Tawil said.
He added that he hopes having more interactions with Muslims will help Gonzales permanently change her previous views on their religion.
A woman in her 60s who held views similar to those espoused by Gonzales in the video recently apologized to members of the mosque for her "bigoted" perception of Muslims, Tawil said.
"If someone in their 60s can change their life around completely just by talking to people and getting to know them, why not someone who's in their 30, 40s or even their 50s?" he said.
Mosque member NazeefEbrahim also said he forgave Gonzales and that the incident doesn't negatively impact his perception of Christians or Americans.
"Although you have your bad apples I do believe America and the society we belong to are good people as a whole."
NazeefEbrahim, member of the Islamic Community Center of Tempe
"We firmly believe in the goodness of the American people," he said. "Although you have your bad apples I do believe America and the society we belong to are good people as a whole."
He said that for every negative comment or attack on Islam he's seen over the years, he's received several dozen more messages of support - including the days immediately following the 9/11 attacks.
Oftentimes, Ebrahim said non-Muslims reach out to him or other members of Islam after Islamic extremist attacks to ask questions about their faith. He said that gives Muslims a chance to educate the public about their religion and facilitate interfaith dialogue that he believes is crucial in creating peace.
Imraan Siddiqi, executive director of the Arizona chapter of the Council on American-Islamic Relations, said that Gonzales' sentence will serve as a "test case" in which her actions after she completes her sentence will prove her sincerity.
"Being a voice for getting away from this type of mentality is going to be key in our state," he said. "Start small and give people an understanding of how corrosive this is for your own well-being and mental health as well as the people you're accosting."
He also urged Gonzales to denounce far-right groups such as the Patriot Movement, which, he said, espouses views that are anti-immigrant and anti-Muslim and with whom she was associated prior to the March 2018 incident.
"In this situation, thankfully nobody got hurt so I view it as a chance for the individual to redeem themselves and hopefully denounce the hatred and vitriol that led up to this."
Imraan Siddiqi, executive director of the Arizona chapter of the Council on American-Islamic Relations
In the meantime, though, Siddiqi said he chooses to take Gonzales at her word and hopes that she'll eventually consider herself an ally for the Muslim community.
"In this situation, thankfully nobody got hurt so I view it as a chance for the individual to redeem themselves and hopefully denounce the hatred and vitriol that led up to this."
He hopes that people who still associate with far-right groups will see the repercussions Gonzales faced and will stop "spreading hatred for some online clout."
Siddiqi said the threats are not new but have been more brazen since the election of President Donald Trump in 2016.
A representative of the Patriot Movement told The Republic that Gonzales was removed from the group months before she made the Facebook video and that she currently has "no affiliation in any way, shape or form."
Gonzales, 33, pleaded guilty in May to aggravated criminal damage, according to court records.
Elizabeth Dauenhauer, Gonzales' accomplice in the video, was sentenced in November to 18 months of supervised probation and 200 hours of community service for aggravated criminal damage.
https://www.azcentral.com/story/news/local/tempe/2019/06/07/local-muslim-community-reacts-sentencing-woman-who-livestreamed-tempe-mosque-burglary/1356321001/
URL: https://www.newageislam.com/islam-women-feminism/there-no-women-saudi-arabia/d/118830