New Age Islam News Bureau
30 May 2015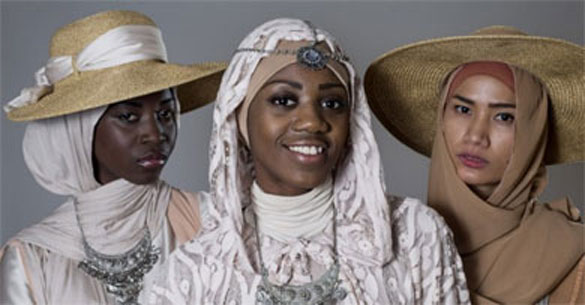 Muslim high fashion hijabs at Parramatta expo, "The hijab is beautiful and Muslim women are entitled to be passionate about fashion.'' Photo: Geoff
---------
• Michigan Muslim Woman Forced To Remove Hijab, Arrested
• Bangladesh Female Jihadists Vowing To Join IS Traced
• 12 Australian Women Tried To Join IS: Police
• 'Maid' To Suffer: Sans Help, Saudi Families Foresee Tough Ramadan
• 300-Million Euro Program Aims To Attract More Turkish Women to Business Life
• Female Commander: ISIL Training Foreign Fighters to Attack Europe
• 1.5 Million Saudi Women Smoke!
• Muslim Hijab Fashions on Show at the Creativity Unleashed Expo in Parramatta
• Islamic State Suicide Bomber in Women's Garb Kills Three in Saudi Arabia
• Orthodox Jewish Women Driving Ban Unacceptable, Says Nicky Morgan
• Robert F. Hall Girl Players Leave Soccer Game after Complaints from Muslim Boys' Team
• Bangladesh: 'Early Marriage, Delayed Delivery May Cause Fistula'
Compiled by New Age Islam News Bureau
URL: https://newageislam.com/islam-women-feminism/more-more-saudi-women-asking/d/103256
------------
Why Are More And More Saudi Women Asking For Khula?
30 May, 2015
Cases involving Khula, a separation at the insistence of the wife in which she has to return her dowry and pay her husband a certain amount of money to cover anything he spent on her during the duration of the marriage, are on the rise, according to a report in the Arabic daily Al-Riyadh. The Shariah gives married women this right so they can divorce their husbands in the event the latter refuse and according to family counsellors, women who do bring Khula cases against their husbands have often suffered great mistreatment and abuse, leaving them only one option to escape their husbands: seek divorce.
According to statistics released by the Ministry of Justice, there was an increase in the number of Khula cases last year. Riyadh courts registered 362 cases, Makkah 921, Madinah 37, Eastern Province 197, Al-Qassim 65, Asir 90, Tabuk 36, Hail 26, Jazan 129, and Najran 23. The number of cases all over the Kingdom totaled 2,033 cases.
Society's views on Khula
Unable to live with her husband any longer, Safiya filed a Khula case against him, which she would go on to win. She said after the Khula, many people looked down on her as if she had done something wrong.
"Khula is part of the rights that the Shariah grants to women. I was flabbergasted at how many people treated me; it was as if I had committed a crime. My coworkers were more appreciative and understanding of my decision," she said.
Another woman, Maryam, had asked her husband to divorce her on several occasions but he refused and even went ahead and married another woman. She finally asked for a Khula after 12 years of "never-ending quarrels" and seven children.
"I lived with him for 12 years and suffered a lot in silence because of my children. My husband was forcing me to give him money and be the breadwinner of the family. He even took out loans in my name. Whenever I refused to do something he asked, he would resort to violence When I could not take it anymore, I took this decisive step," she said.
Social traditions
Faris Al-Yahya, legal consultant at Hail General Court, criticized the traditions some families continue to hold on to, which make marriage difficult due to high expenses, including dowries.
"Any marriage that is based on such traditions will not last long and eventually collapse and fall apart. The result: the husband will refuse to grant a divorce and the wife, in response, will approach the courts and exercise her Khula right," he said.
Legal procedures
"A wife can go to a Personal Status Court and file a Khula case there. She should submit sufficient evidence that support her claims. The judge will examine the grounds and determine whether they should be taken into consideration when accepting or rejecting the Khula plea," Al-Yahya explained.
If a judge is convinced that she has valid reasons to ask for a Khula, he will grant her one, in which case the husband will have to be given monetary compensation by the wife.
"The judge sometimes estimates the amount of money the wife should pay the husband and other times, the judge doesn't order the woman to pay any money. This happens when the grounds or reasons for divorce are very strong and there is no hope in the marriage," Al-Yahya added.
Omar Al-Junaidi, lawyer, called on wives to try and make their marriages work by approaching a marriage dispute reconciliation committee before filing for a Khula. Al-Junaidi said newly-wed couples who sign up for training courses before and after marriage are less likely to file for divorce.
http://www.saudigazette.com.sa/index.cfm?method=home.regcon&contentid=20150530245532
-----------
Michigan Muslim Woman Forced To Remove Hijab, Arrested
World Bulletin / News Desk
30 May, 2015
A Dearborn Heights resident, Fatima Dacroub was on vacationat the Lake Michigan Sand Dunes with her children and relatives on May 17 when a sheriff's deputy pulled her over while she was driving a rented vehicle. The family was located in a parking lot designated for tourists.
The officer claimed she was speeding and questioned her UAE driver's license. Dakroub had often traveled back and forth between the UAE and Michigan in recent years. Her Michigan driver's license had expired, but under state law, she was still able to operate a vehicle with a UAE driver's license and was using that licence to rent the vehicle.
According to the Arab American news, a deputy questioned a ticket Dakroub had received in the county in 2011, claiming it was unpaid. She told the officer that she had paid the ticket years ago. Dakroub was then arrested, and was asked to remove her hijab while three male officers were present. She objected at first and asked for a female officer to assist her. She was told by the officers that she had to comply under the law.
A tearful Dakroub told reporters that the incident has scarred her and her family. She described the police officers as cruel and insensitive to her religious requests.
After Dakroub removed her scarf, the police officers told her she would not be able to put it back on. She was not allowed to place a phone call until three hours after her arrest and was placed in a cell where other inmates were able to look at her.
On Thursday, the Arab-American Civil Rights League who is representing Dakroub have sent a federal complaint to the U.S. District Court in the Western District of Michigan. The complaint asks for a federal judge to rule that the Oceana County Sherriff's Department's practices be deemed unconstitutional under the first amendment.
http://www.worldbulletin.net/news/159885/muslim-woman-forced-to-remove-hijab-arrested
-----------
Bangladesh Female Jihadists Vowing To Join IS Traced
30 May, 2015
At least a dozen small groups of IS activists are active in the country
Apart from young and educated men, detectives have found trace of at least two women interested to join with the Jihadi activities of international militant outfit Islamic State (IS).
One of them is a computer engineer at a private firm in the capital and another a physician in Sylhet.
They were traced by detectives while investigating IS activities in Bangladesh. They have allegedly taken all preparation to join the IS militants in Syria and Iraq.
The sensational information came into light after the arrests of suspected IS recruiter Aminul Islam Begh, 50, and one of his 20 recruits Sakib Bin Kamal, 33, in the capital on Sunday night.
Aminul is also a local coordinator of militant outfit Jama'atul Mujahideen Bangladesh (JMB) – banned in 2005. He graduated from a Malaysian university and worked as the IT chief at a subsidiary of Coca-Cola while Sakib is a teacher at an English medium school at Lalmatia of the capital.
Yesterday was the third day of their interrogation. In February this year, two UK-based Bangladeshi teenage girls left for Syria through Turkey to join the ISIS jihadists.
Detectives in the last two years arrested around 15 IS members in Bangladesh including Samiun Rahman alias Ibne Hadan, a Bangladeshi British.
During the interrogation of Aminul and Sakib, the detectives got information about the 19 other members of the team. The law enforcers are now looking for their location, Mahfuzul Alam Rasel, senior assistant commissioner of the Detective Branch of police, said.
As per the prerequisites, most of the 20 IS recruits are technologically-expert youths. Detectives say the IS prefers such persons
so that their members can dodge the law enforcers.
Although IS has no base in Bangladesh, its members are working in small groups. Detectives say at least a dozen such groups are active in the country.
These groups are at primary stage and now taking support from other militant groups including the JMB.
Earlier, detectives found involvement of banned militant outfit Ansarullah Bangla Team with al-Qaeda. Some other international terrorist groups including Hizb ut-Tahrir have active members in Bangladesh too.
Md Shahjahan, additional deputy commissioner of DB police, said Aminul is the coordinator of a strong network of IS in Bangladesh.
"After his arrest, other top leaders are now trying to carry out their activities from hideouts. We are now analysing the information that we have got from the arrestees during interrogation and will arrest their associates."
The arrestees wanted to set up a base camp in Bangladesh, he added.
Involvement of women in militant activities was earlier found after the Burdwan blast in West Bengal on October 2 last year, perpetrated by the JMB members.
A high official of DB police requesting anonymity said the IS recruits communicate with each other through internet and using cheat-codes. "None other than the members can decode those."
During the murder of science writer and Mukto-Mona blog founder Avijit Roy at TSC intersection on February 26, the alleged planner – Ansarullah leader Redwanul Azad Rana – maintained contact with the executors through coded message via mobile phones. The DB police, however, failed to locate and arrest Rana – now believed to be in Australia.
DB Joint Commissioner Monirul Islam said militants in Bangladesh now heavily depend on internet for internal communication.
"Our officials are on alert of such kind of activities. We have already got some sensational information from the arrestees about their activities on Facebook, Twitter and blog sites," Monirul, also chief of DB police, said.
Police recently said several IS recruiters from Syria had visited Chittagong late last year and met with militant leaders from the JMB and other groups with an aim to implementing their common agenda of establishing a Shariah-based country with parts of Bangladesh, Myanmar and India.
Detectives say the local militant groups have been working together over the same cause since last year. They have targeted to kill the state head, government high-ups, noted personalities, secular activists and anybody who opposes their views.
http://www.dhakatribune.com/bangladesh/2015/may/29/female-jihadists-vowing-join-traced#sthash.lX4mNNgO.dpuf
-----------
12 Australian women tried to join IS: Police
30 May, 2015
MELBOURNE: At least 12 Australian women from one city have attempted to join the Islamic State group, police said Friday, warning of a trend toward a "romanticized view" of violent radicals.
More than 100 Australians have left the country to support IS in Syria and Iraq, raising concerns about radicalization and whether they pose a security threat on return, the authorities have said. At least 30 have been killed overseas.
Victoria Police assistant commissioner Tracy Linford said those attracted to IS were mostly young, isolated people swayed by slick social media propaganda.
In the case of women, they often had a romantic idea of what life would be like under Islamic State control, she said, adding that at least 12 had attempted to join from Melbourne, Victoria's capital city.
"We've got five (women) that we know are over there," Linford said, adding that two more were unaccounted for, four were turned back outside Australia and one was stopped at the airport before leaving.
"But we also suspect that there are probably more than 12," she told reporters.
Linford's comments came just days after a Sydney mother reportedly abandoned her two children and fled to Syria for a new life under IS.
"We think that the young women particularly get a romanticized view of what actually exists for them if they travel to the conflict zones," she said.
"There is a reach-back from people who are already in the conflict zone telling them, 'Come over... you will be well looked after, you will have an important position in growing the caliphate, bearing jihadi children in the future, growing the Islamic State'.
"And I think they think they are going to be put on a pedestal and treated very well once they are overseas, but the reality is, that's not the case."
Linford said some women were forced into arranged marriages and others pushed into sexual servitude, while living in often squalid conditions and on rations, with their movements heavily restricted.
"One of things we know about ISIS is that their social media skills are well advanced, and their reach through social media is obviously paying dividends for them," she said, using another acronym for the terrorists.
http://www.arabnews.com/middle-east/news/753916
-----------
'Maid' to suffer: Sans help, Saudi families foresee tough Ramadan
30 May, 2015
JEDDAH: Many Saudi families are complaining that they are facing Ramadan this year without domestic help.
The crisis began three years ago when several countries stopped sending workers to the Kingdom, and have demanded certain terms that families feel are "prohibitive," a report published in the local media stated.
They complain that a black market is flourishing, with some maids asking for up to SR5,000 for Ramadan, equivalent to the salary of a university graduate.
Despite warnings from the Ministry of Labor and the Council of Saudi Chambers (CSC) that maids can only be hired through recruitment firms, many families have started seeking alternatives on the black market.
Ameena, a nurse, said that she badly needs a maid for her family of four, which includes her 12-year-old son.
"During Ramadan, one tends to pray and socialize more than other months. It is almost impossible for a housewife to spend the day cleaning, cooking, praying, reading the Holy Qur'an after breaking fast, socializing and then watching some television programs. It's kind of mission impossible," she said.
She said her Indonesian maid left 10 months ago and that this would be her first Ramadan without a domestic help.
Sumaiha Ahmad, a teacher, said that while the school year ends a week before Ramadan, this would not help her. She said the Ethiopian maid she hired, after her previous Indonesian worker left, threatened to kill herself after working for two months.
"So I let her leave. I also had a Filipino maid who found the house too big for her to handle and refused to work. She left after four months," she said.
Saad Al-Badah, chairman of the national recruitment committee at the CSC, said the decision by the Indonesian authorities to stop sending workers to the Kingdom would not negatively affect Saudi Arabia.
"Saudi Arabia is able to recruit and attract foreign workers from other countries so the private sector will not be affected," he said.
http://www.arabnews.com/featured/news/753746
-----------
300-million euro program aims to attract more Turkish women to business life
30 May, 2015
The Finance and Advice for Women in Business Program, funded by the European Union, the European Bank for Reconstruction and Development (EBRD) and the Republic of Turkey, was introduced to local women-led businesses in the Central Anatolian city of Kayseri on May 28.
"If the Turkish economy is to achieve its full potential, then bringing more women into the labor force is essential," European Bank for Reconstruction and Development Turkey Director Jean-Patrick Marquet told Anadolu Agency on the sidelines of the event.
The EBRD provides up to 300 million euros ($327 million) in credit lines to local banks for lending to women-led businesses. The EU, the Turkish Ministry of Labor and Social Security and the Turkish Employment Agency are supporting the program with 38 million euros ($41.6 million) for credit enhancement, advice to companies including mentoring, entrepreneurship training and networking opportunities, as well as technical assistance for partner banks.
To date, four Turkish banks have joined the program and received financing from the EBRD: Vakıf Bank ($30 million), Finansbank ($54.7 million), İş Bankası ($55 million), and Türk Ekonomi Bankası ($54.7 million).
"The program takes a very holistic approach. It includes a combination of credit lines, finance investment, risk cover for local banks to increase risk appetite, and very important, technical assistance and advice for both the banks and the women in business themselves;" said Marquet.
"It is an important program for Turkey, because women's participation in the labor force is low, very low - below 30 percent, less than half of male participation in the labor force. This is a drag on the Turkish economy. If the Turkish economy is to achieve its full growth potential, then bringing more women into the labor force is essential. These women will start creating new businesses and attracting investment," he added.
http://www.hurriyetdailynews.com/300-million-euro-program-aims-to-attract-more-turkish-women-to-business-life.aspx?pageID=238&nID=83149&NewsCatID=345
-----------
Female Commander: ISIL Training Foreign Fighters to Attack Europe
30 May, 2015
The ISIL militants train foreign fighters with a specific goal of going back to western countries and conducting terrorist attacks, a senior female ISIL commander disclosed on Thursday.
The self-described commander, who called herself Um Asmah, told Sky News in an exclusive interview that most of the training was carried out in Syria.
She suggested that the ISIL had a well-structured system to attract the young and vulnerable to fight. She added that there were well-educated people in the ISIL who understand psychology.
"They have ways to attract people — especially foreigners. Otherwise young British people wouldn't come and say they will change the flag on Buckingham Palace," Um Asmah went on to say.
The ISIL has been reported to recruit thousands of westerners. The group's intensive propaganda efforts on social networking websites especially target young people. At least 20,000 foreign fighters have joined the ISIL so far.
http://english.farsnews.com/newstext.aspx?nn=13940307000762
-----------
1.5 million Saudi women smoke!
30 May, 2015
The online news outlet, Sabq.org, recently published a disturbing report which claimed that there are 1.5 million female Saudi smokers in the Kingdom. The statistic was issued by Fatimah Al-Shaikh, public relations officer at the Smoking Awareness Society (Kafa). Al-Shaikh presented this and other statistics at a seminar held by the Ministry of Health to educate the public about contagious diseases and methods of prevention.
The figure is frightening and indicates that our society is transforming itself in an undesirable manner. Hearing about or seeing Saudi women smoking used to be a rarity. Of course, I am not suggesting that it is okay for men to smoke or that it is part of our culture and social traditions for men to smoke. The statistics also showed that there are some 4.5 million male Saudi smokers in the Kingdom. This is painful and annoying as well.
The number of female Saudi smokers indicates that our society and culture are quickly evolving. Unfortunately, it is estimated that the figure will increase over time which means we need to come up with new ways to monitor and deal with this problem. We are living in a fast developing world. Young people living in remote villages are able to keep up with the latest developments around the world from the comfort of their homes.
Let us ignore the health impact of smoking on women for a moment and focus on our social and cultural reality. I believe many of the social problems that take place in our homes are due to the fact that only a few families teach their children to be straightforward and to communicate their feelings.
Most families do not have these characteristics; the different members of the family have little in common except that they live under the same roof. There is no direct communication among them. Each member lives his or her own life, has a different set of friends and different sets of behavior. Sometimes a member of the family does not know anything about the other members of the family.
Saudi families have been sucked into the materialistic aspects of the world and are influenced by the media.
http://www.saudigazette.com.sa/index.cfm?method=home.regcon&contentid=20150530245474
-----------
Muslim hijab fashions on show at the Creativity Unleashed expo in Parramatta
30 May, 2015
"Fashion is for all women, no matter where you're from," said Sharon Garrard, a co-ordinator of the Creativity Unleashed Expo.
The event, held in Parramatta on Saturday, celebrated the cultures of western Sydney's Lebanese, Arab, African, Indonesian and Afghan communities.
High-fashion hijabs by Australian Muslim designer Amalina Aman, who was born and raised in Western Australia, were among the creative works on show at the expo, which was organised by the local Community Migrant Resource Centre.
The Muslim garb was modelled by Petronie Lufu, Julia Alday and Naomi Isasole (pictured).
Ms Garrard said some fashion designers had pulled out of similar events held recently in western Sydney, fearing an anti-Islam backlash.
But the expo had helped highlight the beauty of migrant cultures, she said.
"The hijab is beautiful and Muslim women are entitled to be passionate about fashion ... We are trying to bring together communities, that's our main aim."
http://www.smh.com.au/nsw/muslim-hijab-fashions-on-show-at-the-creativity-unleashed-expo-in-parramatta-20150530-ghd34b.html
-----------
Islamic State Suicide Bomber In Women's Garb Kills Three In Saudi Arabia
Reuters
30 May, 2015
ABU DHABI/DUBAI — An Islamist militant suicide bomber disguised as a woman blew himself up outside a Shi'ite mosque in eastern Saudi Arabia on Friday, killing himself and three other people, the second attack of its kind in the world's top oil exporter in one week.
The bombing, which was claimed by Islamic State, could further escalate sectarian strife in the kingdom, where anti-Shi'ite sentiment has been stoked by a military campaign against Iranian-allied Houthi militias in neighboring Yemen since March.
The Interior Ministry said a suicide bomber disguised in women's clothes blew himself up outside the al-Anoud mosque's entrance in the city of Dammam during noon prayers.
Witnesses said a suicide bomber, who wore an Abaya used by women in Saudi Arabia, blew himself up in the mosque's parking lot when guards searching worshippers became suspicious of him.
The ministry said four people, including the bomber, were killed in the blast, which also set several cars ablaze.
Residents circulated pictures of the body of a man believed to be the suicide bomber as well as pictures of black clouds of smoke billowing over a parking lot outside the mosque.
Video posted on social media showed the congregation inside the mosque reacting with shock and alarm to the noise of the explosion outside the building.
An Islamic State statement named the suicide bomber as Abu Jandal al-Jizrawi and said he had managed to reach his target despite heightened security.
Islamic State claimed responsibility for a suicide bombing last week at a Shi'ite mosque in al-Qadeeh village, near al-Qatif city, that killed 21 and wounded nearly 100 in the bloodiest militant attack in the kingdom in years.
Saudi Arabia, which is leading an Arab coalition in a campaign against the Houthis who have seized power from Yemeni President Abd-Rabbu Mansour Hadi, had sought to calm sectarian tensions.
Saudi Arabia's King Salman has denounced the al-Qadeeh bombing and promsied to punish anyone linked to it. King Salman also sent Crown Prince Mohammed bin Nayef to convey condolences to the families.
Sectarian Confrontation
Members of Saudi's Shi'ite minority staged separate protest in Dammam and in the village of al-Qadeeh on Friday evening, demanding an end to sectarianism, witnesses said.
Islamic State openly acknowledges it is trying to stir sectarian confrontation as a way of hastening the overthrow of the ruling Al Saud family, and has urged young Saudi Sunnis in the kingdom to attack targets including Shi'ites.
Some commentators in Saudi Arabia discussing the Qadeeh bombing have said the kingdom has not done enough to crack down on online abuse of Shi'ites, a discourse which Shi'ites say provides an incubator for violence against the minority sect.
Sunni power Saudi and Shi'ite Iran are locked in a tussle for influence in the region, where wars have claimed hundreds of thousands of lives mainly in Syria, Iraq and Yemen.
http://swtimes.com/nationworld/islamic-state-suicide-bomber-women-s-garb-kills-three-saudi-arabia#sthash.NYxwMcXD.dpuf
-----------
Orthodox Jewish women driving ban unacceptable, says Nicky Morgan
30 May, 2015
A ban on women driving their children to school issued by a Jewish education institution is "unacceptable", Education Secretary Nicky Morgan says.
Leaders of the ultra-Orthodox Belz sect in north London wrote to parents saying "no child will be allowed to learn in our school" if their mother drives.
Women driving "goes against the laws of modesty within our society", it said.
A spokesman from the Belz Community said they were "saddened" by the "misrepresentation" of the notice.
The Home Office said it would be inappropriate to comment on individual cases, adding that the government "believes everyone in this country is equal and everybody is free to lead their lives as they see fit".
The Belz, who originated in Ukraine in the early 19th Century, are an ultra-Orthodox sect who follow Haredi Judaism.
'Exasperation'
The letter, which was signed from the "spiritual management" of Belz institutions, said: "There has been an increase in incidences of mothers of our students who have begun driving cars, something that goes against the laws of modesty within our society."
This had led to "a lot of exasperation among other parents", it said.
The group's leader in Israel, Rabbi Yissachar Dov Rokeach, had advised that "if a woman is driving a car, she cannot send her children to be educated in Belz institutions", it said.
It added that women with a "specific reason" to drive could submit a request to a special committee.
line
Belz community
By John McManus, social affairs reporter
The Belz community are part of the Haredi community - ultra-orthodox Jews for whom religion is a defining part of their identity.
Although historically a small part of the overall Jewish population in Britain, the Haredi are growing, mostly because of their high birth rate.
They are already the dominant group among Jewish communities in Hackney, Haringey, Salford, and Gateshead, and the Institute of Jewish Policy Research (IJPR) says that Haredi numbers will double in size every eighteen years.
An emphasis on studying the Torah has led to concerns that Haredi boys are leaving school with few qualifications.
Men often continue with their prayer studies after marriage, rather than seek work, and those who do have employment have been affected by changes in traditional occupations, like textiles.
As a result, poverty and deprivation tend to hit Haredi households hard, and there's evidence that Haredi areas in Hackney, for example, receive higher than average rates of means-tested benefits.
The IJPR though, says that the insular nature of Haredi life also produces a highly-supportive community, whose members work hard to help each other.
line
The Jewish Chronicle, which first reported the story, said that while many Hasidic women do not drive, this is thought to be the first formal declaration against the practice in the UK.
Dina Brawer, UK Ambassador of the Jewish Orthodox Feminist Alliance, said the rule was "stupid and impractical" and could not work.
Responding to the letter, Education Secretary and Minister for Women and Equalities, Nicky Morgan, said: "This is completely unacceptable in modern Britain.
"If schools do not actively promote the principle of respect for other people they are breaching the independent school standards.
"Where we are made aware of such breaches we will investigate and take any necessary action to address the situation."
'Deeply held beliefs'
But in a statement to Mrs Morgan from the Belz community, a spokesman said it never intended to "stigmatise or discriminate against children or their parents".
It said: "We are proud of what we stand for and we do not feel the need to excuse ourselves for our deeply held beliefs and staunchly maintained way of life.
"It has withstood the test of time and is not prone to the vagaries of passing fads."
The statement continued: "In an effort to formulate these guidelines the issue of women driving cars became conflated with broader issues which we intended to address.
"It is a fact that most women in our community do not drive cars. It is equally true that a fair number of women do drive cars openly and entirely unhindered.
"They and their families are as respected within our community as any other members and we have no intention of changing that."
Clive Coleman, legal affairs correspondent
This goes to the heart of what is a fantastically difficult problem now facing the government in drafting a counter-extremism bill that protects against extremism, but also safeguards religious freedom.
Earlier this year, Home Secretary Theresa May defined extremism as "the vocal or active opposition to fundamental British values, including democracy, the rule of law, individual liberty and the mutual respect and tolerance of different faiths and beliefs".
It throws up the question, is a religious ban on women driving active opposition to the British value of individual liberty? And how do you square that with the other British value of mutual respect and tolerance for different faiths and beliefs?
Be assured that there will be some very big legal brains at the Home Office grappling with this issue right now, trying to define extremism in a way that is workable and effective.
But if such issues as religious driving bans are to be covered by the extremism bill, those responsible could be subject to a banning order which could ban an entire organisation, or a disruption order that aims to curtail the acts of an individual.
These could be civil orders - like the Asbo-type orders that we're familiar with, which ban people from a particular activity - but breaching them is a criminal offence which can carry a significant custodial sentence.
line
A spokesman for the Office of the Chief Rabbi in the UK said: "The Belz Chasidic dynasty has contributed significantly to the rich tapestry of our tradition but this particular view is entirely removed from mainstream Jewish practice."
Labour said its shadow women and equalities minister, Gloria De Piero, had written to the Equalities and Human Rights Commission asking them to investigate the lawfulness of the driving ban.
http://www.bbc.com/news/uk-32935767
-----------
Robert F. Hall Girl Players Leave Soccer Game after Complaints from Muslim Boys' Team
30 May, 2015
The senior boys' soccer team from Robert F. Hall Catholic Secondary School in Caledon, Ont., was up 3-1 at the half on Tuesday when the coach pulled aside Carla Briscoe, one of two girls on the team.
Briscoe, who was in the starting line-up, wondered if she was being called out for playing too rough, but it turned out the coach from the opposing school, ISNA High, an independent Islamic school in Mississauga, Ont., had told the referee his team could not continue playing because of the presence of girls on the field.
As much as the competitive 18-year-old senior wanted to continue playing, she agreed to sit out the rest of the game. The team needed the extra points and it would be unfair to stop the game when some of her teammates hadn't taken to the field.
"I said to my coach, 'I'd rather see everybody play. I don't want to ruin this for the rest of the team. Me and the other girl will sit out.' "
Their team went on to win 6-1. But win or lose, the girls should never have been put in that situation, Paul Freier, chairman of the Region of Peel Secondary School Athletic Association (ROPSSAA), said Friday.
'Our position on this is these are the rules of engagement. … Going forward, it's our hope all teams will have an understanding'
The rules governing sports in the region mirror those set by the Ontario Federation of School Athletic Associations, which states if a sport is not available to girls at a school, they can join the boys' team after a successful tryout.
Freier sent an email Friday to the ISNA coach making it clear schools must abide by those rules. If they don't like them, they are free to leave the athletic association.
"Every school that joins ROPSSAA, it's a voluntary membership," Freier said. "We will continue to adhere strictly to those constitutions and bylaws."
A statement issued by the school Friday said it regretted the female players felt they could not participate.
"It was never the team's intention to exclude female participation, which was reflected in the offer to forfeit. The team sincerely regrets if any team members or participants were hurt or felt discriminated based on their gender."
Earlier, Essa Abdool-Karim, the ISNA coach, told CityNews the team was "caught off-guard" by the presence of girls on the team.
"We assumed this was a senior boys' league and we thought it was exclusively for boys," he said.
"Understand that free mixing is something that, generally speaking, we do not do, more so out of respect than anything. It's got nothing to do with discrimination."
Still, the school said it intends to speak with regional athletic officials about whether any "reasonable accommodations can be sought" going forward.
Some interpretations of the Muslim faith include a belief there should be limited or no physical contact with players of the opposite gender during sports, Ihsaan Gardee, executive director of the National Council of Canadian Muslims, said in a statement.
"This restraint is considered by some Canadian Muslims to be an expression of personal modesty and is not meant to be regarded as a personal insult or affront."
Bruce Campbell, a spokesman for the Dufferin-Peel Catholic District School Board, said it was disappointing the girls from Robert F. Hall didn't get to play the rest of the game. They showed "incredible sportsmanship" for choosing to sit out, he said.
"Our position on this is these are the rules of engagement. … Going forward, it's our hope all teams will have an understanding of the rules."
Wade Briscoe, Carla's father, said he wonders if religion or gender was really the motivation for ISNA wanting to pull out. He found it a bit odd the coach didn't raise his concern about the girls until the midpoint of the game, when his team was losing.
"Why did he wait to half time?"
http://news.nationalpost.com/news/canada/girl-players-pulled-from-high-school-soccer-game-after-complaints-from-muslim-team
-----------
Bangladesh: 'Early Marriage, Delayed Delivery May Cause Fistula'
30 May, 2015
Pregnancy in an early marriage, delayed and obstructed delivery, and malnutrition in expecting mothers can cause fistula, said experts at a function yesterday.
Women in the rural areas suffer from fistula due to negligence in healthcare, dependence on conventional treatment, unwillingness to be treated by male doctors and many other factors, they said.
They made the remarks while addressing a discussion on fistula diseases and its prevention organised by Panchagarh Health Department at the district civil surgeon office marking the 3rd International Day to End Obstetric Fistula 2015.
This year's theme of the day is "End Fistula now, restore women's dignity."
Panchagarh Civil Surgeon Dr Ahad Ali presided over the meeting while District Administrator Advocate Abu Bakar Siddik was present as the chief guest.
The rate of mortality among pregnant girls aged between 15 and 18 is five times higher than those aged 20 years and above, the health experts said.
In the keynote paper, General Secretary of Panchagarh Bangladesh Medical Association Dr Mansur Alam said many people do not know that treatments are available for such health problems. As a result, they continue to suffer from fistula although it is a curable disease.
He added that fistula treatment is available in all the hospitals across the country and sought cooperation from all to remove the misconceptions about the disease.
"In Bangladesh we do not have any recent data regarding its prevalence. However, a study jointly conducted by the government, UNFPA and Engender Health in 2003 shows that 1.69 out of 1000 married women suffer from obstetric fistula," he said.
Every year, an estimated 2,000 women develop obstetric fistula and currently 71,000 women are living with it, according to a data of Directorate General of Health Services.
UNFPA is also supporting nine medical college hospitals to treat the fistula patients. Till now 2,904 complicated fistula cases have been operated.
http://www.dhakatribune.com/bangladesh/2015/may/29/early-marriage-delayed-delivery-may-cause-fistula#sthash.JPCIEGaT.dpuf
-----------
URL: https://newageislam.com/islam-women-feminism/more-more-saudi-women-asking/d/103256