New Age Islam News Bureau
25 Aug 2018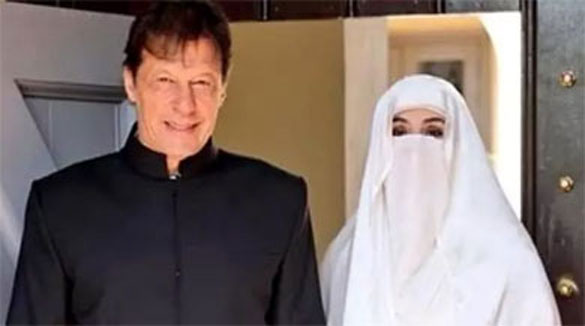 Could Bushra Bibi, Paklistan PM's wife, bring this traditional costume back to life? (Supplied)
-----
• Amnesty Worried Saudi May Execute Female Activist
• INEC, MURIC Disagree Over Alleged Discrimination against Muslim Women
• Raksha Bandhan: Varanasi's Muslim Women Making Rakhis For PM Modi
• Older Women Are Friendly, Young Passengers Reticent, Say Female Taxi Drivers
• Official Says Over 3,300 Women Committed Suicide in Iran Last Year
• Yazidi Woman Seeks Justice After Encountering IS Captor in Germany
Compiled by New Age Islam News Bureau
URL: https://www.newageislam.com/islam-women-feminism/algerians-happy-niqab-imran-khans/d/116198
--------
Why Are Algerians Happy about The Niqab of Imran Khan's Wife?
24 August 2018
Bushra Bibi, the wife of Pakistan's new Prime Minister Imran Khan, stole the spotlight during the swearing-in-ceremony last week with her white niqab, known as "al-Hayek" in North African countries and it is the traditional dress for women in Algeria.
Niqab is normally worn in black colour, but when white, it becomes similar to Algerian women's first traditional dress since the fall of al-Andalus.
Al-Hayek is an off-white full body dress, usually made of wool or silk, and sometimes a piece of fabric is added to cover the face without the eyes.
Women of Algeria wore al-Hayek on top of their cloths to cover up their bodies when leaving the house.
Al-Hayek started disappearing from the Algerian society by the end of the 80s and beginning of the 90s, until it was completely replaced by the regular scarf, or head covering known as Hijab, for political, religious, and societal reasons.
So, could Bushra Bibi bring this traditional costume back to life?
https://english.alarabiya.net/en/life-style/art-and-culture/2018/08/24/Is-the-niqab-of-Imran-Khan-s-wife-of-Algerian-origins-.html
--------
Amnesty Worried Saudi May Execute Female Activist
Aug 25, 2018
Amnesty International has voiced concern about the situation of detained female Saudi activist Loujain al-Hathloul amid rising speculations that the kingdom may start to execute its jailed women rights campaigners.
Al-Hathloul was detained back in May during an arrest spree by the kingdom of its female rights activists.
"To be honest, with every day that goes by our concern for the well-being of Loujain increases," Jackie Hansen with the UK-based rights group's Canada chapter said.
"Saudi Arabia has now escalated the situation by continuing to detain additional women human rights defenders," she added.
Hathoul, already known as one of the most outspoken female critics of the kingdom's human rights record, was first arrested in 2014 over charges of violating a Saudi law that banned women from driving after she tried to cross the border in her car from the UAE to Saudi Arabia.
She graduated from the University of British Columbia in 2013 and her situation has already caught international attention in light of problems facing the Saudi-Canadian ties.
Saudi Arabia expelled Canada's ambassador last month after Canadian Foreign Affairs Minister Chrystia Freeland criticized the kingdom's apprehension of rights activists.
Specter of death
Meanwhile, the Human Rights Watch (HRW) has announced that Saudi Arabia's public prosecutor is seeking to impose the death penalty against five other human rights activists from the kingdom's Eastern Province.
The activists are on trial at a "terrorism court."
The first on death row could be Israa al-Ghomgha from the province's Qatif region, who has been behind the bars for 32 months.
According to the HRW, al-Ghomgha has been charged with incitement to protest.
Also on Thursday, Canada's Prime Minister Justin Trudeau expressed concern over reports about the death sentences, saying his country would continue to stand up against human rights violations in the kingdom.
https://www.presstv.com/Detail/2018/08/25/572154/Saudi-Arabia-Amnesty-International-female-activist-Loujain-alHathloul-Canada
--------
INEC, MURIC Disagree Over Alleged Discrimination against Muslim Women
August 25, 2018
The Independent National Electoral Commission, INEC, has reacted to claims that female Muslims in hijab are denied registration in Oyo and other South-west states.
Mutiu Agboke, the Resident Electoral Commissioner (REC) in Oyo State, said no female Muslim in hijab or purdah was denied registration since the commencement of the Continuous Voter Registration (CVR) in the state.
Mr Agboke, in a statement issued in Ibadan on Friday, urged Nigerians to discountenance the insinuation linking the exercise with religious or political discrimination.
Earlier, the Muslim Rights Concern (MURIC) had alleged that thousands of Muslim women from the South-west may not be able to vote in the 2019 general elections due to alleged overzealousness on the part of some adhoc staff of INEC who have been disallowing them from registering as voters.
The organisation in a press statement on Wednesday alleged that women in hijab are being disenfranchised at the voters registration centres.
Alleged Discrimination
According to the leader of the organisation, Ishaq Akintola, a professor, "Muslim women are being asked to remove their hijab before capturing can take place. Some are asked to draw back the hijab from their faces to expose their ears. Of course the whole world knows that it is a taboo for Muslim women in hijab to expose their hair or ears. The Muslim women who refused to remove their hijab or to expose their ears are being turned back without being registered. This is unacceptable.
"It is cultural profiling. We are going to use every legitimate means to resist this aggression against Islam. We smell a rat. Religious fanatics have infested INEC's ad hoc staff and their mission is to frustrate prospective Muslim voters. They want to reduce Muslim voting power in the sub-region."
Mr Akintola also alleged that the INEC ad hoc staff involved in the practice claim that they are following instructions from their head office. "This is an old trick and a common line of argument," he argued, adding that the issues smacks of conspiracy.
"It means anti-Muslim elements have taken over in INEC head offices in Lagos, Ibadan, Abeokuta, Oshogbo, Ondo and Akure (capitals of Lagos, Oyo, Ogun, Osun, Ondo and Ekiti states)," he alleged. "This abuse is widespread particularly in Lagos State but INEC may want to focus its attention on its office at Arigbanla Road, Orile-Agege LCDA, Iyana ipaja, very close to NYSC camp."
While tracing the development to the 2003 elections, MURIC said it will not stand akimbo while Muslims are turned into mere laughing stock.
"We affirm our Allah-given fundamental right to vote and be voted for. We demand equal opportunities in all aspects of the Nigerian life. In particular, we assert clearly, emphatically and unequivocally that obtaining voters' cards is the right of every Nigerian citizen regardless of creed, ethnic background, profession or level of education.
"We appeal to INEC national headquarters to intervene urgently. We suspect that the national headquarters may not be aware of what is going on in the South West. It shows that voter awareness campaign alone is not enough. INEC should intensify staff training and enlightenment. Ad hoc officials as the first direct contact with the public need to be properly educated so as not to cause civil unrest over the ongoing PVC registration."
OYO REC disagrees
But Mr Agboke in his statement Friday disagreed with the views expressed by MURIC and other concerned religious and political organisations with similar grievances.
"The ongoing CVR has no religious sentiment or political colouration but simply an electoral activity designed for Nigerians of voting age," he said.
"Anyone with a genuine complaint should endeavour to report to the state office of the Independent National Electoral Commission (INEC) instead of peddling rumour,'' he said.
He further reiterated the commitment of the commission to continuously and positively engage religious bodies, political parties and other stakeholders in all the electoral activities leading up to the general elections in 2019.
NAN reports that Mr Agboke reminded all eligible Nigerians who had yet to register for the Permanent Voter Cards (PVCs) to do so. He added that replacement of defaced or lost voter card and transfer of voting right from one location to another would be attended to during the exercise.
Mr Agboke, however, said that the August 31 suspension of the CVR would not affect the collection of PVCs.
https://www.premiumtimesng.com/news/more-news/281311-inec-muric-disagree-over-alleged-discrimination-against-muslim-women.html
--------
Older Women Are Friendly, Young Passengers Reticent, Say Female Taxi Drivers
August 24, 2018
Abu Dhabi: "We don't know why young women aren't more friendly or don't talk to us, whereas middle-aged and old women are the friendliest customers," said a group of female taxi drivers, while sharing experiences of their several years spent driving in the capital.
They cater to only women and families and said they have never had any bitter experiences with the passengers. "Many women start friendly conversations with us. I have always noticed that most of them are at or above age 45," said Rowena Onato, 46, a Filipino national who has been with Emirates Taxi for four years.
She said most of the younger women passengers, in their twenties and thirties, are reticent and do not have a friendly attitude, but she doesn't know why. But other than that, they do not have any problems, said Onato.
"We don't have any complaints, as we are trained to deal with all sorts of people," she explained.
Onato and her friends spoke to Gulf News on the sidelines of an event titled 'Welfare of the heel behind the wheel' organised by the Indian Ladies Association (ILA) in the capital on World Humanitarian Day, which saw health awareness talks, a yoga session and distribution of food packets and hygiene kits to the drivers.
"We organised the event in line with the values of the Year of Zayed," said Annu Chouraria, ILA's president.
Echoing Onato's opinion, her colleagues said that youngsters were often preoccupied during the journey.
"In my experience, women in their forties and above are very friendly," said Ruth Akakabota, 36, a Nigerian working with Arabia Taxi for three years. "I think youngsters take you as a service provider — just a cab driver only. Whereas older women always ask about me and my family and appreciate our work," Akakabota said.
Oyekemi Ganiyat, 30, a Nigerian working with Tawasul Taxis for six months, said middle-aged and old women treat them well because of their maturity and experience in life.
"They want to know about our life and our job as drivers, and always say 'thank you'", Ganiyat said. That courtesy' always make a difference, she added.
Anyanwu Ibuchi, 30, a Nigerian working with Al Ghazal Taxis for two years, said she often felt that the young women have a competitive spirit. "Some of them are trying to prove that they are better than others!"
Interestingly, one old couple from a western country once tipped her $2000 (Dh7,340), after listening to her life story. "I immediately sent the money to my mother who wanted to start a small business back home," Ibuchi said.
She added that the ill effects of junk food as explained by medical experts at the event were an eye-opener. Busy driving most of the day, most taxi drivers ended up consuming junk food, she said.
https://gulfnews.com/news/uae/transport/older-women-are-friendly-young-passengers-reticent-say-female-taxi-drivers-1.2270148
--------
Official Says Over 3,300 Women Committed Suicide in Iran Last Year
20 August 2018
New statistics show more than 3,300 women committed suicide in Iran last year. The shocking new figures on suicides in Iran was revealed for the first time by one of the deputies of Iran's Ministry of Sports and Youth.
In light of the Iranian regime's lack of transparency and the government agencies' failure to accurately register the date, this figure must be considered only part of the existing reality.
Mohammad Mehdi Tondgooyan, deputy for youths affairs at the Ministry of Sports and Youth, announced on August 19, 2018, that the suicide rate in Iran was estimated at 4,992 suicides in the year ending in March 2018.
On women's suicides, Tondgooyan said, "In the whole country, the rate of attempted suicide in women was about two thirds, and one third in men," implying that nearly 3,300 women committed suicide in Iran in the period of only one year, which amounts to 9 women per day.
Tondgooyan added, "Tehran has had the highest rate of suicide and Yazd has had the lowest suicide rate. On the average, the country has a high suicide rate in two age ranges, the group of 25 to 34 years, as well as the group aging 35 years and higher.
"Most suicides occur in these two age ranges, but it has been a few years that youngsters under the age of 17 also commit suicide. According to the latest figures, 212 youngsters under the age of 17 have committed suicide in the country." (The state-run ILNA news agency - August 19, 2018)
According to a social pathologist, last year, woman's suicide rate in Iran increased by 66 percent during a five-year period. (The state-run Khabar Online - November 3, 2017)
Increasing pressure and restrictions on women in Iran and numerous obstacles for women's employment and social activities have led to widespread depression and despair among women and culminated in a high rate of suicide. Women's suicide rates in Iran are the highest in the Middle East.
https://women.ncr-iran.org/iran-women-news/5425-official-says-over-3-300-women-committed-suicide-in-iran-last-year
--------
Yazidi Woman Seeks Justice After Encountering IS Captor in Germany
August 24, 2018
WASHINGTON —
Ashwaq Haji Hami, a Yazidi from Iraq's Sinjar region, still shudders at the memory of being accosted on a street in Germany by the man who had held her as a sex slave for six months.
Hami was 15 years old when she was kidnapped along with dozens of family members — including five brothers, sisters, uncles and cousins — during the Islamic State group's genocidal rampage through the Sinjar region in 2014, she recounted in a Skype interview with VOA's Kurdish service.
At least 10,000 Yazidis were either killed or abducted during the attack, according to the United Nations. Hami was among the more than 6,400 people, mostly women and children, who were enslaved rather than killed.
Safety shattered
Purchased by an IS militant she knew as Abu Hammam al-Iraqi, she was forced to live with him for six months before escaping and eventually making her way to what she thought was a secure new home in Germany.
But, she told VOA, the illusion of safety was shattered in 2016 when a man she thought to be Abu Hammam saw her on a street and followed her home. Finding it hard to believe such a man could have been allowed to live in Germany, she put her fears aside and decided she must have been mistaken.
But then this year, she saw him again, and this time there was no doubt. Hami said Abu Hammam pulled up next to her in a white car and tried to talk to her.
"He spoke in German and asked me if I was Ashwaq. I denied [it]. He said that I am Ashwaq," Hami said.
Hami reported the incident to German authorities, who confirm they are investigating but say they have been unable to find Abu Hammam and doubt that is even his real name.
Comfort of family
Terrified of encountering him again, Hami returned to the Kurdistan area of Iraq, where she still fears for her safety but enjoys the comfort of being close to her family.
"Half of Abu Hammam's family live in Baghdad, and he lives in Germany. Being here is not safer compared to Germany, but at least if anything bad happens to me, I will be with my family and not by myself," Hami said.
"During my captivity in Iraq, he always used to threaten me and tell me that he would follow me wherever I go," she added.
Hami added that she is not alone. She said other Yazidi women in Germany have also seen their former IS captors but have not come forward because they are too frightened and doubt that anyone would believe them.
German investigation
That is not so, VOA was told by Frauke Koehler, spokesperson for federal prosecutors at the Federal Court of Justice in Germany.
Koehler emphasized in an interview that German officials are taking Hami's claims seriously and will carry out a thorough investigation. But, she said, the investigation is hampered because Hami returned to Iraq without providing "precise information" that would help identify her former captor.
"The federal prosecutor would like to have questioned the witness [Hami]. However, the witness had already left Germany when the federal prosecutor's office had taken over the investigation in June 2018," Koehler said.
"Even the name [Abu Hammam] could not be traced back to a real person [living in Germany]," Koehler said, adding that the collection of evidence from traumatized victims is always challenging.
If the man is ever found, however, Hami says she is ready to return to Germany to testify against him.
"I am ready to confront this man in court. I will do whatever it takes to have justice, even if my follow-up of the issue takes 1,000 years," she said.
Genocide
The trauma of the 2014 attack remains fresh in the minds of most Yazidis, members of a religious minority whom the IS extremists regarded as "devil worshippers" who must either renounce their religious views or die.
The United States, United Nations, European Union and Canada, among others, maintain that the assault on their homeland four years ago this month amounted to genocide.
The U.N. agency has said the Yazidi situation remains desperate and that the perpetrators have not been brought to justice, despite having been driven out of most of Iraq and Syria.
"The ideology of [IS] can only be truly defeated if survivors receive justice and redress for the crimes they have suffered, and reconciliation can only occur if the missing are found," Pramila Patten, U.N. special representative on sexual violence in conflict, said earlier this month.
Yazidi rights groups estimate 3,000 women and children remain missing, while thousands live under dire conditions in refugee camps.
https://www.voanews.com/a/yazidi-girl-seeks-justice-after-she-meets-her-is-captor-in-germany/4541735.html
--------
URL: https://www.newageislam.com/islam-women-feminism/algerians-happy-niqab-imran-khans/d/116198
New Age Islam, Islam Online, Islamic Website, African Muslim News, Arab World News, South Asia News, Indian Muslim News, World Muslim News, Women in Islam, Islamic Feminism, Arab Women, Women In Arab, Islamophobia in America, Muslim Women in West, Islam Women and Feminism