New Age Islam News Bureau
28 April 2022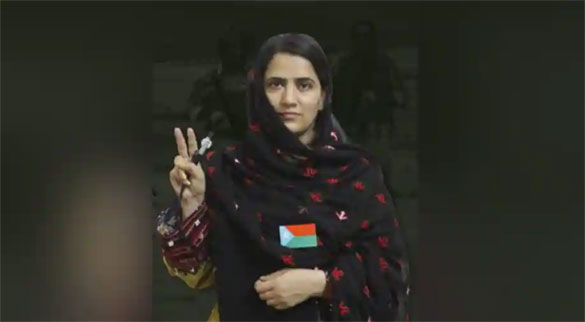 Shari Baloch Photograph:( WION Web Team )
----------
• Author Padma Lakshmi, Footballer Mesut Ozil Condemn 'Sickening Violence' Against Indian Muslims
• Organization Of Islamic Cooperation Has Key Role To Play In Afghan Girls' Future
• SiamaQadar, Dubai Businesswoman Feeds Hundreds Of Workers In Jebel Ali Each Ramadan Night
• Women Empowerment Sees Greater Emphasis In Region, Says Sarah RefaiCEO And Founder OfDawrati Online
• Razia, A 23-Year-Old Afghan Female Opens Tailor Shop InKandahar To Employ Fellow Women
Compiled by New Age Islam News Bureau
URL: https://www.newageislam.com/islam-women-feminism/woman-suicide-bomber-attacked-pakistan-karachi/d/126886
--------
Who Is Shari Baloch? The Woman Suicide Bomber Who Attacked Pakistan's Karachi University
Apr 28, 2022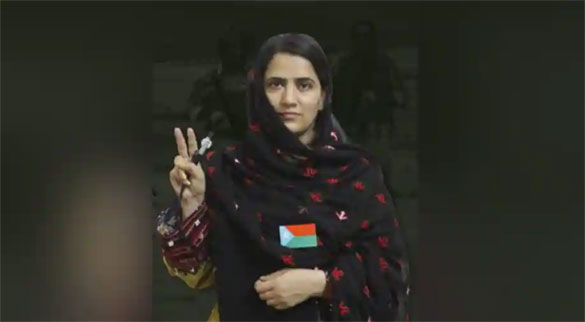 Shari Baloch Photograph:( WION Web Team )
----------
Pakistan was rocked by a suicide bombing that killed four outside Karachi University. Three Chinese tutors and their Pakistani driver died in a targeted suicide bombing at varsity's Confucius Institute on Tuesday afternoon.
The blast carried out by the Majeed Brigade of separatist Balochistan Liberation Army sent shockwaves as this was the first suicide bombing by a woman from the militant organisation.
Days later, her identity was revealed to be Shari Baloch, a secondary school teacher in her native Kech district.
Who is Shari Baloch?
According to Afghan journalist Bashir Ahmad Gwakh, Shari Baloch was a 30-year-old woman who had a Master's degree in Zoology and pursued MPhil in education while teaching at a school.
Her husband is a dentist, while her father was a registrar at the University of Turbat recently and remained part of the district ombudsman's team for at least three years.
He has also served as Director to the Water and Sanitation Agency (WASA).
She is survived by two kids —eight-year-old Mahrosh and four-year-old Meer Hassan—as per reports.
According to reports, the family is well educated and had no connection with any armed groups.
One brother is a Tehsildar -- a grade 16 officer and another brother works at the district court. One of her uncles is a retired professor, an author and a rights activist. Two of her cousins are doctors.
As a student, Shaari had remained a member of the Baloch students' organisation and was aware of the Baloch genocide and occupation of Balochistan.
The involvement of Shari, an educated woman, in the attack has sent alarm bells ringing.
History of Baloch resistance
Balochistan has long sought independence from Pakistan and has been against China's multi-billion-dollar One Belt One Road (OBOR) project, which seems to have been the reason behind the targeted attacks on the Chinese citizens in Pakistan.
The BLA, operating out of Balochistan, has been leading a low-level insurgency against Islamabad, and the Pakistani establishment has retaliated with a brutal crackdown on activists, often on the basis of suspicion, thus drawing international condemnation.
Source: WIO News
https://www.wionews.com/south-asia/who-is-shari-baloch-the-woman-suicide-bomber-who-attacked-pakistans-karachi-university-474569
--------
Author Padma Lakshmi, footballer Mesut Ozil condemn 'sickening violence' against Indian Muslims
April 28, 2022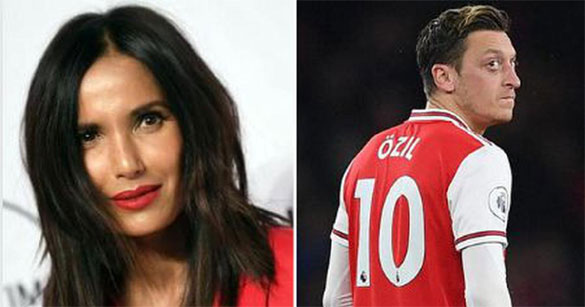 Author Padma Lakshmi (left) and footballer Mesut Ozil. | AFP
----------
Indian-American author Padma Lakshmi and German footballer Mesut Ozil tweeted on Wednesday condemning violence against Muslims in India and called upon citizens to speak out on the matter.
"Sickening to see the violence against Muslims celebrated in India," said Lakshmi in a series of tweets. "The widespread anti-Muslim rhetoric preys on fear and poisons people. This propaganda is dangerous and nefarious because when you consider someone less than it's much easier to participate in their oppression."
In another tweet, Padma Lakshmi asked Indian Hindus to not succumb to fear-mongering, adding that there was no threat to the religion in the country. "True spirituality doesn't include any room for sowing hatred of any kind, she wrote. "People of all faiths should be able to live peacefully together in this ancient, vast land."
She also tweeted three news reports that documented various atrocities against Muslims in India, and how social media has been weaponised to target the community.
In several parts of the country in the past few months, hate speech and calls for genocide against Muslims have been made. Hindutva supremacists have threatened to rape Muslim women and online abusers have created apps to put them on "auctions". Accused persons in many of these cases have even been granted bail. Repeat offenders like seer NarsinghanandSaraswati have made inflammatory comments while being out on bail in hate speech cases.
In February, Hindu students and mobs of men protested against Muslim women wearing hijabs to educational institutes in Karnataka. At some colleges, Muslim students were heckled, while in another case, some men climbed up a flagpole to plant a saffron flag and broke into classrooms.
Meanwhile, Ozil on Wednesday asked his Twitter followers to speak up and create awareness about the treatment of Muslims in India.
"Praying during the holy night of Lailat al-Qadr for the safety and well-being of our Muslim brothers and sisters in India," he wrote. "Let's spread awareness to this shameful situation! What is happening to the human rights in the so-called largest democracy in the world? #BreakTheSilence."
The remarks came a day after over 100 former Indian Administrative Services officers wrote to Prime Minister Narendra Modi that the government was using legal means to deprive minority communities of their livelihood and forcing them to accept their status as "inferior citizens". They said that anti-conversion laws, ban on beef, demolition drives, and uniform dress in educational institutions were being used to "strike fear" among members of the minority communities.
"Your silence, in the face of this enormous societal threat, is deafening," the group said.
In Gujarat, Madhya Pradesh and Delhi, the Bharatiya Janata Party-run administrations have conducted demolition drives to remove allegedly illegal structures. The demolitions undertaken days after communal clashes targeted shops and houses owned by Muslims.
On April 12, a US Department of State report had flagged discrimination against minorities in India, extrajudicial killings, degrading treatment or punishment by the police and prison officials and arbitrary arrests and detentions by government authorities among other concerns.
The report noted incidents where Muslim men were paraded in public and forced to chant "Jai Shree Ram" in Uttar Pradesh's Kanpur and police shootings during the eviction of villagers belonging to the community in Assam's Darrang district last year.
The reports also mentioned that the laws against religious conversions have been used to target Muslims. Bharatiya Janata Party-led state governments in Uttar Pradesh, Gujarat and Madhya Pradesh have enacted anti-conversion laws since last year to penalise "love jihad". The term has been used by Hindutva outfits to push the conspiracy theory that Muslim men lure Hindu women into marrying them with the sole purpose of converting their brides to Islam.
The Citizenship Amendment Act and the exclusion of Muslims from its provisions was also noted in the report.
Source:Scroll
https://scroll.in/latest/1022825/author-padma-lakshmi-footballer-mesut-ozil-condemn-sickening-violence-against-indian-muslims?utm_source=rss&utm_medium=jio
--------
Organization Of Islamic Cooperation Has Key Role To Play In Afghan Girls' Future
MAHA AKEEL
April 27, 2022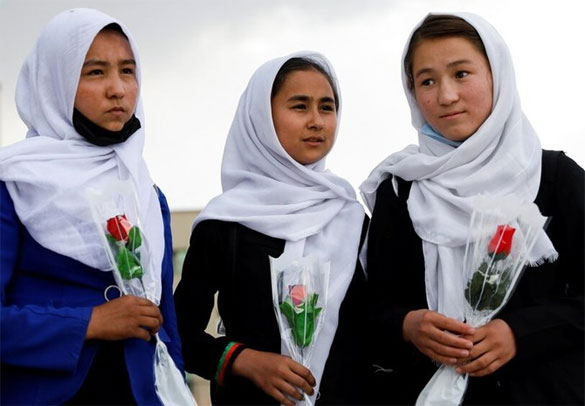 The Taliban leadership announced, on March 23, that schools for girls in Grade 6 and above were closed. (Reuters)
-----------
Afghanistan's schoolgirls suffered a heart-breaking moment last month, when the Taliban reneged on their decision to allow them to return to school for the first time since the group regained control of the country in August last year. On March 23, the Taliban leadership announced that schools for girls in Grade 6 and above were closed until further notice, turning more than a million girls away from their school gates across Afghanistan.
Meanwhile, the Taliban is still allowing young women to attend university, but only in gender-segregated classes and with strict dress codes. So, girls in secondary and high school are supposed to stay at home and that will be the end of their education, while those who are already in university can complete their studies, if possible, considering the harassment and difficulties they could face reaching their classes. And once they graduate, they can stay home too because there will be very limited opportunities for work.
Clearly, this outrageous decision is meant to keep girls from getting any meaningful education. What kind of future will this mean for these girls? And how is it Islamic, since the Taliban claim to be applying Islamic principles? There is no discrimination of rights in Islam — pursuit of knowledge is an obligation for all Muslims and Prophet Muhammad, peace be upon him, made no distinction between boys' and girls' education. History is full of the names of Muslim women educators, innovators and pioneers.
There was some hope that life for women and girls in Afghanistan would not be so harsh when the Taliban initially promised they would not go back to their former ultraconservative attitude toward women. But obviously this was only lip service in an attempt to gain recognition and support from the international community in the face of dire economic and humanitarian conditions. However, with this short-sighted decision and blinded by their condescending and malicious view of women, they are shooting themselves in the foot.
The Taliban have imposed strict rules on wearing the hijab in public and segregation in workplaces, prevented women from traveling, conducting their affairs or even seeking medical care without a male chaperone, and dismissed women from their jobs and any public role. As long as the Taliban insists on its hard-line approach toward women's rights, it will not gain access to the billions of dollars it desperately needs in aid, loans and frozen assets for humanitarian and economic assistance. Furthermore, according to the UN, keeping women out of work could immediately cost Afghanistan up to $1 billion, or 5 percent of its gross domestic product.
The decision to ban girls from going to school came the day after the Organization of Islamic Cooperation held its Council of Foreign Ministers conference in Islamabad, which stated in its declaration: "We underline the importance of full respect for the human rights of all Afghans, including women, children and persons belonging to ethnic, religious and cultural minorities." The OIC later issued a statement expressing its disappointment over the decision to keep girls out of school, but words are not enough. The OIC should try to be more forceful in negotiating with the Taliban.
There is a deep-seated distrust between the Taliban and the West, and vice versa, politically and ideologically. Any reference to women's rights and gender issues coming from the West or Western-based international organizations will probably be rejected or met with suspicion and disdain by the Taliban, if it is acknowledged at all. Therefore, it is necessary to build confidence and trust between the Taliban and international organizations through the OIC, which, as an umbrella organization for the Muslim world, is probably more acceptable to the Taliban. Efforts to engage and implement programs in Afghanistan by international organizations would be more fruitful if led by the OIC and should avoid using terms and references that might offend or irritate Kabul's rulers.
On the sidelines of last month's ministerial conference in Islamabad, the OIC secretary-general and the president of the Islamic Development Bank signed a charter establishing the Afghanistan Humanitarian Trust Fund. This implemented a decision made by the OIC foreign ministers' extraordinary session held in December 2021, also in Islamabad and at the initiative of Saudi Arabia, to mobilize humanitarian assistance for the people of Afghanistan.
The fund, which will be managed by the bank, will be tailored to enhance food security, support small and medium-sized enterprises to create local employment opportunities, ensure access to quality education (especially for females), women and youth empowerment, and rural electrification. The bank could ensure a percentage of the money from the fund goes to girls' education and women's healthcare and employment as a condition for any project or program implemented. It could also specify the inclusion of women as direct beneficiaries from development projects.
OIC delegations meeting with the de facto Taliban government should consist of women — prominent women and experts in various fields, especially religion — who speak up on the rights of women and girls according to Islamic principles, while demonstrating the important role women have played throughout Islamic history in the development and prosperity of their communities.
The delegations should insist on meeting with women's civil society groups and leaders and make them partners in implementing projects and programs. They should also insist on including women in any deliberations, or at least ensure they are consulted and their views are incorporated and taken into consideration.
OIC institutions, especially the International Islamic Fiqh Academy, the Independent Permanent Human Rights Commission, the Islamic World Educational, Scientific and Cultural Organization, the IDB and the Women Development Organization, should play an active role, each in its own capacity and under its own mandates. The OIC Humanitarian Office in Kabul should try to engage and communicate with different sectors of society, including women in rural areas. To be able to do that and deliver, monitor and engage, it needs to be strengthened with human and financial resources.
There is a big responsibility on the shoulders of the OIC, not only to help Afghan women but also to portray a positive image of Islam by empowering Muslim women everywhere.
MahaAkeel is a Saudi writer based in Jeddah. Twitter: @MahaAkeel1
Source: Arab News
https://www.arabnews.com/node/2072011
--------
SiamaQadar, Dubai Businesswoman Feeds Hundreds Of Workers In Jebel Ali Each Ramadan Night
Gillian Duncan
Apr 28, 2022
An entrepreneur in Dubai has teamed up with friends and family to feed hundreds of people for iftar each night during Ramadan.
SiamaQadar and her fellow volunteers distribute the boxes outside a mosque in Jebel Ali Industrial Area 1 every day during the holy month.
The meals, which each cost Dh10 ($2.72), consist of a double portion of chicken biryani with a piece of fruit, dates, laban and water. On Wednesday night the team also handed out 500 Qurans.
The British entrepreneur, who owns a fashion technology business, started the tradition after arriving in the UAE from the UK in 2014.
"As a Muslim, we have to give back as the five pillars of Islam," she said.
"The community has helped me. It's given me my education, my work. So it's time I need to start giving back.
"The workers really need it and they really appreciate it."
In the beginning, about 800 people would turn up each night but that number has grown to 1,300.
She funds the meals with about 20 family and friends.
"When I first came to Dubai in 2014, it wasn't Ramadan. It was May and I used to do distributions in worker accommodation from the back of my car," she said.
"I first started off in International City and then moved into Al Quoz but realised there were a lot of people covering Al Quoz, so I then went searching for other places.
"Jebel Ali Industrial site was one of those, a faraway place in 2014 that nobody really knew of."
Ms Qadar searched for a small caterer and found a tiny kitchen on the border of Sharjah and Al Qusais owned by a worker.
She began distributing iftar meals that year and continued to do so until the pandemic put an end to it in 2020.
This is the first year the tradition has returned since the pandemic began. She still works with the same caterer.
"It's revitalised and been born again," she said.
"I don't know if the other mosques are doing their iftars again. Everyone is congregating here. It's massive. They wait for us. We arrive at 5.30pm and the workers start arriving at 4.30pm.
"They know the system. They know the drill. They know where to sit. So they give us no headaches, no stress.
"We are serving them. So it's nice to be serving them than them serving us."
Source:TheNationalNews
https://www.thenationalnews.com/uae/ramadan/2022/04/28/dubai-businesswoman-feeds-hundreds-of-workers-in-jebel-ali-each-ramadan-night/
--------
Women Empowerment Sees Greater Emphasis In Region, Says Sarah Refai CEO And Founder Of Dawrati Online
by Sandhya D'Mello
27 Apr 2022
Women empowerment has assumed greater emphasis in the region, with many entrepreneurs, industry stalwarts, and influencers breaking into the mainstream in recent years, says Sarah Refai, CEO and founder of Canada-based Coconut-media and Dawrati Online
"This development is rather stark in the UAE, where women are heading the powerful missions and their existence alone is a reminder for young girls and the next generation to believe that they can break gender biases and excel in any industry of their choice. That said, gratitude is also owed to the UAE leadership for facilitating a favourable environment for women to thrive," said Refai.
"The UAE has set good precedents, in terms of gender-neutral policies, for the rest of the region to follow. But, personally, I believe no matter how favourable the external circumstances are, internal inhibitions can still hold you back. So, to all the girls out there, I'd like to tell you that gender biases will only impact you if you let them."
According to the World Economic Forum's Global Gender Gap Report 2021, the Mena region will need 142.4 years to close the gender gap at the current rate of progress. This is because gender bias is one of the oldest forms of inequality in existence, deeply rooted in the social fabric. So, eliminating gender bias is indeed a tall order. That said, in an information age characterised by ever-evolving sociocultural dynamics, there are no limitations to what one can achieve and how soon one can achieve it.
Refai is CEO and founder of the Arabic e-learning platform Dawrati and believes education is the first step to breaking the biases. "I started my entrepreneurial journey in 2017, with a meal prep company. I learnt the ropes of business management and marketing, which inspired me to launch Coconut-Media Inc. in 2018. Alongside, I was fortunate to have enrolled in a few mastermind courses, which put things in better perspective. Recognising the gap for Arabic content in personal brand marketing strategies, I started Dawrati in 2021, later becoming the first Arab female entrepreneur to receive The Two Comma Club Award for making over a million dollars in a year. It all started with my determination to constantly learn," explained Refai, whose business podcast, "The Secrets of Marketing", has featured at the top of the category in the Mena.
"Impact-led monetising and marketing are central to my work with Dawrati," she continued, "I chose them not because I was great at them but because of the positive difference they could make on countless lives and livelihoods. We have empowered over 10,000 students in the region, especially women, to launch their online businesses. No award or accolade is greater than that," concluded Refai.
Refai is a marketing maven; startup pro; young global Arabic influencer and entrepreneur; and an inspirational female leader with over half a million followers across her social platforms, two million views on YouTube, and the number-one ranked arabic business podcast in the Mena region (The Secrets of Marketing with Sarah Refai).
The Canadian Lebanese serial entrepreneur launched Dawrati Online – one of the only programmes in the region, and globally, for Arabic speakers, that employs an involved and end-to-end approach to helping coaches launch and monetise their knowledge and skillsets in the digital world. Apart from specific tools and tips, the programme shares Sarah's signature "success strategy" that helped her create a viable source of revenue from her courses.
From speaking at the Harvard Arab Alumni Association panel 2021 to receiving the "Two Comma Club" award from ClickFunnels for being the first Arab female entrepreneur to earn a million dollars in a year, Sarah continues to set new benchmarks for herself. But in her own words, she believes her greatest achievement is being one of the first to introduce Arabic content in the e-learning industry and empower the next generation of coaches, consultants, entrepreneurs, and content creators.
Source: Khaleej Times
https://www.khaleejtimes.com/business/women-empowerment-sees-greater-emphasis-in-region-says-sarah-refai
--------
Razia, A 23-Year-Old Afghan Female Opens Tailor Shop In Kandahar To Employ Fellow Women
Apr 28, 2022
Razia, a 23-year-old woman, runs a tailor shop in the Daman district of Kandahar in war-torn Afghanistan, where traditions usually do not encourage women to work outside the home.
"I am trying to develop it (the tailor shop)," Razia said, adding that some 50 women are working in her workshop and each receives a monthly salary.
Selling her products in Kandahar city, the capital of the southern province of Kandahar, Razia said that her employees are happy with the income to support their families.
Women and girls working in the workshop are engaged in embroidery, sewing traditional clothes and making burka, an envelope-like veil that covers a woman from head to toe.
"Our products include embroidery, traditional clothes which are in high demand among Afghans," Razia told Xinhua.
In an effort to develop her products, Razia said she had visited Kabul twice to put her products on display at a handicrafts exhibition to find more customers.
Although women are active in the field of health, education and also business, schoolgirls from grade 7th to 12th cannot attend the classroom.
In a recent decision, the Ministry of Higher Education separated educational days for male and female students at universities. Based on the decision, the girl students could attend classes on Saturday, Monday and Wednesday while boy students attend the universities on Sunday, Tuesday and Thursday.
Razia, ambitious, has always tried to display her products at craft exhibitions, and also called upon local authorities to reopen Juma Bazaar (Friday Bazaar), a local market where businesspersons used to sell their products.
Razia's colleague Khudija assumed that working women help stabilize the economy.
"My team is composed of 12 women working here and selling our products," said Khudija. "On the one hand (it) helps us to earn livelihood and on the other, stabilizes the domestic economy."
In the northern Mazar-i-Sharif, another woman Habiba Amini has also opened a tailor shop and provided job opportunities for 40 women in the city.
Source:GlobalTimes
https://www.globaltimes.cn/page/202204/1260586.shtml
--------
URL: https://www.newageislam.com/islam-women-feminism/woman-suicide-bomber-attacked-pakistan-karachi/d/126886
New Age Islam Islam Online, Islamic Website, African Muslim News, Arab World News, South Asia News, Indian Muslim News, World Muslim News, Women in Islam, Islamic Feminism, Arab Women, Women In Arab, Islamophobia in America, Muslim Women in West, Islam Women and Feminism