New Age Islam News Bureau
26 Aug 2019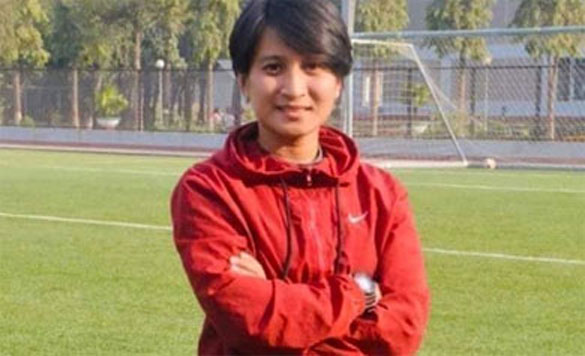 Joya Chakma, who passed required test to become the first women FIFA referee from Bangladesh,
-----
• Egyptian Woman Chosen as Religions for Peace President
• Meet Bangladesh's First Female Referee Joya Chakma
• Southern Yemeni Women Enter Storm of Politics, War
• More than 180 Women Set to Contest UAE Federal National Council elections
• No More Bottlenecks; Passports for Saudi Women in 15 Minutes
• Five Women Artists to Display Art on Identity, Body Politics in Jamia Nagar
• Dublin Gang Allegedly Pull Off Hijabs, Assault 2 Muslim Women
• 3 Triple Talaq Cases in 3 Kota Thanas in As Many Days
• A New Conspiracy to Produce Film on Hazrat Ayesha
• Sikh Receives Applause for Helping Kashmiri Girls
• Sultan Sooud Al Qassemi On 'Male Chauvinism' In Art: 'Women Represent Women Better'
• Key Role of Iranian Women in Protests against Zarif's Visit In Norway
• Fear, disowning of children among reasons Yezidi women cannot leave Syria camp: advisor
Compiled by New Age Islam News Bureau
URL: https://www.newageislam.com/islam-women-feminism/when-woman-travelling-no-sms/d/119570
--------
When Woman Is Travelling, No SMS to Family Head: Jawazat
August 25, 2019
RIYADH — The Directorate General of Passports (Jawazat) has categorically stated that it would not send any text messages to head of the family in the event of the travel of a woman who attained the legal age of 21 years. In a statement, the Jawazat has denied what is being circulated about sending text messages on the mobile phone of the head of the family when the woman above the age of 21 is traveling.
"The passport information, including destination, when issued is available on the Absher portal only for the owner of the passport and no other person is allowed to get access to it. Saudi women, with a national ID, can travel to GCC countries without any permission," the Jawazat said while emphasizing that permission is required only for women under the age of 21 and that the validity of ID should not be less than three months when traveling.
Women who want to obtain or renew their passports can contact the Department of Passports after securing an appointment for availing of the service, the Jawazat statement said while stressing that the service will be activated electronically via Absher.
The Ministry of Interior recently announced that the Jawazat and Civil Status departments and their branches in all regions of the Kingdom have started implementing the amendments made in the Civil Status and Travel Documents Regulations with regard to allowing adult Saudi women to travel without permission of their male guardian.
http://saudigazette.com.sa/article/575450/SAUDI-ARABIA/When-woman-is-traveling-noSMS-to-family-head-Jawazat
--------
Egyptian Woman Chosen as Religions for Peace President
August 25, 2019
The Religions for Peace (RfP) conference in Lindau, Germany concluded on Friday with Egyptian university professor and UN advisor Azza Karam elected to head the organization – assuming her duties as secretary general of the RfP conference.
The RfP in partnership with the Foundation Peace Dialogue of the World Religions and Civil Society convened the RfP's 10th World Assembly from 20-23 August 2019, featuring the attendance of 900 representatives of religions around the world.
Every five to seven years, the RfP convenes an assembly for the purpose of forging a deep moral consensus on contemporary challenges, electing a new World Council and advancing multi-religious action across and beyond the Religions for Peace network.
Speaking to Al-Masry Al-Youm, Karam expressed delight in being chosen, saying that she is proud to be an Egyptian in this great position. She added that this choice takes into account the role of women globally, emphasizing their role in religious participation.
Karam said "I hope to put forward Egypt and the Arab world during my presidency as a leading role in supporting peaceful coexistence among all religions in the world."
She added that women must play a constructive role in this coexistence.
Karam said that the main objective of the conference is to bring together representatives of religions to participate in a major international conference organized by the organization.
She stressed that this conferences shows that despite our differences we can live peacefully.
Minister of Immigration and Egyptian Expatriate Affairs Nabila Makram said that she is proud that an Egyptian holds this position.
In statements to Al-Masry Al-Youm, Makram added that Karam is a living role model for successful Egyptian women and deserves this position. She has a great mission to communicate with religious leaders in all countries of the world, and has achievements within the United Nations, Makram pointed out.
Makram said that she was happy to see 900 representatives from all religions gathered in the same event, as this conference is an opportunity to exchange views and accept others.
She continued that she was happy to participate as a representative of the Egyptian government and was keen to highlight the role of the Egyptian state in the assurance of peaceful coexistence, while also highlighting the role of Egyptian women.
According to a statement on the RfP's official website, Karam is a Professor of Religion and Development at the Vrije Universiteit in Amsterdam, in The Netherlands – of which she is a citizen. She served as a Senior Advisor on Culture, at the United Nations Population Fund (UNFPA); and as Coordinator/Chair of the United Nations Inter-Agency Task Force on Religion and Development; where she coordinated engagement with members of a Global Interfaith Network for Population and Development with over 600 faith-based organizations from all regions of the world, representing all religions and inter-religious affiliation.
The Rfp is the world's largest and most representative multi-religious coalition. It advances common action among the world's religious communities for peace.
The origins of Religions for Peace date to 1961, when a handful of senior leaders from the world's major faith traditions began to explore the possibility of organizing a "religious summit." They felt the urgent need for believers around the world to take action toward achieving world peace.
The RfP convened for the first time in Kyoto, Japan, from 16 to 21 October 1970. For more than forty years since, the RfP has continued to bring together people of faith to cooperate for peace.
Religions for Peace works to transform violent conflict, advance human development, promote just and harmonious societies, and protect the earth.
The global Religions for Peace network comprises a World Council of senior religious leaders from all regions of the world; six regional inter-religious bodies and more than 90 national ones; and the Global Women of Faith Network and Global Interfaith Youth Network.
https://egyptindependent.com/egyptian-woman-chosen-as-religions-for-peace-conference-head/
--------
Meet Bangladesh's First Female Referee Joya Chakma
Aug 26,2019
Joya Chakma, who passed required test to become the first women FIFA referee from Bangladesh, has a future vision to work for the development of women's football, denying all stereo-typed social mindset.
'My thinking is to work for female football and the future plan is to work for total football development for women,' said the 27-year old lady from Rangamati, who passed the FIFA referee test on August 23.
Apart from Joya, former Bangladesh female athlete Salma Islam Moni of Netrokona, also passed FIFA referee test on the same day to be part of the history.
Joya served for national women's team from 2008 to 2012 and is currently working as coach of the Bangladesh Krira Shikkha Protishthan women's team after joining in November, 2016 with her AFC-B license.
Joya, who joined at BKSP after completing her post-graduation in History from Jahangirnagar University, is determined to overcome the social barriers for female athletes.
'The stereo-type social mindset is the main challenge for me in refereeing or in coaching. I am aware of challenges and know how far I would go,' she said.
'I know, as long as I will be able to run on the ground, I will have value,' said Joya while talking to New Age on Sunday.
The eldest one of her parent's three daughters, Joya enjoys her duties and finds no difference in challenges between coaching and refereeing.
'No matter its coaching or refereeing I enjoy both. Actually I enjoy football wholeheartedly. At BKSP, I work as coach while serve for federation as referee,' she said.
Joya served as referee in international level around 30 to 35 matches, including about 10 matches in Berlin football festival in 2015, where teams like Argentina, Brazil and some other Latin American nations took part.
She started refereeing on a regular basis from 2012 and her first overseas assignment came in Sri Lanka in 2013 at the AFC Under -14 women's football tournament.
'I saw in Sri Lanka that there is no FIFA referee from Bangladesh. Then I saw that there is a big space for refereeing and made up my mind to start refereeing,' she said.
Joya believed that her dual role as coach and referee is enriching her understanding of football, helping her improve skills in each field.
'In both field you need knowledge. I enjoy both, actually I enjoy football completely. I can use my refereeing knowledge in coaching and coaching knowledge in refereeing. I need to study players' mind during games,' Joya continued.
'When I work as coach, I observe girls' psychology, playing techniques and tactics. When I go to refereeing, I can understand players' qualities, also can find out what techniques and tactics are working out instantly,' she narrated.
Joya has no discomfort of doing duties as referee or coaching with football – 'Actually, I am a football loving person. I am the same person whether I am coach or do refereeing.'
Joya will be able to actively work in FIFA matches from January 2020 and will have to renew her FIFA license each year through exam.
Joya was scheduled to leave for India on Sunday night with BKSP Under-17 Women's team to take part in the Subroto Mukharjee Cup Football Tournament, starting on August 30.
http://www.newagebd.net/article/82559/meet-bangladeshs-first-female-referee-joya
--------
Southern Yemeni Women Enter Storm of Politics, War
Afrah Nasser
August 23, 2019
Speaking from a suburb of the southern Yemeni city of Aden, a journalist explains how she fears for her life as neutrality is no longer accepted there.
"I had to leave home and hide for my own safety as I am facing an online smear campaign by unknown groups, saying I am disloyal to the south because I didn't show support to the Southern Transitional Council (STC), even though I am pro-southern movement," the journalist told Al-Monitor on condition of anonymity.
"What's most dangerous is that such smear campaigns against us females could ruin our reputation forever," she said.
Fighting in Aden between STC military forces backed by the United Arab Emirates and the forces of the Yemeni government of President Abed Rabbo Mansour Hadi since early this month has killed or injured at least 300 people, with a major impact on the humanitarian situation for civilians and a rise in oppression against dissident voices. The STC has taken control of most of the state's buildings in Aden; the southern secessionists' move undermines the Yemeni government's efforts to restore its legitimate authority and the unity of the country as a whole. There seems to be a de facto partition in which the north is controlled by the Houthis and the south is to be controlled by the secessionists.
Southern women are divided over the current situation and how it will serve women's rights in the future.
Women's political activism in Yemen has been typically depicted as homogeneous, whereas in reality it takes many different forms. In the context of women's political role in southern Yemen, notably, Southern women have diverging tracks — for example, there are those who campaign for peace and unity and those who struggle for peace and independence.
"Working as a journalist for more than a decade attracted me to politics but ever since I joined the Peaceful Southern Movement (al-Hirak al-Salmiy al-Janubi) in 2007, I realized the significant role I could play as not merely a woman but as a citizen of south Yemen in the first place," said Sara al-Yafi'e, an STC member in Aden.
The STC was established in 2017, and Yafi'e was elected to a seat on the council's National Committee. The STC seeks to restore the South Yemen state that existed before South Yemen and North Yemen united in 1990. It is believed there are around 25 other political groups in the south seeking independence.
"I wouldn't have joined STC if I didn't believe it can achieve our demand for independence," Yafi'e said.
Women such as Yafi'e have been playing critical and various roles in politics, including activities involved in military efforts, the defense of human rights, peace-building actions and the push for women's political power in the south of Yemen.
Under Socialist Party rule in the south (1970-1990), women's rights used to be more progressive than in the North, with a more progressive family law and prohibition of polygamy, among other things. While socialist rule showed a political will to protect women's rights, this was reversed following unification. North and South Yemen's civil and family laws were merged, causing an erosion of the more progressive women's rights in the south. Conservative constitutional limits from the north gradually became dominant.
"I was born in 1977 and I have witnessed both life before and after unification, and I saw how, pre-unity, women's rights were not only respected but also women were included in almost all decision-making processes," said Huda al-Sarari, a human rights defender in Aden.
"But since the 1990 unification, gender equality eroded, education quality deteriorated sharply, gender-based segregation began and expansion of northern culture to the south contributed to the weakening of women's role in the south," she said.
After unification, an ill-thought-out and failing nation-building process was applied in the name of integrating the two societies of the north and the south. Southerners faced a northern-dominated central government, and dismissal from the civil and security services, among other grievances. The southern movement (al-Hirak) was officially born in July 2007 with regular sit-ins, marches and demonstrations — which were met with brutal repression by President Ali Abdullah Saleh's regime.
The 2011 uprising realigned the general national debates. The UN- and Gulf Cooperation Council-backed National Dialogue Conference managed to work out a federal plan to resolve the southern issue and make advances in women's rights all across Yemen. But all that progress was obstructed as Houthis began their takeover of Sana'a in 2014 followed by the Saudi-led coalition military operation in 2015. As the war rages on, various women have played different roles and southern women once again faced the "southern question."
The south has witnessed relative stability and progress since its liberation from Saleh and Houthi forces in August 2015 but economic, political and security instability have impacted women and their families and communities.
"Deterioration of the education sector, ruralization of Aden, security instability, terrorist attacks, economic hardship, political marginalization, a rise in child marriage, institutional aggression against women and growing gender-based violence and shrinking access to public spaces are some of the obstacles females in the south face today," Sarari said.
Yemen still faces the world's worst humanitarian crisis. The UN report says, "Conflict-related loss of male breadwinners in Yemeni families adds to the economic burdens women face, especially in the case of female-headed households." The absence of adequate empowerment and support have led women and girls to negative coping strategies such as child marriage and child labor, according to the UN report.
Sarari said, "When one argues that everyone in the south today is marginalized, I'd argue that the situation is worse for us women because females used to at least enjoy positive discrimination but today their suffering is double."
While women from both north and south have had an extremely limited space to participate in previous Yemen peace talks, the Women's Pact for Peace and Security (WPPS) group sponsored by UN Women was formed in 2015, working as both a consultative body to the UN special envoy for Yemen, Martin Griffiths, and to advocate for increasing women's political participation in official processes.
Many claim UN Women has not paid enough attention to southern women's political demand for independence and peace. Heba al-Aidarous, a WPPS member who is a lawyer and a former STC member, said, "Every time I attend UN-led women events it becomes increasingly clear to me that the UN doesn't support the southern issue at all. Yes, I am a member in WPPS but the UN's intention in including southern women in the group has been only to have a balance between northerners and southerners — and the majority of the southerner members were chosen for their pro-federal system stance."
Al-Monitor repeatedly contacted the UN Women's Yemen team for comment but received no response.
The independence of the south would not mean that women's rights in the south would be automatically like how it used during Socialist rule, Aidarous said. "During the unification, I believe every aspect of civil rights, including women's rights, has dramatically deteriorated, even worse than how it is in the north," Aidarous said.
"I think we need one or two generations to achieve the progress we need."
Meanwhile, meaningful women's political participation has been limited in the major presidential body in the STC, with only three women out of a total membership of 26. One of the three women members, Suhair Ahmed, justified the limited women's participation by saying that full gender equality hasn't been achieved globally yet. "STC is still evolving but for now the current women's participation is sufficient for the patriarchal society we have," Ahmed said.
Patriarchal laws have impacted women all across Yemen in its modern history. Some southern women see significance in one of the outcomes of the UN-GCC-backed National Dialogue Conference, which produced a new constitution draft that represents a step toward gender equality for all women.
"I am a strong believer that unity is the key for Yemenis and especially Yemeni women," Samira al-Awlaqi told Al-Monitor in Yemen. "The constitution draft would not only serve all Yemenis more progress and justice but it would also advance all women's rights across Yemen. So why don't we all advocate for that?"
https://www.al-monitor.com/pulse/originals/2019/08/yemen-women-southern-movement-war.html
--------
More than 180 Women Set to Contest UAE Federal National Council elections
Anam Rizvi
Aug 26, 2019
Close to 200 women are set to contest this year's Federal National Council elections — more than double the number who took part when the country last went to the polls.
A total of 182 female candidates have been included on a 499-strong preliminary list of contenders before the nationwide vote, which takes place on October 5.
The sharp increase comes on the heels of a decree issued by UAE President Sheikh Khalifa last December calling for Emirati women to make up 50 per cent of the council.
This year's elections will be the largest to date, both in the number of candidates and the size of the electorate.
In 2015, 252 people stood for election to the council 78 of whom were women.
More than 330,000 Emiratis chosen among the Electoral College will be able to cast their ballots to elect members of the UAE's advisory council.
Half of the FNC members are chosen through the election, with the remainder appointed by the government. Sheikh Khalifa's decree guarantees women will comprise half the seats, even if they are not all elected by the public.
Currently, there are eight women members — representing 20 per cent of the 40 available seats. The women include the Chairperson and Speaker of the FNC, Dr Amal Al Qubaisi, who became the first woman leader of a national assembly in the UAE and Arab world three years ago. Dr Al Qubaisi was also the first woman elected to the FNC in 2006.
The move to bolster female representation in the political process has been widely welcomed in the Emirates.
After Sheikh Khalifa's announcement late last year, prominent figures were quick to pledge their support.
Sheikh Mohammed bin Rashid, Vice President and Ruler of Dubai, said the decision was "a great leap forwards cementing the legislative and parliamentary role of women in our nation's development".
"Women are half of our society: they should be represented as such," he said.
Sheikh Mohamed bin Zayed, Crown Prince of Abu Dhabi and Deputy Supreme Commander of the Armed Forces, also hailed efforts to provide gender balance in the political arena.
He argued the move was "an additional step to enhancing women's roles and contributions to national decision-making".
He said: "Emirati women are partners and supporters of our country's development and are models of giving and excellence. We wish them luck and success."
Abdulrahman Al Owais, Minister of State for Federal National Council Affairs and chairman of the National Election Commission has urged Emiratis to ensure their names are included in the list of electoral committees to allow them to vote.
"Contributing to the electoral process is a national responsibility, and is highlighted by the active participation of members of electoral committees in the selection of qualified candidates capable of serving their country and people," said Mr Al Owais. The National Election Commission will accept objections regarding candidates from Monday to Thursday and will announce its response on September 1.
Candidates have registered across the country this month.
https://www.thenational.ae/uae/more-than-180-women-set-to-contest-federal-national-council-elections-1.902643
--------
No More Bottlenecks; Passports for Saudi Women in 15 Minutes
August 25, 2019
By Hussain Hazazi
JEDDAH – Several Saudi women were excited and overjoyed when they found that the procedures for obtaining their passports were completed within 15 minutes. "Everything is simplified and gone are the days of bottlenecks and complications," they said.
Speaking to Okaz/Saudi Gazette in front of the Passports Office in Jeddah's Al-Rehab District, Abeed Ahmad said: "The procedures were easy and simple as I got delivery of my passport within quarter of an hour."
Mariyam, aged 30, said: "Now I can renew my passport myself after the new amendments coming into force. When a person is attaining adulthood, she can do the procedures herself and no one needs to wait for, especially for the study and treatment purposes." Sahar, 25, noted that the procedures to obtain a passport in the past were complicated, but now the procedures are easy so that any Saudi woman who crossed the legal age of 21 can have it.
On his part, Maj. Gen. Abed Al-Harthy, director of Passports in Makkah Region, told Okaz/Saudi Gazette that the number of Saudis wishing to obtain a passport is on the rise on a daily basis, and women are on the forefront. "All the passport centers are engaged in carrying out the order to issue passport to all those above the age of 21 years without any restrictions." He pointed out that in the past, the system was different where only men above the age of 21 were allowed to travel without a permit, but for women required the presence of a guardian (husband, father or brother). Now for women above the age of 21, the only requirement is the presence of the person herself for completing the procedures.
Al-Harthy said that the main Jawazat office in Al-Rehab District and its affiliated centers have been swung into action to issue passports to adult women without a permission of legal guardian. The Makkah Jawazat offices issue daily around 5,000 passports during the seasons and an average of 2,000 passports in the remaining period of the year. "To obtain a passport, the national ID is mandatory and then get an appointment to submit the application form and the passport will be ready within a few hours, and there is a special women's section for those who wish to submit their transactions, protecting their privacy," he said.
"Those who have a national address can go to the post office and pay the fees so that their passports will be issued and sent to their national address,"Al-Harthy said while calling on citizens to benefit from this service.
http://saudigazette.com.sa/article/575457/SAUDI-ARABIA/No-more-bottlenecks-passports-for-Saudi-women-in-15-minutes
--------
Five Women Artists to Display Art on Identity, Body Politics in Jamia Nagar
Kainat Sarfaraz
Aug 26, 2019
To break the dominant narrative surrounding Jamia Nagar, five aspiring women artists will be displaying their artwork on identity, body politics, and media in the narrow bylanes of Ghaffar Manzil till the end of this month.
Curated by Delhi-based artist Rabab Zaidi, the exhibition Green Shoots in the Neighbourhood aims to "create windows in the walls of the ghetto" and allow marginalised communities to express their voices through art.
"This is also an effort to change the perception of the neighbourhood," Zaidi, who turned her childhood home in Jamia into the Centre for Art and Free Expression (CAFE) two years ago, said. The centre is hosting the exhibition. CAFE aims to become a cultural centre that draws Muslims and other marginalised artists to freely express their talents.
The artists are Kulsoom Khan and Kauser Jahan—who are studying at Faculty of Fine Arts in Jamia Millia Islamia—and Sitara Khan, Reshma Khatoon, and Tehmeena Firdos, who are its alumnae. On Saturday, the first day of the exhibition, the artists talked about their work to a motley group of people, including eminent artist Kanchan Chander.
"Unlike other exhibitions, no one interrupted or confined us here to certain topics. It was our call. Besides, the intersectionality drew us to the place. There is no other space in Jamia for free creative expression, especially for Muslim women," Jahan, a postgraduate student, said. Her work revolves around digital identities and media.
Talking about her exhibit, titled Ignorance, which has two aluminium ears chained to each other, Jahan said, "There is a difference between listening and hearing. Be it climate change or atrocities against minorities, we hear about things happening around us but many choose to remain ignorant. My work depicts that."
"It helps to hold such exhibitions in areas such as Jamia Nagar since they create awareness among the community about arts and culture. The fine arts often don't find a mention in career counselling sessions. The locality might warm up to the idea of their children pursuing arts," she said.
Reshma Khatoon, who hails from West Bengal and graduated, last year from Jamia, said her work mostly revolves around how she sees women back home struggling to pursue their talents.
"Even the higher education of women there is linked to getting better marriage proposals. Women are usually not allowed to work after the wedding. Through my work, I want to throw light on that," she said. One of her paintings shows a woman with several hands pushing the walls of the room where she is standing.
"It takes a lot for women to push through and extend their boundaries," she said, explaining the concept.
Chander said it was a good move to bring the art scene to Jamia, since the public may not be open to going to mainstream galleries.
"It can also be a space for young artists to approach us and talk about their work," she said.
https://www.hindustantimes.com/delhi-news/five-women-artists-to-display-art-on-identity-body-politics-in-jamia-nagar/story-ztfgQvy40Uc6bJzrzYrU5M.html
--------
Dublin Gang Allegedly Pull Off Hijabs, Assault 2 Muslim Women
August 22nd, 2019
They were assaulted in Dundrum village on Sunday afternoon
Two young Muslim women were assaulted by a number of teenagers in Dundrum, south Dublin on Sunday afternoon.
The incident happened in Dundrum village near the local shopping centre, reports The Irish Post.
A video has emerged online which appears to show two girls being thrown to the ground and pelted with eggs and physically assaulted by a large group.
Andrew
@BreadShaped
A Muslim girl and her cousin were assaulted in Dundrum today. They ripped off her hijab and pelted them with eggs. These scumbag attackers need to be brought into the public eye.
Embedded video
4,517
6:09 AM - Aug 20, 2019
Twitter Ads info and privacy
4,895 people are talking about this
The individual who shared the video online claims to be the sister of one of the victims, and insisted that the attack was unprovoked and that the girls' hijabs were removed during the attack.
Ann-Mari Maukonen 🇫🇮
@annmarimaukonen
Video shows gang 'attacking' Muslim girl walking in Dublin.
Just as disturbing as when non-muslim women & girls being attacked by muslimgangs.https://www.irishmirror.ie/news/irish-news/horrifying-footage-shows-gang-attacking-18972804?utm_source=twitter.com&utm_medium=social&utm_campaign=sharebar …
Video shows gang 'attacking' Muslim girl walking in Dublin
WARNING: Distressing content - Gardai are investigating after a teen allegedly had her hijab ripped from her head before being beaten and humiliated
irishmirror.ie
12:22 PM - Aug 21, 2019
Twitter Ads info and privacy
See Ann-Mari Maukonen 🇫🇮's other Tweets
Text attached to the video reads: "My sister and my cousin were attacked yesterday evening in Dundrum village. I can't believe this! I am so disgusted and angry that I was not there to protect them. Please help share this to find these sc*mbags to prosecute them and bring them to justice.
"They remove [sic] my cousins hijab and kick her while she is down then attack my sister and bring her to the ground to kick her! This should not be happening to anyone no matter [sic] who they are! What world do we live in!!!"
In the footage, someone can be heard shouting "get off her" and "she's only a child."
Gardai have been made aware of the video and have launched an investigation into the incident as many online call for swift and decisive action against the culprits.
A spokeswoman said: "Gardai are investigating an alleged minor assault of a female in her teens, which occurred on Sunday 18th August 2019 at approximately 15:30 local time on Main Street, Dundrum. No arrests have been made and an investigation is ongoing."
Josepha Madigan, Fine Gael Minister and local TD for the area said that she hopes the attackers are identified and get what's coming to them.
"I condemn in the strongest possible terms the assault on a Muslim girl who had her hijab taken from her in Dundrum village yesterday. I hope the perpetrators are brought to justice quickly," she said.
https://www.dhakatribune.com/world/europe/2019/08/22/dublin-gang-allegedly-pull-off-hijabs-and-assault-2-muslim-women
--------
3 Triple Talaq Cases in 3 Kota Thanas in As Many Days
Aug 26, 2019
Kota: The city's Maqbara station police on Saturday night lodged the third case of triple talaq against a 28-year-old man in a span of three days.
The man has been booked under sections of recently enacted Muslim Women (Protection of Rights on Marriage) Act 2019.
On Thursday, two women had lodged separate cases of triple talaq against their husbands in Kunhari and Dadabari police stations of the city.
"Tarrannum (25) who is a resident of Kota city lodged a case of triple talaq against her husband. The man has been identified as Farahan Khan. He is a resident of Gurukripa colony of the city," Maqbara SHO Pawan Meena said.
The victim, in her complaint, alleged of consistent demand of dowry by her husband and his family members since their marriage in November 2018, he said. When the demand for dowry was not fulfilled, the accused threw the woman out of his home in Gurukripa colony and blocked her mobile number, he further added. The complainant further alleged that the accused reached her home and pronounced talaq three times on July 14, the SHO said adding that the accused also sent a notice of divorce on August 22.
Police have also lodged a case of dowry under Section 498 against the husband and his family members, the SHO said adding that further investigation into the matter is underway.
It may be noted that on Thursday morning, the first case of triple talaq happened in Kota where a retired employee from Command Area Development (CAD), Kota identified as Sarwar Ansari was booked for allegedly divorcing his 55-year-old wife Rehana by having pronounced triple talaq in Kunhari police station area of the city.
Later on the same day at night, another woman who has been identified as Anisa Khan lodged a case of triple talaq against her husband Usman in Dadabari police station of the city.
https://timesofindia.indiatimes.com/city/jaipur/3-triple-talaq-cases-in-3-kota-thanas-in-as-many-days/articleshow/70833835.cms
--------
A New Conspiracy to Produce Film on Hazrat Ayesha
By Sameer
August 26, 2019
Lucknow: A miscreant from Lucknow has announced that he is going to produce a movie on the life of Hazrat Ayesha, wife of Prophet Mohammed (PBUH).
It is a part of an international conspiracy funded by Israel.
There is a need for the Muslim community to curb such activities.
Attempt to create hatred among Sunnis and Shias
His intention is to create hatred among the Sunni and Shia Muslims. All religious leaders should raise their voice against such evil designs.
https://www.siasat.com/new-conspiracy-produce-film-hazrat-ayesha-1596318/
--------
Sikh Receives Applause for Helping Kashmiri Girls
By Sameer
August 25, 2019
New Delhi: A Sikh Ahluwalia invited Kashmiri girls to contact the Gurudwara authorities for contacting their kith and kin in Kashmir.
He offered this help when there was no communication facility in the valley.
Ridiculing this gesture of sympathy, some of the miscreants passed derogatory remarks against him. This is not the first time such hateful comments were passed.
In fact, the Sikh youth deserve applause from the whole nation.
Muslim youths should learn a lesson from him.
https://www.siasat.com/sikh-receives-applause-helping-kashmiri-girls-1595754/
--------
Sultan Sooud Al Qassemi On 'Male Chauvinism' In Art: 'Women Represent Women Better'
Melissa Gronlund
Aug 26, 2019
Sultan Sooud Al Qassemi, Sharjah art collector and cultural figure, is on a mission to redress the gender imbalance of the art world. "In US museums, only 13 per cent of the art on display is by women," says Al Qassemi.
"If you're thinking pre-20th century, I understand, because women didn't have the same opportunities as men. But in the 20th century, there is no excuse not to have equal representation.
"Now at the Sharjah Art Museum we are 27 per cent women, which is one of the highest ratios in the world. I'm going to push to 50/50 if possible, but it's hard," he says.
Al Qassemi runs the Barjeel Art Foundation, a major collection of modern Arab artworks, many of which are semi-permanently installed in the Sharjah Art Museum in an exhibition A Century in Flux: Highlights from the Barjeel Collection.
A buying spree of 20th century female artists
The foundation also has its works on tour. It opened a show in January at New York University's exhibition space the Grey Art Gallery in Manhattan, called Taking Shape: Abstraction from the Arab World, 1950s to 1980s.
Al Qassemi's aim is to get equal representation for both male and female work in his collection and exhibitions, and to do so, he has been on a buying spree of 20th century female artists.
Over the past few months, Al Qassemi has been travelling across the Arab world, researching women artists in exhibition and auction catalogues, via calls on social media, and through word of mouth. The efforts have resulted in 50 acquisitions that will go on show at the Sharjah Art Museum this November – representing both male and female artists, and some of them by talented women most have never heard of.
Through Twitter, for example, Al Qassemi discovered Egyptian artist Menhat Helmy, who studied etching at the Slade School of Fine Art in London in the 1950s, and later taught in Cairo and Florence, Italy. Her grandson helped Al Qassemi buy a stunning painting from 1973: a dark blue abstraction, one-metre-by-one-metre squared, depicting the night sky.
Barjeel has also acquired work by the Iraqi artist Naziha Salim, sister of well-known painter Jewad Selim, who founded the Baghdad Modern Art Group. Naziha studied at the Institutie of Fine Arts in Baghdad, where she also later taught, but her work has always been somewhat eclipsed by that of her brother.
'There is an element of male chauvinism, it was seen as being of lesser value'
Other artists attained include Algerian Djamila Mohamed; Syrian Leila Nseir; and Egyptian Zeinab Abdel Hamid, whose painting sat in Christie's archives for almost a decade after it failed to sell in the late 2000s.
"It's been a lot of fun, learning about these artists, but it's also been very frustrating," says Al Qassemi. "When you ask about them, their work has not been catalogued, not been documented and not been stocked by galleries. There is an element of male chauvinism, it was seen as being of lesser value."
Al Qassemi also went through the roster of the Fahrelnissa Zeid school in Amman, which the Turkish-Jordanian painter set up to educate women in art in the 1970s. Al Qassemi went through the names of the artists who studied there to find out who continued to create art after they graduated, and then tracked down the paintings.
Regionally, the greatest female engagement in the art world can be found in Lebanon, Egypt and Amman, he tells us. "In Lebanon, the women were largely emancipated from the early 20th century. The church played a major role in educating women and allowing women opportunities. Egypt also had a strong Christian community – not the only reason, but an important reason. The most surprising one for me was Amman. And it is because of the Fahrelnissa Zeid school, which taught an entire generation of women. They became pioneers and they taught others – they carried it forward."
Revisionist curating: bending the past towards the desires of the present
Al Qassemi is taking advantage of the transition period to install the rooms for Barjeel at the Sharjah Art Museum. The show at NYU will temporarily take away from Sharjah some of the major works by women artists such as Etel Adnan, Huguette Caland and Saloua Raouda Choucair, in its exploration of modern Arab abstraction.
Women played a major role in this movement, which had a major centre in Beirut, so in a sense Al Qassemi has made things harder for himself: he has taken away some of the key female figures of Arab modernism just at the time when he wants the display to be more gender equal. Out of the 110 artworks usually on show, he is replacing more than half.
The changes to the Sharjah Art Museum exhibition also highlight the problems within any bid to redress historical imbalances: to an extent this is revisionist curating, bending the past towards the desires of the present. "Ultimately, it's affirmative action," Al Qassemi says.
Though the work of many female artists was not adequately recognised, the under-representation of women in historical surveys also reflect the fact that men in the early 20th century played a greater role in shaping art history.
Women's roles in the art world
The curator of A Century in Flux, an eminent art historian, Salwa Mikdadi, is careful to note that the Sharjah display has moved towards a discussion of the role of women, which has changed since the 20th century. Today, in the UAE for example, women make up most of the professional art world and are the majority in art schools.
"Female artists were absent from most of the male-dominated art groups in the early to mid-modern period," Mikdadi says. "However, by the late 1980s women artists, critics, and gallerists surpassed their male peers on several fronts: establishing successful galleries, founding the many of the first art foundations and art institutions across the Arab world and more recently receiving recognition with solo exhibitions at major international museums. In an attempt to redress past inequities, Mr Al Qassemi will open the discourse on the reasons for the marginalisation of women artists in several Arab countries during the modern period."
'You need to educate your own people before you educate others'
Mikdadi, in fact, was one of the first to look at the role of women artists with her show Forces of Change: Artists of the Arab World, which focused solely on female Arab artists, and toured the US from 1993 to 1995. That substantial exhibition, however, has been largely forgotten. At the time, there was little to zero interest in Arab modernism, and little scholarly work has been done today on the exhibition's history of modern Arab art.
"Salwa's exhibition was very important," says Al Qassemi. "But I wish it had come to the Middle East. This is where education has to start. You need to educate your own people before you educate others."
Al Qassemi, who also teaches the history of Arab modernism at Georgetown University in Washington, DC, says he does not want to address the gender imbalance merely for the sake of numbers. Women artists, he maintains, bring a perspective and nuance to art that is different from that of men, particularly in two subjects essential to the history of Arab modernism: daily life and political activism.
One of his new acquisitions is The Martyr by the Syrian artist Nseir, which depicts a female martyr being mourned by women and children. In light blue, grey and flesh tones, the scene is painted with a softness that makes the painting seem like it is mourning alongside its subjects.
"Women represent women better," Al Qassemi says, "You see women in deeper layers. I don't mean to generalise. I'm sure there are men who have captured women in their essence, but women understand better the different roles that women play in society. In Naziha Salim's painting [The Martyr's Wife], she is showing you the widow. Here the woman is proud, she has her head up. She's not broken; she's not weak. She's a strong person."
Al Qassemi says: "The reason I mention affirmative action is that when children go to a museum, when they see that women's works aren't represented, it reinforces this inferiority. Why should I be an artist because the world is full of male art? This needs to be broken."
https://www.thenational.ae/arts-culture/art/sultan-sooud-al-qassemi-on-male-chauvinism-in-art-women-represent-women-better-1.902455
--------
Key Role of Iranian Women in Protests against Zarif's Visit In Norway
Aug 26, 2019
Supporters of the Iranian Resistance in Norway held a stormy protest against the visit to Oslo by the Iranian regime's Foreign Minsiter, Javad Zarif. Iranian women played a key role in these protests.
Thursday, August 22, 2019, simultaneous with Javad Zarif's visit to Norway's capital, freedom-loving Iranians and supporters of the Iranian Resistance held vehement protests against this visit. They denounced Norway for accepting the representative of the world's top state-sponsor of terrorism.
Iranian protesters hurled rotten eggs and tomatoes towards Zarif's delegation. Iranian women played a key role in this act of protest, and in other protests in front of the Foreign Ministry and the Parliament. The cries of Iranian women had filled the air outside the Grand Hotel where Javad Zarif was holding a meeting. A number of Iranian protesters were arrested during this act of protest.
Protesting Iranians including a large number of women urged Norway to sever ties with the Iranian regime, pressure the mullahs to free political prisoners, and support people's protests in Iran.
Norway's national television, NRK, reported the "egg attack" on the Iranian regime's delegation, and broadcast scenes of the protests by active Iranian women and supporters outside the Störtinget and the building where Zarif met the Foreign Minister of Norway.
The NRK reported on August 22, "Exiled Iranians held a demonstration today against the visit by the Iranian Foreign Minister Javad Zarif to Oslo. The protesters say repression in Iran has become worse than ever and the government of Norway should not have accepted Zarif."
The NRK TV added, "This evening outside the Grand Hotel, eggs were hurled at the Iranian Foreign Minister. Police intervened and arrested at least seven. Iranian exiles are dissatisfied that Norway has accepted the representative of the Iranian regime."
It is common knowledge that Zarif and his ministry's mission is to defend and whitewash the mullahs' crimes, and to coordinate and facilitate terrorist plots abroad. Just in 2018, five of the regime's diplomat-terrorists, including an ambassador, were expelled from Europe for their direct role in terrorist conspiracies against the Iranian Resistance and dissidents. Another four operatives, including a so-called diplomat, are in prison and awaiting trial in Brussels for plotting to bomb the Free Iran grand gathering in Paris in 2018.
https://women.ncr-iran.org/2019/08/26/key-role-of-iranian-women-in-protests-against-zarifs-visit-in-norway/
--------
Fear, disowning of children among reasons Yezidi women cannot leave Syria camp: advisor
August 26, 2019
ERBIL (Kurdistan 24) – Fear, the disowning of their children, and forced religious conversion are among the main reasons Yezidi (Ezidi) women cannot leave the Al Hol camp in Syria and return to their hometown in Sinjar (Shingal), according to some of the victims.
Aziza Sabry, a Yezidi (Ezidi) woman captured by the so-called Islamic State, spent four years in captivity and an additional year at Al Hol. Sabry said she arrived at the camp with the same Islamic State family that bought her. "I was afraid to announce my true identity to the camp administration for fear of my life," she told local media.
"During my four-year captivity, Ezidis were portrayed as infidels and Shingal as the birthplace of infidels. I waited at the camp with a majority of ISIS-affiliated families for a year until I could reveal my identity when my sister came to rescue me," Sabry added.
Al Hol witnessed an increase in numbers of residents as Syrian Kurdish-led forces, backed by the US-led coalition, launched an offensive to defeat the so-called Islamic State in its last bastion of Baghouz.
The camp was built to hold 40,000 individuals. However, it currently hosts over 72,000 displaced persons. Among them are 30,000 Iraqis.
Rozh-hat Ali, an advisor of the displacement camps in northern Syria, said some of the Ezidi women have been "brainwashed" and refuse to return to their faith.
"Others refuse to disown their children born from ISIS militants as a condition for their return to their families" in Shingal, he added.
Earlier this year, the Ezidi Supreme Spiritual Council revoked a statement where it said it would welcome children born from rape, and clarified that it would only accept the mothers.
According to the Ezidi faith's strict devotion that members of the religious minority must marry within their community to preserve their religion, many rescued Ezidi women have been forced to decide whether to abandon their children or remain in exile with them.
"Hundreds of Ezidi women and girls at the Al Hol camp are afraid of being killed once they return to their parents," Ali said, adding others are psychologically scarred and fear the Islamic State threat remains, leading them to conceal their identities.
The emergence of the Islamic State and its violent assault on Iraq's Ezidi-majority city of Shingal in August 2014 led to the displacement of hundreds of thousands of members of the Ezidi community and the killing of scores more, now recognized by the United Nations as an act of genocide.
Most of them fled to the Kurdistan Region while others resettled in neighboring countries or Western states.
Militants subjected women and girls to sexual slavery, kidnapped children, forced religious conversions, executed scores of men, and abused, sold, and trafficked women across areas they controlled in Iraq and Syria.
https://www.kurdistan24.net/en/news/57f90c16-f693-439e-886f-859a7b07a3bc
--------
URL: https://www.newageislam.com/islam-women-feminism/when-woman-travelling-no-sms/d/119570
New Age Islam, Islam Online, Islamic Website, African Muslim News, Arab World News, South Asia News, Indian Muslim News, World Muslim News, Women in Islam, Islamic Feminism, Arab Women, Women In Arab, Islamophobia in America, Muslim Women in West, Islam Women and Feminism