New Age Islam News Bureau
18 Sept 2018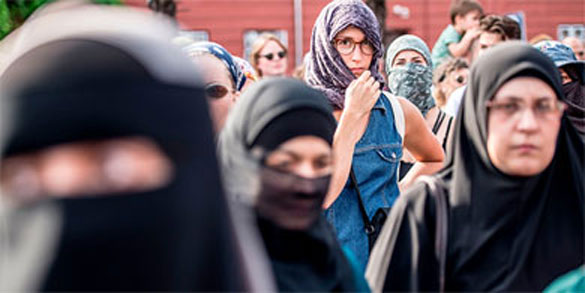 Women protest in Copenhagen on Aug. 1, the day a ban on face-covering veils took effect in Denmark. (Mads Claus Rasmussen/AFP/Getty Images)
-----
• Most Western Europeans Favour At Least Some Restrictions on Muslim Women's Religious Clothing
• Teenage Girl Marries 44-Year-Old Man in Kelantan
• Somalia: Laila Elmi Becomes First Muslim Woman to Be Elected to Sweden's Parliament
• Nike Becomes First Major Brand to Launch 'Sporting Hijab' For Women
• First Certified Saudi Female Lawyer in Al-Qassim Aspires To Be a Judge
• 'Madrasa Experience Helps Muslim Girls Expand Aspirational Horizon'
• Meghan Markle Collaborates With Muslim Women for Charity Cookbook
• Women's Universities Come Under Scrutiny for Tightening Regulations
• Study Reveals Choices of Non-Working Emirati Women
Compiled by New Age Islam News Bureau
URL: https://www.newageislam.com/islam-women-feminism/west-yorkshire-police-force-unveils/d/116413
--------
West Yorkshire Police Force Unveils More Modest Uniform for Female Muslim Officers
17 September 2018
A police force has created a less revealing uniform for Muslim women which is 'designed not to show the female form'.
West Yorkshire Police hopes that the looser fit will result in more ethnic minority recruits.
Many forces already allow female officers to wear the hijab, or headscarf, but the new uniform is believed to be a UK first.
Assistant Chief Constable Angela Williams said: 'For the last month we have been trialling a new uniform for women which is designed not to show the female form.
'This was suggested by a Muslim female officer and was designed by our Clothing Manager in conjunction with the officer.
'The tunic is a looser and longer fit, and has full sleeves. This has been well-received from officers in the force and we have now made further supplies of this uniform for other officers to trial it if they wish.
'I hope this uniform will encourage people from underrepresented groups to consider a career in policing if they had previously been put off joining the force due to the uniform.
'We are open to suggestions from all communities on how our uniform can be styled to better suit their needs.'
Pc Firzana Ahmed became the first to wear the new kit and says it has brought 'positive feedback from the local community' in Bradford.
West Yorkshire Police and Crime Panel had quizzed police chiefs on Friday about what they were doing to boost the number of black and minority ethnic (BAME) recruits.
Chief Constable Dee Collins said for some women, concerns about the existing uniform's design could be preventing them from signing up.
Panel member Roger Grasby said the force had seen some success in boosting the number of staff who were female, disabled or lesbian, gay, bisexual or transgender (LGBT) but 'less so with BAME'.
The percentage has crept up from five per cent in 2015 to 5.6 per cent this year but there are still concerns candidates are being put off.
Miss Collins said: 'Is it a confidence issue? Is it a trust issue? Possibly around things as simple as uniform.'
She had already showed off the new uniform to the Muslim Women's Council in Bradford, she revealed, adding: 'I am absolutely determined we will continue to improve these figures,' she said. 'We need to, we absolutely need to.'
https://www.dailymail.co.uk/news/article-6175813/Police-force-unveils-new-revealing-uniform-female-Muslim-officers.html
--------
Most Western Europeans Favour At Least Some Restrictions on Muslim Women's Religious Clothing
SEPTEMBER 17, 2018
A Danish law that took effect in August makes it illegal for Muslim women to wear face-covering veils – such as Burqas or Niqabs – in public. Austria, Belgium and France, as well as parts of Italy and Spain, have enacted similar laws in recent years, contributing to government restrictions on religion in the region.
These laws are largely in line with Western European attitudes on the issue. Most non-Muslim adults in Western Europe favour at least some restrictions on the religious clothing of Muslim women who live in their country, according to a recent Pew Research Center survey of 15 countries in the region.
Most across Western Europe support at least some restrictions on Muslim women's religious clothing
The prevailing view (a regional median of 50%) is that Muslim women should be allowed to wear religious clothing as long as it does not cover their face. Fewer (regional median of 23%) say Muslim women should not be allowed to wear any religious clothing. And a regional median of 25% take the more permissive view that Muslim women should be allowed to wear any religious clothing they choose.
In the United Kingdom, for example, 53% of non-Muslim adults say Muslim women in the UK should be allowed to wear religious clothing as long as it does not cover their face, while 19% favor restricting all religious clothing. Roughly a quarter (27%) support allowing Muslim women to wear the religious clothing of their choosing.
The recently enacted laws in European countries do not explicitly target Muslim women's dress. In the case of Denmark, for instance, the statute prohibits face coverings except for "recognizable purposes," such as cold weather.
Proponents of the recent laws point to public safety and other reasons for the measures. Opponents say the laws are unfairly directed at Muslims and that people should have the freedom to wear what they want.
Overall, most people in Western Europe say they accept religious minorities – Muslims included. For example, a median of 66% of non-Muslim adults in the region say they would accept a Muslim as a member of their family, according to a separate question in the recent survey.
Yet even among non-Muslims with positive feelings about Muslims, large shares in most countries still favour banning face coverings. Among those who say they would be willing to accept a Muslim in their family, a median of 55% support banning facial coverings, and this includes majorities in Germany, the United Kingdom, Austria, Switzerland and the Netherlands. This is not the case in every country, however. For example, about six-in-ten Portuguese adults with these positive feelings about Muslims favor no restrictions on religious clothing.
Among Western Europeans who say they would be unwilling to accept a Muslim in their family, there is relatively significant support for banning all religious clothing. For example, in France, 43% of those who would not want Muslims as relatives support a total ban, compared with only 16% among those who are willing to accept Muslims in their families.
http://www.pewresearch.org/fact-tank/2018/09/17/most-western-europeans-favor-at-least-some-restrictions-on-muslim-womens-religious-clothing/
--------
Teenage Girl Marries 44-Year-Old Man in Kelantan
September 18, 2018
PETALING JAYA: A 15-year-old girl in Kelantan has married a man nearly three decades her senior in the latest case of underage marriage to come under the spotlight.
According to the New Straits Times, the solemnisation of vows took place in Tumpat in July, after the Shariah Court gave the go-ahead for the union.
The girl's parents, who have 12 other children, said they gave permission for her marriage to the 44-year-old man as they wanted her to have a better life.
The couple run a sundry shop and earn between RM200 and RM300 a month.
"No parent wants to see his or her child live in hardship. We do not want our daughter to live in difficulty as we did, raising 13 children," they were quoted as saying.
"Her siblings are all married and now have their own lives. We know that she is underage, but we only want the best for her."
This comes three months after news that a 41-year-old man in Gua Musang had taken an 11-year-old girl as his third wife.
Rubber tapper Abdul Karim Che Abdul Hamid said he had received the blessings of the girls' parents and would formalise the marriage by applying for a marriage certificate when his "wife" turned 16, the marital age allowed by Malaysian shariah laws.
Until then, he said, the girl would live with her parents.
The marriage caused an uproar, with Selangor ruler Sultan Sharafuddin Idris Shah issuing a decree earlier this month that the marriageable age for Muslim males and females in the state be raised from 16 to 18 years.
Deputy Prime Minister Dr Wan Azizah Wan Ismail also said in July that the government would amend the laws to raise the marriageable age for girls from 16 to 18.
The 11-year-old girl was eventually sent back to her birth country of Thailand where she is said to be undergoing mental health counselling due to the intense level of attention sparked by her marriage.
Meanwhile, the 15-year-old girl in Tumpat told the New Straits Times that she was happy to be married.
The girl, who is the man's second wife, said she did not mind what people said about her.
"The most important thing is that I'm happy with my husband, and I will try to make him happy for the rest of my life," she was quoted as saying.
https://www.freemalaysiatoday.com/category/nation/2018/09/18/teenage-girl-marries-44-year-old-man-in-kelantan/
--------
Somalia: Laila Elmi Becomes First Muslim Woman to Be Elected to Sweden's Parliament
17 SEPTEMBER 2018
Leila Ali Elmi a Somali-Swedish politician has become the first East African, Muslim woman and Somali to be elected to the Swedish National Parliament the Riskdag.
Elmi was elected on Green Party ticket and will be representing Angered district.l in the Swedish general elections.
Elmi ran on Sweden's fourth largest political party, the Green Party "Miljöpartiet" ticket for Angered district in Gothenburg city.
Elmi was born in Somalia and her family fled to Sweden in early 1990s when civil war tore the country apart.
Elmi has been a member of Gothenburg's Angered district local council since 2014.
Elmi who is tussled out with rival candidates -all jostling for the Riksdag seat enjoys the backing of Angered district's majority voters since Angered district is home to the largest East African immigrants in Sweden.
Gothenburg's Angered district is home to a 14,000 Somali community members and the largest East African community in Sweden, thus making Elmi the presumptive Angered district's Riksdag representative.
The Swedish Riksdag is made up of 349 MPs,
Elmi's party the Green Party is the fourth-largest party in the Riksdag with 25 seats.
https://allafrica.com/stories/201809170599.html
--------
Nike Becomes First Major Brand to Launch 'Sporting Hijab' For Women
Sep 17, 2018
Different views and laws from different parts of the world have made hijab the subject of a worldwide debate in the past few years. But Muslim women from across the globe have shattered stereotypes by achieving excellence in their respective fields including sports while wearing a hijab.
Following prominent fashion events and publications that gave a platform to hijabis, Nike has become the first major brand to launch hijabs for women. With light fabric and tiny holes for breathability, the new product is meant to make sport comfortable for Muslim women.
Although sporting hijabs have been around for several years with smaller brands introducing them first, Nike is the first major brand to enter this market.
While some hijab wearers didn't seem too comfortable about the idea of branded hijabs,
https://www.deccanchronicle.com/lifestyle/fashion-and-beauty/170918/nike-becomes-first-major-brand-to-launch-sporting-hijab-for-women.html
--------
First Certified Saudi Female Lawyer in Al-Qassim Aspires To Be a Judge
17 September 2018
The first Saudi female lawyer received her license to practice law in the al-Qassim region, and is the first to be certified in the area. Jamila Fahd al-Atram said she aspires to be a judge because of her belief in bringing justice, and her faith in the kingdom's Vision 2030 which supports women entering various fields of work.
Atram, 38, studied law at the Amman National University in Jordan. "I was there due to my husband's work commitments. My undergraduate degree was in education but I never found myself in this field which is why I decided to get into law," she told Al Arabiya English.
"After studying and graduating in 2013, and this was the year that Saudi women were allowed to practice law, I applied right away to get my training license in Riyadh because there were rarely any training centers in al-Qassim, and I went through the trouble of going back and forth to achieve my dreams," she said.
Atram added that after she underwent three years of training, she applied at the Ministry of Justice to get a license to practice law. She received it and became the first licensed female lawyer in al-Qassim.
"I then began working on opening my private practice through a lot of procedures from the feasibility study of the project and determining the appropriate location, and then obtaining the licenses and requirements and a municipal licenses and others, and thank God my dream became a reality," she said.
Atram added that it was an indescribable feeling when the minister of justice announced the women could be lawyers as well.
"I am now seeking to achieve my other dream of becoming a judge," Atram said.
She added that the community in al-Qassim welcomed her choice and facilitated the process of opening her private practice. She also said that her clients include men and women, and that she has been practicing law as a licensed professional for a year and a half.
https://english.alarabiya.net/en/variety/2018/09/17/First-certified-Saudi-female-lawyer-in-al-Qassim-aspires-to-be-a-judge.html
--------
'Madrasa Experience Helps Muslim Girls Expand Aspirational Horizon'
By Humra Quraishi
September 17, 2018
Why did you opt to focus on the madrasas for Muslim girls?
The core idea of my research stems from my past experience of working with the Muslim community in Delhi as a social worker. Observing the daily lives of people especially the women, hearing them talk about themselves I would often be struck by the manner in which categories such as biradari, religion, class, gender, community fuse to create opportunities and obstacles and shape daily choices. In this work I try to capture the everyday experiences of girls studying in madrasa in their own voice — their views of what they learn in madrasas, how they relate to what they are learning, what they discuss amongst themselves, how they relate what they have learnt to their life at home and in the wider community, how do they perceive their own education and its value, how do they envision their future.
While working in the community I observed that there was a preference for sending boys to low fee paying private schools whereas the girls were sent to govt schools and/or madrasas. Or they were shifted to madrasas from schools generally after class 8th or 10th. This made me look into girls madrasas and I noticed that in academic literature, policy and also popular imagery madrasas were regarded as almost exclusively male institutions. My main aim was to go beyond and challenge these stereotypical imageries. All these factors led me to opt for girls madrasas.
How different was the atmosphere in the madrasas from the typically set, much-in-circulation perceptions? Were you pleasantly surprised or what were your reactions?
The book counters several stereotypes/ much — in-circulation perceptions… My work challenges ideas that regard madrasas as outmoded medieval institutions and assume that such education necessarily inculcates traditional values or produces women whose aspirations conform to normative expectations around homemaking and motherhood.
The book introduces the reader to a variety of girls, many of whom find their educational and aspirational horizons expanded as a result of the madrasa experience. What might seem like a respectable parking place to leave women as they wait for marriage while preparing for pious and conservative lives turns out to offer richer and a more ambivalent set of possibilities.
It also calls for a shift from the top down state led madarsa modernisation programme to bottom up processes moving madrasas towards 'modernisation'. My book highlights the multiple micro processes at play — the competing interests shaping parental demand for madrasa education and extent to which it is gendered, the discernable trend in madarsas to combine religious (dini talim) with modern (duniyavi talim), role of madarass in fostering peer networks and linkages which aid student aspirations and enable transition to mainstream education/public spaces in unanticipated ways.
Rather than bracketing madrasas in terms of tradition vs modern, religious vs sacred my research highlights its not dichotomies but a continuum at work. The madrasas and mainstream educational institutions do not represent mutually insulated spheres; they are characterised by constant to-and-fro movement and continuity.
These linkages are often self-consciously contrived, with madrasas actively seeking to get recognition for their qualifications from universities and education boards, or spontaneously generated by parents and students. The girls I researched had studied in so-called secular schools, ranging from government to private schools, before joining the madrasa.
Several of them, while in the madrasa, were simultaneously sitting for open school exams through distance learning mode. On completion of their madrasa education many of them opted for higher education in central universities that recognised madrasa degrees.
Before you entered the madrasas and met the teachers and students, were you apprehensive? If so, please detail the whys.
Initially one is apprehensive as the madrasa especially a girls is a highly fenced institution. It prizes its security arrangements. All the girls madrasas I visited listed the fact that they provide a mehfooz mahaul — gates, iron grills, restrictions on visitors — in their brochures.
Gaining ongoing access was one of the biggest challenges I faced in my fieldwork. But I think this is also largely owing to the fact that post 9/11 madrasas are always under the radar so they have to be extra cautious.
There is a hidden agenda behind outside visitors, as the madrasa founder president said generally 'journalist out to tarnish the images'.
So while it appears intimidating, yet once you meet the students and teachers, it's like any other educational institution teaming with young students.
What do you think of the madrasas and the students and the teachers?
I graduated from being apprehensive, lost and feeling quite unwanted (as a researcher), overwhelmed by the disciplinary regime and everyday rituals to regarding the madrasa a place where I had friends and found great peace (sukoon as they used to call it). It was a great learning and humbling experience.
Comment on the right-wing's ongoing propaganda about the madrasas.
The simmering tension between the constitutional morality and popular morality is perhaps most evident in the competing understandings of secular India. Decades of propaganda by the Right Wing has entrenched prejudice against the minorities especially Muslims.
Every motif associated with Muslims is vilified and under attack– Madrasas are right there on top of the list. This is compounded by the international islamophobic narrative — where post 9/11 and the war on terror the genesis of all violence in the name of religion is traced to madrasa.
My book builds the narrative from bottom up, looking at the micro context, the everyday lives.
I demonstrate how despite Constitutional safeguards Muslim communities in India are increasingly having to rely on Muslim networks for basic services- education, health, housing, employment.
There is a discernable impulse for change in Muslim communities- for example for women's education.
But the wider canvas marked by increasing communalization of social space excludes Muslims and limits choices. Community institutions are seen as safer.
All the parents, community members, girls, I interviewed wanted education but and its was not religious conservatism that led to their opting for madrasa education but a combination of factors- affordability, feeling that community institutions were safe for girls, concerns surrounding marriage and so on.
http://tehelka.com/madrasa-experience-helps-muslim-girls-expand-aspirational-horizon/
--------
Meghan Markle Collaborates With Muslim Women for Charity Cookbook
September 18, 2018
LONDON: Britain's Duchess of Sussex Meghan Markle has lent her backing to a new charity cookbook to help raise funds for a community cooking project set up in the wake of London's Grenfell Tower fire disaster in which killed 71 people.
The Hubb Community Project was created last summer by women seeking somewhere to cook fresh food for their families and friends following the blaze which engulfed the 24-storey social housing block in west London.
The new book, Together: Our Community Cookbook, a collection of 50 recipes from the diverse users of the communal kitchen at the Al Manaar Muslim Cultural Heritage Centre, will be used to allow the project to expand and open for up to seven days a week.
"I immediately felt connected to this community kitchen; it is a place for women to laugh, grieve, cry and cook together," Meghan, who first visited the kitchen in January and has made other private visits since, wrote in a foreword.
"Melding cultural identities under a shared roof, it creates a space to feel a sense of normalcy – in its simplest form, the universal need to connect, nurture, and commune through food, through crisis or joy – something we can all relate to."
Meghan's support for the project is her first solo venture since becoming a member of Britain's royal family after marrying Queen Elizabeth's grandson Prince Harry in May.
The Grenfell fire was Britain's deadliest fire on domestic premises since World War Two and there was criticism that the authorities were slow to provide new permanent accommodation for many of the survivors.
One of the contributors to the book, Munira Mahmud, 34, said she and her friends had approached Al-Manaar to ask if they could use the kitchen there and the Hubb project – hubb means love in Arabic – arose out of it.
"Last summer, we were placed in a hotel and I had no kitchen to cook for my family," Mahmud wrote. "It was very emotional for me to get in the kitchen. The moment I started cooking I was in tears. I didn't know why though. I was just excited to be back in the kitchen again.
"Word started to spread – the mums from my son's school came along and they told their friends, too. Soon there were women from different cultures all cooking, swapping recipes, talking and laughing together."
The duchess is photographed on the front of the of the book helping out and Mahmud said the royal had been happy to join in.
"She wore an apron," she wrote. "I can't believe I made her wash rice! After we said that we could only use the kitchen twice a week due to funding, she mentioned, 'How about sharing your recipes with other people?' And that's how it happened."
Meghan will host an event at Kensington Palace, where her home with Harry is located, on September 20 to launch the cookbook with the Royal Foundation administering proceeds from sales to the Hubb project.
Meanwhile, Meghan's close friend, Priyanka Chopra, lauded the move writing, "So proud of you Meghan. Women supporting women…supporting communities. Togetherness…everything you stand for. Amazing."
https://www.pakistantoday.com.pk/2018/09/18/meghan-markle-collaborates-with-muslim-women-for-charity-cookbook/
--------
Women's Universities Come Under Scrutiny for Tightening Regulations
September 18, 2018
RIYADH — Women's universities all over the Kingdom are under scrutiny after several of them have imposed harsh regulations on their students, including a strict dress code, Al-Watan newspaper reported.
Dean of Students Affairs at Qassim University has banned students from wearing trousers, short skirts, short-sleeves and open necklines. The dean said she had witnessed many students wearing inappropriate clothing during her campus tours that she had to restrain them.
The students of Hail University expressed their annoyance and disapproval of some of the regulations implemented by the university. The university banned certain hairstyles and hair dye.
Many public universities used to have a curfew preventing students from leaving the campus before noon but most of them since repealed the regulation except for some universities such as Qassim University, Hail University, Tabuk University, Bisha University, Sakaka University, Prince Sattam Bin Abdulaziz University, Northern Borders University, King Abdulaziz University and the Saudi Electronic University.
Students are only allowed to exit the campus with a letter from their guardian. The regulation had multiple cons as it caused traffic in front of the campus as all of the cars are showing up at the same time. The regulation also forced students who were done with their classes to just stay behind and wait when they could go home or go about to have a more productive day.
http://saudigazette.com.sa/article/543636/SAUDI-ARABIA/Womens-universities-come-under-scrutiny-for-tightening-regulations
--------
Study Reveals Choices of Non-Working Emirati Women
September 17, 2018
Dubai: A lack of awareness of UAE's progressive legislations has been found as one of the contributing factors to many Emirati women not seeking employment, a new study has revealed.
The new study titled 'Power of Choice' by Dubai Women Establishment, which seeks to provide insights into the factors and challenges that hinder non-working Emirati women from joining the workforce, found that 80 per cent of women in the study do have an interest in working.
However, unawareness of certain legislations in place that offer paid maternity leaves, childcare centres and alternative working arrangements like working from home options have impacted their decision to enter or remain in the workforce.
The report, compiled by DWE through a field study and a survey across the UAE that sampled 2,000 working and non-working Emirati women, including males in their families, looked at the challenges women face and societal perspectives in the UAE.
"We carried out an intensive study that focused on the attitudes of women towards employment and the reasons behind them sitting at home and we found one of the reasons to be that they are not aware of the existing legislations and initiatives that exist in the market," said Shamsa Saleh, CEO of Dubai Women Establishment.
But there are also some gaps in existing legislations that need to be addressed, she said, such as the difference between private sector and government sector legislations which "can create a problem."
"UAE is the first country to have a legislation for having childcare centers in the workplace but not all companies are implementing it. Additionally, flexible working arrangements are also not effectively implemented."
She added that DWE is working on proposing ideal solutions to the government in this regard.
Her comments came during the launch of the report on Monday, which included a panel discussion attended by ministers and female Emirati leaders. They highlighted that women make up 50 per cent of society and their participation is a national duty and is crucial to the economy.
Using the term "Deciding Women" to refer to women in the study as those who have either not been previously employed or wish to re-enter the workforce, the study also found that other contributing factors hindering women from entering the labour force is the challenge of striking a work life balance, lack of awareness of job opportunities in the private sector and shortage of jobs in northern emirates.
Some of the findings in the study showed some frequently cited reasons for leaving the workforce as: being married with children (42 per cent), unsuitable work hours (30 per cent), a job that is routine in nature (20 per cent) and a job that is too difficult to perform (15 per cent).
While being a wife and mother remains a priority, many want a successful career. Flexible working options, including part-time work, short work hours and small business opportunities were mentioned as a necessity for these women to appropriately balance their work and family lives.
During the panel discussion, Nasser Bin Thani Al Hameli, Minister of Human Resources and Emiratisation, said the country has set many enablers that encourage women to work, such as granting equal wages and salaries between both genders, 45 days maternity leave in the private sector, and 18 months breast feeding period.
"Apart from that, the ministry has also introduced initiatives and platforms to link national corporations with individuals who choose to freelance, providing incentives that encourage establishments within the UAE to seek the services of self-employed Emiratis."
According to Al Hameli, 57 per cent of Emirati women take up positions in the private sector, 66 per cent in the government field and 33 per cent are in senior positions within the private sector.
With the study showing that 47 per cent of respondents as having a bachelor's degree or higher and 77 per cent as playing the greatest role in their decision to seek employment, Hessa Bint Eisa Bu Humaid, Minister of Community Development, said the ministry is ready to train and rehabilitate them if they decide to enter the workforce.
"We are keen on encouraging women to join the workforce and to participate in the social and economic progression of the UAE. Employment is a value that is instilled within our culture and our history, and Emirati women who join the workforce are a source of pride for their families and nation."
Mona Ganem Al Merri, Vice-President of the UAE Gender Balance Council, said the UAE has strong foundations put in place for empowering women and promoting equal opportunities for them and that there are many challenges that have been addressed through legislations that help increase the presence of women in the labour force.
Panellists said that current legislations provide solutions "but it's just the beginning for larger initiatives."
https://gulfnews.com/news/uae/society/study-reveals-choices-of-non-working-emirati-women-1.2279575
--------
URL: https://www.newageislam.com/islam-women-feminism/west-yorkshire-police-force-unveils/d/116413
New Age Islam, Islam Online, Islamic Website, African Muslim News, Arab World News, South Asia News, Indian Muslim News, World Muslim News, Women in Islam, Islamic Feminism, Arab Women, Women In Arab, Islamophobia in America, Muslim Women in West, Islam Women and Feminism