New Age Islam News Bureau
04 March 2021
• SC Seeks Centre, EC Response on Listing 26 Assam Women in Doubtful Voters List
• Taliban Aid Crackdown Spreads Fear over Treatment of Women
• Video of Female Saudi Ambulance Driver, Eman Abdulazim, In Riyadh Goes Viral
• Canada: Muslim Women Targeted By Repeated Threats
• UAE: Greater Progress Needed on Women's Rights
• Muslim Women's Association Hosting Online Seminar Empowering Women
• Woman On Trial In Norway Provides Glimpse of Life under IS
• Meet the Arab-Israeli, Palestinian Women Making an Impact on Society
Compiled by New Age Islam News Bureau
URL: https://www.newageislam.com/islam-women-feminism/west-bengals-moyna-khatun-demanded/d/124457
--------
West Bengal's Moyna Khatun Demanded Books as 'Mehr' From the Groom
MARCH 02, 2021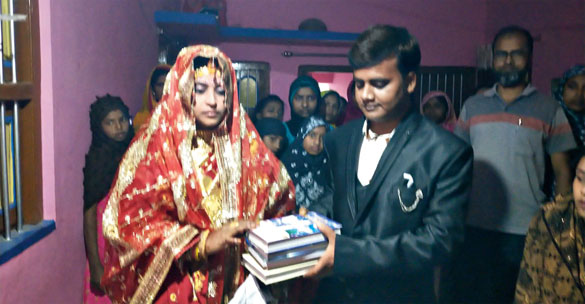 Mizanur Rahman hands over books to Moyna Khatun at Suti in Murshidabad district on Monday.
Samim Aktar
----
They say books are a man's best friend. But Murshidabad's 24-year-old Moyna Khatun took her love for the pages to a unique level when she demanded not one, two or three but 60 books as 'mahr' or 'mohor' (dowry given by groom) from her would-be-in-laws. An arts graduate from DN College under Kalyani University in West Bengal, Moyna has always loved reading and stories. Hailing from Murshidabad's Suti area, Moyna entered into an arranged marriage match with one Mizanur Rahman, 24, who is a geography graduate from Bhagalpur University in Bihar.
But during all of this, Moyna's family also made it clear to the groom's side that the former had wished to be gifted books instead of the traditional 'mahr' when the two families met to discuss the details of the wedding in January, The Telegraph reported.
Her family reportedly said that Moyna had no interest in the traditional mahr, which can even be upto Rs50,000. Although Mizanur's family members were at first taken aback but then they were very glad to accept Moyna's demands and thus along with the books that the bride wanted, the family also gave her some more books.
The groom's party that entered Moyna's village of Kidderpore presented a rare sight of cartons filled with books. The books included works by Tagore, Nazrul Islam and other Bengali authors and also Quran in Bengali.
Th unusual incident can act as a positive news for women and girls in the district as the literacy rates in the villages are still not satisfactory, officials reportedly hoped.
An official reportedly praised Moyna for her unique request and said that she has set a wonderful example for the women in the villages, especially those from the minority communities with less access to education and other facilities.
The wedding guests were also shown the unique 'mahr' and Moyna said she has always loved reading and thus her unique demand. Moyna said she was inspired by a similar incident she read of Kerala and always knew this is how she wanted to get married too.
Her husband Mizanur is also reportedly a freelancer for some local Bengali periodicals apart from running the family's ration store.
https://www.news18.com/news/buzz/for-the-love-of-reading-muslim-woman-asks-for-books-as-mehr-from-grooms-side-3490538.html
--------
SC Seeks Centre, EC Response on Listing 26 Assam Women in Doubtful Voters List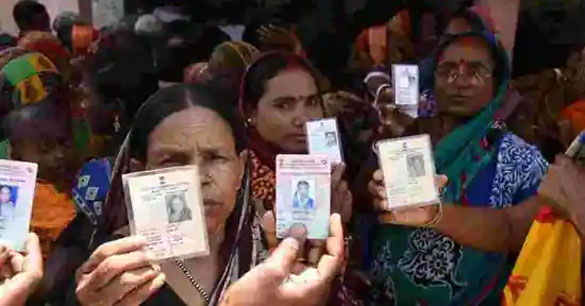 The Supreme Court has sought responses from the Election Commission, Centre and Assam government on a petition filed by 26 Muslim women from Assam's Barpeta constituency (Photo by Arabinda Mahapatra / Hindustan Times)(Arabinda Mohapatra)
-----
By Abraham Thomas
MAR 04, 2021
The Supreme Court has sought responses from the Election Commission, Centre and Assam government on a petition filed by 26 Muslim women from Assam's Barpeta constituency after they found their nameshad been part of the doubtful voter list for over two decades.
A bench comprising the Chief Justice of India (CJI) SA Bobde, justices L Nageswara Rao and S Ravindra Bhat passed the order on Wednesday on a petition filed by one Tahmina Khatun and 25 others.
Advocate Jayshree Satpute, who appeared for the petitioners, informed the court that the women had approached the authorities in 2019 and filed a plea under the Right to Information Act to know why they were classified as D-voters or doubtful voters. The Electoral Registration Officer (ERO) in September 2019 responded by saying that the women were put in the D-voter category in 1997. However, the ERO said that there were no records stating why.
Of the 26 petitioners, 24 belong to Bheragaon in Barpeta district, where Muslims are in the majority. After being classified as D-voters, the petitioners alleged that they and their families have faced social stigma. It is not known whether their family members' names are also in the doubtful voter list.
The bench observed that the point raised in the petition required consideration and asked the EC and Centre to respond within four weeks.
The petition prayed for a direction to remove their names from the doubtful voter list as this would bring their citizenship under a cloud. Placing an individual in this list denies a person basic rights and legal rights, which includes right to ration and right to vote, apart from constitutional guarantees. The petitioners claimed that they were neither heard nor allowed an opportunity to explain by the authorities before being placed in the doubtful voter category.
The development is also significant since the election process for assembly polls in Assam has already begun.
https://www.hindustantimes.com/india-news/sc-seeks-centre-ec-response-on-listing-26-assam-women-in-doubtful-voters-list-101614837635342.html
--------
Taliban aid crackdown spreads fear over treatment of women
04/03/2021
Afghan women are being cut off from crucial aid because of a growing Taliban crackdown in areas controlled by the insurgents, more than a dozen relief workers have told AFP.
The militants have demanded an end to projects helping women to be more independent and have barred female staff from entering their territory in some areas.
"So far the hypothesis is that the Taliban have changed, but this is really a concrete example that they haven't," said one aid worker who did not want to be named.
Washington recently lambasted the insurgents for failing to abide by a landmark deal last year that committed them to honouring a number of security guarantees.
The agreement also called for the withdrawal of foreign troops by May and paved the way for peace talks between the Taliban and the Afghan government.
The deal initially raised hopes the insurgents were open to moderating some of their hardline positions.
But people working in pockets of territory under Taliban control, primarily in northern Afghanistan, say conditions in some areas deteriorated after the US accord was signed.
- 'They're not joking at all' -
Fears are growing that the Taliban are waiting for the Americans to leave before attempting to retake the country by force and reintroduce their draconian vision for Afghan society.
The group ruthlessly oppressed women during their brief rule over the country in the 1990s, banning them from working outside the home and subjecting them to violent punishments for perceived infractions.
The jihadists have since made vague pledges to protect women's rights in Afghanistan.
In an open letter published last month, Taliban co-founder Mullah Abdul Ghani Baradar said the group was "committed to upholding and guaranteeing all rights of women afforded to them by Islamic law".
But on the ground, aid groups say the group are as uncompromising as ever.
Some say their work is unravelling after years of building up delicate relationships with the insurgents to reach impoverished Afghan women and girls.
In a letter addressed to aid groups, the Taliban warned it was unacceptable for them to "take women out of their homes in the name of women's economic empowerment, education and sports programs".
Pressure against these kinds of programmes are not new, but are becoming "a lot more official and widespread", a senior humanitarian aid manager said.
"When you receive a letter from the Taliban, they're not joking at all, you have to apply it," said another official working with an international aid group.
After nearly 40 years of conflict, Afghanistan is almost entirely reliant on international aid and the Taliban appear set on bringing humanitarian workers to heel.
"Aid workers and the relief they provide seem to have fallen in the crosshairs of the Taliban's attempts to portray themselves as a governing entity," said International Crisis Group analyst Andrew Watkins.
- 'We take blood on our hands' -
Afghan women working with aid groups who once regularly travelled to insurgent-held enclaves in the north say they have been blocked by the Taliban from entering certain areas to work.
"We tried a lot to convince them but they said no, not having women," one aid worker told AFP.
Another group said they had been forced to send only male staff to oversee certain projects in Taliban areas.
A staff member from that organisation said it decided to not recruit women to work on a new aid project as a result.
"They said they won't have access so there's no point of having someone sit in the office," said the staff member who was working for the organisation.
In areas where the Taliban are more flexible, Afghan women aid workers are required to wear burqas, must be accompanied by a male chaperone from their family and have to watch what they say.
"We do not use the terms 'human rights' or 'women's rights' because they are sensitive words," said one aid worker.
Others say travel has become increasingly dangerous and they risk getting caught in firefights, with the Taliban engaged in fierce battles with Afghan security forces over territory.
"When we travel, we take blood on our hands," another aid worker told AFP. "Because we are usually (caught) in crossfire."
https://www.france24.com/en/live-news/20210304-taliban-aid-crackdown-spreads-fear-over-treatment-of-women
--------
Video of Female Saudi Ambulance Driver, Eman Abdulazim, In Riyadh Goes Viral
04 March, 2021
Reem Krimly
A video of a female Saudi Arabian ambulance driver transporting a woman in labour to a Riyadh hospital has gone viral on social media. The video of paramedic Eman Abdulazim has been shared by many Twitter users, garnering thousands of likes and retweets.
Abdulazim, an Emergency Medicine Specialist, can be seen in the video driving the ambulance through the busy streets of the Kingdom's capital.
"The video gained a lot of attention on social media sites, because I was transporting a case of childbirth... Many thanks to those who are proud of me, and to those who encourage and support me," Abdulazim said in a tweet.
Abdulazim had previously said in an interview with MBC that she insisted on becoming an ambulance driver due to the shortage of medical staff in the early days of the coronavirus pandemic in the Kingdom. She is the first female ambulance driver in Saudi Arabia.
One Twitter user commented on the video, saying "Our daughters are our pride."
"Many people might not know what paramedics do, but the truth is their work is great in saving lives and helping people, may God give her strength," another user said.
"This is the era of women with all due merit," one of the comments read.
https://english.alarabiya.net/News/gulf/2021/03/04/Saudi-women-Video-of-female-Saudi-ambulance-driver-in-Riyadh-goes-viral-
--------
Canada: Muslim women targeted by repeated threats
3rd Mar 2021
By Barry Ellsworth
TRENTON, Canada (AA): Attacks and threats against five Somali-Canadian Muslim women have been reported in Edmonton, Alberta in the last 10 weeks, according to media reports Tuesday.
In the Alberta province cities of Edmonton and Calgary, 140 incidents were reported in 2020, including death threats.
But there are many so-called hate crimes that go unreported because they are so frequent, said Assam Ali, an Edmonton hospital nurse, who spoke to Global News.
Ali, a Somali-Canadian, said she has been targeted repeatedly with slurs because of her hijab and dark skin.
"Most of my visibly Muslim friends and family members have a story of some kind of Islamophobia," said Ali. "The general public hears about this through the media, while our reality is that these are our sisters and our mothers."
Last month a man uttered racial slurs against a Muslim female at the University of Alberta. And in a separate incident, a man knocked down a female, threatened her life and tore off her burqa, a robe used by Muslim women.
On Feb. 17, a man cursed a hijab-wearing Black Muslim woman and threatened to kill her.
Edmonton police Chief Dale McFee said the police service is doubling down in its effort to work with the Somali community to address racially motivated assaults.
"We've got to listen to what they need and then we've got to figure out how we can … actually get some of the changes that they need," he said at a news conference Tuesday.
While Alberta Premier Jason Kenney and others have condemned the attacks, Mustafa Farooq said more must be done to battle Islamophobia.
"Anti-Black racism is a real problem in Alberta," said Farooq, chief executive officer of the National Council of Canadian Muslims (NCCM)/
"Tension and fear are high," he said in a statement. "That's why we are calling for the immediate creation of a bipartisan provincial-municipal committee to deal with the challenge of racist and Islamophobic street harassment."
There are an estimated 113,000 Muslims in Alberta, according to the latest figures in 2011, according to the news website.
http://muslimnews.co.uk/news/islamophobia/canada-muslim-women-targeted-repeated-threats/
--------
UAE: Greater Progress Needed on Women's Rights
March 4, 2021
(Beirut) – The United Arab Emirates (UAE) has made important women's rights reforms in recent years, such as passing new domestic violence protections, but significant discrimination against women and girls remains, Human Rights Watch said today. Laws still provide male guardian authority over women and loopholes allow reduced sentences for men for killing a female relative.
On February 26, 2021, Human Rights Watch submitted a report to the United Nations committee reviewing the UAE's compliance with the Convention on the Elimination of All Forms of Discrimination Against Women (CEDAW). The committee has scheduled a session sometime during the first week in March to identify a list of issues and inquiries it will make to UAE authorities ahead of its review of the UAE's record.
"The UAE's recent women's rights reforms are a step in the right direction, but in truth they do not go far enough to dismantle the deep discrimination against women in law and practice," said Rothna Begum, senior women's rights researcher at Human Rights Watch.
Women's rights in the UAE have recently come under heightened scrutiny following the emergence of new videos of Sheikha Latifa, daughter of the Dubai ruler, in which she describes the conditions of her forced confinement following her abduction and forcible return to the UAE in 2018. She also pleaded for an investigation into her sister Sheikha Shamsa's abduction and forcible return to the UAE from the UK in 2000.
The CEDAW Committee made several recommendations to the UAE on steps needed to guarantee women's equality during its 2015 review. They included calls "to repeal as a matter of priority all legal provisions which continue to discriminate against women, including those contained in the Penal Code and the Personal Status Law."
The UAE has carried out some reforms, such as prohibiting discrimination on the basis of sex and gender in the country's anti-discrimination law and revoking legal provisions that had obliged women to "obey" their husbands, explicitly affirmed a man's legal right to discipline his wife and children, and punished consensual extramarital sex.
In March 2020, a new domestic violence law came into effect that included provisions enabling women to obtain restraining orders against abusers. However, the law's definition of domestic violence reinforces male guardians' ability to discipline their wives, female relatives, and children to an extent that authorities find acceptable. The law also does not criminalize marital rape.
In 2019 and 2020, UAE authorities introduced minor amendments to the personal status law, but a woman in the UAE can still lose her right to financial maintenance from her husband if she refuses to have sexual relations with him without a "lawful excuse." A judge can also deem a woman in breach of her spousal obligations if she leaves the house or takes a job deemed outside "the law, custom, or necessity," or if the judge considers it against the family's interests. This change was made gender neutral but prevailing social norms mean judges are more likely to consider it unnecessary for a woman to work than a man, resulting in discrimination against women.
"The UAE should uproot all forms of discrimination, especially misogynistic laws subjecting women to male guardian authority," Begum said.
In November 2020, the UAE also repealed an article in the penal code that allowed men to receive lighter sentences for killing a female relative if they found them in the act of extramarital sex. However, families of the murder victim can waive their right to see the person punished in return for compensation (blood money) or choose to freely pardon them.
In such cases, the accused can be subject to a minimum sentence of seven years in prison instead of life. When family members kill a woman, including in so-called "honor" killings, the victim's family is also the family of the murderer and is likely to allow men to receive lighter sentences.
Also in November 2020, the UAE amended the penal code to remove language that has been used to punish consensual sexual relations outside marriage. This provision disproportionately affected women as pregnancy could be used as evidence of extramarital sex.
Despite the change in the law, it is unclear if health policies that required a marriage certificate to obtain prenatal and postnatal care are still being implemented. Marriage certificates still appear to be required to obtain birth certificates. These policies disproportionately affect migrant women and can leave their babies undocumented, unable to obtain identification documents or travel.
The UAE's labor law continues to exclude domestic workers, the vast majority of whom are women. A 2017 domestic worker law extended protections like a weekly day of rest and paid vacation, but has fewer and weaker protections than the main labor law and falls short of international standards.
Many low-paid migrant domestic workers are at acute risk of labor abuses, forced labor, and human trafficking because of the kafala (visa sponsorship) system in the UAE, which ties migrant workers' visas to their employers. Foreign nationals account for about 90 percent of the UAE population, according to the World Bank.
Despite the UAE's February announcement that it will extend citizenship opportunities to select foreign nationals, the country's citizenship law still leaves out other groups, including children born to Emirati women and foreign fathers, and stateless people.
"The UAE has spent considerable time and money portraying itself as a champion of women's rights and empowerment," Begum said. "Now it needs to turn rhetoric into reality."
https://www.hrw.org/news/2021/03/04/uae-greater-progress-needed-womens-rights
--------
Muslim women's association hosting online seminar empowering women
Mar. 3rd, 2021
The Ahmadiyya Muslim Jama'at Women's Association Prairie Chapter is inviting women from all over the Prairies to an online seminar highlighting women's essential role in building communities across the country.
"Women as Nation Builders" is a free interfaith webinar which Regional Outreach Coordinator Shazia Rehman says will support women all over Canada and help them build connections as the nation moves through the pandemic.
"In the time that we're living in right now where we are facing unprecedented challenges, we believe women who work together, support and strengthen each other is exactly what our nation needs for us to be able to get through this."
Guest speakers come from various backgrounds and faiths and will talk about their past experiences and the women who inspired them to reach the success they have today. They include Dr. Lillian Gadwa-Crier, an Indigenous educator and advocate for Indigenous education, Gurmit Kaur Sarpal, founder of the Royal Women Cultural Association, and Dr. Brenda Anderson, an Associate Professor at the University of Regina.
"If you only have one particular community or one particular viewpoint then you don't learn from each other and you don't build together. We believe it is very necessary to use the voices we have to support and strengthen all of us."
The seminar is scheduled for March 6th from 4 to 6 p.m., two days before International Women's Day. Rehman says while it is important to celebrate women on the day they want everyone to recognize their work beyond that single day. Registration for the free online event can be done on the Eventbrite page.
https://www.mylloydminsternow.com/45401/muslim-womens-association-hosting-online-seminar-empowering-women/
--------
Woman On Trial In Norway Provides Glimpse of Life under IS
03/03/2021
A woman on trial in Norway for supporting the Islamic State group provided a glimpse this week of life with members of the terror group she said she was unable to flee despite numerous attempts.
The woman, who AFP and other media have chosen not to identify in order to protect her children, is facing charges of supporting the Islamic State during the six years she lived in territory the radical group controlled in Syria.
The 30-year-old -- born in Pakistan but raised in Oslo -- testified on Monday that she was radicalised and left for the war-torn country in 2013 after falling in love and marrying Bastian Vasquez.
Vasquez was a Chilean-Norwegian jihadist who converted to Islam and was fighting at the time for an Al-Qaeda-linked group. He later joined the Islamic State group and died while making explosives.
The woman said she quickly became disillusioned on arriving in Syria and on several occasions tried in vain to return home.
She ended up marrying two other foreign fighters during her time in IS-controlled territory and had two children, one from Vasquez.
"By taking care of the children, by cooking and doing laundry, she enabled three foreign fighters in their battles," prosecutor Geir Evanger told the court.
The woman, who faces up to six years in prison if convicted, said that on meeting Vasquez, she initially would laugh when he would describe to her over the phone the atrocities of the war.
"I was so in love that I believed everything he said," said the woman who was repatriated to Norway last year and no longer wears the niqab, or full-face veil.
She said after marrying Vasquez online and joining him in Syria, he quickly became violent with her and she felt trapped.
Prosecutors, however, have challenged her account accusing her of trying to recruit other women to join the terror group.
"During her marriage to Vasquez, she spoke highly of the Islamic State and of life in Syria to women in Norway with the aim of getting them to marry foreign men fighting for the group," according to the charge sheet.
Vasquez died in 2015 and the woman subsequently married an Egyptian man with whom she had her second child.
But he also died in combat and she married one of his friends, also a fighter for the IS.
Her lawyers argue that her successive marriages with IS fighters did not mean she supported the terror group but rather ensured her survival and gave her hope of one day escaping.
"She was not part of the Islamic State but was more someone who survived the group," said her lawyer Nils Christian Nordhus.
- IS hostage and member -
Following the defeat of IS, the woman was brought back to Norway in January last year with her children, one of whom was ill, from the Kurdish-controlled Al-Hol detention camp in Syria.
Her return was highly criticised at the time by the populist right-wing Progress Party which left the Norwegian government in protest.
The trial -- the first of a woman accused of joining IS -- has put the spotlight on the role women played in the terror group.
"ISIS is an entity classed as a terrorist organization by the UN. It's the entire organization, not just the fighting part, that is classed as such," said Magnus Ranstorp, a Swedish expert on terrorism, using another acronym for the group.
"It doesn't matter if you're driving an ambulance or cooking at home, you're part of the terrorist organization," he said.
According to the Rand Corporation think tank, some 41,500 foreign fighters joined the Islamic State in Syria and Iraq.
The majority of European countries, including Norway, have resisted taking back citizens who joined the group and are now being held in detention camps in Syria.
Some argue that although women who joined the group may not have taken part in battles, they played a key part by supporting the fighters and giving birth to a new generation of potential jihadists.
Ranstorp said however the women had little room to manoeuver once they set foot in Syria.
"It's complicated in the case of a woman because you can't leave without a male guardian or without a permission," he said. "So you're at the same time a hostage of ISIS but you're also part of its machinery."
The trial is set to last until March 24.
https://www.france24.com/en/live-news/20210303-woman-on-trial-in-norway-provides-glimpse-of-life-under-is
--------
Meet the Arab-Israeli, Palestinian Women Making an Impact on Society
By KHALED ABU TOAMEH
MARCH 4, 2021
Julia Zaher is an Arab-Israeli businesswoman, philanthropist and former schoolteacher. She is owner and CEO of Al-Arz Tahini, a tahini manufacturing company in Nazareth. An advocate for diversity and women in the workplace, her company employs a large number of Arab women, in addition to Jewish, Muslim and Christian residents.
She continues to work toward empowering women in all fields and motivating them to join the labor force, Zaher notes from the outset.
"I have long been encouraging Arab women to join the labor force," she said. "I want to see more women from the Arab sector at work so that they can improve their social and economic conditions. I have also been very supportive of people with disabilities in order to incorporate them into Arab society."
Zaher wishes she could say that Arab society is better off today.
"Unfortunately, our society has not changed and we still need a lot of support in all fields."
In her view, Arab women are not different than the rest of the women in the world.
"Arab women are very talented and capable. They can be successful in all fields, but they still need the support of society to achieve their goals."
According to Zaher, the coronavirus outbreak has had both a positive and negative impact on her and on Arab women as a whole.
"In the beginning there was fear and uncertainty, especially because this was a global, and not local, pandemic," she noted. "We have taken precautionary measures and banned non-workers from entering our factory. For me, it wasn't easy to be away from friends and family."
On a positive note, Zaher said, the coronavirus taught her how to take advantage of time.
"We have a lot of time to handle our matters," she explained. "We learned how to manage things through Zoom, which I believe will stay with us for a long time. My only hope is to see our Arab society in a better situation."
NIVINE SANDOUKA, a resident of east Jerusalem, describes herself as a professional aspiring to achieve social justice, peace and gender equity.
An expert in the field of program development, management, peace-building and gender issues, she currently works with the German Association for Development Cooperation – AGEH. She also runs a grassroots-based initiative called Judi – From Me to You that aims to connect women and volunteers in several civil society organizations.
To pursue her passion, she is the executive director of a newly established NGO called Our Rights – Hoqoqona in Jerusalem, focusing on the civic and political rights of Palestinians in the city, especially women.
"I work with a German organization in the field of peace-building," Sandouka said. "Generally, I also pursue my passion to create positive change and thus I voluntarily run an organization to achieve Palestinians' civic rights."
Sandouka believes the situation of Palestinian women is "worse than ever."
"Unfortunately, our society lacks morals and values," she lamented. "It has become a society run by division and judgment. It is a society that is passive in the sense it is unable to embark on a process of real change."
Sandouka hates the idea of being labeled a victim.
"Unfortunately, Palestinian women face many challenges: political Islam, patriarchy and occupation. They have to fight to overcome these three obstacles. For me, life is a big challenge."
The coronavirus has affected life for her and most women.
"Today I work mostly from home. In addition, I have to cope with my new role as my son's teacher and school, while doing my work. This year, however, I decided to take control of things; no more Zoom calls in the evening and more meditation. I have also decided to spend more time with my son. It is still challenging, but we have to make the best of it.
"I hope life goes back to normal as soon as possible. I want to go back to seeing my close friends and family and travel."
NADIA HARHASH, a Palestinian journalist and author from east Jerusalem, is known for her criticism of Palestinian Authority leaders and corruption. As a result, the mother of four has received numerous threats. Last year, an unidentified arsonist set her car on fire in front of her home in the Beit Hanina neighborhood.
"Palestinian women continue to face many challenges," Harhash said. "Our entire life is one big challenge. However, I am here to live up to my expectations. I cannot do that without fulfilling my own aspirations. We are born to be free, to make life better. In my case, it is not taken for granted.
"Life is a daily struggle for women like me. After all, I am a mother, and it is not just about me; it is about this generation that is growing and deserves a better life, to live better."
Harhash is determined to pursue her role as a writer with the hope of improving living conditions for women and all Palestinians.
"My role is to write, and I'm doing it with all my might," she affirmed. "It is not an option. I cannot sit aside and blame destiny or politicians for my miserable life. I cannot wait for a savior that will take us to safety and freedom. I see injustice, suppression and corruption, and I resist them and face them through my writing. If I don't write about these issues, I will be complicit in them.
"It is often risky, but somehow the more fearless you become, the more powerful you are seen."
Harhash is not afraid of threats and intimidation.
"Fear is our worst enemy and I try not to allow it to find its way into me," she added. "I am a mother who wants a good future for her children. This does not happen by providing proper shelter, education and a sophisticated lifestyle. Rather, this happens in a society that respects its people through equality and justice. And as a human being, woman, mother and Palestinian, I don't accept less than this."
As far as Harhash is concerned, the status of Palestinian women is no less grave than the status of Palestinian men.
"You cannot have a healthy society without having strong, capable women," she said. "Strength needs freedom. Freedom, unfortunately, is not a term that is simply practiced in Palestinian society. We live in a vicious cycle of oppression from all directions. Consequently, the struggle of women has become one of survival, and not liberation.
"Ideologies covered with fundamentalist and religious slogans have infiltrated our society in the last decade. When we look around us, we see a whole different set of rules that are imposed on us. It's as if we've been hijacked by ideological norms that became the law; tribal norms have become part of the law. One can only imagine where women are situated in such a set of rules, where patriarchy is the only given rule."
The past year, Harhash said, will be remembered as the year when everyone wondered about the pandemic's impact on their lives.
"The outbreak of the coronavirus has forced us to come face-to-face with our weakness and helplessness as arrogant human beings. On the other hand, the pandemic also gave us the opportunity to reconnect with nature and realize how simple life is. For me, this was an amazing experience. Staying at home helped me develop my own capabilities. I experienced creativity as I never dared before. I was able to reconnect with my own breath and my hands.
"My soul was out there celebrating a breath of life with nature. I could hear birds sing as the noise in the streets stopped."
SAMEERA RADA EMRAN, a social and political activist from the village of Ein Qinya on the Golan Heights, is a bank clerk who in 2018 announced her candidacy for mayor. She is known in her community as a staunch advocate for women's rights.
"I want to see women play a major and effective role in our society. I want the voice of women to be heard loudly. That's why I decided back then to run for mayor. I was the first woman to run for office in our community."
Her decision to run in the municipal elections was met by many challenges.
"It wasn't easy for me. I had to put up with many challenges and boycotts. But I was determined to pave the way for women to seek a better future. I wanted to set an example for all women and encourage them to enter public life."
Emran believes that the conditions of Arab society in general and women in particular have worsened over the past few years.
"Arab society is still lacking real leadership," she complained. "We need a leadership that will help us achieve equality and other rights. In my opinion, our women continue to suffer from injustice. I believe that it's wrong to say that our women have advanced and achieved equality in our society. Today, I can say that women have more responsibilities and fewer rights. Although our women work outside their homes and contribute to the development of our society, we are still sidelined by men."
The coronavirus, Emran noted, has forced many Arab women to come face-to-face with the hardships of daily life.
"As a bank employee, I have seen the difficulties many people have been facing over the past year. It's very painful."
Emran said she was hoping to continue working toward upgrading and strengthening the status of women in Arab society in general and her village in particular.
"I'm hoping that one day I will be able to form a women's list that will have influence in our village council."
AMOUN SLEEM, founder and director of The Society of Gypsies in Jerusalem (Domari), is a prominent female activist who has been representing her small community for the past two decades.
"I believe that in order to build a strong and independent society, I must provide our women with the tools and skills to function independently so they will be able to transmit these mindsets and ethics to their children," Sleem asserted. "In this context, we provide a business course for women so they can learn how to start their own businesses. We also aim to increase opportunities for women in the labor force. Our women are always eager to participate in new learning opportunities."
Sleem isn't satisfied with the status of Arab society nowadays.
"I really hope our society will change. We want more freedom of expression. We want to see an end to violence in our society. Our women continue to face many challenges in a male-dominated society."
Sleem noted that many members of her community, including women, have lost their jobs after the coronavirus outbreak.
"We are doing our utmost to help our people. My group has been providing aid to many families and children. Our goal is to achieve economic, legal, social equality and justice for our community.
"We want to give a voice to the voiceless." 
https://www.jpost.com/middle-east/meet-the-arab-israeli-palestinian-women-making-an-impact-on-society-660933
--------
URL: https://www.newageislam.com/islam-women-feminism/west-bengals-moyna-khatun-demanded/d/124457
New Age Islam, Islam Online, Islamic Website, African Muslim News, Arab World News, South Asia News, Indian Muslim News, World Muslim News, Women in Islam, Islamic Feminism, Arab Women, Women In Arab, Islamophobia in America, Muslim Women in West, Islam Women and Feminism