New Age Islam News Bureau
20 Jul 2018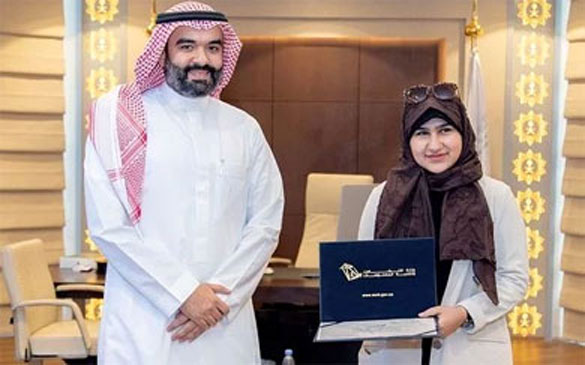 Saudi Minister of Communications and Information Technology, Abdullah Al-Sawah receives Marian Taher Saleh, the youngest Saudi female journalist. (SPA)
-----
• Saudi Communications Minister Receives Youngest Saudi Female Journalist
• After Neqab, Is Meerut University Going To Prohibit Burqa?
• Women in Pakistan Urged To Vote As #HerVote Trends
• Dutch Woman Who Converted To Islam Found Guilty Of Planning To Join IS
• The Women Speaking Out Over the Challenges Young British Muslim Women Face
• Saudi Fashion Label Puts Women in Limelight
• Over 45m Women Registered To Vote in Upcoming Election: ECP
• Tunceli Women's Rafting Team to Represent Turkey at World Championship in Italy
Compiled by New Age Islam News Bureau
URL: https://www.newageislam.com/islam-women-feminism/wedding-invitations-kashmir-order-women/d/115889
--------
Wedding Invitations in Kashmir Order Women to Wear Hijabs
By MAJID HYDERI
JULY 20, 2018
Wedding season is booming in the restive north Indian state of Jammu and Kashmir as the summer sun shines on the westernmost Himalayan mountain ranges.
However, in a region racked by conflict, even wedding celebrations can become a source of concern. Many invitations to weddings now carrying an unusual order – the local term is diktak – for female guests: please wear the Islamic headscarf known as the hijab.
The hosts of some wedding parties have asked women to observe "Islamic dress code" in special notes on their invitation cards. "Ladies are requested to attend the party with their heads covered as it will add to the honor of the hosts," read one invitation written in Urdu in the summer capital of Srinagar.
No Islamist groups are known to have issued such diktats, or orders. The hosts say they are "self-imposing such norms lest any untoward incident someday spoils wedding celebrations."
One host of a wedding celebration said he was "fed up of finding female guests wear semi-nude attire and vulgar hairstyles that don't match with Islamic principles. They can only invite trouble through provocation," he said.
Women's rights
Critics have called the dress code being imposed at weddings undue interference in women's rights in the largely conservative Muslim-society.
Jammu and Kashmir is India's only Muslim dominated state and is now run by the Indian federal government, which is led by the right-wing Hindu Bharatiya Janata Party. The wedding dress code is being enforced at a time when the state is witnessing a revival of armed conflict.
Several Islamist groups claim to be "fighting for the cause to bring in the caliphate" in the region, which acceded to India in 1947.
Many women in the largely patriarchal society of Kashmir find the precondition on invites "offending and unethical." They spoke to Asia Times on the condition of anonymity.
"This is demeaning and embarrassing for female guests. What right do the hosts have to decide the dress code for some female guest? If they believe in such ethics, why do they invite non-Mehram women to parties?" asked a woman who works in the education sector who boycotted one wedding because of the order. Mehram is a term that refers to female kin – marrying one would be considered illegal in Islam.
'Middle Eastern dress code'
Another woman termed the dress code order a "blot on the communal harmony" of Kashmir. "Does it mean non-Muslim women, like Sikhs and Pandits [wise or learned men] are not welcome at such Islamist parties?" she asked. Kashmir's civil society has taken note of the development too, but is choosing its words wisely while making public statements.
"The emphasis on women-specific dress code is a deviation from tradition and introduces a new Middle Eastern dress code, because hijab in specific is not ethic to Kashmir," said Farooq Renzu Shah, a prominent author and Chairman of the Kashmir Society International.
"Kashmir has never been against women covering their head, but then such neo-traditions like the hijab shouldn't be for women alone. In that case, similar norms like sporting a beard should be applicable for men as well, because only then the phenomenon of equality in Islam can be appreciated," he said.
Islamic scholars, meanwhile, linked the wedding invitation order on women-specific dress codes with the ongoing conflict in Kashmir. Since July 2016, when Burhan Muzaffar Wani, the poster boy for the new-age militancy, was killed by government forces, the Kashmir valley has been mired in unrest.
According to the Home Ministry's annual report, civilian deaths in the state rose 167% from 2017-18, while the number of militants killed rose by 42%.
"Indian agencies are hatching such conspiracies to keep the Muslim community busy in internal bickering," said Mufti Nasir Ul Islam, the Grand Mufti Designate at the sole Shariat Court in the state and an expert in Islamic jurisprudence.
"Hijab is a part of Islamic culture, but Islam does not believe in compulsion, it believes in conviction … In fact, Mullahism [governance or rule by Islamic religious leaders] has misinterpreted Islam and Muslims. And for a conflict zone like Kashmir, such controversial acts are the handiwork of Indian agencies to keep Ummah [the community] engaged in controversies," Mufti Nasir told Asia Times.
Women should be made aware of the importance of hijab, so they wear it voluntarily, instead of observing it by force, Mufti Nasir added.
Extravagance and expenditure
Despite the dress code, weddings in the state continue to be celebrated, largely with extravagance. The lavish expenditure on weddings is often seen as a major cause behind delayed marriages, as many bridegrooms often find it hard to manage their resources and pay for a big feast.
In 2017, the state government introduced guest controls, putting a cap on the number of guests and dishes to be served. But the controls are openly defied and the state's Human Rights Commission has questioned the government order.
The introduction of a dress code for women at weddings, on the other hand, is new to the valley.
In the 1990s, at the onset of militancy, Dukhtaran-e-Millat, the all-women separatist outfit headed by Syeda Asiya Andrabi, issued an order telling women to wear a burqa or a traditional veil. It also forced beauty parlors to shut down. The Dukhtaran's firebrand cadres threw water at anyone who defied the order.
Although women initially followed Dukhtaran's order, a more open lifestyle became possible as the militancy declined in subsequent years. Beauty parlors also reopened. But the latest dress code order for weddings has again put the focus on the state's conservative outlook.
http://www.atimes.com/article/wedding-invitations-in-kashmir-order-women-to-wear-hijabs/
--------
Saudi Communications Minister Receives Youngest Saudi Female Journalist
July 19, 2018
RIYADH: Saudi Minister of Communications and Information Technology, Abdullah Al-Sawah stressed the Kingdom's need to discover and support local talent.
He said that the ministry has paid increasing attention to technical talents, which has been represented through the organization of several events, the latest of which was the "Hackathon Digital Machines."
The event was aimed at creating a conducive environment to develop the capabilities of the digital youth and invest in their creative potential to maximize returns.
Al-Sawah noted that the event also aimed at "harnessing their abilities to develop the digital transformation process," calling for intensified and unified efforts in order to invest in Saudi talents for the benefit of the nation.
The minister was speaking during a meeting with Marian Taher Saleh, the youngest Saudi female journalist, alongside with her father.
Al-Sawah praised the role of her family, who have been supporting her from the beginning till she was able to enter the media field, expressing his appreciation for her media achievements.
For his part, Saleh's father expressed his gratitude and appreciation to the minister for his hospitality, appreciation and encouragement for his daughter.
http://www.arabnews.com/node/1341961/saudi-arabia
--------
After Neqab, Is Meerut University Going To Prohibit Burqa?
AAS MOHD KAIF
Jul 19th 2018
The efforts to polarise political campaign on religious lines for garnering votes seem to have been accelerated by the ruling party in Uttar Pradesh as the 2019 general election draw nearer. In a shocking decision, Chaudhary Charan Singh University, a leading educational institution of Uttar Pradesh has prohibited girls from wearing Neqab inside the campus. The decision was taken in a meeting held on Saturday. The Muslim community of Meerut is quite unhappy over the varsity's recent decision on the dress code for women students. Meerut city qazi, professor Zen-us-Sajideen called it an assault on basic religious freedom. The university administration, however, maintained that the decision was not taken considering the Muslim girls only. The decision was taken after it was reported that many women students enter university without identity cards, covering their faces with Neqab. The Chief Proctor of the University, Alka Chaudhary is believed to be the architect of university's new diktat on dress code.
A delegation led by City Qazi, meanwhile, met the Commissioner and the District Magistrate on Thursday and apprised them of the matter. Meerut is a sensitive city and such a decree, several observers feel, can have serious ramifications . Former student of the university, Rahat Ali denounced the decision, alleging that it reeked of a greater political conspiracy.According to Chief Proctor Alka Choudhary, the decision had to be taken in the backdrop of a recent incident. "A couple was recently found having food under a tree on varsity campus. Asked to show their identity cards, they said they had come to the university just to walk around. After this, the university decided to prohibit wearing Neqab inside campus so as to stop outsiders from entering the university," she maintained.The question is, do the gatekeepers of the university recognise all the women students by their faces? If yes, then how will they recognise those women students who had been wearing Neqab till now!Another former student of the university, Nahid Fatima, maintained that the university management should depute two women guards instead for checking the identity cards. "This is the right way of addressing the issue. Prohibiting Neqab can't be a good solution to the problem," she remarked.Abdul Gaffar Mansoori, a social activist in Meerut underlined the irony of the entire issue: "This university which remains embroiled in the controversies, where incidents of violence, cheating during exams are rampant, a university which is considered the most undisciplined university of the state sees the root cause of all the evils in wearing a Neqab! Quite clearly this decision reflects the vicious policy of communal polarisation."Aslam Siddiqui, a resident of Zakir Colony, Meerut, whose daughter studies in the university argued, "if some burqa-wearing women start committing crime, will prohibiting burqa be a solution to the problem? If our daughter is asked to take down her Neqab against her wishes, then we will not tolerate this. We will not send our daughter to the university."According to the city Qazi, the decision violates basic human rights as it curbs freedom. This may discourage women to pursue higher education. "Then the slogan 'Beti Bachao, Beti Padhao' would have no meaning at all," he said, arguing that Neqab is a matter related to the Muslim Tehzeeb.
"Tomorrow, they may object to wearing Burqa even!"
https://www.nationalheraldindia.com/india/after-Neqab-is-meerut-university-preparing-for-prohibition-on-burqa
--------
Women in Pakistan Urged To Vote As #HerVote Trends
July 19, 2018
Dubai: Ahead of Pakistan's general elections #HerVote is trending across social platforms as netizens urge each and every eligible member to come out and vote, especially women.
Pakistani women make more than 48 per cent of the country's population and the hashtag aims to raise awareness around the importance of their votes.
The campaign was started by a youth group called Bargad Organization for Youth Development that seeks to empower the country's minorities and youngsters.
The institution held a conference on July 18 in Islamabad called the 'Youth Action for Peaceful Elections Project' and discussed issues such as violence, hate speech and the importance of minorities, such as women, transgenders and disabled people voting. These concerns were raised as a reflection on the previous elections held in 2013.
Tweep Kiran Qureshi @Kiran_Blogger appreciated the initiative the group is taking: "Youth is the largest segment of society, if you want to change the narrative you should engage with the youth and that's what @BARGADYouth is doing. #HerVote"
In another tweet, Qureshi highlighted how the group used their online presence to spread the word: "@BARGADYouth used social media as a way to promote women engagement in the electoral process, and also worked in local communities to achieve this. #HerVote"
And Twitter user Sohail Saif Malik @SohailSaifMalik emphasised on how important such a cause is: "No nation can make any progress without cooperation of its women. #hervote"
Some people highlighted the issues that Pakistani women face during the electoral process. Tweep Minza Yaqoob @YaqoobMinza wrote: "In Bannu females don't even step out for elections due to Pardha [segregation] system but students are encouraging those to cast vote #hervote"
Whereas, Twitter user @KomzHolmes posted: "One of the main issues for women, in regards to voting, remains that the polling stations are too dangerous for them, hence it is less likely for them to leave their house, especially in rural areas. I wonder what @BARGADYouth will do to fix this situation? #HerVote"
The hashtag has become the general basis of discussion around issues regarding the election and encouraging people to ask important questions.
Tweep Hamadullah Sohu @hsohu asked: "Talking about their participation in election - who are physically disabled, who can't move out from their houses, how can they cast their vote? #HerVote #PeacefulElections"
Families banning women from participating in public matters, awareness and accessibility are some of the issues women wanting to vote in Pakistan have previously faced.
https://gulfnews.com/news/asia/pakistan/women-in-pakistan-urged-to-vote-as-hervote-trends-1.2253918
--------
Dutch Woman Who Converted To Islam Found Guilty Of Planning To Join IS
July 19, 2018
A young Dutch woman who converted to Islam and went to Syria has been jailed for 413 days, 180 days suspended by judges in Den Bosch. The court said that there was enough evidence Lieke S was planning to join terrorist organisation IS, despite her claims she had wanted to help refugees. S will not have to return to jail, because she has spent some eight months in custody prior to the trial. She was arrested at the end of 2016 on the Turkish Syrian border after leaving the Netherlands after the summer of that year. S has also been told not to leave the Netherlands during her three years' probation period and that she must cooperate in meetings with Islam experts.
https://www.dutchnews.nl/news/2018/07/dutch-woman-who-converted-to-islam-found-guilty-of-planning-to-join-is/
--------
The Women Speaking Out Over the Challenges Young British Muslim Women Face
19 July 2018
In our latest episode of Young, British and Muslim, presented by Rageh Omaar, we talk about an important yet often under-reported aspect of the British Muslim experience - what it's like to be a young British Muslim woman and the huge challenges they face, both within the Muslim community and in national life.
It was something that the former Attorney General Dominic Grieve found when he was tasked to go around the country looking at the obstacles being experienced by Muslims living in the UK.
In his report, he found that Muslim women already facing a 'triple penalty' of gender, colour and faith, particularly disadvantages in employment, on the streets, and in their community. Rageh speaks to Mr Grieve about what he found and what can be done about it.
British Muslim women are 71% more likely than white Christian women to be unemployed, even when they had the same educational skills (Source: University of Bristol).
In mosques, almost a third still don't offer facilities for women to worship (Source: muslimsinbritain.org).
Speaking out about such challenges is often yet another obstacle British Muslim women face - with the pressure frequently coming from within their own community as well as wider society.
The guests joining us for this episode have all managed to find their voice to share their concerns - believing it's important to speak and try to make a difference:
Tameena Hussain, an engineer who is a sexual abuse survivor. She has chosen to speak about her story because says she was tired of being silenced and she wants other girls in her community to feel able to come forward.
Anita Nayyar, a gender and equality activist who founded Open My Mosque. She campaigns to allow access to women in mosques nationwide that don't offer such facilities
Halimat Shode, founder of the Black Muslim Times. She created the site because she wanted to make sure positive stories of women of all ethnicities were being heard.
We also feature the inspiring story of Ruqsana Begum. She moved into professional boxing after initially training in secret after she worried about telling her parents about her love of sport.
http://www.itv.com/news/2018-07-19/what-challenges-do-young-british-muslim-women-face/
--------
Saudi Fashion Label Puts Women in Limelight
July 19, 2018
JEDDAH: Fashion and couture are on the rise in Saudi Arabia with the increase in young Saudi fashion icons and the growth of the creative community.
In 2018, the Kingdom hosted its first Fashion Week in Riyadh and also made history by lifting its driving ban on women.
With the growth of female empowerment in Kingdom, Renad Hefni, a fashion designer and graduate of Dar Al-Hekma University, began her brand Royaled to empower young women in the country.
Hefni believes that "changing someone's appearance can lead to changing people's attitude toward one another." Her brand celebrates female power.
"Royaled looks to celebrate every woman who treasures her character by crowning her with a virtual crown and a throne fit for the queen aura that radiates with inspiration. Jeweled with grace, charm and confidence," she said.
Hefni told Arab News that to her the crown represents power, victory and glory. "It symbolizes leadership to closely align the women of the 21st century with their rights of passage to confidence and influence."
She believes Royaled will stand out to young Saudi women as it represents their need to thrive and conquer.
"When everyone started to see the brand, they understood the message completely — from the logo to the slogan to all the crowns placed on every garment. Being recognized, understood and appreciated for why I became a designer is my proudest achievement," Hefni said.
She promotes women's rights through her fashion label. One of her collections, titled "Enthrone," consists of half garments to let women feel that "they are the missing beautiful piece in every garment."
Hefni won the Women Appreciation Month fashion award created by Femi9fashion brand in Jeddah.
Royaled has already made a name for itself with two fashion shows in Dubai and more to come. Royaled has a broad vision for the future.
"Our vision is to reach a wider audience in different countries and to dress some of the most powerful and well-known women. Royaled looks to expand its target market and reach international fashion weeks." The brand has launched its spring/summer collection "The Ruler."
Inspired by the 1980s hiphop style mixed with Middle Eastern glam, the collection reminds women "of their power and confidence, creating a movement, an army of strong and capable women," reads a post shared on the brand's Instagram page.
UAE-Yemeni singer Balqees Fathi appeared in a video clip wearing Royaled's tower collar vest.
Royaled was established in 2015 — it is a new name that has made big steps. See the brand's page on Instagram: @RoyaledbyRH.
http://www.arabnews.com/node/1341986/fashion
--------
Over 45m Women Registered To Vote in Upcoming Election: ECP
July 19, 2018
ISLAMABAD: According to the Election Commission of Pakistan (ECP), 57.2 million men and 45.7 million women are registered to vote in the July 25 general election.
"That's a large number of women," Nighat Siddique, director of the Women's Affairs Department at the ECP, told Arab News.
"We ran a female CNIC (Citizens' National Identity Card) and voter registration campaign for six months in 103 villages to ensure we could empower women with the right to vote."
But all authorities should take responsibility and ownership of the prevailing gender gap, Siddique said.
"Everyone is a stakeholder and must do more to get women to register themselves to vote. I've yet to come across any campaigns or speeches in which the media or political parties have asked women to come out of their homes and register themselves to vote," she added.
"This isn't the time to blame each other. It's time to support each other in the work being done to tackle the gender gap. Everyone must play their due role," Siddique said.
"The biggest challenge is getting women out of their homes. In many districts male voters go and register themselves, but registration doesn't really feature as a priority for women, so the ECP had to go, get them out of their homes and have them register."
But according to the Centre for Investigative Reporting in Pakistan (CIRP), 54.5 million men and 42.4 million women are registered voters.
The deficit in terms of male and female voters increased from 10.97 million in 2013 to 12.17 million in 2017, the CIRP said.
http://www.arabnews.com/node/1341791/world
--------
Tunceli Women's Rafting Team to Represent Turkey at World Championship in Italy
July 19 2018
A team of three women rafters from the eastern province of Tunceli will represent Turkey at the U23 World Rafting Championship during July 21-24 in Italy, featuring athletes ranging in age from 15 to 23.
Deniz Dinler (18), Tijda Yeşil (20), and Gözde Aksoy (18) are all members of the Pertek Municipality Rafting Sports Club based in Tunceli, which was founded in February in a means to promote Tunceli as well as rafting tourism in the province.
The women shined in the sports arena and have been selected to the Turkish national team following the club's successes in races at the Dalaman River in southwestern Turkey and Munzur River in Tunceli.
The club's three women Dinler, Yeşil, and Aksoy all started doing sports at a young age and attended different sports throughout their lives. Dinler told daily Hürriyet that she started her sports life with athletics and then continued with handball and rafting.
From Ovacık, a district in Tunceli surrounded by the bold, grey peaks of the Munzur Mountains, Dinler said village life made her physically "strong." "As I live in a village, I do not have physical problems, i.e. I am strongly built. We just had a technical deficiency with regard to rafting, and thanks to our trainer, we have learned that," Dinler said.
The 18-year-old is quite excited she will represent Turkey in Italy and does not want to come empty-handed to the country. Dinler desires to study physical training and sports in a university and afterwards open a rafting facility in her hometown Ovacık.
Yeşil, another rafter, started her sports life at the age of three with taekwondo. She later did handball and finally rafting, which makes her flow with adrenaline and excitement, the 20-year-old told daily Hürriyet. Similar to Dinler, Yeşil's aim is to return to Turkey with the championship cup.
Similarly, Aksoy became interested in many sports throughout her life, such as skiing, volleyball, and handball. It was thanks to her teachers at high school that she became interested in rafting, which the 18-year-old describes as being "a different ball of wax" from other sports.
"[The founder of modern Turkey] Mustafa Kemal Atatürk had said, 'I like athletic people who are smart, agile, and also well-behaved.' We are trying to be worthy of him," Aksoy said, adding that they aim to make it to the rankings in the World Championship in Italy.
The rafting team initially started to train at Munzur River during the cold winter months, without even having proper equipment. But later on, Tunceli provincial directorate of youth and sports loaned a professional rafting boat to the club, which it is currently utilizing for training as well as for joining races. As for the paddles, the Pertek Municipality Rafting Sports Club is joining the races using other teams' paddles, the club manager said.
"We have always raced borrowing paddles of other teams as our own paddles are made out of PVC and weigh approximately 1.150 kilograms, whereas our competitors' paddles are made fully out of carbon and weigh 250 grams," Serhat Yıldız said. The club manager added that during the race in Dalaman River, the team had borrowed from the Kazakh team, whereas in the Munzur River, they had borrowed from the team representing the Black Sea province of Rize.
http://www.hurriyetdailynews.com/tunceli-womens-rafting-team-to-represent-turkey-at-world-championship-in-italy-134746
--------
URL: https://www.newageislam.com/islam-women-feminism/wedding-invitations-kashmir-order-women/d/115889
New Age Islam, Islam Online, Islamic Website, African Muslim News, Arab World News, South Asia News, Indian Muslim News, World Muslim News, Women in Islam, Islamic Feminism, Arab Women, Women In Arab, Islamophobia in America, Muslim Women in West, Islam Women and Feminism