New Age Islam News Bureau
19 Jul 2018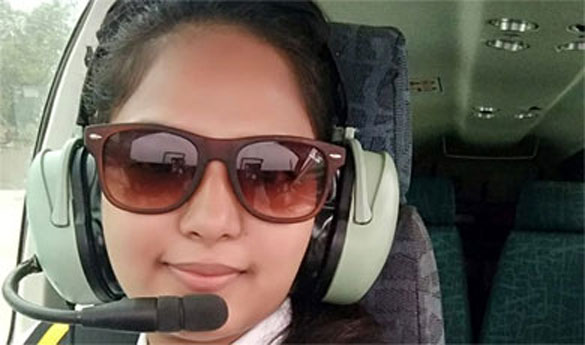 Alia Tabassum has so far been trained to pilot 02, 04, 06 and 08 seater planes. (Photos: ummid.com)]
----
• Criminal Gang Involved In Solemnising Nikah with Female Students through Black Mail Busted
• Balochistan High Court May Have Nation's First Woman Chief Justice
• Selangor Housewife Identified As First Female IS Cell Leader
• Fantastic Four: Saudi Women Fly the Flag for Cycling
• IS Seeks Women Suicide Bombers
• Pupils from Muslim Girls' School Raise £3,000 for Homeless Charity Night safe
• "Music For Development" Concert Aims To Promote Women Empowerment
Compiled by New Age Islam News Bureau
URL: https://www.newageislam.com/islam-women-feminism/weavers-daughter-path-becoming-malegaons/d/115879
--------
Weaver's Daughter on Path to Becoming Malegaon's First Commercial Pilot
July 17, 2018
Malegaon: Alia Tabassum, daughter of a weaver Shafeeque Ahmed, is set to become Malegaon's first commercial pilot.
Alia got her initial aviation training from Madhya Pradesh Flying Club, Indore. The Madhya Pradesh Flying Club (MPFC) awarded her the Student Pilot License in June 2018. Alia is at present receiving aviation training needed to become a Commercial Pilot at Capt. Sahil Khurana Aviation Academy in New Delhi.
"She joined Capt. Sahil Khurana Aviation Academy last year in November. She has successfully passed the first semester exam and is now preparing for the final exam which is likely to be held in November 2018", Shafeeque Ahmed, whose ancestors had migrated from Uttar Pradesh, said while talking to ummid.com.
Alia, a student of Science stream who completed her education from Iram Primary School and Malegaon Girls' High School, has from her childhood wanted to become a pilot. The driving force behind the idea was her father who after facing humiliation at Mumbai airport vowed that someone from his family must join the aviation industry.
"I with my wife was traveling to Saudi Arabia for Hajj in 2005. Unfortunately, we reached the Mumbai airport late and when the immigration staff was about to wrap up. Despite our pleas, the staff was refusing to allow us from boarding the plane. What pained us the most was that they misbehaved with us despite the fact that we were going to perform Haj and were wearing ihram", Shafeeque recalled.
"Suddenly we saw the pilot, who was accompanied by some crew members, approaching the desk. When he saw us pleading with the immigration staff, he asked them to clear our papers and allow us to board the plane as there was still some time left for take-off", Shafeeque said.
"That we were able to fly to Saudi Arabia and perform Haj because of the intervention of the pilot was a totally unexpected, though very kind, experience for us. I could not stop myself from hugging the pilot and repeatedly extending our gratitude to him", he added.
Shafeeque said onboard the flight the pilot invited him inside the cockpit. He was overwhelmed by the pilot's gesture. "It was then I vowed that someone from my family should become a pilot", he said.
Alia Tabassum belongs to the Blue Bird family of Malegaon - a major textile centre of India located in North Maharashtra. The family is popular for its colored sarees, grey cloth and lungis. Besides, the Blue Bird family also has the distinction of giving Malegaon City its first Muslim MBBS doctor.
She has so far been trained to pilot 02, 04, 06 and 08 seater planes. She will be the first commercial pilot of Malegaon once she completes her training at Capt. Sahil Khurana Aviation Academy and issued a license.
"Unlike the popular perception, Malegaon is the city where girls too are provided with equal opportunities. There is absolutely no obstacle if anyone wants to pursue higher education or make careers even in a field like aviation", she said.
http://ummid.com/news/2018/July/17.07.2018/muslim-weavers-daughter-on-path-to-becoming-malegaons-first-commercial-pilot.html
--------
Criminal Gang Involved In Solemnising Nikah with Female Students through Black Mail Busted
July 19, 2018
FAISALABAD: A five-member gang has been busted for solemnising 'nikahs' with female students through blackmail and later selling them in other cities.
As per media reports, the culprits blackmailed students by getting and altering their pictures from mobile phones and social media. The girls were sold in Quetta and Mardan after the 'nikah'.
The police of Millat Town station rescued 2 girls from the custody of the culprits. The culprits were arrested from Muzaffarabad and have confessed to their crime.
https://www.pakistantoday.com.pk/2018/07/18/criminal-gang-involved-in-solemnising-nikah-with-female-students-through-black-mail-busted/
--------
Balochistan High Court May Have Nation's First Woman Chief Justice
By Hasnat Mailk
July 17, 2018
ISLAMABAD: The Judicial Commission of Pakistan (JCP) is highly likely to appoint Pakistan's first woman chief justice of a high court.
Sources confirmed that summoned a JCP meeting on July 30 to consider Justice Syeda Tahira Safdar as the new Chief Justice of the Balochistan High Court.
BHC's incumbent Chief Justice Muhammad Noor Meskanzai is scheduled to retire on September 1 this year. He was sworn in on December 26, 2014 after Justice Qazi Faez Isa was elevated as a Supreme Court judge.
If elevated, Justice Tahira Safdar may work as the chief justice of the BHC till October 5 next year. Justice Tahira Safdar is part of the special court hearing the high treason case against former military ruler Pervez Musharraf.
Interestingly, Justice Syeda Tahira Safdar was the first woman to be appointed as a civil judge in Balochistan, besides having the distinction of being the first lady to be appointed in all posts she served. She was also the first female high court judge. According to her profile on BHC's website, Justice Tahira Safdar is the daughter of Syed Imtiaz Hussain Baqri Hanafi, a renowned lawyer. She was born on October 5, 1957, at Quetta. She received her basic education from the Cantonment Public School, Quetta, and finished her bachelors' degree from the Government Girls College, Quetta. Justice Syeda Tahira Safdar did her Masters in Urdu Literature from the University of Balochistan, and completed her degree in law from the University Law College, Quetta, in 1980.
Govt yet to notify new Musharraf trial court
Justice Syeda Tahira Safdar was successful in the Competitive Examination held by Balochistan Public Service Commission, starting her career as a civil judge on April 22, 1982. Subsequently, she was promoted to the rank of Senior Civil Judge on June 29, 1987, and as Additional District and Sessions Judge on February 27, 1991.
On March 1, 1996, she was promoted as District and Sessions Judge. Justice Syeda Tahira Safdar also worked as a Presiding Officer in the Labour Court. She was appointed as a Member of the Balochistan Services Tribunal on October 22, 1998, and worked until she was appointed as Chairperson of the Balochistan Services Tribunal on the July 10, 2009. While working as Chairperson, Justice Syeda Tahira Safdar was elevated as an additional judge in the BHC on September 7, 2009. She was confirmed as a regular judge on May 11, 2011.
Justice Syeda Tahira Safdar attended training on International Law for Justice on, 'Meeting International Human Rights Standards in Criminal Proceedings', which was held in The Hague, the Netherlands in 2012.
Justice Syeda Tahira Safdar is a Member of the Administration Committee, the Promotion Committee and the Committee for drafting rules, regulations, notifications, circulars, and to examine the rules and their particulars.
She was one of the three Judges of the Special Court constituted under Section 4 Criminal Law Amendment (Special Court) Act of 1976 for the high treason trial against former military ruler General (retired) Pervez Musharraf vide notification issued on November 20, 2013.
Currently, there are 10 judges, including the chief justice, working in the BHC while there are five vacancies in the high court.
https://tribune.com.pk/story/1759766/1-bhc-may-nations-first-woman-chief-justice/
--------
Selangor Housewife Identified As First Female IS Cell Leader
Jul. 19, 2018
Malaysia's first female Islamic State (IS) cell leader has been identified as a Selangor housewife, who had previously been arrested for attacking a Puchong polling center during the 14th General Election in May.
Speaking to daily Utusan Malaysia yesterday, central police Bukit Aman's Counter Terrorism unit confirmed the news.
The 51-year-old mother of two had been recruiting others, including women, via Facebook and WhatsApp chat groups. Attempting to not arouse the suspicions of authorities, the group was named Kumpulan Makan-Makan Kak Nor (Sister Nor's Eating Group).
The suspect's previous run-ins with the law came after police unraveled her plans to run over non-Muslim voters on their way to their polling station, and later to drive a car filled with gas cylinders into non-Muslim places of worship.
Using women as frontline operatives was previously unheard of in Malaysia; their role was often left to financially supporting their husbands who had joined IS.
Officials added that while they knew women were now being called on as soldiers in neighboring Indonesia, they would now be continuously monitoring the situation here at home.
Forty-three women have been arrested since 2012 under suspicions of supporting, or being involved in, IS activities.
https://coconuts.co/kl/news/selangor-housewife-identified-first-female-cell-leader/
--------
Fantastic Four: Saudi Women Fly the Flag for Cycling
July 19, 2018
JEDDAH: Before Saudi Arabia's women drivers there were Saudi women cyclists. Thousands of women around the Kingdom have taken to two wheels in the past few years, and groups of female cyclists are a common sight on city streets.
Now four young women have taken cycling to a new level by becoming the first Saudi female cycling team to join the Global Biking Initiative (GBI) European tour, an annual seven-day ride that highlights the sport and raises money for a range of charitable causes.
Sisters Fatimah and Yasa Al-Bloushi, Dina Al-Nasser and Anoud Aljuraid — founder members of the HerRide cycling group — joined hundreds of cyclists from all over the world earlier this month when the tour kicked off from Gothenburg in Sweden before heading through Denmark and on to the port of Hamburg in northern Germany.
More than 70 Saudi cyclists took part in the tour, including the four HerRide members.
The dynamic HerRide team shares a passion for adventure, and a love of outdoor activities and sports. Fatimah Al-Bloushi, the team captain, told Arab News that when she started the group in July, 2017, "we were a group of amateur cycling enthusiasts and our idea was to train to be the first Saudi female team to participate in GBI Europe 2018."
This year was Fatimah's second time in the GBI tour. Last year she was the first and only Saudi woman to take part in the event.
"I want to empower Saudi women and encourage cycling," she said.
Fatimah also enjoys skydiving, surfing, abseiling and climbing, and is also the first woman member of the Saudi Cycling Federation. In her hometown of Alkhobar, she organizes women's gatherings twice a week to cycle together along the beachfront. She also volunteers to teach cycling for beginners.
Like all sports events and tours, training plays a crucial role in preparing for the GBI tour. Team member Anoud Aljuraid, an accomplished hiker and technical climber, met Fatimah two years ago while climbing the Ol Doinyo Lengai, or "Mountain of God," volcano in Tanzania.
"For me the challenge was sitting on the bike for up to eight hours while riding up to 100 kilometers a day," Aljuraid said. "It was also hard to maintain a certain speed to reach the next destination or nutrition point on time, but my training helped me get over those challenges."
Although the number of women cyclists on the streets of Saudi Arabia is growing, challenges remain for those joining the sport.
Team member Dina Al-Nasser lives in Riyadh and enjoys long-distance cycling as well as hiking and boxing. Her biggest challenge during the GBI tour was cycling alongside cars.
"I mostly trained at home, but it's hard for me to train in areas where men usually train, such as Wadi Hanifa and Ammariyah," she said. "However, I was able to get over my fear and by the third day on the tour I was riding alongside trucks and didn't even notice."
Al-Nasser said that cycling is challenging not only for women in Saudi Arabia but for professional cyclists in general.
"We hope that the streets will be more bike friendly, and that people can adopt the same infrastructure for cyclists that we have seen on the tour — such as special paved paths and traffic lights — here in the Kingdom," she said.
"Hopefully, cycling will become a lifestyle in Saudi Arabia and we will see people cycling to work one day."
Despite the challenges, the HerRide team say they are hoping to join the next GBI tour. "It was a great experience to cross three countries by bicycle," Yasa Al-Bloushi said. "Of course, we got some bruises and had falls here and there, but I look at that as a sign of accomplishment."
The team members gained valuable skills from watching other riders during the tour. "I learned how to be a part of a team and to look out for each other. It was important to listen to my team-mates and focus on their needs," said Dina Al-Nasser.
Fatima Al-Bloushi said that the support of her team made her second tour more special than the first. "We knew each other's weaknesses from day one and we always had each other's back. If our energy levels were low, someone would provide nutrition. When our spirits were down, we had music to give us a boost, and when someone was nervous, we reminded each other to have fun," she said.
"I experienced GBI twice. The first time I went alone and came back with a family of friends. The second time I went with friends and came back with family."
The woman said the spirit of cooperation among cyclists on the tour was empowering. "What made this experience even more amazing, besides the beautiful scenery, was the quality of people we met," said Fatima. "If we were struggling, they would pass by with a smile, give you a pat on the back and tell you that you were strong enough to push through — it really did make us feel stronger."
In future, the group plans to hire a professional trainer and offer cycling workshops for Saudi women. They also hope long-distance cycling events, such as the GBI, will one day be held in Saudi Arabia.
"Under Vision 2030, I'm sure there will be a lot of local events for cyclists in the Kingdom, including women," said Al-Nasser.
The four cyclists have some words of encouragement for Saudi women hoping to fulfil their dreams. "You will always find people who will give you negative comments, but as long as you are doing what you love and are not hurting anyone, just keep going," said Al-Nasser.
Fatimah said: "Two years ago I was looking to join a cycling team, but as a woman in Saudi Arabia I was unable to — now things have changed. My advice to all women out there is never say 'no,' always say 'yes' to opportunities."
http://www.arabnews.com/node/1341401/saudi-arabia
--------
IS Seeks Women Suicide Bombers
19 Jul 2018
KUALA LUMPUR: The Islamic State (IS) terror group is now recruiting more women to join its cause, including for suicide bombings, says Deputy Comm Datuk Ayob Khan.
The Bukit Aman Special Branch Counter Terrorism Division head said this was a worrying trend though police were vigilantly collecting actionable intelligence.
"We must not let our guard down as an attack can happen if we do.
"Based on intelligence collected, we believe the IS is targeting to recruit more women, especially as suicide bombers," he told reporters after receiving a "Jasamu Dikenang" award in conjunction with the "Table Top Exercise and Communication in Disaster Medicine" event yesterday.
DCP Ayob cited examples, in which a family of militants carried out a suicide bomb attack on a police station in Surabaya, Indonesia, while two more families did the same at churches and a police station on Java island in May.
"While there have been no plans uncovered to use women as suicide bombers in Malaysia, we did arrest a 51-year-old woman who planned to attack voters in Puchong on polling day.
"Of the more than 400 detained so far in Malaysia, 43 are women," he added.
DCP Ayob said that while some of the women had been charged in court, others were being detained under the Prevention of Terrorism Act (Pota) and Prevention of Crime Act (Poca).
"We must remain proactive to prevent attacks on home soil," he said.
IS recruiters, DCP Ayob said, were still using social media to recruit members.
"They are not targeting a specific age group of women members. One of the youngest we have detained was a 14-year-old girl, who planned to go to Syria to join the terror group," he added.
Meanwhile, on the death of Indonesian militant Bahrun Naim following a drone strike in Syria last month, DCP Ayob said it would leave a huge impact on IS recruitment in Malaysia and the region.
"He was giving orders to a terror cell in the country to attack several non-Muslim houses of worship as well as an attack on Marina Bay Sands in Singapore.
"We managed to thwart these after detaining 26 militants of the terror cell last year," he said.
Bahrun was also an expert bomb maker and often shared "manuals" to make Improvised Explosive Device (IED) with his followers.
With the notorious militant's death, three top militants who remain active are Akel Zainal, Rafi Udin and Zahar Abdullah.
"They remain in Syria and might take the chance to be the main recruiters," said DCP Ayob.
https://www.thestar.com.my/news/nation/2018/07/19/is-seeks-women-suicide-bombers-cops-extremist-group-actively-recruiting-new-followers-to-fight-for-i/
--------
Pupils from Muslim Girls' School Raise £3,000 for Homeless Charity Night safe
July 19, 2018
Pupils from Tauheedul Islam Girls' High School (TIGHS) have raised over £3,000 for homeless charity Nightsafe through their Enterprise Week fundraising – the biggest donation the charity has ever received from a single school.
Year 10 pupils used the school's annual Enterprise Week to set up retail businesses that donated all profits to the Blackburn charity, which supports young people between the ages of 16 and 24 experiencing homelessness.
By setting up retail businesses, the pupils raised a staggering £3,264 to help Nightsafe fund a room for a whole year to provide emergency accommodation for those who need it.
Ten teams of pupils competed against one another to raise the most money from an initial investment of £50.
At the start of TIGHS' Enterprise Week, pupils received briefings in how to run a business, before planning team roles and writing job descriptions.
In order to inspire the pupils and spark ideas for their enterprises, a number of key business figures visited TIGHS to address the Year 10 pupils.
These included Ilyas Munshi, Commercial Director of Euro Garages, and Ruth Rathmell of Truth Creative, whose words motivated TIGHS pupils to create a vision for their enterprises and set themselves goals.
Each team then wrote business plans setting out how they would make their profits, and even had to pitch to a Dragons' Den style panel to earn more investment.
Retail business ideas ranged from homemade bath bombs and stress relief balls, to canvas artworks and freshly baked waffles. Pupils ran stalls selling their wares on Friday 13 July to raise money to donate to Nightsafe.
At the end of Enterprise Week, pupils wrote company reports and presented to a panel made up of school staff together with Enterprise Advisor Kay Vaughan of Inspira.
Nazma Master, Head of Year 10 at TIGHS, said, "Our Enterprise Week was an excellent experience for our students. The fundraising challenge coupled with inspirational speakers and meaningful lessons, such as the science behind the cosmetic industry and persuasive rhetoric, proved to be a winning formula for a very successful week.
"Our students particularly enjoyed working with real money and having the realisation that with a heap of determination and a sparkle of enthusiasm, wonders can be achieved.
"We are proud to have raised a large sum of money to donate to a very worthy charity."
Year 10 pupil Aasiyah Thava added, "Big dreams start with small adventures and we believe that meeting all the entrepreneurs has led us to know that we can pursue our dreams too, no matter how big. Enterprise Week taught us essential workplace skills of confidence, teamwork and the art of persuasion."
Jan Larkin, Chief Executive of Nightsafe, said, "We are absolutely delighted that the girls at Tauheedul chose us as their charity. It's great that some inspirational ideas have generated such a large amount of money.
"It sounds like everyone learnt a lot and had a lot of fun raising much needed funds for Nightsafe. Every penny raised will be spent to make a real difference to the lives of our young people."
http://www.asianimage.co.uk/news/16362121.pupils-from-muslim-girls-school-raise-3000-for-homeless-charity-nightsafe/
--------
"Music for Development" concert aims to promote women empowerment
Farah Tawfeek
July 18, 2018
Gender inequality is a prevalent problem in Egyptian society. Due to the mixed factors of the lack of education and a dominant male culture, Egyptian women struggle with problems that include early marriage and female genital mutilation (FGM). Therefore, they are left to fight for their basic rights to education, childhood and sometimes life.
In this light, the United Nations Population Fund (UNFPA) and Bibliotheca Alexandrina, supported by the Swiss Embassy in Egypt, organized "Music for Development" concert aiming to raise awareness about female empowerment as well as population control through employing divergent method.
Held on July 18 at the Bibliotheca Alexandrina, the concert comes as part of the UN's "Entertainment Education" program which aims at combating FGM and overpopulation. The program uses art to deliver a message to the youth through rather unorthodox ways, with messages being delivered through music, drama, and sports.
UNFPA representative Aleksandar Bodiroza told Egypt Independent that the initiative falls in line with the Egyptian government's agenda for women empowerment, explaining that they wanted to focus on issues such as FGM, early marriage and less women empowerment.
"So we've been thinking of out-of-the-box methods to attract future parents to have small families," he said.
On that note, the concert songs will address concepts such as family planning, women's right to education and combatting FGM. Other topics that the songs will tackle include youth agency and diversity.
A wide range of artists will be taking part in the concert, including Alexandria-based Nubian art band "High Dam", Alexandrian band "Almena", singer Sahar Al-Zoghbi and artist Yasmeen Zaki .
"The festival will also feature MTV singer Daniela Dimitrovska from Macedonia who will sing about smaller families and girls getting married when its time," added Bodiroza.
Dimitrovska told Egypt Independent that she decided to do the concert as the message of women empowerment spoke to her, as she has been a Y-PEER Ambassador for ten years, "The story started in my country when we tried to raise awareness issues there."
"I realized that music can help me participate for my country. Now I can extend my experience and I'm happy for it."
"Thee weeks ago I had a meeting with Alexandrian singers and we agreed to make six songs each to address an issue. I'm here to share my 10-year experience with them and I want them to do great work, encouraging other singers to raise awareness."
As for her role in the concert, she added, "I'll be singing three songs. Two that address early marriage and one for female rights."
UNFPA Representative Bodiroza stressed on the importance of art to promote different issues, adding that the concert will not be the end to using music to promote women empowerment, stating that "We will start tours in August to sing in small villages and engage with the people."
This is not the first event the UN has hosted under the "Entertainment Education" program; in January the UN collaborated with Egyptian female athletes to promote women's rights.
"Artists, musicians, actors have to step up and use their credibility as loved figures to use the power of words to raise awareness," Bodiroza said.
Dimitrovska echoed Bodiroza's thoughts, saying "Art in every form is very important in every culture and country because, with true art we can contribute to society and address social issues, reminding people that we are all the same."
http://www.egyptindependent.com/music-for-development-aims-to-promote-women-empowerment/
--------
URL: https://www.newageislam.com/islam-women-feminism/weavers-daughter-path-becoming-malegaons/d/115879
New Age Islam, Islam Online, Islamic Website, African Muslim News, Arab World News, South Asia News, Indian Muslim News, World Muslim News, Women in Islam, Islamic Feminism, Arab Women, Women In Arab, Islamophobia in America, Muslim Women in West, Islam Women and Feminism