New Age Islam News Bureau
8 Feb 2015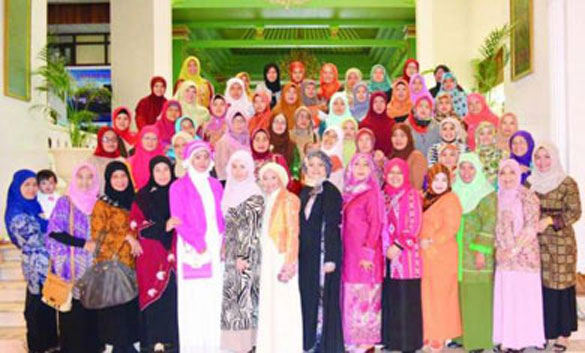 Faith in Style: Indonesian women wearing Hijab pose for a photo at the Indonesian Embassy, Riyadh
-----------
• 65% of Saudi Secondary Schoolgirls Smoke
• Malala Calls for 'Urgent Action' To Free Nigerian Schoolgirl Hostages
• Insurgents Blown Up Girls School, Clinic in Kunar, Afghanistan
• Afghan Families Flee 'Persecution' In Pakistan after School Attack
• 'Social Barriers Hampering Women's Participation' In Khyber-Pakhtunkhwa
• Unwillingness to maintain wife is economic abuse: Delhi court
• Turkey Woman decapitates man who forced her to do 'deviant acts in German porn'
• IS Had 'Sentenced' US Hostage to Death over Aafia Siddiqui's Imprisonment: Activist
• Breast Cancer Awareness Campaign Launched In Saudi Arabia
Compiled by New Age Islam News Bureau
URL: https://newageislam.com/islam-women-feminism/wearing-hijab-style,-indonesian-women/d/101418
-----------
Wearing Hijab in Style, Indonesian Women Stress Faith On Islamic Culture
February 8, 2015
Hundreds of Muslim women from the Indonesian community gathered at the Embassy of the Republic of Indonesia in Riyadh's Diplomatic Quarter to participate in the 'Creative Hijab,' a Muslim style makeover session organized by the wives of the Indonesian diplomats recently.
"Wearing an Islamic headscarf, or a 'Hijab,' is a personal choice for millions of Indonesian Muslim women. For many it is a representation of faith and a way to practice modesty," said Ivo Meriyanti Sunarko, wife of deputy chief of the Indonesian mission.
Sunarko said, "Indonesia is the world's most populous Muslim-majority nation with over 88 percent practicing Muslims and where the Islamic culture has a strong and widespread influence.
Significantly, Indonesia has a huge market in Hijab exports to Saudi Arabia and the Middle East. Indonesian Muslims have influenced the modest evolution of the Hijab, and Indonesian women's awareness of wearing the Hijab has increased, especially among the younger generations."
With the growing popularity of Hijab styles nowadays, Muslims do not hesitate to wear Hijabs and still look stylish. "Our Hijab culture has prompted Indonesian designers to produce creative designs for the Hijab which has become a fashion statement," she said.
A 'live' Hijab tutorial was organized by the Indonesian Women's Association (IWA) at the embassy's cultural hall. The event featured three innovative Hijab styles including a 'Casual' style for practical daily wear, a 'Party' style and Hijab for 'Seniors and the elderly.'
Hijab stylist Yoke Adi demonstrated the 'Casual' national style with Eka Farid who volunteered to model for the presentation while the elaborate 'Party Style' Hijab was presented by Ciecie Dafris with model, Jihan Rahmad. The 'Mature Style' was tutored by Endah Dewanto who worked with volunteer model, Yoke Adi. Stylist Endah personally preferred to uphold the 'Turban' Hijab, a current favourite among new Hijabis globally.
Increasingly, Hijab is becoming a symbol of individual expression and in many cases a fashion statement with greater adaptation of modern designs as showcased by online communities of Muslims across the globe.
Speaking about innovation in draping the modest covering, Endah Dewanto said, "Tutorials instructing women on how to wrap and wear an Indonesian Hijab are featured on various websites and blogs. Within these, different styles are usually featured and precise colours and fabrics may be chosen according to the wearer's preference."
Coincidently, the Hijab event stood parallel with the International World Hijab Day, celebrated on Feb, 1 since 2013, by members from over 116 countries with a message to encourage Muslim and non-Muslim sisters to experience a day in 'Hijab' for better awareness, education and greater understanding about the concept of Hijab.
Tyas emphasized "Hijab is our culture and a part of every Muslim's faith which protects the modesty of women and empowers them.
Muslim women should take the Hijab because it is an obligation upon every Muslim woman as stated in the Qur'an."
Ike Chairil said it was a beautiful sight to see the entire auditorium packed with Hijab-covered participants for a good cause. "With today's lesson, we can now confidently wear trendy Hijab styles ourselves without having to go to stylists," she said.
http://www.arabnews.com/saudi-arabia/news/700901
-----------
65% of Saudi Secondary Schoolgirls Smoke
February 8, 2015
The number of smokers among Saudi secondary schoolgirls reached 65 percent, while the rate among intermediate schoolgirls stands at 45 percent, a recently-published survey said.
The survey, conducted by the Faculty of Medicine at the Jeddah-based King Abdulaziz University, said the phenomenon poses a real threat to the health of Saudi women in the long term.
In a similar study earlier, Najran University founded that one-third of the Saudi population smoked on a regular basis.
The Kingdom ranked second and fifth at the GCC and global levels respectively, in terms of the number of female smokers, Al-Madina daily said.
However, the GCC countries have taken steps to curb the increasing number of smokers by raising the prices of cigarettes by 200 percent.
The move did not have the desired effect, and the number of smokers has risen alarmingly.
The reasons for the rising number of smokers among teenage girls has been attributed to wider exposure to the culture of foreign countries in light of the increased use of social media, mobile applications and the spread of e-cigarettes.
Nagwa Mousa, mother of two daughters, said smoking is the outcome of lack of guidance and monitoring by parents at home.
She pointed out that parents should befriend their children and listen attentively to their needs to ensure a healthy relationship.
http://www.arabnews.com/saudi-arabia/news/701331
-----------
Malala Calls for 'Urgent Action' To Free Nigerian Schoolgirl Hostages
February 8, 2015
LAGOS: Nobel peace laureate Malala Yousafzai on Sunday called for global support to help release more than 200 Nigerian schoolgirls kidnapped by Boko Haram, as they marked 300 days as hostages.
"As we mark this tragic 300th day of captivity for hundreds of kidnapped Nigerian schoolgirls, I call on people everywhere to join me in demanding urgent action to free these heroic girls," she said.
Boko Haram fighters seized 276 teenagers from the Government Girls' Secondary School in the remote town of Chibok, in Borno state, northeast Nigeria, on the evening of April 14 last year.
Fifty-seven managed to escaped but 219 are still being held, despite military claims that they had been located but that a rescue operation was too fraught with danger to be conducted.
The girls' abduction and subsequent claims from Boko Haram leader Abubakar Shekau that they have been forcibly converted to Islam or married off sparked global outrage.
The hashtag #BringBackOurGirls trended on social media and saw prominent figures, including US First Lady Michelle Obama, tweet their support, as well as global street protests.
Malala, 17, who was shot by the Pakistani Taliban for defying threats about her attending school, visited Nigeria in July last year to urge President Goodluck Jonathan to take action.
Jonathan has been widely criticised for what has been seen as a lacklustre response to the crisis and for failing to end the deadly, six-year insurgency.
On Sunday, Malala said the government in Abuja and the international community "can and must do much more to resolve this crisis and change their weak response to date".
"If these girls were the children of politically or financially powerful parents, much more would be done to free them," the children's rights campaigner added in a statement.
"But they come from an impoverished area of northeast Nigeria and sadly, little has changed since they were kidnapped. "Nigeria is preparing to go to the polls to elect a new president and parliament.
Malala said politicians who secure a win should commit to making the Chibok girls' release, and the education of all Nigerian children, a priority in their first 100 days in office.
"Let's end this horrible saga now. Leaders must make sure the #BringBackOurGirls effort results in a real outcome: the return of the Chibok girls," she added.
http://www.dawn.com/news/1162302/malala-calls-for-urgent-action-to-free-nigerian-schoolgirl-hostages
-----------
Insurgents Blown Up Girls School, Clinic in Kunar, Afghanistan
Feb 08 2015
Insurgents have blown up a Girls School and a clinic in eastern Kunar province.
Abdul Habib Sayedkhil, Police Chief of eastern Kunar province says that the incidents took place in Naray District last night.
He said unidentified insurgents blown up a Girls School in Saw area and a Clinic at Shir Gul area of Naray District last night.
He added that the compound of the Girls School is ruined by about 80%, adding that Holy Quran and other books also burned in the fire caused by the explosions.
This is 2nd such like incident taking place in eastern Afghanistan in less than 10 days.
On January 28 unidentified gunmen attacked two schools in Haska Mina District of eastern Nangarhar province.
One school was a Girls School and another was Boys School.
Following the incident Mohammad Asif Shinwarai, spokesman for the Education Department of Nangarhar province said that insurgents 1st went to the Girls School, tied up watchmen and blown up school with bombs.
Over 1, 000 kids were studying in the school, he said.
He added that militants then went to a Boys School in the nearby area and broken windows of the school.
No group has so far accepted responsibility for the attacks.
http://www.khaama.com/insurgents-blown-up-girls-school-clinic-in-kunar-29031
-----------
Afghan Families Flee 'Persecution' In Pakistan after School Attack
February 8, 2015
KABUL: Thousands of Afghan families are fleeing Pakistan to escape harassment after a deadly Taliban attack on a school in Peshawar last December, the head of the International Organisation for Migration (IOM) in Afghanistan said on Saturday.
More than 22,000 undocumented Afghans flocked across the border at Torkham in January, more than twice the figure for the whole of 2014, said Richard Danziger, the IOM's mission chief in Afghanistan.
Almost 1,500 others were deported in the same month, double the number of deportees in December.
"It all started with the attack on the school in Peshawar," Danziger told Reuters. "When something horrible happens, people start taking it out on foreigners."
Militants attacked a school in Peshawar in December, killing more than 130 children and prompting Pakistan to step up operations against insurgent hideouts along the border with Afghanistan.
Cooperation between Afghan and Pakistani security forces has also improved since the attack and has led to the arrest of suspects in Afghanistan, where officials believe it was planned by the Pakistani Taliban.
However, Afghans living in Pakistan are reporting incidents of harassment such as raids on their homes and police coercion, the IOM and other officials said.
Most of the Afghan families settled in Pakistan decades earlier and have nowhere to go once they return, Danziger said.
"Their lives are in Pakistan," he said, adding it was unclear how long they would remain in Afghanistan.
The flow of undocumented returnees increased steadily in January, from around 350 in the first week to 1,400 in the final week of the month.
Danziger said it was difficult to predict when the numbers of refugees would ease.
The unexpected arrival of thousands of people is pressuring Afghanistan's limited resources and only the most vulnerable are receiving assistance.
"We are down to helping the most desperate there," Danziger said, adding that resources had been diverted from the Iranian border.
Families lucky enough to qualify for help receive medical care, food and temporary shelter, but the IOM says it needs another $1.6 million to cope with an additional 17,000 vulnerable returnees this year.
Most refugees are moving to nearby provinces including Kunar, the IOM said, where fighting between Afghan forces and Taliban militants has recently intensified. Others are heading for Kabul, where resources for thousands of internally displaced people settled there are
http://www.dailytimes.com.pk/national/08-Feb-2015/afghan-families-flee-persecution-in-pakistan-after-school-attack
-----------
'Social Barriers Hampering Women's Participation' In Khyber-Pakhtunkhwa
February 8, 2015
PESHAWAR: Having been held back for centuries due to customs and cultural obligations, Khyber-Pakhtunkhwa's (K-P) women are slowly but surely making their way into the business arena as was evident from the women entrepreneurs' trade fair which ended recently.
However, the transition is not taking place fast enough and many women still remain out of economic spheres despite having the aptitude due to familial and social constraints.
According to Women Chamber of Commerce and Industry (WCC&I) Vice President Iqbal Bano, social barriers are the major obstacles hampering women's participation in the economy.
Speaking at the trade fair about the hindrances Pakistani women entrepreneurs face in running businesses, Bano said women, particularly in Pukhtun societies, are discouraged from running their own business on the pretext of Purdah (veil), customs and other reasons.
"K-P's women have immense potential and can show their skills to the world through their handmade products that depict the culture of their respective areas," said Bano.
She said the country's women are highly skilled in embroidery, jewellery making, mosaic, jute work and various other crafts, but they are not encouraged to run their own businesses. "Disapproval from their families adds to the roadblocks that line their path and holds them back from participating in life outside the confines of their houses," said Bano.
Naheed, an entrepreneur from Swat district, echoed Bano's views. Naheed said women in her area are not allowed to step out of their houses and do business. "We have a conservative society with an unspoken yet fixed rule that men will earn a living for the family while women will do the housework," Naheed said while talking to The Express Tribune. "Such cultural and social taboos kill the skills of a woman who is capable of supporting herself or her family in times of need."
According to social work department's Shagufta Sayeed, the province's women are adept at embroidery and artwork but the highly male-dominated society leaves no space for their skills to foster. "By participating in economic activities women can not only lift their standard of living but can also contribute to the GDP," said Sayeed, adding Pukhtun women are gifted and need guidance to properly market their skills.
This guidance is at the forefront of WCC&I's agenda for creating an environment that is conducive to the development of women entrepreneurs. According to the association's vice president, the chamber will play its due role in empowering women economically and socially. Businesswomen, she said, can project a softer image of war-torn Pakistan abroad, and work towards earning a respectable livelihood and acknowledgement for their work. Bano pledged WCC&I will help women from all backgrounds in developing links with customers and traders so that they get the opportunity to introduce their products in local and international markets.
http://tribune.com.pk/story/834626/crossing-obstacles-social-barriers-hampering-womens-participation/
-----------
Unwillingness to maintain wife is economic abuse: Delhi court
February 8, 2015
A man cannot refuse maintenance to his estranged wife having no source of income as that amounts to economic abuse, a Delhi court has held. Setting aside a trial court order dismissing the plea of a woman seeking maintenance from her estranged husband, Additional Sessions Judge Pulastya Pramachala observed that in the absence of any evidence, it cannot be said that no case of domestic violence was established.
"The admitted facts are sufficient to show that appellant (wife) had no source to maintain herself, though the respondent (husband) was having sufficient means to live a comfortable life. He, therefore, cannot refuse to maintain his wife. "His pleadings also show that he was not willing and interested to maintain the appellant, which in itself is sufficient to show that he has caused economic abuse upon the appellant," the court said.
It said that the trial court had overlooked the complete definition of domestic violence and the admissions in the pleadings of the respondent to conclude that since the woman did not lead any evidence to prove her allegations, therefore, her allegations remained bald averments.
The court also held that there exist domestic relations between the man and the woman who had entered into wedlock 35 years ago, have three children out of the said marriage and were living in the same house though on different floors. "The existence of domestic relationship is dependent upon subsistence of marriage between the parties and upon the fact that they had lived together in a shared household and at present, they are living in the same house, though on different floors. Therefore, I do find existence of domestic relationship between them," it said.
While noting that due to the dispute existing between the parties, the woman needs protection order, the court remanded back the matter to the trial court to decide the modalities for her protection as per law and the amount of maintenance. "The appellant would be entitled to maintenance order as well as for protection order against her dispossession from 1st floor of property and from disconnection of electricity connection," the court said.
The woman, a Delhi resident, had filed a complaint seeking maintenance from her husband claiming herself to be without any source of income and alleging cruelty and desertion by him.
http://indianexpress.com/article/india/india-others/unwillingness-to-maintain-wife-is-economic-abuse-court/
----------
Turkey Woman decapitates man who forced her to do 'deviant acts in German porn'
February 8, 2015
A 49-year-old woman in southern Turkey has confessed to the murder of a 67-year-old man whom she decapitated over his insistence to engage in "deviant acts" he has been seeing on German porn movies.
The woman, identified as Gönül S., met Osman T. in the Isparta province last September. The man promised her a civil marriage, if they would be still happy after two or three months living together.
"I accepted and moved in with Osman following a religious marriage ceremony. After 20 days, he began resorting to violence. He has been trying to have sex every day and I was finding an excuse to avoid it. He has been watching German porn channels, wanting me to do the acts he saw there," Gönül S. told the prosecutor in her testimony, Doğan News Agency reported Feb. 7.
The woman, who has a 12-year-old son from a previous marriage, has been beaten and insulted by Osman T. whenever she resisted his "deviant offers," the testimony said. The couple's latest quarrel on Jan. 30 turned out deadly after the woman's son tried to protect her mother, hitting the man with an antenna.
"He was still conscious. My son was scared and ran away to another room. I grabbed the kitchen knife when Osman clutched my throat again. I managed to push him to the floor face down and cut him in the back of the neck. I heard him grunting," said Gönül S., who has a taekwondo blue belt.
The woman, who was jailed pending trial, added that she was regreftul for the murder.
http://www.hurriyetdailynews.com/woman-decapitates-man-who-forced-her-to-do-deviant-acts-in-german-porn.aspx?pageID=238&nID=78028&NewsCatID=341
---------
IS Had 'Sentenced' US Hostage to Death over Aafia Siddiqui's Imprisonment: Activist
February 8, 2015
WASHINGTON: The young American hostage who Islamic State says was killed in a Jordanian air strike on Friday had been condemned to death by the militant group last year, according to an American rights activist.
Islamic State had seized aid worker Kayla Mueller as she left a Doctors Without Borders hospital in the northern Syrian city of Aleppo in August 2013. They initially gave her a "life sentence" in retaliation for the jailing in Texas of Pakistani Aafia Siddiqui whose case is a well-known cause among militants, said activist Mauri Saalakhan, who leads a US campaign to free her.
The militant group said on Friday that Mueller, a 26-year-old from Prescott, Arizona, was killed when Jordanian fighter jets bombed a building where she was being held. Jordan expressed doubt about the claim and US authorities said they could not confirm it.
After Islamic State's claim on Friday, Mueller's parents issued a public statement on Friday night, identifying their daughter by name and saying they remained hopeful she was still alive.
Mueller's family has not given details of any communication with the militant group and Saalakhan's information could not be verified by Reuters.
Saalakhan said that last summer, as Islamic State extended its control over parts of Iraq and Syria, the group threatened to kill Mueller. Saalakhan first mentioned the "sentencing" of Mueller in an open letter to the group he released last year.
But on July 12, 2014, militants told Mueller's family she would be executed in 30 days if Siddiqui was not released or the family failed to pay a ransom of $6.6 million, he said. The information about the threats came from a representative of Mueller's family, Saalakhan said.
The Islamic State apparently did not carry out its death sentence after Saalakhan and an Arizona pastor wrote open letters to the group. Siddiqui's family rejected Islamic State's attempt to link the two cases and said it did not want Mueller to suffer.
"I believe that the messages that went out after that threat was conveyed, both from Aafia's family and from us, I do believe those messages made their way to ISIS," said Saalakhan. Mueller's family had a communications pipeline to the militant group, the activist said, without elaborating.
Siddiqui is serving 86 years in a prison medical center in Texas. A jury had convicted her in 2010 of attempting to shoot and kill a group of FBI agents, US soldiers and interpreters who were about to interrogate her in Afghanistan for alleged links to al Qaeda. The White House has refused to negotiate for the release of hostages or pay ransoms demanded by Islamic State.
http://tribune.com.pk/story/834922/is-had-sentenced-us-hostage-to-death-over-aafia-siddiquis-imprisonment-activist/
-----------
Breast Cancer Awareness Campaign Launched In Saudi Arabia
February 8, 2015
Several organizations and companies launched a campaign recently to create awareness of breast cancer and raise funds for mammograms.
The program is entitled Doodle for a Cause, which encouraged people to send in their drawings expressing what the campaign means to them. This artwork was recently exhibited for sale in the city.
The organizations involved included the 21-39 Jeddah Arts Program, a non-profit initiative of the Saudi Arts Council, Arabi Cube, Zahra Breast Cancer Association and Dr. Soliman Fakeeh Hospital.
Deina Arif, founder of Arabi Cube and head of the campaign, said: "Doodle for a Cause was an innovative way to raise money for a good cause and in the memory of my dear friend Sara Binhadjila, who lost her life fighting breast cancer."
She said the campaign was started in October. "Instead of asking people to donate money, we invited them to send us their drawings on social media. The concept was to collect doodles from people and display each of them for sale for the cost of a mammogram screening."
She said the proceeds of the event would go to the Zahra Breast Cancer Association, which would collaborate with Dr. Soliman Fakeeh Hospital to help needy women get tested.
Over 600 doodles were collected across the world including Saudi Arabia. Dar Al-Hekma students also participated and contributed several doodles under the supervision of Reem Al-Torki, a faculty member.
Along with the Jeddah Arts Council, several other organizations also acknowledged the importance of the campaign. Arif thanked the sponsors and people who contributed drawings. She praised U-Turn Entertainment for playing "a major role in driving the cause on social media; and End Consumer for "embracing the new concept and making it successful."
http://www.arabnews.com/saudi-arabia/news/700896
-----------
URL: https://newageislam.com/islam-women-feminism/wearing-hijab-style,-indonesian-women/d/101418