New Age Islam News Bureau
16 Aug 2018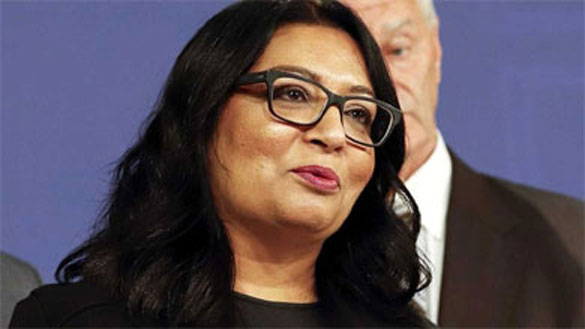 Incoming Greens Senator Mehreen Faruqi. (AAP)
------
• Pakistan Born Mehreen Becomes Australia's First Female Muslim Senator
• Justice Musarrat Becomes First Woman to Head A Poll Tribunal
• Muslim Woman Wins Handshake Discrimination Case in Sweden
• From Dubai to Disaster Zone: One Woman's Indonesia Earthquake Story
• The Minority Women Taking On Pakistan's Political Elite to Campaign For Better Health
• Egypt's Feminists Laud Mass Appointment of Women as Top Judges
• Equality in inheritance stirs controversy in Egypt
Compiled by New Age Islam News Bureau
URL: https://www.newageislam.com/islam-women-feminism/we-take-pride-our-service/d/116129
--------
We Take Pride in Our Service, Say Female Guides in Madinah
August 16, 2018
MAKKAH: Female guides in Madinah expressed pride in their work as part of the Kingdom's care of pilgrims during their time in the country.
Riham Husni told Saudi Press Agency (SPA) about her first experience of serving visitors to Madinah, the city of the Prophet.
"I hope to continue for the next few years and to make my family and the National Guides Establishment, which has given me the chance to do this noble job, proud."
Majida Habash said she has worked in this field since 2005, and now, female guides offer more services as part of a comprehensive plan for female visitors.
Majida said every female guide has a role to play in health care, including accompanying a female pilgrim when she goes into hospital and following up the case until she receives treatment, leaves the hospital or is transferred to another facility.
The female guide monitors all the data for the pilgrim and records them in the automated system. In the event of death, she reports it to officials in the health care office, who complete the necessary procedures. Majida stressed the keenness of all involved to develop the role of the teams working in this field. "Our main duty is to serve the pilgrims and offer them a helping hand," said Hala Samman. "The job is different from any other job, and I hope to work in the years to come and to serve the pilgrims better," she said.
"The female guides follow their health conditions in the hospital. It is a great honor to do this humanitarian work every day and provide the necessary requirements to help pilgrims perform their pilgrimage."
Hayat Hawalah said she works in the morning shift, and records patients' data in the system. It is an honorable experience that she hopes she can do for years to come.
Wedian Fakhrani said the work is done in coordination with all the other female guides to provide the best services for pilgrims and visitors during the pilgrimage season. Abrar Mahmoud said she provides care for pilgrims at King Fahd Hospital in Madinah and follows up their cases until they leave the hospital.
Inas Al-Fal praised the efforts of all female staff during the pilgrimage season, while Samah Abdel-Hafiz said she conducts her work through statistically monitoring sick pilgrims in King Fahad Hospital.
http://www.arabnews.com/node/1357226
--------
Pakistan Born Mehreen Becomes Australia's First Female Muslim Senator
August 16, 2018
ISLAMABAD: Pakistan born Mehreen Faruqi became Australia's first Muslim woman senator after being appointed to fill a vacant seat on Wednesday.
The Greens Party MP for New South Wales will be sworn into office next week. Her family had migrated to Australia in 1992. Before entering politics she had a distinguished career as an academic and has a doctorate in environmental engineering.
Her election to the state parliament in 2013 made her the first Muslim woman to attain any political office in Australia. In an interview with BBC, she shared that she will use her new role to achieve a "positive future for Australia where we are stronger for our diversity".
Faruqi has also taken a strong stance against recent incidents of racism in Australia. She remarked that overt displays of racism are not isolated incidents. She has also been a prominent critic of Fraser Anning's use of the Holocaust-associated term. Faruqi told Guardian that Australia Anning's speech had thrown millions of decent Australians under the bus in a "desperate attempt to remain relevant and reignite a long gone racist policy". "Senator Anning has spat in the face of our successful multicultural society, but I wouldn't expect anything less from an ex-One Nation senator," she said.
"These merchants of hate in the Senate will stop at nothing to keep attacking non-white people simply for the sake of sowing division in our country for their narrow political interests. I am Muslim migrant, I'm about to be a Senator and there's not a damn thing Fraser Anning can do about it," she wrote in a piece for a website.
https://www.thenews.com.pk/print/355611-pakistan-born-mehreen-becomes-australia-s-first-female-muslim-senator
--------
Justice Musarrat Becomes First Woman to Head A Poll Tribunal
Iftikhar A. Khan
August 16, 2018
ISLAMABAD: The Election Commission of Pakistan (ECP), which already has the first ever woman member from Khyber Pakhtunkha (KP), in another first has appointed a woman judge from the same province as election tribunal.
In a belated exercise, the ECP appointed on Wednesday 20 tribunals comprising serving judges of the high courts to adjudicate election disputes. One of the tribunals comprises Justice Musarrat Hilali.
Normally election tribunals are appointed with the issuance of final notification of election results, which is also beginning of the countdown of 45 days given to candidates for filing cases against the results.
As the notification for election tribunals has been issued late this year, the applicants will have less than 40 days for the purpose.
Eight tribunals have been appointed for Punjab, five for KP, four for Sindh and three for Balochistan.
Under the elections act, the law states that an election tribunal has to decide a petition within 120 days of its filing, but at the same time if the decision is delayed, further adjournment sought by a party will be granted only for up to three days and that too on payment of special cost of Rs10,000 per adjournment.
Justice Mamoon Rashid Sheikh, Justice Shahid Mubeen, Justice Shahid Jamil Khan, Justice Muhammad Iqbal, Justice Muhammad Ameer Bhatti, Justice Sardar Ahmad Naeem and Justice Mirza Viqas Rauf have been appointed to settle election-related disputes from Punjab.
Five judges to form election tribunals for KP are: Justice Musarrat Hilali, Justice Lal Jan Khatak, Justice Muhammad Ghazanfar Khan, Justice Abdul Shakoor Khan and Justice Ijaz Anwar.
The four tribunals for Sindh will comprise Justice Omer Sial, Justice Yousuf Ali Sayeed, Justice Shafi Siddiqui and Justice Khadim Hussain Shaikh.
The three tribunals for Balochistan comprise Justice Muhammad Hashim Kakar, Justice Abdullah Baloch and Justice Nazeer Ahmad Langove.
The ECP has requested chief justices of the high courts not to assign routine judicial to the judges appointed as election tribunals till the final disposal of the petitions, according to an official.
The Election Act, 2017 allows the ECP to appoint a serving or retired judge of the high court to hear poll disputes in election tribunals. It states that the ECP can appoint a sitting judge for an election tribunal in consultation with chief justice of relevant high court.
The law states that a petitioner may claim as relief any of the following declarations: "(a) that the election of the returned candidate is void and petitioner or some other candidate has been elected; or (b) that the election of the returned candidate is partially void and that fresh poll be ordered in one or more polling stations; or (c) that the election as a whole is void and fresh poll be conducted in the entire constituency".
An appeal against the decision of an election tribunal challenging election for a National or provincial assembly seat can be filed in the Supreme Court within 30 days of the decision.
https://www.dawn.com/news/1427283/justice-musarrat-becomes-first-woman-to-head-a-poll-tribunal
--------
Muslim Woman Wins Handshake Discrimination Case in Sweden
By Riley Morgan
A 24-year-old Swedish woman has won a discrimination case against a business after her interview process was abruptly cut short when she refused to shake hands with the male manager for religious reasons.
Last year, the Muslim woman was attending a job interview for a company as an interpreter.
But when she declined to shake the hands of the male interviewer the recruitment procedure was cancelled.
This prompted the Swedish Discrimination Ombudsman to take the case to the Labour Court.
The company argued both men and women are treated equally and refusing to shake hands with colleagues of the opposite sex went against its policy, according to The Local.
But the woman said in situations where both women and men are present, she greets both in the same manner by placing her hand on her heart and smiling.
The Labour Court found that her greeting would not have to lead to conflicts in the workplace, according to the publication.
On August 15 the court ruled the woman was indirectly discriminated against and the company was ordered to pay her $6,000 in compensation.
When ruling on the compensation owed to the woman, the court found it impossible to determine if she would have successfully been awarded the job following the interview process.
https://www.sbs.com.au/news/muslim-woman-wins-handshake-discrimination-case-in-sweden
--------
From Dubai to Disaster Zone: One Woman's Indonesia Earthquake Story
15 August 2018
A woman who moved to Indonesia after spending most of her life in the Middle East has found herself helping to coordinate the country's earthquake relief effort as the death toll continues to rise.
British expat Robyn Hall moved to Kuwait at just a few weeks old with her family where she lived until she was 16.
She then moved to Dubai where she worked for the cosmetics firm Lush helping to train Saudi women among others in what she says was one of the first retail businesses to hire female teams.
She moved to Indonesia two years ago to work as a scuba diving instructor and it was on an ordinary evening after an ordinary day at work when her world turned upside down.
Robyn, 36, had just finished cooking her dinner on the small island of Gili Trawangan where she was living when she felt tremors and ran outside.
She says: "I've experienced a couple of earthquakes in the years I've lived here. My island is off the coast of Lombok where the epicenter was. They never seemed anything to worry about, usually feeling quite weak and short.
"This time when the earthquake happened it was much stronger than anything I'd ever felt. I grabbed my cat and ran out of the house as there is a football field next door, an open safe space. On the way out, the power to the island cut, leaving us in the dark."
A local man helped Robyn get back into her house to get her phone so she could contact friends and colleagues.
They then moved further inland up a hill where it was safer. It was there that Robyn heard about the efforts the local community and her fellow divers were making to set up medical sites on the beach.
She says: "Locals and tourists were working together. I was offered food and water from local people who had been brave enough to go back down to get supplies. There was a real sense of community despite the fact we were all scared and unsure of what would happen next. Hundreds of people stayed together on the hill that night through the immediate aftershocks, while hundreds more were helping people in the main part of the island."
Joining the relief effort, Robyn has gone from teaching scuba diving to spending her days fundraising, shopping for supplies and coordinating their distribution and visiting different people in Lombok who've been affected by the earthquake.
She adds: "The sense of community is overwhelming. Many divers and businesses on the island have crowdfunding pages set up. This operation has been growing by the day, helped by the generosity of donators abroad, but as more of us made it to Bali we have had business owners offering help. Locals have been fundraising and doing clothes drives and individuals in Lombok and Bali have started to work with us more to get more coordinated, helping to ensure that the homeless in Lombok are getting what they need. There are around 200,000 now I believe."
Using her experience in the world of business from working in Dubai, Robyn has been helping to manage inventory in the warehouse.
But, she says, the situation is bleak for many.
Mosques, schools and houses have been destroyed and the death toll is over 430.
"Some have made it to government shelter, some are sleeping outdoors with no shelter or power. Some more remote villages have not yet received aid and it's been over a week now," she says.
"I've been in regular contact with my colleagues and they have all lost their homes. One has lost 17 members of his family. These people are my friends. When I've spoken to them their first question is always about my safety, which is astonishing considering their current situation."
"We're doing everything we can to support them but we need to keep funds coming in. We've already been told by aid agencies that our community has managed to keep thousands of people alive due to our immediate response. Bigger agencies and the government need longer to mobilize and also have to work on long term strategies, this is normal. We're very proud of what we're achieving and the support we've been receiving so far but it needs to keep coming."
"These people need our help to get through this in order to rebuild their homes and businesses to have a future."
And while officials say that 8,400 tourists and resort workers have been evacuated from the islands Robyn lives on, she says she has no intention to flee."
She adds: "There's no way I couldn't stay and help."
"Indonesia and Gili Trawangan have been my home for two years. The people in need have been my colleagues, friends and essentially my family here. How could I leave them at a time like this? They need help to get back on their feet right now."
"My house is accessible at the moment but doesn't have running water due to damage. I'm staying at one of the dive resorts. A number of the dive shops have an open door policy for people on the island who want to help either prepare the island for business or in the Lombok relief efforts. There's a real sense of community with everyone pooling together for communal meals and a bit of downtime together after their daily tasks."
https://english.alarabiya.net/en/features/2018/08/15/From-Dubai-to-disaster-zone-One-woman-s-Indonesia-earthquake-story.html
--------
The Minority Women Taking On Pakistan's Political Elite to Campaign For Better Health
15 AUGUST 2018
When Sunita Parmar Menghwar became frustrated at the lack of health care, water and education in her corner of Pakistan, she had little hope existing politicians would improve things.
Believing her community had been neglected and betrayed by the political elite, she decided instead to take matters into her own hands, and stand for election herself.
For people like Mrs Parmar, Pakistan's politics is not an easy world to enter.
As well as a Hindu woman in a country that is 96 per cent Muslim, she is also one of Pakistan's 40 so-called scheduled castes – those at the bottom of the caste hierarchy who are known in neighbouring India as dalits, or untouchables.
In a country where politics is often the preserve of a dynastic elite or the sport of feudal landowners, to contest an open seat as a minority woman is almost unheard of.
Undaunted, the 39-year-old from Tharparkar last month joined a handful of women from similar castes and religious minorities elsewhere in the country, trying to get elected onto Pakistan's provincial or national assemblies.
While their numbers were small and none of the independent candidates were elected, the very fact they even stood, often to improve health and education, has been described as a milestone by campaigners.
"I took this stand for the people of Tharparkar, for the people of my 'status'," she told the Telegraph.
"Because they don't have representatives to voice their concerns. Thar has always been ruled by the feudal class, but they have given us nothing. They only visit us during election time to collect votes. They give money in exchange for votes, and people accept it out of greed. And then they leave."
"Our people don't realise the importance of their vote – they sell themselves. The people of Thar do not have roads, water to drink, hospitals, schools – the basic necessities of life."
Pakistan's minorities have this year seen the first election of a female, scheduled caste Hindu senator, Krishna Kumari Kohli. At the time of her election she vowed to work for the "empowerment of women, their health, and education".
Pakistan's assembly has 70 seats reserved for minorities and women, but the general election also saw the first election of a Hindu politician to a general seat, Mahesh Kumar Malan.
Seema Maheshwari, a human rights activist in Sindh, said the fact many of the 10 minority women had stood for general seats as independents in the rural parts of the province or in the port of Karachi was a "sea change".
She said it was sign of growing confidence among women. She said: "We can see that not only male persons, but also female persons can stand. Women think they are adults, they are citizens, they are also human beings."
Basic healthcare, clean water and education were often the core of their election demands.
The Thar desert in Sindh province is one of the most deprived parts of the country and its residents are largely Hindu.
Mrs Parmar, a university graduate from the local city of Mithi, said: "In particular, I would like to open a hospital that has a gynecology department, with all the equipment and tools for delivery, so women don't have to travel far. The way it is in other places. Many women die during child birth.
"When I go out campaigning, I notice that there are hospitals – but no doctors. There are schools – but no teachers. When I talk to people, I sense their frustration. The biggest issue is the lack of clean drinking water."
Another minority candidate, a Christian woman called Nomi Bashir, had similar complaints in Karachi.
"There is no water, we don't have proper roads and our education system is completely flawed," she said in a newspaper interview while on the campaign trail.
The rough-and-tumble of Pakistan's politics can be tough for candidates without money or powerful support.
Mrs Parmar said she had been intimidated and told to back down.
"Yes, there have been instances where I've gotten calls telling me to step aside. These feudals that rule over us have tried to pressure me. They'd call at my house and say, 'Tell Sunita to step aside'. But I have stepped forward for my community and I will not back down. I'm not alone, I have the entire downtrodden class with me."
On the July 25 polling day she picked up 352 votes. The winner, Fakir Sher Mohammad of the Pakistan People's Party, picked up nearly 55,000.
Perhaps it was fear that stopped her neighbours voting for her, or perhaps they were paid off, she said.
"I thought more people would vote, I thought I would win," she told the Telegraph.
"But I still feel happy. I don't care about win or loss, I'm happy I competed. I met with the people, took part in the process and represented my community. It was a great experience."
https://www.telegraph.co.uk/news/2018/08/15/minority-women-taking-pakistans-political-elite-campaign-better/
--------
Egypt's Feminists Laud Mass Appointment of Women as Top Judges
Menna A. Farouk
August 15, 2018
Women's rights activists and jurists hailed a decision by the Supreme Judiciary Council earlier this month to promote 16 female judges, expressing hope that women in top judicial positions will make their mark on the gender-sensitive issues that come before the courts.
"I am very optimistic about the promotion of the 16 female judges as it may bring forth another interpretation of laws, especially those concerning female genital mutilation, rape, safe abortion, inheritance and violence against women and eventually reform the judicial system," Randa Fakhr El-Deen, executive director of Egypt's union of nongovernmental organizations working to protect women and children, told Al-Monitor.
Fakhr El-Deen said that the long overdue move reflects the Egyptian leadership's willingness to move toward recognizing equal rights and ensuring the fair representation of women in Egypt's judiciary.
Hadia Abdel Fattah, a women's rights activist and founder of an anti-harassment initiative, said that feminists face "a male mentality" in judicial and wider government circles. With the increased presence of female judges in the judicial system, changes and reform, particularly regarding women's issues, are possible.
Female activists in Egypt have been pushing for efficient implementation of new laws that protect women, such as the penalization of female genital mutilation and jail terms for those who marry underage girls as well as upcoming legislation that would penalize families who allow such marriages. They ask for maximum penalties for domestic violence, swift divorce under fair conditions for women and a no-tolerance attitude toward harassment and rape.
"When we feminists push for changes in laws affecting women, we get stuck with a male-dominated judicial community. Men in Egypt do not feel women's problems as much as women do. That is why having female judges can be very helpful for women in Egypt," she told Al-Monitor.
One of the plum posts is Qena Appeals Court, one of the top judicial rank now taken over by Judge Amal Ammar, a member of the Egyptian National Council for Women.
National Council for Women chairwoman Maya Morsi said that the Egyptian Constitution's Article 11 guarantees women's right to high administration posts, including the judiciary. Morsi added that there are currently 66 female judges in the country. The number was reached in four batches of large-scale nominations — all of them in the last 15 years, almost half a century after other regional countries such as Lebanon, Iraq and pre-revolutionary Iran. In 2003, Tahani al-Gebali was appointed to the Supreme Constitutional Court. In 2007, the first female judges and prosecutors were appointed. More appointments followed in 2008, 2015 and 2017.
Yet, Egypt's female jurists still have to break into the all-powerful State Council. The council issues legal opinions and reviews bills, resolutions and draft contracts for the state and public entities. The National Council for Women and some individual female jurists have been battling for access to this powerful body to no avail. Though there is no legislation banning their appointment, the State Council has kept women out via its own selection process.
Nevertheless, Gebali sees the recent appointments as a success story for women in the judicial sector. She told Al-Monitor, "The process started in 2003, when I was the first woman to be appointed vice president of the Supreme Constitutional Court and then tens of female judges were appointed in Egypt's courts in 2007. It is normal now for these female judges after being for several years in the judicial system to be promoted."
Gebali said that women's involvement can transform and reform the system, explaining, "There were many distinguished female graduates of Egypt's law schools who were not allowed to take up posts in this field. Now, those efficient women are being appointed as judges and also being promoted to leading posts. This is for sure a huge benefit to the judiciary system in the country."
But she added that 66 female judges out of a total of 17,000 judges in Egypt are not nearly enough. "Although the number of female judges is still low, I believe that Egypt's new leadership is adamant on getting women to join every field in the country, especially the judicial system," Gebali concluded.
https://www.al-monitor.com/pulse/originals/2018/08/more-female-judges-appointed-in-egypt.html
--------
Equality in inheritance stirs controversy in Egypt
Aug. 15, 2018
CAIRO – 15 August 2018: Inheritance equality between men and women, which Tunisia calls for, has stirred controversy in Egypt as some called on members of the Parliament to submit a draft law guaranteeing equality between men and women in inheritance.
The presenter of "90 Minutes" program, Mohamed el-Baz, said that women's status nowadays differs from that in the prophet's period as women today contribute more to societies and are breadwinners.
Egyptian law follows an interpretation of the Islamic law, in which a man inherits double the share of a female, with some exceptions, including the mother and father of a deceased person both receiving one-sixth of the deceased's possessions, based on what is stated in the Qur'an.
Baz added that equality between men and women in inheritance does not contradict with God's decree as it is no longer suitable for the conditions of today's community.
"Nobody can change the Qur'an's verses regarding inheritance. We will preserve the holy text, but it will not come into effect as it is no longer appropriate for the community nowadays," he remarked.
In the same context, a member of Egyptian Parliament's Social Solidarity Committee, Mohamed Abu Hamed, said that inheritance equality in Egypt is a very complicated issue as the religious discourse should be renewed for inheritance equality to be applied.
He added that Article 2 of the Constitution, stipulating that Shari'a (Islamic law) is the main source of legislation, will influence the religious point of view, stressing that Al-Azhar has criticized Tunisia's decision in this regard.
MP Shoukry al-Gendy of the Religious Committee of Endowments and Religious Affairs said that the Qur'an's texts on the inheritance for men and women are very clear, and all Muslims should obey God and his prophet, referring that such calls are void.
Tunisian President Beji Caid Essebsi has called for the formation of a committee to study the issue of individual rights to further enact them and to consider equality between men and women in all fields including inheritance.
Essebsi remarked on the occasion of the National Women's Day on August 13 that he will submit a draft law before the Parliament, calling for inheritance equality between men and women after the Parliament returns from its vacation in October.
He stressed that the draft law respects the freedom of individuals to choose to apply the inheritance equality or not.
"Inheritance is a matter for mankind that God left to the diligence of the people according to their era," the Tunisian president previously said on the occasion of the National Women's Day on August 13, 2017.
A few weeks before the first municipal councils election since the Tunisian revolution in 2011, the political arena witnessed polarization and disputes. Essebsi's requests shocked both social and political circles when he returned pleas for more freedoms and equality between men and women in various fields.
Essebsi's request crossed all red lines and taboos, not only in Tunisia but in the Arab and Islamic world. Tunisia was the first Arab country to make such a move.
Essebsi asked the government and his minister of justice to end a regulation that prohibits the documentation of any marriage of a Tunisian Muslim woman to a non-Muslim man.
Essebsi pledged to find a form that does not conflict with public opinion. He cited Turkey's recognition of equality between men and women since Mostafa Kamal Ataturk's era.
He also stressed that Islam does not conflict with democracy and development, "In Tunisia, democracy goes hand in hand with respect for Islam," he said.
Essebsi praised the Parliament's approval in July of a landmark bill that criminalizes violence against women, making Tunisia the first Arab country to issue a law specifically addressing such violence.
Some 41 percent of Tunisian judges are women, while 60 percent are in the medical field, and 50 percent in the engineering sector, Essebi said.
Women's rights in Egypt
Throughout 2017, women gained more rights in several fields with the support of the government.
On Dec. 5, Parliament passed a new inheritance law that gives women their legitimate right to inheritance after numerous suppressed women – especially in Upper Egypt and some rural and urban areas – were deprived of it.
Egypt used to have no sanctions to punish someone who keeps members of a family – usually women – from receiving their rightful shares of an inheritance.
Often an inheritance is kept from a woman because the family fears property ownership would transfer to her husband and not be kept in the immediate family.
Accordingly, the National Council for Women (NCW) started pressuring Parliament to issue a law guaranteeing inheritance rights for Egyptian women, until February when the Parliament's Legislative Committee approved an amendment proposed by the government to Inheritance Law No. 77/43.
Under this amendment, a number of violations would be considered criminal offenses; such violations include intentionally depriving heirs of their rightful inheritance. The amendment proposes punishment of at least 3 years in prison and a fine ranging between LE 20,000-100,000 (around $1,119-5,595).
Also, hiding documents that could prove a person's legal right to an inheritance is considered a violation. In such cases, the offender would be sentenced to at least six months in prison and a fine ranging between LE 10,000-50,000. If the violation is repeated, the amendment calls for a sentence of at least 1 year in prison.
In a relevant context, early this year, Parliament approved a draft bill pushing for tougher penalties on sexual harassment. The bill imposed an increase in fines ranging between LE 5,000-10,000 on those who are found guilty of sexual harassment in public or private areas, with harassment defined as gestures, words, any modern means of communication or any other action that carries sexual or pornographic hints.
The Feb. 2017 Cabinet reshuffle included nine new portfolios, one of which was occupied by Hala al-Saeed, minister of planning. Furthermore, the Ministry of Investment and the Ministry of International Cooperation have been merged to become the Ministry of Investment and International Cooperation headed by Sahar Nasr. This is in addition to the already appointed Minister of Social Solidarity Ghada Wali and Minister of Immigration Nabila Makram.
President Abdel Fatah al-Sisi announced that Egyptian women have played a vital and significant role to help Egyptian society overcome the current difficult conditions.
The Egyptian leader made his statements during an Iftar banquet held under his auspices to honor women after he announced 2017 as the "Year of Egyptian Women."
During his speech, Sisi expressed his deep respect for Egyptian women's resilience.
"The Egyptian woman, unlike in many countries around the world, and due to the difficult circumstances of Egypt, endures so much. In fact, when we were on the economic reform procedures over the past two years, or longer, I knew that in every house, I, or rather Egypt, had a prop," Sisi said in the video.
http://www.egypttoday.com/Article/2/56006/Equality-in-inheritance-stirs-controversy-in-Egypt
--------
URL: https://www.newageislam.com/islam-women-feminism/we-take-pride-our-service/d/116129
New Age Islam, Islam Online, Islamic Website, African Muslim News, Arab World News, South Asia News, Indian Muslim News, World Muslim News, Women in Islam, Islamic Feminism, Arab Women, Women In Arab, Islamophobia in America, Muslim Women in West, Islam Women and Feminism