New Age Islam News Bureau
22 Feb 2019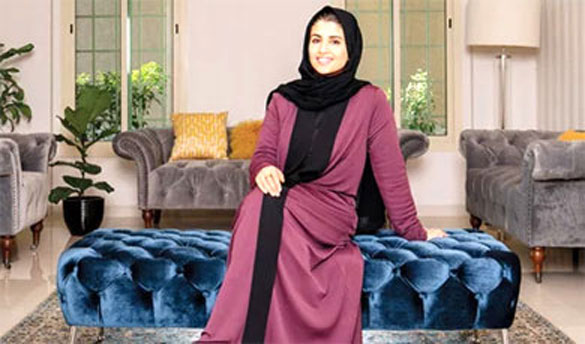 Basma Alshaalan, diplomat at Saudi Arabia's UN mission. (Ziyad Alarfaj/AN)
-----
• Basma Alshaalan, diplomat at Saudi Arabia's UN mission
• Father of US-Born Woman Who Joined Daesh Sues over Citizenship
• How Women's Studies Could Drive Change in the Arab World
• Turkish, Syrian Women Join Hands to Revive Ancient Soap
• Russian-Turkish Woman to Run For Alanya Mayor In Southern Turkey
• Campaign in Dallas to Clear Negative Stereotypes about Hijabs and Muslim Women
• UK Muslim Peer Pledges Support for Jailed Syrian Women
Compiled by New Age Islam News Bureau
URL: https://www.newageislam.com/islam-women-feminism/we-dream-being-free-violence/d/117824
--------
'We Dream Of Being Free From Violence and Oppression': Saudi Sisters Stuck In Hong Kong
February 22, 2019
Two young Saudi sisters in Hong Kong said Thursday they had been intercepted by kingdom officials at the city's airport while attempting to escape to Australia, in the latest case of women fleeing the ultra-conservative country.
The pair, who have adopted the aliases Reem and Rawan, said in a statement from their lawyer they had renounced Islam and fear the death penalty if forced to return to Saudi Arabia.
The sisters aged 20 and 18, whose representatives say they suffered violent abuse, fled to Hong Kong in September from a family holiday in Sri Lanka and were planning to fly on to Australia.
But they say they were obstructed by Saudi officials and have been living in hiding in the Chinese city for nearly six months since.
"We fled our home to ensure our safety. We hope that we can be given asylum in a country which recognises women's rights and treats them as equals," the pair said in the statement shared by prominent lawyer Michael Vidler.
Saudi Arabia is one of the world's most restrictive countries for women.
Unknown men took their passports
The case has emerged a month after 18-year-old Saudi woman Rahaf Mohammed al-Qunun drew global attention with her dramatic escape from an allegedly abusive family, gaining refugee status in Canada last month.
Justice Centre Hong Kong, a migrants' rights group aiding Reem and Rawan, said the sisters had also fled "gender-based violence".
According to the lawyer's statement, they were intercepted during their stopover by unknown men who took their passports and "attempted to deceive the sisters" into boarding a flight back to Saudi Arabia.
The two appear to have opened a twitter account on Thursday, as their story became public.
They later learned one of the men was Saudi Arabia's consul general in Hong Kong, and that their onward flight booking had been cancelled, it added.
The Saudi consulate in Hong Kong did not respond to requests for comment.
After failing to board a second flight and fearing they were about to be "forcibly abducted", the sisters say they left Hong Kong airport to enter the city as visitors.
They have been forced to change locations 13 times for fear of their safety, their statement said, after police reportedly tried to take them to meet male relatives and Saudi officials.
"We dream of being in a safe place where we can be normal young women, free from violence and oppression," the sisters said.
They tweeted Thursday, using the account @hksisters6, to say their passports had been invalidated and they feared being forced to go to the Saudi consulate in Hong Kong.
"We do not want to face the same fate as Mr Jamal Khashoggi," they wrote, referring to the prominent journalist and critic of Saudi Crown Prince Mohammed bin Salman who was murdered at the kingdom's consulate in Istanbul October 2.
Hong Kong police told the AFP news agency the case is under investigation and confirmed they received a missing person report and a separate report made by "two expatriate women" in September.
Hong Kong's Airport Authority declined to comment.
https://www.aljazeera.com/news/2019/02/saudi-sisters-stuck-hong-kong-months-fleeing-kingdom-190221161045143.html
--------
Basma Alshaalan, diplomat at Saudi Arabia's UN mission
February 21, 2019
A culturally diverse environment is the best environment in which to develop skills, and that is what I have gained in working at the World Bank and the UN. I am now working at the Permanent Mission of Saudi Arabia to the UN in New York, representing the Kingdom on the Third Committee of the General Assembly, which deals with social, humanitarian and human rights issues.
I was raised in a household in which knowledge, education and support were of vital importance. My father, Hakeem Alshaalan, is a retired chemical engineer with more than 25 years of experience in engineering project management. He helped pave the way for me with his wisdom and unconditional love. My mother, Latifah Alsudairy, the most amiable woman I have ever known, taught me how to be resilient through her adaptive attitude toward life. She is a housewife who devoted her life to supporting her husband and children, and I believe her to be the proud owner of all our achievements.
My siblings are dynamic, each of them with their own paths in life. The youngest two, though still in high school, are the brightest of us all, hence the reason why the family turns to them for the most valuable advice.
Growing up in Saudi Arabia and, later, in three of the world's most dynamic cities — London, New York and Washington — helped build my capacity to engage with different cultures and people from a variety of backgrounds. I am grateful for how these versatile and vibrant cities have subtly added special meaning to my life and memories.
I completed my bachelor's and master's degrees in international relations and national security in the UK and, through persistence, diligence and hard work, earned a spot at New York University, where I graduated with a joint master's in international relations and international business. The interdisciplinary courses equipped me with the broad knowledge and analytical skills that help me now in my career.
As a result of my interest in understanding community development, the research I conducted during my years in higher education focused on examining various governance models and best practices adopted by governments, non-governmental organizations, international governmental organizations, multinational corporations and small-to-medium enterprises.
After graduating, I joined the World Bank in Washington as a media and communications editor, which expanded my knowledge of the operational mechanism of the World Bank's development initiatives. Saudi Arabia is investing heavily in cultivating innovation and enabling its human capital through the creation of a culture that rewards determination and helps everyone gain the skills they need to achieve their objectives.
I like to spend a lot of time outdoors, and the hobbies I enjoy include endurance activities such as hiking and running. I find the intense yet seamless process of building endurance is very similar to life.
I am extremely proud of the ongoing economic transformation in the Kingdom and passionately believe in the Saudi future we all envision; I can see that we are now spontaneously preparing for the greatest future that awaits us.
On a personal level, I aspire to play an active part in the process of achieving our national and international objectives, and in my professional career I have been able to link Vision 2030 with the UN Sustainable Development Goals 2030 agenda.
http://www.arabnews.com/node/1456106/saudi-arabia
--------
Father of US-Born Woman Who Joined Daesh Sues over Citizenship
February 22, 2019
WASHINGTON: The father of an Alabama woman who joined the Daesh group in Syria sued Thursday to bring her home after the Trump administration took the extraordinary step of declaring that she was not a US citizen.
Hoda Muthana, 24, says that she regrets joining the extremists and is willing to face prosecution in the United States over her incendiary propaganda on behalf of the ruthless but dwindling group.
A day after President Donald Trump declared on Twitter that he had issued orders to bar her, Muthana's father filed an emergency lawsuit asking a federal court to affirm that his daughter is a US citizen and let her return along with her toddler son, whose father was a Tunisian militant killed in battle.
The brewing legal battle hinges on the murky timeline of bureaucratic paperwork in 1994 when Muthana was born and her father, Ahmed Ali Muthana, left a position at Yemen's mission to the United Nations.
The US Constitution grants citizenship to everyone born in the country — with the exception of children of diplomats, as they are not under US jurisdiction.
"Upon her return to the United States, Mr. Muthana's daughter is prepared and willing to surrender to any charges the United States Justice Department finds appropriate and necessary," said the lawsuit filed with the US District Court in Washington.
"She simply requires the assistance of her government in facilitating that return for herself and her young son," it said.
In the lawsuit, Ahmed Ali Ahmed said he was asked by Yemen to surrender his diplomatic identity card on June 2, 1994 as the Arab country descended into one of its civil wars. Hoda Muthana was born in New Jersey on October 28 of that year and the family later settled in Hoover, Alabama, a prosperous suburb of Birmingham.
The State Department initially questioned Hoda Muthana's right to citizenship when her father sought a passport for her as a child because US records showed he had been a diplomat until February 1995, the lawsuit said.
But it said that the State Department accepted a letter from the US mission to the United Nations that affirmed that he had ended his position before his daughter's birth and granted her a passport.
The lawsuit said that Hoda Muthana was also entitled to citizenship due to her mother as she became a US permanent resident, anticipating the loss of diplomatic status, in July 1994.
Ahmed Ali Muthana additionally asked for the right to send money to support his daughter and grandson, who are being held by US-allied Kurdish fighters at the forefront of fighting the Daesh militants.
She furtively went to Syria in 2014 when the Daesh group was carrying out a grisly campaign of beheadings and mass rape and turned to social media to praise the killings of Westerners.
Secretary of State Mike Pompeo, who was named in the lawsuit along with Trump, in a terse statement Wednesday said that Hoda Muthana was not a citizen.
Pompeo did not outline the legal rationale but in an interview Thursday, asked if the key issue was that her father had been a diplomat, Pompeo said, "That's right."
"She may have been born here. She is not a US citizen, nor is she entitled to US citizenship," Pompeo told NBC television's "Today" show.
In a separate interview with the Fox Business Network, Pompeo dismissed the "heart-strings" pitch in Muthana's pleas to return home.
"This is a woman who inflicted enormous risk on American soldiers, on American citizens. She is a terrorist. She's not coming back," he said.
It is extremely difficult for the United States to strip a person of citizenship, a step taken by Britain in the case of homegrown militants.
Trump's order on Muthana came even though he is pushing other Western countries to bring back hundreds of militants to prosecute at home as the United States prepares to withdraw troops from Syria.
http://www.arabnews.com/node/1456206/world
--------
How Women's Studies Could Drive Change in the Arab World
Amal Al-Malki
21 Feb 2019
Women's studies has much to offer in the search for solutions to some of the Arab world's most pressing social and economic problems today, yet it is often ignored by policy makers.
Why is it that we face skepticism when we promote women's studies as an important field for paving the way toward achieving gender equality? The question is especially apt in the Middle East where female status isn't at its best—a fact that needs to be stated whether we like it or not.
Female representation and gender equality are increasingly featured on global and national agendas. Even nations that aren't in total compliance with international standards for gender equality still list it within their economic and development plans, understanding the importance it poses for their global political image and the lift it can give to their economies. Gender equality is a necessary part of global citizenship and a prerequisite for local and regional stability and prosperity.
A Narrative of Our Own
Arab women's studies was born out of not just necessity but also self-affirmation. There was a need to break free from the dominant U.S.-European intellectual frameworks that for so long limited how feminist theory defines "other" women's struggles and "other" feminist movements. The dominance of Eurocentric scholarship was challenged in the late 20th century by theories of "third world women" and "postcolonial women," offering alternatives to the previous blanket definitions that were void of real-life experiences of "different" women.
Realistic representations of Arab women entail a deconstruction of layers of fabrications and requires a rewriting of history, which is a lengthy and taxing process. Scholarly studies are the best way to tackle this imperative mission through their main remit of building and spreading knowledge.
Universities in Arab countries have been criticized as being consumers of Western knowledge and incapable of producing authentic knowledge that corresponds to these nations' own troubled histories and uncharted future.
Women's studies is a field that can defy such suggestions of academic incompetence, as it is a panorama of multiple disciplines and thus able to present a multi-angled, comprehensive, and realistic representation of the changing and ever-evolving subject matter.
Women's studies will help us produce an authentic narrative that communicates counter-stories by scholars who have first-hand experience with the Middle East, some of whom are female academics from the region. (See a related article, "The Legacy of Fatema Mernissi, Moroccan Feminist and Scholar.")
Modern discourse on education is highly grounded in global humanistic values of equality and inclusion. A strong current tendency among universities is to align with the United Nations' Sustainable Development Goals for 2030. While gender equality stands tall as Goal No. 5, it is also embedded in most of the interconnected goals.
There are many in academia who still believe that our mission is not to merely respond to the job market, feeding it with what it needs today. We believe that the main role of education is to contribute to building just and inclusive societies, and what we teach is a main factor in doing so. Gender equality as a new discourse in Arab societies can only be taken seriously if it is embedded within an academic discourse that can translate through political endorsement and civil society engagement to effect societal change. Education, civil society, and political will are needed to tackle gender equality collectively, and bring about lasting change.
Applications for Current Issues
Women's studies as an academic discipline is relatively new in our part of the world. Lying within the humanities and social sciences, it transcends traditional disciplinary boundaries, and its theoretical foundation incorporates socio-political, economic, and feminist theories. To study women in Arab countries or the Middle East and North Africa region (I use the terms interchangeably here) is to study them within their historical context, based on the interplay of religion, politics and culture, and then ground them in their economic and political realities.
Women's studies brings in contemporary debates on citizenship, migration, development and health. As a subject matter, women's studies and the promotion of gender equality and women's empowerment in some of the Arab countries have become a part of the state-building narrative. However, most women's empowerment plans fail because of a lack of foundations, whether structural, educational or vocational. Women's empowerment starts from education, preferably early on in the lives of women, within a structure that is modified to embrace women's new roles and aspirations.
The discourse on gender equality is also important for national economies. Increasing women's participation in the workforce tends to boost economic growth, and the benefits are greater than previously thought, a recent study by the International Monetary Fund found.
Needless to say, the economies of many Arab countries lag in terms of development. Exceptions include Qatar, Kuwait, the United Arab Emirates and Saudi Arabia, which regularly rank among the richest nations of the world in terms of gross domestic product per capita. However, the discrepancies between the "economically struggling" countries and the "prosperous and wealthy" countries in the Arab world are vast.
Furthermore, the growing interest in the region in women's economic participation, and its interconnectedness with human development plans, needs an academic grounding that would make sense of the statistics out there. For example, the participation of women in the workforce in the MENA region is proportionally small, yet their educational attainment is high. Meanwhile, their freedom and mobility are considered among the lowest in the world.
Getting Behind the Numbers
Numbers can be either manipulated or underplayed by states so that they don't reflect reality. Therefore, the realities behind the statistics need to be disclosed and studied. Women's studies is an area that is equipped to do this by engaging with economics and development theory to provide a model with the tailored measurements required to disclose the real issues. Women's studies can become an academic tool for making knowledge-based economies that are grounded on inclusion and equality become reality.
When my colleagues and I mapped the MENA region for programs on gender or women studies, the results were disappointing, yet revealing. There is evidently a gap in scholarship and scholars, and a vacuum that is filled by imported scholarship that recycles information about Arab women since precolonial and colonial times.
It is time that we give Arab women their overdue rights for accurate representation. Arab women need to be situated within their specific geopolitical context and celebrated and acknowledged for their diversity and differences, without trying to confine them to a single image.
We believe that teaching women's studies is one of the major drivers for social change in any society, and gender awareness. A reflection on policies cannot happen unless a force for change comes from within societies in the form of researchers, scholars, women's rights and gender equality advocates, activists and practitioners—including politicians.
https://www.al-fanarmedia.org/2019/02/how-womens-studies-could-drive-change-in-the-arab-world/
--------
Turkish, Syrian Women Join Hands to Revive Ancient Soap
22.02.2019
Syrian women in Mardin, a southeastern province, bubble with enthusiasm as they gather around large vats, stirring a thick mixture of olive oil. Local women watch carefully, as this is a training session for their future job. All of these people in an old manor in the historic city are the staff of a workshop to produce Aleppo soap, dubbed the world's oldest.
Its production almost came to a halt in war-torn Syria, but women who fled their country and became refugees in Turkey are intent on reviving it. Supported by the Turkish government, the European Union, the United Nations, the Turkish Red Crescent and a local non-profit organization, the workshop in Mardin's Artuklu district aims to boost female employment in Mardin, while offering job opportunities for refugees at the same time.
After a brief training period, local women are ready to join Syrians to produce the soap, which resembles a slab. Forty-four women, including 21 Syrians, labor in the small workshop to produce 1,000 bars of soap every day.
Aside from a few changes to the ingredients, Aleppo soap is no different than its original version traditionally produced in the eponymous city that is now mired in a civil war. Instead of olive oil of their homeland, Syrian women now use olive oil from trees in Derik, a Mardin town. Boiled in vats, it is added to soda and pure water and differs from other soaps with its all-natural ingredients, with 93 percent olive oil. It is not a quick process as the thick mixture must be cut into bars and left for drying for about three months.
Siham Ahmad, a 53-year-old Syrian refugee who took shelter in Turkey with her family about six years ago, says she immediately applied when she found out about the project. She is no stranger to the business as it was her family business back in Syria. "I both make the soap here and teach to my Turkish sisters how to make it," Ahmad told Anadolu Agency (AA). "This is one of the oldest soaps in the world, and it was originally made of olive and laurel oil. I hope my children and grandchildren will also take up this business. Aleppo soap does not contain any chemicals so it is very healthy. It does not cause hair loss and is healthy for the skin," she says. Ahmad adds that she hopes to return to Syria one day and continue production of the soap there.
Amina Isa, another Syrian woman who took shelter in Mardin, said soap production helped her to earn extra income for her family. "I am happy that we can earn money here. Our brothers and sisters in Turkey helped us a lot, and now we work together with them. Turkey feels like a genuine home for me, and I am grateful to people behind this project," she said.
Ayşegül Çakırcı, a mother of three living in Mardin, joined the refugees after her training three months ago. "I used to be a housewife and wanted to do more for my family. I like working with Syrian women here. They taught us many things, and we taught them a few things too. We like each other very much," Çakırcı said.
Sales have not started yet, but women already have a big-name client: the Food and Agriculture Organization (FAO) of the United Nations, which has placed a "large order," Project Coordinator Ebru Baybara Demir said, adding that women so far have produced 20,000 bars of soap and many people who heard about the project are waiting for sales to start soon, once the drying process is completed.
https://www.dailysabah.com/turkey/2019/02/22/turkish-syrian-women-join-hands-to-revive-ancient-soap
--------
Russian-Turkish Woman to Run For Alanya Mayor In Southern Turkey
15.02.2019
A Russian-Turkish woman has officially applied to run for the mayoral office in Alanya in southern Turkey's Antalya province in the upcoming local elections, reports said Friday.
Anastasia Petrova Çetinkaya, who has been living in Turkey for eight years and married a Turkish national here, applied as an independent candidate for the Alanya district municipality.
The 35-year-old business and project development expert spoke to reporters after completing her official application to the District Election Board and said she felt excited and confident about her candidacy.
Çetinkaya said she hopes her candidacy will be good for Alanya and everyone, adding that she has been getting very good reactions from the public with her public office move.
Saying that they have been very busy with preparations for the election and campaigning but this is what makes her happy, Çetinkaya said: "We're traveling, chatting with people, talking with them. I've been on this path for the people of Alanya."
"I believe we can make Alanya a brand. We can make Alanya a richer and a more efficient district. We believe Alanya has potential and we will continue (to work) to the end," Çetinkaya said.
Hatun Tuncer, a Turkish citizen of Russian origin, also previously put up her candidacy for mukhtar (local leader) in the Akdam neighborhood of Alanya.
Completing her university education in Russia, Tuncer came to Alanya 23 years ago while on vacation but after marrying a Turkish man, she decided to live in Turkey.
A mother of two, Tuncer said she wants to be a mukhtar in to serve her neighborhood.
https://www.dailysabah.com/turkey/2019/02/15/russian-turkish-woman-to-run-for-alanya-mayor-in-southern-turkey
--------
Campaign in Dallas to Clear Negative Stereotypes about Hijabs and Muslim Women
FEB 21 2019
Two Dallas Islamic groups want to change ideas about women of their faith and the hijab as its symbol.
The Dallas chapter of the Islamic Circle of North America and Gain Peace are launching a six-week public outreach campaign.
The main objective is to portray the hijab -- a head covering worn by many Muslim women -- as a symbol of empowerment and not repression.
The groups paid for a billboard that can be seen on southbound I-35E near Northwest Highway.
They've also set up outreach booths in university campuses and public places around the Dallas area.
"It is also a form of liberation from strangers who dictate how women should dress to be successful. It is to free ourselves from being judged by our physical beauty, but rather our intellect and our character. It is to preserve our modesty," said Ruman Sadiq, with the Islamic Circle of North America.
The groups say the billboard has been very positively received, and dozens of people have called their hotline for more information.
http://www.fox4news.com/news/campaign-in-dallas-to-clear-negative-stereotypes-about-hijabs-and-muslim-women
--------
UK Muslim Peer Pledges Support for Jailed Syrian Women
February 22, 2019
Britain's first female Muslim member of the parliament has vowed to raise her voice in support of the Syrian women and children imprisoned by the Bashar al-Assad regime.
Thousands of Syrian women continue to languish in Syrian regime prisons, suffering torture and sexual violence, including rape.
In an exclusive interview with Anadolu Agency in Istanbul, member of Britain's House of Lords Baroness Manzila Pola Uddin said Wednesday that the international community "failed very sadly, very miserably" so far to help these women.
The Baroness participated in an Istanbul conference hosted by the Conscience Movement, an alliance of individuals, right groups and organizations aiming to secure urgent action for the release of women and children in Syrian prisons.
The conference drew participants from 45 countries, including Syria, Britain, South Africa, Ecuador, Qatar, Kenya, Ukraine, Bosnia and Herzegovina, Brazil, Greece, Pakistan, Congo, and Malaysia.
Baroness Uddin said that thousands of innocent women remain unlawfully detained in Syria "at a time and age when the conscience of the world always rightly says that there is not going to be anymore suffer".
"We are standing together and we will do our utmost to ensure that their voices [of Syrian imprisoned women] are spoken out loud," she said pledging her solidarity for these women.
"I hope that their freedom will be imminent," she added.
The Baroness said that the goal is to ensure that the Conscience Movement reaches audiences "where there isn't enough awareness and understanding" on this issue.
She said she spent many years at the parliament on raising awareness on women who have been used as a weapon of war in conflicts.
"Respect, honor, reparation, and apologies are very critical points of engagement in any created peace," she said.
She said that the U.K. right now is "busy" with Brexit, which she said led to "not giving full attention to a number of very important political and international matters".
"This movement [Conscience Movement] cannot be at the cost of Brexit," she said, adding that it needs to be ensured that the U.K. "honors its international and humanitarian obligations".
The Baroness also praised Turkey's efforts which "generously provided a home for those who needed at the most vulnerable stage in their lives".
She said that the Turkish government, including other governments such as Greece and Jordan, need to be "definitely honored" for their efforts in hosting refugees.
Speaking about around 2,000 children from the Calais camp who the British government refused to take, the Baroness said that the U.K. "failed in the most disgraceful, most disheartening manner".
Calais was the main transit point for migrants and refugees trying to reach the U.K. until French authorities dismantled the so-called Jungle camp in October 2016, once home to up to 7,000 people.
- Rohingya issue
The Baroness said that other wars and conflicts around the world need to be more addressed by the international community.
She said that in Bangladesh an estimated number of 70,000 thousand Rohingya women who have been raped by Myanmar forces gave birth in the refugee camps.
She said there are a significant number of men and women who arrived at Bangladesh without any recourses, any home, any status or any IDs.
The Rohingya, described by the UN as the world's most persecuted people, have faced heightened fears of attack since dozens were killed in communal violence in 2012.
According to Amnesty International, more than 750,000 Rohingya refugees, mostly women, and children have fled Myanmar and crossed into Bangladesh after Myanmar forces launched a crackdown on the minority Muslim community in August 2017.
The UN has also documented mass gang rapes, killings – including of infants and young children – brutal beatings and disappearances committed by Myanmar state forces.
"Therefore it is really important that this movement [Conscience Movement] is much more significant for others who have no voice," she added.
The Conscience Movement is an international initiative established last year after an all-woman international convoy made global headlines by raising awareness of the abuses suffered by women jailed by the Assad regime.
The Conscience Movement is supported by more than 2,000 NGOs and thousands of people from 110 countries.
While the priority at the conference held in Istanbul on Wednesday was the release of the Syrian women and children, the Conscience Movement will also work on cases of women and children who suffer in war and conflict zones across the world.
Syria has only just begun to emerge from a devastating conflict that began in early 2011 when the Assad regime cracked down on demonstrators with unexpected ferocity.
According to UN figures, hundreds of thousands of civilians have been killed or displaced in the conflict, mainly by regime airstrikes in opposition-held areas.
https://www.yenisafak.com/en/world/uk-muslim-peer-pledges-support-for-jailed-syrian-women-3475136
--------
URL: https://www.newageislam.com/islam-women-feminism/we-dream-being-free-violence/d/117824
New Age Islam, Islam Online, Islamic Website, African Muslim News, Arab World News, South Asia News, Indian Muslim News, World Muslim News, Women in Islam, Islamic Feminism, Arab Women, Women In Arab, Islamophobia in America, Muslim Women in West, Islam Women and Feminism