New Age Islam News Bureau
17 September 2020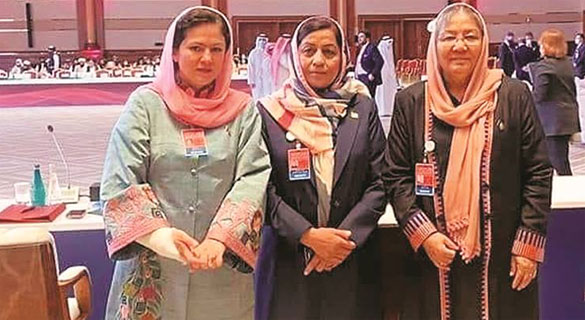 Fawzia Koofi, Sharifa Zurmati and Habiba Sarabi in Qatar
------
• Women Claim Their Space in Arab Business World
• Saudi Arabia Looks to Close Gender Pay Gap
• Yemeni Women Protest Normalization Deals with Israel
• Meet the Saudi Arabian Women Running A Date Factory
• Saudi Education Minister Opens Two Digital Colleges for Women
• Saudi Woman Barber Brushes Off Taboo
• Man Spat at Muslim Woman in Niqab In Tooting
• Young Muslim Women's Experiences of Drugs in Bradford Examined in New Study
• Will the UK's Sharia Councils Struggle to Meet the Challenge Of Covid Divorces?
• Ovarian Cancer Awareness A Key Focus at First Saudi Women's Cancer Summit
• Sindh Govt To Increase Number of Women Complaint Centers: Shahla Raza
Compiled by New Age Islam News Bureau
URL: https://www.newageislam.com/islam-women-feminism/we-here-tell-taliban-that/d/122875
--------
We Are Here to Tell the Taliban That It Has to Face, Respect and Accept the New Afghanistan: Afghan Women in Doha Talks Team
by Divya Goyal
September 17, 2020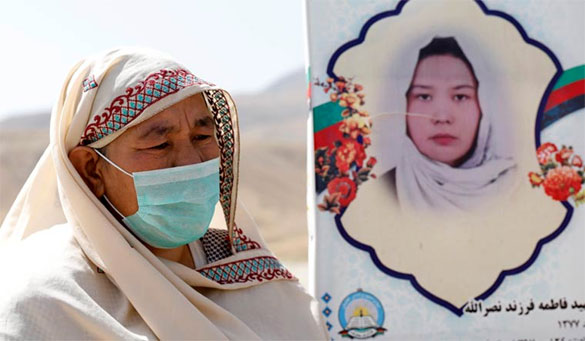 A woman sits next to the grave of her daughter who was killed in a suicide attack in an educational centre two years ago, as Afghan government officials and the Taliban hold talks in Doha aimed at ending 19 years of war in the country, in Kabul, Afghanistan September 14, 2020 | REUTERS/Mohammad Ismail
------
THEY FACED the threat of mutilation for wearing nail polish or lipstick. They were publicly flogged for violating the dress code. They were barred from stepping out of home without a male companion. They were denied education.
Today, the three women in the Afghan government's 21-member team that is holding peace talks with an all-male Taliban delegation in Qatar's Doha have drawn the line for any roadmap that emerges: "We are here to tell the Taliban that it has to face, respect and accept the new Afghanistan."
"We aren't reading from any book, but speaking from what we have experienced; what we, the women, have lived under Taliban rule from 1996 to 2001. We faced systematic discrimination, when women were not treated as humans. A girl could not go to school, our clothes were controlled, a woman could not even visit a doctor without a male companion. But now, the Taliban has to understand that things have changed," says Fawzia Koofi, a lawmaker from Badakhshan province who is also the Deputy Speaker in Parliament.
The 45-year-old is among the three women at the peace talks that started on September 12, along with Habiba Sarabi, a former minister and teacher, and Sharifa Zurmati, a former journalist. A fourth member, Fatima Gailani, who is the former president of Afghan Red Crescent Society, is expected to join the delegation soon after her arrival was delayed due to health reasons.
Speaking to The Indian Express on phone from Doha, Koofi says she recently survived an assassination attempt when a gunman opened fire at her vehicle on August 15, injuring her arm.
"Be it pre-Taliban, Taliban or post-Taliban, women in Afghanistan have been through a lot. But it has only given us more strength to speak up. We are fighting for a country where everyone will have the right to cast their vote regardless of their gender, religion, sect, etc. Women's rights and issues have to be included everywhere, they cannot be segregated," she says about her expectations from the crucial summit.
Koofi had set up a home school for girls during the Taliban regime and later was the face behind 'Back to School' campaign for girls in 2001.
"Peace talks are almost always a complicated process across the world. Here, it is more so because there is the Taliban. We are carrying a double responsibility on our shoulders. We are representing not only women but also our country. We have to preserve our democracy without which peace cannot happen. And democracy will find its meaning only if we include all citizens and ensure their voices are equally heard," she says.
Sarabi, 64, says she taught girls and immigrant women in Pakistani camps during the Taliban regime after her own daughter was stopped from attending school.
"I want to forget those horrifying times of how women lived under the Taliban, but some things in life are impossible to forget. We had no rights, we could not go out without mahram (male companion). My daughter was in grade 5 when her schooling was stopped. And it was for her education that I moved to Pakistan. I had to leave my beloved country because Taliban stopped my daughter's schooling. Today, she holds three degrees from Germany, US and India, has worked for Afghanistan's Finance Ministry and is now with the UN. This is the girl the Taliban had stopped," says Sarabi, adding that she returned to Afghanistan after the Taliban were ousted and set up a school.
But having once headed the Ministry of Women's Affairs, she knows that change is easier said than done. "An all-male delegation has come from their side which shows their mentality has not changed. Some of them do not even like to talk to women. They have to change. We can start from Islam. They have wrongly interpreted Islamic texts and implemented them as anti-women. But they cannot ignore us any more. Right now, we are only three in number here, but no aspect is discussed without our involvement. The Taliban has to accept and respect the new Afghanistan. They have to give equal rights to women, in fact to every citizen of our country in all aspects," says Sarabi.
Former advisor and spokesperson of the Ministry of Women's Affairs, radio journalist and broadcaster from Paktia province, Sharifa Zurmati says they won't allow a repeat of the atrocities that took place under the Taliban.
"I am not alone in this struggle. I can't even speak English but I am here to fight for our women. How women lived during the Taliban, we haven't forgotten anything, but we won't let them repeat it," says the 52-year-old who has studied Pashto literature. "The unending war has killed many men but the worst sufferers are the women left behind. We have to preserve what we have achieved in the past two decades. For Afghan women, education, employment and freedom in every aspect has been hard-earned. We won't lose what we have gained after so much struggle. Our dream is a durable ceasefire, and dignified and sustainable peace in the Islamic Republic of Afghanistan, which is about its people."
https://indianexpress.com/article/world/afghan-women-in-doha-talks-team-taliban-have-to-face-respect-us-6599091/
--------
Women Claim Their Space In Arab Business World
16/09/2020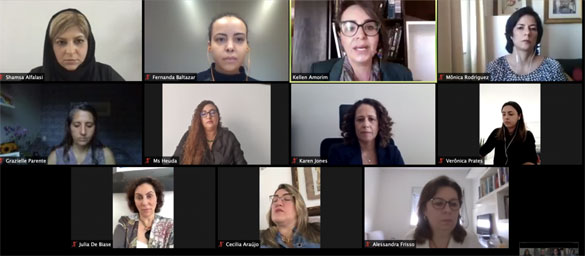 The Arab Brazilian Chamber of Commerce women's committee and the Women Inside Trade group hosted a webinar on the opportunities and challenges facing female professionals in the Gulf
------
São Paulo – Webinar "Challenges and opportunities for women doing business with the Arab countries" was hosted this Wednesday (16) by WAHI – Women Who Inspire, the women's committee of the Arab Brazilian Chamber of Commerce (ABCC) alongside the Women Inside Trade (WIT) group. The featured women argue that there are things to be done before they are on an equal footing with men when it comes to doing business. However, a lot has been achieved in terms of equality and recognition in North Africa and the Middle East.
The head of operations at the Middle East and North Africa Office of the Brazilian Trade and Investment Promotion Agency (Apex-Brasil), Karen Jones, said that while the 22 countries that comprise the Arab world have shared features such as language, they also differ in many respects.
"In the United Arab Emirates there is a great number of expatriates and Emiratis alike who work and are very successful. It's a pleasure to see them succeed. Even in Saudi Arabia, which is more conservative, we can see advances, and that's beneficial to the country's development," said the Dubai-based Jones, who's going on 20 years of living in the Middle East. "There are challenges, and they require understanding the business culture, speaking eye-to-eye and being close with people. And Brazil is very well positioned in that region."
Brazilian Food Industry Association (ABIA) board chairwoman Grazielle Parenti said opportunities are available for women to not only claim their space in business but be business leaders as well. "I've always been interested in Arab culture, and once I became familiar with I was really surprised. I have met amazing women. I have seen them be uncomfortable being in leadership positions, but I can tell that things are not that different here in Brazil," she compared, adding that it's a good thing for there to be more and more female leaders. "There's an affinity when it's time to negotiate, and there are more and more women doing negotiation. There's a magical line that binds us."
In addition to the presence of female business leaders in the Arab countries, the webinar addressed what has been achieved and the challenges ahead. A strategist on personal branding and positioning, communication and female leadership, Kellen Amorim said that women have been relegated to inferior positions for centuries. "For the time being, we are a minority due to historical issues. At the same time, I see changes coming about with women managing crises as government authorities and business leaders. It's all a bit new to us. Some women have dared before others would, and it is important for them to mentor other women."
The meeting was kicked off by ABCC president Rubens Hannun, with moderation from ABCC Institutional Relations manager also featured were WAHI board chairwoman Alessandra Frisso; WIT cofounder and BMJ Institutional Relations manager Verônica Prates; Citibank Group Gulf and Iraq global subsidiaries cluster head Shamsa Al-Falasi; and the cofounder of the FoodeShow international exhibition, Heuda Farah Guessous.
Guests also included businesswomen Cecilia Mendes Araújo, the CEO of cosmetics manufacturing company Vitta Gold, and Julia De Biase, who's a partner of perfume shop Al Ward, açaí and date manufacturer Royal Queen, and the Brazil and Latin America representative for dates and date products brand Date Crown.
The businesswomen shared their experiences doing business with Arabs. "Never have I been so respected," said Araújo, who exports product to Middle East and North Africa countries, especially Egypt. De Biase presented her açaí and date mix, made from one typically Brazilian and one typically Arab fruit. The product started selling in Dubai last May. In addition to sharing her knowledge, she cleared up a few doubts when it comes to increasing sales. And she got a tip from Karen Jones that's useful to any entrepreneur: "Identify the market you wish to be in and find out if your distributor (in a given country) also caters to other countries."
https://anba.com.br/en/women-claim-their-space-in-arab-business-world/
--------
Saudi Arabia Looks To Close Gender Pay Gap
September 17, 2020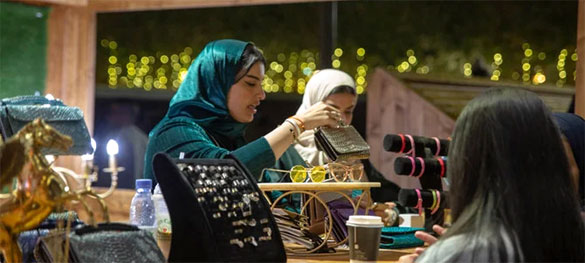 It is the latest move to create an encouraging and safe work environment.(AN Photo)
------
JEDDAH: The Saudi Ministry of Human Resources and Social Development recently issued an order to ensure there is no gender-based discrimination in employees' wages.
It is the latest move to create an encouraging and safe work environment, provide decent and sustainable job opportunities for all citizens and address the challenges facing workers and employers.
The ministry said that "the employer is prohibited from distinguishing between their workers, whether during the performance of work or when hiring or advertising it, such as sex, disability, age, or any other form of discrimination."
At the Misk Global Forum 2019, the Saudi energy minister, Prince Abdul Aziz bin Salman, said that Crown Prince Mohammed bin Salman is providing all Saudis with equal opportunities.
"We know that our women now are enabled, they have an education program," he said. "We have equal pay for both men and women."
The move was widely welcomed by Saudis. Electrical engineer Mohammed Al-Ali told Arab News that it would encourage more women to join the workforce.
"This decision is a step forwards towards equality for women. It encourages more women to be part of the workforce and will turn our economy into a prosperous one," said Al-Ali.
"Saudi Arabia, as part of its 2030 vision, is going through rapid changes towards a more inclusive society, where women and men work side by side with no discrimination."
Saudi admin assistant Rozan Al-Nahari said that women work just as hard as men, and this move would bring financial relief to many. "We spend the same working hours at the office, complete the same tasks and many of us try to prove ourselves in any establishment," she said.
"I'm very happy that all of the social reforms are so supportive of women."
https://www.arabnews.com/node/1735791/saudi-arabia
--------
Yemeni women protest normalization deals with Israel
16.09.2020
Scores of Yemeni women on Wednesday rallied against the plans for Israel to normalize relations with the Gulf states of the United Arab Emirates and Bahrain.
The rally was organized in the southern Abyan province in defiance of the UAE-supported Southern Transitional Council, protest organizers told Anadolu Agency.
The demonstrators held Palestinian flags, burned the Israeli flag, and chanted against what they called the UAE's "colonial projects" in the Socotra Archipelago, an area officially part of Yemen that was seized this June by the UAE-backed Southern Transitional Council.
Speaking to Anadolu, one of the protestors blasted the UAE and Bahrain normalization deals with Israel as "treason."
On Tuesday, the UAE and Bahrain signed US-sponsored agreements to establish diplomatic relations with Israel.
The Palestinian Authority and resistance factions have denounced the normalization deals, saying they ignore the rights of Palestinians and betray the Palestinian cause.
https://www.aa.com.tr/en/middle-east/yemeni-women-protest-normalization-deals-with-israel-/1975674
--------
Meet the Saudi Arabian women running a date factory
16 September 2020
Inside this dates packaging factory in Saudi Arabia, it is women who run the show.
The factory is operated by 100 Saudi women, who fill the ranks from management, accounting, quality control and packaging, to health and nutrition.
For all the latest headlines follow our Google News channel online or via the app.
Their colleague, Aqeelah Ali even drives a forklift to transport date packages.
"At first there were some difficulties - driving heavy transport trucks was thought to be for men only," said Ali. "But I'm happy that I could prove that women can enter into new fields and succeed."
The Ibn Zaid factory produces and sells dates in Saudi Arabia's al-Ahsa eastern region.
Al-Ahsa is home to nearly two million palm trees producing over 100,000 tonnes of dates every year, according to local estimates.
The factory was previously run by foreign expat workers, but the owner decided to hire local Saudi women instead, in keeping with the country's new direction of integrating women into the labor force.
He gradually replaced expat workers with women, and it has been run by women for more than a year.
In recent years, Saudi Arabia has introduced several reforms to increase women's presence in the public sphere.
In 2017, King Salman bin Abdulaziz announced that the ban on female drivers will be lifted.
Crown Prince Mohammed bin Salman also launched the Vision 2030 reform plan, which aims to diversify the Kingdom's economy and includes increasing women's labor force participation.
Since then, dozens of Saudi Arabian women have been appointed to official positions, the guardianship law was eradicated, and women no longer need permission to live alone.
https://english.alarabiya.net/en/variety/2020/09/16/Meet-the-Saudi-Arabian-women-running-a-date-factory-
--------
Saudi education minister opens two digital colleges for women
September 17, 2020
RIYADH: Hamad Al-Sheikh inaugurated the first two digital colleges for women in Riyadh and Jeddah on Wednesday.
The ceremony was held in the presence of the governor of the Technical and Vocational Training Corporation (TVTC), Ahmed Al-Fuhaid.
The colleges will provide specialized training programs for about 4,000 trainees in several fields. Programs on offer include network systems management, media technology, software, the Internet of things, smart cities, robotics technology, artificial intelligence and machine learning.
https://www.arabnews.com/node/1735796/saudi-arabia
--------
Saudi woman barber brushes off taboo
TAREQ AL-THAQAFI
September 17, 2020
MAKKAH: A Saudi children's hair stylist has become the first woman to break into the profession, which has long been an exclusively male domain.
Wafaa Sakr, who appeared in a viral video inside a barber shop in Taif, said she styles children's hair, but does not cut men's hair.
She said the salon, inside a Taif mall, has been closed due to the non-renewal of its license, but will soon resume its activities after renewal by the local municipality.
Sakr has worked as a hair stylist for many years and saw in her work a great importance in caring for people, especially children, "whose hearts are filled with real happiness after seeing their haircut, which can paint a permanent smile on their faces."
Known as the Taif barber, she said her presence as a female barber is a new phenomenon, and sometimes unwelcome by a society used to seeing women in government jobs, like teaching or nursing.
Saudi society has not realized that women can work in all fields with competence and efficiency, she said.
"My profession made my life a state of constant challenge with myself, especially since I have been a professional hairdresser for many years," she told Arab News.
The job became a source of income for her and her family and she excelled in creating modern looks for young boys and girls, which eventually forged her reputation as the best barber in Taif.
"I feel happy and proud that I, as a Saudi woman, broke into the labor market. I did not wait for a job to knock on my door. Any person can create jobs, develop them and hold on to them, and it is an honorable profession," she said.
"I am still practicing this profession for a monthly income in return, but I am thinking of establishing my own business that I manage myself in the future. If a person has ambition, no one will be able to stand in their way. What is important is taking steps to reach our goals instead of backing down," she added.
Sakr said she disagreed with the sentiment that Saudi women should not be "forced" to work certain jobs.
"Why not? The doors to livelihood are open in all fields, and people should not be ashamed of their profession, as long as they practice it, love it and it generates an income for them," she said.
"Some ideas must change. We are going through a dramatic era in which energies and competencies must be invested. Society does not only want engineers, doctors and pilots, society needs all its worker components" Sakr added.
"The labor market is filled with different people from different races that have different customs, who are building their societies with their own hands, and they are proud of that," she said.
https://www.arabnews.com/node/1735711/saudi-arabia
--------
Man spat at Muslim woman in niqab in Tooting
Sep 16, 2020
A man spat at a Muslim woman who wears the niqab as he bent down to collect his lighter, the saliva landed on her thigh and the sleeve of her abaya, causing her great shock.
The assault occurred on the morning of August 17 in Tooting, south London.
Wishing to maintain her anonymity, the woman consented to have her story told to raise awareness.
She described how upon leaving a Superdrug store, a grey-haired male, aged in his mid-to-late fifties and slim build, had approached her before dropping his lighter, adding that he had a flushed appearance.
The man remained silent, even after the Muslim woman said, 'you just spat at me,' and soon walked away.
She soon removed the abaya and was thankful for wearing layers, as a member of the offered to help her wash the garment at a nearby shop, assisting her further with hand washing.
Speaking of her restraint, she wanted to set a good example and refrained from responding with profanities and felt blessed that the saliva had not hit her face. Reflecting on past experiences of anti-Muslim and Islamophobic abuse, she described how two men had referred to her as 'Batman'.
Tell MAMA continues to document the disproportionate targeting of Muslim women who wear the face veil.
In 2018, six per cent of Muslim women reporting to Tell MAMA wore the niqab or the face veil in combination with the abaya.
https://tellmamauk.org/man-spat-at-muslim-woman-in-niqab-in-tooting/
--------
Young Muslim women's experiences of drugs in Bradford examined in new study
By Felicity Macnamara
Sep 16, 2020
A NEW report has shone a spotlight on young Muslim women's experience of drugs and drug-related activity in Bradford.
The study, one of four, was carried out as part of the Muslim Women's Council (MWC) Think Tank programme, established last year with the aim of ensuring Muslim women can influence policy and decision-making at all levels.
After completing a training programme, those involved identified a list of key research areas which emerged from their lived experiences - some difficult and rarely addressed in research.
The first to be released examines the experiences and views of 50 young Muslim women on drug-related activity in Bradford.
Bana Gora, CEO of MWC, said "Our community research teams have demonstrated sustained commitment and dedication while developing the research themes and questions. We are proud to present the first of four cogent and timely studies on community-based issues."
The Think Tank community research teams pinpointed this as an under-researched topic, said the MWC, and were keen on drawing attention to what they know, from experience, is a "growing epidemic within their communities in order to explore and develop effective solutions without criminalising or judging the young women's choices".
The report found that just over half of the young Muslim women interviewed were involved, or knew someone who was involved in drug-related activity. One in three had been offered drugs, one in six admitted taking them regularly and one in 10 did so by the age of 15.
Meanwhile, more than half of those who refused drugs said they did so because of their faith commitment.
Those taking drugs gave a number of reasons for doing so, including loneliness and anxiety, peer pressure and a need to belong. The most popular recreational drug was cannabis, while other drugs identified included cocaine, crack, MDMA and speed.
Half of those taking drugs used social media platforms like Snapchat and Instagram to purchase drugs, but took personal risks by going to unsafe collection points.
One young girl told the study: "They [drug dealers] are always on there, and easy to find."
All those interviewed agreed on the negative impact of drugs, and one in five flagged up the impact on their relationship with their family if they found out.
The report says: "They believed there was a gendered stigma in the community and that they would be judged far more harshly than boys."
Others highlighted the impact on their mental wellbeing, their faith and the potential toll on physical health. The report makes a number of recommendations including culturally-sensitive training and targeted support for young Muslim women including a confidential helpline, drop-ins at schools and specially trained staff who understand the cultural and religious context.
It also recommends peer support initiatives, law enforcement working alongside social media platforms and collaborative working with mosques.
https://www.thetelegraphandargus.co.uk/news/18723037.young-muslim-womens-experiences-drugs-bradford-examined-new-study/
--------
Will the UK's Sharia Councils Struggle to Meet the Challenge Of Covid Divorces?
September 16, 2020
Sharia councils across the UK could be facing a potentially significant rise in their workload as a result of the coronavirus pandemic, and many don't have the resources to cope.
The predicted rise in divorce rates and reported increase in cases of domestic violence associated with lockdown measures will touch Muslim relationships just like any others. But many sharia council services are run on a voluntary basis with little funding, so it might not be possible to process all the cases on the horizon.
Sharia councils have operated in Britain since the 1980s but other religious tribunals, such as Christian ecclesiastical courts and Jewish batei din date back much further. Each has evolved to serve specific purposes within their respective faith groups. Sharia councils are used by Muslims in Britain to seek advice, manage their affairs, and settle their disputes in accordance with Islamic principles found in the Qur'an (Holy Book) and Sunnah (prophetic example).
The first sharia council was established in 1982 with the objective of guiding Muslims in managing their personal affairs and settling their matrimonial problems. Over the past four decades, other sharia councils were established, often growing out of mosques and Islamic centres. Some continue to operate from there while others have moved on to running separate offices.
The number of sharia councils in Britain is unclear. One mapping exercise puts the figure at 30 while another estimates 85.
How sharia councils work
A sharia council is usually run by a panel of scholars. The administration is overseen by volunteers from the community.
Most sharia councils report that their services are open to all Muslims irrespective of their background although, in practice, ethnic diversity and different schools of thought mean that different courts interpret Islamic law in different ways.
Despite initially aiming to provide more variety in their services, sharia councils mainly work on settling marital disputes and granting Islamic divorce to Muslim women when their husband fails to pronounce a unilateral divorce or refuses to consent to the wife's request for divorce.
Depending on the sharia council, one or more meetings are arranged to obtain testimonies and information from the person applying for a divorce, as well as with the other people involved in the case. Sometimes meetings are arranged to attempt reconciliation between the couple. The final decision is usually taken in an independent meeting between the council scholars, who then issue the Islamic divorce.
This Islamic divorce is not an alternative to civil divorce. Research shows that where a couple have had an English marriage, the sharia council usually requires or encourages them to seek a dissolution of their civil marriage as well.
Sharia councils have been widely criticised and there is documented evidence of bad practice and discrimination against women. Sometimes, men's testimonies are privileged over women's and there have been cases in which women have been forced into a process of reconciliation against their wishes.
However, academic research into sharia councils tells us that despite the criticisms and the many shortcomings of sharia councils, the mechanisms still provide an important service to Muslim communities. They are particularly useful for Muslim women who want to terminate marriages. Without the intervention of a council, some women might have no other way to leave their marriages.
COVID divorce
Now these councils need to contend with the fallout of the global pandemic. One of the consequences of lockdown is expected to be a rise in divorce rates. "Covid divorce", as some have labelled it, is a trend that was first observed in China, where the rate of separations was seen to have steadily increased since the outbreak of the coronavirus pandemic in Wuhan.
In the UK, there have been reports of similar trends based on testimonies from lawyers and law firms. Legal professionals have also warned about the probability of significant delays in divorce proceedings and of future case overload as divorce applications increase.
A couple of months into the national lockdown in England, one prominent sharia council, the Islamic Council of Europe (ICE), reported a more than 280% increase in its cases since April, and had to expand its team to meet the extra demand.
A number of sharia councils are likely to struggle to adapt to this sudden increase in workload, particularly as most of these institutions are known to have limited resources in terms of space, personnel and funds. In addition to the fees they charge to cover administrative expenses, most sharia councils are known to rely on community donations to cover the expenses for applicants who cannot otherwise afford their services.
Sharia councils are an important community mechanism for victims and survivors of domestic and gender-based violence, helping them put an end to abusive relationships. With emerging evidence highlighting the increase in cases of domestic violence, the need for these services is even more evident. However, with their limited resources and case overload, applicants could witness delays of several months before they see their cases resolved.
If the better-known sharia councils become overloaded with enquiries and cases, there is also the risk that people will seek help from less credible organisations with less oversight and transparency, which leaves much room for problematic practices and abuse of power. It would be very unfortunate to see Muslim women and couples more generally struggling in unsuccessful relationships with limited support and options.
https://theconversation.com/will-the-uks-sharia-councils-struggle-to-meet-the-challenge-of-covid-divorces-145642
--------
Ovarian cancer awareness a key focus at first Saudi Women's Cancer Summit
September 16, 2020
JEDDAH — The Saudi Society for Internal Medicine (SSIM) at King Abdulaziz University and the Saudi Oncology Society (SOS), in cooperation with AstraZeneca, organized the first virtual Saudi Women's Cancer Summit earlier this week. Entitled 'Redefining Care for Women's Cancer', the event brought together a distinguished group of experts from both inside and outside the Kingdom to discuss the latest advances in the treatment of tumours.
The Summit, attended by 441 women's cancer experts, reviewed the latest developments in the diagnosis and treatment of ovarian and breast cancer types. A key element discussed was the role of Multidisciplinary Teams (oncology, gynaecological oncology, surgery, radiation oncology and pathology) in ensuring the early detection and treatment options in the management of ovarian and breast cancer in Saudi Arabia.
According to the National Cancer Research Institute in the United Kingdom, blood tests can be used to help detect ovarian cancer in its early stages in women with concerning symptoms. The American Institute for Cancer Research (2018) found ovarian cancer to be the eighth most common cancer among females worldwide, affecting more than 295,000 women annually.
Ovarian cancer is also one of the main causes of cancer deaths with an incidence rate of 6.6 per 100,000 patients in 2018. This is largely due to the fact that most women are only able to get a diagnosis after the cancer has already spread, making it more difficult to treat.
The Kingdom of Saudi Arabia's Health Council, in collaboration with the National Health Information Centre, published a cancer registry and incidence report in 2015 detailing the age-standardised rate (ASR) and crude incidence rates for all cancer sites diagnosed within this year.
With 220 recorded cases, ovarian cancer was ranked as the seventh most common type of cancer among Saudi females and accounted for 3.3% of national cancer cases in 2015. The age-standardized rate (ASR) of ovarian cancer in 2015 was 5.9/100,000; the Riyadh region had the highest ASR in the Kingdom with 9.7/100,000 cases, followed by the Makkah region with 7.1/100,000 cases.
Breast cancer is the most common malignancy among Saudi females, with a recorded prevalence of 21.8% in the year 2015. According to a recently published survey of cancer-related mortality, it is the ninth leading cause of death among Saudi women.
The age-standardized rate for breast cancer was 24.3/100,000 in 2015, led by the Eastern region with a rate of 37.1 /100,000 cases, followed by the Riyadh region with 33.0/100,000 cases.
Dr. Shadi Khayyat, a consulting oncologist and assistant professor of internal medicine and oncology at King Abdulaziz University in Jeddah, and the conference chairman, commented on the importance of raising awareness about cancer research.
"Cancerous or malignant tumours are considered to be one of the biggest obstacles faced by societies today. In fact, the vast majority of people consider cancer to be cause for major concern and distress. Women in particular are considered to be vulnerable to certain types of malignant growth, such as ovarian and breast tumors."
Dr. Khayyat emphasized that, with a growing number of cancer diagnoses, the primary aim for holding this conference was to discuss recent advancements in research and the various treatment options available to patients.
He thanked the Saudi Society for Internal Medicine at King Abdulaziz University for its sponsorship of this conference and extended his gratitude to AstraZeneca for its continuous support.
Dr. Meteb Al-Foheidi, president of the Saudi Oncology Society; co-chairman of the conference; Consultant of Oncology at Princess Nourah Centre and National Guard Hospital in Jeddah; Assistant Professor at King Saud bin Abdulaziz University for Health Sciences in Jeddah, said, "Both local and international experts participated in the Summit to shed light on the advancements in gynaecological cancer treatments and exchange expertise.
"This Summit was the first Saudi conference to specifically discuss gynaecological tumours, and I look forward to organising it annually to continue to raise awareness about ovarian and breast cancer and the steps we can take to support Saudi patients."
The medical director of the Gulf Cooperation Council countries at AstraZeneca, Dr Ahmed Soliman, commented "It is important to keep all members of the scientific community, from pharmacologists through to doctors, up to date on the advancements in drug research related of ovarian and breast cancer. There is no doubt having an ongoing discussion via the right platforms will be beneficial to the medical professionals and, ultimately, to patients and caretakers". — SG
https://saudigazette.com.sa/article/598043
--------
Sindh Govt To Increase Number of Women Complaint Centers: Shahla Raza
17 Sep 2020
KARACHI: Sindh Minister for Women Development Syeda Shahla Raza Wednesday said the provincial government has set up Women Complaint Centers in various districts to ensure the dignity of the oppressed women and to provide them full legal assistance.
According to a news release, the minister said the provincial government was going to increase the number of Women Complaint Centers.
While receiving the annual performance report of the Women's Directorate in Jacobabad, Shahla Raza said the staffers at the Women Complaint Centers were committed to provide assistance to the women.
She said the Department of Women Development was making every effort to provide protection and legal assistance to the women victims of molestations and in this regard, a cell has been set up in the Minister's Office where victim women can lodge their grievances.
Briefing the provincial minister, Deputy Director Jacobabad Khalida Soomro told that the Directorate of Women Development Jacobabad had registered 300 cases of various kinds including kidnapping, harassment, acid attacks, violence, child marriages, custody of children and others during last year.
In all these cases, the affected women were assisted by providing all possible legal assistance.
The deputy director said that temporary accommodation for the affected women and children was also arranged by the Directorate of Women Development in Jacobabad.
Khalida Soomro informed the Directorate, to provide women with full opportunities in society, organized an event on International Women's Day to raise awareness among the public about women's rights and related laws.
In addition, various community improvement programs were organized in collaboration with SRSO.
In collaboration with the district administration, training workshops, sports day, cultural day, open forum were also organized.
Syeda Shahla Raza appreciated the performance of Jacobabad Directorate and stressed on the need for steps to further improve it.
https://www.brecorder.com/news/40019085/sindh-govt-to-increase-number-of-women-complaint-centers-shahla-raza
--------
URL: https://www.newageislam.com/islam-women-feminism/we-here-tell-taliban-that/d/122875
New Age Islam, Islam Online, Islamic Website, African Muslim News, Arab World News, South Asia News, Indian Muslim News, World Muslim News, Women in Islam, Islamic Feminism, Arab Women, Women In Arab, Islamophobia in America, Muslim Women in West, Islam Women and Feminism