New Age Islam News Bureau
15 Nov 2019
• Washington About to Elect First Two Muslim Women to Office
• For The First Time in Over a Century of Publication, The Financial Times Has Named A Woman, Roula Khalif, As Its Top Editor
• "The Revolution Is Changing Me. It's Making Me Hope": Young Women on the Protests in Beirut
• Muslim Women Who Signed the Platform against the Veil
• Muslim Woman Says Security Told Her to Remove Her Hijab before Entering Nuggets Game
• Egyptian Woman Fights Unequal Islamic Inheritance Laws
• Larger Bench Will Take up Issue of Women's Entry In Mosques
Compiled By New Age Islam News Bureau
URL: https://www.newageislam.com/islam-women-feminism/washington-elect-first-two-muslim/d/120272
------
Washington About to Elect First Two Muslim Women to Office
14 November, 2019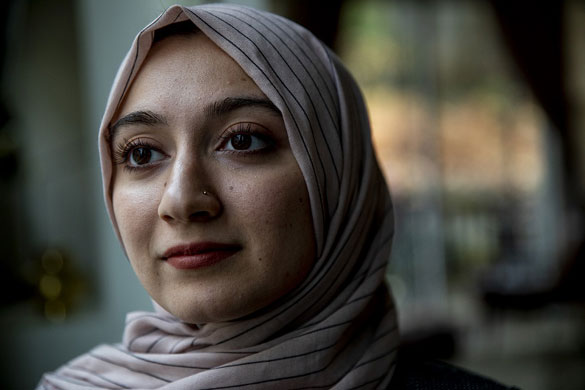 Varisha Khan, candidate for Redmond City Council, in her Redmond home on Nov. 12, 2019. (Dorothy Edwards/Crosscut)
-------------
Two women are set to make history as the first Muslim women to be elected to office in Washington, Cross Cut reported.
"This moment in time, the soil is fertile for diverse candidates to come up." Varisha Khan, who is currently leading the incumbent, Hank Myers, by 47 votes for Position 1, said.
"This is the perfect place for me to give back and change what city council looks like because right now City Hall does not match our community."
Khan would need to lead by 65 votes or more by Nov. 26, when the votes are certified, to be out of recount range, said King County Elections communications officer Halei Watkins.
If Khan wins, she will be one of the first two Muslim women elected to office in Washington state after Zahra Roach clinched a seat on the Pasco City Council.
According to a report on American Muslims in public office, from 2016 to 2019 approximately 138 Muslims have been elected to office nationwide.
Last year, US Reps. Ilhan Omar of Minnesota and Rashida Tlaib of Michigan became the first Muslim women elected to Congress.
This year alone, at least 33 Muslim candidates won elections in local and statewide races across the country, said Jessica Schreindl, communications coordinator for CAIR-WA.
Washington About to Elect First Two Muslim Women to Office - About Islam
Varisha Khan, candidate for Redmond City Council, in her Redmond home on Nov. 12, 2019. (Dorothy Edwards/Crosscut)
Leading the Way
Khan graduated from the University of Washington in 2017 with a bachelor's degree in journalism and political science.
If elected, she would also be the youngest member serving on the Redmond City Council.
When asked about her decision to run at such a young age, Khan said she hoped to help start building a bench of diverse candidates to serve locally and thought, "Why not here, why not now?"
While others warned her that Redmond was not ready for its first female Muslim candidate, Khan said she "felt like this is the year that we have a chance to really step up."
Khan admits she also "knew it would be an uphill battle."
"I knew it would be a challenge," Khan said in a telephone interview while noting that her aim was to work three times harder than her opponent, who benefited from more name recognition.
Washington About to Elect First Two Muslim Women to Office - About Islam
Another Muslim Winner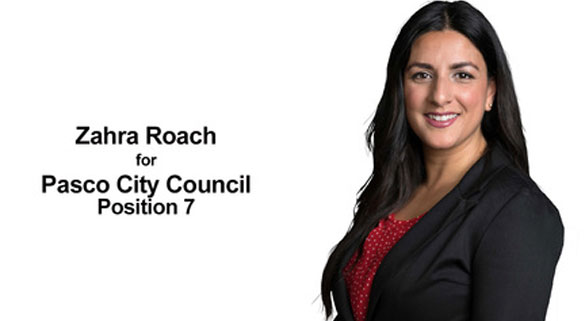 In Pasco, Roach said she wasn't aware that a win would make her one of the first Muslim women elected in Washington state.
"I was completely surprised by it," said the 37-year-old Roach. "It was not on my radar."
Now that she's been elected, Roach said she will focus on issues surrounding growth and mobility.
"While, yes, being the first Muslim woman is an honor, there's really big things at stake for everyone in the community," Roach said. "I'm committed to making my hometown and this area a better place."
Leading American Muslim groups have celebrated the historic win of American Muslim candidates in November 5 elections after a total number of 34 were elected.
Winners in November 5 elections included Ghazala Hashmi who was elected as the first Muslim-American Senator in Virginia.
Moreover, Safiya Khalid became the first Somali-American Muslim woman to win a seat on the Lewiston City Council, Maine.
Nadia Mohamed also won a seat on the St. Louis Park City Council in Minnesota.
Also, Democrat Abrar Omeish clinched one of three vacant seats on the Fairfax County School Board.
https://aboutislam.net/muslim-issues/n-america/washington-about-to-elect-first-two-muslim-women-to-office/
------
For the first time in over a century of publication, the Financial Times has named a woman, Roula Khalaf , as its top editor
Lindsey Ellefson | November 13, 2019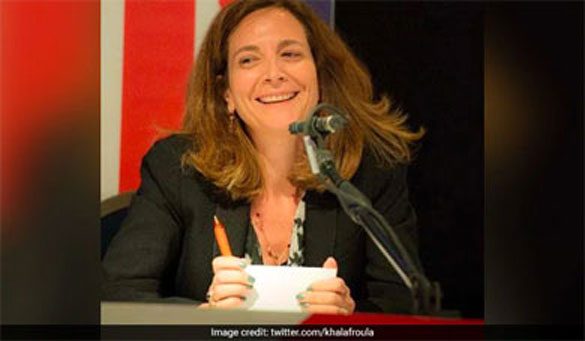 Roula Khalaf Top Editor, First Woman in Role
--------
Roula Khalaf tweeted the news Tuesday, saying she was "thrilled" to succeed "the great" Lionel Barber, who held the position before she did. He has been the editor of the daily paper since 2005. Khalaf, who has been deputy editor since 2016 and has worked at the paper for 24 years, will take his place in January 2020.
According to the Times, which is based in London, Barber addressed a packed newsroom this week, telling staffers of Khalaf, "she is fair, she is wise, and she is tough."
Under Barber, according to a release from the paper, the Times reported $32.08 million profit last year on revenues of $491.47 despite a "sharp decline in print sales." Subscriptions make up about 60% of content revenue; around 70% of readers of the Times, known for its site's serious paywall, are outside the U.K.
"Khalaf's challenge is to further build an international subscription base amid fierce competition from specialist digital start-ups, the deep-pocketed Bloomberg News service and established rivals such as the New York Times and Wall Street Journal," says the release.
Journalists at competitors and beyond cheered the move this week. The Guardian's Katherine Viner posted on Twitter to congratulate Barber and Khalaf, saying, "Bravo to @lionelbarber, who's been a brilliant FT editor, and many congratulations to @khalafroula — an inspired appointment, and hurrah to FT having its first woman editor!"
https://www.thewrap.com/financial-times-names-roula-khalaf-top-editor-first-woman-in-role/
------
"The revolution is changing me. It's making me hope": young women on the protests in Beirut
Ani Hao
7 November 2019
"If there were no women, I don't think the revolution would have happened", Stephanie Sotiry told me. The 34-year-old teacher and artist was easy to spot on the frontlines of recent, daily protests in Beirut, the Lebanese capital, amidst the historic wave of demonstrations across the country.
Sotiry joined the protests with her tambourine from day one, making music, singing and dancing with other young activists and artists. Although the atmosphere was often light, the demonstrations have been far from trivial. On 29 October, they forced the resignation of Prime Minister Saad Hariri.
I met Sotiry in early November, in the second week of the demonstrations that are still ongoing. Hundreds of thousands of people across the country have protested against the sectarian political system and entrenched economic crisis, and called for the ruling elite to step down.
Standing by a roadblock with other protestors, the artist described how "women were preventing fights amongst men during the protests. We would call women to the frontlines in order to de-escalate violence, and it ended up adding a very poetic touch to the revolution."
While the protests have taken on different forms across the country, reporters have also noted the diversity of participants – in class, religion and gender. Journalists have recognised women, for example, for their role in pacifying protestors and police, leading frontlines, and inspiring others.
Young women, in particular, have played an active and vocal role in the demonstrations and their presence, participation and visibility in the protests have inspired the Lebanese population and the world.
"The most important people who participated in the protests are women. We closed roads together. We sat down in front of the police"
In Beirut, 18-year-old student Zahraa Mossawi told me about her experience at Martyr's square, during the first week of protests.
"This is my first time going to a protest, but it won't be the last time. We are here to take back our rights – all of us here are from all ages, all regions, all sects, and we want to have a safe country and good leaders", she said.
I also met Tatiana Lahoud, 19. A university student, she and her friends said were protesting against corruption in the country and its politics. She explained: "These [ruling] political parties are paying for votes, and the same politicians have been in power for more than 30 years".
"Before, maybe my generation didn't have the desire to enter into traditional politics, but I think after these protests, maybe we will. I want an honest future and I also want to succeed as a woman in this society", she added.
"Lebanese society is very patriarchal, and I want women… in all sectors of society – government, business, school, and work".
Israa Sefawi, 25, talked to me at a café, after returning from a day of protests with her husband. "I have a new baby, and me and my husband both don't have a job. The entire government is corrupt and don't think about citizens", she said, explaining their participation.
"But young women are playing a role in changing things", Sefawi added, pointing as an example to Paula Yacoubian, "an elected young woman in the government standing for us. We want more young women and men in the government – we are calling for new elections".
Yacoubian ran in last year's parliamentary elections, on an independent platform, and was one of the six women elected that year out of the 128 member legislature. She has been outspoken against the sectarian system.
Women journalists have also noted the significance of women in these protests. "Lebanese women are breaking taboos to be face of protests", was the headline of an article by Sunniva Rose in The National, an English-language news organisation from the United Arab Emirates.
"It's not called the women's revolution for nothing", tweeted Luna Safwan, a VICE Arabia reporter based in Beirut. "Lebanon's diverse women have been on the frontlines of the #LebanonProtests since day 1".
"Diversity has proven to be a key component [of the demonstrations]," she continued, describing how "women of all sects, colours, backgrounds, social statuses, educational backgrounds are leading in one way or another. Shared responsibility, standing against the police. Power!"
"It's not called the women's revolution for nothing"
On 3 November, feminist groups marched to Riyad el Solh in Beirut, insisting that the uprising will not compromise on gender equality, social justice, and women's rights. With banners stating "revolution is a woman", they chanted: "Feminists revolt, revolt against the patriarchal system".
The explicitly feminist protestors added a list of demands to the protests. "We want equal rights, civil rights, equal pay, less abuse, assault, harassment and sexual violence", said Sarah Abou Jaoudeh, 28.
"Women are not considered equals in Lebanon, just look at the nationality law that prevents women from giving her nationality to her own children,'' she said, adding that women "have always been present in protests", including those to "demand equality in the Lebanese constitution".
Internationally, Lebanese women are often assumed to have more rights and freedoms than other women in the Arab world. But the country has also been criticised by human rights groups and commentators, for laws that are "sexist" and leave women "unequal and unprotected".
According to a scathing 2015 report from the international NGO Human Rights Watch, for instance, Lebanon's personal status and citizenship laws make it more difficult for women to divorce and gain child custody, while also providing them with "inadequate protection from domestic violence".
This is the context in which the leadership and participation of women has left an indelible mark on these protests. They have expanded demands beyond revising the sectarian political system, and uniting citizens across class and religions, to directly and broadly challenging patriarchy too.
Whether this energy will fuel a full-blown feminist revolution is uncertain, but the Lebanese women I spoke to in Beirut said it would be hard to forget how they have participated and led the frontlines of these protests.
"I am normally very scared of violence, but I felt beautiful on the frontlines, and very confident. It's also a revolution within", Sotiry told me in Martyr's Square, explaining how "the revolution is changing me. It's making me hope, and feel less scared in places that are still scary".
https://www.opendemocracy.net/en/5050/the-revolution-is-changing-me-its-making-me-hope-young-women-on-the-protests-in-beirut/
------
Muslim women who signed the platform against the veil
November 14, 201904
After the publication of the platform against the veil, threats against signatories, especially women, are multiplying and spreading widely on social networks.
The Muslim women who signed on October 15, together with other personalities, the platform against the veil are endangered on social networks.
"THERE IS A REAL WITCH HUNT, WE TRY TO INTIMIDATE US TO SILENCE," SAID ONE OF THEM TO MARIANNE.
Described as "treacherous", they declare to live a "Calvary", undergoing threats and harassment.
"I DECIDED TO FILE A COMPLAINT FOR HARASSMENT AND INTIMIDATION. I PUT TOGETHER A FOLDER OF 28 PAGES OF SCREENSHOTS. IT'S ALL FROM SOMEONE I'VE IDENTIFIED, A PERSON CLOSE TO THE LOCAL MUSLIM BROTHERHOOD *, "SAID ANOTHER, SAYING HE FEARED FOR HIS LIFE.
This situation, with "disgusting comments on Facebook, anonymous messages on Messenger" forces them to refuse to testify openly.
"I plan to move"
What's more, these women complain that they are "not helped at all. Neither at the local level nor at the state level ".
"I'M MORE AND MORE AFRAID TO GO OUT, IT'S A PHYSICAL FEAR THAT AFFECTS MY HEALTH. I WAS VERY BAD LAST WEEK, I'M HAVING AN ULCER. I DO NOT EVEN DARE TO SAY IN WHICH ENVIRONMENT I WORK, BECAUSE I KNOW THAT I WILL BE RECOGNIZED. I AM SERIOUSLY CONSIDERING MOVING, "NOTED ONE OF THE WOMEN IN THE MAGAZINE.
Le Monde had published a text on Tuesday, October 15, signed by 90 personalities saying "loud and clear that the wearing of the veil is the ostentatious sign of a retrograde, obscurantist and sexist understanding of the Koran. To veil women is to stigmatize their presence in the public space. "
The text appeared to denounce the video where the president of the group National Rally (RN) at the Regional Assembly of Burgundy-Franche-Comte, Julien Odoul, had asked that a veiled woman, accompanying a group of children come to attend the plenary assembly, withdraws his veil.
https://www.mbs.news/2019/11/muslim-women-who-signed-the-platform-against-the-veil.html
------
Muslim Woman Says Security Told Her to Remove Her Hijab Before Entering Nuggets Game
Enterpriser Suite
15 November 2019
| Muslim Woman Says Security Told Her to Remove Her Hijab Before Entering Nuggets Game
A Colorado woman says she was racially profiled last week when she was told to remove her hijab before entering a Nuggets game.
The incident occurred on Nov. 5 when Denver hosted Miami Heat. The woman, 36-year-old Gazella Bensreiti, says she was at the arena to watch her 8-year-old daughter perform the national anthem with her school choir, but was initially denied entry because of her religious headscarf.
"I was instructed to retrieve my ticket from Will Call by the school officials," Bensreiti wrote on Facebook. "Upon entering, a woman named Dorothea put her hand to my face and told me that I would have to 'take that thing off' of my head. I told her that I would not take it off due to religious reasons. I was wearing a turban/cap. I explained to her that it was my hijab and that I would not be taking it off, to which she responded; 'I don't care, you can't come in with it on.'"
Bensreiti said she then asked the security employee if they could go somewhere private so that she could remove hijab for inspection. The staffer refused.
"My 8-year-old daughter became distraught and was pulling on my arm asking if they weren't going to let me in to watch her perform," Bensreiti continued. "Dorothea then went into an office and came out and waved to me to go ahead through, without making eye contact or even acknowledging me as a human being, but ushered me like an animal."
Bensreiti called the experience horrifying. She and members of the Colorado chapter of the Council on American-Islamic Relations are now calling on Pepsi Center to investigate.
A spokeswoman for Kroenke Sports & Entertainment, which owns and operates the arena, told the Denver Post the incident was caused by a misunderstanding, as the security staffer "didn't recognize that Ms. Bensreiti was wearing a hijab." The spokeswoman said a supervisor immediately intervened, and allowed the mother Bensreiti to enter.
"We have reached out to Ms. Bensreiti and look forward to engaging in honest discourse that leads to greater awareness and an opportunity to further celebrate the diversity that makes Denver such a special place," Becca Villanueva, Kroenke's director of marketing communications, wrote in an email to the Post. "While the matter is still under review, we are taking steps to modify our screening process and provide additional education for our staff."
https://enterprisersuite.com/muslim-woman-says-security-told-her-to-remove-her-hijab-before-entering-nuggets-game/
------
Egyptian woman fights unequal Islamic inheritance laws
15 November 2019
CAIRO (AP) - One Egyptian woman is taking on the country´s inheritance laws that mean female heirs inherit half that of men.
Since her father's death last year, Huda Nasrallah, a Christian, has stood before three different judges to demand an equal share of the property left to her two brothers by their father. Yet courts have twice issued rulings against her, basing them on Islamic inheritance laws that favor male heirs.
Nasrallah, a 40-year-old Christian human rights lawyer, is now challenging the rulings in a higher court. A final verdict is expected to be handed down later this month. She has formulated her case around Christian doctrine which dictates that heirs, regardless of their sex, receive equal shares.
"It is not really about inheritance, my father did not leave us millions of Egyptian pounds," she said. "I have the right to ask to be treated equally as my brothers."
Calls for equal inheritance rights began to reverberate across the Arab world after the Tunisian government had proposed a bill to this effect last year. Muslim feminists hailed the bill.
But there has been a blacklash from elsewhere in the Arab world. Egypt´s Al-Azhar, the highest Sunni religious institution in the Muslim world, vehemently dismissed the proposal as contradictory to Islamic law and destabilizing to Muslim societies. But there is hope that Tunisia could have broken the taboo on the topic for the region.
Nasrallah belongs to Egypt's estimated ten million Coptic Christians, who live in a predominantly Muslim society governed by a constitution in which Islamic Shariah is the main source of legislation. Christians face restrictions in inter-religious marriages and church building, and are banned from proselytizing to Muslims.
Egypt´s legal system grants the Coptic church full authority over personal status matters of Copts, namely marriage and divorce. But the church does not have the same powers over its followers´ inheritance rights.
One of the oldest Christian communities in the world, the Egyptian Coptic church is also deeply conservative on social matters, banning divorce except in cases of adultery or conversion to Islam.
Nasrallah says she is making her case on religious grounds because she believes the court is more likely to respect existing structures within the society. She says she is trying to capitalize on a rare Christian doctrine that respects gender equality.
Karima Kamal, a Coptic female columnist at the privately-owned al-Masry al-Youm daily, says that Nasrallah's case highlights the double discrimination that Coptic women can face in a society where religion is printed on government-issued identification cards.
"You should not implement the rules of one faith on people of another faith," she says.
In early December 2018, Nasrallah's father, a former state clerk, died, leaving behind a four-story apartment building in a Cairo low-income neighborhood and a bank deposit. When she and her brothers filed their request for inheritance at a local court, Nasrallah invoked a church-sanctioned Coptic bylaw that calls for equal distribution of inheritance. She says she was encouraged by a 2016 ruling that a Cairo court handed down in favor of a Coptic woman who challenged Islamic inheritance laws.
Nasrallah's brothers also testified that they would like their father's inheritance to be divided fairly between them, but the court has twice ignored their testimony.
Many Coptic men prefer to benefit from the Islamic laws, Nasrallah said, using the excuse that it's out of their hands.
"The issue of inheritance goes beyond religious rules. It has to do with the nature of the society we are living in and Egypt´s misogynistic judicial system," said Hind Ahmed Zaki, a political science assistant professor with Connecticut University.
She says the state fears that if they grant equal property rights to Christian women, Muslim women will soon ask for the same.
Girgis Bebawy, a Coptic lawyer, has represented dozens of Copts in similar cases over the last two years, though he has yet to win a single one. He's hoping that the latest case, which is currently before Egypt´s Supreme Constitutional Court, could end differently.
"It's religious intolerance," he says.
Many Coptic families decide to settle inheritance matters outside the legal system, but Nasrallah says that as a lawyer, she hopes her case could set a precedent for others.
"If I didn´t take it to court, who would?" she said.
https://www.dailymail.co.uk/wires/ap/article-7688629/Egyptian-woman-fights-unequal-Islamic-inheritance-laws.html
------
Larger bench will take up issue of women's entry in mosques
Nov 15, 2019
The Supreme Court last week adjourned a hearing on a public interest litigation (PIL) seeking entry of Muslim women in mosques across country. A bench led by Chief Justice of India (CJI)-designate, justice SA Bobde, said: "We are adjourning it for a different reason." The hearing took place on November 5. No reasons were assigned for deferring the hearing.
On Thursday as a five-judge bench led by CJI Ranjan Gogoi referred the issues raised in the Sabarimala verdict to a larger bench, it suggested a similar reference of the PIL on women's entry into mosque. "It may not be inappropriate if matters involving seminal issues including the interpretation of the provisions of the Constitution touching upon the right to profess, practise and propagate its own religion, are heard by larger bench of commensurate number of Judges. That would ensure an authoritative pronouncement and also reflect the plurality of views of the Judges converging into one opinion. That may also ensure consistency in approach for the posterity," read the 3:2 verdict.
The PIL pending before SC wants Muslim women to be allowed to enter mosques. A Maharashtra-based Muslim couple moved the top court seeking a direction to that effect. It wants to declare the prohibition on entry of women into mosques as illegal and unconstitutional.
".. such practices are not only repugnant to the basic dignity of a woman as an individual but is also violative of the fundamental rights," read the petition settled by advocate Ashutosh Dubey. Union of India, Ministry of Minority Affairs, Central Wakf Council, Maharashtra State Wakf Board and All India Muslim Personal Law Board have been arraigned as respondents in the case. Notices have already been issued on the petition.
At present, women can offer prayers at mosques under Jamaat-e-Islami and Mujahid denominations. However, they are barred from mosques under the predominant Sunni faction. And even if they are allowed in, there are separate entrances and enclosures for them to worship, the petition stated.
According to the petitioners, there are no records stating that the Holy Quran and Prophet Muhammad had opposed women entering mosques and offering prayers.
https://www.hindustantimes.com/india-news/larger-bench-will-take-up-issue-of-women-s-entry-in-mosques/story-pNKDwRWoBTWGvDPT0P34VN.html
------
URL: https://www.newageislam.com/islam-women-feminism/washington-elect-first-two-muslim/d/120272
New Age Islam, Islam Online, Islamic Website, African Muslim News, Arab World News, South Asia News, Indian Muslim News, World Muslim News, Women in Islam, Islamic Feminism, Arab Women, Women In Arab, Islamophobia in America, Muslim Women in West, Islam Women and Feminism