New Age Islam News Bureau
18 Aug 2017
• More Than Religion, Society Needs Humanism: Muslim Woman Who Married Paralysed Dalit under Fire from Kin, Community
• Women Slowly Break Barriers in Bangladesh
• Afghan Female Singer's Video Draws Threats and Praise
• Meet the Female Soldiers in Syria and Iraq Fighting For Gender Equality As Much As Freedom
• Pregnant, Breastfeeding Women among Most at Risk In Yemen's Cholera Outbreak
• Iran: Tehran's Friday prayer leader stresses confronting women in cars
• Iran: Arrest of 64 Girls and Boys by the IRGC in Isfahan
• Iran: 25% of Imprisoned Women Are Detained On Drug-Related Charges
• Iran: Scholars oppose plan to raise women's age of marriage
• Iran: Qazvin's Prosecutor Threatens Women over Mandatory Veil
Compiled by New Age Islam News Bureau
URL: https://www.newageislam.com/islam-women-feminism/want-live-muslim-kerala-woman/d/112244
--------
Want To Live As Muslim, Kerala Woman Tells Activist
August 18, 2017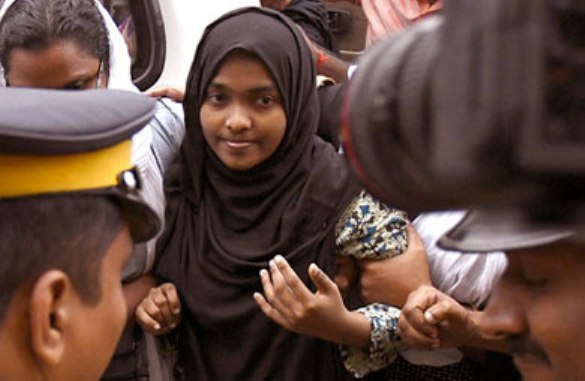 Hadiya with Shefin Jahan of Kerala
A DAY after the Supreme Court ordered the NIA to probe her conversion to Islam and marriage to a Muslim youth, Kerala resident Hadiya has indicated that she wants to live as a Muslim. Hadiya, whose original name was Akhila, has been shut in her house at T V Puram in Kottayam since May 26, the day when the high court handed over her custody to her parents after nullifying her marriage to Shefin Jahan. No one has been allowed to meet the woman, who is guarded by police.
However, activist and writer Rahul Easwar met Hadiya and released a short video in which she was heard speaking against her confinement at the house. "Is it enough to put me like this in house? Is it my life?" she asked. "When I am offering namaz, why is mother scolding me," she said.
Easwar, the son of the Sabarimala main priest's family, also spoke to Hadiya's mother Ponnamma, who was heard blaming two Muslim women, who had been Hadiya's friends in college.
Sources said the family has been in a desperate attempt to bring the daughter back to Hindu faith. For this, they had even arranged several sessions of counselling. However, the woman has been leading an Islamic way of life in her house.
http://indianexpress.com/article/india/want-to-live-as-muslim-kerala-woman-tells-activist-4801925/
--------
More than religion, society needs humanism: Muslim woman who married paralysed Dalit under fire from kin, community
By: Shaju Philip
August 18, 2017
He is a Hindu Dalit, paralysed below the waist and wheelchair-bound for 10 years. She is from an orthodox Muslim family. They met and fell in love on Facebook. Despite the odds, M B Pramod, 36, and I Meharunnisa, 30, registered their marriage on Wednesday at his home at Poonjar in Kottayam district.
Meharunnisa, from Guruvayur in Thrissur district, has been under fire from her community for the past three months. Relatives and community members wanted her to leave Pramod, telling her to "get out of the trap". However, she stuck to her philosophy: "We healthy persons should fill with joy the lives of the physically disabled ones. More than religion, society needs humanism.''
Pramod was a cable TV operator. In 2007, he fell into a small water body near his house. The injuries left him paralysed below the waist. After doing the rounds at a number of hospitals, he returned home in a wheelchair.
In the meantime, Pramod's parents Mangattukunnel Balakrishnan and Saraswati were diagnosed with cancer. Balakrishnan, a BSNL employee, died in 2013. Saraswati became the lone support for Pramod. The family survived on a meagre pension.
Pramod said, "I would frequent social networking sites on my phone. I met Meharunnisa on Facebook two years ago. At the outset, I told her about my condition and other family matters, which should have made any woman keep away from me.''
Meharunnisa said that as they became closer, she sought the opinion of friends.
"Most of them dissuaded me. They told me my life would be spoiled. But I always felt it would be a great thing to contribute to the happiness of others. When Pramod spoke about his mother's disease, I decided I should step into their lives,'' she said.
The two were married in May. It was a simple ceremony at Pramod's house. The marriage was registered under the Special Marriage Act on Wednesday.
Meharunnisa, a graduate in education, said she has been targeted online by members of her community. "My family and others thought I was trapped. They spread messages on social media groups that a Muslim woman had eloped with a Hindu man. There were audio clips saying I should be brought back. However, there was no threat from anyone."
She said her community saw the marriage only from a religious angle. "People consider this love affair a crime. At home, no one speaks about conversion to Hinduism. I haven't changed any customs because of the marriage,'' said Meharunnisa.
http://indianexpress.com/article/india/kerala-muslim-woman-who-married-paralysed-dalit-under-fire-from-kin-community-more-than-religion-society-needs-humanism-4801928/
--------
Women Slowly Break Barriers in Bangladesh
By Mahfuzur Rahman
August 18, 2017
DHAKA, Aug 18 2017 (IPS) - When one thinks of Bangladesh, its political leadership naturally comes to mind as the leaders of the country's major parties are women, including the Prime Minister, the Opposition Leader and the Speaker of the National Parliament.
When it comes to gender equality in daily life, the reality is still different, but many women in Bangladesh are breaking barriers by taking traditionally male jobs – once unthinkable. Take the case of six rural women working in a refueling station in the port city of Narayanganj near the capital Dhaka, a job that entails a degree of personal risk.
Happy Akhter of Magura, Lippi Akhter of Moulvibazar and Rikta of Patuakhali districts are among the six women employees of the refueling station, set up by Saiful Islam, a former police officer, in 2001.
"It's important to utilise the potential of everyone, including women. And the well-off section of society should come up to support them," Islam told the Narayanganj correspondent of UNB, a national news agency.
Lippi Akhter added, "My satisfaction is that I can support my family — two daughters and one son — with what I get from this job. I'm not at all worried about myself but I want my children to be educated."
Asked about their security as they are dealing with male motorists, Lippi said, "We're safe here as our owner is an ex-police officer. We appreciate his concern about us. He has also made arrangements for our accommodation."
Taking such a job, where the women have to deal with transport workers, is a matter of great courage as violence against women is widespread.
In the district where these women are working, a 15-year-old girl was raped a by a group of transport workers in a moving truck on the night of August 2. Police arrested the driver hours after the incident. During a preliminary investigation, he confessed to committing the crime with the other men.
In a press statement, Naripokkho, a women's rights body, said, "The society is being affected due to the repeated incidents of violence against women and children. We're aggrieved and concerned in such a situation.
"Some 280 women and children fell victims to rape from January to June this year," Naripokkho said referring to a report of Ain o Shalish Kendro, a human rights body. It said 39 more were the victims of attempted rape during the period, while 16 were killed after rape, and five committed suicide after rape.
Citing police data, Naripokkho said 1,914 rape cases were filed and 1,109 rape incidents took place between April and June, indicating 12 rape incidents every day.
As elsewhere in the world, women account for almost half of Bangladesh's total population. Today, the country's total population is 1.65 million, including 49.40 per cent women, according to the Bangladesh Election Commission.
However, a 2015 World Bank report said women in Bangladesh account for only 27 percent of the total labour force. Nepal has the highest female labour participation rate of 80 percent. "The labour market [in Bangladesh] remains divided along gender lines and progress towards gender equality seems to have stalled," the World Bank said.
According to a 2014 study by Centre for Policy Dialogue (CPD), a civil society think tank of Bangladesh, "…the contribution of women to the national income has continued to remain insignificant when compared to men because of the under-representation of their contribution to the national income accounts."
Worldwide, women account for about one-third of the workforce in the unorganised sector. But the International Labour Organization says in Bangladesh, only 3.25 percent of employed women are working in the public sector and 8.25 percent in the private sector. The remaining 89.5 percent are employed in the informal sector with varying and often unpredictable earning patterns – or as it so often happens, work without any payment at all.
Non-recognition of women's unpaid activity, the CPD study says, also leads to undervaluation of their economic contribution.
The situation is slowly changing as the government takes on various projects with support from international partners. To give women's empowerment a boost, particularly in the country's impoverished north, the Local Government Engineering Department (LGED) of Bangladesh in collaboration with International Fund for Agricultural Development (IFAD) has launched a project on Climate Resilient Community Development (CRCD) Project with a greater focus on gender parity.
The six-year project will be implemented in six districts, Gaibandha, Kurigram, Rangpur, Nilphamari, Lalmonirhat, and Jamalpur, which are known as poverty pockets.
The project seeks to achieve at least 33 percent of women in the overall labour market, and 15 percent in construction-related areas with relevant actions like subsidised courses for women, inclusion of informal sectors and incentives to employers to employ females, functional literacy, and skill development training.
The project follows a gender sensitive design, noting that 10 per cent of households in the project areas are headed by women, and most of these households are extremely poor.
As it does always, IFAD is promoting the active participation of 'Labour Contracting Society (LCS). Coastal Climate Resilient Infrastructure Project (CCRIP) is one of them.
CCRIP Project Director A.K.M. Lutfur Rahman said poverty alleviation, education, irrigation, agriculture, women's empowerment and tree planting are the social aspects of the project apart from its engineering aspects, and women are participating.
The project is expected to contribute to the construction of gender sensitive infrastructure that meets the needs of both women and men. In line with national development policies and IFAD's Gender Equality and Women's Empowerment Policy, the goal is to empower women and men to ensure equal access to project benefits.
As security concerns prevail due to the growing violence against women, Professor Sharmind Neelormi of the Department of Economics of Jahangir Nagar University in Bangladesh stressed the importance of ensuring a gender-friendly working environment in the project areas, in addition to revisiting the wage rate.
Professor Sharmind came up with the suggestions on August 1 last in Dhaka while presenting the findings of a study she conducted with support from LGED and IFAD.
Talking to IPS, MB Akther, Programme Director & Interim Country Director of OXFAM Bangladesh, said women's empowerment is a continuous process. A woman needs five to six years of multidimensional supports, he said. She also needs help in building market linkages for income-generating activities.
Akther said providing capital resources to women is not the only solution. They should also know how to invest resources for generating income and for that they need trainings, raising knowledge and cooperation to build market linkages.
"ICT, particularly the operation of mobile phones, is also an effective tool for women to search job markets or market prices for a product," he said, adding that he is aware of the IFAD projects.
Talking about women's contributions to both the household economy and the national one, Dr Qazi Kholiquzzaman Ahmad, Chairman of Palli Karma-Sahayak Foundation, a public-sector apex development body, told IPS in October last year that women's contributions come from their participation both in formal and informal sectors, and even those, who work outside home in formal or informal sectors, also take care of household chores.
"If women's household-level activities and their works in informal sectors are economically evaluated and added to the national income, Bangladesh may already be a middle-income country," he added.
http://www.ipsnews.net/2017/08/women-slowly-break-barriers-bangladesh/
--------
Afghan female singer's video draws threats and praise
17 August 2017
Afghan singer, songwriter and TV personality Aryana Sayeed will perform at a concert celebrating Afghan Independence Day on 19 August, but not everyone is happy.
As a traditionally conservative society, women in Afghanistan are restricted in what they can wear or do. Western clothing and not covering the head is considered by many to be against the national norm.
Why Afghan women are campaigning for their names to be heard
So when Ms Sayeed, known for promoting empowerment among women, posted an eight-minute-long Facebook Live video, the comments were divided.
With her high number of followers - almost 1.9 million - the clip was viewed over 119,000 times in its first day.
Some praised the singer and wished her good luck, whilst others have insulted her and alluded to "explosions" at her concert.
"We support you. Your concert is a kick in the teeth to wrong-headed people," wrote Facebook user Omid Ahmadi.
Others agreed and wished her good luck, including Zenat Amiri's: "I hope, God willing, your concert passes safely and may God be with you."
Sahil Seerat wrote: "This is in fact not a concert but a fight for freedom and justice, and against violence, despotism and obscurity."
However, some opponents of the singer accused her of "misleading thousands of people."
Others spoke of the possibility of a suicide attack at the concert, while some told Ms Sayeed she was "hated," and to celebrate in another country.
There had been some speculation whether the concert would be cancelled, but Ms Sayeed was quick to reject the rumours on Facebook on Monday. The singer expressed her patriotism and enthusiasm for unity in Afghanistan, adding profits from the concert would be used to help those affected by war.
It's not her first time to court controversy. In May, she burned a skin-coloured dress she had worn at a concert, after religious figures and members of the public branded the controversial tight outfit against Afghan culture and non-Islamic.
Ms Sayeed, who has lived in Pakistan, Switzerland and now England, is known for her liberal views, western clothes and has 257,000 followers on Instagram, where she posts many photos of her clothing and make-up.
http://www.bbc.com/news/blogs-trending-40960963
--------
Meet the female soldiers in Syria and Iraq fighting for gender equality as much as freedom
Benedetta Argentieri
18 AUGUST 2017
Let's go. We need to go; it will be dark soon,' said Heval Dalal with a reassuring smile and a Kalashnikov over her shoulder, as she climbed swiftly up a steep path in a camouflaged camp in the mountains of Iraqi Kurdistan.
While walking, she explained the rules: no phones, no cameras. (Drones can pick up thermal signatures and mobile-phone signals.) No one goes out after dark. For the past two years the Turkish military has raided the mountain system in northern Iraq, at the border with Iran, looking for clandestine hide-sites exactly like this one. 'We need to take even more precautions,' she said.
Dalal, 26, wore a baggy green uniform and blue turban, her long, dark hair in a loose chignon clipped by a blue pin. She was born in Sweden to Kurdish parents, who had moved to Europe as refugees. At 18, she married a Swede with Kurdish origins, despite her family's disapproval. Her mother told...
http://www.telegraph.co.uk/women/life/meet-female-soldiers-syria-iraq-fighting-gender-equality-much/
--------
Pregnant, breastfeeding women among most at risk in Yemen's cholera outbreak
17 August 2017
In the midst of the cholera outbreak in Yemen, where an average 5,000 people fall sick every day, the United Nations population agency is warning about the dangers to pregnant and breastfeeding women.
"Pregnant and breastfeeding women, especially those who are malnourished, are particularly vulnerable. An estimated 1.1 million malnourished pregnant women are at risk, requiring immediate care," the UN Population Fund (UNFPA) recently said.
One of these women is Ibtisam, who contracted cholera when she was nine months pregnant.
"I went to a health facility in my hometown in Rayma Governorate, but they did not know what was wrong with me," she told UNFPA. "I felt I was going to die and lose my baby. I was going to have my first child, and I was desperate not to lose my child."
Pregnant and breastfeeding women are especially vulnerable to malnutrition, and those weakened by the nutrition crisis are more prone to infections, including cholera.
Ibtisam and her husband then travelled five hours to the nearest hospital in the capital, Sana'a, where she was diagnosed and treated for cholera.
"Ibitsam was in her last month of pregnancy. If she [arrived] a day or two later, we are not sure we could have saved her or her baby," Dr. Farea, who helped treat her, told the UN agency.
UNFPA has said that the cholera crisis in Yemen is the worst in the world, and its magnitude is linked to the ongoing conflict and displacement crisis, the breakdown of health and sanitation systems, and serious food insecurity.
Women as agents of change
While among the most vulnerable, women can also play a key role in controlling the spread of cholera because they are traditionally tasked with preparing food. Cholera often spreads through contaminated food or water.
"If women are made aware about the steps they can take to prevent cholera and detect its symptoms at an early stage, we can save a lot of lives," Dr. Farea said.
Aman'a, a 35-year-old mother of five, told UNFAP that was aware of the need for good hygiene, but hardship conditions have made disease prevention difficult.
"At home, I take all the precautions when preparing food, and make sure my children follow the same. Yet I was infected after visiting one of my relatives," she said. "I try to tell my friends and family to maintain good hygiene and wash fruits and vegetables with clean water several times before cooking."
The UN agency said it has stepped up efforts to assist women and girls in Yemen, distributing dignity kits – which contain soap, sanitary napkins and basic clothes – and supporting midwives, mobile clinics and community outreach.
http://www.un.org/apps/news/story.asp?NewsID=57375#.WZa01OwjGzc
--------
Iran: Tehran's Friday prayer leader stresses confronting women in cars
09 August 2017
Tehran's Friday prayer leader, Sedighi, stressed on the need to confront women in Iran over their covering and hijab inside their cars. He said, "The issue of hijab is an obligation stated in the Quran. If someone commits a crime in her car, it will be (considered as) an obvious crime. In such cases, not only the culprit must be dealt with based on the ruling of the Quran, but she must also be dealt with according to the law passed by the parliament." (The state-run ISNA news agency, August 8, 2017)
http://women.ncr-iran.org/iran-women-news/4179-iran-tehran-s-friday-prayer-leader-stresses-confronting-women-in-cars
--------
Iran: Arrest of 64 Girls and Boys by the IRGC in Isfahan
10 August 2017
NCRI - The Iranian Revolutionary Guard Corps (IRGC) Intelligence Organization in Isfahan reported that its forces had arrested 64 boys and girls around the city in co-operation with the police on Tuesday, 8 August 2017.
"The IRGC soldiers in the district of Imam Sadeq in Isfahan, in cooperation with the Isfahan Provincial Police, yesterday arrested 64 boys and girls around the city of Isfahan by taking orders from the judiciary," Isfahan's IRGC Intelligence reported.
According to the report, the cases of the detainees were sent to the judiciary.
Isfahan's IRGC Intelligence has accused the arrested people of promoting and spreading corruption and placing films from their parties on social networks.
On Tuesday, the prosecutor of the regime in Kerman province announced the closure and sealing of three "nightclubs" and arrests of 18 people in this regard.
http://ncr-iran.org/en/news/human-rights/23344-iran-arrest-of-64-girls-and-boys-by-the-irgc-in-isfahan
--------
Iran: 25% of imprisoned women are detained on drug-related charges
11 August 2017
The Head of the Prisons Organization of Iran, Asghar Jahangir, told a Judiciary meeting that "25 percent of women prisoners are in jail on drug related charges." (The state-run ILNA news agency – August 9, 2017)
http://women.ncr-iran.org/iran-women-news/4182-iran-25-of-imprisoned-women-are-detained-on-drug-related-charges
--------
Iran: Scholars oppose plan to raise women's age of marriage
11 August 2017
The plan to raise the age of marriage for women and girls in Iran faces opposition by a number of religious scholars.
FatemehZolghadr, a member of parliament, said the above, adding, "In the current law, the minimum age for marriage of girls is 13, but there are amendments which allow exceptions for example with the permission of the father, considering child's interests, court approval and lack of complainants.
For these reasons, we continue to see marriages of girl children who are not eligible for marriage, but instead of spending their childhood, become spouses and mothers." (The state-run Entekhab news website – August 11, 2017)
http://women.ncr-iran.org/iran-women-news/4185-iran-scholars-oppose-plan-to-raise-women-s-age-of-marriage
--------
Iran: Qazvin's prosecutor threatens women over mandatory veil
13 August 2017
The prosecutor of Qazvin sent out a formal letter to executive agencies and government companies, threatening women over the need to observe the mandatory veil.
The letter by SadeqNiaraki reads in part, "According to the information we have received, after office hours and occasionally during office hours, a small number of women employees wear clothing that wearing them in public is against the Sharia and hurts public chastity.
Using these clothes is a crime according to the country's laws and it is seriously advised that (women) comply with this issue during office hours in the work environment and after the office hours in public."
"If we receive a report from law enforcement officers or security forces, indicating a breach of law, we will file a complaint with the judiciary and persecute the offender," the letter concluded. (The state-run Damadam website – August 12, 2017)
http://women.ncr-iran.org/iran-women-news/4189-iran-qazvin-s-prosecutor-threatens-women-over-mandatory-veil
--------
URL: https://www.newageislam.com/islam-women-feminism/want-live-muslim-kerala-woman/d/112244
New Age Islam, Islam Online, Islamic Website, African Muslim News, Arab World News, South Asia News, Indian Muslim News, World Muslim News, Women in Islam, Islamic Feminism, Arab Women, Women In Arab, Islamophobia in America, Muslim Women in West, Islam Women and Feminism