New Age Islam News Bureau
14 Dec 2017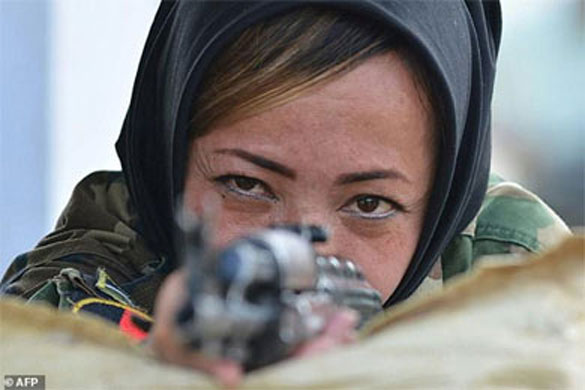 An Afghan cadet fires at a target during a practice session at the Officers Training Academy in Chennai
-----
• Afghan Women Officers Train at Military Academy in India
• Saudi Shoura Member Wants to End Male Guardianship
• Saudi Women Directors Excited About Cinema Coming To The Kingdom
• Egyptian Women Get Inheritance Rights
• Using Fashion as A Platform To Highlight The Issue Of Child Marriages In Pakistan
• Quebec Probes Ban on Women at Construction Sites near Mosques
• Female MPs, Activists Urge Arab Countries To Scrap Gender-Discriminatory Laws
• Muslim Woman Claims Lack of Service at Boulder Cantina Laredo
• 80pc Thyroid Patients Are Women: Experts
• The Shoura and women empowerment
Compiled by New Age Islam News Bureau
URL: https://www.newageislam.com/islam-women-feminism/virginity-tests-continue-haunt-girls/d/113569
--------
Virginity tests continue to haunt girls and women in Afghanistan
Dec 14 2017
The issue of the virginity tests continues to haunt the Afghan girls and women, particularly the sexual violence victims, with the Human Rights Watch (HRW) new report unveiling a new distressing report from a remote part of Afghanistan where two children became the victims of the persistent issue.
According to HRW, a 6 and 7 year old girl were subjected to the distressing virginity test after reports emerged regarding an incident involving sexual assault on the two girls.
The case was reported to the authorities by a midwife after a local family turned to her for help when their 6 and 7-year-old daughters complained of abdominal pain.
After examining the girls, the midwife Farida found they had injuries consistent with sexual assault, and reported this to the district prosecutor's office.
According to HRW, the next two months, the girls were sent three times for so-called "virginity examinations" – invasive procedures Afghan government doctors perform, purportedly to determine whether a woman or girl is a "virgin." In reality, these tests have no scientific validity and can constitute sexual assault.
The World Health Organization has called them degrading and urges health workers not to perform them. For the girls Farida tried to help, the trauma and humiliation of repeated examinations compounded the initial abuse. When the girls' parents brought them to a clinic for the third time, they sobbed and begged not to be tested again.
HRW says the girls' attacker – a 17-year-old boy – was ultimately convicted of sexual assault.
But because the "virginity test" could not prove that penetration had occurred, the judge threatened the midwife, saying, "I could sentence you to imprisonment for false reporting [of rape], but I forgive you this time, as you are a woman, but be careful in the future."
The midwife Farida, who told HRW she had followed appropriate procedure in reporting the girls' injuries, also faced trouble at home; her neighbors said she had dishonored their community by reporting the case in the first place.
HRW fears as a result, future cases of sexual violence in the village are more likely to go unreported.
https://www.khaama.com/virginity-tests-continue-to-haunt-girls-and-women-in-afghanistan-04044
--------
Afghan women officers train at military academy in India
Dec 14 2017
NEW DELHI — From shooting an AK-47 to dealing with computer-simulated sieges, 20 Afghan women officers are being put through their paces at a military training academy in India.
They are the first Afghan women to attend the academy in the south Indian city of Chennai, which has been training men from the country's military for several years.
The women receive weapons training and learn tactics and logistical and navigational skills at the academy, the only military training establishment in India for both men and women.
This week they were taught how to use an AK-47 and given classroom training in ambush situations.
The three-week crash course ends on Dec. 24 and is reported to be a pilot for a full training scheme being planned for next year as part of the Afghan National Army's efforts to recruit more women.
Afghanistan has said it wants women to make up 10 percent of the armed forces, an ambitious goal given the current figure is barely three percent.
As well as the dangers of fighting in their war-plagued homeland, those who sign up say they face criticism for their choice.
Niloofar Rahmani was hailed as a role model for Afghan women after becoming the first female fixed-wing pilot in the Afghan air force.
But last year she sought asylum in the US saying she had received death threats from insurgents and faced contempt from some of her colleagues.
Under the Taliban's 1996-2001 regime, girls were banned from education and women were not allowed outside unless wearing a burqa and accompanied by a man.
More than 15 years after the fall of the regime gender equality remains a distant dream, in spite of official promises. — AFP
http://www.saudigazette.com.sa/article/524077/World/Asia/Afghan-women-officers-train-at-military-academy-in-India
--------
Saudi Shoura member wants to end male guardianship
ASEEL BASHRAHEEL
14 December 2017
RIYADH: In light of the recent drive Saudi Arabia is undertaking to empower women, a member of the Shoura Council, Dr. Eqbal Darandari, who sits on the Human Rights Committee, spoke about the necessity of revoking the requirement of a guardian's permission for Saudi women to travel.
The Shoura Council member strongly feels this is a step in the right direction as it tallies with the decree to allow women to drive. The two — in her opinion — are interminably connected.
Darandari believes it is the Shoura Council's role to supervise and legislate, and as a member of that council she told Arab News: "It's my pivotal duty to monitor human rights, whether it be for men or women, and to ensure that everyone is fairly entitled to their rights."
Specialized in psychology, she faced many obstacles as an academic: "I was a member of the Strategic Planning Committee and I fought to instigate the first deanship position at King Saud University (KSU). I finally achieved that six years ago," she told Arab News.
She admitted to speaking up for women specifically due to the complexities of their issues. "I am for justice, and there's a lot of injustice against some women due to misconstrued traditions and practices, and limited religious outlooks, putting women in harm's way as a result.
"I don't think allowing women to travel will lead to an increase in the number of girls' escape cases, which often occurs in broken homes lacking familial compatibility."
She thinks it unreasonable to deal with this generation, which has great aspirations due to its openness to the world, in the same manner used to deal with older generations.
"Nowadays, adolescents believe they're entitled to independence and trust, to lay claim to their rights. That, in turn, gives them great confidence in society and builds their sense of belonging, containing them rather than fueling their rebellion and disobedience."
Dandarani added that she believes anyone who has reached adulthood, of either sex, is responsible enough for their actions. "A woman's travel permit is unjust and is a discrimination between the two sexes."
After studying traditional and modern scholars' opinions within religious texts, Darandari brought up the debatable case of mahram (guardian) and the direct guardian's consent. "Does a 40-year-old woman need the consent of her minor son? Can a conservative father refuse his daughter's travels for education or treatment? What sort of message are we trying to send to the world?"
When not participating in Shoura Council activities, Dr. Darandari occupies a post as assistant professor in the department of psychology at KSU. She is also the supervisor of the evaluation and development unit (Qiyas).
http://www.arabnews.com/node/1208701/saudi-arabia
--------
Saudi women directors excited about cinema coming to the kingdom
13 December 2017
Saudi women film directors expressed their excitement over the announcement that cinema is finally coming to Saudi Arabia.
Saudi women filmmakers Hajar al-Naim and Hanaa Saleh al-Fassi spoke to Al Arabiya at Dubai International Film Festival about how the decision reflects the new open-to-the-world approach Saudi Arabia is embracing.
"We are changing because we are open to other cultures and perspectives," said al-Naim.
The Saudi Ministry of Culture and Information stated, on Monday, that it will allow movie theaters to open in the Kingdom next year.
https://english.alarabiya.net/en/life-style/entertainment/2017/12/13/VIDEO-Saudi-women-film-makers-excited-about-cinema-coming-to-the-kingdom.html
--------
Egyptian women get inheritance rights
Ayah Aman
December 12, 2017
CAIRO — The Egyptian parliament passed a new Inheritance law Dec. 5 giving women their legitimate right to inheritance after the majority had been deprived of it, especially in Upper Egypt where cultural norms and traditions are ingrained with sexism.
Article 49 of the new law states that anyone who deliberately denies the heir, be it a man or a woman, their legal share of the inheritance or confiscates a document confirming this share shall be jailed for six months at least and be subject to a fine ranging between 20,000 Egyptian pounds ($1,122) at least and 100,000 pounds at most. In case of recidivism, the prison sentence shall be no less than one year.
Parliament approved the new law after the Cabinet, the National Council for Women (NCW) and civil associations submitted several draft laws in January 2016, December 2016 and September 2017, respectively, to amend the 1943 Inheritance law. Other bills were submitted by members of parliament also, including by parliamentarian Nadia Henry.
NCW Director Maya Morsi told Al-Monitor, "We reached 1.2 million women in rural and underprivileged areas in our 'Tareq al-Abwab' ['door-knocking'] campaign to familiarize women deprived of inheritance of their rights."
The campaign aims at reaching out to women in villages and remote areas in Egypt's governorates, especially in Upper Egypt, to raise awareness of their rights and help them improve their economic and social conditions.
Morsi added, "We support any legislation guaranteeing women in Egypt their legitimate rights, thus empowering them economically by giving them a source of income that would improve their living standards."
Muslim and Christian scholars approved of the new law. Ahmed Karima, a Sharia teacher at Al-Azhar University, told Al-Monitor, "The law complies with the principles of Sharia and confronts beliefs and norms that deprive women of their legitimate right to their parents' or relatives' inheritance — an act generally classified as apostasy. God's orders mentioned expressly in Surat an-Nisa in the inheritance verses [that the Islamic law] should be obeyed."
The pastor of St. Mark's Catholic Church in Minya, Andraos Farage, told Al-Monitor, "Christianity gave women the right to equal inheritance with men. But the church receives complaints from women because of their deprivation of the inheritance and their relatives' greed under the pretext of norms and traditions, especially in Upper Egypt governorates."
Farage said, "In many cases, despite the church's mediation, women give up their right to inheritance to protect their family ties and avoid clashes."
He added, "The church intervenes when women fail to get their rights through the judiciary. Most solutions — such as reconciliation sessions — are moderate to alleviate the injustice but do not give women their full rights."
Despite the Christian and Muslim texts stipulating women's right to inheritance, there are plenty of complaints and cases filed by women who have waited years without a ruling.
Mona Soliman, a woman in her 50s who filed a complaint with the NCW, told Al-Monitor, "I was deprived of my father's inheritance, which my brothers claimed as their own. They said they wanted to prevent my husband's family from taking a piece of the land."
She added, "Five years on, no ruling has been issued to give me back my right after my brothers said before the court in the Minya governorate that the land ownership was transferred to them on my father's death bed and that he told them not to give me ownership."
Family members who want to deprive women of their right to the inheritance often forge title deeds before the judiciary. Khadija Hussein, a woman in her 40s from Bani Suef, told Al-Monitor, "After my husband died, his brothers deprived me of the property we live in under the pretext that he did not have any male heirs. They manipulated the title deeds to show the court that the property was theirs, and I could not prove they had forged the papers."
Egyptian President Abdel Fattah al-Sisi had dubbed 2017 "The Year of Women," attacking cultural norms that deprive women of their inheritance during the World Youth Forum on Nov. 8. He said, "We must change the norms and put an integrated program to redraw the real image of women and promote their status."
Issam Shaaban, the media officer and spokesman for the Egyptian Feminist Union, told Al-Monitor, "Any action to face women's deprivation of their inheritance must be coupled with social and legal awareness to qualify women to attain their right and not be afraid of voicing their demands."
He noted, "Volunteers from rights' centers should back women to file cases before the judiciary, especially since most women are not aware of their rights or do not have the tools to take action to get them."
Shaaban added, "The government must provide clear mechanisms that unfairly treated women can rely on. The legislation would then become a real tool rather than a judicial text to obtain rights. Many women have spent years in court hallways in vain."
Amal Abdul Hadi, an activist at the New Woman Foundation, told Al-Monitor, "The law alone cannot defy norms and beliefs because women then would fear asking for their rights and would settle."
She added, "The norms have been placed above religious principles for decades."
Ayah Aman is an Egyptian journalist for Al-Shorouk specializing in Africa and the Nile Basin, Turkey and Iran and Egyptian social issues. On Twitter: @ayahaman
https://www.al-monitor.com/pulse/originals/2017/12/egypt-law-women-inheritance-rights.html
--------
Using fashion as a platform to highlight the issue of child marriages in Pakistan
Huma Mobin
DECEMBER 14, 2017
"Do not let a little girl trade her school uniform for a bridal outfit," ace designer Ali Xeeshan said, while talking
to Daily Times.
The United Nations Entity for Gender Equality and the Empowerment of Women (UN Women) collaborated with leading fashion designer Ali Xeeshan, to develop a controversial piece worn by a child who walked down the ramp as the showstopper, in the finale of Pantene Hum Bridal Couture Week 2017.
Through this unique campaign, UN Women aims to make people aware of the issue of child marriages in Pakistan, their life-long implications and how to take preventive action in order to address it and help the potential and present victims.
This year's bridal couture week was much the same as previous years, where bride after bride walked out on the ramp wearing magnificently extravagant outfits. However, right at the end of the bridal week, one specific outfit stood out from the rest and caught everyone's attention. People stopped and stared at it for a longer while. It was a school uniform, which was embellished with heavy motifs, worn by a girl. A striking symbol to raise awareness and highlight something that is still a grave issue in Pakistan. This symbol; the bridal uniform was used to question the unfortunate nature of many marriages that should not be a cause of celebration for the brides, or even the nation as a whole. The horrible trade-off that takes place when a child is deprived of her right to an education, and instead is being dressed to be someone's wife, is what this campaign targets.
Pakistan's Child Marriage Restraint Act sets the legal age of marriage to be 16 for women and 18 for men, but it is still estimated that more than 20 percent of women are married off before the age of 18 and 3 percent overall do not even cross the age of 15 before they get married. There have been efforts to increase the legal age of marriage from 16 to 18 for women all across the nation but this has faced criticism and resistance. Despite having dire consequences for defying the legislation, child marriages are still a norm in Pakistan.
The campaign was further launched through a website and on social media after the live showcase of the bridal uniform, and the campaign aims to evoke emotions within people to take action. UN Women redirected the public to the campaign website, urging people to sign a petition that could turn this conversation into a topic of discussion in the Parliament. A donation fund on the website has been set up and funds will directly go to the non-governmental organisation; Kashf Foundation. This organisation works tirelessly toward sending child marriage, the prevention of it and the protection of the survivors and victims. Kashf Foundation plans to take this initiative to the next level by conducting an on-ground activation that speaks directly to the masses. Moreover, part of the proceeds from Ali Xeeshan's collection were donated to Pirbhat Women's Development Society and Sujag Sansar which are organisations striving to end violence against women and working against early child marriages in Pakistan.
UN Women Pakistan Country Representative Jamshed Kazi said, "It's astounding how women aren't allowed to drive or vote before the age of 18 and at the same time, they're forced into this lifelong commitment way before they reach that age."
This campaign is created together with BBDO Pakistan and aims to use countrywide awareness as a way to push forward the effective implementation of the legislation. For the first time, a collaboration between the esteemed organisation, UN Women, together with a well-known Pakistani designer; Ali Xeeshan, and with the cooperative role of multiple NGOs such as; Kashf Foundation, Pirbhat Women's Development Society and Sujag Sansar, focusing specifically on ending child marriage, shows how an unconventional collaboration for a good cause can lead to change for the better.
We asked if a mother came to him offering millions for bridal outfit of her daughter who is 15-years old and about to get married, will he make it?
The esteemed designer said, "Trust me, this has happened and I have refused! In fact, I tried to convince her parents to let her study as the girl wanted to be lawyer."
https://dailytimes.com.pk/158843/using-fashion-platform-highlight-issue-child-marriages-pakistan/
--------
Quebec probes ban on women at construction sites near mosques
December 14, 2017
Quebec's labor minister on Wednesday called for a probe into reports that women have been banned from working at public works construction sites near Montreal mosques on Fridays, the Muslim day of prayer.
Dominique Vien asked the province's Construction Commission to open the investigation following statements from officials at two public works companies on the exclusion of three women from a work site near a Montreal mosque.
A spokesman for one of the mosques has denied making any such request and said he learnt of the matter through the media.
TVA news reported Tuesday that officials from two mosques asked a manager of one of the companies to halt construction work on Fridays.
When the contractor refused, they reportedly got the Friday female worker ban.
The request, if confirmed, is "totally unacceptable," Vien said at a press conference.
"Equality between men and women is a fundamental right," Vien said. "The right to work is a right in Quebec and women can work wherever they want."
Moayed Altalibi, speaking for the Ahl-ill Bait mosque - which faces one of the sites - denied making such a request.
The mosque "has had good relations with the contractor since the beginning of the project," Altalibi said in a statement, adding that they reacted "with surprise and astonishment" to the TVA report.
Mosque officials have "never asked for anyone to be excluded. This request, if it exists, does not come from our organization."
The statements in the TVA report "are not only false, but fuel cynicism and harm the entire communities," the statement read.
In October the Quebec National Assembly approved a law on religious neutrality which bans officials or anyone receiving public services from covering their faces.
Critics say the measure effectively marginalize conservative Muslim women by limiting their access to government jobs and services. The law is being challenged in court.
Earlier, in January, six people were killed in the attack at a Quebec mosque during evening prayers. Some 50 people were in the mosque at the time of the attack.
Muslims comprise some 1.1 million people out of Canada's total population of 36 million.
http://www.thejakartapost.com/news/2017/12/14/quebec-probes-ban-on-women-at-construction-sites-near-mosques.html
--------
Female MPs, activists urge Arab countries to scrap gender-discriminatory laws
By Hana Namrouqa
Dec 13,2017
AMMAN — Arab parliamentarians and women's rights activists on Wednesday urged Arab countries to abolish laws that allow sexual assault offenders to avoid punishment for their crimes.
The parliamentarians and activists underlined that several Arab countries, including Jordan, Morocco and Lebanon, recently scrapped provisions in their penal codes that allowed sexual offenders to escape punishment, calling on other countries in the region to follow suit.
They made their remarks during a meeting organised by Equality Now, the Westminster Foundation for Democracy, the coalition of Arab women parliamentarians to combat violence against women and the Arab Women Organisation (AWO).
During the meeting, Minister of Social Development Hala Lattouf highlighted that strong partnership between legislators and activists pave the way for amending and abolishing laws that discriminate against women's rights.
"Violence against women and girls is neither justifiable nor acceptable and needs to be eliminated by all means, mainly by scrapping pieces of legislation that allow this," Lattouf said.
She underlined that Jordan has put in place several laws that protect women's rights, which also seek to economically empower women.
The minister stressed that, just as the legal system protects women, it also seeks to impose punishment on offenders.
Deputy Wafa Bani Mustafa, head of the coalition, said that 13 Arab states are currently members of the coalition, which targets laws that discriminate against women.
"Today's meeting seeks to focus on laws in the Arab region that allow sexual assault offenders to escape punishment. Progress in this domain has been achieved in Jordan, Lebanon and Iraq and we are hopeful that other countries will follow suit," Bani Mustafa said.
Based on a recommendation by a Royal committee and the endorsement of the government, the Lower House in August voted to abolish the controversial Article 308 of the Penal Code, which became effective on November 1 after the law was published in the Official Gazette.
"We are hopeful now that Iraq will also do the same as Jordan and other Arab countries and scrap laws that allow sexual assault offenders to avoid punishment," the MP noted.
Intisar Jabouri, a deputy in the Iraqi parliament, said that efforts are now under way to scrap such articles in the Iraqi penal code.
"We are now gathering momentum to have Article 398 in the Iraqi penal code number 111 abolished," she told The Jordan Times on the sidelines of the meeting.
Meanwhile, Hasna Mansour from the Westminster Foundation for Democracy said that female parliamentarians and women's rights activists from Jordan, Bahrain, Iraq and Palestine are attending the meeting to lobby for further actions that ensure the protection of women.
"Now we are also pushing Palestine to scrap laws that allow sexual assailants to escape punishment in certain cases," Mansour told The Jordan Times.
http://www.jordantimes.com/news/local/female-mps-activists-urge-arab-countries-scrap-gender-discriminatory-laws
--------
Muslim woman claims lack of service at Boulder Cantina Laredo
December 13, 2017
A Denver woman said that she believes the fact she is Muslim led to a tense interaction and a lack of service at a Boulder Cantina Laredo, but the restaurant says it was simply an unfortunate misunderstanding.
Halima Gul was in Boulder on Sunday with her two daughters — one of whom goes to the University of Colorado — when they decided to stop in for lunch at Cantina Laredo.
Gul, who moved to the United States from Afghanistan when she was 7, said they were seated by a waiter who asked where she was from. Gul has called Denver home for almost 20 years, so she told the server they were from Colorado.
"I said, 'I'm from here,'" she said. "That should have been enough. He should have left it at that."
Instead, Gul said the man pressed her on where she was "really" from. When she told him Afghanistan, he asked her where in Afghanistan, as he had spent five years there in the military. Gul said the man then showed her a tattoo of the Israeli flag on one arm and the Star of David on the other arm and began to talk about how he felt Jewish people were treated in Muslim countries.
She said the waiter took drink and appetizer orders and although he brought them out, he never returned to take their meal order or check to see if they needed anything else.
Restaurant management said Gul wasn't denied service. "We serve all customers without regard to race or creed or color or national identity. All we ask is you love our food, love our drinks and be kind. We expect that of our staff as well."
http://www.denverpost.com/2017/12/13/muslim-woman-incident-cantina-laredo/
--------
80pc thyroid patients are women: Experts
December 14, 2017
KARACHI - Normal thyroid function is essential for health. A deficiency of thyroxine leads to slowing of all body processes and weight gain. Around 80 per cent of people suffering from thyroid problems are women . Thyroxine deficiency is easily treatable. Auto-immunity (a failure of the body's immune system) is another common cause of goitre and thyroid dysfunction. Iodized salt should be used regularly as Pakistan is an area of iodine insufficiency, which may lead to the development of goitres.
These views were expressed by Prof Dr Tasnim Ahsan, Dean Faculty of Endocrinology, College of Physicians & Surgeons; Former Executive Director (CEO) and Head of the Department of Medicine, Jinnah Postgraduate Medical Centre (JPMC) at the public awareness seminar on Thyroid , held at the seminar room of Dr Panjwani Center for Molecular Medicine and Drug Research (PCMD), International Center for Chemical and Biological Sciences, University of Karachi (UoK) here on Wednesday.
PCMD, University of Karachi and Virtual Education Project Pakistan (VEPP) jointly organised the seminar.
Prof Ahsan said that thyroid disorders constituted the commonest endocrine disorder the world over. A swelling in the neck due to an enlarged thyroid gland is called goitre, she said, adding that this may or may not be associated with thyroid dysfunction. Talking about the functions of the thyroid gland, she said that the only function of thyroid gland was to make thyroxine, a hormone that is required by every cell of the body to function normally. She maintained that a deficiency of thyroxine leads to slowing of all body processes and weight gain.
An excess of thyroxine production or release leads to opposite effects, she said and added that thyroxine deficiency was easily treatable and requires lifelong replacement therapy.
"Hypersecretion can be treated either with oral medicines, radio-active iodine or surgery. A particular variety of auto-immune thyroid disease called Grave's disease may also be associated with the involvement of one or both eyes, which may have to be treated independent of the thyroid ," Prof Ahsan said.
A doctor should be consulted urgently if there is a rapidly enlarging goitre or nodules in the neck, as these may indicate thyroid cancer, she said.
Thyroid cancer is a disease that one gets when abnormal cells begin to grow in his or her thyroid gland camera, she explained and maintained that thyroid cancer was an uncommon type of cancer.
She pointed out that iodine was an element that was needed for the production of thyroid hormone. Iodine rich food should be an essential part of people diet, she said and added that iodine was found in various foods like fish, milk, yogurt and other dairy products.
http://nation.com.pk/14-Dec-2017/80pc-thyroid-patients-are-women-experts
--------
The Shoura and women empowerment
Samar Al-Mogren
Dec 14 2017
OVER the past several days, I followed closely the contentious and angry reactions to the Shoura Council's refusal to discuss a recommendation to empower women in leadership positions at Saudi embassies abroad.
I honestly believe that this anger was unjustified and all these responses were unnecessary if we took into account the possible outcome of a discussion on this proposal or any other proposals for that matter.
I do not remember any coherent decision adopted by the Shoura Council all these years after lengthy discussions on its floor. Therefore, it is immaterial whether the council approved or rejected the proposal.
However, all of us remember the tension that prevailed for many years over the issue of women driving and how the council refused to discuss it. The decision finally came in the form of an executive order and we did not turn to the Shoura to approve or reject a discussion on the matter.
In brief, I would say that we should not be angry at the Shoura Council, which is overdue on many things. We are now working toward achieving development that has gone beyond the stage of discussions and under a young leadership that is not understood by the Shoura Council. Had the council been in line with the goals of the Vision 2030 or Crown Prince Muhammad Bin Salman's vision for women empowerment in each sector, it would have understood the importance of women's role in each sector because development is impossible without women's participation.
We cannot forget the words of the godfather of Vision 2030 about women, when he said, "Women are a basic component of society".
If the Shoura Council had understood the requirements of the current phase of development and its future goals, it would not have rejected a discussion on the recommendation for women's appointment to leadership roles in Saudi embassies abroad.
From the data available at the current stage, I am sure Saudi women will not wait for a Shoura vote for their empowerment. They will jump to leadership roles as long as they have among them women who are capable and qualified because women are needed in such positions not just because they do exist, but because society is in need of their ideas and expertise.
I like to emphasize that all Saudi women who held leadership positions in the past have proved to be successful in their positions, which means women have the capabilities to participate in the country's development and to meet its requirements at the current phase. All they need is quick steps and not just token roles in positions of responsibility because they work with sincerity.
All what we have seen from Saudi women was success beyond doubt and their ability and willingness to serve whenever they were given the opportunity and trust.
http://www.saudigazette.com.sa/article/524017/Opinion/Local-Viewpoint/The-Shoura-and-women-empowerment
--------
URL: https://www.newageislam.com/islam-women-feminism/virginity-tests-continue-haunt-girls/d/113569
New Age Islam, Islam Online, Islamic Website, African Muslim News, Arab World News, South Asia News, Indian Muslim News, World Muslim News, Women in Islam, Islamic Feminism, Arab Women, Women In Arab, Islamophobia in America, Muslim Women in West, Islam Women and Feminism