New Age Islam News Bureau
15 November 2021
• Afghan Women Judges Flee To UK
• MP And Journalist Writer, Farida Al-Shoubashy to Introduce Bill Banning Niqab in Egypt; Calls Niqab A Form of Disguise
• Nobel Peace Prize Winner Malala Yousafzai Fears Taliban Will Keep Girls Out Of School
• Bilkis Bano, Famed for CAA-NRC Protests in Delhi's Shaheen Bagh, Among 500 Most Influential Muslims in the World
• Group of Women to Sue Qatari Authorities over Invasive Airport Searches
• Survey: Over Half of Malaysians Blame Women For Rape, Say Domestic Violence 'Normal' When Stressed
Compiled by New Age Islam News Bureau
URL: https://www.newageislam.com/islam-women-feminism/female-saudi-soldier-military/d/125776
--------
Video of Female Saudi Soldiers in Military Parade Goes Viral
November 14, 2021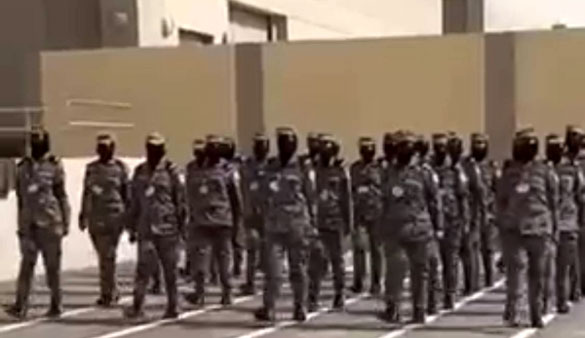 Photo courtesy: Saudi Gazette)
----
RIYADH — The video of Saudi female soldiers participating in a military parade and one offering a smart saluting went viral on the social media. The video became instant hit when a large number of Saudi users of social media, especially Twitteratis, shared and commented on the video.
The military parade was held on the occasion of the visit of Minister of Interior Prince Abdul Aziz Bin Saud Bin Naif to the General Directorate of Prisons in Riyadh on Thursday.
One of the video clips showed a female soldier standing in front of Minister of Interior to perform the military salute, saying: "By your order, sir," before the military parade began.
During the visit, the minister inspected the workflow of the directorate and launched a number of centers specialized in the rehabilitation and reform of prisoners.
The centers that were launched included the Fajr Center, the Thiqa Center, and the Eshraqa Center and these centers are tasked to carry out rehabilitation and reform programs in all regions of the Kingdom.
Prince Abdulaziz also monitored the progress of work at the Women's Capacity Training Center, which is responsible for qualifying female cadres to carry out the tasks of prison security, military police, and social and psychological care. Also, he witnessed some military exercises, self-defense skills, and some lectures in the educational halls for the trainees.
It is noteworthy that Prince Abdulaziz recently inaugurated via video conferencing the headquarters of the General Directorate of Prisons in Riyadh. This was part of the efforts exerted to develop security headquarters and keep pace with the best designs to provide a high-level infrastructure that serves security work.
Source: Saudi Gazette
https://saudigazette.com.sa/article/613570
--------
Afghan Women Judges Flee To UK
4 Nov 2021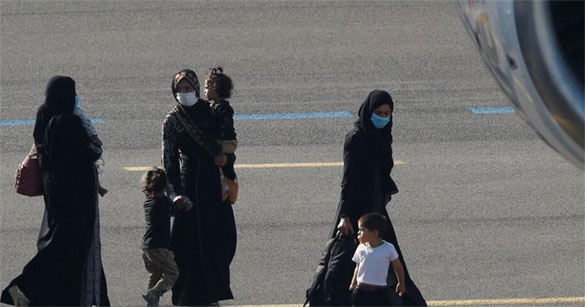 FILE Image. People who have been evacuated from Afghanistan arrive at Melsbroek military airport. Photo: REUTERS
-----
A group of Afghan women judges who were considered to be at risk under the Taliban regime in Afghanistan have arrived in the UK to start new lives, officials here announced on Saturday.
They said that under Taliban rule, female judges and others who stood up for women's rights were persecuted and forced into hiding, and were at risk of reprisals from criminals they tried or sentenced and who have now been released from prison.
The group of three female judges, one male prosecutor along with their families arrived in the UK on Friday.
They were granted permission to come to the UK by Home Secretary Priti Patel during the recent evacuation under Operation Pitting and had support from the International Bar Association and the International Association of Women Judges.
UK judges will now work with the group to ensure they can use their legal skills to rebuild their careers in the UK, the officials said. In the past 20 years, nearly 270 women have sat as judges in Afghanistan.
Since the end of Operation Pitting in late August, the UK has helped more than 1,800 people, including British and Afghan nationals, to leave Afghanistan.
Foreign secretary Liz Truss said, "These brave people have been defending rights and freedoms of women in Afghanistan. The UK is a fierce champion of freedom and the rule of law, and ending violence suffered by women around the world is a personal priority for me. We will continue to do all we can to help at-risk Afghans leave the country".
Helena Kennedy of the International Bar Association added, "These women fought for human rights of all in Afghanistan and this work turned them into targets. Now they need our assistance. We hope that the families will be welcomed by their newly found local communities and will embrace their new lives - away from the threats that forced them to leave their lives behind and seek refuge away from home".
The women judges arriving in the UK previously took part in a scheme that began in early 2021 organised by the UK Association of Women Judges and supported by the British Embassy in Kabul to provide Afghan judges with professional partnerships in the UK.
Source: Khaleej Times
https://www.khaleejtimes.com/asia/afghan-women-judges-flee-to-uk
--------
MP And Journalist Writer, Farida Al-Shoubashy To Introduce Bill Banning Niqab In Egypt; Calls Niqab A Form Of Disguise
November 11, 2021
MP and journalist writer, Farida al-Shoubashy announced that she plans to submit a draft law for discussion in the parliament, prohibiting and criminalizing the wearing of the Niqab (a piece of cloth worn by some Muslim women, covers the entire face except for the eyes) in Egypt.
Shobashy added, in an exclusive statement to Al-Watan newspaper, that a Niqab is a form of disguise, explaining: "We have all experienced the most horrific incidents in which the Niqab was used and was a cover for criminals. There is no country in the world that allows any of these forms of disguises, especially that it has nothing to do with chastity."
Shobashy said that headscarf (hijab) is not obligatory for women in Islam, adding that there is not a single Qur'anic verse that stated that covering the hair is obligatory.
"God the Almighty said in the Quran: (Let them draw their veils over their chests)," Shobashy said, explaining that this reference to the chest, not the hair.
In Saudi Arabia and other neighboring countries, men cover their heads to protect themselves from the sun, and this means that this veil originated from the conditions of their environment, not Islam, she added.
In the mid-1970s in Egypt, the veil was not a sign of chastity and honor, but was among other manifestations that the Islamists introduced.
"I discussed this point with the late Imam Dr. Sayed Tantawy, (former) Al-Azhar Grand Sheikh, and I told him that the veil is not an obligation in Islam, but rather imposed by the circumstances of the environment".
He replied by citing a hadith that if a woman reaches menstruation, only her face and hands should be visible, she added."My response was that this is a weak hadith, so he laughed and did not reply after that, and this was an affirmation of the correctness of what I said," she mentioned.
Back in 2009, Al-Azhar University banned the niqab in university classes and dormitories after Grand Sheikh Mohammed Sayyed Tantawi ordered a student to remove her face veil while visiting an academy associated with Al-Azhar, and niqabs were later banned during exams at Cairo University, prompting heated debate. By 2012, Egypt's minister of higher education said that female students wearing face veils should no longer be banned from the university exams. Instead, students wearing the niqab would be allowed to take their exams after their identities are checked by a female staff member.
In 2018, MP Ghada Agamy proposed a bill to the House of Representatives banning the wearing of niqab in public places, and suggested a fine of LE 1,000 for those who disobey. In the case of repeated violations, the fine would double. However, a wide number of parliamentarians in Egypt's House of Representatives rejected the draft law.
In 2020, Egypt's High Administrative Court approved Cairo University's decision to ban its professors from wearing the niqab, or face veil, ending a controversy that began five years ago over whether or not banning the niqab in public spaces violates personal freedoms or constitutes religious discrimination.
In 2015, Cairo University decided to ban female staff members from donning a type of veil worn by a minority of Muslim women that covers the face entirely, except for the eyes. The university justified the decision to ban the face veil by arguing that the niqab negatively impacts the ability of women who wear it to communicate.
Source: Egypt Independent
https://www.egyptindependent.com/mp-to-introduce-bill-banning-niqab-in-egypt/
--------
Nobel Peace Prize Winner Malala Yousafzai Fears Taliban Will Keep Girls Out Of School
November 15, 2021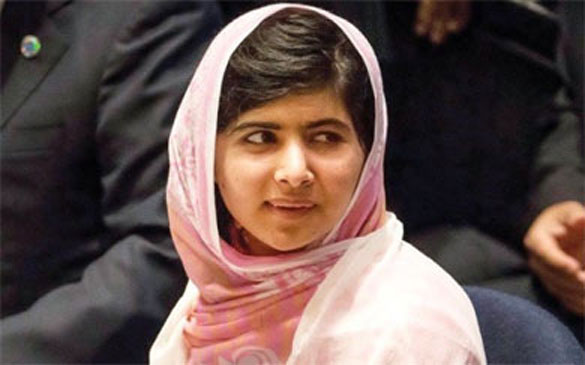 Malala Yousafzai
-----
LONDON: Nobel Peace Prize winner Malala Yousafzai on Sunday said she was concerned that the Taliban's ban on girls' education in Afghanistan would not be temporary, as claimed.
Ms Yousafzai told the BBC's Andrew Marr Show that "I'm afraid that this ban that they have announced right now that they're calling temporary might not actually be temporary". A similar ban in 1996 "lasted for five years", she pointed out.
After seizing power in August, the Taliban in September excluded girls from returning to secondary school while ordering boys back to class.
The Taliban have claimed that they will allow girls to return once they have ensured security and stricter segregation under their interpretation of Islamic law — but many are sceptical.
"We're calling on the Taliban to immediately allow girls to have access to their complete education, we're calling on G20 leaders and other world leaders to ensure that girls' rights are protected in Afghanistan," said Mr Yousafzai.
The 24-year-old activist, who revealed on Twitter this week that she had tied the knot with Asser Malik, sent an open letter last month urging the ban be reversed.
Source: Dawn
https://www.dawn.com/news/1658169/malala-fears-taliban-will-keep-girls-out-of-school
--------
Bilkis Bano, Famed for CAA-NRC Protests in Delhi's Shaheen Bagh, Among 500 Most Influential Muslims in the World
By Syeda Faiza Kirmani
14th November 2021
82-year-old Bilkis Bano famed for CAA-NRC protests in Delhi's Shaheen Bagh and an Uyghur economics professor, Ilham Tothi are the persons of 2021 in Muslims 500, a publication that ranks the five hundred most influential Muslims in the world.
Bano, Muslim 500's woman of the year 2021, who reportedly started the rebellion against Central government's Citizenship Amendment Act (CAA) and the National Register of Citizens (NRC) with a simple Gandhian protest on a road in her locality in Shaheen Bagh, Delhi managed to grab the attention of the world towards the issue.
Initially, a few of Muslim women joined Bano in her protest. But as awareness increased people from different religions, castes and ages joined in to support the cause. The NRC that was opposed had shown its colours, in the state of Assam after Muslims were targeted and asked to prove their citizenship by providing birth certificates. It is worth noting that a major chunk of the country is dealing with documentation crisis and with the addition of NRC, Muslims are most likely to suffer.
People who failed to present the documents were moved into detention centres. The CAA introduced alongside the NRC, protects all, but Muslims and other marginalised groups, from falling prey to the NRC.
Bilkis better known as Dadi, protested against CAA-NRC for 100 days which spread to 12 locations in Delhi and to a large number of cities across the country, involving millions.
The protests subsided with the rise in COVID-19 cases in the country. While the cases subsided, the Supreme Court deemed protests in public places to be unacceptable. But determined voices haven't lost their spirit and the future of the country is yet to be decided.
Ilham Tothi: Uyghur activist
Ilham Tothi, an Uyghur economics educator has allegedly been imprisoned on separatism-related charges since 2014 with no contact with his family for the past three years. Ilham advocated the rights of Uyghurs, their culture and raised questions on the lack of opportunities for them in light of the Chinese government ill-treating them.
After reported clashes between the Uyghurs and the infiltrating Han immigrants in 2009, Tothi was arrested but released within a month due to increasing international pressure. However, he was arrested again in January 2014 and has been imprisoned since then.
In the heavily surveilled Uyghur region, people are reportedly arrested and sent to "re-education camps" if they are found to be displaying "extreme behaviour" which includes fasting during Ramadan, growing a beard, having prayer mats at home, or owning religious scriptures etc.
Ilham's work has been recognised and he has won a number of awards, collected by his daughter, for promoting the freedom of expression and resistance to oppression. These include the PEN/Barbara Goldsmith Freedom to Write Award (2014), the Martin Ennals Award (2016), the Václav Havel Human Rights Prize (2019), and in October 2019, he was awarded the 2019 Sakharov Prize for Freedom of Thought by the European Parliament.
Source: Daily Siasat
https://www.siasat.com/shaheen-baghs-bilkis-bano-among-500-most-influential-muslims-2225051/
--------
Group of women to sue Qatari authorities over invasive airport searches
November 15, 2021
A group of women subjected to invasive gynaecological searches at Doha airport will sue Qatari authorities, seeking redress for an ordeal that sparked global condemnation, their lawyer told AFP on Monday.
Women on 10 Qatar Airways flights from Doha, including 13 Australians, were subjected to the examinations late last year as authorities searched for the mother of a newborn found abandoned in an airport bathroom.
The incident caused outrage, and fuelled concerns about Qatar's treatment of women as the Gulf state prepares to receive thousands of foreign visitors for the 2022 football World Cup.
Damian Sturzaker, from Sydney-based firm Marque Lawyers, said seven affected passengers now plan legal action to "send a message to Qatari authorities that you can't treat women [...] in this manner".
"The group of women have suffered enormous distress on the evening concerned, now just over a year ago, and they continue to suffer distress and ill effects and trauma as a result of what occurred," he told AFP.
Sturzaker said the women were seeking a formal apology, compensation, and protection for future passengers transiting through the airport.
Qatar is an ultra-conservative Muslim monarchy, where sex and childbirth outside of marriage are punishable by jail.
Ahead of the World Cup, the country has struggled to reassure critics that its promises on women's rights, labour relations and democracy are credible.
Facing potentially devastating commercial and reputational damage after the incident, Qatar vowed to guarantee the future "safety and security" of passengers.
The country's prime minister also issued an apology, while an airport police officer who oversaw the searches was reportedly convicted.
But Sturzaker said the women had not been made aware of any improvements to airport procedures and their attempts to seek mediation had been unsuccessful.
They now wanted to highlight their case ahead of the FIFA tournament, to ensure other travellers were well-informed before visiting Qatar, he added.
"They should be aware that —- whilst there is a guise of a highly developed, highly modernised airport and national carrier — these events have happened and there's nothing preventing them from happening again," he said.
Qatar's embassy in Canberra and Qatar Airways did not immediately respond to requests for comment.
Sturzaker said the lawsuit would be filed in Australia against the Qatar Civil Aviation Authority, Hamad International Airport, Qatar Airways and the country's government within weeks.
Source: Dawn
https://www.dawn.com/news/1658245/group-of-women-to-sue-qatari-authorities-over-invasive-airport-searches
--------
Survey: Over half of Malaysians blame women for rape, say domestic violence 'normal' when stressed
15 Nov 2021
BY R. LOHESWAR
KUALA LUMPUR, Nov 15 — Malaysians have a fairly good understanding of what violence against women (VAW) is but less than half of the respondents support gender equality, a recent study by rights group Women's Aid Organisation (WAO) has shown.
The report from the study launched today found that just 46.3 per cent of Malaysians polled support gender equality while 52.7 per cent of respondents opposed to violence-endorsing attitudes.
Worryingly, the survey found that 53.3 per cent of respondents believed that domestic violence is a "normal" reaction of stress or frustration, and 43 per cent believed that a woman can make a man so angry that he hits her when he does not mean to.
Additionally, 30 per cent believed that women who flirt often are to blame for causing their partners to hit them out of jealousy, while 26.5 per cent believed that domestic violence is "forgivable" if the perpetrator is so angry that they lose control.
"These suggest that there are still circumstances for which VAW is acceptable such as when perceived as an emotional gesture, or in the event the victim has behaved in a way that triggers the abuse.
"Malaysians also tend to underestimate the complexity of abuse, with 37.1 per cent of the survey population believing that it is not as hard to leave an abusive relationship, and 44.9 per cent who believe that women who stay with their abusive partners, are also responsible for the ongoing abuse," the group said in a statement.
Other findings showed that while 83.4 per cent of respondents believed that rape happens when a man cannot control his desires, 51.3 per cent felt such sexual crimes happen due to the way a woman dresses.
Malaysians however showed less knowledge pertaining to cyber harassment, stalking and controlling behaviour with 11 per cent of them considering controlling behaviour as not a form of domestic violence.
On the bright side, 70.3 per cent of respondents were strongly opposed to child marriages which is still allowed under Shariah law, civil and customary laws in Malaysia where girls aged 16 and 17 are allowed to marry under certain circumstances.
In response, WAO listed nine recommendations to tackle VAW, which included increasing public understanding, actively challenge underlying violence-endorsing attitudes that help to sustain VAW, and political will to combat child marriages and female genital mutilations.
The study included 1,000 participants from the Malaysian population administered
via an online survey company, Ipsos.
It was done with support from the Global Fund for Women, Yayasan Sime Darby, contributions from a panel of five Malaysian academic experts, and sixteen VAW survivors.
Source: Malay Mail
https://www.malaymail.com/news/malaysia/2021/11/15/survey-over-half-of-malaysians-blame-women-for-rape-say-domestic-violence-n/2020990
--------
URL: https://www.newageislam.com/islam-women-feminism/female-saudi-soldier-military/d/125776
New Age Islam, Islam Online, Islamic Website, African Muslim News, Arab World News, South Asia News, Indian Muslim News, World Muslim News, Women in Islam, Islamic Feminism, Arab Women, Women In Arab, Islamophobia in America, Muslim Women in West, Islam Women and Feminism