New Age Islam News Bureau
3 Oct 2013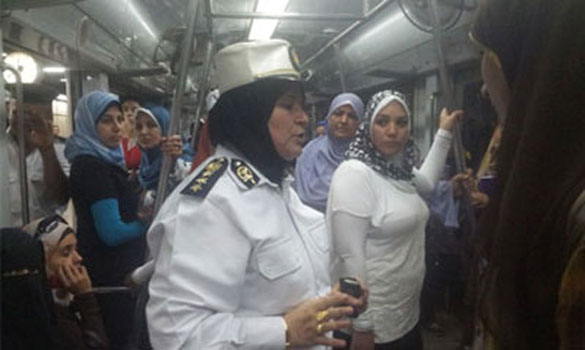 Colonel Roqayah El-Seify speaking to women passengers in the metro (Photo: Reem Gehad)
-----------
• Battle against Child Marriage in Bangladesh Achieves Little Success
• Policewomen patrol women's carriages on Cairo's packed metro
• Egypt schoolgirl badly beaten by teacher: Mother
• A Muslim woman in Israel seeks the courage to wear a headscarf
• After Instagram Smiles, Asma Al-Assad Becomes 'Lady in Black'
• 497 Women Victims of Violence in Last Month: Bangladesh Mahila Parishad
• Global Sailing Award Nominates First Arab Woman
• Colours of Fashion in Peshawar
• The female spring: How Arab women change the face of Israel's local elections
• Western Wall rabbi asks that Women of the Wall not be bothered
Compiled by New Age Islam News Bureau
URL: https://newageislam.com/islam-women-feminism/veil-only-school-closed-while/d/13812
------------
Veil-Only School Closed While Government Probe Claims Of Sexism
Oct 03, 2013
Teachers at Al-Madinah in Derby claim they were only told of the dress code after signing contracts.
An Ofsted team visited amid "growing concerns", and the school announced a "short-term closure" on the first day of the snap inspection, leaving up to 200 children aged four to 13 without lessons.
On the school website, interim principal Dr Stuart Wilson stated: "Owing to a health and safety issue, I have taken the decision to close the school to primary and secondary pupils until I am confident that all children are safe on site."
A Department for Education spokesman said: "We were investigating this school before allegations became public.
"We are waiting for Ofsted's final report and considering all legal options."
The school received £1.4million in set-up costs and was to receive more money to carry out building work on a separate site before the closure.
http://www.dailystar.co.uk/news/latest-news/342475/Veil-only-school-closed-while-government-probe-claims-of-sexism
------------
Battle against Child Marriage in Bangladesh Achieves Little Success
Oct 03, 2013
The decades-long battle against child marriage in the country has yielded little success as 71% of rural and 54% of urban girls are still entering wedlock before coming of age, women rights activists observed at a roundtable discussion on Wednesday.
Population Council Country Director Obaid ur Rob said efforts from all quarters over the last 15 years have resulted in an increase in the average marriage age for girls by just one year in Bangladesh.
"On average, girls on Thursday are getting married at the age of 16 instead of 15, which was the average age in 1998," he said, "This places Bangladesh in fourth position among the countries having a high child marriage prevalence rate."
A patriarchal society and social insecurity manifested by sexual harassment of girls was responsible for the existing culture of child marriage in the country, claimed the speakers at the roundtable, titled, "Preventing Child Marriage and Keeping Girls at School" and jointly organised by the National Girl Child Advocacy Forum (NGCAF) and Women and Girls Lead Global (WGLG).
President of Bangladesh Mohila Parishad Ayesha Khanom, the chief guest of the session, said although the law guaranteed a girl's right to have control over her own life, in reality very few benefits of that right was enjoyed.
She called for a holistic approach by all concerned to create mass awareness about the scourge of early marriage and to ensure equality for the girls.
Dr Saidul Alam, head of Education, Health and Children Welfare of Islamic Relief, shared his experience regarding the phenomena of child-marriage and its harmful effects upon human health at the function.
"While working under Child Sponsorship Programme at Rangpur," he said, "I came in contact with some 500 underage married girls in the district. As I was a physician, many disclosed the physical complications that they had been carrying for long. Most of the girls, aged between 12 and 14, had been suffering from uterus inflammation [a disease caused by sexually transmitted infections]."
"Those children had been writhing in pain for long. Yet they could not pick up the courage to speak about it to anybody in their families; neither to their husbands nor anyone else," Said Saidul.
Dhaka University professor Amena Mohsin highlighted one of key factors behind child marriage.
"Girls often face sexual harassment and assault on their way to and from school, which induces many parents to marry their daughters off. Until and unless we ensure social security for our girls, the age-old practice of child marriage would continue unabated," she said.
Other speakers at the roundtable included NGCAF president Badiul Alam Majumdar, BTV director general M Hamid, Women and Girls Lead Global Campaign-ITVS global coordinator Ellie Adelman, Plan Bangladesh Child Protection advisor Zinnat Afroze and DU Prof Mahmuda Rahman Khan.
http://www.dhakatribune.com/bangladesh/2013/oct/03/battle-against-child-marriage-achieves-little-success
------------
Policewomen patrol women's carriages on Cairo's packed metro
2013-10-03
As crowds increase on Cairo's underground with the return to school and closure of a central station connecting two main metro lines, a female police force has appeared on busy trains.
Colonel Roqayah El-Seify, 57, saluted high-ranking officials as she walked into the police office at Shohada metro station in downtown Cairo, one of the city's busiest stations.
She wore a white police suit, pink-coloured make-up and a black headscarf under her police cap.
"We work with policemen in order to secure and protect the metro - trains and stations," she told Ahram Online.
The female force on the metro includes officers and lower-ranking police personnel. El-Seify says at least ten women are part of this force. They come from a larger women's division within the Interior Ministry, recruited mostly from administrative positions.
Their task in the metro is primarily focused on the two carriages allocated for women on each train.
"We secure these carriages through moving patrols inside them, raising awareness of pickpockets, beggars and harassers," she said.
Passengers in the female-only carriages often complain about men who ride in them, especially during late hours, as sexual harassment has become a daily issue for most women in Cairo.
More than 99 percent of hundreds of women surveyed in seven of the country's 27 governorates reported experiencing some form of sexual harassment, ranging from minor harassment to rape, according to a report issued by the UN, Egypt's Demographic Centre and the National Planning Institute in April.
Ahmed Asser, 23, a student at the Faculty of Engineering, said he saw a policewoman at Mazallat metro station in Shoubra district.
"She was ordering a man to leave the women's carriages, assisted by two [low-ranking] policemen. She fined him on the spot," Asser said.
As El-Seify left the police office at Shohada station, she asked for a policeman to accompany her on another patrol.
On entering the carriage she approached small groups of women, asking if they were facing any problems. Many complained of how crowded the trains have become since the closure of Sadat station in Tahrir Square, downtown Cairo.
The station has been shut since security forces dispersed two pro-Morsi sit-ins in Cairo on 14 August. Now only Shohada station connects two main metro lines, with no date announced for the re-opening of Sadat.
One woman asked El-Seify to come closer so she could whisper something a man had told her earlier that morning when she asked him to leave the women's carriage.
El-Seify urged female passengers to reduce their interaction with male violators, asking them instead to complain to the nearest police officer. She also encouraged them to register complaints regarding any other issues on the metro as they had an "important role to help eliminate such problems."
Iman Emad, 28, said she supports the idea of having policewomen on the metro.
"It's a good thing, proven by the interactions of women with [El-Seify] her," Emad said, "especially over issues they might be too embarrassed to address with policemen [like harassment]."
She added that there may be suspects police would have to search on the metro, and "a policewoman is needed for female suspects."
However, policewomen are still a rarity on Cairo's metro lines. Many women in the carriage that El-Seify rode said they had never seen female police officers before.
And not all women impressed at the sight of female officers on the metro.
"This is only a show by the Interior Ministry. They will disappear in no time," Om Mido, a 29-year-old passenger said, adding that she has been an opponent of the Interior Ministry since the times of ousted president Hosni Mubarak, against whom she protested in January 2011.
In addition, she said women "should not assume such roles because they cannot exert control like men." She was interrupted by fellow passengers, who said El-Seify was "the leader" and that "it is normal, even for a man, to have other policemen with him."
When El-Seify got off the carriage two stations later, she stood on the platform directing the crowds clustered at the doors or answering women's requests for directions.
El-Seify is a law graduate and grandmother. She worked previously in the security unit at Ain Shams University girls' dormitory. She has two daughters, both of whom are working on obtaining their master's degrees.
"What I love the most about my job is interacting with people," she said. "I feel all the women here are my family."
http://english.ahram.org.eg/NewsContent/1/64/83027/Egypt/Politics-/Policewomen-patrol-womens-carriages-on-Cairos-pack.aspx
---------
Egypt schoolgirl badly beaten by teacher: Mother
2013-10-03
Egypt's national council for childhood and motherhood filed a complaint on Wednesday asking the general prosecution to investigate the case of a schoolgirl allegedly beaten by her teacher, Egypt's state news agency Mena reported.
Last week, 12-year-old schoolgirl Marina Guirguis suffered extensive vaginal bleeding after she was violently beaten by her Arabic teacher, in a public primary school in the Mediterranean city of Alexandria, her mother told Al-Ahram's Arabic news web site.
In a statement published Wednesday, the state council said the case represented a blatant violation of children's rights, and demanded the professor be punished as an example to prevent violence in schools. It also called on educational institutions to "adopt measures to stop practices that violate the rights and dignity of the child."
Egypt's child law prohibits those responsible for the care of the child from subjecting them to harm.
Despite this, corporal punishments are still widely practiced in Egyptian public schools. UNICEF Egypt suggests the implementation of the law has been slow due to a lack of specialised services - child courts, social workers and police, as well as a lack of knowledge regarding child protection.
Marina's mother told Al-Ahram's Arabic news website that the teacher was beating all schoolchildren with a stick on their way to the classroom, and that he started beating her daughter more violently when she objected to this practice.
She said her daughter's friends brought her back home "soaked in her blood," adding that when she took her to the hospital they said she had suffered such extensive bleeding that it led to vaginal bleeding.
Education minister Mahmoud Abul Nasr told Al-Ahram Tuesday the teacher only slapped the schoolgirl on her hand, adding that his deputy in Alexandria visited the girl at home and did not find her to be injured.
http://english.ahram.org.eg/NewsContentP/1/83041/Egypt/Egypt-schoolgirl-badly-beaten-by-teacher-Mother.aspx
---------
A Muslim woman in Israel seeks the courage to wear a headscarf
By Nadia Bushnak Tahauka | Sep. 29, 2013
From the age of six, I wanted to put on a head covering and cover all my hair, just as Islam requires of every female believer. The scarf was a symbol of maturity for me; I wanted to be an adult. After all, I was already going to school and I had a teacher, diary and my own pens. The scarf was another step toward the maturity I so much desired.
My mother objected firmly. When I reached the age when decisions come from the head and not from the heat of the moment, she said, she would be happy for me to wear a scarf. But at the age of six, there was no way. She agreed I could put it on once a week, on Fridays, when we went to my grandmother on my father's side. The entire family would be there on a Friday morning, so it was the perfect place to show off my white headscarf.
Maybe it was clear to everyone that, when I reached the age at which a woman needs to put on a head covering, I would too - especially because my father was religious. But the tight jeans came and with them the teenage years when no one wants to be different. Following the herd also characterized the youth of my people. I also started to study in a Jewish school where the headscarf would have been social suicide. So it didn't happen; in fact it has never happened.
The time will come when I will wear a head covering - and when it does, it won't be as a nonreligious person who found religion. I am not looking for answers; I am looking for the courage to put it on. Maybe I don't do it out of the fear that bureaucracy and racism will prevent me from getting ahead; that lighthearted meetings will be harder when I show up with my head covered. I have no doubt that's the case. People tend to develop a certain antagonism, due to prejudices and stereotypes; a negative atmosphere will accompany such meetings. Maybe this is called looking for excuses and not going all the way with something I believe in. But what is all the way? How do you know where the end is? Does it even have an end?
What if I cover my hair and someone comes up to me and speaks Arabic and, not knowing how to answer him, I respond in Hebrew? Something similar happened to me a few years ago, when an older man spoke to me in Arabic and I answered in Hebrew. That bothered him, apparently. He didn't understand how I could call myself a Muslim when I don't know how to speak Arabic. He took ownership of my religion, because I didn't speak Arabic. Language was more important to him than faith. It is still a bit hard for me to forgive him.
"What type of Muslim are you? Who doesn't read the Koran? Who doesn't pray?" I did pray and I did know how to read the Koran, but he hurried to judge me and didn't give me a chance to get a word in. And I, who was taught to respect my elders, thought that it was OK that he spoke to me with disrespect. Today I understand that I didn't have to keep quiet, since whoever does not respect me does not deserve my respect. Sometimes I think how he would have responded, if at the time, I had been wearing a head covering - he certainly would have dropped dead on the spot.
It is not easy to accept that I understand Arabic and answer in Hebrew. There have been many times when I didn't say right away that I know Arabic, especially when meeting Arabs.
When I began my studies in Jerusalem, I met an Arab girl, a new immigrant from Canada, who was very nice and our conversations were always fascinating. One day, on our way to a coffee shop, a friend of hers called, asking her where she was and with who. She responded that she was on her way to a coffee shop and was with some crazy person from school. I was insulted when I heard that, but I didn't ask her why she thought I was crazy, I acted normally and started weighing my words. I hate it when I have to start thinking about what I say; it usually means I am going to disappear - that it is the end of the relationship. Many Arabs had called me crazy before I met her and I never understood why. What makes me crazy?
After a while, I remembered that during one of our talks I spoke about Ramadan and said I also was fasting. What is crazier than someone who fasts when it is not relevant to her? So I'm the crazy one who fasts on Ramadan and speaks Hebrew. If I had a head covering would she still have thought I was crazy? I have no doubt the answer is yes. Wearing a head covering, fasting during Ramadan and speaking Hebrew! What is more absurd than that?
It's different with Jewish friends. In most cases, they try to guess what I am; my slight accent causes them to toss out a lot of guesses, most of which are way off the mark. In the end, I accept happily - at least until they understand what my being Circassian means. When I can't go with them to pubs or clubs and drink alcohol, somehow I am pushed out; I drop a level on the social scale. What do I know? What experiences do I have of the hot nightlife of the twenty-somethings? They are certain they know how the world works, since they passed the selection to get into some club. Some of them avoid me when they discover I believe in my God - as if they just discovered that my future is to be a terrorist. In most cases, it happens when someone who is covered-up passes us and they ask me: "What, you'll be that way too? You're modern, you certainly won't go out that way. It's so primitive." To be religious is to be primitive as far as they are concerned. If Haredim receive such contemptuous looks when they pass by them, how would they accept the "primitive" religious woman inside me?
It doesn't always happen. I have Jewish friends who I go to coffee shops or restaurants with, since they don't care that we don't drink beer or stay out too late. That's the real thing, true friendship. But even then I always think, if I had a headscarf on would they still be my friends? Would they still sit with me in a coffee shop? But I don't let it take control of me, since the questions would never end.
True friends are always difficult to find. Whoever wouldn't want to be my friend when he thinks I am different from him, shouldn't be my friend when we are alike. I have the possibility of choosing who to be like and with whom I should leave out a detail or two. That is one of the advantages in being a minority within a minority; you can adapt yourself to every side, even if it's sometimes exhausting.
I've tested all my friends. They will continue to be tested as long as I have the strength to do so, since when I put on my headscarf the wheel will turn and the burden of proof will be on me. They will examine me endlessly and I will no longer be able to play the game I play today. Maybe I used to think that a headscarf is a religious matter, but in a country like ours it is also a social affair.
http://www.haaretz.com/news/features/.premium-1.549300
---------
After Instagram Smiles, Asma Al-Assad Becomes 'Lady In Black'
Oct 03, 2013
After flashing her pearly whites for Facebook and posting images to reveal her fashionista tendencies on Instagram, Syria's First Lady Asma al-Assad is now looking much more solemn.
Once described as "rose in the desert, Asma has been a major focus for observers of the Syrian conflict, who are increasingly questioning her "rosy" qualities.
On Tuesday, the Syrian presidency's official Facebook page published photos of Asma she paid her respects to families who lost relatives in the ongoing conflict.
Dressed in black to visit the mourners, the First Lady appeared in one of the photos holding a young boy's arm. The caption of the photo read: "First lady Asma al-Assad has so far reached out more than 4,000 families (who have lost a relative)."
Another photo showed Asma hugging the wife of a "martyr" named Imad Eddine Salah al-Obeid. Another showed her with the parents of the deceased, Omar Sayah al-Mgheer, according to the captions.
While it hasn't been confirmed, some of the dead are believed to be soldiers fighting against the Syrian opposition.
The pictures come after Asma was criticized for bombarding the official Syrian presidential Instagram account with photos showing her waving to cheering crowds, visiting hospital patients and meeting with officials.
Commentators described the First Lady as fake, expressing anger at her attempts to overtly show her living a somewhat "normal life," in which her formalities went on amid the conflict.
For one woman who once worked with Asma, the new images of the First Lady dressed in black could be her latest attempt to show compassion.
"She's always wanted to appear dressed up in nice clothes and put herself in the spotlight, away from the Syrian masses," Middle Eastern media analyst Dr. Halla Diyab told Al Arabiya News.
Several years before the Syrian uprising erupted in 2011, Diyab worked as producer with Asma on a documentary project about Syrian youth.
"Back then, I was told to cut out scenes of Asma that showed her displaying too much emotion. Her image has been greatly controlled by Syrian protocol," Diyab added.
"Now, Asma is changing. We now know more about the complexities of the Syrian regime and the ruling family. She's gradually lost the legacy she created as First Lady and has distanced herself even more from the people.
"She is now trying to get closer to the public. She's embracing crying mothers, visiting hospitals and wearing simple clothes," says Diyab, as seen in the presidency's Facebook post on Tuesday.
"The question is: how genuine is all of this?" asks Diyab.
Not so picture perfect
Asma was criticized last month for her splurges on luxury items.
The UK's Daily Mail revealed the First Lady's habits of ordering Western food for her children, purchasing a $450,000 chandelier last year and posting pictures of herself wearing fitness accessories.
"Asma has no heart. She is obsessed by how chic and beautiful she looks. She continues to lead a life of utter luxury. That's all that matters to her," Ayman Abdel Nour, a former adviser to Bashar al-Assad told the newspaper at the time.
Along with the social media offensive, the past month has seen Assad giving an array of exclusive interviews to multiple international news outlets.
Analysts believed the amplified social media activity and interview blitz has been a part of Assad's campaign to win over supporters, particularly amid recent threats of a U.S. military strike on the regime.
The presidential account on Instagram has been condemned by the U.S. and described as a "despicable PR stunt" by the State Department, when pictures were first posted of Assad visiting hospitalized war causalities.
Social media users have been leaving angry comments in response to Asma's picture posts.
"I love ur designer clothes and shoes... paid for by the blood of your people! Seriously, u make Marie Antoinette look like an angel compared to you!," wrote one Instagram user.
"Look at the devil in disguise" wrote an anti-Assad user on Twitter. Another tweeted saying "nothing Bashar or Asma can do will wash the bloods covering their hands"
More than 115,000 people have been killed in Syria since March 2011, the Syrian Observatory for Human Rights has said. Ultimately, the PR charms that the Assads appear to be using have little hope of masking the macabre images and videos coming out of the war-torn country.
http://english.alarabiya.net/en/variety/2013/10/02/After-smiles-for-Instagram-Asma-al-Assad-becomes-lady-in-black-.html
------------
497 Women Victims of Violence in Last Month: Bangladesh Mahila Parishad
Oct 03, 2013
As many as 497 women across the country fell victims to different forms of violence last month, said Bangladesh Mahila Parishad (BMP) in a press statement yesterday.
Ninety of the victims were raped, while 13 of them were gang-raped and eight were killed after being raped, it said on the basis of reports published in 14 dailies.
It also noted that nine women were victims of acid attack and 48 others were subjected to dowry related violence, which killed 23 of them. Eighty four women and children were killed while 48 committed suicide due to various tortures.
http://www.thedailystar.net/beta2/news/497-women-victims-of-violence-in-last-month-bmp/
------------
Global sailing award nominates first Arab woman
Oct 03, 2013
Raiya al-Habsi, of Oman, was the first Arab woman to be nominated on Tuesday for the Rolex World Sailor of the Year Awards, a global prize for achievement in sailing.
The 25-year old sailor is among four other women nominees from New Zealand and the United States, the world governing body for sailing, the International Sailing Federation (ISAF) has announced.
Habsi who has only learnt how to sail two years ago when she was selected to join Oman Sail Women's Sailing Program, was the first Omani woman to compete in Britain's world famous Rolex Fastnet Race.
"It is a first for an Arab woman and I hope it will greatly contribute towards encouraging more women in the region to take up sailing and realise there are no boundaries to what they can achieve. I hope it will also encourage more Arab families to support their daughters, sisters and female relatives to get involved in sailing," said Habsi.
Launched by ISAF in 1994 to recognise the highest achievers in the sport, the 2013 World Sailor of the Year Awards takes into account achievements by sailors across the globe from 1 September 2012 and 31 August 2013 in male and female categories.
http://english.alarabiya.net/en/sports/2013/10/02/Global-sailing-award-nominates-first-Arab-woman-.html
------------
Colours of Fashion in Peshawar
Zahir Shah Sherazi
Oct 03, 2013
For decades the city of Peshawar has faced the threat of militants, due to its status as a front line for the ongoing war on terror as well as its proximity to the restless tribal areas and the Pak-Afghan border. However the people of Peshawar have remained undeterred by the onslaught of terrorist attacks and continue to live their lives. Though three attacks within the past two weeks have shaken the city, the residents of Peshawar have emerged from their time of mourning and begun to carry on with their daily lives. Wednesday night's fashion show conducted by model and actress Mishi Khan, at a private entrepreneur's Gazzal, attracted a large number of models and designers from Islamabad and Lahore. Though militants have always issued strict warnings pertaining to dress codes for women in the KPK and FATA, the works of the country's top designers which were displayed at the event clearly showed that the city's residents wish to embrace modern fashion. Designer wear retailers have begun to appear across the city's more posh districts, sending a positive message to investors, despite the prevalent danger. It isn't true that only the terror rules in Peshawar, life is full to colours here as it is in the rest of the world.
http://www.dawn.com/news/1046932/colours-of-fashion-in-peshawar
----------
The female spring: How Arab women change the face of Israel's local elections
2013-10-03
If you ask an Arab citizen of Israel what characterizes the election campaign in Arab municipalities, the typical answer is "violence, tribalism and lots of mud-slinging and hate-mongering that repeat every five years." This can explain the absence of young people, intellectuals and successful people in general as candidates in the local elections. That's doubly true for women.
But the campaign in the run-up to the October 22 local elections will be largely remembered by the big presence of Arab women, who have shunned tradition and become politically active. The Women's Coalition, the Arab women's umbrella group, predicts a 150 percent increase in the number of Arab women on local councils.
Last week the Women's Coalition reported that in Arab municipalities, 165 female candidates are vying for seats; 92 of them are in the first five spots on their party slates. A woman is vying to become mayor of Nazareth – MK Haneen Zoabi (Balad). Since 1948, only one woman has headed an Arab municipality – Violette Khoury of Kafr Yasif was chosen in 1972 by the local council.
Two women will lead party slates in Sakhnin and Kafr Qasem. In other councils, 19 women are second on their party lists, 24 are third, 23 are fourth and 14 are fifth. Thirty-four female Arab candidates live in mixed-population towns.
The female candidates are pushing similar platforms; they seek to address the problems that concern women in the Arab community – employment, domestic violence, rights, education and culture.
The new trend appears to cross regional boundaries, though for the most part it can be seen in cities such as Nazareth, Kafr Qasem, Sakhnin, Tira and Tamra, and two Druze towns, Daliat al-Carmel and Isfiya. In Ramle and Lod, Arab women are on party slates for the first time.
Amal Sultani, a teacher with 20 years' experience and an activist for women's rights, is second on an independent candidate list for the Tira local council. She admits the task isn't so simple.
"We have to break a few conventions," she says. "I hope I'll get into the council, but regardless of the outcome, our presence in Tira as active women has already been felt."
'Everyone is courting the female vote'
Sultani is part of an independent party unaffiliated with the three candidates for the mayor's office. In Tira, the election is based on a clear clan division. "Following my decision, other lists have included women, which wasn't an obvious step," adds Sultani.
Meanwhile, Nadra Mansour, a bank clerk, is second on a party list unaffiliated with her clan's candidate. "There's a lot of pressure, but that won't prevent me from continuing on the path I believe in," says Mansour, adding she was surprised to find that "everyone is courting the female vote. I think we can effect change. Even if the change is small for women, it will mean progress after generations in which women have not been represented in the municipalities."
Aida Toma-Suliman from the organization Women against Violence says all studies in recent years show a sharply increased awareness of the need to support women in the Arab community, and equality in general. This awareness has grown among both women and men; Toma-Suliman says that in recent months, tens of thousands of people have been exposed to the Women's Coalition campaign and have signed petitions.
In the 2009 Knesset election, Balad reserved a seat for a woman, which enabled Zoabi to gain a Knesset seat. This year, Hadash has reserved its fifth slot for a woman, and it has been agreed that Nabila Espanioly will become a Hadash MK next year.
Even though no woman is running for mayor outside Nazareth, many are involved. Mirada Hassoun, a 53-year-old widow from Daliat al-Carmel, is all but guaranteed a seat on the local council. Hassoun notes that breaking down boundaries in a traditional society such as the Druze community isn't easy.
"I've been socially active for many years, so people know me. Anyone who seeks to contend in this field, whether a man or a woman, has to show a record of achievements," she says. "For a woman, personal achievement is not enough; she must overcome additional obstacles."
Like Hassoun, the other candidates aren't content with running a passive campaign. They organize women's meetings and visits with voters in general.
http://www.haaretz.com/news/national/.premium-1.550148
-------
Western Wall rabbi asks that Women of the Wall not be bothered
2013-10-03
In an unusual overture, the rabbi of the Western Wall on Thursday urged ultra-Orthodox worshippers to refrain from confrontations on Friday morning with Women of the Wall, when the pluralistic prayer group holds its Rosh Chodesh service at the holy site.
Calling such confrontation "the greatest desecration of the name of God," Rabbi Shmuel Rabinovitch said in a statement sent to ultra-Orthodox leaders that "the Kotel is not only the heart of the Jewish people but the face of the Jewish people to itself and to the outside world."
He said it was important to maintain the calm at the Kotel especially now, as police are preoccupied with rising tensions at the nearby Temple Mount. Rabinovich also mentioned that the cabinet is set to approve any day now recommendations drawn up by a government committee for new rules governing prayer at the Western Wall.
"I have no doubt that none of the parties will be completely satisfied with the committee's recommendations," he said, "but the situation requires it, the place requires it, and the people of Israel require that the Western Wall plaza once again becomes a place of unification for all of us, and not, God forbid, a place that expresses controversy and internal hatred."
Women of the Wall will be holding its first Rosh Chodesh service at the Kotel since Religious Affairs Minister Naftali Bennett constructed a new platform on the other side of the Mughrabi Bridge that is meant to accommodate egalitarian prayer services. Bennett had hoped that the women's prayer group would use the new platform as well for its monthly services, but its leaders have said they have no intention of doing so and will hold their prayer service this month, as they have in the past, at the women's section of the wall.
The women's prayer group said it expected about 100 participants at its service Friday morning – much fewer than the usual number present in recent months. In contrast to its practice in recent months, Women of the Wall will not be organizing transportation for the participants this time.
http://www.haaretz.com/news/national/.premium-1.550351
------------
URL: https://newageislam.com/islam-women-feminism/veil-only-school-closed-while/d/13812