Age Islam News Bureau
25 Nov 2012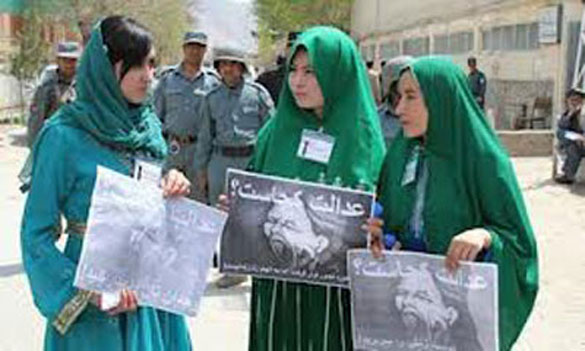 • In Pakistan, education is no shield against female violence
• Young Women and Men Advocating Against Sexual Discrimination in Afghanistan
• A Year of Progress in Eliminating Violence against Women
• Ghana is not Saudi Arabia: Taking the moral low ground in Accra
• Voice for Women's Rights Nominated For Humanitarian Work in Afghanistan
• Kim Kardashian Gushes about Kuwait
• Arab Girls to Compete In Mother of UAE Shaikha Fatima Cup
• Leap Of Faith: Founder Of 'Kuch Karo' (Do Something) Decided To Do Just That
• India's Female Clothing Workers: 'They Slap Us and Call Us Dogs and Monkeys'
• Israel's Shame: Children, the True Victims
• Saudi family issues passionate plea for help
Compiled by New Age Islam News Bureau
Photo: Young Women and Men Advocating Against Sexual Discrimination in Afghanistan
URL: https://newageislam.com/islam-women-feminism/uzbek-dictator's-'hated'-daughter-tweets/d/9433
------------
Uzbek Dictator's 'Hated' Daughter Tweets Yoga Storm
24 November 2012
Gulnara Karimova's photos raise hackles of Islamic opposition
SHE was once described as the single most hated person in her country.
And just like her father — one of Central Asia's most brutal dictators — she has her own reputation for ruthlessness.
But, in what appears to be an attempt to change her public image, glamorous Gulnara Karimova has caused a controversy in her homeland by releasing these pictures taken of her during a yoga session. The pictures were posted by the 40- year old — whose father is President of Uzbekistan — on the Internet.
But they have not gone down too well in the country, where her father's hardliner secular government is battling with conservative elements of Islam.
The Uzbek service of Radio Free Europe, explained why people were upset: "They were offended by her skimpy workout clothes and the prurient nature of some of the yoga poses, which they said overstepped the boundaries of propriety." However, there was also plenty of praise for Karimova, with many bloggers praising her figure.
Some believe she is attempting to soften her public image in case she eventually takes over from her 74- year- old father, Islam Karimov, who has been President of Uzbekistan for 22 years.
http://www.dailymail.co.uk/news/article-2237210/Daughter-Uzbekistans-brutal-dictator-tweets-images-intense-yoga-session-havent-gone-home-country.html
------------
In Pakistan, education is no shield against female violence
By Farahnaz Zahidi
November 25, 2012
KARACHI: "I'm 29, married and have a son, but whenever I look back, I remember my father as a man with rage in his eyes and a shoe in his hand, hitting my mother mercilessly," recalls *Ahmer Ali.
"She clung to his leg, pleading that he let go, promising that she'll never ask again why he was late from work," Ali adds.
Ali's father stopped hitting his wife, an educated, urban Pakistani woman, once Ali and his siblings grew up. But the effects of the violence linger on in the family.
Ali confesses to having anxiety and self-esteem issues and has hit his wife twice in their three years of married life.
This is not an anomaly. According to psychologists, children who witness their mothers being hit are more prone to behavioral problems and are likely to repeat the cycle of violence with their own spouses.
Endemic violence
Ali's story resonates with thousands of women in Pakistan who continue to face violence and abuse, as the world celebrates the International Day for the Elimination of Violence against Women on November 25.
A report titled 'Violence against Women (VAW) in Pakistan — a qualitative review of statistics 2011' by the Aurat Foundation says, "Treating domestic violence as a private affair has given protection to perpetrators and has led to the victimisation of women."
Women find themselves beaten and then threatened of divorce and more violence. The report revealed that a total of 8,539 cases of violence against women were reported in Pakistan in 2011.
Urban phenomenon
It's not just uneducated women who suffer at the hands of violent spouses. A silent but large number of educated Pakistani women also go through this trauma.
"In some ways, the educated and rich woman is more of a coward. She has more to lose," says Najma Khan, 42, who got a divorce four years ago and is now re-married.
"When I was thinking of leaving my husband, a foreign-educated man who'd hit me every few months without reason, my friends would tell me I would miss out on the social respect that marriage is giving to me. But I came to a point where it was no longer about social respect. It was about self-respect," Khan adds.
Therapist Anees Fatima Hakeem at PNS Shifa, Karachi concurs.
"Any abuse is a form of punishment. It's all about power and control. Even educated women get trapped in this is because the men are not abusive all the time. They can be very good providers and charming. Often, the woman blames herself. A common tactic for the guy is to behave like it never even happened, or tell her she was the reason it happened," Hakeem says.
Domestic violence, however, not only affects a woman's psychological health but also gives rise to long-term stress-related health issues like arthritis, hyper-tension and cardiovascular diseases.
"[My husband] feared it would become a police case, so he never let me see a doctor after I was beaten. I would feel abdominal tenderness and bleed from my mouth for days. I'm afraid my body has suffered long-term consequences," adds Khan.
Violence against women takes many forms, including domestic violence, sexual abuse, human trafficking and traditional practices like female genital mutilation, dowry-related violence and honour killings.
The Aurat Foundation reported 1,988 murders or honour killings of women in 2009.
Investigations by the Ansar Burney Trust also shows cases of women seeking divorce or separation who were subject to mutilation, such as having their noses, ears and hair cut off by angry husbands.
Legislating against violence
Policy makers are aware of the numbers but policymaking is slow.
The lower house of parliament passed the Domestic Violence (Prevention and Protection) Bill in 2009 but it failed to make it past the upper house.
The bill was retabled in the Senate in February, 2012, but was met with a deadlock yet again.
After the passage of the 18th Amendment though, the issue has come under provincial jurisdiction.
Maliha Zia, a lawyer who is an expert on gender and law, says, "The Domestic Violence Bill in Sindh has moved from the Home Department and is with the law ministry. It's been approved by the chief Minister for tabling in the Sindh Assembly. However, it's waiting to be tabled."
"Pakistan must prioritise prevention of violence against women not just on paper but in actual implementation, and pass a law on domestic violence with punishments for those who commit violence against women. It must focus on implementation of existing law and not allow perpetrators to get away. There must a policy of no tolerance of violence against women," Zia adds.
http://tribune.com.pk/story/470882/international-day-for-elimination-of-violence-in-pakistan-education-is-no-shield-against-female-violence/
----------
Young Women and Men Advocating Against Sexual Discrimination in Afghanistan
A movement of young Afghan women and men advocating against sexual discrimination and inequality in Afghanistan
25 November 2012
Today, on the International Day for the Elimination of Violence against Women, Amnesty International's Write for Rights campaign focuses on Young Women for Change (YWC), a movement of young Afghan women and men advocating against sexual discrimination and inequality. Founded in March 2011 by two inspiring young Afghan women, Norjahan Akbar, 21, and Anita Haidary, 20, the organisation is committed to improving the lives of women across Afghanistan, where they continue to suffer gross discrimination, through social and economic participation.
According to Amnesty International's 2012 report, Afghan women and girls are subjected to various forms of discrimination, including domestic violence, forced marriage, trafficking and being traded to settle disputes. A recent report by UN Women and the Afghanistan Independent Human Rights commission found that 56% of Afghan brides were under the age of 16.
Allegations of beatings and sexual violence against women are rarely investigated by the Afghan authorities, and women who try to flee abusive marriages or report rape are often detained and prosecuted for alleged offences such as "home escape" or "moral" crimes.
Young Women for Change is playing a crucial role in providing a platform for the debate about women's rights and gender equality. In July this year they held an anti-street harassment march, the first in Afghan history, and they have also conducted the first large-scale study of sexual harassment in Afghanistan.
The organisation also opened Afghanistan's first internet cafe exclusively for women in Kabul, where women are free to study and socialise away from the surveillance of men, and are able to learn computer skills and develop their literacy skills. The cafe – named Sahar Gul after a 15-year-old Afghan bride who was imprisoned and abused by her husband and in-laws after she refused to be sold for sex – has also become a refuge for women and girls in Kabul.
The Sahar Gul centre is just one of the courageous endeavours undertaken by Young Women for Change. For more information, and to show solidarity for this inspiring organisation, visit amnesty.org.uk/ywc.
http://www.guardian.co.uk/world/2012/nov/25/young-women-for-change-amnesty
------------
A Year of Progress in Eliminating Violence against Women
By Janet Walsh, Special to CNN
November 24th, 2012
"If I looked nice, he hit me," Ana L., a mother of five in Colombia, told me.
Ana (not her real name) detailed years of abuse by her partner. He beat her when she was pregnant, and hit her head so hard that she suffered permanent vision damage. She sought help from a prosecutor's office, but they never charged him, and failed to offer Ana an order for protection. Ana said she lived in a two-room house with 14 people, and struggled to feed her children. A dismal situation, but Ana was anything but dismal the day we spoke earlier this year. Surrounded by strong women in a community organization fighting for women's rights, Ana's voice rang out as she described helping other women, as well as her plans to start her own business.
In my line of work – human rights research and advocacy – violence against women and girls is a constant. My colleagues and I interview hundreds of women and girls around the world every year who endure domestic violence, rape, trafficking, female genital mutilation, and other abuses. We hear women's accounts of cruelty, but also of resilience and courage. Many survivors go on to campaign to stop the violence, and to force their governments to act.
On November 25 every year, a grim accounting takes place: the world takes stock of violence against women, the toll it takes, and progress toward eliminating it. The International Day for the Elimination of Violence against Women has been commemorated on November 25 for more than three decades. It's a day each year when my colleagues and I focus on the courageous women we have met, the injustices they've suffered, and the hope they inspire.
Over the past year, progress, both big and small, has been made in efforts to reduce violence against women and to improve governments' response.
Take Afghanistan. Women and girls there face extraordinarily high levels of violence. But rather than protecting victims, Afghan courts often jail them. About half of the women in prison and close to 100 percent of the girls in juvenile detention in Afghanistan are imprisoned for either "running away" from home (which is not even a crime under Afghan law) or being suspected of engaging in sex outside of marriage. Human Rights Watch interviewed women and girls in Afghan prisons, and found that most had fled home to escape domestic violence or forced marriage. Some had been raped and then convicted for unmarried sex. Judges ruled against them on the flimsiest of evidence, and prosecutors routinely failed to bring charges against the abusers.
But exposing this injustice and pressuring the government made a difference. In April 2012, Afghanistan's attorney general issued instructions that girls who run away for the purpose of getting married are not to be prosecuted. In September, the Afghan parliament held a meeting on the issue where the minister of justice and a deputy minister of interior publicly confirmed that "running away" is not a crime and there should be no arrests or prosecutions under this charge. This is far from the end goal, but important progress nonetheless.
Or take the situation of domestic workers. There are some 50 million to 100 million domestic workers worldwide, the vast majority women and girls. Domestic workers face a wide range of serious abuses and labour exploitation, and some suffer physical and sexual abuse by employers.
"The woman [her employer] beat me whenever I did something she didn't like," Fatima K., a child domestic worker in Morocco, told us earlier this year. "She beat me with anything she found in front of her. Sometimes with a wooden stick, sometimes with her hand, sometimes with a plastic pipe." Hundreds of domestic workers in dozens of other countries have described to Human Rights Watch physical abuse by employers ranging from slaps to severe beatings using shoes, belts, sticks or household implements; knocking heads against walls; and burning skin with irons.
Fortunately, in 2012, enough countries ratified a landmark international treaty on domestic workers to trigger it coming into force next year. The International Labour Organization's Convention Concerning Decent Work for Domestic Workers establishes the first global labor standards for domestic workers worldwide, and includes specific protections against abuse, harassment, and violence.
Fatima told us, "I would like to do a job to keep girls from working as child domestic workers because I know how they feel." We have a long way to go in combating violence against women and girls, but with Ana, Fatima, and countless others like them in the fight, perhaps next November 25 we'll have less to mourn – and more to celebrate.
http://globalpublicsquare.blogs.cnn.com/2012/11/24/a-year-of-progress-in-eliminating-violence-against-women/
------------
Ghana is not Saudi Arabia: Taking the moral low ground in Accra
They may love a party in Ghana, but dip beneath the surface and you'll find there are still some very traditional values. As Afua Hirsch discovers to her cost…
Afua Hirsch
25 November 2012
It's fair to say I am not afraid of causing the odd murmur of disapproval. I enjoyed the look on my teachers' faces when I showed up at my posh secondary school with bum-length blonde braids (think Destiny's Child circa 1996) or scribbled away at my A-level exam papers with inch-long nail extensions. It wasn't mainstream to get your tongue pierced when I did, at 16, and my parents reacted accordingly.
Full report at:
http://www.guardian.co.uk/lifeandstyle/2012/nov/25/moral-lowground-in-accra
------------
Voice for Women's Rights Nominated For Humanitarian Work in Afghanistan
25 November 2012
A Bismarck native has become a voice for women's rights in Afghanistan and risked her life in the process.
For her work the past decade, Shannon Galpin is a nominee for the 2012 National Geographic "Adventurer of the Year."
At first glance, it may look as though 38-year-old Galpin, who rides a single-speed mountain bike through Afghanistan, may not be in the same "adventure league" as someone like Felix Baumgartner.
If you recall, Baumgartner is the man who free fell from 23.5 miles above the Earth, breaking the sound barrier while doing so.
Full report at:
http://bismarcktribune.com/news/local/bismarck-native-nominated-for-humanitarian-work-in-afghanistan/article_c24e1a3e-35af-11e2-840d-0019bb2963f4.html
------------
Kim Kardashian gushes about Kuwait
By Kelly Crane S
November 25, 2012
Kim Kardashian exclusively confirmed to tabloid! she wouldn't be jetting into Dubai this month but it hasn't stopped the brunette beauty gushing about her next Middle East stop-off, Kuwait.
The American reality star has recorded a video message, available on YouTube, which sees the 32-year-old talk about her travels to the Middle East later this week.
Dressed in black – a popular choice with the star these days – the Kardashian sister says: "I am so excited to meet you all.
Full report at:
http://gulfnews.com/arts-entertainment/celebrity/kim-kardashian-gushes-about-kuwait-1.1109593
------------
Arab Girls to Compete In Mother of UAE Shaikha Fatima Cup
Hisham Al Gizouli / 25 November 2012
Under the directives of Shaikh Mansour bin Zayed Al Nahyan, UAE Deputy Prime Minister and Minister of Presidential Affairs, lady riders from all over the Arab countries will be represented in a special competition in the name of Shaikha Fatima bint Mubarak, Mother of UAE for 90 kilometres which carries a total purse of Dh 800.000 in prize-money, said Lara Sawaya, director of the Shaikh Mansour bin Zayed Al Nahyan Global Arabian Horse Flat Racing Festival and head of International Federation of Arabian Horse Racing Authorities (IFAHR) Ladies Racing.
Full report at:
http://www.khaleejtimes.com/sport/inside_sport.asp?xfile=/data/nationsports/2012/November/nationsports_November271.xml&section=nationsports
------------
Leap of faith: Founder of 'Kuch Karo' (Do Something) decided to do just that
November 24, 2012
When strung together, the words '20-year-old woman' and 'thousands of dollars' may bring to mind stereotypes of ladies splurging on shoes and bags. But with $10,000 in her hand, Maliha Ali went shopping for a positive change instead.
She used this amount to bring a dead public library back to life and taught 16 students from middle- and low-income families to think outside the box.
Maliha, a sophomore at Bennington College in the United States, submitted a proposal titled 'Kuch Karo' to the Davis Projects for Peace Programme. The organisation selects the best proposals from students of American colleges and gives them money to implement the plans over the summer holidays. Maliha's project was among those shortlisted for the 2012 awards and she had a chance to implement it over July and August this year.
Full report at:
http://tribune.com.pk/story/470351/leap-of-faith-founder-of-kuch-karo-decided-to-do-just-that/
------------
India's Female Clothing Workers: 'They Slap Us and Call Us Dogs and Monkeys'
Human rights tribunal hears allegations of abuse and low pay against clothing companies that supply high street stores
Gethin Chamberlain in Bengaluru
25 November 2012
Workers making clothes that end up in the stores of the biggest names on the British high street have testified to a shocking regime of abuse, threats and poverty pay. Many workers in Indian factories earn so little that an entire month's wages would not buy a single item they produce.
Physical and verbal abuse is rife, while female workers who fail to meet impossible targets say they are berated, called "dogs and donkeys", and told to "go and die". Many workers who toil long hours in an attempt to support their families on poverty wages claim they are cheated out of their dues by their employers.
Full report at:
http://www.guardian.co.uk/world/2012/nov/25/india-clothing-workers-slave-wages
------------
Saudi family issues passionate plea for help
By Habib Toumi
November 25, 2012
Manama: The Saudi family struggling to help the Iraq-born daughter and son of their deceased son to enter Saudi Arabia said they were still waiting for the required travel documents.
"My father, an old man, is still in Jordan waiting for the papers that will enable Jannat and Mohammad to come home," Hayfa Mohammad Al Masawi said. "He had been asked to present the documents that prove that my brother Mazen did get married with an Iraqi woman and that the two children were theirs. He handed the document and he is now waiting for the response," she told local Arabic daily Al Sharq.
Full report at:
http://gulfnews.com/news/gulf/saudi-arabia/saudi-family-issues-passionate-plea-for-help-1.1109672
------------
URL: https://newageislam.com/islam-women-feminism/uzbek-dictator's-'hated'-daughter-tweets/d/9433