New Age Islam News Bureau
24 Aug 2018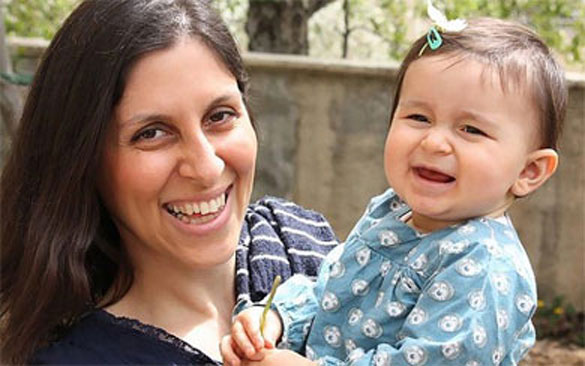 Nazanin Zaghari-Ratcliffe with her daughter Gabriella. (AFP)
-----
• US Woman, Samantha Elhassani, 32, Charged With Aiding Islamic State Militants
• 'I Cried So Much': UK-Iranian Zaghari-Ratcliffe Allowed Out Of Tehran Jail
• Women's Situation Room Nigeria Seeks Increased Voter Education for Women, Laments Poor Awareness
• Indonesia's Main Muslim Group Criticizes Blasphemy Sentence to Ethnic Chinese Woman, Meiliana
Compiled by New Age Islam News Bureau
URL: https://www.newageislam.com/islam-women-feminism/us-woman-samantha-elhassani-32/d/116188
----
US Woman, Samantha Elhassani, 32, Charged With Aiding Islamic State Militants
AUG 23, 2018
HAMMOND, Ind. (AP) — An Indiana woman who says she was tricked into traveling to Syria where she and her four children were held in a Kurdish detention camp after her husband died while fighting for the Islamic State movement is accused of providing material support to the group.
The U.S. attorney's office said Samantha Elhassani, 32, was charged Wednesday with conspiring to provide material support to IS and aiding and abetting individuals in providing material support to the group, which the United States has designated a terrorist organization.
Elhassani, formerly of Elkhart, Indiana, is accused of providing tactical gear and funds to two Islamic State fighters between the fall of 2014 and the summer of 2015, despite knowing that the group is an active terrorist organization. The indictment does not identify the two IS fighters.
"The seriousness of the charges reflect the gravity of Elhassani's alleged conduct," U.S. Attorney Thomas Kirsch II said in a news release.
Her Chicago-based attorney, Thomas Durkin, called the charges "wrong-headed and cruel." He said Elhassani is "a victim of her jihadist husband (who) should be receiving treatment rather than incarceration" and that she should not be separated from her children.
Elhassani remains in federal custody, said Ryan Holmes, a spokesman for the U.S. Attorney's office in Hammond.
Elhassani told the BBC and PBS in April that during a 2015 vacation in Turkey, her Moroccan husband tricked her into traveling with their children to Syria, where he became an IS militant and died fighting. She and the children ended up in a Kurdish detention camp and were transferred to U.S. custody in July by the U.S.-backed Syrian Democratic Forces.
The couple's four minor children were placed in the custody of Indiana's child welfare services.
Copyright 2018 The Associated Press. All rights reserved. This material may not be published, broadcast, rewritten or redistributed.
Source: columbiamissourian.com/news/nation_world/us-woman-charged-with-aiding-islamic-state-militants/article_a20dd598-8d72-5792-af22-b41c36bfcc0c.html
-----
'I Cried So Much': UK-Iranian Zaghari-Ratcliffe Allowed Out Of Tehran Jail
MEE and agencies: 23 August 2018
Nazanin Zaghari-Ratcliffe, a British-Iranian woman who has been in prison in Tehran for more than two years following a conviction for spying, was freed for three days on Thursday.
Zaghari-Ratcliffe was reunited with members of her family, including her young daughter, outside the Iranian capital after her surprise release.
"Nazanin was released from Evin prison on furlough this morning. Initially the release is for three days - her lawyer is hopeful this can be extended," her husband Richard Ratcliffe said in a statement.
Ratcliffe said his wife, who has denied all charges filed against her in Iran, was currently with her parents and their four-year-old daughter Gabriella in Damavand, a mountain resort near Tehran.
"I cried so much. I felt so overwhelmed," she said of the reunion, according to a statement released by The Free Nazanin campaign, which is run by her husband.
Her husband voiced thanks to those in Tehran and London involved in making the release happen, including Britain's new Foreign Secretary Jeremy Hunt.
"This was a very happy surprise after a number of false dawns recently, which had been increasingly unsettling," her husband said.
Hunt, who met Ratcliffe in London earlier this month after he was appointed as Britain's top diplomat in July, called her temporary release "really good news" and paid tribute to the "tireless campaigning by husband Richard and her friends".
"But being in prison AT ALL is gross injustice and she must be PERMANENTLY released for which every effort will continue," he wrote on Twitter.
Zaghari-Ratcliffe, who works for the Thomson Reuters Foundation, the media organisation's philanthropic arm, was arrested at Tehran airport in April 2016.
She is serving a five-year jail sentence for spying - a charge she has always contested.
Hunt's predecessor Boris Johnson came under heavy criticism after appearing to jeopardise her defence last year by saying she was training journalists during her visit - something her employer and family strongly deny.
Johnson later clarified his remarks, saying it was clear that she was only on holiday.
Ratcliffe and his supporters have held multiple protests and vigils in London to seek her release, attracting celebrity support from the likes of Oscar-winning actress Emma Thompson.
'Had to borrow a phone'
The Free Nazanin campaign said she was told on Thursday she had just 10 minutes to get ready because she was being released.
Zaghari-Ratcliffe was not allowed to call her family and had to borrow a phone from someone outside the prison to call her brother, who lives in Tehran, to pick her up.
She then called her husband and the British embassy and travelled to join the rest of her Iranian family, including her grandmother and daughter, in Damavand.
"I wasn't expecting it at all when it was mentioned two weeks ago," she was quoted as saying by the campaign.
"I didn't tell Gabriella or for a long time my mum - so if it didn't happen I would be the only one to suffer."
Zaghari-Ratcliffe was told she must return to prison on Sunday and the two conditions of her release are that she not give any media interviews or visit the grounds of any foreign embassy.
Bail for her temporary release was set at one billion rials ($23,800), with her family's home in Tehran used as collateral, the campaign said.
Zaghari-Ratcliffe's lawyers will ask the authorities on Saturday to extend her furlough, it added.
"Nazanin has a number of cellmates who were released initially for three days, but who are still on furlough over a month later," the campaign statement said.
Source: middleeasteye.net/news/i-cried-so-much-uk-iranian-zaghari-ratcliffe-allowed-out-tehran-jail-284596277
-----
Women's Situation Room Nigeria Seeks Increased Voter Education for Women, Laments Poor Awareness
By Charles Coffie Gyamfi (Abeokuta), Adaku Onyenucheya and Bright Azuh (Lagos)
24 August 2018
The Women's Situation Room Nigeria (WSRN) yesterday advocated robust engagement and education of female voters ahead of the 2019 general elections.With no fewer than 40 women-focused organisations across the country and established before the 2015 elections to monitor election-related violence against women, it said there is low level of awareness among women on the need to collect their Permanent Voter Cards (PVCs) to enable them exercise their voting rights.
The group, which carried out a nationwide survey in the six geo-political zones on women's voting, stated that women were four per cent less likely than men to report collection of PVCs in recent times.Its National Coordinator, Joy Onyesoh, said women were less knowledgeable about the need to register for their PVCs to participate in the voting exercise, which she noted, was not a good sign for the 2019 elections.
"Findings from the survey should serve as a warning and a clarion call to action. It is clear that more work needs to be done to ensure that women are able to fully exercise their right to vote in next year's elections.
However, an aspirant to the Delta State House of Assembly for Ughelli North Constituency I on the platform of the All Progressives Congress (APC), Ominimini Obiuwevbi, has urged members of the APC to unite and liberate the state from its many challenges.
He said this at Evwreni, Ughelli North Local Council, during his consultation visit to Executive Director, Projects, Niger Delta Development Commission (NDDC), Samuel Adjogbe, during which no fewer than 1,000 Peoples Democratic Party (PDP) members defected to the APC. He said he would bring his past experience as a former DESOPADEC Commissioner, Director, Delta Printing and Publishing Company, Speaker, Ughelli North legislative arm and other political offices to bear in giving quality representation to the constituency.
Speaking, Adjogbe endorsed Obiuwevbi and urged APC members in the constituency to vote for him during the party's primary elections.Meanwhile, a House of Representatives aspirant in Ogun State, Basirat Shonekan-Umaru, has said that security lapses, unemployment and life threatening poverty were indications that the APC-led government has failed and should be voted out of power next year.
Shonekan-Umaru, who declared her intention yesterday to run for the Abeokuta South Federal Constituency under the platform of the Social Democratic Party (SDP), stated this at the party secretariat in Abeokuta, stressing the need for a paradigm shift in representation at the National level."The time has come for a break from the past, for a purposeful and fruitful change and restoration of hope, responsible government and dynamic representation," she said.
Source: guardian.ng/news/group-seeks-increased-voter-education-for-women-laments-poor-awareness/
-----
Indonesia's Main Muslim Group Criticizes Blasphemy Sentence to Ethnic Chinese Woman, Meiliana
By NINIEK KARMINI Associated Press Aug 23, 2018
JAKARTA, Indonesia (AP) — Indonesia's largest Muslim organization has criticized the blasphemy conviction and imprisonment of a Buddhist woman who complained that the call to prayer from her neighborhood mosque was too loud.
Officials from Nahdlatul Ulama, which claims 60 million members, said Thursday the woman's complaint about mosque loudspeakers doesn't constitute blasphemy under Indonesian law.
The ethnic Chinese woman, Meiliana, was sentenced to 18 months in prison on Tuesday by a court in Medan, the capital of North Sumatra province, providing new fuel to concerns that an intolerant brand of Islam is gaining ground in Indonesia. A conservative Muslim group in the province said the sentence was too light.
The country's constitution guarantees freedom of speech and religion, but religious minorities are frequently the target of blasphemy prosecutions that can result in a maximum five years in prison. The overwhelming majority of cases end with guilty verdicts.
Word of the woman's original comments in July 2016 sparked a riot in Tanjung Balai, a port town on Sumatra. Mobs burned and ransacked at least 14 Buddhist temples in the town.
"We believe that Meiliana did not commit blasphemy," Robikin Emhas, a deputy chairman of Nahdlatul Ulama, told The Associated Press.
He said a complaint about a speaker's volume for the five-times-a-day call to prayer does not contain any element of hatred against a religion.
"I regret this matter has been brought to the court, it actually should be settled in a peaceful way," Emhas said.
Prosecutors had accused the 44-year-old defendant of violating the criminal code by committing blasphemy against Islam, the dominant faith in Indonesia, the world's most populous Muslim nation. About 85 percent of Indonesians are Muslim, but Protestants, Catholics, Hindus and Buddhists are each numerically significant minorities.
Another prominent Nahdlatul Ulama official, Rumadi Ahmad, who was an expert witness at Meiliana's trial, said in a Facebook post that his testimony was ignored.
"Meiliana, forgive me," he wrote. "You have become a sacrifice, just ahead of the Islamic holiday Eid-al-Adha."
He said under Islamic law the call to prayer itself is not part of highest religious teachings that must be followed so does not fall under the blasphemy law. The woman's complaint in conversation with a few people also could not be considered a blasphemous public advocacy against a religion, Ahmad said.
Since 2004, 147 people have been imprisoned under blasphemy or related laws, according to monitoring by Human Rights Watch. The number of cases has slowed since 2014 under President Joko "Jokowi" Widodo's administration.
Muhammadiyah, the second-largest Muslim organization, said the legal process should be respected but also called for tolerance.
"People should understand that the call to prayer, or "azan," must be heard by the congregation. But how loud the sound is needs to be a dialogue between communities," chairman Haedar Nashir said in a statement.
Copyright 2018 The Associated Press. All rights reserved. This material may not be published, broadcast, rewritten or redistributed.
Source: heraldextra.com/news/world/indonesia-s-main-muslim-group-criticizes-blasphemy-sentence/article_35fe7a91-a49f-534c-940c-67ce4713ca8b.html
----
URL: https://www.newageislam.com/islam-women-feminism/us-woman-samantha-elhassani-32/d/116188
New Age Islam, Islam Online, Islamic Website, African Muslim News, Arab World News, South Asia News, Indian Muslim News, World Muslim News, Women in Islam, Islamic Feminism, Arab Women, Women In Arab, Islamophobia in America, Muslim Women in West, Islam Women and Feminism