New Age Islam News Bureau
6 Jun 2017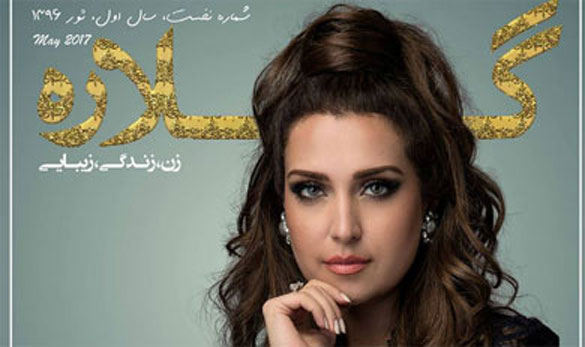 Gellara, Afghanistan's First Women's Magazine
----
• Bangladeshi Girl Brutally Tortured For Claiming Marriage Recognition
• Somali Woman in US Beaten Unconscious by White Man While Trying to Help another Muslim Woman
• 21-Year-Old Muslim Woman Burnt Alive In Karnataka for Marrying Dalit Man
• Afghanistan's First Women's Magazine Is Breaking Taboos: Muslim Women Talk about Fashion, Lifestyle and Modern Life!
Compiled by New Age Islam News Bureau
URL: https://www.newageislam.com/islam-women-feminism/us-school-asks-permission-slips/d/111433
--------
US school asks for 'permission slips' from Muslim students to wear hijab
June 06, 2017
Two Muslim students were allegedly sent home by a US school for wearing hijabs because they were not carrying a 'note' from parents to prove that they had donned the headscarves for religious reasons.
Hajah Bah and Fatmata Mansaray, both cousins and students of Freedom High School, Virginia, allege that the school administrators harassed them over their decision to don hijabs, eventually prompting apologies from Prince William school division leaders.
Bah and Mansaray were quoted as saying by Inside NoVA that they were approached by a school administrator on Thursday and told that they would need a note from a parent to prove they were wearing the head coverings for religious reasons.
When they pushed back against that assertion, they were sent to the principal's office and ultimately dismissed from the school for the day.
"Normally, I don't wear the hijab at school, but this time I did because Ramadan fell during the school year and I was fasting," Bah was quoted as saying.
"But why do I need a note if it's my religion?" she said.
As the word of the incident reached school division leaders, spokesman Phil Kavits said they, "immediately determined that it runs counter to the PWCS (Prince William County Public Schools) commitment to diversity."
He said school officials have already apologised to both girls and their families, and the division has posted an apology online.
PWCS was quoted by WJLA-TV as saying in a statement, "We regret the circumstances that led a Freedom High School administrator to question students about wearing a hijab or ask for proof of their religious reasons.
"The request was inconsistent with the PWCS commitment to diversity and religious freedom, and we apologise to anyone it may have offended."
Mansaray also contended that Thursday's incident was far from the first time she has been accosted by administrators over her head covering.
"I would explain that it's for a religious purpose, and they didn't care. I'd wear my hijab to school, and I'd be constantly told to take off my hijab," she said.
Mansaray said she and her parents were initially reluctant to secure a note proving she was wearing the hijab for religious reasons, as they "did not feel it was right".
But she felt she eventually "had to cave in" and delivered a note to the school's office. However, she claimed her encounters with administrators continued.
Since the incident, Bah and Mansaray said they have both received apologies from the school system, and have even seen an outpouring of support from their fellow students.
http://nation.com.pk/international/05-Jun-2017/us-school-asks-for-permission-slips-from-muslim-students-to-wear-hijab
--------
Bangladeshi Girl Brutally Tortured For Claiming Marriage Recognition
Asaduzzaman Ripon, Narsingdi
June 06, 2017
Jakir left the country for Saudi Arabia some days later and the girl began to ask him over phone for the recognition to their marriage
A college girl has been brutally tortured by her in-laws at Dhukundi village under Belabo upazila of Narsingdi district.
The in-laws had allegedly cut off her hair, stabbed indiscriminately, including at sensitive parts, with blade and rubbed pepper powder into the wounds before the locals rescued her from the ordeal on Monday.
The locals later handed over the victim – an eleventh grader of Baraicha Degree College – to police.
The girl had secretly married Jakir Hossain, 40, son of late Raham Ali from Dhukundi village, about one and a half years ago.
Jakir left the country for Saudi Arabia some days later and the girl began to ask him over phone for the recognition to their marriage.
Instructed by her husband, she went to her in-laws' at Dhukundi village on May 31.
She said at that time she was beaten and driven out from the house by her mother-in-law, sister-in-law, Jakir's second wife and Jakir's nephew.
She had visited the in-laws' again on Monday morning.
This time the in-laws stabbed her at different parts of the body with blade and rubbed pepper powder into the wounds. The in-laws also cut off her hair.
As the girl was screaming for help, some neighbours rushed in and rescued her.
Belabo police Officer-in-Charge Md Badrul Alam Khan told the Dhaka Tribune that police had already detained two of the alleged torturers.
Legal steps would be taken after getting the written complaint from the victim, he added.
http://www.dhakatribune.com/bangladesh/crime/2017/06/06/girl-brutally-tortured-claiming-marriage-recognition/
--------
Somali Woman in US Beaten Unconscious by White Man While Trying to Help Another Muslim Woman
June 06, 2017
Groups supporting the victim have slammed the attack as a hate crime and have demanded a police investigation.
A Somali woman was brutally beaten by a white man after she intervened when he was harassing another Muslim woman Saturday night, according to the Columbus chapter of the Council of American-Islamic Relations.
Rahma Warsame, a single mother, was beaten unconscious by the man, who yelled, "You will be all shipped back to Africa!" before brutally assaulting her. She was left with "four missing teeth, a badly swollen face, busted lips and a swollen nose," according to the description in the crowdfunding campaign that was launched to support her.
According to an update by CAIR, the attacker was interviewed by police, but released without charge.
CAIR-Columbus held a press conference Sunday, where they denounced the attack as a hate crime and demanded an investigation by the Columbus Police Department.
The attack comes just days after two men were murdered, and another injured in Portland, Oregon, by a white supremacist, after the three intervened in his verbal assault of two young women on a train, one Muslim.
"The fact that the perpetrator was not taken into custody and was not charged raises serious concerns and sends a very dangerous message," said Jennifer Nimer, executive director of CAIR-Columbus and one of the attorneys for the victim, reported Carbonated TV.
"After what happened last week in Portland, police across the country should be sending a strong message that hate crimes will not be tolerated. We are asking law enforcement to investigate this as a hate crime and to bring the perpetrator to justice immediately before he commits another act of violence."
The activist organization Yes We Can Columbus issued a similar statement against the attack.
"There is no place for hatred or bigotry in Columbus, and we firmly denounce this disgusting attack," the group stated. "Yes We Can Columbus calls for an investigation into this incident and for the attacker to be brought to justice … If we claim to be an Opportunity City, then we must also be a safe city for all."
The victim's "traumatized" 12-year-old son, according to the crowdfunding campaign description, is staying with relatives while Warsame recovers from her injuries in the hospital where she works.
http://www.telesurtv.net/english/news/Somali-Woman-in-US-Beaten-Unconscious-by-White-Man-While-Trying-to-Help-Another-Muslim-Woman-20170605-0013.html
--------
21-Year-Old Muslim Woman Burnt Alive In Karnataka For Marrying Dalit Man
05/06/2017
In a horrific case of honour killing, a 21-year-old pregnant woman was burnt alive by her family for marrying a Muslim man.
The News Minute reported that the incident took place in Karnataka's Bijapur district when Banu Begum told her parents about her marriage to Sayabanna Sharanappa Konnur.
The report suggests that the girl's family had already assaulted Sayabanna once in January when they had learnt of their relationship, after which the couple fled to Goa and got married. When Banu got pregnant, they decided to come back to their village thinking that they will have accept their marriage.
However, the parents did not accept it.
International Business Times quoted Talikote DySP, PK Patil as saying, "Banu's parents wanted her to leave Sayabanna and the boy's father was also not too pleased either. On Saturday night, when the couple refused to give in to their families' demands, Sayabanna's father, along with Banu's mother, brother and sister brutally assaulted him."
The report said that while Sayabanna managed to escape, with bite marks all over his body, and reach a police station to lodge a complaint, Banu was left with her family and was set on fire.
While Banu's mother, brother, sister and father-in-law were arrested, four other accused are still absconding.
http://www.huffingtonpost.in/2017/06/05/21-year-old-muslim-woman-burnt-alive-in-karnataka-for-marrying-d_a_22126526/
--------
Afghanistan's First Women's Magazine Is Breaking Taboos: Muslim Women Talk about Fashion, Lifestyle and Modern Life!
By Rashmi Mishra
June 6, 2017
Whenever we think of Afghanistan, we are reminded of a war-torn nation. And especially anything concerning women is far from progressive. But a group of women are ought to change the way we look at the Middle East country. How do they do it? Well, they launched Afghanistan's first women's magazine named Gellara, and the Cosmopolitan-inspired magazine is discussing taboo topics – from abortion, birth control to fashion, lifestyle and modern life.
The editor of Gellara magazine is 23-year-old Fatana Hassanzada wishes to encourage the women of the upcoming generation. Life in Afghanistan is an era of uncertainty with deteriorating security conditions. Speaking to the Fox News, she said, "Life in Afghanistan is ugly. Everything from politics to violence feeds us with disappointments." What she expects from the newly launched magazine, the editor-in-chief said, "Gellara is here to bring hope and to counter the ugly face of life with colour, beauty and new lifestyle with the women in the center of its focus."
Afghanistan has been facing the wrath of chaos caused by non-stop wars and violence due to terrorism. Apart from the adversities of bloody battle, the growing violence against women due to orthodox mentality is hurting the nation further. Gellara, started by a handful of young women is seen as a silver lining. The magazine sold 2000 copies of their first edition, each copy priced at USD 1.5. While mainstream media has been 'has mostly focused on war news and violence against women', Gellara published a wide range of topics such as lifestyle, fashion, beauty, health and positive stories concerning women.
Noted Afghan model and singer Mozhdah Jamalzadah graces the cover of Gellara magazine. She features without a hijab or head cover and as a safety precaution the magazine cover shoot took place in Dubai. Not just the main image but there is also a dedicated edition on women celebrities with photographs featuring female models posing in mini-skirts and sleeveless tops. "The women's magazine is another huge step in furthering the progress of women's rights in Afghanistan," Fatana told Fox News.
Understanding the rigid mindset of the extremists' group, the magazine does not print the address and contact details on the magazine. The magazine group fear the frankness of Gellara might not go down too well with the conservative Afghan society. The religious groups have already started campaigning against the publication on the social media and threatened the editor over the telephone for "writing against religion."
"They have grown up in a closed environment and have never seen such pictures on the cover page of a magazine, they don't like this, and this is why they are against us. Extremists use women and women in hijab (a cloth covering the entire head except for the face) to attack broadminded people," Hassanzada said. Nevertheless, the brave women are trying not to think too much about them and focus on sustaining the magazine by maintaining good revenue. They are looking forward to publishing good content and topics of interest, so Gellara continues with the big step it has taken.
http://www.india.com/buzz/gellara-afghanistans-first-womens-magazine-is-breaking-taboos-brave-muslim-women-talk-about-fashion-lifestyle-and-modern-life-2206232/
--------
URL: https://www.newageislam.com/islam-women-feminism/us-school-asks-permission-slips/d/111433
New Age Islam, Islam Online, Islamic Website, African Muslim News, Arab World News, South Asia News, Indian Muslim News, World Muslim News, Women in Islam, Islamic Feminism, Arab Women, Women In Arab, Islamophobia in America, Muslim Women in West, Islam Women and Feminism