New Age Islam News Bureau
29 Jun 2019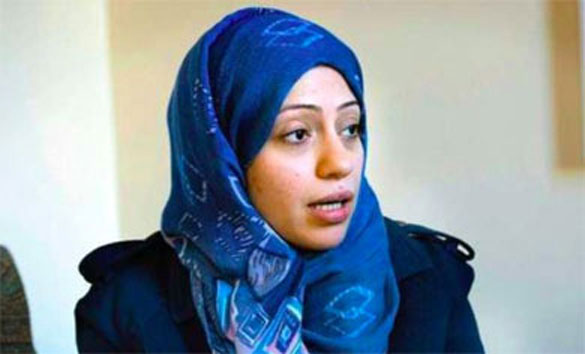 The so-called "Special Criminal Court" in Riyadh is holding at this time the first trial session for the human rights activist Samar Badawi, who is still under arbitrary detention since 31/7/2018 with no guilt.
------
• Saudi Women's Rights Activist Samar Badawi Appears In Court
• 'Objection till the End of the World to Pass Triple Talaq': Advocate Bader Sayeed
• Shahrdari Bam Champions Of Iran Women's Football League
• The Religious Symbols Law Doesn't Make Muslim Women Vulnerable, Quebec Prime Minister Says
• Gender Is No Joke for Arab Female Stand-Up Comedians in UAE
• Regime Prison Ordeal Leads Syrian Woman To Help Others
Compiled by New Age Islam News Bureau
URL: https://www.newageislam.com/islam-women-feminism/us-institute-trains-kenyan-women/d/119030
--------
US Institute Trains Kenyan Women to Spot Potential Terrorists
By Mohammed Yusuf
June 27, 2019
NAIROBI - The U.S. Institute of Peace is training Kenyan women from 20 organizations to help fight terrorist radicalization campaigns. The program comes as Kenya struggles to halt the recruitment efforts of Islamist militant group al-Shabab.
The organization Sisters Without Borders was formed in 2014. One of its missions is to bridge the mistrust between Kenyan security agencies and families of terrorism suspects.
The organization includes at least 20 women's groups from Nairobi, Mombasa and Garissa, all of which have seen deadly terrorist attacks by the Islamist militant group al-Shabab.
Sureya Hirsi, a member of the sisters' group from Mombasa, attended the conference in Nairobi. She says it is time for women to take an active role in the fight against terrorism.
"The reason I joined this sisters group, it's because I have been affected, I have family members, people whom I know, I know youths who have been recruited, and this is happening because as a community we don't speak up about these issues. As a woman who is lucky and also educated, I have decided to be on the frontline to help my community so that we can speak about these issues that affect our community."
Nicoletta Barbera, a program officer at the U.S. Institute of Peace, says women can play a key role in preventing young people from going down the terrorist path.
"The women that we work with, the sisters without borders are integrated within their communities, they live, work, and serve. They are very aware of the threats that are in their homes, in their markets, in their communities. We enable them to identify those potential individuals who are prone in engaging in violent extremism and give them the skills to try to mitigate them at the very beginning when they see those initial signs of radicalization," Barbera said.
Kenya National Counterterrorism Center Director Martin Kimani says that kind of ground-level activism is exactly what the country needs.
"We in the security services are hunting and looking for recruiters to put them behind bars where they belong. But radicalization continues to be a problem. That problem is going to need for the county level actions to get radicalization, to where, for example, Kenya got HIV/AIDS where everybody could speak about it, everybody knows what it is and everybody know their role in how to stop it and protect it each other from getting into that kind of life," Kimani said.
Kenya has been prime recruiting territory for al-Shabab since 2011, when the government sent troops into Somalia to fight militants.
Al-Shabab has been responsible for several major terrorist attacks, the worst coming in 2015, when al-Shabab fighters stormed Garissa University College, killing nearly 150 people.
https://www.voanews.com/africa/us-institute-trains-kenyan-women-spot-potential-terrorists
--------
Saudi Women's Rights Activist Samar Badawi Appears In Court
by Kareem Chehayeb
27 Jun 2019
Prominent women's rights activists including Samar Badawi appeared in a Saudi court on Thursday over charges linked to their human rights activism.
Badawi is the sister of Saudi blogger Raif Badawi who was sentenced to 10 years in prison in 2012 for criticism of officials in the kingdom.
It was the first time Samar Badawi had appeared in court since her arrest on July 30, 2018. She was apprehended along with Nassima al-Sadah, a women's rights activist from Saudi Arabia's Eastern Province, and Amal al-Harbi.
It was unclear how many detained activists would appear. The European Saudi Organisation for Human Rights said Thursday's hearing was taking place in the Specialized Criminal Court, a counterterrorism court that often tries activists and political dissidents.
Under Saudi Arabia's terrorism law, the activists face 20 years in prison.
Amnesty International's Philippe Nassif said he was concerned the activists would not have a fair trial or due process, and urged the United States to take action for their release.
"Among those detained are three American citizens," Nassif told Al Jazeera.
"It is a travesty that the US administration under President Donald Trump has not held the Saudi authorities accountable for egregious human rights abuses."
Legal representation remains unclear, though rights groups have said the activists' lawyers were not present during previous court appearances or interrogations.
"Saudi Arabia's continued detention of women's rights advocates is a stain that won't go away until these sham trials are put to an end," Adam Coogle, Middle East Researcher at Human Rights Watch told Al Jazeera.
He said that the charges Baddawi and other Saudi women's rights activists on trial may face are "likely to be frivolous and related to their peaceful human rights work".
Saudi rights group ALQST said Badawi and other women activists had been subjected to "severe and brutal torture and sexual harassment" while being held.
Human Rights Watch described the arrests as part of an "unprecedented government crackdown on the women's rights movement", which began just weeks before the lifting of a women's driving ban a year ago.
"ALQST has long expressed the concern about the profoundly unfair nature of trials in Saudi Arabia with complete lack of transparency and failure to adhere to international standards," Drewery Dyke, from ALQST, told Al Jazeera.
"We believe Samar Badawi is a prisoner of conscience and we call for her unconditional release."
Torture?
Raif Badawi's wife, Ensaf Haidar, and their three children live in Canada. Canadian Foreign Minister Chrystia Freeland condemned Samar Badawi's arrest last year and called for her release - a move that riled Saudi authorities.
The Saudi government accused Canada of trying to "meddle with Saudi sovereignty" and recalled their ambassador from Canada while expelling Ottawa's ambassador to the country.
The Saudi authorities accused the activists of "contact with foreign entities with the aim of undermining the country's stability and social fabric".
The Saudi press branded the activists "traitors" and supporters of the crackdown described them as "agents of embassies" on social media.
Rights organisations documented numerous cases of alleged torture and ill-treatment of the detained activists in recent months.
Amnesty cited victims' testimony that masked men severely tortured and sexually harassed some of the women.
https://www.aljazeera.com/news/2019/06/saudi-women-rights-activist-samar-badawi-appears-court-190627074012916.html
--------
'Objection till the End of the World to Pass Triple Talaq': Advocate Bader Sayeed
29th June 2019
CHENNAI: Women's rights are human rights." This was the basic premise that senior advocate Bader Sayeed began her talk with at the Creative Chambers in Alwarpet on Wednesday as she spoke about the dire need for the Triple Talaq bill to be passed in Parliament.
"It is an unfortunate situation today," she said emphatically as the audience listened in rapt attention. "If this law does not go through, we will be back to square one. Forget what the holy book says or what the Qazi says, every divorce must go through the court of law. The maulvis and mullahs consider this interference in the Muslim personal law but there is no such thing as interference."
She relayed harrowing instances from her experience as an advocate of what Muslim women were going through. She spoke of the ease with which men could wash their hands off their responsibilities and divorce their wives leaving them on the streets, helpless. Often, they are left with children to take care of.
"We live in a patriarchal society. It all comes down to the need for men to control women. Religion is meant to subjugate women which is why we need to codify the laws because right now there is no clarity on something as basic as the grounds for divorce. The Triple Talaq bill will be quite difficult to pass and there will be objection till the end of the world because of the need to control women but we need to pass it because today there is no deterrent for men to do this to their wives," she said.
Sayeed urged those in the audience to do something, no matter how seemingly small, to help those who were marginalised. She emphasised the power of filing Public Interest Litigations (PILs). "We cannot turn a blind eye and a deaf ear to the issues," she said. "Each one of us has to stand up, lead those women in need of lawyers or legal aid. It is essential that we place papers before the court in these matters. Even if it takes years, at least she will remain his wife. Other countries have brought in reform when it comes to Triple Talaq but we are the custodians of Islam in India. The time hasn't come for a uniform civil code in India because it will only mean that people will fight and shout more. We just need to codify the laws."
http://www.newindianexpress.com/cities/chennai/2019/jun/29/objection-till-the-end-of-the-world-to-pass-triple-talaq-1996863.html
--------
Shahrdari Bam Champions Of Iran Women's Football League
June 28, 2019
The holders defended their title after beating Zob Ahan 2-1 in Isfahan's Foolad Shahr Stadium.
Safoora Jafari was on target for Zob Ahan in the first half but Zahra Ghanbari and Mona Amoudi scored for Shahrdari bam in the second half.
Shahrdari Bam are the most decorated women football team in the league, winning the titles six times.
https://www.tehrantimes.com/news/437503/Shahrdari-Bam-champions-of-Iran-women-s-football-league
--------
The Religious Symbols Law Doesn't Make Muslim Women Vulnerable, Quebec Prime Minister Says
28/06/2019
Quebec Prime Minister Francois Legault said, Thursday, that he «does not really think» that Islamophobic incidents have increased since the government passed a law, banning civil servants from wearing religious symbols.
Legault's statement comes as Muslim women wearing hijab or niqab in Quebec told Canadian broadcaster CBC that «since the legislation was tabled in March, they've been harassed, made the target of hateful comments, even spat on».
Calling the law on religious symbols a moderate one, Legault defended the legislation saying that women in question «can wear [a hijab] at home and in public places».
«We say if you really don't want to remove it, there are four jobs where you can't apply. That's it, that's all», he added.
Speaking to CBC, Canadian group «Justice Femme» which recorded a rise in harassment against Muslim women. «Mr. Legault doesn't want to face the reality that is staring him in the face», said Hanadi Saad, the group's president told CBC.
«He is living in complete denial, and we hold him accountable for what Muslim women are going through. His denial only aggravates the problem», she added.
The bill in question will be preventing civil servants from wearing symbols such as head coverings like the Kippah, turban, hijabs. Civil servants who are already wearing religious symbols «will be exempt from the bill».
The ban will also affect judges, crown prosecutors, police officers, prison guards and school teachers.
https://en.yabiladi.com/articles/details/80345/religious-symbols-doesn-t-make-muslim.html
--------
Gender Is No Joke for Arab Female Stand-Up Comedians in UAE
June 28, 2019
Sami Zaatari
Abu Dhabi: Being a stand-up comedian is challenging enough, but it's even harder if you are a woman, according to Arab female comedians in the UAE, who are determined to break down gender barriers when it comes to comedy.
"Definitely, there are many challenges that come with being an Arab female stand up comedian, I'd say the challenges we face are almost double and even triple what our male colleagues have to go through," said Jordanian stand-up comedian Kholoud Abdullah, who lives in the UAE.
"It's not my day job, I'm a teacher by trade and so I perform stand up comedy two or three times a month. It's a hobby of mine that I've been pursuing for the last two years, and one that I want to keep on doing," she said.
Supplied
"I remember when I started two years back there were many female comedians at the shows, but gradually I've noticed many of them not coming back to perform because it has been so challenging for them," she said.
Some of the difficulties she has faced, she said, range from the reaction she gets from people finding out about what she does, to the type of material audiences are comfortable with coming from a woman.
"I was very surprised to see some of the reactions and how people changed towards me when they found out I do stand up comedy. Not all of them are negative, some people get really excited and want to find out more because they think it's interesting.
"Then there's the other group who somehow have the idea that stand up comedy is associated with dirty jokes and they aren't as accepting at the start because they don't believe this is something appropriate for a woman to be doing," she added.
Aware of these perceptions, Abdullah said she chooses her comedy material carefully to avoid tricky situations with the audience.
"I see my comedy routines as a way of highlighting diversity and the funny things that happen in the community because of that diversity. For example I'll talk about some of the cultural shocks that come from moving from one country to another, this is a topic that a lot of people will often find funny.
"The good thing about performing in the UAE is that there is more tolerance and it's seen as more acceptable, especially as we have such a diverse society with a lot of open minded people," she added.
Despite choosing her material carefully, Abdullah says that it's not always possible to avoid offending audience members.
"I was called a man hater by one audience member after I had finished my routine because of some jokes I had made about men in a five minute act. I just started laughing after such an accusation because it's obviously not true as I make jokes about men and women.
"In this certain routine I just had five minutes and so I had to choose one theme to go with, I didn't have time to cover everything. I do think this is one of the challenges that we face specifically as a woman, I don't think I would get the same reaction if I was making the same jokes as a man," she added.
Razan Takash, also from Jordan, agreed that female comedians have to try harder to win their audiences over.
"The moment we go on stage there is a bit of a reservation at the start with people thinking who is this lady, and so we have to break the ice and get them to drop their guard.
"There is an intellectual resistance as well at times when women make the same jokes or say the same things a male comedian would. When a woman says the same things it comes off as her being critical and there is a more defensive view from the audience and it makes it difficult for them to laugh," she added.
Takash said that it's for this reason that she chooses non-controversial subjects while on stage.
"I don't tread on taboo subjects, this is something I do on the side and so I'm not looking to be a maverick, I just want to have fun instead of fighting a battle.
"I think there is still a long way to go to having this become more acceptable, and it comes down to increasing the platforms that are available, especially for women. That's why I also produce content on Youtube, it's an open platform for everyone and it's easy to put entertaining content up there," she added.
https://gulfnews.com/uae/gender-is-no-joke-for-arab-female-stand-up-comedians-in-uae-1.64644612
--------
Regime Prison Ordeal Leads Syrian Woman To Help Others
Meryem Goktas
28.06.2019
Despite years passing since her release, a woman who was jailed by the Syrian regime keeps the memory of her ordeal alive in order to help other women like her who struggle after escaping prison.
Speaking to Anadolu Agency, Sundus Fulfule said she was pregnant when she entered Adra prison in Damascus on May 16, 2011, which is when her life turned upside down.
Before that, Fulfule was living in Latakia, where she was teaching Islamic law to grade 10 and 11 students as a theology graduate. She also graduated from nursing school.
After 11 months of incarceration, she had to provide for her daughters in a new environment and became involved in humanitarian aid work.
"Obviously, in the Syrian revolution, the weakest ones are women and children, so I have chosen to work in this direction. Every day, I would make new experiences, train women and give them psychological support," she said.
She said the most vulnerable ones are women who were released from prison.
"Women who survive prison need all kinds of support, such as economic and psychological as well as shelter."
She said she works with many women who were victims of rape, noting that no one takes care of them properly.
"There are too many cases to count, and they continue to rise," she said, calling for immediate action for women who continue to be exposed to sexual violence and incarceration.
According to the Conscience Movement, an international nongovernmental organization, more than 13,500 women have been jailed since the Syrian civil war began in early 2011, while more than 7,000 women remain in detention, where they are subjected to torture, rape and sexual violence.
The movement is an alliance of individuals, rights groups and organizations aiming to secure urgent action for the release of women and children in the prisons of the Syrian regime.
The Syrian Network for Human Rights (SNHR) announced Wednesday that more than 14,070 civilians have died of torture by forces of the Bashar al-Assad regime since the beginning of the civil war, including 173 children and 45 women.
Recalling detention
When the revolution started in Syria's southwestern Daraa province, Fulfule said that women in Latakia were inspired by this and began taking to the streets to hold peaceful protests.
"With our manners and morals, without disobeying our state, we started protests. We only demanded change and improvement and called for ease of detention procedures. In the beginning, these protests were not carried out for the fall of the Assad regime," she said.
She said the demonstrations would call for the rights of arrested people, justice and the increase of salaries.
Recalling the day she was arrested, the 40-year-old said she was attending a peaceful protest staged by women.
"All of a sudden, the entrances and exits of the area we were in were closed, and men started to join the protest and together with them also intelligence security forces," she said, which is when they detained her.
"Once the investigation started, we understood that everything was prepared already, including the accusations against us," Fulfule said, noting she was accused of terrorism.
Giving birth under arrest
"When I was arrested, my first daughter was eight months old and I was pregnant [with a second child]," she said.
After spending four months in prison, her family was falsely informed by regime soldiers that she had died.
"My birth contractions started and they took me to a military hospital," she said.
Fulfule used this opportunity to ask a nurse to call her family.
"Thankfully she helped, and I called and told them I'm alive."
Witnessing torture, sexual abuse
After giving birth in the hospital, she was transferred back to prison.
She witnessed every kind of abuse against other inmates, from human rights violations to sexual abuse.
"When they wanted to torture someone, they would take them to the [prison] corridor. The sounds of torture and smell of burnt skin were everywhere," she said.
"Frankly, I didn't witness rape [of other inmates] with my own eyes, but I saw the results of it -- pregnancy," she said.
"Most of them gave birth in prison and got out, hiding their babies from everyone."
Bribed freedom
When she reached out to her family, they spent a large amount of money to bribe the prosecutor at the time.
"After 11 months, I could walk out [from prison]."
"Nothing I've experienced during the time in prison was as difficult as my child not recognizing me," she said, adding her daughter was nearly two years old when she saw her again.
Speaking about the struggles she faced as a woman released from prison and the neglect from her husband, Fulfule told of her migration to northern parts of Syria.
"One of the things which affected me the most was my husband not accepting me. 'You deserved it. Who told you to attend protests?' he said. I took my children [and left]."
When she was released, she could no longer return home and had no choice but to escape the region as the intelligence security forces were still searching for her.
Noting that the Syrian conflict had entered its ninth year, she expressed her main concern: the future of her children.
"My only fear now is the future of my children," she said.
"I don't want my children to be in this situation. I want them to live a beautiful life in a safe environment."
https://www.aa.com.tr/en/life/regime-prison-ordeal-leads-syrian-woman-to-help-others/1517936
--------
URL: https://www.newageislam.com/islam-women-feminism/us-institute-trains-kenyan-women/d/119030
New Age Islam, Islam Online, Islamic Website, African Muslim News, Arab World News, South Asia News, Indian Muslim News, World Muslim News, Women in Islam, Islamic Feminism, Arab Women, Women In Arab, Islamophobia in America, Muslim Women in West, Islam Women and Feminism