New Age Islam News Bureau
21 Jan 2017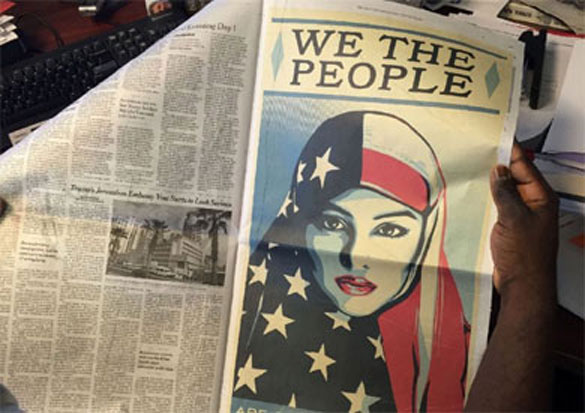 The image of a woman in a US flag-themed headscarf featured in full-page ads in several US newspapers is the work of Shepard Fairey, a graphic artist famous for his "Hope" poster of Barack Obama (AFP Photo/Thomas URBAIN)
-----
• Gujarat Village Poster: "Stay In The Veil, And The World Will Stay In Its Limits"
• Oppressed by Religion, Kashmiri Women Are Forgetting How to Sing
• Saudi Female Empowerment Highlighted At Global Conference
• Pakistan woman cricketer and basketball player get GCU Roll of Honour
• Dangal's Zaira, Minister Trade Tweets On Hijab
• UP elections: Empower women, train girls for state's progress, says Shabana Azmi
• Afghan Orchestra Puts Women's Rights Centre Stage At Davos
• Nigeria: Sanusi Calls Out Parents, Leaders On Girl Education
Compiled by New Age Islam News Bureau
URL: https://www.newageislam.com/islam,-women-and-feminism/new-age-islam-news-bureau/us-dailies-carry-woman-in-headscarf-protest-ads/d/109806
--------
US dailies carry woman-in-headscarf protest ads
Jan 21, 2017
NEW YORK : A poster-size image of a woman in a headscarf in the colours of the American flag appeared in full-page ads in several US newspapers Friday, part of a protest launched on the day of Donald Trump's presidential inauguration.
The image is the work of Shepard Fairey, a graphic artist famous for his "Hope" poster of Barack Obama. That portrait, also in red, white and blue, caused a sensation when it appeared during the 2008 presidential campaign.
The ads emblazoned with the woman's portrait appeared in Friday's editions of the New York Times and the Washington Post. "We The People" appears at the top of the page. These are the first words of the US Constitution and also the name given the campaign against racial and ethnic hatred. Completing the message is a legend at the bottom of the page: "Are Greater Than Fear."
Below that in smaller type are the words: "We the people are indivisible. We are resilient. We protect each other.
We defend dignity. We are greater than fear."
The image was commissioned by the Amplifier Foundation, a Seattle, Washington-based group that raised funds for the "We The People" campaign through crowd-funding site Kickstarter.
As of early Friday, the campaign had raised $1.3 million from 22,840 donors.
The foundation invites people going to Trump's inauguration to use the poster as a protest sign.
Fairey and two other artists, Ernesto Yerena and Jessica Sabogal, made other posters for the occasion.
Those images are of a black child, an elderly American Indian, and a female couple.
http://nation.com.pk/international/21-Jan-2017/us-dailies-carry-woman-in-headscarf-protest-ads
--------
Gujarat Village Poster: "Stay In The Veil, And The World Will Stay In Its Limits"
January 20, 2017
A poster that has surfaced in the Chikhli village in the Navsari district of Gujarat apparently lays down a number of laws for Muslim women when they are walking on the roads. Shockingly, it dictates that not only should Muslim women lower their eyes when on the road — a definite safety hazard — but that they should not also wear heels or any jingly foot ornament!
Also read: Muslim girls in Switzerland can't be exempted from taking swimming lesson with boys, court rules
Strange, and at times life-threatening, religious diktats are nothing new in India, like the time a preacher was arrested in Kerala for advising the parents of a newborn not to give the infant any milk until the five calls for prayer were heard. However, the reason the latest case takes the cake is that it tells Muslim women: "Tum naqaab mein raho, zamaana aukaat mein rahega." Loose translation: "Stay in the veil, and the world will stay in its limits."
It not only instructs Muslim women how to walk on roads, but also tells the exact kind of veil and dress they should wear. It even provides visual depictions of the dresses and veils with colours and designs that it says should not be worn by Muslim women walking on the roads.
What's more, the poster — put up by the local Ittehad Foundation — provides 10 points on how Muslim women should and should not behave when walking on the road, the first of which says they should always walk by the absolute side of the road, so they do not come in between men! Another says they should not venture out without their veil.
Other diktats, according to the poster — which noted author and activist Tarek Fatah put on Facebook after being provided it by one Sonam Mahajan — prohibit Muslim women from not only wearing heels but also any foot ornament that may make sound.
Meanwhile, Fatah seemed to have made a small error when putting up the photo. He wrote on Facebook: "Check out the only permitted dress code is the black sack Obama wore to escape to Pakistan." We are sure he meant the al-Qaeda terrorist Osama bin Laden, and not the former US president.
http://www.ibtimes.co.in/gujarat-village-poster-says-muslim-women-should-not-look-wear-heels-when-walking-roads-713046
--------
Oppressed by Religion, Kashmiri Women Are Forgetting How to Sing
BY ADIL BHAT
20/01/2017
Gender issues don't feature prominently in debates on Kashmir. In fact, any discourse on Kashmir is limited to military occupation, foreign-backed militancy and security. The past year witnessed prolonged unrest in which over a 100 people were killed and 1000 injured, with pellet gun being used by the security forces with alarming frequency. In this backdrop, the recent social media outrage over 16-year-old Kashmiri girl Zaira Wasim, who acted in the Bollywood film Dangal, is both disturbing and confusing. In such a hostile online environment, it is important to understand the rationale behind such abusive behaviour. Was it a result of her meeting with Jammu and Kashmir chief minister Mehbooba Mufti, or was this a culmination of religious chauvinism that has gradually come to dominate society from within?
In trying to find an answer to these questions, I flipped through the pages of history. Back in 2013, Pragaash – an three-member all-girl Kashmiri rock band that went on to receive international recognition – faced a similar fate of abuse and vitriol on social media. The Kashmiri word pragaash is symbolic and means 'from darkness to light' or 'the first ray of sunlight'. To me and many other music aficionados, it symbolises Kashmir's yearning for freedom. However, Pragaash got caught in the darkness of bigotry. Soon after they performed at a 'battle of bands' in Srinagar on December 22, 2012, the band members received threats for performing in public.
Like Wasim, the three Pragaash girls were also labelled shameless and un-Islamic. While the women in Pragaash eventually gave up, Wasim's fate is still unfolding. The apology letter she wrote, but later removed, wasn't a positive sign. Rather, it emboldens a patriarchal mindset that is silent on male rappers and singers from the Valley. If music is haraam in Islam, why haven't men in the Valley faced the ire of religious fanatics? Precisely because they are religious patriarchs who not only want to control the choices of the women, but also want to choose for them. There has been a conspicuous interplay of religion and gender politics in Kashmiri society. In drawing such a relationship between art, religion and gender, women have been doubly disadvantaged – both from the outside and the inside. While military occupation has been detrimental to Kashmiri society as a whole, the religious undercurrent has been hostile to women's freedom of choice in the Valley.
What is saddening is the murder of inspiration in both these incidents. These women who are venturing out to realise their potential draw inspiration – consciously or otherwise – from the Valley. Kashmir has had various elements of music that have flourished equally over a period of time. Interestingly, there is a private radio station that largely airs musical content. Music has been omnipresent in the Valley. The immense impact of the 14th century mystic poetess Lal Ded and the 16th century mystic poetess Habba Khatoon – also known as the 'nightingale of Kashmir'– is still prominent. The undiminished legacy of these poetess and singers from the Valley has, in the last few decades, also experienced religious censorship.
Apart from the specific Kashmiri tradition of poetry and singing, the Islamic tradition was rich in music and arts as well. In the works of the 13th century Sufi Muslim poet Jalaluddin Rumi, one comes across references to his love for music. In one such couplet he said,
"In the house of lovers, the music never stops, the walls are made of songs and the floor dances."
These Muslim artists underestimated the prospective role that religion and politics would play in determining the identity of the artist – singer, dancer, musician or painter. The burden of such entanglement between religion and politics fell on women, giving birth to the idea of "ethics of sexual politics." Here, the ethics are grounded in religion.
This phenomenon of entanglement can be seen in most of societies today – whether theological or secular. However, there are variations in its manifestation with the former more mainstream, and the latter peripheral. Despite this difference, both demonstrate moralistic overtones and espouse Puritanism. As this entanglement gets further embedded in the psyche of the people, the future of female artists appears dim – more specifically in Muslim societies, that have wilfully forgotten the early Islamic musical tradition.
It is this selective erasure of memory that created an abyss that was filled up by religious patriarchs over the years. Worryingly, this was true for Kashmir as well. In the years of protracted conflict, the image of the public space altered with men emerging as the only dominant force. As the struggle for freedom in Kashmir took religious overtones, the onus of 'conserving' Islamic values fell on women. This idea of conservation replicates the religious 'reform' that Muslim societies have undergone.
The recent verbal attack on Wasim is unfortunate and visibly religiously motivated. There is a strange disharmony that needs to be fought from within. The women in Kashmir have to reclaim the lost musical space, and rediscover the now-obsolete and forgotten lyrical sounds and instruments and revive the renditions of both the Muslim and Kashmiri artists.
Adil Bhat is assistant editor with New York-based magazine Café Dissensus. His work has been published in Himal South Asia, The Wire, Kindle, Kashmir Ink, Greater Kashmir, Kashmir Reader, Kashmir Life, and Café Dissensus.
https://thewire.in/101449/kashmir-women-zaira-wasim/
--------
Saudi female empowerment highlighted at global conference
FOUZIA KHAN
21 January 2017
JEDDAH: Fawzia Al-Harbi, a member of the Training Authority, and director of public relations and media at the girls' branch of the Technical and Vocational Training Corp. (TVTC), emphasized the importance of Saudi female empowerment for the development of the Kingdom at an international conference on development in Turkey.
She said female empowerment is a key part of Saudi Vision 2030. The program's goals include increasing the participation of women in the labor market from 22 to 30 percent, increasing the contribution of small and medium-sized enterprises in gross domestic product (GDP) from 20 to 35 percent, and reducing female unemployment from 12.6 to 7 percent.
She said Saudi women are an important part of the sustainable development of the Kingdom, adding that Saudi female empowerment began under the late King Abdullah and continues under King Salman.
She cited participation of women in municipal elections and the Shoura council as examples of government support for women.
She added that Saudi women own more than SR45 billion ($12 billion) in Saudi banks and SR130 billion ($35 billion) in real estate, and that they are involved in charities and humanitarian organizations.
She said her participation in the second TASCA international conference for partnership and development was to highlight the important role of Saudi women in development, to strengthen that role, and to urge women from the Muslim world to carve out their own identity and take a leading role in building an economic and social renaissance.
She added that the conference — hosted in the city of Antalya and organized by the Turkish-Arab Association for Economic and Strategic Cooperation, and the Turkish-Arab Institute for Strategic Studies — was one of the most important to be held about empowering women.
The conference brought together more than 300 participants from 30 countries.
http://www.arabnews.com/node/1042101/saudi-arabia
--------
Pakistan woman cricketer and basketball player get GCU Roll of Honour
21-Jan-17
LAHORE: Sidra Amin and Zara Ahmad Khan, two sportswomen of Pakistan, were awarded their postgraduate degrees and prestigious Rolls of Honour in Sports at the concluding session of 15th Convocation of Government College University Lahore here Friday. Provincial Ministers Syed Raza Ali Gillani and Rana Mashood Ahmed Khan chaired the second and third sessions of the convocation, in which 608 of BA/BSc (Hons) and 314 students of MA/MSc received their degrees, academic medals and co-curricular/sports rolls of honour. Sidra Amin, the star batsman of Pakistan women's international cricket team, received her degree of Masters in Physical Education and Roll of Honour in Cricket, while Zara Ahmad Khan, the centre-forward of Pakistan's international basketball team, was conferred upon the degree of BSc (Hons) in Biotechnology and Roll of Honour in Basketball. Saif-ur-Rehman, Hamza Malik, Hassan Yaqoob and Shoaib Ahmed also were awarded Rolls of Honour in Bodybuilding, Swimming, Hockey and Wrestling respectively. Speaking on the occasion, Vice Chancellor Prof Hassan Amir Shah said that GCU had produced hundreds of sportsmen who made Pakistan proud at the international level. "I am very happy to see that female students of GCU are also excelling in sports, and this is the first time that GCU has awarded Roll of Honour in Cricket to a sportswoman." Sidra Amin said that this was the proudest moment of her life after receiving her degree and Roll of Honour. "Besides education, GCU has also given me confidence and courage," she added.
http://dailytimes.com.pk/sports/21-Jan-17/pakistan-woman-cricketer-and-basketball-player-get-gcu-roll-of-honour
--------
Dangal's Zaira, minister trade tweets on hijab
Jan 21, 2017
NEW DELHI: Union minister for sports Vijay Goel and Dangal actor Zaira Wasim exchanged polite but edgy tweets on hijab on Friday.
The exchange started when Goel posted a picture from an art exhibition. It showed a painting of two women; one with a partially veiled face, another trapped in a cage. "This painting tells a story similar to @zairawasim, pinjra tod kar humari betiyan badhne lagi hain aage (Our daughters are breaking out of cages to forge ahead). More power to our daughters!"
After Goel's initial tweet, Wasim responded saying: "Sir, with all respect to you, I feel I must disagree. I request you not to connect me to such a discourteous depiction." Goel replied, "You have interpreted wrong. I appreciated your work and stated that evil and patriarchal notions must be discouraged." Over two tweets, Wasim wrote back: "Women in hijab are beautiful and free. Moreover, the story depicted through this painting is not even remotely relevant to mine."
Goel courteously closed the conversation with: "I'm afraid you still haven't understood. But I wish you all the very best and appreciate your work. Hope to meet & interact too."
http://timesofindia.indiatimes.com/india/dangals-zaira-minister-trade-tweets-on-hijab/articleshow/56696460.cms
--------
UP elections: Empower women, train girls for state's progress, says Shabana Azmi
Jan 21, 2017
After my father, Kaifi Azmi's death in 2002, I decided to take his dreams forward in Mijwan—the village in Azamgarh where he was born. He had visualized empowered girls and development at Mijwan.
Through the Mijwan Welfare Society (MWS), we give chikankari training to girls and have school and computer training facility for them. The girls in the village are so empowered now that they raise strong voices against child marriage and other social evils. The girls of Mijwan have walked the ramp and their designs of chikankari have been worn by superstars in designer Manish Malhotra's show. The village today gets electricity for 14 hours, and is the chosen few for the 'I Sparsh' scheme of the state which aims to make it a smart village.
The development work of the present state government has really been impressive. Whether there is change of party or the same party continues after elections, I hope to see more development and women empowerment in UP.
Women's health, education, skill development, and their empowerment are a must for the state's growth. Let us learn from Kerala, which allocates 40 percent funds for women's issues at panchayat levels itself. Uplift of rural areas and power supply should also be on top of state government's agenda. Higher education, skill development and creating job opportunities should be other focus areas of the governments.
I see a lot of young writers and actors in the film industry and most of them come from Uttar Pradesh. They do exceedingly well because their language and culture give them an edge over others. I wish UP had a film institute where aspiring youngsters get an opportunity to learn and hone their skills in cinema.
Youngsters struggle for jobs. If there are enough jobs within the state, they wouldn't go anywhere and contribute to his/her own state.
We have been pushing for a university in Azamgarh for long. Now that more and more children are attending school and there is a lot of emphasis on education, a university for the students of Azamgarh is a very fair demand.
It is being increasingly understood by governments in the country that only GDP isn't the hallmark of progress and thus the focus should also be on Human Development Index including proper health services, women empowerment, education etc. The new government must be serious on such issues.
http://www.hindustantimes.com/assembly-elections/up-elections-empower-women-train-girls-for-state-s-progress-says-shabana-azmi/story-rsw1Fd2S21w583IhdiPFFM.html
--------
Afghan Orchestra Puts Women's Rights Centre Stage At Davos
Jan 21, 2017
Global leaders who attend the annual World Economic Forum in Davos are used to discussing women's rights on panels. On Thursday they got a chance to hear an all-female Afghan orchestra that has overcome Islamist death threats on its way to its first international performance in the elite ski resort.
Thirty young women, each wearing a matching bright red hijab, took the stage and some played traditional Afghan instruments, like the rabab, similar to the Indian sitar.
Many of the musicians, including conductors Zarifa Adiba, 18, and Negin Khpolwak, 19, said they had been forced to hide their music from members of their community who they feared might react violently if they had known.
"When I go home, somebody could come and kill me," said Khpolwak. "I am so worried about my security. I'm scared."
She said only her father supported her participation in the orchestra back in her home province, Kunar, 230 km (140 miles) west of Kabul, where Islamist Taliban militants have resurfaced, claiming responsibility for suicide bombings and attacks.
Zohra was founded in 2014 with five original members as part of the Afghanistan National Institute of Music and has since faced death threats and intimidation.
Adiba, who lives in Ghazni in east-central Afghanistan, said that with music and the arts banned for a extended period under the Taliban's 1996-2001 rule, her relatives couldn't shake their conservative views on women performing in an orchestra.
"But I am confident that music is nothing bad that I should feel shy of," she said proudly. "Music is my profession. Music is something beautiful. I should be proud to be a musician."
Adiba and Khpolwak each took turns in the conductor role during Thursday's performance, which had a Swiss orchestra join with Zohra to perform Afghan songs.
Khpolwak said she hopes more international performances are on the horizon for the orchestra. "We wish to have another trip to another country, because we want to show the people that Afghan women have power and we can do anything."
http://nation.com.pk/international/20-Jan-2017/afghan-orchestra-puts-women-s-rights-center-stage-at-davos
--------
Nigeria: Sanusi Calls Out Parents, Leaders On Girl Education
20 JANUARY 2017
By Judd-Leonard Okafor
The Emir of Kano Muhammadu Sanusi II, has added his voice to other prominent stakeholders' to push for legislation mandating that girls remain in school up until they turn 18.
He's been named grand patron for women and children's by the United Nation's Population Fund.
Speaking recently at his investiture in Kano by the United Nations Population Fund, the emir said every girl in the state must abide by the rule.
"Every parent should be responsible for their ward and ensure their education," the emir said.
"If parents reject their children, and they turn wayward, they will be held responsible. Myself and Governor Abdullahi Umar Ganduje will be responsible for those we lead and be accountable in the eyes of the Creator," he also said.
In an impassioned speech, Sanusi outlined the importance of allowing girls access to education instead of getting married off, insisting that leaders of Islam should help stop it.
"God has entrusted us with the power and God will ask us. If every leader thinks God will not ask him, he is wrong. If a father feels he has responsibility to wed his daughter at a certain age, the leader should stop that," said Sanusi.
Kano State has set up three committees on marriage, education and legislation-the last pushing for stronger legal backing to enforce education and empowerment for girls and women.
In conjunction with Bayero University, Kano and the Ulama, it will push legislation that could among others safeguard the interests of young girls married off and living in a short time with seven children, no education or income, and only to be replaced by a new bride, according to the emir.
"Leaders should tell the man that he should be the one to vacate the house, because she has earned the right to that home," said Sanusi.
"Any person deprived of knowledge is injured," he said. "I call on our imams to address this. It is a shame that the UN had to come and tell us how to look after our children. We are the ones to do it, and we should not wait for the UN," he said.
Women Affairs and Social Development minister Aisha Alhassan called for urgent sustained action to build on the campaign Sanusi is championing.
Nearly 12 in 100 adolescent girls are married off as early as 15; up to 23% of them are already mothers or pregnant with their first child. And 48 out of 100 of them have no primary education, according to data from the ministry.
Last year, up to six million girls were married at ages as young as 13: 76% of them in the North, and 10% of them in the South East, said Alhassan.
"Poverty also thrives in the same areas noted to have high child marriage, high maternal mortality and low literacy levels, showing a strong correlation between poverty and those gender-specific problems," she noted.
http://allafrica.com/stories/201701200324.html
--------
URL: https://www.newageislam.com/islam,-women-and-feminism/new-age-islam-news-bureau/us-dailies-carry-woman-in-headscarf-protest-ads/d/109806
New Age Islam, Islam Online, Islamic Website, African Muslim News, Arab World News, South Asia News, Indian Muslim News, World Muslim News, Womens in Islam, Islamic Feminism, Arab Women, Womens In Arab, Islamphobia in America, Muslim Women in West, Islam Women and Feminism, Moderate Islam, Moderate Muslims, Progressive Islam, Progressive Muslims, Liberal Islam