New Age Islam News Bureau
26 Sept 2018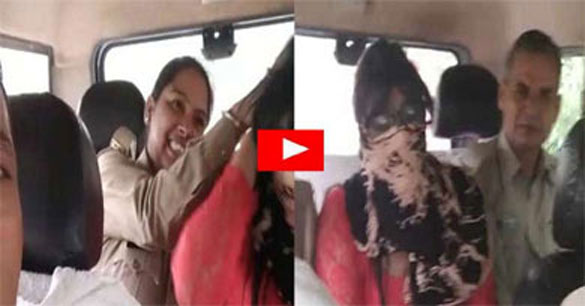 Meerut, police officials rescued the girl and took it on themselves to school her over a relationship with a Muslim boy
----
• Tunisian Women Fight for Right to Marry Non-Muslims
• Pakistani Women Selected for Facebook's Leadership Programme
• Radicalised Irish Woman Claims There Are 150 Islamic Extremists Living In Ireland
• Aid Should Focus On Development: Turkey's First Lady
• Book on Saudi Arabia's First Woman Yoga Instructor Slated For Release In 2019
• Asia's Champion, Iranian Women's National Futsal Team Lacks Funding
• Aliyeh Eghdam-Doost Sentenced To 9 Months of Imprisonment, 74 Lashes
• Egyptian Women Reign on Forbes' 'Middle East's Most Influential Women' 2018!
Compiled by New Age Islam News Bureau
URL: https://www.newageislam.com/islam-women-feminism/up-police-abuse-thrash-girl/d/116494
--------
UP Police Abuse, Thrash Girl for Relationship with a Muslim
September 26, 2018
Lucknow: After a group of Vishwa Hindu Parishad workers apprehended an interfaith couple in Meerut, police officials rescued the girl and took it on themselves to school her over a relationship with a Muslim boy. Not just verbal abuse, a lady cop can also be seen thrashing the girl in a video that has now gone viral on the Internet.
Responding to a journalist on Twitter, UP Police asked Meerut Police to immediately look into the matter and take necessary action.
The three police personnel sitting in the vehicle, including the female constable, have been suspended by the force after the video went viral.
The incident was reported in Meerut when Dial 100 cops here took the girl, who is a medical student, into custody. The video shows a lady officer beating up the girl while another officer sitting on the front seat of the vehicle using derogatory language to school her over her affair with a Muslim boy. The video was shot by this officer who can be seen abusing the girl.
VHP members accosted the interfaith couple at the Jagarati Vihar area of Meerut and created a ruckus demanding action, alleging this was a case of 'Love Jihad'.
The video has drawn much flak for UP Police on Twitter.
An inquiry has been ordered by SP (City) Meerut. Speaking to the media SP City, Ranvijay Singh said, "A boy and a girl were brought to the police station and both were handed over to their families. They both were accused of indulging in objectionable acts in public. Now, a video has surfaced in which an officer sitting in front is using objectionable language, while a female officer sitting at the back with the girl is hitting the girl. A probe has been ordered and those who found guilty will be punished."
news18.com/news/india/vhp-accuses-interfaith-couple-of-love-jihad-meerut-police-schools-girl-thrashes-her-in-viral-video-1888861.html
--------
Tunisian Women Fight for Right to Marry Non-Muslims
September 2017
One year after scrapping of a ban on marriage between Muslim women and non-Muslim partners, Tunisia experiences resistance at a local level on its path to social change amid a resurgence of conservatism.
Since September 2017, Tunisian women are free to marry non-Muslims. President Beji Caid Essebsi repealed a circular dated to 1973, inspired by the country's Muslim traditions that previously required non-Muslim men to convert to Islam in order to marry a Muslim woman. Only then the country's Mufti would allow the marriage to take place.
Despite the change in legislation, the fight over inter-religious marriages is not over yet as many women have recently stumbled on problems when trying to marry outside of Islam.
The case of Zeineb and her Italian fiancé Sergio is very illustrative of this fight. Speaking in her coastal town Hammamet, she told about the bureaucratic battle they fought after they decided to wed back in June and prepared all the paperwork for the legal procedure.
"The whole problem was that we couldn't find in Hammamet a notary who was willing to marry us," Zeineb said recalling the first three notaries she approached who refused to validate the marriage.
Two motivated their rejection saying that allowing such marriage was against their principles, the third said that the municipality did not want to register the marriage contract.
"The law must be respected," Sergio commented, baffled at the many obstructions they found.
"I'm not Muslim, and I won't change to please the Mufti. Is it my life or the Mufti's life?" he questioned in a sarcastic tone, "where's my personal freedom?"
While some of the reluctant officials declined out of "religious convictions," others claimed they still had to receive or read through the new regulations on interfaith marriages.
After going around and phoning most notaries of Hammamet, the couple went to Nabeul, a nearby town, and finally managed to have their marriage officiated.
Besides Zeineb and Sergio's case, at least two more mixed marriages were reported only in August by the Tunisian association for minorities.
In the last few months, a show of resistance has emerged among some notaries and municipal councillors who seem to be motivated by religious principles, and dispute that recognising inter-religious marriages runs counter to Islamic law.
The newly elected mayor of Kram, Fathi Laayouni, caused much debate in the middle of the summer after declaring that he would never authorise a marriage in his jurisdiction between a Tunisian woman and a non-Muslim.
When defending his position, the Tunisian mayor referenced to Article 5 of the 1956 Personal Status Code giving an ultra-conservative interpretation of the legislation.
"Article 5 sets out some impediments based on Sharia law, among them the marriage between a Muslim female and a non-Muslim male," he stated, "so we must refer to provisions of Islamic (Sharia) law."
Noting that Article 5 has not been recently revoked, Laayouni maintained that his duty is to make sure the law is duly applied. He argued that in order to avoid misinterpretations of the code, the article should be amended to refer to the "law", not Islamic law.
Alternatively, it should be made clear that the marriage between a Muslim woman and a non-Muslim is not listed in the impediments.
The mayor of Kram is convinced that those who oppose his stance are just few people who want to "destroy the Tunisian family and society" in the name of modernity.
"The majority of Tunisians are with me, many town halls are refusing to officiate these mixed marriages without a certificate of conversion to Islam from the male spouse," he claimed.
Lawyers and politicians have said that Laayouni has breached the law and challenged the state.
Other town councillors have acted differently. Anis Maazoun, municipal councillor of Ariana, publicly invited all the Tunisian women who were barred from marrying non-Muslims in Kram to finalise the procedure in Ariana town hall.
"All couples are welcome in my city hall," mayor of Ariana Fadhel Moussa said in the press, welcoming mixed couples, "For me, faith comes from deep down inside."
In Marsa, mayor Slim Meherzi recently celebrated a marriage of a Tunisian woman with a Portuguese Catholic.
"One must be uncompromising in the application of constitutional principles," Meherzi reportedly said.
Monia Ben Jemia, feminist and former head of the Tunisian Association of Democratic Women (ATFD), long campaigned for the revocation of the 1973 administrative order.
"We considered the circular illegal because the Personal Status Code doesn't forbid in any way a Muslim woman to marry a non-Muslim," voiced the AFTD's former president.
"It was finally scrapped, despite that there are officials and notaries who do not recognise inter-faith marriages."
Human rights groups in Tunisia have demanded that the new law be applied more strictly and efficiently.
The Tunisian Association for the Support of Minorities (ATSM) urged the ministry of justice to adopt measures against those who continue to use the old circular to forbid mixed marriages.
"Having Tunisian women going abroad to marry or forcing non-Muslim men to convert is something we can't accept in a country that has freedom of conscience," ATSM's president Yamina Thabet opined.
She reminded that the law cannot be changed on the basis of personal sensitivities, referring to some officials who put "religious convictions" before the law.
"Follow your hearts, don't mind the challenges," Zeineb invited Tunisian women to act.
"Women must stand up for their freedom to choose whoever they want to marry."
One year since the 1973 decree was repealed, the battle over mixed marriages is still on as the Tunisian civil society tries to adapt to the new law with tensions between conservative and progressive forces.
https://www.alaraby.co.uk/english/indepth/2018/9/25/tunisian-women-stand-up-for-right-to-marry-non-muslims
--------
Pakistani Women Selected for Facebook's Leadership Programme
Tooba Masood
September 26, 2018
KARACHI: For Kanwal Ahmed, Soul Sisters Paki­stan (SSP) — a Facebook group she started five years ago — was just an idea she developed for herself and the women around her.
However, around two months ago, things changed when Facebook got in touch with her with two opportunities — the first, a fellowship in the first global Facebook community leadership programme; and second, the social media giant's initiative for entrepreneurs in collaboration with 'Idea Croron Ka'— which is a reality show on Neo TV that gives entrepreneurs the opportunity to pitch their ideas to potential investors.
Joining Ms Ahmed on the reality show segment are five other women from Pakistan — Binish Umair and Ishroon Nazish who run the Karachi Schools Guide group on Facebook, Saba Mohsin Shaikh of Karachi Chefs at Home, Marham's Asma Omer, Rabia Aziz-Rizvi of Special Needs Pakistan and Nadia Patel Gangjee of Sheops.
Ms Gangjee will also be participating with the SSP's founder in the Facebook leadership programme.
"As per the Facebook leadership programme, I will be working with Facebook on developing my leadership skills and vision for SSP that will be backed with some funding from Facebook," Ms Ahmed said.
Discussing the 'Idea Croron Ka', Ms Ahmed (who has more than 83,000 women on her group) explained that the social media giant had handpicked a few online community groups from Pakistan and asked the group admins what they would do with the funding. In the latest season, these women would have the opportunity to share their vision and each of them would receive a grant of up to $20,000.
"We've been inspired by the many positive stories of what happens when people come together to support each other – from women entrepreneurs and school teachers to families with special needs. That's why we're committed to helping Pakistanis build community and are delighted to be announcing this partnership with Idea Croron Ka," said Clair Deevy, APAC Director of Community Affairs at Facebook.
Support groups
Talking to Dawn about SSP, Ms Ahmed said: "I wanted us to be able to express ourselves freely without the fear of being judged in a society that often silences our voices. Growth was never the aim. But amplifying our voices always was. So for me, the fact that SSP is finally getting the opportunity to develop this way is both exciting and motivating."
For Ms Aziz-Rizvi of the Special Needs Pakistan community, her group reaches out to people from all over the world.
"We have members who have differently abled children, siblings, parents, members who want to learn more about syndromes, diseases and special education even members who just want to learn how to be compassionate, tolerant and kind," she said.
"The group started in 2013 after I gave birth to my daughter Aaliya, who was born with Apert Syndrome. There was no guidance, no support group and no one to understand my anguish. I realised how many mothers and families must be struggling just to keep themselves sane from the chaos of the medical dilemmas. So I started to blog about my daughter, her experiences, hospital traumas, her journey and how people treated her. My Apert Rose started a movement of followers on Facebook and ever since I've been writing," she added.
Binish Umair's random idea led her and her friend Ishroon Nazish to start Karachi School Guide about four years ago when Ms Umair was looking for a school for her child.
"In the first year we had about 200 new members every month but now we have 97,000 members. We don't just look at schools but also parenting issues, teachers share their problems with us and we also have school managements on board. The group acts as a bridge between parents, students, schools and tutors," she said on Tuesday.
Talking about Sheops — which started out as a small Whatsapp group but now has 150,000 members — Ms Gangjee said: "When I started Sheops I never thought it would go this far, go international and partner with companies like Facebook.
"Sheops is Pakistan's first online women's marketplace and community facilitating women entrepreneurs and women-oriented businesses, to start and scale their businesses leveraging technology; via a safe, bespoke platform. We also train and assist stay-at-home women to monetise their talents, turning them into a business, in effect increasing digital and financial inclusion of women," she added.
https://www.dawn.com/news/1435054/pakistani-women-selected-for-facebooks-leadership-programme
--------
Radicalised Irish Woman Claims There Are 150 Islamic Extremists Living In Ireland
25 SEP 2018
An Irish woman who said she had been radicalised after converting to Islam has said there are up to 150 Islamic radicalists living in Ireland.
Aaliyah (not her real name) also declared that the mastermind of the London Bridge terror attack in July last year, Khuram Butt, visited her several times in Ireland.
The two took several trips around the country to meet other radicals in places like Cavan, Limerick, and Clonmel, according to a new documentary.
She said in the documentary: "They would have spoken about their views and stuff like that in places in Limerick, especially in Limerick.
"In Clonmel as well they would have had a close group of friends."
Ireland's Jihadis" will air on Virgin Media One on Wednesday at 10pm.
It will explore Islamic radicalism and terrorism and its connections in Ireland.
Aaliyah said that she had been influenced by the 9/11 attacks and she converted to Islam after she moved to the UK.
She met Butt through her then-boyfriend, a Pakistani-born UK citizen Raza, who is suspected of operating several internet fraud rackets targeting Irish companies to raise funds for ISIS.
Aaliyah and Raza shuttled between UK and Ireland, and lived in Santry in Dublin between 2015 and 2016.
Raza registered several fake companies as a front for the scam and listed Aaliyah as a director using her Irish name.
While she claimed that Butt stayed with them on several occasions around this time, the officer from the country's counter-terrorism agency told the programme that the gardai stated that he never visited the country.
The follow-up investigation into the London Bridge terror attack which left eight dead and another 48 people injured revealed a direct link between ISIS terrorism in the UK and Ireland when it was uncovered that Rachid Redouane, who was one of the attackers, had been living in Ireland where he was granted residency status.
https://www.irishmirror.ie/tv/irelands-jihadis-documentary-isis-extremism-13303589
--------
Aid Should Focus On Development: Turkey's First Lady
25.09.2018
By Servet Gunerigok
WASHINGTON
Humanitarian aid must include efforts to reduce recipients' dependency on it, Turkey's First Lady Emine Erdogan said Monday.
Speaking at a panel organized by the Turkish SETA Foundation in New York, Erdogan highlighted that humanitarian aid policies should not increase the dependency of the recipients.
"Our [Turkey's] vision of humanitarian aid is not about aid packages or vulnerable people waiting in line," said Erdogan, adding the country's aid covers not only meeting basic needs but also prevention of crises and reducing dependency through development support.
"Therefore, humanitarian aid must also include efforts focusing on development," she said.
Turning to Syrian refugees living in Turkey, who number more than three million and more than half of whom are women and children, Erdogan said Ankara does not provide shelter alone.
"We place special importance on teaching women a profession to help their survival. We provide courses in many areas ranging from hairdressing to computer skills.
"We rehabilitate women who have suffered in the war through development programs and hobby courses and help them discover their potential," she added.
As for children, she said, Turkey works to ensure that they are provided with education and young Syrian people are able to pursue their university studies.
She recalled that Turkey is also providing development aid to Africa.
"In other words, we are, to use a popular phrase, teaching them how to fish instead of providing the fish. We provide training and equipment to Africa that will help them discover their own potential," she added.
Syria has only just begun to emerge from a devastating conflict that began in 2011 when the Bashar al-Assad regime cracked down on demonstrators with unexpected ferocity.
https://www.aa.com.tr/en/americas/aid-should-focus-on-development-turkey-s-first-lady/1263722
--------
Book on Saudi Arabia's First Woman Yoga Instructor Slated For Release In 2019
September 25, 2018
The life of Saudi Arabia's first certified woman yoga instructor Nouf Marwaai is the subject of a new book, expected to hit the stands next year.
Tentatively titled "Nouf: Yogi Who Made Saudi Arabia Fall in Love with an Ancient Indian Science", the biography published by Westland, will be written by well-known film historian and writer Gautam Chintamani.
Marwaai, who played an instrumental role in making yoga legal in Saudi Arabia, was also awarded the Padma Shri by the Indian government last month.
The book will cover her life, her battles with diseases, and narrate how yoga helped her survive against all the odds.
In 2015, Marwaai conducted the first ever International Day of Yoga in Saudi Arabia.
"The journey of Nouf Marwaai highlights the importance of making peace with and healing one's inner self. It is an inspiration for women across cultures to take a stand on what they believe in," said Debasri Rakshit, Managing Editor, Westland.
https://www.business-standard.com/article/pti-stories/book-on-saudi-arabia-s-first-woman-yoga-instructor-slated-for-release-in-2019-118092501037_1.html
--------
Asia's Champion, Iranian Women's National Futsal Team Lacks Funding
25 September 2018
Bankrupt economic conditions in Iran have had its adverse impact on sports, too. Despite winning Asia's championship, Iranian women's national futsal team lacks funding or any form of financial support in Iran.
Iranian women's national futsal team does not have any sponsors, and the women's futsal league has been facing various problems since it began a few weeks ago.
It seemed that winning Asian championship would attract financial sponsors for the Iranian women's national futsal team. Not only this did not happen, but the number of contracts have been fewer than last year's. The managers as well as the private sector have not taken any steps to fund these women.
Tehran's Azad University, one of the oldest in this field, has withdrawn from sponsoring women's futsal. There have been new names in this field, but no special support.
The first week of women's futsal league thus kicked off while a number of national team stars did not have any teams.
The players' financial conditions are also bad. Their Asian championship has not affected their salaries in terms of giving them a raise.
Last week, Shahrzad Mozaffar, former coach of the Iranian women's national futsal team, left the country for Kuwait where she has signed a better contract. Mozaffar's departure has left the women's national futsal team alone. She left basically due to lack of financial stability in Iranian clubs and lack of job security.
Farzaneh Tavassoli, the goal keeper of the Iranian women's national futsal team, had this to say regarding the amount of salaries and contracts of her team players, "Futsal players are fed up because the offers this year are lower than last year, while all prices have soared several folds. Instead of increasing their offers, the players are either playing on contracts similar to last year, or on lower pay contracts. Something that has been discouraging to them." (The official IRNA news agency – September 22, 2018)
The economic crisis in Iran has not only affected futsal, but has had other consequences, as well. Maryam Monazzami, vice president of women's wrestling federation, said the reason the national women's Alish team did not participate in the international tournaments in Lebanon, was the irremediable economic problems. (The state-run ISNA news agency – September 21, 2018)
https://women.ncr-iran.org/iran-women-news/5487-asia-s-champion-iranian-women-s-national-futsal-team-lacks-funding
--------
Aliyeh Eghdam-Doost Sentenced To 9 Months of Imprisonment, 74 Lashes
25 September 2018
An Iranian woman, Aliyeh Eghdam-Doost, a teacher, was sentenced to 9 months of imprisonment and 74 lashes.
Ms. Aliyeh Eghdam-Doost was among six teachers arrested in a teachers' protest gathering in Tehran on May 10. Her trial had been held on September 5, 2018.
Upon the verdict issued on September 15, by Branch 1060 of Tehran's Criminal Court, Aliyeh Eghdam-Doost was sentenced to 9 months of imprisonment and 74 lashes which could be bought for 500,000 Rials.
The six teachers arrested in the May 10 Tehran protest were convicted of "disrupting public order by participating in illegal gatherings" and "defying on-duty officers." The teachers who had gathered outside the Budget and Planning Organization building in Tehran demanded to have their salaries increased to above the poverty line. They also opposed privatization of the country's education.
Ms. Aliyeh Eghdam-Doost, member of the (Teachers') Retirement Union, was arrested along with Mr. Rasoul Bodaghi, member of the board of directors of the Teachers' Association of Iran, Esmail Gerami, Javad Zolnouri, Hossein Gholami, and Mohammad Abedi, each of whom were sentenced to nine months of imprisonment and 74 lashes purchasable for 500,000 Rials.
Iran's teachers took to the streets in at least 32 cities across the country on Thursday, May 10, 2018, to stage protests. Security forces in Tehran violently clashed with the protesting teachers, resulting in the arrest and injury of several teachers.
At the time, some government officials opposed the arrests of teachers. In a public session at the parliament on Sunday, May 13, 2018, Fatemeh Saeedi, member of parliament from Tehran, asserted, "The peaceful gathering of teachers in protest to their horrible living conditions turned violent because of aberrant intervention in disregard for Article 27 of the Constitution, and a group of protesters were arrested."
"During the events in December and January where various strata of people played a role in them, it was emphasized that the people's complaints must be listened to," Saeedi added. "Today, as a teacher, I would like to use this podium so that the voice of teachers is heard… Is it wise to beat and arrest a teacher who is only demanding improvement of their living conditions and the quality of education?" (The state-run salamatnews.com - May 13, 2018)
https://women.ncr-iran.org/iran-women-news/5489-aliyeh-eghdam-doost-sentenced-to-9-months-of-imprisonment-74-lashes
--------
Egyptian Women Reign on Forbes' 'Middle East's Most Influential Women' 2018!
September 26th, 2018
Throughout the history, the powerful women of Egypt who ruled Ancient Egypt were the unusual wonders of their time, like Cleopatra, Hatshepsut, and Nefertiti.
The extraordinary traits in the Egyptian women have not gone extinct throughout the generations, and it is still being transferred from one great generation to the next one. This year, it was really proven as 20 Egyptian women have made it to Forbes Middle East's Most Influential Women of 2018.
Among these 20 women in the list, there are 18 figures in the business and 2 heading governmental departments. Forbes' list is ranked according to the overall revenues of the companies these women led, their current titles, and the growth of entities they had led in the past three years in the business sector. For the governmental departments, their roles, and influence according to the Gross Domestic Products (GDP) was put into consideration.
https://www.albawaba.com/business/egyptian-women-reign-forbes%E2%80%99-middle-east%E2%80%99s-most-influential-women-2018-1191428
--------
URL: https://www.newageislam.com/islam-women-feminism/up-police-abuse-thrash-girl/d/116494
New Age Islam, Islam Online, Islamic Website, African Muslim News, Arab World News, South Asia News, Indian Muslim News, World Muslim News, Women in Islam, Islamic Feminism, Arab Women, Women In Arab, Islamophobia in America, Muslim Women in West, Islam Women and Feminism