New Age Islam News Bureau
16 Jun 2017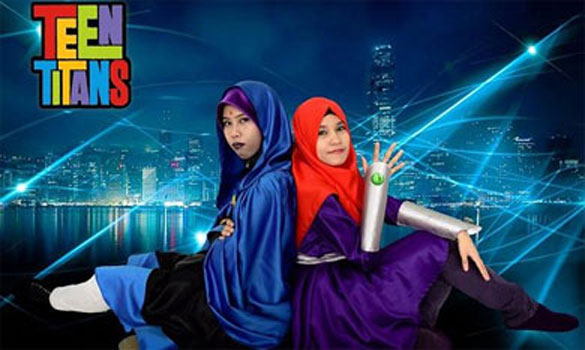 Cosplayer : Airi Cosplayer and Izumi Cosplayer (Malaysia) Character : Raven and Starfire from Teen Titans, Photographer : Ryn
-----
• Canada: Muslim Women File Human Rights Complaint Alleging Islamophobia
• Muslims Are Incorporating Their Hijabs into Stunning Cosplay
• ODM's SteveMboga Throws Super Iftar for Muslim Women in Starehe, Jaguar to CRY Again
• Hijab Hate, Political "Purges" And Green Leadership Vote
Compiled by New Age Islam News Bureau
URL: https://www.newageislam.com/islam-women-feminism/untangling-debate-triple-talaq/d/111567
--------
Untangling the Debate on Triple Talaq
16/06/2017
On the day India's Supreme Court closed for summer vacation, it began hearing the contentious case regarding the validity of triple Talaq. A five-judge constitutional bench headed by Chief Justice J.S. Khehar heard arguments in Shayara Bano vs Union of India from May 11-18 and has reserved the case for judgement. In this case, the petitioner Shayara Bano, a divorced Muslim woman, challenged the constitutionality of the practice of triple talaq along with other practices under Muslim personal law like nikah-halala and polygamy. The Supreme Court, however, clarified that it will only examine the legality of the practice of triple talaq or talaq-e-bidat.
The positions of the various parties in this case differ in terms of reliefs sought as well as the grounds for relief. One position, furthered by the likes of Bharatiya Muslim Mahila Andolan (BMMA), is that triple talaq is invalid as it is fundamentally un-Islamic and hence should not be part of Muslim personal law. On the other hand, the position of the All India Muslim Personal Law Board (AIMPLB) is that triple talaq cannot be subject to fundamental rights challenge as it is uncodified personal law and is an essential religious practice protected under the freedom of religion. A third approach, supported by the government of India and organisations like the Bebaak Collective, is that irrespective of whether triple talaq is part of Islam, it should be struck down as it violates fundamental rights.
Freedom of religion
In adjudicating the case, one of the fundamental questions the court will consider is whether triple talaq is protected by freedom of religion guaranteed under Article 25 of the constitution. In fact, if the court concludes that triple talaq is not part of the Islamic religion, it may not even enter into the question of whether it violates fundamental rights. The text of Article 25 makes it clear that only religious practices are protected and not secular activities related to religion.
However, since the 1960s, Indian courts have restricted freedom of religion further through a unique doctrine known as the "essential religious practices" test. As per this doctrine, Article 25 protects only those practices that are essential and integral to the religion, as determined by the courts. This approach, influenced by colonial-era adjudication of personal laws, has resulted in judges of secular constitutional courts examining the validity of specific religious practices by testing it against religious canons instead of constitutional norms.
While the AIMPLB has argued that triple talaq is an essential practice within Islam, the petitioners, the central government and organisations like BMMA and Bebaak Collective have all argued that it is not. The AIMPLB argued that for the Hanafi school of Islam, which a majority of Indian Muslims adhere to, talaq-e-bidat is an essential practice that has been followed for 1,400 years.
The AIMPLB, however, weakened its case when it admitted to two things – first, that talaq-e-bidat is sinful, patriarchal and bad in theology, and second, that talaq-e-bidat can be avoided by putting a stipulation to that effect in the nikah-nama (the marriage contract). If triple talaq is sinful and also an optional practice, it would be difficult to establish that it is an "essential religious practice" that is protected under Article 25.
However, even if triple talaq is protected under the freedom of religion, it is important to note that there are certain limitations to it within the constitutional text. Under Article 25, freedom of religion is not absolute but is "subject to public order, morality and health, and to the other provisions of this part". Hence, the right to practice triple talaq is subject to morality as well as the fundamental rights to equality, non-discrimination and personal liberty laid out in Articles 14, 15 and 21 of the constitution respectively.
The fundamental rights test
If the court tests triple talaq against fundamental rights, it would be a difficult practice to uphold. The practice of triple talaq gives a Muslim man the right to divorce his wife unilaterally, with the wife not having any say in the matter. However, a Muslim woman can obtain divorce only by approaching the court on the specific grounds provided under the Dissolution of Muslim Marriage Act, 1939. This violates the right to equality and non-discrimination at two levels – first, it discriminates between Muslim men and women as it only confers men the privilege of unilateral talaq and second, it discriminates between Muslim women and women of other religion who possess more legislative rights.
However, invalidating triple talaq for violating fundamental rights is not as straightforward as it seems. It would require the court to examine whether Muslim Personal Law comes within the meaning "laws" or "laws in force" under Article 13 of the constitution. This is because only laws coming within the purview of Article 13 can be struck down for violating fundamental rights. Interestingly, the landmark case on this question is the 1951 judgement of the Bombay high court in State of Bombay vs Narasu Appa Mali, which held that uncodified personal laws are not "laws" or "laws in force" under Article 13 and hence not subject to fundamental rights.
Unlike the Hindu personal laws passed by the parliament in the 1950s, the Muslim Personal Law (Shariat) Application Act, 1937 does not substitute, alter or codify Muslim Personal Law, but merely makes the Sharia applicable for Muslims on matters such as marriage, divorce etc. Hence, parties like AIMPLB have argued that Muslim Personal Law is not codified and is immune from fundamental rights challenge. The AIMPLB's stand however seems duplicitous since it is seeking protection of triple talaq under the fundamental right to religion but also claiming that the practice is not subject to other fundamental rights.
Options before the court
Even if the Supreme Court ultimately invalidates triple talaq, it would also be important to examine the path that it takes in arriving at its judgement. There are multiple approaches of adjudication possible. The path of least resistance would be to not interfere with the practice of triple talaq and rely on internal reform. On this regard, the AIMPLB has already submitted an affidavit stating that it will give an advisory to those officiating Muslim marriages to advise the bride and bridegroom to incorporate a condition in the nikah-nama to exclude triple talaq.
The next option is a minimal interventionist approach which holds that triple talaq is fundamentally un-Islamic or that it is not an "essential religious practice". The court can then invalidate triple talaq by interpreting "talaq" under the 1937 Shariat Act to exclude talaq-i-bidat.
The more audacious option before the court is to test the practice of triple talaq against fundamental rights to equality, non-discrimination and personal liberty. This can be done in two ways. First, by distinguishing the present case from Narasu Appa Mali and interpreting the 1937 Shariat Act to argue that it has already codified Muslim Personal Law and hence subject to fundamental rights. Second, by overruling Narasu Appa Mali and holding that all personal laws, whether codified or uncodified, are subject to fundamental rights. If the court decides to adopt the second option, it would settle the debate on the primacy of fundamental rights over personal laws and also redefine the relationship between the state, religious community and the individual.
Mathew Idiculla and Satya Prasoon are with the Centre for Law and Policy Research, Bengaluru.
https://thewire.in/147729/untangling-debate-triple-talaq/
--------
Canada: Muslim women file human rights complaint alleging Islamophobia
16th Jun 2017
By Barry Ellsworth
RENTON. Ont. (AA): Three Muslim workers have filed a human rights complaint alleging Islamophobia after they were fired from a maintenance project in western Canada, Canadian media reported Thursday.
Amino Rashid told the Canadian Broadcasting Corporation (CBC) that she and two of her colleagues were dismissed from a maintenance project at the Husky Energy facility in Lloydminster, along the Alberta-Saskatchewan border, after reporting incidents of harassment from other staff.
Rashid said two male workers told her "there are people who feel uncomfortable" with her wearing a hijab, and the one of the pair told her to take off the "hoodie", the CBC reported. She told them it was not a hoodie, but a religious headscarf.
Rashid said she reported the incident to management at her employer, Newcart Contracting Ltd. – the firm had been contracted by Husky Energy to do the maintenance work at the Lloydminster facility – but the harassment continued. The two other Muslims were also targeted with remarks a few days later on June 3.
That same day, the three were dismissed.
"I was shocked," Rashid told the CBC, "because usually in a situation like that you fire the person who was the one who was being the bully. You don't fire the victim. You don't fire the person who was trying to stand up for themselves."
Rashid said that when she was hired, supervisors for both Husky and Newcart said they had no problem with her wearing a hijab.
On Tuesday, the three filed complaints with the Alberta Human Rights Commission, as well as Husky, and when informed of the incident, Husky launched an investigation.
"Given the seriousness of these allegations, we will be investigating with the contractor to ensure all of Husky's policies and procedures were being followed," company spokesman Mel Duvall told the CBC. Husky, a large energy company in the Alberta Oilsands, requires all its contractors to follow a workplace diversity policy.
Newcart officials declined direct comment on the situation, but did note that more than 30 percent of its workforce is born outside of Canada.
Reaction on a Facebook page dedicated to the incident was mixed, with some citing safety rules regarding headgear on a work site.
One person wrote: "Safety rules apply to everyone, there's no religious exceptions. Do Muslims want to be treated equally or are they asking for special privlages (sic) here??"
Another commented: "Not a safety concern: the employer clearly says it's not an issue."
http://muslimnews.co.uk/news/islamophobia/canada-muslim-women-file-human-rights-complaint-alleging-islamophobia/
--------
Muslims Are Incorporating Their Hijabs Into Stunning Cosplay
06/15/2017
Cosplaying knows no bounds.
A growing number of Muslim women are starting to cosplay, and in doing so, finding creative ways to integrate their modest clothing styles and hijabs into their costumes.
Cosplay — short for costume play — is a form of performance art where participants dress up as characters, often at various science fiction and comic book conventions.
One popular way for Muslim women to partake is by turning their hijabs into a character's hair or wearing nude-coloured clothing and modifying traditional get-ups to be more in line with their beliefs.
Kira, a Malaysian cosplayer, told Mashable that she decided to become involved in cosplay after she met another hijab-wearing Malaysian cosplayer, and was inspired to try incorporating her hijab into costumes.
"Around seven years ago I attended an event and saw a hijab cosplayer ... and her costume was modified to that suitable for a Muslim," she said. "At that time it was hard to find [any] hijab cosplayers."
Kira, who goes by Saakira Cosplayer when she's in costume, said she began dressing up in this way in 2013.
"[Cosplay gives me a chance to] show my love for the character and at the same time, cover up," she said.
Kira, who has dressed as Powerpuff Girls and Sailor Moon characters, among others, also told Mashable she analyzes the characters she picks first to make sure their clothes don't have elements from other religions.
The 23-year-old is one of many cosplayers regular featured on the Facebook page Hijab Cosplay Gallery, which was created in 2013 and showcases cosplay looks from Muslim women.
Hafizah Rashid, 33, is another Malaysian cosplayer. She told Al Jazeera cosplayers need to understand their characters before they can try to portray them. She and her sisters regularly spend months working on their costumes and studying their characters before participating in conventions and competitions.
"I choose characters that don't reveal skin and hair. Because of that, most wear body armour," Rashid said.
Malaysia has emerged as a particularly big star in the world of Muslim cosplay. The country's first ever hijab-dedicated cosplay convention, Japan Otaku Matsuri, was held in April. The two-day long event took place at a mall near Kuala Lumpur, and attendees disguised their hijabs as hair and capes.
Twenty-year-old Nur Zainina Ruzana binti Zulkifli, who goes as Nuzaru when she's cosplaying, attended the convention and competed for the top prize dressed as a mix between Princess Kida from the Disney's "Atlantis" and a hooded character from the Assassin's Creed video game series. She told Al Jazeera she likes to pick characters who inspire her.
"I love Princess Kida because she's a really, really strong and tough independent woman. She stands up for what she believes in. And she's not really afraid of anything," she said.
But the concept of Muslims participating in cosplay isn't limited to Malaysia.
In February, Saudi Arabia held its first Comic Con. The event included a separate tent for women where they could take off their abayas and show off their costumes.
And in England, Dania Khalil, who goes by the pseudonym Hijabi Hooligan, sparked headlines when she dressed up as Captain America, as many believed she was American and making a political statement during U.S. President Donald Trump's campaign.
"I never meant it as a statement in any way," the 22-year-old said. "But I feel quite strongly about my identity as a hijabi woman and my right to do what I love. And if I were American, then my right to be a citizen. So I don't mind if people see it as a message."
These women are proving that cosplay is an unlimited hobby as long as you're willing to be creative.
http://www.huffingtonpost.ca/2017/06/15/hijab-cosplay_n_17125496.html
--------
ODM's SteveMboga Throws Super Iftar for Muslim Women in Starehe, Jaguar to CRY Again
JUNE 15, 2017
ODM MP candidate for Starehe seat Steve Mbogo on Wednesday evening spent a fortune as he feted Muslim women from Pangani and South B estates during this holy month of Ramadhan.
The over 1,000 women from humble backgrounds were treated for Iftar by the ODM MP candidate at City Stadium during the colourful event that was also attended by his Muslim wife.
Speaking during the event, Mbogo called on the women to maintain peace and harmony during the campaign period even as he urged them to vote for him if they want a development conscious leader in Starehe.
Mbogo is front runner in the Starehe Constituency race which has also attracted two others; Boniface Mwangi of Ukweli Party and Kanyi Njangua of Jubilee Party.
https://www.kenya-today.com/politics/odm-stevemboga-throws-super-iftar-muslim-women-starehe-jaguar-cry
--------
Hijab Hate, Political "Purges" And Green Leadership Vote
16.6.2017
The Green League is set to choose a new chair to replace incumbent Ville Niinistö this Saturday. According to a survey by Helsingin Sanomat, the majority of members are still indecisive over their pick. Of the six candidates up for election, MP Emma Kari polled the highest at 15 percent among the general population. MP Touko Aalto came second at 10 percent. Among party members, a quarter announced they supported Kari in her bid for chairmanship. A similar poll by Aamulehti placed Aalto first.
Unsurprisingly, all the candidates for the role said fighting climate change was their main priority, reveals Aamulehti's questionnaire.
Candidates will have to campaign hard to make themselves household names like predecessor Ville Niinistö; 65 percent of Finns did not know who the candidates even where, similar to 46 percent of Green League supporters.
Hate crimes on the rise
Helsingin Sanomat tackles the prejudice hijab-wearing Muslim women have to face and the growing number of racist hate crimes on its front page. The daily interviews Angela Olsson, a young woman who converted to Islam at 17. Olsson says she experiences harassment and discrimination because of her headscarf on a regular basis, as do many other Muslim women.
Another interviewee, Suaad Onniselkä, a teacher at Vesala upper secondary school, says she does not believe racism and the rise of the Finns Party correlate.
"Racism is not a new thing in Finland, but comes in waves. Usually it can be explained by poor economic situations," Onniselkä tells the paper.
The latest statistic about hate crimes are from 2015, and saw their amount rise by half in Helsinki from the previous year. Statistic show that in Helsinki, 45.7 racist hate crimes were registered per 100,000 residents, while the figure was 22.6 in Espoo and 22.4 in Vantaa. A total of 1250 hate crimes were reported in Finland that year.
But only 20 percent of hate crimes are believed to be actually reported to police however, a researcher interviewed by the paper points out.
Finns Party purge
Members of the parliamentary group New Alternative have started what Ilta-Sanomat calls a "purge". The group consists of ministers belonging to the moderate wing of the populist Finns Party, who defected after right-wing nationalist Jussi Halla-aho assumed the role of Finns Party chairman.
New Alternative ministers have fired assistants and other staff loyal to Halla-aho. Minister of Economic Affairs and Employment Jari Lindström had to let three of his assistants go, and several other staff members have been caught in crossfire between the two groups, having to make a snap decision about where their loyalties lie.
Former Finns Party chair Timo Soini accuses the far-right nationalist group Suomen Sisu of orchestrating the rupture of the party.
https://yle.fi/uutiset/osasto/news/fridays_papers_hijab_hate_political_purges_and_green_leadership_vote/9673804
--------
URL: https://www.newageislam.com/islam-women-feminism/untangling-debate-triple-talaq/d/111567
New Age Islam, Islam Online, Islamic Website, African Muslim News, Arab World News, South Asia News, Indian Muslim News, World Muslim News, Women in Islam, Islamic Feminism, Arab Women, Women In Arab, Islamophobia in America, Muslim Women in West, Islam Women and Feminism