New Age Islam News Bureau
12 Jun 2015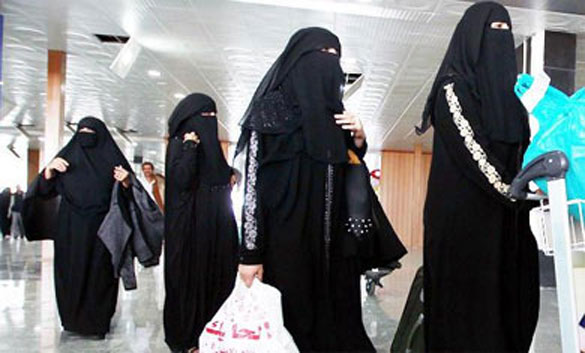 A plan by the Passport Department to allow women to travel without permission from their mahrams has been welcomed by women leaders, saying it would make businesswomen contribute more effectively to economic growth. (AFP)
----------
• Iran Allows 500 Women to Attend Men's Volleyball World League Games for the First Time
• American Muslim Nurses Dispel Misconceptions
• High-Tech Hijab to Make Muslim Women Cooler and Comfortable
• Variant Space: Exploring the Female Muslim Experience through Art
• Al Jazeera America Accused of Bias against Non-Arabs and Women
• Malaysia: Remove Exception to Marital Rape in the Law
• State Of Children in Pakistan: Being A Child In PoK: Not Great, But Better Than Rest of Pakistan
Compiled by New Age Islam News Bureau
URL: https://www.newageislam.com/islam,-women-and-feminism/new-age-islam-news-bureau/unrestricted-movement-%E2%80%98would-enable-saudi-women-to-contribute-to-growth%E2%80%99/d/103463
----------
Unrestricted Movement 'Would Enable Saudi Women to Contribute To Growth'
12 June, 2015
ABHA: Several Saudi women here have welcomed the news that the Passport Department plans to draft regulations that would allow women to travel without permission from their Mahrams.
Businesswoman Nura Al-Rafi'e said that the plan would help women sort out their business abroad, and see them contribute more effectively to economic growth.
Journalist Khadija Al-Qahtani said there was a need to take more decisions that would assist women. The Arab world needs the contribution of Saudi women, she said.
Saudi women traveling abroad respect the Kingdom's laws by dressing appropriately and ensure that they represent their country in the best possible manner, she said.
Mariam Al-Jaber, a journalist at Al-Riyadh newspaper, said social media networks have seen women make unprecedented contact with the outside world. They would become more successful if other similar decisions are taken, she said.
Khalid Jelban, a family and community doctor at King Khaled University, told Arab News that many Saudi women are highly educated, having received their degrees from top universities abroad.
They also proved themselves when they participated in international conferences on scientific, medical, cultural and economic matters. "This has boosted their confidence and enabled them to become successful on the international level," he said.
This has also helped to shatter the stereotype that Saudi women are spoiled and do not want to work or participate in community activities, he said.
Maj. Gen. Sulaiman Al-Yahya, director general of the passport department in Riyadh, said earlier this week that the rules would be based on the reasons for travel, not age.
The procedures to allow women to travel without permission would include the interior, justice and social affairs ministries, and other bodies, he said.
He said the passport department complies with court decisions that allow women to travel abroad, or get passports issued and renewed without the approval of their parents or guardians. These were in line with laws in "advanced countries," he said.
http://www.arabnews.com/featured/news/760751
---------
Iran Allows 500 Women to Attend Men's Volleyball World League Games for the First Time
12 June, 2015
In a first, Iran has allowed 500 women to enter the stadium to watch men's Volleyball World League Games that will be held in Tehran on 19 June.
Iranian authorities, however, are afraid of a showdown with the hardliners and are planning to deploy several layers of security.
Security personnel related to the interior ministry as well as the sports and youth ministry would ensure a tight security cover around the stadium with the help of Tehran police during the finals of the FIVB World League games.
Fatemeh Salimi, an official from Tehran Provincial Sports and Youth Department, told the Iran Front Page that his office is making security arrangements for accommodating 500 women during the men's volleyball match.
He noted that the security has been heightened given the sensitive nature of the event, which is a first in the country. According to NBC, a limited number of women, mainly families of players, will be allowed into the stadium for the World League games.
"I guess a limited number of women, mainly families of national team players, will watch the (coming) volleyball games," vice president for Women and Family Affairs Shahindokht Molaverdi, part of the Cabinet of moderate President Hassan Rouhani told the Associated Press.
Rouhani, who is a reformist politician, believes it is a good start for the largely conservative country.
"If it practically happens a few times, the concerns [raised by Islamic hardliners] will be completely removed and it will be proven that allowing women to watch men's sports matches is not problematic," Molaverdi added.
Since the 1979 Islamic Revolution in Iran, women generally have been banned from entering the stadium for watching any men's sports event.
Senior Iranian clerics have been opposing the move to allow women into the stadium as the sportsmen wear revealing clothes and the fans at times shout obscene chants.
In April, Iran had finally released an Iranian-British woman who was jailed in Tehran for taking part in a protest against a ban on women attending some men's sporting events.
Ghoncheh Ghavami was under arrest for almost 10 months before she was released in April. Ghavami was arrested in June 2014 outside Tehran's Azadi Stadium, where she and others were demanding that women be allowed into the stadium to watch a volleyball match between Iran and Italy, Reuters had reported.
http://www.ibtimes.co.in/iran-500-women-allowed-attend-mens-volleyball-world-league-games-first-time-635387
---------
American Muslim Nurses Dispel Misconceptions
12 June, 2015
WASHINGTON – Dealing with patients from different cultural and religious backgrounds, American Muslim nurses have been regarded as a forefront in correcting Islam image and dispelling misconceptions despite increasing anti-Muslim sentiments.
"It's using the faith to help me navigate those issues. I want to create a good outcome," Naj Bazzy, R.N., a Detroit clinical transcultural nurse, told Nurse.com.
"I'm a patient advocate. But my faith is what informs all of that. Being Muslim is what makes me the best nurse I can be."
Amid increasing negative stereotypes, negative portrayal of Muslims can complicate the medical field, according to Arshia Wajid, founder and president of American Muslim Health Professionals and a consultant at Huron Consulting.
Bazzy is one of the nurses who have been facing troubles in their work from patients who refuse their care after noticing their veil.
Aisha Hasan-Rasool is another Muslim nurse who wears long sleeves under her lab coat and a headscarf.
Then patients ask where she's from, "I tell them Buffalo, New York," said Hasan-Rasool, RN, WHNP-BC.
Hasan-Rasool is a nurse practitioner at a small women's health clinic in Duluth, Georgia.
"I haven't ever had anybody say anything offensive," she said.
"There are people who have different opinions and beliefs from me on a lot of things. I have to approach them wherever they are, not imposing my outlook on anybody."
Nevertheless, Arshia Wajid, MBA, MPH, founder and president of American Muslim Health Professional which seeks to "empower Muslim health professionals to improve the health of Americans," admits that challenges are huge.
"Islamophobia is huge," said Wajid.
"There's a lot of anti-Muslim sentiment in the media."
More Care
Working to overcome growing challenges, some nurses choose to offer their patients more care to break barriers.
"You have to spend extra time just to make sure your patients are comfortable with you," said Samiya Siddiqui, who spent six years in inpatient care at Phoenix Children's Hospital before working at the hospital's outpatient GI clinic.
Siddiqui, who was born in the U.S. to Pakistani parents, said she noticed her young patients and families pressed their call buttons more often when other nurses cared for them.
Breaking barriers, she started offering more care to correct misconceptions about her faith and hijab.
"Some of the patients are afraid when they see someone with a headscarf," said Zainub Rasheed, RN, who works at Florida Hospital in Tampa.
"They think automatically that you're a terrorist."
Yet, the presence of Muslim nurses in hospitals can prove very helpful in many cases, where cultural differences pose as a barrier.
Shazia Memon works in a pediatric intensive care unit at New York-Presbyterian Morgan Family Children's Hospital in Spanish Harlem.
In many cases, she senses relief in her Muslim patients and families when she introduces herself as their nurse.
When a child is beyond recovery and physicians talk to the families about turning off life support, the family might say, "We don't want to let go, we want to leave it in God's hands," she said.
"A lot of nurses have a hard time understanding that. But I understand that faith in God. I don't know what I myself would do."
"That's when I need an imam (a Muslim spiritual leader)," she said.
http://www.onislam.net/english/news/americas/487391-american-muslim-nurses-dispel-misconceptions.html
---------
High-Tech Hijab to make Muslim women cooler and comfortable
12 June, 2015
Veil founder Ahmad Ghanem launches a creative Hijab line after he took inspiration from Nike.
Finally!!! An hijab you can wear come rain come sunshine. A crowdsourced hijab line has been launched and developed by Veil with the latest in fabric technology.
Ahmad Ghanem, the 22-year old behind Veil, told BuzzFeed his product is the world's first climate-adaptive hijab and keeps wearers 7-10 degrees Fahrenheight cooler than a standard hijab, which can be uncomfortable on hot days.
Ghanem also noted he got pointers from his friends who wear hijab on the fabrics and styling that would make the Cool Dry a versatile, comfortable project.
The Cool Dry was designed for "lifestyle and comfort," but can be used for athletic wear with its sweat-wicking and climate adaptive properties.
It can also be used as a scarf and currently comes in black, Silver Lake blue, and bright white.
It's not the first hijab to be water-repellant, but it's good at that too.
Ghanem said, "I want to continue to innovate, revolutionize, and change the way people see the hijab. These women are the strongest and streadfast, and they deserve everything. The hate and verbal abuse many of them receive is wrong and unfair, and I hope my brand can inspire them to go out and become what they want to be."
Check out their Kickstarter video below. Pre-ordering is available until June 20th. Follow Veil on Facebook, Twitter, and Instagram for updates on Cool Dry.
http://pulse.ng/religion/islam-technology-high-tech-hijab-to-make-muslim-women-cooler-and-comfortable-id3855836.html
---------
Variant Space: exploring the female Muslim experience through art
12 June, 2015
A truly modern collective, Variant Space founders Nasreen Raja and Nasreen Shaikh Jamal Al Lail met not at art school or in a studio, but on Instagram. We caught up with one half of the team to learn more about their London-based, all female, all Muslim, creative collective.
Both artists identify as British Muslims but with deep connections to other places, and explore ideas of identity, culture, faith and gender through their work. Nasreen Raja specialises in printed textiles, inspired by childhood memories of Pakistan as well as growing up a British Muslim. Nasreen Shaikh Jamal Al Lail is a photographer raised partly in Saudi Arabia, creating mixed media pieces.
Together, the two have created Variant Space, a collective of Muslim female artists who are passionate about developing discourses through their works of art: "In essence, our sole objective is to display variations in talent within the Muslim female community and conquer the stereotypes."
"We formed the collective after having met on social media – Instagram," says Nasreen Jamal Al Lail. "It began as an online archive last year, and then organically developed into a community of artists. Having come from artistic backgrounds ourselves, we appreciated the richness and diversity in the various artistic forms the community offered.
"We were also acutely aware of the huge lack of platforms allowing Muslim women to take control over how they wished to portray themselves – most media representations were rather poor, limited and, at times, patronising as well as derogatory. Our main motivation to set up the space was to overcome these obstacles with artistic sense. It's about taking charge; about freedom and choice."
The collective's aim is to subvert "current misused and ill-drawn" conclusions in popular culture about Muslim women through creative expression. This can take the form of workshops, talks and exhibitions, all aimed at enabling the artists to be part of a "constructive interconnected environment".
It wants to capture not just the intricacies and nuances of the British female Muslim experience, but of Muslim female experiences from across the globe. "We have artists from all over the world – Egypt, Afghanistan, just to name a few," says Nasreen. "And they all contribute to a finely woven fabric in our collective. What is most unique is our shared vision of empowerment through artistic representation."
Last year the collective took part in a project alongside the Made in Europe charity – an anti-poverty, environmentalist movement led by young Muslims – at the Living Islam festival, creating an installation piece with recycled objects, as well as other pieces, for a pop up art show.
Continuing its global approach, Variant Space will be taking part in Shubbak Festival this July, taking place all over London, including the Hayward Gallery and Barbican, which aims to showcase new talent and works from some of the most exciting young artists from the Arab world.
Nasreen is keen to point out that the collective is not inward looking, not self-isolating as a Muslim collective – its aim is to include everyone in a dialogue: "Variant Space does not prescribe to any 'isms' and it is not concerned with the process of 'othering'", she says.
"The formation of any group almost always forces you to adopt a standard or a label, but we are ultimately addressing a deficit through collective empowerment. This is not about adopting victim mentality and accusatory polemical art, but an effort at fluid interaction between the artists and the audience."
http://tle-online.com/entertainment/arts/variant-space-exploring-the-female-muslim-experience-through-art/11/06
---------
Al Jazeera America accused of bias against non-Arabs and women
12 June, 2015
The former head of Al Jazeera America's documentary unit has sued the news network, claiming it is biased against non-Arabs and women in stories that it produces and in how it treats employees.
Shannon High-Bassalik, fired in February after working through half of a three-year contract, said the network's recently ousted chief executive, Ehab Al Shihabi, left meetings when women were speaking and admitted that he tried to favor an Arab point of view on the air to please Ajam's Qatar-based ownership.
Al Jazeera America called High-Bassalik's accusations unfounded and said she made none of them during an investigation of her employment record conducted by an outside law firm.
The troubled news network, an offshoot of the international Al Jazeera network, has reached few viewers in the United States. Through lawsuits and resignations over the past two months, a picture has emerged of a place that has consistently fallen short in its efforts to give Americans a hard-news, unbiased alternative to CNN, Fox News Channel and MSNBC.
"As ratings failed to live up to the expectations of management, Al Jazeera openly decided to abandon all pretense of neutrality in favor of putting the Arabic viewpoint front and center, openly demanding that programs be aired that criticized countries such as America, Israel and Egypt," High-Bassalik's lawsuit stated.
She said she was told that if abandonment of journalistic integrity led people to regard them as terrorists, "that was an acceptable risk for the company to take".
High-Bassalik said that Al Shihabi told her that the company should be regarded as Al Jazeera in America, rather than Al Jazeera America.
Al Shihabi was ousted in early May, shortly after another employee sued, alleging he was fired when he complained about a colleague's antisemitic and sexist behavior. The company's senior vice-president of newsgathering, head of human resources and communications chief – all non-Arab women – each resigned over a two-week period.
The former documentary chief, who has also worked for CNN, NBC and MSNBC, said she was told that many Arabs believe the September 11 terrorist attacks were staged by the CIA to wage war on Arabs, and that this was a point of view the company should be guided by.
High-Bassalik said that she was told to hire an Arabic woman as a producer even though the person was unqualified and there were several non-Arabs ready for promotion. She claimed that performance ratings for Arabs were systematically upgraded, while non-Arabs saw their ratings go down.
She accused the head of the company's investigative unit of tweeting that "Israelis are like Hitler". During coverage of the 2014 conflict in Gaza, she said she was told the mission was to cast Israel as the villain and emphasize the Arab and Muslim point of view.
In a statement, Al Jazeera did not address High-Bassalik's specific allegations and did not respond to a question about them.
"We regret that Ms High-Bassalik has now decided to make unfounded accusations against Al Jazeera and its employees," spokeswoman Jocelyn Austin said. "Al Jazeera values and respects all of its employees, and has zero tolerance of any form of discrimination."
The company's new CEO, Al Anstey, told his staff last month that integrity "is the cornerstone of everything we do internally at Al Jazeera America. Respect, transparency and the best practice of management is the only standard we will adhere to, and we expect nothing less."
In the lawsuit, High-Bassalik said she was told she was fired for being an ineffective leader who had trouble getting along with others. She is suing for back pay and unspecified damages. The Connecticut resident is currently unemployed, said her lawyer, Douglas Wigdor, on Thursday.
http://www.theguardian.com/media/2015/jun/11/al-jazeera-america-accused-bias-non-arabs-women
---------
Malaysia: Remove Exception to Marital Rape in the Law
12 June, 2015
The Joint Action Group for Gender Equality (JAG) is deeply disappointed by the de facto Law Minister, Nancy Shukri's, statement on June 10 that the government has decided not to criminalise marital rape. Currently, Section 375 of the Penal Code contains an exception that states that sexual intercourse by a man with his wife is not rape. This is regardless of the wife's consent or lack thereof.
The exception reflects a lack of awareness by legislators of the dynamics of rape, and especially the impact of rape within marriage.
Statistics gathered by religious authorities in Selangor state that 'rough sex' is one of the top reasons for divorce amongst Muslim couples. This trend of sexual violence within marriage is further reflected by police statistics from 2013, which show that 31 percent of victims faced sexual violence from their partners, or former partners including boyfriends, fiancés, and ex-husbands.
The Parliamentary Select Committee report in 2004, which stated that recognising marital rape would conflict with Shariah law and other religions, is a grave misuse of religion as no religion would ever espouse any form of violence or coercion in marital relations.
There was an attempt to criminalise rape within marriage in 2007 through Section 375A of the Penal Code, which states that any husband who causes fear of death or hurt to her life in order to have sex shall be punished for a term which may extend to five years.
Unfortunately, Section 375A amounts to a compromise which fails to recognise the current reality of many married women who have sex forced upon them by their husbands, by not just physical means, but mental, emotional and economical means as well.
Given the above, it is alarming that the home minister has revealed that no charges have ever been filed under Section 375A of the Penal Code since it came into force on Sept 7, 2007.
Notwithstanding that Section 375A is an inadequate tool to combat rape in marriage, this statistic reflects the government's failure to uphold its legal obligations under UN Convention on the Elimination of All Forms of Discrimination against Women (which Malaysia ratified in 1995) in creating awareness of women's rights.
There has been little effort on the part of the government to highlight that husbands are not supposed to force their wives to have sex; that wives who have been raped by their husbands can take legal action against them; or to address the difficulties, shame, and embarrassment faced by women on reporting crimes of such an intimate nature.
It is shocking that our country continues to allow marriage to be a licence for a man to force sex on his wife. The reality is that rape and sexual violence occurs within marriage, and sadly represents a common form of domestic violence.
The continued refusal by the government to fully recognise marital rape as a crime is demeaning to women nationwide as it denies a woman the right both over her body and to say no in a marriage. Furthermore, it exposes our lawmakers' outdated acceptance for the absolute submission of a wife to her husband.
JAG urges the government of Malaysia to remove the exception to marital rape in the law as a clear rejection of the violence that has been perpetrated against women under the guise of marriage, and to increase its efforts to combat domestic sexual violence in our country.
Endorsed by the Joint Action Group For Gender Equality:
1. All Women's Action Society (Awam)
2. Association of Women Lawyers (AWL)
3. Perak Women For Women (PWW)
4. Persatuan Kesedaran Komuniti Selangor (Empower)
5. Sabah Women's Action Resource Group (Sawo)
6. Sisters In Islam (SIS)
7. Tenaganita
8. Women's Centre For Change (WCC)
http://www.malaysiakini.com/letters/301618
---------
State of Children in Pakistan: Being a child in PoK: not great, but better than rest of Pakistan
12 June, 2015
ISLAMABAD: As bad as it is to be a child in PoK, it is better than being a child in the rest of Pakistan. That is the assessment of the State of Children in Pakistan report issued recently by the United Nations Children's Fund.
According to the report, which is the first government-endorsed study by UNICEF, the PoK government has had a keen focus on children's issues, particularly education, which gets 26% of the region's regular budget and nearly 8% of the development budget. In addition, there are other factors that enable a slightly better environment for children in PoK relative to the rest of Pakistan: greater social mobility, and the absence of feudal social structures, which are seen as an impediment to education in most parts of Pakistan.
This, however, does not mean that all is well for the children of AJK. Gross enrollment in primary schools, for instance, is at 95%, which is relatively high, until one considers the fact that only 33% of boys and only 19% of girls ever even make it to high school, let alone graduate.
There are 2,690 primary schools, 994 middle schools and 683 high schools in the ten districts of PoK. Enrollment numbers appear to be somewhat similar for boys and girls at all levels, though there is a significant dropout rate at higher levels: at the primary school level, 122,044 boys to 126,835 girls, in middle school 56,007 boys to 50,452 girls. The total number of students attending public schools in PoK is 396,258 of which 200,444 are boys and 195,814 are girls.
AJK also does not appear to have the 'ghost school' problem that the rest of Pakistan has. Meanwhile, at least 20,000 students in the region attend 426 religious madrassah where they receive boarding and lodging that is often free. Officials in PoK say there are no unregistered madrassahs in the region and that most are compliant with the 1996 Deeni Madrassas Registration Act.
Juvenile justice
In PoK, the crime rate is low; as such there are few prisoners and convicts in jails, and an even smaller number of juvenile offenders. At the end of December 31, 2011 the population of juvenile offenders is precisely one in Muzaffarabad Central Jail and he is being held on a murder charge. Some incidents of abuse of juvenile offenders in Mirpur jail, with the connivance of the prison staff, have, nevertheless been reported.
Child labour
According to the joint director for labour, child labour in AJK is not as bad as the rest of Pakistan, but it does exist. PoK has a small manufacturing base, and there are no reports of children working in factories. However, there are children working in the services sector like auto repair shops, roadside cafes as well as in agriculture and as domestic servants.
Health facilities
PoK health infrastructure was severely damaged during the 2005 earthquake. Efforts are ongoing to reconstruct damaged hospitals and other health centres. There are approximately, 2,249 hospital beds available, averaging one bed per 1,762 people.
Burden of diseases
There was not a single polio case reported from PoK but diarrhoea is one of the most prevalent diseases among children.
http://tribune.com.pk/story/902150/state-of-children-in-pakistan-being-a-child-in-ajk-not-great-but-better-than-rest-of-pakistan/
---------
URL: https://www.newageislam.com/islam,-women-and-feminism/new-age-islam-news-bureau/unrestricted-movement-%E2%80%98would-enable-saudi-women-to-contribute-to-growth%E2%80%99/d/103463