New Age Islam News Bureau
28 Oct 2016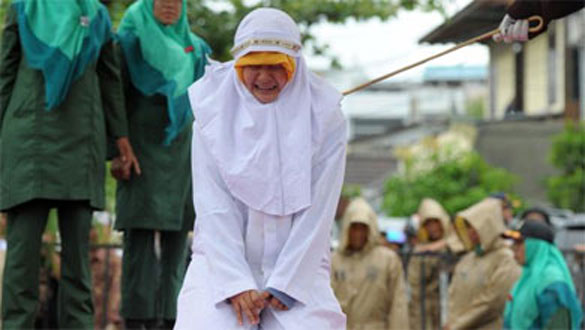 Out of seven couples caught spending time together outside marriage, 13 were caned while one girl was spared after it was discovered that she was pregnant. Picture: AFP / Chaideer Mahyuddin.Source:AFP
-------
• Women Have the Highest Status in Islam: Former Chief Election Commissioner Of India
• Peer Pressure, Identity Crises Drew Quebec Women to Jihad: Report
• Rohingya Women Say Myanmar Soldiers Raped Them amid Crackdown
• Women Safe under Shariah Laws: Muslim Women Activists
• Meet the Lone Muslim Woman E-Rickshaw Driver in East Delhi
• Chechen Female Terror Suspect 'Planned Suicide Attack'
Compiled by New Age Islam News Bureau
URL: https://newageislam.com/islam-women-feminism/unmarried-sex-punishable-public-caning/d/108947
-----
Unmarried Sex Is Punishable By Public Caning In Aceh, Indonesia
October 28, 2016 3:48pm
THERE has been a surge in Indonesians punished by caning for engaging in sexual acts out of wedlock and homosexuality since a law adopted by Indonesia's Sharia-ruled province of Aceh was introduced two years ago.
The 2014 bylaw, known as qanun jinaya, introduced as criminal offences; consensual intimacy or sexual activity for unmarried couples; consensual sex outside marriage and same-sex sexual relations.
The law allows for up to 200 lashes in public as a punishment and has been heavily enforced since it was introduced. Aceh has gained international infamy for its strict Islamic laws.
Amnesty International said more than 114 people were caned in public last year for offences including selling alcohol, gambling, and sex outside marriage. The human rights group said this was a substantial increase from previous years, although there is no official tally of those caned for breaching the province's Sharia law.
On October 17 this year, seven men and six women were caned between nine and 25 times at Al Ikhlas Mosque in Gampong Keuramat village, Aceh for being alone with someone of the opposite sex who is not a marriage partner or relative (khalwat), and committing sexual intimacy outside marriage (ikhtilath).
A pregnant woman who was sentenced to caning will not receive her punishment until after she has given birth to her child. Humanitarian organisations have urged authorities in Aceh to quash her conviction and sentence immediately.
Out of seven couples caught spending time together outside marriage, 13 were caned while one girl was spared after it was discovered that she was pregnant. Picture: AFP / Chaideer Mahyuddin.
In December last year, a woman was viciously caned in public as a punishment for being in "proximity" to a man who wasn't her spouse.
The 20-year-old Acehnese woman, Nur Elita, was said to commit the offence of "kwalwat" — talking or being in "proximity" to a man other than her husband or relative — under the Islamic Sharia law in Banda Aceh, Indonesia on December 28.
Out of seven couples caught spending time together outside marriage, 13 were caned earlier this month while one girl was spared after it was discovered that she was pregnant.
Aceh is the only province of Indonesia that enforces the Islamic sharia law which sees offenders punished by public caning. Canings in Aceh are always carried out in public, drawing large crowds and media attention, according to Amnesty International.
Amnesty International and the Institute for Criminal Justice Reform (ICJR) today called on the Indonesian authorities to adhere to international human rights obligations and end the use of caning as a form of punishment, as well as repeal the provisions of the Aceh Islamic Criminal Code that violate international law.
"Caning contravenes Indonesia's Constitution and is in clear violation of international human rights law and standards. It constitutes a cruel, inhumane and degrading punishment and can amount to torture," a joint statement read.
"(It's) in violation of the UN Convention against Torture and other Cruel, Inhuman or Degrading Treatment or Punishment (UNCAT), and the International Covenant on Civil and Political Rights (ICCPR), to which Indonesia is a State Party.
"Consensual sexual relationships must not be treated as a criminal offence, nor are they a crime against 'morality'."
"Amnesty International and ICJR are also concerned with the authorities' overemphasis on enacting punishments and making a 'moral' example of offenders through public caning."
The UN Human Rights Committee and other expert human rights bodies have previously raised concerns about laws criminalising 'adultery' or other consensual sexual relations outside marriage.
http://www.perthnow.com.au/news/world/unmarried-sex-is-punishable-by-public-caning-in-aceh-indonesia/news-story/0cbad4850e7e1a8a92173d1287a50982
--
Women Have the Highest Status in Islam: Former Chief Election Commissioner Of India
Thursday, October 27, 2016
New Delhi: Women have the highest status in Islam and the Muslim community must see things with a liberal interpretation now, former Chief Election Commissioner of India S.Y. Quraishi said on Thursday.
Speaking in the backdrop of the ongoing debate about Triple Talaq, Quraishi said: "Muslim women have the highest status in Islam and no other religion has such concept of equality."
Giving examples of property rights of women in Islam and right to education he said: "There is a perception that women are suppressed. The government must think that the laws are sacred within a community as they are seen with liberal interpretations now."
"We all (Muslims) should also unite together and not give anyone a chance to interfere with our religious laws," Quraishi said.
Speaking at a function on the 96th foundation day of Jamia Milia Islamia, Vice Chancellor Talat Ahmad said there is a need to focus on education of minority communities in the country, especially the Muslims, for them to progress in society.
"The community will progress only when everyone receives education."
"Given the circumstances, we do not have to let any community remain backward in any aspect," he added.
University Grants Commission (UGC) Chairman Ved Prakash said the country needs to place its education system right. "We need to sit together and interpret in terms of curricular and ensure diversity there in," Prakash said.
The function was held to inaugurate a "Talimi Mela" (educational fair) in the campus.
Various other programmes, including Art and photography exhibitions, lectures by academicians, film screenings and cultural shows were also held at the campus in the ongoing three-day celebrations.
http://zeenews.india.com/news/india/women-have-the-highest-status-in-islam-former-chief-election-commissioner-of-india_1944304.html
--
Peer Pressure, Identity Crises Drew Quebec Women To Jihad: Report
Fri., Oct. 28, 2016
MONTREAL—What draws young Muslim women to an extremist strain of Islam and a life dodging bombs and bullets in Syria or Iraq?
A new report into the realm of female Islamic radicalization in Quebec has found it is a matter of adolescent socialization and the fraught search for an identity as much as a matter of faith.
The study is based on a dozen interviews conducted with those who tried to leave, who thought about leaving, or with family of those who have fled. It tells of teenage girls in Montreal wearing the niqab — a full face covering — to attract male suitors; of the pressure to show religious piety on social media; and of a "virtual sorority" of radicalized females around the globe helping to plan a foreign — and illegal — voyage.
Prepared for Quebec's Conseil du Statut de la Femme by Montreal's Centre for the Prevention of Radicalization, the report comes after a wave of young left or tried to leave the country to join jihadist groups in 2015.
Overall, the report said, between three and seven females from Quebec are believed to have left the country for Syria or Iraq since 2013. Nationally, the researchers estimated that 10 females have gone abroad.
Of the young women interviewed, all performed well in school and were raised in comfortable, middle-class households. But many complained of feeling caught between the demands and expectations of their immigrant families and those of francophone Quebec society.
"Some of them forged an 'identity shell' that resulted in an eventual rupture with the outside world, including their family, their friends and the rest of society," the report said.
Interventions and criticisms of this identity only pushed them further along their path. One young woman recounted her mother scolding her for wearing "terrorist clothing." Another spoke of the argument that ensued when her mother learned of her secret conversion to Islam.
"Each incident or confrontation at the family level reinforces their feeling of being on the right path and having chosen "the good group" over their parents, adults and a society that seems to want to reject them," the report said.
The relationships between members of the group were nurtured at one place in particular, described as "a religious and community centre" where young males and females formed friendships and relationships over their shared religious and world views.
"Described by many as a 'big family,' this place accentuated the process among some of adopting a new identity, of the attraction of certain proposals by jihadist groups in Syria and the gradual emergence of the idea of Hijra (emigrating to an Islamic land)."
The report describes the role played by "charismatic figures" at this centre, who have "implicitly authorized" the growing interest in leaving for Islamic lands.
"Even though such figures don't call directly for the young people to leave Quebec to go to Syria and join jihadist groups, they seem nonetheless to have contributed to the legitimization of Hijra," the report said.
A participant told researchers that one religious leader's speeches during a series of 30 conferences on the life of the Prophet emphasized that there was a conflict between Muslims and the enemies of Islam.
Among females convinced that life in Syria or Iraq would be better than in Canada, there were still reservations, based on reports of temporary marriages intended to fulfil the sexual needs of fighters.
"They seemed to be preoccupied by certain real risks, like being forced into a marriage if they didn't arrive as a couple in the territory occupied by jihadist groups in Syria, or even suffering sexual assault if they were not accompanied by a man," the report said.
Several participants spoke about drawing on the advice of other young women who had already travelled to Syria or Iraq and were offering their experiences via social media. The report said this advice — about travel, about what to expect once there — acted like a "virtual sorority."
"Paradoxically, the perception that they were receiving an honest account that didn't try to minimize the brutal reality of the conflict helped convince the young Quebec women a little bit more of the necessity of going to Syria," the report said.
The young women did seem content with the idea of restricted or traditional roles for the sexes that would be enforced once abroad.
"In the near majority of cases, they did not want to fight like the boys of the group wanted to do, but to start a family," the report said. "In a mix of realism (the poverty) and idealism (the ability to live normally) the young women ultimately wanted to adhere to a very traditional vision of gender roles that they did not think they would be able to fulfil in Quebec without being judged."
https://www.thestar.com/news/canada/2016/10/28/peer-pressure-identity-crises-drew-quebec-women-to-jihad-report.html
--
Rohingya Women Say Myanmar Soldiers Raped Them amid Crackdown
Fri Oct 28, 2016
Dozens of Rohingya Muslim women in Myanmar's Rakhine state say government forces have committed acts of rape or sexual assault against them.
Eight Rohingya women, all from the remote U Shey Kya village, described in detail how soldiers last week raped them at gun point, while raiding their homes and looting property, according to Reuters news agency on Friday.
Myanmar deployed troops to Rakhine earlier this month following alleged attacks on police posts along the border with Bangladesh, which authorities blamed on Rohingya Muslims.
One 40-year-old woman said four soldiers raped her and assaulted her 15-year-old daughter, while stealing jewelry and cash from the family.
"They took me inside the house. They tore my clothes and they took my headscarf off…," she said.
Another woman, 32, described being knocked off her feet by soldiers and repeatedly raped. "They told me, 'We will kill you. We will not allow you to live in this country,'" she said.
The women said the soldiers took gold, money and anything that was valuable from their bamboo huts and burned down village homes and spoiled rice stores by pouring sand on them.
One 30-year-old woman said she did not have clothes or food to eat after everything was destroyed. "I'm feeling ashamed and scared," Reuters quoted the unnamed woman as saying.
Five more women from U Shey Kya also detailed how soldiers had raped them. The accounts were confirmed by at least three male residents of the village and a Rohingya community leader.
U Shey Kya village's official administrator, Armah Harkim, said he was verifying the accounts which most residents believed to be true. The residents said about 150 soldiers attacked U Shey Kya on October 19.
A presidential spokesman accused the villagers of fabricating the news while confirming that government troops had conducted a sweep of the village on October 19.
Most male residents have reportedly left the village as they believed they would be suspected as militants. The women said they stayed behind fearing that the military would burn down empty homes.
Residents said the soldiers dismantled the fences around the houses after the military declared northern Rakhine State an "operation zone."
The UN has called on Myanmar to investigate new reports of human rights violations, including the killing of unarmed people and torching of rural settlements in Rakhine state.
Rights groups say troops have gone on a rampage, which has forced terrified civilians to flee their homes.
Rakhine, where Rohingya Muslims form the majority population, has been the scene of communal violence at the hands of Buddhist extremists since 2012.
Hundreds of people have been killed, while tens of thousands have been forced to flee their homes and live in squalid camps in dire situations in Myanmar and other countries in Thailand, Malaysia and Indonesia.
According to the UN, Rohingyas are one of the most persecuted minorities in the world. The government denies full citizenship to Rohingya population, branding them illegal immigrants from Bangladesh, even as many trace their lineage in Myanmar back generations.
http://www.presstv.ir/Detail/2016/10/28/491011/Rakine-Asia-Myanmar-Rohingya-Muslims-Crackdown-Rape
--
Women Safe under Shariah Laws: Muslim Women Activists
October 27, 2016
New Delhi: Several women activists and female members of the All India Muslim Personal Law Board (AIMPLB) on Thursday insisted that Muslim women are safe under the Shariah laws and there is no need for the government to meddle in their affairs.
"We, the Muslim women from various walks of life, schools of thought and organisations, want to make it clear that the Muslim women are safe and secure under the Muslim Personal Law," Asma Zehra, executive member of the AIMPLB told reporters here.
She said the Muslim Personal Law is well balanced for both men and women and it regards human values, and the ruling BJP is raking up the issue of "Triple Talaq" just for electoral gains.
"As the facts stand today, incidence of divorce among the Muslims is the least and same is the case with polygamy. But, in spite of this, it is projected as if the Muslim men have no other job but to pronounce divorce," she said.
She said that marriage is a contract in Islam, prescribing various conditions, and the women have all the rights to change the terms, and if the terms are not favourable, even the Nikah can be declined.
"If she does not say 'qabool hai' (I accept it), no Nikah can be validated," she said.
Zeenath Mehtaab of the Social Reform Committee, New Delhi, pointed out that the incidence of female foeticide, female infanticide, dowry and ostentatious marriages is the least among the Muslims.
For "the people talking about gender equality and gender justice", President of Jamaat-e-Islami Hind Atiya Siddiqui had a few posers.
"Why 50 per cent representation for women is not there in the legislative bodies in India? What is the percentage of women in judiciary, defence forces, IITs and other top institutions," she said.
"We hope that good sense will prevail on the present-day government and the Prime Minister would be magnanimous in withdrawing the affidavit filed before the Supreme Court for interference in the Shariah laws," Zehra said.
A number of other women activists from various states were also present at the conference.
http://www.news18.com/news/india/women-safe-under-shariah-laws-muslim-women-activists-1305904.html
--
Meet the Lone Muslim Woman E-Rickshaw Driver in East Delhi
Friday, October 28, 2016
Breaking social barriers and beating the odds, East Delhi's Syeda Nasreen-- the sole Muslim woman e-rickshaw driver in the area-- is setting an example. With her head partially covered with a headscarf, Nasreen trawls the by-lanes of Karkardooma for passengers, competing with the male e-rickshaw drivers who dominate the streets, and multi-tasks her household chores.
She can be seen taking passenger from Karkardooma metro station to the district court, covering a distance of 3 km, in umpteen batches through the day. While her alcoholic husband stays at home, she negotiates the mean streets to earn for her family of five.
Around three years ago, when Nasreen invested the pension fund savings from her last job in an e-rickshaw for her husband, she hoped for a glimmering future. Little did she know what the future held for her. When the novelty of the prized possession wore off in a few days, her husband parked the rickshaw for the bottle.
Nasreen realized that she had to take the saddle. With the sole courage that bicycle-riding skills gave her, she soon hit the road plying the e-rickshaw. Apart from all societal constraints, she admits, the toughest part is dealing with sexist competition from male e-rickshaw drivers who are insecure that her success will invite more women to join their ranks.
With one child under her mother's guardianship in Hyderabad, she takes care of the upbringing of other three along with the husband. After dropping kids to their schools in the morning, Nasreen rules the road like a queen!
http://www.outlookindia.com/website/story/meet-the-lone-muslim-woman-e-rickshaw-driver-in-east-delhi/297340
--
Chechen Female Terror Suspect 'Planned Suicide Attack'
28 Oct 2016
Police have arrested the wife of a Chechen terror suspect who was himself arrested in September, after they found evidence that the pair were planning a suicide bomb attack in Austria's Ministry of Defence.
After the 25-year-old man, named only as Adam A., was arrested for shoplifting last month police examined his mobile phone and found Islamic State (Isis) propaganda, videos of Isis beheadings, and instructions for making Molotov cocktail bombs.
The Russian national, who has Belgian connections, is suspected of having set up support operations for Isis, of downloading instructions for how to make a bomb, and of sending large sums of money abroad.
When detectives examined the computer belonging to Adam A. and his wife what they found was even more concerning. Investigators were able to read conversations the couple had had online, when Adam A. was living in Belgium.
The pair met online and began communicating almost exclusively via Skype. At some point the Chechen said that he wanted to plan a suicide attack in Austria, and suggested detonating a suicide belt at the Ministry of Defence.
Adam A.'s 36-year-old wife was arrested on Wednesday morning, as Austria celebrated its national holiday, on suspicion of belonging to terrorist group, prosecutor Erich Habitzl confirmed. Witnesses said she was still wearing a bathrobe when police led her away in handcuffs.
Lawyer Wolfgang Blaschitz, who is representing both suspects, said references to a suicide attack were just "stupid talk" and that they had both been drunk at the time. The judge reminded the woman that drunkenness was against her Muslim faith, and ordered that she be held in pretrial detention.
Austria has seen a wave of people - 260, according to the government, many of them minors and some young women - leave the country to join Isis in Syria and Iraq.
Some have since returned. Around 40 of these are in custody and more than 80 are under close surveillance, according to the interior ministry.
In July a Muslim preacher known as Ebu Tejma at the centre of an Austrian jihad propaganda network was sentenced to 20 years in jail for "brainwashing" dozens of young people as young as 14.
https://www.thelocal.at/20161028/female-terror-suspect-planned-suicide-attack-in-austria
--
URL: https://newageislam.com/islam-women-feminism/unmarried-sex-punishable-public-caning/d/108947
New Age Islam, Islam Online, Islamic Website, African Muslim News, Arab World News, South Asia News, Indian Muslim News, World Muslim News, Women in Islam, Islamic Feminism, Arab Women, Women In Arab, Islamophobia in America, Muslim Women in West, Islam Women and Feminism