New Age Islam News Bureau
5 May 2015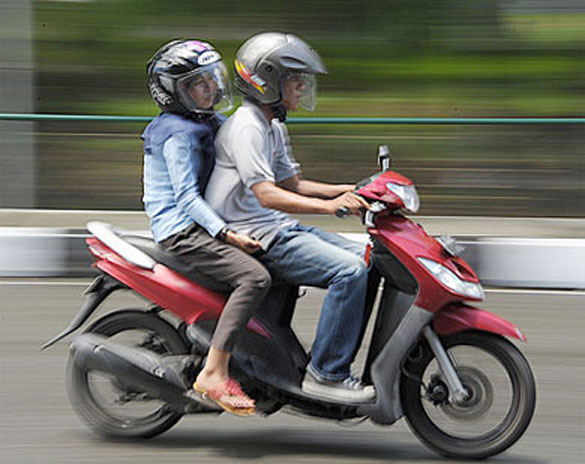 Unmarried Indonesian Couples Banned From Riding Motorbikes As It 'Could Lead To Sinful Acts'
----------
• Communal Hatred Drives Lovers, Hindu Man and Muslim Girl to Suicide
• Muslim Sex: I Am a Woman, and I Am Afraid
• Congo Muslims Question Reasons for Niqab Ban
• Aceh Opts For Same-Sex School Classes
• Brit Muslims Challenge Sexism with UK's First Female-Only Mosque
• Abuse of 5-Month-Old by the 17-Year-Old Mother: 'It Will Continue As Long As Teen Marriages Allowed'
Compiled by New Age Islam News Bureau
URL: https://newageislam.com/islam-women-feminism/unmarried-indonesian-couples-banned-riding/d/102821
---------
Unmarried Indonesian Couples Banned From Riding Motorbikes As It 'Could Lead To Sinful Acts'
05 May, 2015
A district in Indonesia's Aceh has banned unmarried men and women from riding together on motorbikes, a lawmaker said Monday, amid fears that the practice "could lead to sinful acts".
In the latest new Islamic regulation in the conservative province, MPs in North Aceh district last week approved the regulation, which will come into effect in a year.
Lawmaker Fauzan Hamzah said authorities were making "efforts to implement Sharia law fully".
"Unmarried people sitting closely together on a motorcycle is clearly against Islamic Sharia as it could lead to sinful acts," Mr Hamzah told AFP.
Aceh, on the northern tip of Sumatra Island, is the only province in the world's most populous Muslim-majority country that is allowed to implement Islamic law, and gay sex, gambling and drinking alcohol are already punishable by caning.
The province began implementing Sharia law after being granted special autonomy in 2001, an effort by the central government in Jakarta to quell a long-running separatist insurgency.
The latest move to ban shared motorbike rides, which will affect more than 500,000 people on North Aceh, came after one city in Aceh in 2013 prohibited women from straddling male drivers on motorbikes, requiring that they ride side-saddle instead.
The new regulation was the most eye-catching in a series of Islamic bylaws approved in North Aceh on Thursday, which also included a ban on live music performances and the separation of male and female students in school.
The new rules will take effect in May 2016 after a one-year grace period.
Mr Hamzah did not say what punishments would be meted out to unmarried couples caught together on a motorbike.
He did list several punishments that could be implemented for all the new Islamic laws, which ranged from a formal reprimand to fines and people being expelled from their villages.
"We will make efforts so that deeds which can lead to sin are eliminated gradually in North Aceh district," he added.
The provincial parliament in Aceh, as well as district parliaments, can pass their own Islamic bylaws.
http://www.telegraph.co.uk/news/worldnews/asia/indonesia/11581427/Unmarried-Indonesian-couples-banned-from-riding-motorbikes-as-it-could-lead-to-sinful-acts.html
----------
Communal Hatred Drives Lovers, Hindu Man and Muslim Girl to Suicide in India
05 May, 2015
Love does not come easy in Muzaffarnagar. Especially when the lovers come from different religions.
Imrana Bano (18) and Rajneesh Kumar (21) knew this. But they fell almost helplessly in love and started stealing time to meet each other. They hoped their relatives and society would accept them some day, even if grudgingly. But the current tinderbox state of Muzaffarnagar convinced them otherwise.
The Muzaffarnagar riots in 2013 left 59 dead and more than 50,000 homeless. Fearing their love would make their communally-sensitive town burn again, this Harijan boy and Muslim girl took the extreme step. Their bodies were found hanging from a Neem tree, united in death by the same dupatta, in Bhaura-Khurd village on Monday.
Inspector Singh, Circle Officer of Phugana, said: "They were in love with each other. It appears that they entered into a suicide pact because society was not willing to accept their relationship."
Imrana's family members said the lovers had been missing since Saturday. The tree is in a compound owned by the girl's family that is on the outskirts of the village.
A huge police force was deployed in the village after a large number of people from both communities gathered in the area. There was palpable tension in the air.
The administration said measures have been taken to thwart any attempt to stoke communal fire.
The police have recovered vermillion (Sindoor) and some other cosmetics from the spot. Sindoor was also found on the forehead of the girl. A sachet of poison was recovered from the spot.
"They committed suicide because the two families were not ready to accept their marriage," said Mohammad Idris, Imrana's uncle.
The boy's father Ram Kumar told newspersons that he was not willing to buy the suicide theory.
"They were found hanging from a Neem tree that is situated on a compound owned by the father of the girl," he stressed.
According to the villagers, Imrana's parents had come to know about the affair five years ago and had sent her to a relative's house. The father of the boy had also sent him to Rohtak to work in a factory.
Imrana's parents had recently caught her talking to Rajneesh from a mobile phone and beaten her up. They had fixed her marriage with a youth from Kandhla area of Shamli district and had forced her to agree to get engaged on Friday.
Rajneesh, who was pursuing a graduation degree as a private student from a college in Kandhla, had returned on May 2 to appear in his B.A. first year examination. He managed to meet Imrana on Saturday. And they decided, perhaps, that death was the only recourse.
The alleged molestation of a Hindu Jat girl by some Muslim youths in the Kawal area had triggered the Muzaffarnagar riots of 2013. A few villagers, speaking on condition of anonymity, told newspersons they are not willing to believe that it was a case of suicide because the couple could have easily eloped to Rohtak instead of taking this extreme step.
In the restive parts of UP, it doesn't take much to start communal violence. In Agra, some clerics have convened a meeting on May 14 to force the victims of the infamous conversion of December 8, 2014, to undergo fresh Nikah with their wives to protect their marriages.
In Saharanpur, Muslims are accusing the police of protecting driver of a state transport bus that ran over a seven-year-old on Saturday.
In Aligarh, there is an order from the local administration to stop the expansion of a mosque around Jama Masjid as there is a Ramleela ground next to it. Some are bent on defying that order.
http://www.dailymail.co.uk/indiahome/indianews/article-3067822/Communal-hatred-drives-lovers-suicide-Hindu-man-21-Muslim-girl-18-lives-Muzaffarnagar-fears-society-never-accept-marriage.html
-----------
Muslim Sex: I Am a Woman, and I Am Afraid
05 May, 2015
A week ago, All Women's Action Society and DAP Damansara Utama assemblywoman Yeo Bee Yin launched a rape awareness campaign with the tagline "No Excuse For Rape". It didn't take long before the topic of marital rape came up, and to my dismay, there were people defending it in the name of Islam.
Perak Mufti Tan Sri Harussani Zakaria said that women have "no right" to refuse sexual relations with their husbands, quoting a hadith whereby the Prophet said even when husband and wife are riding on the back of a camel, if the husband asks her, she must give.
Hizbut Tahrir Malaysia's spokesperson, Ustaz Abdul Hakim Othman, said that a woman's body is to be used by her husband, and that when a man marries a woman, there is no need at all for him to get consent.
Dr Norsaleha Mohd Salleh from Ikatan Muslimin Malaysia (Isma) said that a man forcing himself onto his wife should not be claimed as rape as long as his demands are within the limits of the Islamic penal code.
I think what bothers me most about everything that is being said here is that none of them mentioned the fact that rape, more often than not, is violent. When a man has to force himself onto a woman, in this case his wife, he usually cannot do so without threatening her or through coercion.
The people who are defending marital rape in the name of Islam seem to confuse non-consensual intercourse in the context of marriage as "reluctant sex."
Reluctancy to have intercourse with one's husband is something that can be discussed between the pair of spouses. What activists are concerned about is the threatening, pushing, shoving, pinning down, gagging and in worst cases, hitting and beating, of one's wife in order to get what the man wants, in this case, sex.
Marital rape is exactly the same as rape outside of marriage, except in this case, the pair are in matrimony. The emotional trauma that follows is just as damaging as the trauma that any other rape victim experiences, except this time, it could also potentially ruin the foundation of a family unit. Any kind of rape can fall under marital rape, and that includes anger rape, domination rape and also sadistic rape.
ISMA web editor Razali Zakaria said that the issue of marital rape is brought up to tarnish the name of Islam and blames liberalism and secularism for it. As usual, Islamist hardliner groups will always blame external sources instead of looking at the problem from within our own community. No one is trying to tarnish the name of Islam, but when one defends such acts in the name of religion, it is no wonder people automatically see the religion in a bad light.
Is this what the Muslim women in Malaysia are being taught? That once the dowry has been paid, she loses all consent over her body?
That she has no right to defend herself from harm, and now her sole purpose in life is to be a submissive slave to her husband?
That her body is at the disposal of her husband, anytime and anywhere? That the moment she agrees to enter a marriage, she becomes the property of her husband and no longer a human being?
If this is what is being taught, then I am afraid. I am afraid for my fellow women who don't know the rights they have over their own body. I am afraid for the women who have been done wrong, and couldn't fight for justice. I am afraid for my little sister, who might potentially grow up to believe that her body is no longer hers to own when she gets married. I am afraid that boys will grow up to be men who use these man-made privileges against their wives. I am afraid that people will buy in to the notion that wives are property. I am a woman in Malaysia, and I am afraid.
In Islam, marriage is built upon the foundations of love and respect. If a man has enough integrity in him, he wouldn't have to find himself forcing himself onto his wife. Husband and wife both have a role to play in a marriage. They should both carry out their duties willingly without having to be beaten into it. In whatever scenario, one should never resort to threats and violence. It is absolutely shallow to think that a wife's only job in a marriage is to satisfy her husband sexually.
While Perak Mufti Tan Sri Harussani Zakaria quoted a hadith in which a woman has to give in to her husband even on a back of a camel, I'd like to end with another hadith as well.
http://www.malaysia-chronicle.com/index.php?option=com_k2&view=item&id=505972:muslim-sex-i-am-a-woman-and-i-am-afraid&Itemid=4#ixzz3ZFwznuXv
----------
Congo Muslims question reasons for Niqab ban
05 May, 2015
A recent decision by the Republic of the Congo government to ban the Niqab in public areas has been received with surprise by the Muslim community, members of which questioned the reason for the move.
"It is in our tradition to wear the Niqab (the full Islamic face veil for women). Why are we banned from doing so today?" a Muslim woman who identified herself as Demba told The Anadolu Agency at her small gem stall in Poto-Poto market in the 3rd District, an area of capital Brazzaville in which there are many Muslims.
Last week, Interior Minister Zephirin Mboulou told a delegation from the Supreme Islamic Council of Congo that the ban was due to the "risks" posed by the full face veil, which, he asserted, "gives a chance to undocumented people and thugs to secretly infiltrate the ranks of the population."
But many members of the local Muslim community are skeptical about these assertions, with some even saying the ban violates the country's constitution, which states: "Freedom of belief and conscience are inviolable."
An imam with the Supreme Islamic Council of Congo, who requested anonymity, told AA that the decision was "not welcome" and could constitute "an obstacle to freedom of opinion and religion."
"We are not interested in troublemaking as a result of this decision, but we must recognize that Congo is a secular country, which encourages diversity of opinion and religion," he said.
"If a similar law was made in France, we should not just follow suit and impose it here," he said, referring to a similar decision by France – the country's former colonial ruler – in 2011.
"Muslims have never been a threat to Congo and its institutions. To date, no terrorist act has ever been reported. Today, if we are forbidden from wearing the niqab, what decision should be taken regarding girls who wear miniskirts?" he asked.
For his part, Rock Euloge Nzobo, president of the Circle of Human Rights and Development, a local NGO, urged the government to provide more information to the public and civil society before taking such decisions.
"Congo is not threatened by any group related to the Muslim community. The government should clarify whether the law was preventive," he said.
He added: "If not, it is freedoms that are threatened, as the constitution enshrines respect for the cultural identity of every citizen, as long as the exercise of this right would not jeopardize public order, the safety of others or national unity."
Anna Dyemo, a Christian woman who lives in the neighborhood, likewise voiced surprise.
"If wearing the niqab does not affect morals or the freedom of others, this ban makes no sense," she said.
But despite the resentment, no demonstrations have been organized to protest the decision.
The Supreme Islamic Council of Congo, for its part, refrained from issuing a statement on the issue after its chief, El Hadj Abdoulaye Bopaka, announced that he had relayed the decision to the country's imams.
He did, however, ask for "a little time to inform the Muslim community on the new decision," due to come into effect as of Wednesday.
In addition to the niqab prohibition, the Interior Ministry also issued a ban on hosting foreign nationals – including Muslims from the Central African Republic and Cameroon – in mosques or other houses of worship.
The decision comes amid a major security crackdown aimed at fighting crime and illegal immigration.
About 800,000 Muslims live in the Congo Republic, accounting for roughly 5.8 percent of the total population, according to official estimates. Only some 20 percent of these are Congolese.
http://news.videonews.us/congo-muslims-question-reasons-niqab-ban-049580.html
-----------
Aceh Opts for Same-Sex School Classes
05 May, 2015
BANDA ACEH – A new legislation requiring schools to arrange separate classes for boys and girls has been passed in the Indonesian province of Aceh, the legislation met with huge support.
"What we do now will be just like what happens currently in traditional Islamic boarding schools," Fauzan Hamzah, a member of North Aceh regency's legislature, told Reuters on Monday, May 4.
"I hope this policy won't only be implemented in the North Aceh regency but in the entire province."
The new legislation, which requires students to read the holy book of the Qur'an every night, was submitted to the provincial government for approval.
Another legislation banning men and women from riding motorcycles together is currently under discussion, Hamzah added.
"I believe there won't be any obstacles (to this proposed law) because the majority of people support it," he said.
Aceh, located on the northern tip of Sumatra Island, is the only province in Indonesia that permits caning.
The region has been granted partial autonomy from the central government in Jakarta under the Special Autonomy Law in 2001.
Accordingly, the area's provincial administration adopted a series of bylaws governing the implementation of Shari`ah in the province.
Lawmakers in 2013 banned women from sitting on motorcycles except side-saddle, but the regulation has rarely been enforced.
The province also passed an anti-homosexuality law in October that punishes anyone caught having gay sex with 100 lashes.
Indonesia was among 15 new nations to secure seats Friday on the Geneva-based Human Rights Council following a vote at the UN General Assembly.
The country is the world's most populous Muslim state with Muslims making up around 85 percent of its 237-million population.
http://www.onislam.net/english/news/asia-pacific/485549-aceh-opts-for-same-sex-school-classes.html
----------
Brit Muslims Challenge Sexism with UK's First Female-Only Mosque
05 May, 2015
Muslim Women's Council boss Bana Gora says the mosque would be "run by women" and is in response to inadequate facilities in Islamic religious buildings dissuading females from attending.
The radical move, to be carried out in Bradford, promises to challenge traditions in the Muslim community and could provoke controversy.
Many traditional Muslim women living in Britain pray in their homes because they are dissuaded from attending mosques by conservative scholars.
Ms Gora said: "In the Prophet's time the mosque was the centre of community life and learning and we hope to replicate that model including women-led congregational prayers for women."
Traditionally men and women share mosques but sexes are segregated for prayers.
Ms Gora said women needed their own buildings as facilities were "not always adequate for women", according to a recent audit in the Bradford area.
"Rather than just complain, we decided to do something about it," she said.
It comes just months after America opened its first women's mosque, which it said would "inspire and empower" Muslim women.
However, the move in Britain could prove contentious with Muslim leaders, who are yet to decide their views on the proposal.
Dr Mohammed Iqbal, of the Ahmadiyya Muslim Association, said: "The mosque is a mixed community and involves the whole community, men, women and children.
"It is for bringing people together."
The plans come amid a furious backlash after five senior Labour Party figures spoke at a meeting where it appeared women were banned from sitting with men.
Parliamentary candidates Tom Watson, Liam Byrne, Khalid Mahmood and Jack Dromey, along with MEP Sion Simon, attended the political rally in Birmingham.
Pictures posted on Twitter showed Muslim women sitting in a small cluster on one side of what looked like an Islamic community centre with the men seated opposite.
http://www.express.co.uk/news/uk/574932/women-only-mosque-Bradford-Islam-Muslim-religion
----------
Abuse of 5-Month-Old by the 17-Year-Old Mother: 'It Will Continue As Long As Teen Marriages Allowed'
05 May, 2015
Kota Kinabalu: Befrienders Kota Kinabalu is aghast and saddened to read about the abuse of a defenceless five-month-old baby by the 17-year-old mother.
Chairperson Datin Sri Siti Rubiah Datuk Abdul Samad said Befrienders are appalled by cases of young adult or under age marriages such as this.
She reiterated that young adults are usually not prepared to bear responsibility of a shared life between two persons as they are actually going through their growing-up process.
"It is normal for young couples to want to enjoy an ideal life of fun without the day to day responsibility of looking after each other. Emotions are very shallow at this growing-up stage, and a person can be rather selfish and prioritise his or her own needs rather than think of the other person," she said.
When a young immature couple are unwillingly forced to cope with a baby, then this aggravates their situation, Siti Rubiah added.
"Add financial problems to their dire straits, and this will surely result in a pressure cooker life waiting to explode. Naturally in situations such as these, the young baby will fall victim to the aggrieved caregiver," she reasoned.
In this respect, the Chairperson said the bitterness of being in that predicament may not only affect the couple's mental state but may also have adverse lasting effect on the mistreated victim.
As long as child or teen marriages are allowed in the country, babies or young children will continue to be abused by their parents, said prominent social activist, Anne Keyworth popularly known as Mama Anne.
"This is a clear-cut case of a baby having to bear the brunt of her mother's anger, all because of an argument between the teenage couple as they were reportedly going through a divorce. How many more innocent children will end up being victimised by teenage parents who are not ready for parenthood as they themselves are 'children'?" she asked.
Mama Anne said teenage parents can hardly cope with the stresses of family life as they are not fully developed, physically, mentally and emotionally speaking.
At this juncture, she urged parents not to give their consent to child marriage, saying it would lead to early divorce as seen in many other cases too.
She also advocated amendments to Syariah Law and the Law Reform (Marriage and Divorce) Act 1976, which allow child brides.
"I am not being racist. I am just stating the facts. Under Syariah Law, the minimum age of marriage for a Muslim boy is 18 while a Muslim girl can marry as soon as she turns 16. However, there is an exception that allows both Muslim boys and girls below the minimum age to marry with the consent of the Syariah Court.
"And under the Law Reform Act 1976, which applies to non-Muslims, a child bride can marry if she gets the consent of the Chief Minister," she pointed out.
The mother who vented her anger (towards her husband) on the helpless baby is only 17 years old, and she herself is a child, lawyer Mary Florence Gomez noted.
"She is not matured and does not realise the responsibility of caring for and bringing up a child. Her action reflects her unstable emotions and irrational thinking at that point of time. She and her 18-year-old husband may not have skills to have well-paid jobs enough to raise the child. They can't even look after themselves.
"Financial problems are in fact the main cause of divorce among young working couples these days. What more with teenagers such as this young couple. Indeed, they are going through a divorce.
"As a mother of two children, I know how immature they are, and they think they know everything but actually, they don't.," she pointed out.
Gomez said teenagers at that age also think they can live on "love and air" alone, "so we as parents must guide them and support them, instead of forcing or letting them get married."
"By right the couple in question should be furthering their studies, mixing around with friends, instead of being bogged down with the responsibility of looking after a child," she said, adding that the incident lent credence to the call for child marriages to be banned. "Let us be more open-minded and give the innocent child a better home, not an abusive home."
Realising that most parents seem to make the decision for their children to get married, Gomez asserted that the parents should in fact ask and discuss with the children if they are ready to tie the knot and have children.
"If possible, parents should discourage any talk about marriage (in the event of teen pregnancy) and give their children the option of giving up the child for adoption or the parents themselves can adopt the child and raise him or her on their own.
"If the law is amended to ban all child marriages, then the parents will not have the option of getting the children married at a young age but will have to go for the other options.
"In fact, there are so many childless couples who are waiting in queue to adopt children, so these unplanned children can be placed with adopted parents who will care for them as their own," she said.
Sabah Women Action-Resource Group (Sawo) said the incident highlights one of the sad and tragic consequences of early or child marriage, proving that teenagers are not ready to become parents.
Its President Winnie Yee said teenagers will be unable to cope with their new roles without a huge amount of help and support from their families and the community.
"In cases where the immediate families do not have the means and resources, the young mothers are left to manage on their own and this can often lead to child abuse and neglect," she said.
She hoped the incident will make parents think twice about using marriage to avoid shame or unplanned pregnancies among their teenaged children.
Yee's contention is that encouraging teenagers to get married in such cases is to create further problems affecting the individuals and families concerned, and also on our society. "Instead, the teenagers need to be given the opportunity to continue their schooling or attend skills training courses so that they can make a living for themselves and their new dependents in the future."
The President urged parents to ensure that their teenaged children are equipped with enough information and skills "to establish healthy relationships with the opposite gender, and in particular, understand the risks and possible consequences of engaging in sexual activities."
She lamented : "There are still many parents who do not allow their teenagers to date or are unaware that the latter are sexually active, and hence fail to provide the much needed guidance."
According to Yee, Sawo, other non-governmental organisations (NGOs) and relevant government agencies have been giving educational talks and running workshops for teenagers about dating, coupled with its risks and repercussions.
Given the rising trend in date rapes and child abuse, she said awareness activities need to be conducted more widely and regularly.
Urging the relevant authorities, particularly the State Education Department, to seek ways to reach out to many more young people, Yee said: "We in Sawo call on the department to broaden the scope of their module on sex education to incorporate the social aspects of teen dating and relationships."
http://www.dailyexpress.com.my/news.cfm?NewsID=99466
---------
URL: https://newageislam.com/islam-women-feminism/unmarried-indonesian-couples-banned-riding/d/102821