New Age Islam News Bureau
17 Dec 2017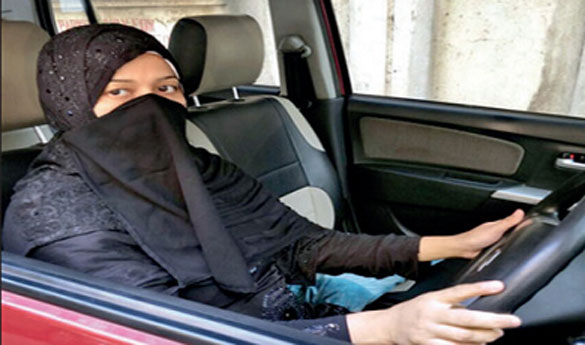 Photo: Women, especially from conservative backgrounds, are stepping out of rigid community boundaries to become part of the city's nightlife.
---------
• US Does Not Own Jerusalem to Give It to Israel — Women Islamists
• Syrian Women's Group Fends Off Trauma of War Through Therapy
• Sultan Decries Controversy over Hijab
• Jeddah to Host Conference on Women in Conflict Areas
• Arab Coalition Airstrike Kills 10 Women in Yemen
• Lian Najami Makes History as First Female Israeli Arab Rhodes Scholar
• An Era of Empowerment: How Social Media Is Giving Women A Voice
• In Maiduguri, Boko Haram's Birthplace, Feminism Rules
Compiled by New Age Islam News Bureau
URL: https://www.newageislam.com/islam-women-feminism/united-colours-cabbies-mom-day/d/113597
----------
United Colours of Cabbies: Mom by Day, Burqa-Clad Driver by Night
Vipashana VK | TNN | Updated: Dec 17, 2017
MUMBAI: How often does it happen that you book an app cab in the wee hours and find a burqa-clad woman pulling up in her red hatchback?
"People find it tough to believe it when I call them up and ask for directions or when they see me in the driver's seat," says 30-year-old Rizwana Shaikh, a stay-at-home mum by day and Ola driver by night. Shaikh, who grew up in Lucknow, moved here after her marriage to a Jogeshwari businessman.
While it's been some years since women stormed the male bastion and started driving taxis and autos, aggregators have taken the trend several notches higher. Women, especially from conservative backgrounds, are stepping out of rigid community boundaries to become part of the city's nightlife. With GPS tracking their every move, the women are not troubled by safety concerns.
Shaikh, mother of a seven-year-old, claims in the eight months she has been on the roads at night seldom has she come across any trouble-maker. "However, when sloshed men book the cab I feel uncomfortable and don't go ahead with the ride," says Shaikh, who was a beautician earlier. With a monthly income between Rs 30,000 and Rs 40,000, she says, "This is a more lucrative profession."
"My husband and family have been very supportive and understand this job is necessary to meet household expenses," she says.
Mehjabeen, 42, also a Jogeshwari resident, is a night-shift veteran and zips across the city without any trepidation. While her husband is a marketing professional, she has been a driver for six years now. "I start my day at 8pm after wrapping up household duties and drive till morning," she said, adding her family has been supportive.
Ola as well as Uber refused to reveal the number of women on their rolls in the city, but both agreed the trend was on the rise.
"The number of women partners is growing by over 40% quarter on quarter in metros as well as tier-2 and -3 cities. We have women working with us across categories like cabs, autos and bikes," said an Ola spokesperson.
The advantage of working with aggregator platforms, says 25-year-old VidyaShelke, an auto driver, is that we can choose our working hours. "I take bookings only when I can manage. Also, I do not have to park my vehicle at the stand and wait for commuters. This is way more convenient and safe," said Shelke, who lives in the western suburbs with her husband and two children. She has been on the job for the past six months.
For young women like PrajakthaSalunkhe, it is a route to financial independence. "Without any capital or financial support, it is difficult to start any venture. This comes as a boon," says the 23-year-old cabbie, who took to driving soon after graduation.
Aggregator platforms are doing their bit through skill development and training programmes. "We aim to hire more women from sections where cultural and societal pressures have been a barrier," said an Uber spokesperson.
https://timesofindia.indiatimes.com/city/mumbai/united-colours-of-cabbies-mom-by-day-burqa-clad-driver-by-night/articleshow/62101655.cms
---------
US Does Not Own Jerusalem To Give It To Israel — Women Islamists
By Ana V. Ibáñez Prieto - Dec 16,2017
AMMAN — Islamic Action Front's (IAF) women wing staged a sit-in outside their party's headquarters on Saturday in protest against President Donald Trump's decision to recognise occupied Jerusalem as Israel's capital.
"No east and west for Jerusalem… It is all for Arabs, Jerusalem is not a farm for the US but the capital of all Arabs," protesters chanted.
"We believe that the US has violated all international resolutions regarding Jerusalem, and this is why we are here to condemn such act and say it loud and clear that we only see Jerusalem as the capital of Palestine," Amman Third District MP Dima Tahboub told The Jordan Times during the protest.
"We believe that this step will create chaos in the world, and we see it as an act of state terrorism because America has given something that does not belong to them to people who do not deserve it," Tahboub said, adding, "Palestine is an occupied country, and the world should finish the longstanding Israeli occupation and give Palestinians their rights and their land."
The Islamist MP also stressed the role of Jordan in the Palestinian cause, saying that "the international community sees Jordan as the custodian of the holy sites in Jerusalem, and, therefore, the Kingdom has to take action towards this American unilateral step."
"The relationship between Jordan and Palestine is deep and strong," one of the protesters said at the sit-in, calling on the government to scrap the Jordanian-Israeli 1994 Wadi Araba Peace Treaty.
When asked about the IAF's female members' position on the issue, Tahboub said that they "wanted to voice their own opinion to show their solidarity with the Palestinian women and children, who are being subjected to extreme cruelty due to the occupation".
The IAF will continue to protest Trump's decision in the following weeks, according to the MP, who noted that members of the party will contact lawmakers and ask them take a stand against the decision and work on spreading awareness through seminars and symposiums.
http://www.jordantimes.com/news/local/us-does-not-own-jerusalem-give-it-israel-—-women-islamists
------------
Syrian women's group fends off trauma of war through therapy
Inside the cozy basement of the Arab Community Centre of Toronto (ACCT) a small group of women get together for tea, snacks and conversation.
It's an unseasonably warm late November day, and the women, all newcomers to Canada, have travelled a long distance to get to suburban Scarborough, many having made the trip on public transit. They get together about once a week to exchange stories and catch up on each other's lives.
Fatima Darwish is telling the group about her life now, much different than the one she left behind in Aleppo, Syria.
Back then she was the equivalent of a junior high school teacher, instructing several subjects from physics to Arabic. Now she's hoping to get onto the teaching rolls of a privately run Toronto Arabic school. Despite perfect fluency in English, she isn't optimistic of her prospects of teaching in the Canadian public school system.
"When we come here every week, we feel so relaxed. We are happy because we are one family. We are here for each other."
~Group facilitator RoulaAjib
"There's no space for me, maybe next year I will try again," Darwish said. "It's hard because you need Canadian experience to get a job, and we are all newcomers.
"But on the whole, life is better here even though it's so different from Syria," she says laughing, soon shared by others in the room. "Starting with the weather."
The women make small talk, exchanging smiles and a few laughs along the way. They're prodded gently by meeting facilitator RoulaAjib to practice their English. Some can only speak a few words, others are practically fluent.
Most of them are of Syrian origin, having arrived in snowy Canada a little more than a year ago. With the help of ACCT, the women learn English, career plan and focus on the next chapter of their lives.
They also get a rare opportunity to speak openly about their feelings and trauma suffered from the civil war in their homeland nearing seven years which has killed approximately 250,000 and displaced hundreds of thousands more.
"The women get to express themselves," said Bayan Khatib from the Al-Quazzaz Foundation for Education and Development (QED) and the Syrian Canadian Foundation, which runs a group therapy program for Syrian women new to Canada, focusing on mental health.
"Sometimes they need convincing to share their thoughts, but once they start speaking and expressing themselves they don't want to stop."
Mental health bears a stigma in Arabic communities, explained Khatib, so some care was required to ensure the women could attend the meetings without fear of intervention from suspicious family members.
During the sessions, a therapist offers counselling, and the women can take part in yoga as well as learn more about wellness, from eating healthy to engaging in self-care.
The women also know each other through volunteering for the Newcomer Kitchen, a regular event run by a downtown culinary hub, using the hours to gain that valuable Canadian work experience. Hummus, tabbouleh and kibbeh (a fried or baked patty consisting of bulgur, onions and minced beef or lamb) are among their mouth-watering specialities.
MatdaBoshi has launched a catering business, specializing in cuisine from Aleppo, initially operated a booth at a farmers' market.
"It's very good for me to have this experience, and the people in Canada like my food," she said of her business Al Basha.
Finding customers hasn't been easy, she admits, depending largely on word-of-mouth. Through various community organizations, she gets chances to showcase her cooking at various events around the city, and it seems to be paying off; she recently received an order for 200, by far her largest.
"She's empowering herself, she's searching (for opportunity), and she's very active," said Ajib.
After years spent in a refugee camp in Jordan, NadimaAbdolahaq arrived in Quebec, where she studied French.
Now in Toronto, she studies English at an ESL-equivalent program with hopes of pursuing a career in daycare. Like many of the women, she is a mother, with five young children.
Almost everyone in the group has lost loved ones to the civil war. Abdolahaq, who lived in a suburb of Damascus, says 50 members of her family have died, including a cousin whose death she learned of the same day. Other relatives are imprisoned or facing torture at the hands of the ruthless Syrian regime.
"I expect I'll never see my brother or sister again, and they are my only family left," she said through an interpreter.
Other group members offered support, promising Abdolahaq in Arabic she will one day return to her homeland, if only for a visit.
"We'll all go together and you'll cook for us when we get there," they say laughing.
All of the women agree they consider Canada home now. They face heavy obstacles for full integration, but feel empowered by gatherings such as these.
"When we come here every week, we feel so relaxed," Ajib said. "We are happy because we are one family. We are here for each other."
https://www.insidetoronto.com/news-story/7984038-syrian-women-s-group-fends-off-trauma-of-war-through-therapy/
------------
Sultan decries controversy over Hijab
By AbdullateefAliyu, Lagos | Publish Date: Dec 16 2017
Sultan of Sokoto and President - Generation of the Nigerian Supreme Council for Islamic Affairs (NSCIA), Dr. Mohammad Sa'adAbubakar has decried the raging controversy over Hijab.
He said Hijab simply means decent dressing for Muslim women and part and parcel of Islam.
Abubakar spoke in Lagos on Saturday during the fifth National Convention of Muslim Public Affairs Centre (MPAC) with the theme, "Public Trust and Accountability".
The Sultan who is the Chairman of the two - day event said he could not decipher why the issue of Hijab would be so controversial to the extent that female Muslims who adorn Hijab would be 'molested'.
He spoke against the backdrop of the raging controversy over the denial of a University of Ilorin law student, Miss AmasaFirdaus from being called to bar last week for refusing to remove her Hijab worn under her wig.
Represented by a member of NSCIA and Wazirin of Katsina, Prof.SanniAbubakarLugga, the Sultan said Hijab is not only a mode of dressing in Islam only but it is also an accepted mode of dressing in Christianity and Judaism.
He stressed that Muslims are peace- loving and they should be allowed to practise their religion as stipulated by Allah and as contained in the traditions of Prophet Mohammad.
He said, "His eminence wonders while Hijab has now become a controversial issue. Hijab simply means decent dressing, decent dressing by the females. So why should decent dressing be a problem? The Hijab is just an Arabic word. In English it means decent dressing.
"His Eminence has asked Nigerians to reflect and see that this is not only an Islamic mode of dressing but a Christian mode of dressing. It is also a Judaism mode of dressing and it is a dressing for every decent woman. It is a dressing for any woman who wants to preserve her chastity in public.
Secondly, in Nigerian constitution it is absolutely clear. Why should Nigerian Muslims be molested and even denied their own right? The Appeal Court ruling in Ilorin is there, the Appeal Court in Lagos and also the High Court all delivered judgement in favour of Hijab.
"Justice Alooma, the former CJN, Justice Bukalchuwa and other Senior Justices in Nigeria wear their Hijab and then the wig on top of it. The Nigeria Judicial Council (NJC), the Highest body in the judiciary has not said, 'no, they should stop' which means the Nigerian constitution allows the Hijab, the Nigerian Courts through these three judgements have allowed the Hijab and the NJC through these senior judges has allowed the Hijab.
"Why will a legal school refuse our sister's induction into the judiciary simply because she is wearing Hijab? Is the law school saying they are above the NJC, they are above the Nigerian constitution, they are above these three senior courts?
On the theme of the convention, the Sultan said accountability leads to public trust and Nigerian leaders would earn public trust if they are accountable. He tasked Nigerians at all levels both in public and private lives to embrace accountability.
At the convention, three Nigerians including the former Attorney - General and Minster of Justice, Chief Bola Ajibola, JAMB Registrar, Prof. Is- haqOloyede and Hon. SikiruOshinowo of Lagos House of Assembly were honoured with the MPAC's Nigeria Muslim Achievement Award (NMAA).
https://www.dailytrust.com.ng/sultan-decries-controversy-over-hijab.html
------------
Jeddah to host conference on women in conflict areas
ARAB NEWS | Published — Sunday 17 December 2017
Roshid Jan, a Rohingya refugee who said she is not sure about her age, cries holding her son Muhammad Gyab at their shelter at the camp for widows and orphans inside the Balukhali camp near Cox's Bazar, Bangladesh, in this December 5, 2017 photo. (REUTERS)
Aid groups vow to boycott new Myanmar camps for Rohingya returnees
JEDDAH: Difficulties faced by women in areas of conflict will be the focus of a major conference in Jeddah on Monday.
It will take place at the invitation of the Organization of Islamic Cooperation (OIC), in coordination with Turkey's Ministry of Family and Social Policy.
The conference will address the challenges faced in the process of empowering women in OIC member states, especially in areas of conflict and under occupation.
It will also consider ways to strengthen coordination between parties tasked with empowering women.
http://www.arabnews.com/node/1210281/saudi-arabia
------------
Arab coalition airstrike kills 10 women in Yemen
SANAA, Yemen: Witnesses and health officials say an airstrike by a Saudi-led Arab coalition has struck a wedding procession east of Yemen's capital, killing 10 women.
They say the Sunday airstrike targeted the women as they marched to a village in Maarib province. They said the bride was among the women, but it was not immediately clear whether she was wounded.
It's a tradition in rural Yemen for the bride's female friends and relatives to escort her to the wedding ceremony, where the groom awaits.
The witnesses and officials spoke on condition of anonymity because they feared retaliation or were not authorized to brief the media.
The U.S.-backed coalition has been at war with Iranian-supported Shiite rebels since 2015. Its airstrikes have hit civilians on a number of occasions.
https://www.dailystar.com.lb/News/Middle-East/2017/Dec-17/430519-arab-coalition-airstrike-kills-10-women-in-yemen.ashx
------------
LianNajami Makes History as First Female Israeli Arab Rhodes Scholar
By Hana Levi Julian - 29 Kislev 5778 – December 16, 2017
Twenty-three-year-old LianNajami last month became the first-ever Israeli Arab Muslim woman to win a Rhodes Scholarship to Oxford University. (YotamVaknin was the other Rhodes Scholarship winner.)
The world-renowned honor places young Najami among the planet's highest academics.
Najami, a resident of Haifa, has been a featured speaker at the Forbes 30 Under 30 Summit EMEA (in Israel), at events in Germany organized by Israel's Embassy, and at U.S. Ivy League campuses such as Harvard and Brown Universities. She has also been a Lantos Congressional Fellow at the U.S. Senate, and listed as one of the "Innovation Women" speakers.
A relentless optimist, Najami's message to all is that Israeli Arabs can succeed in the Jewish State. She says she is living proof, and that even with a degenerative neurological disorder, her social worker gave her the help and confidence she needed to be able to take full advantage of the great education she had.
The young Rhodes scholar — fluent in five languages – Hebrew, Arabic, English, German and Spanish – graduated the University of Haifa in 2016 with a major in political science and international affairs. Her first childhood girl friend was Jewish.
And as an Israeli Arab, Najami advocates against the Boycott, Divest and Sanctions (BDS) campaign against Israel, warning that it hurts Israeli Arabs as much as Jews.
Najami has told reporters that when she first acquired her chronic illness at age 12, she had been a very active young girl – and then suddenly, she was unable to maintain those activities. But rather than play the victim she decided to look ahead and focus on the future.
And so it is with her attitude about Israel. "How do we advance from here?" she tells reporters.
http://www.jewishpress.com/news/global/uk/lian-najami-makes-history-as-first-female-israeli-arab-rhodes-scholar/2017/12/16/
------------
AN ERA OF EMPOWERMENT: HOW SOCIAL MEDIA IS GIVING WOMEN A VOICE
Text by Kiran Manral
Social media has given women strength in numbers and the courage to raise their voices. Leveraging this new-found power to the utmost, they are fearlessly sharing their stories to great impact
A few weeks ago, the internet had its Arab Spring of sorts. Women across countries and continents were posting their tales of sexual harassment under the hashtag #MeToo. On Facebook, Twitter and on blogs, #MeToo became a rallying call to women — and men — to state and acknowledge the very real elephant in the room — that of the universality of sexual harassment. It began, quite innocuously, with an article by Ronan Farrow in The New Yorker, which exposed the powerful Hollywood producer, Harvey Weinstein's exploitation of women in the industry over several years, with actions ranging from harassment and exposure, and most damningly to rape. The article had a domino effect. It not only effectively destroyed Weinstein's career, but also led to a cascade of similar accusations against not just powerful men, who abused young women, but also against powerful men in Hollywood, like Kevin Spacey, who abused younger men.
In all this, the most notable thing that spurred this on to take a life of its own beyond Hollywood, beyond the rarified atmosphere that the rich and famous live in, was the rallying call by actor Alyssa Milano to women across the world to post their #MeToo stories. Women responded, and how! For days, timelines across social media platforms were filled with women posting their stories of sexual harassment, abuse and assault. #MeToo was empowering, empathetic, and led to an outpouring by women — celebrities and otherwise — in solidarity with each other, closing ranks, initiating conversations that needed to be had loud and clear. In 24 hours the hashtag had reached 12 million on Facebook and in 48 hours, it had been posted over a million times on Twitter.
The undeniable avalanche that this movement had caused was definitely more than a show of solidarity; it was a culmination of the frustration women felt from the lack of redressal of the real problem they have constantly been dealing with, a problem with no resolution in sight, a problem that only seemed — and still seem — to be escalating. Interestingly, the #MeToo campaign came much before the Alyssa Milano tweet; it came about when an activist named Tarana Burke coined it nearly a decade ago, in a bid to reach out to sexual assault survivors in underprivileged communities. That this phrase, coined all that while ago, would go on to become a watershed moment in the history of the war against sexual violence against women was something no one could have foreseen. Before #MeToo, there was #YesAllWomen, which also spoke about the commonality of the experience every woman has faced at some point or the other. And there was also the #NotOkay hashtag, which sought to remove the tacit acceptability with which every sexual harassment incident is swept under the carpet. All these built the ground for the groundswell that #MeToo was to rally.
What #MeToo did was that it de-stigmatised the admission of being a victim. With the numbers came the strength, and with the strength came more women joining in to post their stories, a movement that snowballed into something that the world could not afford to ignore anymore. For those who had been victims of sexual harassment and assault, this was a moment of catharsis, or possibly some form of closure. #MeToo was a movement whose time had come — the time of spunky, fearless women, who will stand up, speak up and speak out loud, because their doing so is the bulwark upon which other women can gather courage to raise their own voices and speak out.
What has been an important facilitator of this change is the advent of social media. It has given women strength in numbers; it has given them heft and amplified their voices, and helped them rally around their cause. Most importantly, it has given women a platform to put their stories out unfiltered, in their own voices — and in this lies its power. Until social media platforms like Twitter and Facebook came upon the scene, there was no or minimal public discussion on issues like sexual harassment or even everyday sexism.
In India, Hindi film actor KanganaRanaut has been vocal about the nepotism prevalent in Bollywood. She's taken on a male co-star in a rather public spat in which she's held her own, despite all the odds stacked against her. In Pune, a pub with appalling misogynistic behaviour towards its female customers was called out by a young woman on Twitter, who detailed the incidents of sexism that the pub had been involved in. Stand-up comedian Supriya Joshi wrote from the heart about navigating the dating world as an overweight woman, a topic that few would dare speak about a few years ago. A young student activist, Gurmehar Kaur, took on the might of a concerted troll attack with gumption and grit. These are the voices we wouldn't have heard a few years ago.
Some years ago, a brave young woman dared to speak up about the sexual abuse she faced at the hands of a powerful man in the media. The TarunTejpal case was perhaps the first of its kind. R. K. Pachauri of The Energy and Resources Institute (TERI) was accused by a woman in the organisation of sexually harassing her, a case that made ripples worldwide. Powerful men in powerful positions have been known to sexually harass the women they've worked with, but for the most part, these have remained stories on the whisper network. But things are changing. What has changed perhaps is the courage it takes to speak out against such behaviour. Decades ago, IAS officer RupanDeol Bajaj complained against the now-deceased KPS Gill, then the director general of police, Punjab, for patting her behind at a party. Gill was convicted of outraging her modesty and made to pay a fine and serve probation of three years. She had, as a strong support, her husband, an important ally in this battle between the sexes.
For far too long, when women have spoken up they've been silenced, first by the other women around them and then by the men in their lives. The shame was theirs, not the perpetrators' for victim blaming has always been a real thing. What did she do to encourage such behaviour? It must have been something she did or said that made him think she was that kind of girl? What was she wearing? Why did she go to meet him? Why did she wait so long to complain? The questions are endless.
It is tough to speak out against powerful sexual predators. Some renowned female actors with solid bodies of work have been victims of Weinstein's behaviour and not gone public with it. The risk is real, that of seeing one's work dry up in a bro-culture of omertà, of being perceived as a troublemaker. It isn't just the bro-culture that shields perpetrators of sexual assault. In India, a list of names of those in academia who have been inappropriate with or sexually harassed women, posted online by law student Raya Sarkar, saw a backlash from female academicians, who protested against the name-and-shame method employed without, as they put it, 'due diligence'.
Thankfully, some women have taken that risk today. But actor Rose McGowan who spoke out against Weinstein, accusing him of rape, found herself arrested over a substance possession charge a few weeks later. The timing was perhaps too much of a coincidence.
Making the workplace — whether it is a film set or an office — safe for women is not something that can be necessarily enforced by rules and regulations. What it needs is a tectonic shift in attitudes, among both men and women, which will happen only through jolts of the kind sparked by the Weinstein story.
Women have come into the workforce and this means that they must be willing to stand up for themselves and for other women, when incidents of harassment occur. A whisper network has existed for long — which spoke about these incidents, warning other women about predatory men. But this whisper network now becoming a shout through social and mainstream media is a positive development indeed. It is women speaking out about their experiences, regardless of the consequences, which could be as drastic as them losing their jobs. It could spell the end of their careers and they could face the expenses of a lengthy legal battle, which could crush them financially.
Breaking the sense of entitlement with which men continue to prey will only happen when men realise that women will speak out. They will tell their stories without holding back, despite the power equation being skewed predominantly in favour of the men. And with this speaking out comes empowerment for the next generation of women, who should know that they need never keep quiet, for their voices will be heard.
http://www.vervemagazine.in/arts-and-culture/an-era-of-empowerment-how-social-media-is-giving-women-a-voice
------------
In Maiduguri, Boko Haram's birthplace, feminism rules
Dionne Searcey MAIDUGURI, DECEMBER 17, 2017
Standing up for equality:A student participating in a discussion during the gender ethics class at the University of Maiduguri, Nigeria, earlier this month.NYTADAM FERGUSON
The city, often attacked by extremists, is known for welcoming people of all religions and ethnicities and its broad-minded youth culture
Boko Haram kidnaps young women and girls, turns them into sex slaves and passes them around to its fighters like prizes. It forces them into battle, ties suicide bombs to their bodies and orders them to strike at the gates of the University of Maiduguri.
But on campus, just beyond the militants' reach, the topics being batted around a giant lecture hall could hardly have been more different: Radical feminism. The end of the patriarchy.Husbands who do the dishes.
"I want a man who can make my breakfast," said Rabi Isa, a 25-year-old student, rising to address the room. "One who will assist me in the kitchen and who can go shopping."
Cheers broke out from classmates in her gender equity class.
To much of the world, the Nigerian city of Maiduguri is simply known as the birthplace of Boko Haram. Ever since authorities killed the group's spiritual leader and flattened its compound here almost a decade ago, Boko Haram has lashed the city, storming it with its fighters, bombing markets, flooding the streets with homeless families escaping its rage and attacking the university at least eight times this year alone, inspired by its rallying cry, "Western education is forbidden."
Ideological battle
But there is another Maiduguri entirely, one that helps shed light on the ideological battle at play in Nigeria's north: This is a regional capital recognised for welcoming people of all religions and ethnicities, a college town long-known for its party scene and a vibrant city with a bold, often broad-minded youth culture that eight years of war cannot seem to extinguish.
In fact, sometimes the war even helps nudge it along.
It wasn't even 8 p.m. on a weeknight and the twerking had already begun. The DJ was spinning Afrobeats. Bodies pressed together in dark corners.
And then, just as the party started heating up, the gates of the hotel abruptly swung shut, sealing everyone inside. The all-night party had officially started.
In a different war zone, a curfew like the one that descends on this city each night to protect residents from Boko Haram might stifle any hope of a social life. But here, it has given rise to extended lock-in parties behind protected walls.
"They want to test you to know if you can do it very well," said Rose Williams, 27, speaking openly about premarital sex, which she said was considered taboo by her parents' generation. "And I do it very well."
She and her friends watched the men and women — some in brightly coloured headscarves, one with a baby on her back — swaying with arms in the air. They had come for a girls' night out, to take a break from their boyfriends.
Divergent hopes
In many ways, the war with Boko Haram has been a clash of wildly divergent hopes and expectations for Nigerian society. Islamist militants who started their rebellion against the Nigerian state thought they could end government corruption by adopting a severe version of Islam.
Western ways, particularly in the realm of education, were deemed sinful. Imams in Maiduguri, who spoke out against the militants and their harsh interpretation of the religion, were assassinated.
The rise of Boko Haram "brought a lot of confusion into Maiduguri about what is the real Islam," said Sheik AbubakarGonimi, chief imam of the Bolori Central Mosque here. "Thank God we know our religion, and this had nothing to do with Islam."
After the militants were chased from the city, imams became more vocal, speaking out against the extremist philosophies and practices of Boko Haram. Life eventually started easing up again, and young people have found safe spaces to let loose.NY Times
http://www.thehindu.com/todays-paper/tp-international/in-maiduguri-boko-harams-birthplace-feminism-rules/article21824843.ece
URL: https://www.newageislam.com/islam-women-feminism/united-colours-cabbies-mom-day/d/113597