New Age Islam News Bureau
15 Jul 2018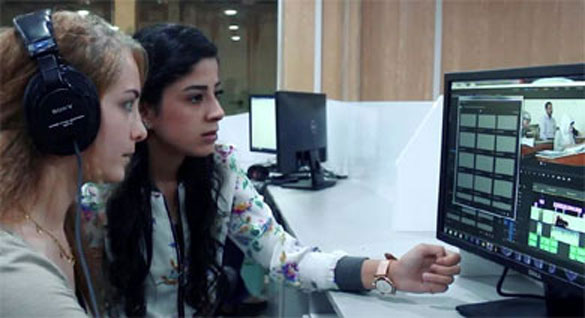 All-Female TV Station Goes on the Air in Syria
----
• Saudi Arabia Woman 'Arrested For Hugging' Singer Majid Al-Mohandis
• Sharia Courts 'Anti-National', They Exploit Women, Says UP Minority Welfare Minister
• Pakistan: Mohmand Women to Vote If Separate Polling Stations Set Up
• Female-Run Syrian TV Seeks To Empower Women
• Seven Women Arrested At Illegal Massage Parlour In Dubai
Compiled by New Age Islam News Bureau
URL: https://www.newageislam.com/islam-women-feminism/union-minister-naqvi-sister-daughter/d/115836
--------
Union Minister Naqvi's Sister and Daughter-In-Law of the Aala Hazrat Family to Be Ostracized From Islam: Muslim Cleric
14 Jul 2018
NEW DELHI: In a controversial statement, a prominent Muslim cleric from Bareilly has said that two Mulsim women, who raised voice against triple talaq practice, will be ostracized from Islam.
Farhat Naqvi, sister of Union Minister Mukhtar Abbas Naqvi and Nida Khan, daughter-in-law of the Aala Hazrat family, will be ostracized from Islam, Mufti Khurshid Alam said during Friday sermon.
Reacting to the 'firman' against her, an undeterred Nida hit out at the cleric saying where was he when Muslim women were victimised in the name of triple talaq, nikah halala and polygamy.
Maintaining that she is not afraid of such threats, Nida said she will continue her fight for the justice and Muslim women. "Islam prohibits both, committing oppression and tolerating the crime. Now thousands of Nidas have emerged and their voice cannot be suppressed," she said.
Nida said the All India Muslim Personal Law Board was created under the British rule and it should not be authorised to pass rulings on Muslims.
"We don't accept the AIMPLB but Islam, which came to us 1400 years ago. We will continue fighting for our daughters. These people have always subjugated women but now the time has changed," she said, adding that none has the copyright over Islam.
Oppressing women has now become a "fashion", but our constitution has given us rights, she said.
Slamming the Aala Hazrat family for threatening her, Nida said the family has 14 cases of triple talaq.
Both Nida and Farhat run two separate organisations to help Muslim women get justice. They have faced several threats in past for their attempts to fight for women rights.
https://www.abplive.in/india-news/union-minister-mukhtar-abbas-naqvis-sister-to-be-ostracized-from-islam-724866
--------
Saudi Arabia Woman 'Arrested For Hugging' Singer Majid Al-Mohandis
14 July 2018
A woman in Saudi Arabia has been arrested after running on stage to hug a male singer during a concert, according to reports.
Majid al-Mohandis was performing at a festival in the western city of Taif when the woman darted on to the stage.
Videos posted online showed her holding on to Mr Mohandis while security staff tried to pull her off him.
Women in Saudi Arabia are not allowed to mix in public with men who are unrelated to them.
Mr Mohandis, whose website says is "the prince of Arab singing", has not commented on the incident. The Iraqi-born singer, who also has Saudi citizenship, continued to perform after the incident.
A public prosecutor will now consider harassment charges against the woman, police told Okaz, a leading Saudi newspaper, and Efe news agency.
The country has strict morality laws regarding alcohol prohibition, modest clothing and gender segregation.
Restrictions that had long been placed on women attending public events in the kingdom have been relaxed in the past year under a series of reforms by Crown Prince Mohammed bin Salman.
Vision 2030, unveiled last year, aims to increase household spending on cultural and entertainment activities in the oil-dependent kingdom from 2.9% to 6% by 2030.
Women were allowed to attend a concert and a football match for the first time on the same weekend, and the kingdom also hosted its first concert by a female singer, Lebanese star Hiba Tawaji, in December. Women were also allowed to drive from last month. But significant restrictions remain in place and women still have to adhere to strict dress codes. The unnamed women seen hugging Mr Mohandis was wearing a niqab, a headdress that shows only the eyes.
https://www.bbc.com/news/world-middle-east-44833088
--------
Sharia Courts 'Anti-National', They Exploit Women, Says UP Minority Welfare Minister
Jul 14, 2018
MEERUT: Uttar Pradesh's minority welfare minister Laxmi Narayan Chaudhary on Saturday termed the Sharia courts as "antinational", and said that they were a relic of the British Raj and were formed to exploit women of the minority community.
During his visit to Muzaffarnagar, the UP cabinet minister said, "Sharia courts are the gift of the British. They infringe on the fundamental rights of women and we strongly oppose them." He added: "These courts are anti-national and a hindrance to the development of the nation."
The minister's statement came against the backdrop of a raging debate over All India Muslim Personal Law Board (AIMPLB) member Zafaryab Jilani's reported remark on opening of Darul-Qaza (Sharia courts) in all the districts of the country. However, on Saturday, Jilani denied making any such statement and described the media reports as "misleading".
Meanwhile, UP minister Chaudhary, who was in Muzaffarnagar's Shukrtal village to attend a religious event, pulled no punches in his attack on the Sharia courts?
"These courts were started during the British Raj in 1937 as part of their divide and rule policy. They wanted to divide Hindus and Muslims," Chaudhary said. "How can there be two set of legal systems in a country? These courts are anti-national and anti-women," he said.
However, Zafaryab Jilani told TOI that AIMPLB had no plans to set up Sharia courts in all the districts of the country.
"I never said that. Darul Qazas are opened on demand in areas where the population of Muslims is large. Its costs Rs 50,000 per month to run a Sharia court," he said, adding that there are 40 Sharia courts in the country at present.
Seeking to clear the air on the Sharia courts, the spokesperson of Darul Uloom, Deoband, said that they never force anyone to follow orders. "Sharia courts only give advice and it has no legal standing," said Ashraf Usmani.
In July 2014, the Supreme Court had said that Sharia courts being run by clerics had no legal powers and their decisions could not be enforced on anyone.
Muslims approach Sharia courts in the matters concerning family life and other personal issues such as marriage and divorce.
https://timesofindia.indiatimes.com/city/meerut/Sharia-courts-anti-national-they-exploit-women-says-up-minority-welfare-minister/articleshow/64992054.cms
--------
Pakistan: Mohmand Women to Vote If Separate Polling Stations Set Up
July 15, 2018
GHALANAI: Voters in Mohmand region say they will allow their women family members to vote in the general elections if separate polling stations are established for them.
Hairan Momand, a resident of Atto Khel area of Haleemzai tehsil, said that women had the right to vote, but it would also depend on the security situation of the area.
The women can only cast their votes if the government provides proper security to them, he added.
The Mohmand region has 96,679 registered women voters compared with 158,873 men.
They face many obstacles in casting their votes and becoming involved in political activities in the region.
The Election Commission of Pakistan has made it mandatory on the political parties to ensure 10 per cent of women vote to save the election from being declared invalid.
Gulono, 55, a resident of Haleemzai tehsil, said she would like to vote if separate women polling stations were set up for them.
"There is no restriction on women in our society," she said, adding many women voted in the last elections in 2013.
Malik Saifullah, a tribal elder, said, "If a man can cast his vote, then why should we prevent our women from casting their votes." In the coming election, he said, women would vote in Haleemzai, Ekkaghund, Pandiali and Prang Ghar tehsils because local people were well-educated and knew the importance of ballot.
Rozeena Bibi, another woman, said that she was aware about the importance of vote, and if the government provided a peaceful environment, then women would be able to exercise their right to franchise.
She added that tribal customs did not allow some women to vote, but for this election, local tribal and political leaders were on the same page that women should vote.
https://www.dawn.com/news/1420134/mohmand-women-to-vote-if-separate-polling-stations-set-up
--------
Female-Run Syrian TV Seeks To Empower Women
July 14, 2018
Jin TV — which means Women TV in the Kurdish language — is the first television station in Syria run entirely by women. The station began officially broadcasting late last month and aims to provide a platform for women to raise their voices.
"This TV was established to shed light on the role of women in all walks of life because women are always marginalized and confined to limited roles, even though women are the foundation of the society," Dalsha Othman, chief of the Arabic division at Jin TV, told VOA.
Managers of the new station say their content will give a voice to women and put a spotlight on issues that affect women in Syria and the region.
The TV station is located in the Kurdish-controlled town of Amude in northeastern Syria.
Broadcasts will be multilingual and multicultural; the programs will air in Kurdish, Arabic, Turkish and Farsi.
Currently, there are 18 staff members at the TV station, and the plan is to add workers in the future.
Countering extremism
Amude was once part of an area controlled by the Islamic State terror group when the group expanded its presence in large swaths of land in Iraq and Syria in 2014.
The U.S.-backed Syrian Democratic Forces, a force of Kurdish and Arab fighters, expelled IS militants from the region and liberated the town.
Kurdish female fighters in the YPJ (Women's Protection Units), a brigade fighting with the Kurdish People's Protection Units (YPG), played a key role in defeating IS in northeastern Syria, including Amude.
At the peak of its rule, approximately 10 million people lived under IS control in Iraq and Syria. The terror group committed large-scale atrocities against civilians and sought to indoctrinate them with its ideology.
Jin TV aims to counter that and increase awareness among women to prevent future attempts by extremists to recruit women by luring them through propaganda.
Jiyan Heve, a founding member of Jin TV, said that one of the station's goals is to provide a platform for female victims of terror groups such as IS so that they can talk about the atrocities and the true nature of these militant groups.
"We seek to counter the terrorist propaganda, and Jin TV is a good platform for doing that," she told VOA.
Experts believe that women can play a key role in preventing extremism and radicalism in communities around the world.
According to a report published in April 2018 by Georgetown University's Institute for Women, Peace and Security, women are considered a community's gatekeepers who can play a vital role in countering extremism.
"Identifying, empowering and consulting credible women leaders is a crucial part of creating sustainable deradicalization and rehabilitation programs that address individual and community needs," the report said.
Stereotypes
Everyone at the new broadcast operation is seeking to change stereotypes about women's capacity and their role in the society.
Dilav Hori, a video editor at Jin TV, said she wanted to help change perceptions about women.
"We women at Jin TV are trying to disperse the traditional notion about women's ability to rely on themselves on their own. We want women to be confident and know that running a TV [station] is not something difficult," Hori told VOA.
Jin TV is the second all-female station in the region. In 2017, Zan TV began broadcasting in Afghanistan with the aim of empowering women there.
Dalsha Othman, chief of the Arabic division at Jin TV, said they already receive videos and content produced by women from several countries in the region. The ultimate goal, she said, is to connect women from different parts of the world.
"Although our channel is Kurdish, we want to establish a bridge for women in the world to communicate, share and support each other," Othman said.
https://www.voanews.com/a/female-run-syrian-tv-station-seeks-to-empower-women/4483004.html
--------
Seven Women Arrested At Illegal Massage Parlour In Dubai
July 14, 2018
Dubai: Dubai Police have arrested seven African women who lured victims to a massage parlour, stripped them naked, threatening to publish their nude pictures before stealing their cash, an official said on Saturday.
Brigadier Ahmad Thani Bin Gulaitha, director of Rafaa police station and head of Police Stations Council in Dubai Police, said the African women were operating in Al Rafaa area and they lured two men to their apartment before assaulting them and stealing their cash.
"We were alerted by two victims on June this year about a gang of African women. They stole Dh60,000 from the first victim and Dh5,000 from the second one," Brigadier Bin Gulaitha said.
The first incident involved a 24-year-old Uzbek man who was walking in the area and saw a massage card on the ground and called the phone written on the card. A woman sent him a message with list of prices for their massage services and pictures of beautiful women and the address.
"He went to the apartment but he was shocked when he saw five African woman. They dragged him inside the apartment, stripped him naked and took his pictures and stole Dh5,000 from him. They threatened to publish the pictures on social media if he informed the police," Brigadier Bin Gulaitha said.
The man managed to escape and alerted the police, who raided the apartment but found it empty. The police however found a passport of one of the suspects.
Two days later, an Asian man dropped off his boss at the airport, when he was given Dh60,000 to deposit in the bank. He went to his house and searched for a massage parlour on Facebook. He found a number which was the same one as in the earlier case, and went to the same apartment with the money which he planned to deposit later.
"He was shocked when the African women opened the door. The women in their 40s and 50s with one girl in her 20s, dragged him inside and stole the Dh60,000 and stripped him naked. He reported the incident to us later."
Dubai police launched an investigation and identified their location and arrested them.
The women were identified by the two victims in a line up and were referred to Dubai public prosecution.
Brigadier Bin Gulaitha urged the public not to go to illegal massage parlours. "People shouldn't go to suspicious places and be wary of the massage cards distributed in buildings or on cars. We are investigating how to crackdown on this illegal activity," he said.
https://gulfnews.com/news/uae/crime/seven-women-arrested-at-illegal-massage-parlour-in-dubai-1.2251168
--------
URL: https://www.newageislam.com/islam-women-feminism/union-minister-naqvi-sister-daughter/d/115836
New Age Islam, Islam Online, Islamic Website, African Muslim News, Arab World News, South Asia News, Indian Muslim News, World Muslim News, Women in Islam, Islamic Feminism, Arab Women, Women In Arab, Islamophobia in America, Muslim Women in West, Islam Women and Feminism