New Age Islam News Bureau
21 Jan 2019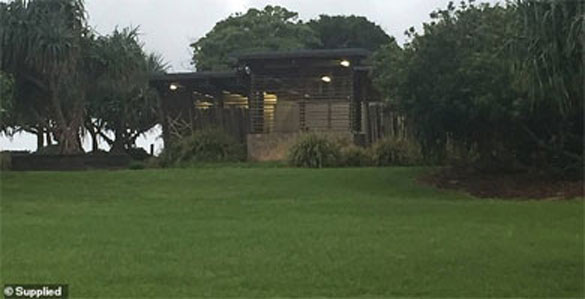 The unisex toilet at Coolum Beach Queensland's Sunshine Coast (stock image)
------
• Uniform Code for Women's Work Environment Launched in Saudi Arabia
• We Must Keep Talking About the Treatment of Women in Saudia Arabia
• Muslim Organisation Suggests Council in Australia Builds New Showers So Islamic Women Can Clean Themselves in Private
• NGOs Vow to Rearrange Peshawar Women's Cycle Rally Soon
• Saudi Women Dominate At Motor Racing Event in Dirab
• Initiative Launched To Ensure Better Working Conditions for Saudi Women
• Iranian Women Protest US Arrest of State TV Journalist
• Women's Participation in Iran's Job Market Only 16.8% In 2017
• Baha'i Women Once Again Arrested and Deprived From Education
Compiled by New Age Islam News Bureau
URL: https://www.newageislam.com/islam-women-feminism/uniform-code-womens-work-environment/d/117521
--------
Uniform Code for Women's Work Environment Launched in Saudi Arabia
2019-01-20
RIYADH — A new initiative, launched by the Ministry of Labour and Social Development, seeks to empower women and increase their participation in the labour market and in the private sector.
The Ministry launched the Unified Regulation of Women's Work Environment Initiative to create an attractive working environment for women and to facilitate private sector enterprises to attract and empower women to work.
The Ministry hopes to open several fields for women to work while at the same time providing an attractive and safe work environment for them.
The organization addressed several measures for women's work, the most important of which is the employer's commitment to creating a suitable work environment for women, avoiding doing any work to pressure freedom of women in a way that does not conform to labor and local regulations.
It also stressed non-discrimination in wages for employees, both female and male, doing the same work because of their gender, providing a suitable place for female workers to perform prayers, rest and provide them with private toilets.
It also called for providing women with suitable areas and distances to practice their work or separate counters, ensuring privacy and independence in the women's sections of office working environments not assigned to receive customers, not employing women in cleaning facilities or rooms and carrying bags in relation to the tourist accommodation sector, except those for women only.
The initiative urged the providing of enough security guard or suitable electronic security system in facilities assigned to women, while the number of working women in one shift should not be less than two in the case of presence of male workers, in addition to the non-employment of women in establishments exclusive for men.
The Ministry also prohibited the employment of women in industrial occupations and works that expose them to risks and damages for protecting their safety. It specified the working hours for women at night for various activities until 11 p.m. except for industrial activities until 6 p.m., as well as some activities and other situations where women can work at any hour of the night, such as in hospitals and emergency situations, work in Ramadan and seasons and the central areas in Makkah and Madinah for the establishments. — SPA
http://saudigazette.com.sa/article/557308
--------
We Must Keep Talking About the Treatment of Women in Saudia Arabia
January 21, 2019
An eighteen-year-old Saudi Arabian woman locks herself in a hotel room in a foreign country. She fears for her life, after fleeing to Bangkok from a family holiday in Kuwait.
She shares her ordeal in real-time over Twitter, demanding access to the UN and pleading with the outside world for support. Her passport has been taken. Her family is abusive, she says, and she is at risk of being killed for renouncing Islam if she is forced to return to Saudi Arabia.
Her tweets go viral. The broader media gets involved. The woman's plight becomes a major talking point all over the world. We see her face, hear and read her words.
And what happened next may have saved her life.
Rahaf Mohammed – who dropped her surname after being publicly disowned by her family for running away – now has a new home in Canada after being granted asylum, but Egyptian feminist and activist, Mona Eltahawy says Mohammed's actions will be a catalyst for change back home:
"Rahaf Alqunun, mark my words, is going to start a revolution in Saudi Arabia. Go on social media now and watch the accounts of so many young Saudis saying 'Rahaf, you've shown us that we can do this!'," she shared in a video posted on Twitter.
A dark past
Saudi Arabia has a notoriously bad human rights record, the most well-known recent example being the murder of journalist Jamal Khashoggi in October 2018, whose death has been linked to Saudi Prince Mohammed bin Salman by the CIA.
Less publicly, however, women have continued to be the victims of a profoundly patriarchal regime, from strict laws that restrict their autonomy, to jailing or killing women that break the rules. Guardianship laws and customs entitle male relatives to control a woman's life, in which she requires permission to receive an education, get a passport, travel, seek employment or rent property. These guardianship laws were cited by Mohammed as her primary reason for seeking asylum.
While there has been some headway for women's rights in recent years, it has been at the cost of many women's personal freedoms, while countless others have paid with their lives.
When the Saudi government announced that a 61-year ban on women driving would be lifted in June 2018, several well-known activists were jailed in the lead up for their role in the Women2Drive campaign that launched in 2011.
In 2015, women were given the right to vote and run for local council but were still so hamstrung by guardianship laws they could not open a bank account without permission.
For every Saudi woman who is granted asylum, there are numerous more who are unsuccessful in their attempts to flee. Dina Ali Lasloom, a 24-year-old Saudi woman who made it as far as Manila en route to Australia to seek asylum, was forcibly returned home by two of her uncles in April 2017. She has not been heard from since, but is believed to have been moved from a women's detention to a shelter back in Saudi Arabia. The Saudi embassy in the Philippines dismissed Lasloom's case as a 'family matter'. It was the same kind of rhetoric employed by the Saudi government and their embassy in Thailand that nearly cost Mohammed her bid for freedom.
'THERE IS NO HONOUR IN KILLING'
Mohammed's fear of being murdered by her family as retribution for fleeing and renouncing Islam is perhaps telling of a more widespread issue, where women are at risk of being killed by their own families for disobeying guardianship laws.
While little is known about the scale of honour killings in Saudi Arabia, the practice is believed to have a long history in parts of Asia and the Middle East. Two sisters were shot and killed by their brother after being released from a women's shelter where they were detained for 'allegedly mixing with unrelated men'. Another woman was killed by her father for exchanging messages with an unrelated man on Facebook.
WHAT CAN BE DONE?
In Saudi Arabia, as Mona Eltahawy says, the patriarchal roots run so deep that women are 'infantilized beyond belief'. For those who flee to seek asylum, it is a dangerous road and there is a grave risk of being returned and imprisoned or killed.
Here in Australia, we must demand that our government take more swift and humane action for all the refugees who make it to our shores after fleeing violence and other atrocities. Human Rights Watch Australia was rightfully critical of Peter Dutton's seemingly cavalier attitude towards processing Mohammed's asylum claim 'the usual way'.
Human Rights Watch encourages people to take action on human rights violations around the world by sharing information and lobbying on social media platforms like Facebook, Twitter, WhatsApp or email. You can 'act now' to end Saudi Arabian guardianship laws here.
Meanwhile, in her first public statement since arriving in Canada, Mohammed has promised to work for the freedom of women all over the world. "The same freedom I experienced from the day I arrived in Canada."
https://womensagenda.com.au/uncategorised/we-must-keep-talking-about-the-treatment-of-women-in-saudia-arabia/
--------
Muslim Organisation Suggests Council in Australia Builds New Showers So Islamic Women Can Clean Themselves in Private
21 January 2019
A Muslim organisation has suggested a local council in Australia install women's only public amenities at a popular beach.
The request comes after a Muslim family reportedly used a members only surf club following a day at Coolum Beach, on Queensland's Sunshine Coast.
With no female only facilities available, the family waltzed into the surf club to shower and get changed.
'I found them in the members-only showers and tried to explain to them they weren't allowed to shower there,' the patrol captain from Coolum Beach Surf Life Saving Club told the ABC.
'They said they didn't have a choice as there was nowhere for them to shower in a female-only shower in private.
'The public toilet block (at Coolum) was upgraded a few years ago and is now unisex.'
A spokeswoman from Sunshine Coast Council pointed to the high maintenance costs associated with indoor beach showers, with sand continually 'blocking drainage which then sees a requirement for plumbing work.'
Representatives from the Muslim Organisation Sunshine Coast (MOSC) stressed the need to consider the area's growing Muslim population when designing public infrastructure.
'It would be appropriate that the local government takes into account the needs of its citizens,' a spokesperson said.
'Facilities need to be built that cater to everyone.'
The unisex public toilets at Coolum Beach have also come under scrutiny after a four-year-old girl was indecently assaulted at the toilet blocks a fortnight ago.
https://www.dailymail.co.uk/news/article-6605323/Muslim-family-demand-council-builds-new-showers-Islamic-women-clean-private.html
--------
NGOs Vow to Rearrange Peshawar Women's Cycle Rally Soon
January 21, 2019
PESHAWAR: The organisers of the first-ever women's cycle rally in Peshawar have resolved to rearrange the event in a month or two after taking the clerics and leaders of various religio-political parties into confidence.
The rally, which was to be held on Saturday at Hayatabad sports complex, was cancelled after opposition from some religio-political parties.
Speaking at a press conference at Peshawar Press Club on Sunday, Ms Zartasha Jamal, the chief executive officer of Pak Development Mission, one of the three NGOs organising the event, accused the co-organiser Zmung Jwandun of leaking information about the rally, which was supposed to be kept secret to avoid backlash or criticism.
Flanked by representatives of another NGO Professional Development Organisation, Ms Jamal accused a fellow organisation of being responsible for their failure to hold the rally on the scheduled date. She alleged that information regarding the rally was leaked by Ms Wafa Wazir, which not only jeopardised the lives of rally's participants, but also led to its cancelation due to threats by clerics.
"We had obtained the no-objection certificates from the relevant departments and Hayatabad police had assured foolproof security to the participants," she said and added that the event was aimed to present a soft image of the province at world level.
She claimed that NGO Zmung Jwandun was not registered with the relevant government departments, but her organisation had joined hands with it to encourage it for serving the cause of women.
Another official of Pak Development Mission, Kashif Iqbal, said that his NGO had organised many events in educational institutions to develop soft skills of the female students.
The cycle rally, he said, was a symbolic event within a distance of three kilometres to encourage the girl students for taking part in different activities. He said that scores of girls had got their names registered for taking part in the rally.
"We have also engaged our legal counsel to take permission for the cycle rally through the court," he said. However, he denied having received any kind of life threats from any quarters.
The Peshawar cycle rally was cancelled after Jamaat-i-Islami and Jamiat Ulema-i-Islam-Fazl protested against it and warned of dire consequences if it was held.
Zartasha Jamal said they would reschedule the event in a month or two.
"The security and safety of the girls was our primary responsibility due to which we had to cancel the rally," she said, adding that they would not include Zmung Jwandun as an organiser next time.
https://www.dawn.com/news/1458767/ngos-vow-to-rearrange-peshawar-womens-cycle-rally-soon
--------
Saudi Women Dominate At Motor Racing Event in Dirab
January 21, 2019
RIYADH: Saudi Arabian women dominated the first round of the women's SWS-SPRINT Championship, which is organized by the FunXtreme Racing Circuit in Dirab for motorcars and motorcycles.
It is sponsored by the Saudi Federation of Motor Vehicles and Motorcycles at the SWS World Championship.
The second round saw the participation of a number of Saudi, Gulf and Arab women drivers, who fought it out for the title until the final meters of the race to become the winner.
Yasmin Madani finished first with 0.09 ppm, Amjad Al-Omari came in second place and Princess Madawi Al-Saud took third place.
Sarah Al-Harthi, Director of the Women's Race Program at FunXtreme circuit, praised the impressive levels of the first and second rounds of the women's competitions, stressing that they are no less exciting than the other categories/groups, especially since it is being held for the first time in Saudi Arabia.
Al-Harthi expressed her deep satisfaction with the excellent professional level of the tour.
She also praised the increasing media interest in women's races, which reflects the positive interaction of the media and its role in enhancing the participation of Saudi women in all fields.
http://www.arabnews.com/node/1438881/saudi-arabia
--------
Initiative Launched To Ensure Better Working Conditions for Saudi Women
January 20, 2019
RIYADH: The Ministry of Labor and Social Development on Sunday launched a unified organization for women's work environment initiative. It aims to create an attractive working environment for women in various labor market activities, while also helping the private sector to attract female workers.
The initiative addresses a number of issues including avoiding any action that puts pressure on women's freedom in a way that does not conform to the labor laws. There shall be no gender discrimination in wages for work of equal value. Furthermore, creating an appropriate working environment for women is a direct responsibility of the employer, by creating a suitable space for women to carry out their responsibilities, making sure to provide privacy and independence in women's sections in the office.
In the event that women and men are employed in the same place of work, the number of females working in the same shift shall not be less than two. Women should not be employed in cleaning facilities or room service and made to carry luggage in the tourist accommodation sector, except for private accommodation that is for females only.
The ministry also requires companies and enterprises to provide enough security guards or an electronic security system that is operated by women. In addition, women should not work in facilities reserved for men only.
The ministry excludes the employment of women in industrial occupations and jobs that would expose them to dangers.
The ministry also specified working hours for females at night for various activities, which is until 11 p.m., except for industrial activities where they work until 6 p.m.
However, there are some other activities and situations in which women may operate at night, such as if the work is related to health or charity, emergency situations or if working at night is necessary to keep materials from rapid damage.
Women can also work at night if they hold senior positions, or if they are working in establishments that fall under the supervision of the cities or governorates and their municipalities in the month of Ramadan and peak seasons and in the central areas of Hajj and Umrah, such as working in women's supplies shops or providing entertainment and nutrition services.
According to the ministerial decree, the penalties imposed by the labor law and the relevant ministerial decisions shall be applied on the establishment that violates any of the provisions of this decree, and shall be effective from the date of its issuance.
http://www.arabnews.com/node/1438811/saudi-arabia
--------
Iranian Women Protest US Arrest of State TV Journalist
January 20, 2019
TEHRAN: Dozens of women staged a protest in in Tehran on Sunday calling for the release of an Iranian state TV journalist arrested in the United States.
The demonstrators waved pictures of Marzieh Hashemi at the rally in front of the Swiss Embassy which handles US interests in the Islamic republic.
US-born Hashemi, who works for Iran's English-language Press TV, was held on arrival at St. Louis Lambert International Airport on January 13, according to family and friends cited by Press TV.
Hashemi, a Muslim convert who changed her name from Melanie Franklin, had reportedly been visiting her ill brother and other family members.
A US court on Friday confirmed the arrest, saying her testimony is required over an unspecified case but that she is not accused of a crime.
At a hearing in Washington, a judge ordered the partial unsealing of an order on Hashemi.
It said that Hashemi was arrested on "a material arrest warrant" and would be let go after she gave testimony to a grand jury investigating unspecified "violations of US criminal law."
The protesters in Tehran, including students and female members of the paramilitary Basij militia, shouted slogans such as "we are all Marzieh" and carried posters with the hashtag #FreeMarziehHashemi.
"We demand that she is immediately released and returned to her family in full health," demonstrator Minaeepour told AFP.
Iran's FM Javad Zarif on Thursday described the detention as a "political action" by the United States that "tramples on freedom of speech" and demanded she be set free.
Zarif said that since Hashemi was married to an Iranian she is considered as an Iranian national and "it is our duty to defend our citizens."
http://www.arabnews.com/node/1438651/media
--------
Women's Participation in Iran's Job Market Only 16.8% In 2017
Jan 20, 2019
Women's participation rate in Iran's job market in 2017 was only 16.8%. This is very low compared to the male participation rate which was 71.4% in 2017.
The statistics are based on the United Nations Development Program. The Statistical Center of Iran annually publishes the results of labor force surveys in Iran. It evaluates the labor market indicators for the 10 years between 2008 to 2017, which confirms gender inequality in the job market in Iran.
During this period, the average participation rate of men in the job market was four times more than women's participation rate.
The average male labor force participation for this ten-year period was about 63% and only about 14% for women's participation rate in the job market. Out of every 100 employed persons in Iran, 84 were men and only 16 were women. These statistics show a clear indication of a male-dominated job market in Iran.
As for the level of education, the population is divided into illiterate-low education, general education and higher education. The inequalities in all groups are in favor of men. Although 46% of the population with general education are women, women's participation rate in the job market is only 9%, and out of every 100 people in this group, 10 are women. This gap between men and women still exists.
In the higher education group, women's participation rate in the job market is about 37% and almost half of the men, and the employment quota is between 30-70 in favor of men.
The presence of a trained and well-educated workforce is an effective component of human capital in countries, and therefore, the role of women as half of the population cannot be ignored. Countries that cannot use this capacity will not have the expected output from the expenses on training high-educated women. (The state-run IRNA news agency – January 17, 2019)
https://women.ncr-iran.org/2019/01/20/womens-participation-in-irans-job-market-only-16-8-in-2017/
--------
Baha'i Women Once Again Arrested and Deprived From Education
Jan 20, 2019
Two Baha'i women, Kimia Mostafavi and Kiana Rezvani, have been arrested in Kerman. Their whereabouts are still unknown. A Baha'i student, Shirin Bani Nejad, was also deprived of education and expelled from university due to her faith.
Two Baha'i women, Kimia Mostafavi and Kiana Rezvani from Kerman, were arrested on Saturday, January 19, 2019, by security forces. No information is available on their fate and whereabouts.
One of these Baha'i women, Kiana Rezvani had been previously deprived of education due to her faith. After participating in the National University Entrance Exam, her file was flagged as 'deficiency on file' on the National Organization for Educational Testing website. This flag is used for Baha'i students who are deprived of continuing their studies.
Shirin Bani Nejad, a full-time fifth-semester undergraduate student in computer science at Sama Andisheh Azad University, was barred from continuing her studies because she is a Baha'i, and has been prevented from continuing her education.
According to reports, on Wednesday, January 9, 2019, Shirin Bani Nejad was called on the phone and asked to go to college. At the university she was informed that she had been expelled from the university a month before.
The announcement was made only after she had paid her full tuition, and had even taken one of her exams. She was dismissed when she was only three exams away from completing her education and receiving a degree.
Shirin Bani Nejad and her family went to the security and head of the university offices on Saturday. However, they did not receive any answers, as the officials denied having any role or responsibility in expelling Ms. Bani Nejad. They were told to go to the Ministry of Intelligence.
During the past year, dozens of Baha'i women have been arrested and at least 23 Baha'i women were expelled from university and deprived of continuing their education.
Paragraph 3 of the bill ratified by the Supreme Council of Cultural Revolution in March 1991 and endorsed by the mullahs' supreme leader Ali Khamenei, reiterates, "Once it is confirmed that a student adheres to Baha'ism, whether at the time admission or during their studies, she/he must be deprived of education."
https://women.ncr-iran.org/2019/01/20/bahai-women-arrested-deprived-education/
--------
URL: https://www.newageislam.com/islam-women-feminism/uniform-code-womens-work-environment/d/117521
New Age Islam, Islam Online, Islamic Website, African Muslim News, Arab World News, South Asia News, Indian Muslim News, World Muslim News, Women in Islam, Islamic Feminism, Arab Women, Women In Arab, Islamophobia in America, Muslim Women in West, Islam Women and Feminism