New Age Islam News Bureau
09 February 2021
• New Saudi civil laws to include minimum age limit on marriages: Justice Minister
• Switzerland's referendum on burqas is an insult to women's rights and dignity
• Unlike men, Muslim women should take divorce for second marriage: Punjab and Haryana High Court
• UN Agencies Urge Somalia To Pass Law Prohibiting Female Genital Mutilation Practice
• Sexual violence in Pakistan: How female police officers are helping victims
• Turkey's women need more inclusiveness and rights, not a women-only university
• Gulalai Ismail, Pashtun activist in exile whose father is now held for 'terrorism' in Pakistan
• Local Assembly In Pakistan Bans Women From Visiting Child Wellness Centers
• Turkish women more active in politics since 1935
• MoufidaTlatli, first Arab woman to direct a feature film, dies aged 73
Compiled by New Age Islam News Bureau
URL: https://www.newageislam.com/islam-women-feminism/un-urges-57-countries-reclaim/d/124260
--------
U.N. urges 57 countries to reclaim women, children from Syrian camps
FEBRUARY 8, 2021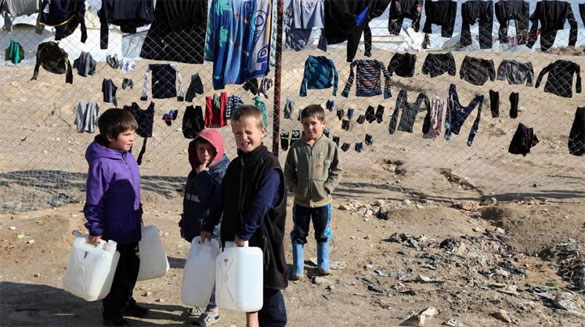 Children hold onto water containers in al-Hol camp, Syria. (Reuters)
---------------
GENEVA (Reuters) - U.N. rights experts urged 57 states on Monday to repatriate nearly 10,000 of their citizens - women and children associated with Islamic State fighters - held in camps in northeast Syria in "sub-human" conditions without legal process.
Under international law, these states have a duty to repatriate their citizens and, if there is evidence, to prosecute adults for war crimes or other offences at fair trials in their domestic courts, the experts said.
Some 9,462 foreign women and children are among more than 64,600 people detained at al-Hol and Roj camps, run by Syrian Kurdish authorities, where the majority of residents are Iraqi and Syrian nationals.
"The matter is one of extreme urgency," FionnualaNíAoláin, U.N. special rapporteur on protecting human rights while countering terrorism, told a news briefing after the independent experts issued a joint statement.
She called the list of 57 countries - which include Britain, China, France, the Russian Federation and the United States - a "list of shame". She also decried "an uptick in nationality stripping", noting it was unlawful to leave someone stateless.
"These women and children are living in what can only be described as horrific and sub-human conditions... The conditions in these camps may reach the threshold of torture, inhuman and degrading treatment under international law," NíAoláin said.
Some women had been "groomed online" as brides of Islamic State fighters, while children "had no say in what brought them there", she said.
The United Nations said last month it had received reports of 12 Syrian and Iraqi nationals being murdered in the first half of January at al-Hol camp, which holds internal refugees and families of Islamic State fighters.
Canada, Finland and Kazakhstan have repatriated some nationals, NíAoláin said, welcoming "the trickle of returns".
She compared the "illegal detention" to that of security suspects held at the U.S. detention facility in Guantanamo Bay for years without charge.
"These women and children are a convenient battering ram on all the fears of state and the public. They are made objects of hate, ridicule and shame," she said.
https://www.reuters.com/article/us-syria-security-un-rights/u-n-urges-57-countries-to-reclaim-women-children-from-syrian-camps-idUSKBN2A81V4?il=0
--------
New Saudi civil laws to include minimum age limit on marriages: Justice Minister
09 February ,2021
New reforms to Saudi Arabia's civil laws will include the setting of a minimum age on marriages for both genders and granting women more marital contract rights, according to the Kingdom's Minister for Justice.
"For the Personal Status Law, perhaps the most prominent general features are the setting of a minimum age for marriage for both parties, as well consolidating the consideration of a woman's will in all aspects of the marriage contract in addition to childcare rights and interests of the child," Saudi Justice Minister Dr.Walid bin Mohammed al-Samani.
Saudi Arabia's Crown Prince Mohammed bin Salman announced on Monday four new laws to reform the Kingdom's judicial institutions and efforts toward improving the "legislative environment" in the Kingdom, according to an official announcement.
The four new laws include the Personal Status Law, the Civil Transactions Law, the Penal Code for Discretionary Sentences, and the Law of Evidence.
The Crown Prince said the current laws of the past have been "painful" on many individuals, especially women.
"This was painful for many individuals and families, especially women, permitting some to evade their responsibilities. This will not take place again once these laws are promulgated pursuant to legislative laws and procedures," the Crown Prince said in a statement.
The Justice Minister told Al Arabiya that reforms to the legislative system would include reforms in the way judges sentence individuals according to the crime committed.
"For the penal system, the draft affirms that the scope of the punishment is always limited to the acts stipulated in the legal code, as there is no criminalization except by the statutory text. As well as the principle of the personality of the punishment and the emphasis on the presumption of innocence, the approval of alternative penalties to imprisonment and the reduction of aspects of penalties depriving freedom," added.
In applying the statutory text to the facts, the justice minister said, judges will be able to devote themselves to their basic work in implementing these legislations in addition to paying more and more attention to the realistic aspect of any case.
While no specific details of the which laws would be reformed were announced on Monday, the Crown Prince did say that they would be released later this year after submitted to the Council of Ministers and its bodies for review and consideration, in accordance with the legislative process, and in preparation for submission to the Shura Council, pursuant to its law.
https://english.alarabiya.net/News/gulf/2021/02/09/Saudi-women-New-Saudi-civil-laws-to-include-minimum-age-limit-on-marriages-Justice-Minister
--------
Switzerland's referendum on burqas is an insult to women's rights and dignity
byRabina Khan
Feb. 8, 2021
On March 7, Switzerland will hold a referendum to decide whether to ban full facial coverings such as burqas and niqabs. Polls show that more than 60 percent of Swiss voters favor the burqa ban. Although the Swiss cantons of St. Gallen and Ticino already have a ban on full face coverings following regional votes, the Swiss government has recommended voters reject the federal proposal, saying a nationwide constitutional ban would "undermine the sovereignty of the cantons, damage tourism and be unhelpful for certain groups of women."
Those "certain groups of women" are Muslim women.
It is ironic that the vote will take place on the eve of International Women's Day on March 8, which strives for a gender-equal world. Removing a Muslim woman's right to wear a face veil is not equality.
Why should a Muslim woman who chooses to cover her face because of her faith not be allowed to do so? People of different faiths adhere to different dress codes, yet it is Muslim women who bear the brunt of this policing around the world.
Switzerland is far from the first country to propose laws limiting Muslim women's choice of attire: France, the Netherlands, Denmark, Latvia, Austria, Bulgaria, Belgium, Republic of the Congo, Chad, Gabon and Sri Lanka all have laws prohibiting the wearing of religious face coverings. These bans are called a "security measure," even though women's role throughout history in political violence is not linked to the clothing they wore.
Although other countries have typically imposed the ban through legislative votes, Switzerland has approached the question through a public referendum. It is bad enough for politicians to bow to bigotry and introduce repressive laws on women's dress, but there is something uniquely sinister about the notion of politicians whipping up popular outrage against an oppressed minority among the voting public.
So, what is the petitioners' motive for wanting a burqa ban? The group behind the proposal — the EgerkingerKomitee — includes members of the right-wing Swiss People's Party who instigated a ban on minarets in 2009, sparking the belief that this is motivated by religious bias. Supporters of the ban on minarets felt they were alien to Swiss traditions and values.
Switzerland is becoming more diverse; 5 percent of the population is Muslim. A survey conducted in the country in 2018 showed that mistrust of Islam was three times more prevalent than negative views of Muslims. If niqab-wearing women are being judged more negatively because of a perceived association to the extremist side of Islam, this is a false stereotype that we have to break down.
If the ban on burqas and niqabs comes into force, what message will this send to the world about Switzerland? A beautiful country that relies heavily on tourism needs to attract foreign visitors, not deter them — particularly given the dire effects of the pandemic on the country's tourism industry.
As a recent article in the Conversation highlights, face-covering bans are especially hypocritical in this moment because "we are all niqabis now." If we can become accustomed to communicating with each other while all parties are wearing face masks, then surely we can adapt to communicating with one woman wearing a niqab. And as Maria Iqbal, a niqab-wearing Muslim woman, wrote in Flare, niqabs and burqas do not have to inhibit communication because "our eyes play a big role in projecting happiness, and can even show more genuine joy than smiles."
There are certain situations where it is necessary for a woman to remove her face covering, such as situations involving security, a courtroom or an emergency medical situation. But the legal normalization through laws banning Muslim women's clothing paves the way for them to be discriminated against or harassed for following their faith. That is fundamentally wrong.
This problem extends well beyond Switzerland and the countries that have banned face coverings. As I describe in my forthcoming book, "My Hear is Pink Under This Veil," while running in a mayoral election in East London's Tower Hamlets in 2015, a White man asked me what color my hair was under my veil. I said it was pink. Throughout my journey from my childhood in Kent in the 1970s — where my family was the only family of color on our street — to my life today in London as a hijab-wearing Muslim politician, campaigner and writer, I have endured discrimination and worked to overturn stereotypes.
Muslim women do not need fashion tips and restrictions from lawmakers and the public. They need the world to know that they have the right to choose and have an equitable place in society.
This year's International Women's Day theme is #ChoosetoChallenge. The challenge for countries that impose bans on Muslim women is: How are these bans really helping to forge a truly gender-equal world? I choose to challenge those who undermine Muslim women and attempt to write off our contributions, and I choose to challenge the structural inequalities that hold us back.
As a Muslim woman, I challenge those who try to break us.
https://www.washingtonpost.com/opinions/2021/02/08/switzerlands-referendum-burqas-is-an-insult-womens-rights-dignity/
--------
Unlike men, Muslim women should take divorce for second marriage: Punjab and Haryana High Court
Feb 09, 2021
New Delhi: The Punjab and Haryana High Court has said that a Muslim man can marry another woman without taking a divorce from the first wife, but a Muslim woman has to take a divorce for her second marriage.
The Muslim woman will have to get a divorce from her first husband under the Muslim Marriage Act 1939.
Justice AlkaSarin pronounced the judgment while hearing a petition that sought the protection of a Muslim couple of Mewat district in Haryana.
The couple told the High Court that they were both married in the past. The Muslim woman alleged that her first marriage was against her will and that is why she is now married to her lover.
The High Court was told that the couple's family members were against their marriage. The family members were also threatening to kill the couple and evict them from the property.
During the hearing, the couple's lawyer told the bench that the couple is Muslim and according to the religion, they are allowed the second marriage.
On this, the Bench stated that the couple's marriage is illegal as a Muslim man can marry more than once without divorcing his first wife, but if a Muslim woman has to marry someone, she will have to divorce her first husband under the Muslim Marriage Act 1939.
The news comes almost two years after the Muslim Women (Protection of Rights on Marriage) Act, 2019 was introduced. It prohibits divorce by pronouncing 'talaq' thrice in one occasion by Muslim women's husbands. It makes instant triple talaq a cognizable offence and may attract up to three years of imprisonment and a fine. Under the act, an accused can be arrested without a warrant.
https://zeenews.india.com/india/unlike-men-muslim-women-should-take-divorce-for-second-marriage-punjab-and-haryana-high-court-2340549.html
--------
UN Agencies Urge Somalia To Pass Law Prohibiting Female Genital Mutilation Practice
06 February, 2021
Mogadishu [Somalia], February 6 (ANI/Xinhua): Two UN agencies on Saturday called on the Somali government to commit to ending female genital mutilation (FGM) by passing a law that eliminates the practice.
The UN Population Fund (UNFPA) and the UN children's fund (UNICEF) called on the government to revive efforts for passage of the FGM Bill which has been stuck in the legislative process for several years.
"FGM is a harmful practice that scars girls and women and endangers their health for life depriving them of their rights and denying them the chance to reach their full potential," UNFPA Representative for Somalia Anders Thomsen said in a joint statement issued in Mogadishu to mark the International Day of Zero Tolerance for FGM.
Thomsen also urged the government to pass the Sexual Offences Bill to act expeditiously to end the practice and protect the rights of girls and women.
According to the latest Somali Health and Demographic Survey, the Horn of Africa nation has one of the highest rates of FGM in the world.
The survey says 99 percent of women between the ages of 15 and 49 have been subjected to this extremely harmful and unacceptable practice.
According to the UN agencies, there are various forms of FGM practiced and two out of three Somali women have undergone the most extreme type of FGM called infibulation.
The UN agencies said providing a legal framework that bans FGM will empower families and communities to stand firm and refuse to let their daughters be cut, putting an end to this gross violation of human rights.
"We must collectively renew our commitment to ending this harmful practice and work with all stakeholders to change attitudes so that the next generation of girls can live healthier lives," Jesper Moller, UNICEF Deputy Representative in Somalia.
The UN says there are many reasons that FGM is almost universally practiced in Somalia including the fact that many religious and community leaders encourage the practice, wrongly justifying it as a religious necessity.
Families also view cutting as a way of protecting their daughter's chastity and that it is a prerequisite for marriage, the UN agencies said. (ANI/Xinhua)
http://www.businessworld.in/article/UN-agencies-urge-Somalia-to-pass-law-prohibiting-female-genital-mutilation-practice-/06-02-2021-374552/
--------
Sexual violence in Pakistan: How female police officers are helping victims
Mavra Bari
08.02.2021
Violence against women is rampant in Pakistan, with several rape cases over the past year making national headlines and causing an uproar in the Muslim-majority South Asian country.
But activists say the recorded cases are only the tip of the iceberg, as most cases of gender-based violence go unreported in the country. In many instances, women do not come forward and report the abuse to authorities.
One of the reasons behind this is a sense of fear. As much of Pakistan's police force and judiciary is male-dominated, women are reluctant to interact with them. There have been reports of harassment in police stations during investigation.
Human rights groups are urging the government to pass a new law to establish special courts for rape trials, so that victims of sexual abuse and gender-based violence feel more secure. They also demand that the number of female police officers and female judges be increased to deal with such cases.
Women make up only 1.8% of the country's police force. In the past few years, there has been a modest increase, but gender balance in the police is still a distant dream.
Encouraging women to report
"We don't have many women officers in police stations, but our senior officers go through a rigorous training. At the same time, we need to empower young policewomen, who, I think, are very capable," Muhammad Ahsan Younas, a deputy inspector general (DIG) for the Rawalpindi city police, told DW.
Younas has launched several projects that are led by policewomen. For instance, to encourage women to report cases of harassment and violence, the police station has established a separate unit to deal with complaints.
He has also set up a helpline that is operated only by female police officers. Women in Rawalpindi and surrounding areas can call the toll-free 111-276-797 number to report domestic abuse or harassment without having to go to the police station. After the complaint is lodged through the helpline, a female police officer makes an appointment with the complainant.
AmnaBaig, a 29-year-old female police official and one of the main figures behind the helpline, says it is a difficult task for women to report harassment. "Most of the times it is not even an option for them because of the social stigma. Women going to the police station is considered a taboo in Pakistan. Our helpline ensures anonymity and safety," Baig told DW.
The helpline was launched on December 8, and as per statistics provided by Rawalpindi's women police station, scores of women called the helpline in December, and police registered 25 formal complaints as a result of it.
According to police, complaints about teasing in public spaces accounted for 52% of calls, 12% were about sexual harassment and around 36% about domestic violence.
Baig notes that while the helpline is encouraging more women to lodge a complaint, formal police reports are still rare, as women often succumb to family and social pressures to forgive the culprits, especially when they are family members.
Model women officers
Baig is hopeful that more women will join the police force in the coming years. "I come from a common Pakistani household. If a female family member has an issue that involves police, a male member takes it up for her," she said.
"Pakistani women can easily go to a hospital or a school because there are many women working there. I wanted to join the police force so that women can access police services without fear," she said.
Baig has over 80,000 followers on Twitter. She is tech-savvy and represents a change in the Pakistani police force.
But it was more difficult for women to join the police in the past. Shahida Yasmeen, a station house officer (SHO), has been a police officer for the past three decades.
"When I joined the force, a female police officer was pretty much unheard-of. I am happy to see that it is not the case anymore," Yasmeen told DW.
"We were often harassed by our male colleagues, and we could do nothing about it. Now, male police officers are more respectful, and gender-sensitized," she added.
Yasmeen is planning to start a career counseling service to encourage young women to join the police force.
https://www.dw.com/en/sexual-violence-in-pakistan-how-female-police-officers-are-helping-victims/a-56500163
--------
Turkey's women need more inclusiveness and rights, not a women-only university
Alexandra de Cramer
Feb 09, 2021
A gender-segregated education system has long been one of the top goals of Turkey's ruling Justice and Development Party, the AKP. Until now, the government of RecepTayyipErdogan has been working to separate men and women attending co-ed institutions. But now, there are plans for a wholly women-only university to be opened by 2023. Such a development will be to the detriment of women's rights in Turkey, already assailed from many directions.
Erdogan, the president, became attached to the idea of a women-only university during his visit to Japan in 2019 to attend that's year's G20 summit. In conjunction with the trip, he was accorded an honorary doctorate at Mukogawa Women's University. In his acceptance speech, Erdogan said he was impressed with the idea of a women-only institution. He later asked the embassy in Tokyo to study Japan's women-only universities, and in October last year, the government announced that a women-only institution would be established under the auspices of Turkey's latest development plan.
Aylin Nazliaka, the chair of the opposition Republican People's Party's Women's Branch, issued a statement calling such a plan another way of creating "obedient women". She further noted that the decision was made without consultation with women's organisations, political parties or students.
In the 19th and early 20th century, women's colleges began to be established in the US, Britain and elsewhere (Japan and what would become South Korea, included) to give women access to the higher education that had been denied them. Today, only a few US colleges – Smith, Wellesley, Mount Holyoke, for example – remain all-women institutions. In Britain, while all Oxford women's colleges now are co-ed, three (soon to be two) at Cambridge remain women-only.
In the West and many parts elsewhere, the march toward gender equality (sadly, not a straight-line progression) has meant that women can attend almost any college previously reserved for men. The few that remain women-only see such an environment as a means of empowering women toward excellence. EwhaWomans University in Seoul, for example, is among the most prestigious universities in South Korea.
In Turkey, however, where women already long have had access to higher education, the belated creation of a women-only institution is a massive step backwards, and hard to reconcile with the need to advance women's rights.
According to the World Economic Forum's latest Gender Gap Index, Turkey is down at 130 among 153 countries surveyed. While Japan is not far from Turkey, at 121 on the list, the underperformance of women is something the government and society desperately want to fix (although there often is resistance from some parties). While women-only institutions elsewhere are predicated on the idea of expanding opportunities for women, in Turkey, the plan simply is to keep them away from men. The Turkish government seems obsessed with preventing women and men from mixing, advocating almost a form of the society-wide modern harem.
In 2013, co-ed dorms in higher education began to be removed. The minister of youth at the time called the decision a "humanitarian one, not an Islamic one." A couple of months later, an AKP parliamentarian said co-ed education was a "big mistake" that the AKP intended to fix.
Five years later, a new regulation removed the requirement that certain high schools and vocational training institutes should be co-ed. A spokesman for the president then made the inexplicable claim that this was meant to create a more "inclusive" education system. The Science Academy – a non-governmental organisation based in Istanbul – has said that since 2015 the Turkish Council of Higher Education had stopped actively promoting gender equality in higher education.
No observer can escape the conclusion that women's rights are being abbreviated, and that the establishment of a women-only university will only further that trend. Rather than a reflection of an aspiration for the advancement of women, the idea of segregated women-only institutions can only be seen as an attempt to downgrade the citizen status of women. It is an idea not fit for purpose in the 21st century.
https://www.timesnownews.com/columns/article/turkey-s-women-need-more-inclusiveness-and-rights-not-a-women-only-university/717861
--------
Gulalai Ismail, Pashtun activist in exile whose father is now held for 'terrorism' in Pakistan
TARAN DEOL
9 February, 2021
New Delhi: Pakistani human rights activist Gulalai Ismail, currently seeking political asylum in the US, has been at the centre of another political storm after her father — Muhammad Ismail — was arrested on 2 February on charges of terrorism and sedition. Muhammad's bail plea was rejected and a Pakistani court sent him to police custody on 3 February.
Several international rights groups such as Amnesty International have called for his release while the US State Department said it is monitoring allegations of harassment against the Ismail family.
Gulalai took to Twitter Monday, alleging "torture cell"-like conditions in which her father has been kept. "I've been informed that my father has been kept in very miserable conditions in the quarantine of Peshawar Central Jail. He has been quarantined in a cell with 60 other inmates. He is forced to sleep on the bare floor despite that he still not yet completely recovered from Corona," she said, adding how he is not being given proper food or access to the jail's cafeteria.
She had earlier said her home in SwabiMarghuz was raided by the Peshawar police's counter terrorism department who planted "fabricated papers/receipts" there.
Who is Gulalai Ismail?
Gulalai and her family have been the target of the authorities in Pakistan since 2019 for her work as a women's rights activist and her involvement with the Pashtun cause.
A vocal advocate for human rights since the age of 16, Gulalai founded an NGO — Aware Girls — when she was a teenager. The NGO aimed to "empower young women, advocate for equal rights of young women, and to strengthen their capacity enabling them to act as agents of women empowerment and Social Change".
She is also the leading member of rights group Pashtun Tahaffuz Movement (PTM) that demands accountability from Pakistan's military for alleged "grave human rights violations against Pashtuns in the country's northwest". The movement believes Pashtuns have been the victims of both Taliban and Pakistani military for two decades. The PTM also demands a "truth and reconciliation commission to address claims of extrajudicial killings and missing persons".
Born in Swabi and raised in Peshawar, Gulalai, daughter of an Urdu professor, earned a Master's degree in biotechnology from Islamabad's Quaid-e-Azam University in 2012. She later shifted focus to human rights, gender-based violence and countering extremism. Her work has brought her audiences with powerful woman leaders — the likes of former US first lady Michelle Obama and Britain's Queen Elizabeth II in 2015.
Booked for 'anti-state activities'
Gulalai made headlines in January 2019 when she took to Twitter and Facebook, alleging "that government soldiers had raped or sexually abused many Pashtun women". Soon after, on 21 May, a police complaint was registered against her for attempting "to divide people on ethnic lines and incite them to commit treason".
While Pakistani officials maintain they have no issues with her work on women's rights advocacy, Gulalai currently faces six cases against her for anti-state activities.
Gulalai was banned from leaving the country, but she managed to escape to the US after being on the run.
Prior to that, the Ismail family alleges, several raids were carried out, numerous police officers were deployed and many family members and friends were abducted and tortured to extract information about Gulalai's whereabouts, but to no avail.
The 34-year-old ethnic Pashtun shifted from one house to another, stayed away from any phone or computer and covered her face for the limited time she would spend outdoors. She first flew out of Pakistan to Sri Lanka with the help of some friends and then to the US. "Security officials later admitted they were frustrated that she had managed to slip out of the country," The New York Times reported.
Gulalai currently lives in New York and has applied for political asylum.
'They want to harass my family'
Political scientists suggest that the recent protests in Pakistan are a sign of rising anger and indicate that many acknowledge the military as the real power behind the Imran Khan government and a "cause for the political and economic woes afflicting the country". Moreover, the country continues to be an unsafe place for women where "girls are murdered here by their own fathers to protect the family's sense of honour, countless women are denied education, and, in many areas, beating a woman is not considered a crime".
"What she (Gulalai) has been saying, however harsh, falls under freedom of expression," RasulBakhshRais, a professor of political science at Lahore University of Management Sciences, has been quoted as saying. "But the institution she has talked about doesn't want to be talked about."
The institution that Rais is referring to is Pakistan's military — a body that has long faced criticism by Opposition leaders for its "chokehold" on politics.
Gulalai has won many awards — Chirac Prize (2016), the Commonwealth Youth Award (2015) and the prestigious Anna Politkovskaya Award (2017).
"They just want to harass my family and to break their nerves," Gulalai has said. "To break their morale to set a precedent, that if any… father lets his daughter speak her mind and use her freedom of expression, then the parents will also not meet a good fate."
https://theprint.in/world/gulalai-ismail-pashtun-activist-in-exile-whose-father-is-now-held-for-terrorism-in-pakistan/601555/
--------
Local Assembly In Pakistan Bans Women From Visiting Child Wellness Centers
February 06, 2021
A local assembly in Pakistan's remote Bajaur tribal district has banned women from visiting child-welfare centers that provide regular cash allowances for mothers from impoverished backgrounds.
The assembly, or jirga, in Bajaur'sMamoond area said that women's visits to the offices of the Child Wellness Grants violate local cultural norms. The jirga said that as of February 6 any household that allows a female member of the family to visit the child-welfare centers will face a fine.
The jirga also prohibited women from taking part in radio call-in shows, claiming that "vulgar language" is often used during phone-in programs aired by local FM radio stations.
Many families in the religiously conservative area don't allow women to work outside home or even leave their homes without a male companion.
The Bajaur district government condemned the jirga's announcement.
"Banning women from visiting the centers or calling radio stations is a violation of basic human rights," BajuarFayaz, the district's deputy commissioner said on February 6.
Fayaz said he has arranged a meeting with the jirga members to resolve the issue.
Child Wellness Grants, which are funded by the World Bank, are aimed at improving the health and nutrition of the poorest children in Pakistan by financially supporting their mothers.
https://gandhara.rferl.org/a/local-assembly-in-pakistan-bans-women-from-visiting-child-wellness-centers/31089511.html
--------
Turkish women more active in politics since 1935
February 09 2021
Noted as among the first nations to give women voting rights in the 1930s, Turkey marks the anniversary of the first day when women lawmakers entered the Turkish Parliament.
A year after women were given the right to vote and stand for office, 17 women were elected for the first time to the Turkish Parliament following the elections held on Feb. 8, 1935.
With 17 women lawmakers in the parliament, the country had quite a remarkable start in terms of welcoming women into politics.
The ground-breaking move also meant that Turkey leapfrogged many nations at the time, which had yet to grant voting rights to women. Those nations included France and Switzerland at the time.
A by-election in 1936 saw their number increase to 18 and they constituted 4.6 percent of the Turkish Parliament, the second biggest proportion of female lawmakers in the world.
Out of the 17 female lawmakers, five of them were school principals, six municipal councilors, two farmers, three teachers, one mukhtar (local head) and one doctor.
Among them were graduates of London and Sorbonne Universities as well as those who graduated from Turkish higher education institutions known as Darülfünun. While 11 of the women lawmakers had completed their higher education, 13 of them had command of at least one foreign language.
While the rate of female representation in the parliament was expected to increase over the years, the fact that the Second World War shook daily and political life deeply, these expectations were dashed to the ground. The 1940s and 1950s were not so bright years for women politicians.
In the 1954 elections, the number of women parliamentarians saw its lowest point with only two lawmakers. But in the 1960s, the situation gained new momentum, and the number of women in the parliament started to rise again.
Appointed independently from outside the parliament as the minister of Health and Social Security, TürkanAkyol became the country's first female minister in 1971.
In 1993, a woman prime minister was elected for the first and the only time in the country's history. TansuÇiller, a professor of economics, was elected as the first woman prime minister of Turkey who served until 1996.
In 2007, the percentage of women represented in the parliament was 9.1 percent, and this number increased to 14.7 percent, with 81 lawmakers out of 550 elected as women in the 2015 elections.
Finally, the rate reached 17.1 percent in the 2018 elections, making the representation of female lawmakers in parliament reach its highest level in history.
Today, women politicians have become ever more active and ever more effective, with 103 lawmakers in the parliament since Feb. 8, 1935.
https://www.hurriyetdailynews.com/turkish-women-more-active-in-politics-since-1935-162260
--------
MoufidaTlatli, first Arab woman to direct a feature film, dies aged 73
9 Feb 2021
MoufidaTlatli, the pioneering Tunisian film-maker hailed as the first Arab woman to direct a feature film, has died aged 73. News media said that she died on Sunday, with the news confirmed by the Tunisian ministry of culture.
Tlatli remains best known for her breakthrough 1994 feature The Silences of the Palace, a lyrical study of a woman's return to an abandoned royal residence, which tackled the themes of exploitation and trauma as experienced across generations of Arab women. It won a string of international awards, including the Sutherland trophy at the London film festival for the most "original and imaginative" film of the year, and was named as one of Africa's 10 best films by critic and director Mark Cousins. The film was inspired by her mother's difficult life; in 2001, Tlatli told the Guardian she "was riven with guilt … It was so insupportable, exhausting, suffocating."
By becoming a director, Tlatli had broken the mould: "Traditionally in the Arab film world, a girl works in continuity or is an editor. I had never thought of making films." In her next film, released in 2000, Tlatli dealt with not dissimilar material about relations between the sexes. The Season of Men is about a community on the Tunisian island of Djerba whose males spend most of the year away working, and return only for a month. The Guardian's Peter Bradshaw called it "a beautifully lucid, compassionate film [and] a powerful and deeply engaging family drama". Like Silences of the Palace, The Season of Men found much favour on the international film circuit, winning a number of awards.
Tlatli was born in 1947 in SidiBou Said and studied film editing in Paris, before returning to Tunisia in 1972 to work as an editor. She completed a third feature, Nadia etSarra, in 2004, starring Palestinian actor-director HiamAbbass.
In 2011, Tlatli was appointed minister for culture in the transitional government after the Tunisian revolution.
https://www.theguardian.com/film/2021/feb/09/moufida-tlatli-tunisia-first-arab-woman-to-direct-feature-film-dies
--------
URL: https://www.newageislam.com/islam-women-feminism/un-urges-57-countries-reclaim/d/124260
New Age Islam, Islam Online, Islamic Website, African Muslim News, Arab World News, South Asia News, Indian Muslim News, World Muslim News, Women in Islam, Islamic Feminism, Arab Women, Women In Arab, Islamophobia in America, Muslim Women in West, Islam Women and Feminism