New Age Islam News Bureau
05 July 2022
• Hajj Gathers Global Female Faithful and Their Diverse Culture and Traditions
• I Want to See Girls Back to Afghanistan School: UN Assistance Mission in Afghanistan Acting Head
• Hijab: Group Renews Call, Tasks Lagos State To Implement Supreme Court Ruling
• US Mission Celebrates As Pakistani Women Complete Inaugural USPWC Program
• Bajrang Dal Members Stop Kannada Play Alleging It Had A 'Love Jihad Angle'
Compiled by New Age Islam News Bureau
URL: https://newageislam.com/islam-women-feminism/un-uae-marriage-divorce-rights/d/127409
--------
UN Panel Urges UAE to Give Women Equal Marriage, Divorce and Nationality Rights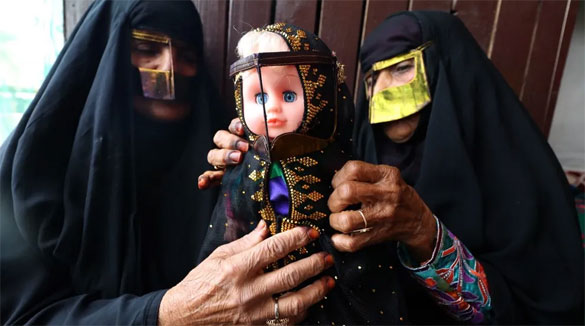 KARIM SAHIB / AFP Emirati women build traditional dolls off the coast of al-Mirfa beach, outside Abu Dhabi, the United Arab Emirates, on April 13, 2019.
-----
05 July, 2022
UN experts on Monday urged the UAE to give women the same nationality rights as men and called for equal rights between the sexes in marriage and divorce.
The United Nations Committee on the Elimination of Discrimination against Women (CEDAW) voiced its concerns following a fourth periodic review of the United Arab Emirates.
CEDAW is a body of 23 independent experts that monitors the implementation of the treaty on ending discrimination against women.
"The committee expressed concern about numerous provisions of the Personal Status Law that discriminate against women and girls, particularly the de jure retention of male guardianship, the persistence of polygamy, and the limited grounds for divorce available to women," it said.
"It recommended that the state party undertake a comprehensive legislative review to provide women with equal rights in marriage, family relations, divorce and with regard to property and custody of children."
The experts were also concerned that women in the UAE did not have the same right as men to pass on their nationality to their children.
They urged the country to grant Emirati women "equal rights to acquire, change and retain their nationality and to confer it on their children and foreign spouses".
Committee member Lia Nadaraia told reporters in Geneva that the UAE had made "big progress" since 2015 and the last periodic review and hoped that the body's recommendations this time would also be accepted.
She also said the UAE was "very competent and very prepared" when taking the issues into account.
Source: The New Arab
https://english.alaraby.co.uk/news/un-panel-urges-uae-give-women-equal-divorce-rights
--------
Hajj Gathers Global Female Faithful and Their Diverse Culture and Traditions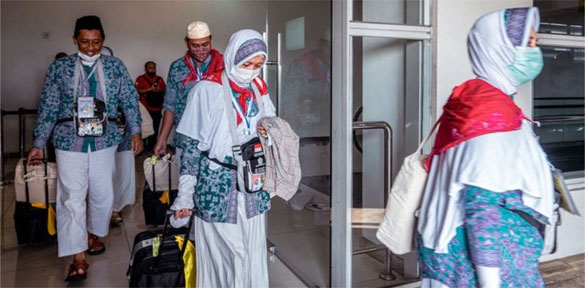 Men can only wear Ihram during Hajj while women can wear normal clothes. (SPA)/ Indonesia's Batik
-----
Nada Hameed
July 04, 2022
JEDDAH: During the Hajj, pilgrims from around the globe come to Makkah and Madinah bringing not only their faith but also their diverse culture and traditions.
Men are limited to only wearing the Ihram — a two-piece unstitched plain white cloth wrapped around the body —during Hajj and Umrah, while women can wear normal, loose, modest clothes.
Lailah Saleh Al-Bassam, professor at Princess Nourah bint Abdulrahman University, is the first Saudi academic to study the history of traditional Arab clothes and textiles in Saudi Arabia.
Al-Bassam explained to Arab News the history of what women, from various parts of the Kingdom, wore during the Hajj. "In the past, women of the central, eastern, and northern regions used to wear cotton dresses or two pieces of cloth called 'kurta' and 'maqtaa' in green and black colors. However, those who are from the western region (wore) similar pieces but in white for both Ihram and funerals."
She added: "Nowadays, women also wear what looks like a 'jalabiya' and there are many types that are (now) customized and designed to be suitable for Ihram, and some women buy the cloth and tailor it."
During a visit to Madinah in June, Arab News interviewed Uthe, 43, who was one of the first pilgrims to arrive from Indonesia.
Uthe will perform Hajj for the first time this year. "I feel so lucky, I have been waiting for this opportunity for 10 years and it has finally come," she said teary eyed.
She prepared five dresses and most importantly her "batik," an Indonesian traditional dress, which she even wore on her journey to the Kingdom. "I wore batik on my first flight to perform Hajj and I will be wearing it again on my way back. Both my mother and grandmother used to wear the batik during their Hajj trips as well."
She said it was a tradition to wear the batik for Hajj, but it is also worn for celebrations.
Uthe said wearing the clothes was important, but it was vital to prepare physically, mentally and spiritually for the pilgrimage.
Daniah Al-Khaldi, a 35-year-old mother and architectural engineer from Baghdad, said that Iraqi females have a specific Hajj tradition. "We dress in all white, from socks to hijab and abaya, the white colour must be included in all the details, as it is a sign of purification from sins."
To prepare for the day of Arafat on July 8, Al-Khaldi said she has a list of prayers ready. "Bringing a pocket Quran, subha, and a small, light sling bag for when moving between different areas in Hajj is really important. Also, a comfortable walking pair of shoes and odourless personal hygiene items are crucial," Al-Khaldi added.
Asia Ahmed, 55, from Sudan said: "Old and married women usually wear our traditional Sudanese attire during Hajj trips, it is known as thawb, and comes in many colors, while those who are not married wear regular abayas."
The Sudanese thawb is a long two-piece outer covering — that comes in different colors and designs — worn over a plain dress.
Ahmed also said that pilgrims should get portable chargers, skincare items, umbrellas, first aid kits, and common medicines to help other pilgrims if required.
Source: Arab News
https://www.arabnews.com/node/2116521/saudi-arabia
--------
I Want to See Girls Back to Afghanistan School: UN Assistance Mission in Afghanistan Acting Head
By Arif Ahmadi
July 05, 2022
KABUL, Afghanistan – The acting Secretary-General's Special Representative for Afghanistan Ramiz Alakbarov said the promises made by the Islamic Emirate government are just words, according to sources, adding he wants the door for girls' school to be re-opened.
Alakbarov, who took charge of the UN Assistance Mission in Afghanistan (UNAMA), made the remarks in an interview with TOLOnews' Hamid Bahraam.
"All the time I am hearing is while I am having this dialogue. What they are telling us is that in 12 provinces the schools are opened and other provinces will be reopened soon," he said, as the local media quoted.
Reflecting on the reasons why young women are being deprived of schooling, Alakbarove explains "there is some technicalities, there is no policy against" education for Afghans female across the country.
"I keep hearing that education for all is something that they are offering to stand for," he further said. "I want to see this in practice because I want to see girls back to school."
Meanwhile, Alakbarov expressed concern over ongoing humanitarian crisis in Afghanistan, saying the only practical solution to put an end to the crisis is to facilitate local Afghans getting back to work and make their living independently.
"Honestly, as I look at the situation in Afghanistan, this humanitarian crisis will never be over unless we start creating a more sustainable situation for people to go back to work, earn money and start addressing the problems," he said.
This came at a time girls' schools beyond grade six have remained closed for more than 10 months, where the latest grand assembly as well failed to address the voices of Afghan females and their urge for getting back to schools.
Earlier, the Human Rights Watch (HRW), including a number of students and teachers, said their expectations from the recent national assembly of Afghan clerics were not met, as there was no specific mention of girls' education and their rights in the country.
Recent gathering of clerics was expected to determine the reopening of the girl's schools but the resolution did not refer to the topic, leaving majority of the women in disappointment.
"Our wish from the Loya Jirga was to reopen the school but this didn't happen," said a local teacher Shogofa, as TOLOnews quoted. "We wanted them to talk about the schools."
"For how long will we be deprived of our education," she questioned in disappointment? Will they respond to our questions about whether we have the right to study or not? We have been in an uncertain fate for a long time."
Expressing frustration and an uncertain future for girls in Afghanistan, another Kabul teacher Momina said "Afghan girls become hopeless as the fate of their schools was not discussed and this is bad news for Afghan girls."
Meanwhile, the Human Rights Watch said it is not surprising the gathering did not bear any fruit, concerning girls' education in Afghanistan, which in fact was to be the "real thing" during the grand national assembly.
This is not "surprising that the Taliban's grand meeting didn't lead to any kind of breakthrough on a real thing — girls' secondary school," said Heather Barr, Associate director of the Women's Rights Division at Human Rights Watch, as local media reported.
But the Islamic Emirate officials in their defend said based on the final resolution, the decision was made about religious and modern educational system for girls in the country.
At least 3,000 people across Afghanistan were reportedly invited to the gathering of Islamic clerics, which was held at the Loya Jirga Hall on Thursday through the weekend in Kabul.
Source: Khaama Press
https://www.khaama.com/i-want-to-see-girls-back-to-school-unama-acting-head/
--------
Hijab: Group renews call, tasks Lagos State to implement Supreme Court ruling
JULY 4, 2022
Following the recent ruling by the Supreme Court on the matter, the Lagos State Government has been tasked to take necessary measures towards smooth implementation of granting approval to Muslim girls to wear hijab in the States owned schools.
National Amir of The Companion, an association of Muslim men in business and the professions gave the task in a statement, jointly signed by him and the group's General Secretary, Alhaji Ibrahim Abduquadri.
The statement described the apex Court judgment as a watershed, most especially that the legal tussle instituted against the State Government by Asiyat AbdulKareem, on behalf of the Muslim Students Society of Nigeria, (MSSN), Lagos Area Unit, had lasted for about 10 years.
The Companion decried the lassitude that had characterised the implementation of the judicial pronouncement and demanded that a circular be issued forthwith, so as to set the tone for its enforcement in public schools.
The Muslim professional organisation cautioned against any form of victimisation or harassment of Muslim female students by overzealous school teachers or principals, adding that the judgement was a guarantee of one of the fundamental Human Rights of Muslims and adherents of other religions.
The Companion wonders why some individuals or groups would deliberately; work assiduously, with a view to denying adherents of Islam their identity in a country where the constitution guarantees inalienable rights.
The Companion also called for sincere love, tolerance and upholding of the rule of law by people of other faiths, noting that anything contrary to such was an invitation to lawlessness and anarchy, describing the Muslim Ummah as peaceful.
"There is the need for people of other faiths to be lawful as well as respect the dictates of Islam as contained in the holy Qur'an and the tacit approval of Prophet Muhammad as anything contrary precipitate crisis," the statement stressed.
The Companion however enjoined Muslims in Lagos State among other States of the Federation to remain calm and law-abiding in the face of provocation, arising from the delay in the enforcement of the Supreme Court judgment on the use of hijab in public schools.
The Companion contended that it beats the imagination that despite bending forward and backward to accommodate the Christian counterparts in religious tolerance and freedom of worship, Nigerian Muslims have continually been discriminated against, harassed, humiliated, profiled and are subtly now openly referred to as Fulani- terrorist group even in view of glaring statistics that Muslims suffer most in terms of casualty in terms of being killed and maimed by the various destructive terrorist groups spread across West/East Africa regions.
The Muslim organisation wonders what could have led to the inconceivable level of deep-seated hatred the Christian brothers harbour for Islam to warrant stiff opposition to the use of hijab by pupils/students and even undergraduates, which is considered purely a personal matter, alleging that this lends a strong credence to the subtle agenda of Christian Association of Nigeria CAN, to have the identity of Nigeria's teeming populace subsumed in her evangelism drive.
"It is in this sense that we want to situate the recent declaration of the Appex Court on the use of hijab as fundamental human right of muslim females and their inalienable right to decent appearance and identity", says the group.
The Companion posited that the flurry cases of glaring opposition to Muslims way of life came to the fore in the wake of adoption of Islamic financial system considered to be halal (lawful in the sight of Allaah) but which the western culture nay Christian world detests, despite the readiness of many so-called predominantly Non-Muslim Countries and States in Nigeria to take advantage of multifaceted benefits of such non-interest facilities.
The Muslim Ummah is equally piqued and feels utterly concerned by the westernisation of education as initiated by the country's colonial masters and forced down the throat of adherents of Islam, to embrace hook, line and sinker till today.
"Quite unfortunately too, is the fact that, many of us have been indoctrinated to the extent that we have forgotten that the academic gown proudly wore during the matriculation and graduation ceremonies in secondary schools and Tertiary institutions today as well as the designation of the Chief Executive Officers in the Colleges of Education, Polytechnics and Universities have their origin in church administration", the organisation recalled.
The statement declared that it becomes more ludicrous that dressing in the Muslim way is today regarded by Christians generally as unbefitting in a decent environment, even when biblical verses support the injunctions of Allaah on dressing among Muslim women.
The statement reads in part: "What more! Time for Muslims obligatory prayers (solat) is often treated with contempt. It is unimaginable that many lecturers in various Tertiary institutions, out of insensitivity or pathological hatred for Islam, still fix lectures between 1:00pm and 2:00pm on Fridays, when Jummat service holds. It is therefore an irony of sort, for people of other faiths to ascribe religious intolerance to Muslims when their children are prevented from offering solat in their personal hostel rooms in Christian Higher institutions of learning while the contrary is the situation in Muslim faith-based institutions.
"The whole world knows that it is an incontrovertible fact that no country or nation can survive with a section of society waging war against the other section as personified by Christians' persistence persecution of Muslims".
"The height of religious intolerance was taken to a ridiculous level last week Thursday with the mild drama which played out at the Supreme Court, as a frontline human right activist, Chief Malcom Omirhobo, attended proceedings, dressed as a native doctor, apparently in protest against the judgement of the apex court in the land.
"We must state unequivocally, that The Companion is not surprised at the degrading act, as his antecedents are already in public domain. Let Chief Omirhobo continue to dress like that to everywhere in apparent hatred for Islam and its adherents".
It would be recalled that after about 10 years of legal tussle, the Supreme Court on Friday, June 17, 2022, upheld the ruling of Appellate Court and ruled in favour of the wearing of hijab by female Muslim students State's schools.
Source: The Eagle Online
https://theeagleonline.com.ng/hijab-group-renews-call-tasks-lagos-state-to-implement-supreme-court-ruling/
--------
US Mission Celebrates As Pakistani Women Complete Inaugural USPWC Program
Jul 4, 2022
ISLAMABAD – United States Mission yesterday celebrated as Pakistani women complete inaugural US-Pakistan Women's Council (USPWC) Future of Women in Energy Scholar's pilot program.
US Agency for International Development Mission Director Reed Aeschliman presided over a graduation ceremony for 17 female Pakistani university students who successfully completed the USPWC program. The graduation ceremony took place at the US Embassy here.
This inaugural four-week program encourages women to consider careers in the energy sector and advances the role women play in Pakistan's. All of the participants are female Pakistani undergraduate students pursuing degrees in the sciences.
The program is a product of a U.S. commitment to advance women's educational and economic participation in Pakistan's energy sector at the US-Pakistan Energy Dialogue held in September 2021.
Mission Director Reed said during the graduation ceremony: "As we celebrate 75 years of relations with Pakistan this year, today's milestone shows the scope of this amazing partnership. This program supports women's empowerment, education, and job opportunities. It shows the depth and breadth of our mutual commitment and the opportunities for further cooperation." The program, a cooperative effort between USPWC, U.S. Mission Pakistan, the US Department of State, the US Department of Energy, the U.S. Agency for International Development (USAID), Texas A&M University, and Texas A&M University at Qatar, kicked off with a two-week study program at Texas A&M University's campus in Qatar on June 3.
Scholars learned about energy topics such as energy infrastructure, energy security, and the role of women in the energy sector, and developed independent projects on different facets of the energy economy.
The students returned to Pakistan for a two-week career immersion program in Islamabad and Lahore, visiting public and private sector companies and agencies involved in Pakistan's energy sector.
Graduation ceremony held at US Embassy
The students developed a practical understanding of the multifaceted challenges faced by Pakistan's energy sector.
Many Pakistani and international companies and public-sector employers keen to promote women's participation in the energy sector also contributed to the program.
Expanding diversity and inclusion of women is essential to realize a clean and secure energy future for Pakistan.
The US-Pakistan Women's Council is a public-private partnership that seeks to increase women's economic participation in Pakistan by catalyzing commitments from the private sector, civil society, and government leaders in both countries to advance women's economic empowerment in Pakistan.
Its members include Pepsico, Coca Cola, Citi, General Electric, Procter and Gamble, S&P Global, the Resource Group, Engro, the Hashoo Group, the American Business Council and US Chamber of Commerce's US-Pakistan Business Council among other leading champions of gender equity.
Source: Nation Pakistan
https://nation.com.pk/2022/07/04/us-mission-celebrates-as-pakistani-women-complete-inaugural-uspwc-program/
--------
Bajrang Dal members stop Kannada play alleging it had a 'love jihad angle'
July 05, 2022
Members of Hindutva group Bajrang Dal on Sunday night stopped a play that was being staged with Muslim characters in Karnataka's Shivamogga district, alleging that it had a "love jihad angle", The Telegraph reported.
"Love jihad" is a conspiracy theory espoused by Hindutva supremacists, who allege that it involves Muslim men forcibly converting Hindu women to Islam through marriage.
Rangabelaku, a theatre group in Shivamogga, was staging writer and lyricist Jayant Kaikini's Jategiruvana Chandira at a marriage hall belonging to Veerashaivas in Anavatti. The play is a Kannada adaptation of Fiddler on the Roof by Broadway musical theatre writer Joseph Stein.
The Veerashaiva, an orthodox Shaivite community, are well represented in Karnataka's Sangh Parivar outfits.
In the Kannada adaptation of Kaikini's play, Jewish characters have been replaced with Muslim ones. The narrative, though, remains the same as the 1971 musical revolving around a poor father with three daughters of marriageable age.
Kotrappa G Hiremagadi, a senior member of the Rangabelaku team, told The Telegraph that Bajrang Dal members were against the play as it had "Muslim characters wearing skull caps and the hijab".
As the play was in its last scene, the members of the Hindutva outfit barged into the hall and forced the audience to leave, reported The Hindu.
The Hindutva supremacists shouted "Bharat Mata ki jai" slogans, Hiremagadi said. "They threatened to occupy the stage and forced us to switch off the stage lights, ignoring my pleas to allow us to finish the last scene," he added.
The theatre group member said that the play has been staged across Karnataka since the 1990s without ever causing any controversy.
"This is the biggest shock of my theatre career," he added. "We staged the same play in Shivamogga city on June 16 without any issues. The audience of more than 800 stood up and applauded the play. Even yesterday [Sunday], the play was going really well with about 300 people in the hall until the disruption."
Bajrang Dal state coordinator Raghu Sakleshpura told The Telegraph that a part in the play showing a Hindu boy marrying a Muslim girl will "send a wrong signal to the community".
Responding to this, Hiremagadi said the scene only "signifies communal amity".
Anavatti Police Station Sub-Inspector Rajeev Reddy said the play was stopped midway before law enforcement officials could arrive at the scene.
Hiremagadi said that he would not file a police complaint about the disruption "as there is no point doing so".
Campaigns targeting Muslims in Karnataka
For months now, Hindutva groups in Karnataka have launched several campaigns targeting Muslims, and engaged in violence against them.
In April, a group of Hindu supremacists had vandalised stalls owned by Muslims near a temple in Dharwad district. The incident was part of a campaign of Hindutva organisations objecting to Muslims setting up stalls near temples.
In January, Hindutva group members had objected to students wearing hijabs in schools and colleges. Some Hindu students had started a coordinated campaign to wear saffron scarves to class in order to force colleges to ban the hijab.
On February 5, the Karnataka government had banned clothes that "disturb equality, integrity and public order" in educational institutions. On March 15, the Karnataka High Court upheld the government order and ruled that wearing hijab was not essential to Islam.
Source: Scroll
https://scroll.in/latest/1027614/bajrang-dal-members-stop-kannada-play-alleging-it-had-a-love-jihad-angle?utm_source=rss&utm_medium=jio
--------
URL: https://newageislam.com/islam-women-feminism/un-uae-marriage-divorce-rights/d/127409
New Age Islam Islam Online, Islamic Website, African Muslim News, Arab World News, South Asia News, Indian Muslim News, World Muslim News, Women in Islam, Islamic Feminism, Arab Women, Women In Arab, Islamophobia in America, Muslim Women in West, Islam Women and Feminism