New Age Islam News Bureau
10 Jul 2020
• Syrian Woman Promoting Quran in Istanbul
• Professor Dr. Maha El Rabbat,the Egyptian Woman Selected As WHO's Special Envoy on COVID-19
• UFC Abu Dhabi: Women Fighters Get A Shot at Redemption
• Egypt Moves To Encourage Women To Report Sexual Crimes
• Afghanistan To Appoint Female Deputy Governors, Starting with President's Home Province
• Minister Stands Up for Saudi Woman Inventor — A Victim of Cyberbullying
• Jordan- Gov't Has Issued Decisions to Promote Women Empowerment, Says Adaileh
• PPP Women MPs Surround Speaker's Dais After Inappropriate Language Used ByPTI MP
Compiled by New Age Islam News Bureau
URL: https://www.newageislam.com/islam-women-feminism/un-investigator-calls-saudi-arabia/d/122337
--------
UN Investigator Calls On Saudi Arabia To Free Female Activists
Jul. 09, 2020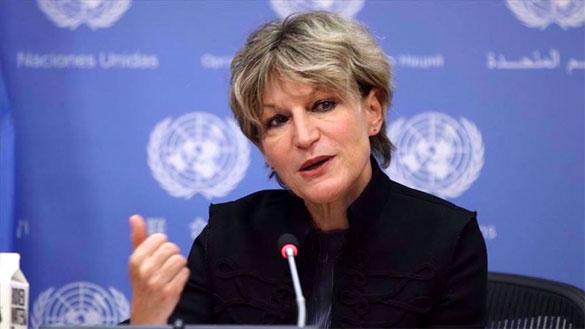 A United Nations special rapporteur has called on the member states of the UN Human Rights Council to pressure Saudi Arabia to free women activists
----
GENEVA: An investigator for the UN Human Rights Council urged member states Thursday to pressure Saudi Arabia to free women activists before a G20 nations summit which Riyadh will be hosting in November.
At least a dozen prominent women's rights activists were arrested in Saudi Arabia in 2018 as it lifted a ban on women driving cars, a step that many of the detainees had long campaigned for. The women were rounded up as part of a broader crackdown on dissent that extended to clerics and intellectuals.
In a speech to the council in Geneva, Agnes Callamard, the UN special rapporteur on extrajudicial, summary or arbitrary executions, said Saudi Arabia should release "prisoners of conscience, women, human rights defenders that are currently in prison for demanding the right to drive".
There was no immediate comment from Saudi Arabia, the current chair of the Group of 20 major economies.
Several of the arrested women have alleged torture and sexual assault in detention. Saudi officials deny this and said the detainees were suspected of having harmed Saudi interests and offered support to hostile elements abroad.
Some of the activists are now on trial, but few charges have been made public. Charges against at least some of the activists relate to contacts with foreign journalists, diplomats and human rights groups.
Their prosecution has drawn global criticism, particularly following the 2018 murder of journalist Jamal Khashoggi by Saudi agents inside the kingdom's Istanbul consulate.
The families of some of the activists, included Loujain al-Hathloul, raised concerns earlier this year when they were unable to contact their detained relatives in prison for several weeks. Contact was eventually restored.
Callamard, who led a UN investigation into Khashoggi's killing, also said that "far more needs to be done" internationally regarding accountability for his death.
She welcomed efforts by Turkey, which last week began trying 20 suspects in absentia over Khashoggi's killing. Callamard attended those proceedings.
https://www.dailystar.com.lb/News/Middle-East/2020/Jul-09/508775-un-investigator-calls-on-saudi-arabia-to-free-female-activists.ashx
--------
Syrian Woman Promoting Quran in Istanbul
July 10, 2020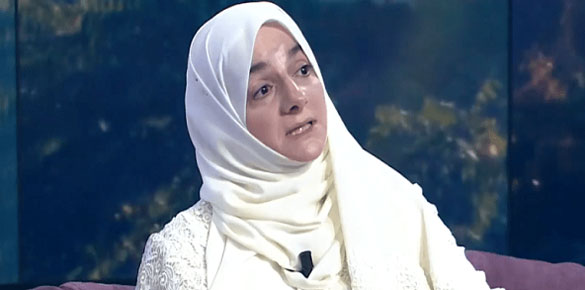 Suzan Shaikha is a Syrian Quran activist residing in Istanbul, Turkey.
-----
She left Damascus for Istanbul some 25 years ago and has since been trying to learn the Quran and promote teaching it.
She is a memorizer of the Quran and has also mastered the ten styles of Quran recitation.
Shaikha, who is also known as Umm al-Bashar, has established a Quranic society named Diyar al-Quran to teach the Holy Book to women and girls.
She told Anadolu Agency that as a Muslim woman, she has always sought to act in a way Islam expects her to act.
"I used to teach the Quran in homes and realized there were weaknesses in teaching the Quran and religious issues. That is why the idea of founding a Quranic society came into my mind and it was realized in 2015 with the support of my family."
Shaikha said there are currently 450 Arab women and 170 Turkish women learning the Quran and Quranic issues at the society.
She added that the Quran learners of the society take exams organized by Turkey's Religious Affairs Directorate (Diyanet) and 22 of them received permission for recitation of the Holy Quran last year.
https://iqna.ir/en/news/3471944/syrian-woman-promoting-quran-in-istanbul
--------
Professor Dr. Maha El Rabbat , the Egyptian Woman Selected As WHO's Special Envoy on COVID-19
JULY 9, 2020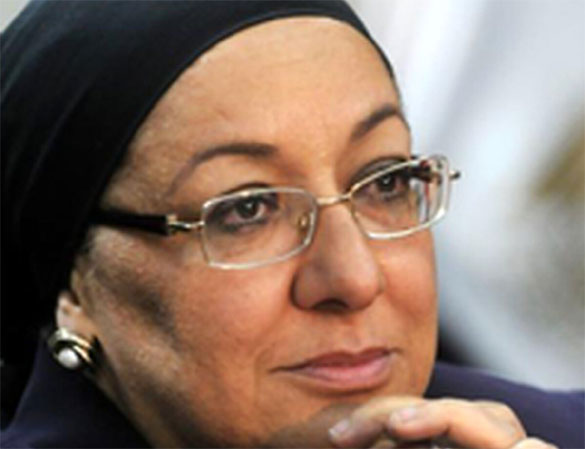 Professor Dr. Maha El Rabbat , the Egyptian Selected As WHO's Special Envoy
-----
Have you heard of the name Professor Dr. Maha El Rabbat? She was appointed earlier this year as one of the six special envoys on COVID-19 by the World Health Organization, one of the only three Africans and two women appointed to the position.
The special envoys are tasked to provide strategic advice as well as political advocacy in many parts of the world, and work closely with WHO Regional Directors and country offices to manage the global response to COVID-19.
Previously, professor Dr Maha El Rabbat was appointed to serve as the Minister of Health and Population between July 2013 and March 2014, which made her the first lady minister of health in Egypt. She has long been an advocate for better health system governance and management and universal health coverage ever since.
She graduated from Cairo University and was granted with her undergraduate and postgraduate degrees with distinction. Following that, she held several prestigious academic and leadership positions, such as being the Head of the Public Health Department at Cairo University and worked as an international expert in governance reform regarding hepatitis C virus and novel diseases in deprived areas and vulnerable groups.
El Rabbat was then elected as the chairperson of the public health department at Cairo University in 2011, and made innovative changes by working with a team from Indiana University to establish a research center on public health in Africa to supporting the university's regional and African efforts.
Currently, she serves as the Executive Director of the Middle East and North Africa Health Policy Forum (MENA HPF), aiming to strengthen health systems and human development in lower and middle income countries. She produces evidence-based policy proposals, knowledge exchange, as well as research, and capacity building all of which contribute to promoting better health and human development in these regions.
El Rabbat is also working on a critical new project with UNHCR and League of Arab States, which aims to develop a regional strategy for public health for refugees in asylum context, and how LAS member states can ensure better access to public health for vulnerable people.
https://egyptianstreets.com/2020/07/09/meet-the-egyptian-woman-selected-as-whos-special-envoy-on-covid-19/
--------
UFC Abu Dhabi: Women fighters get a shot at redemption
Ashwani Kumar
July 8, 2020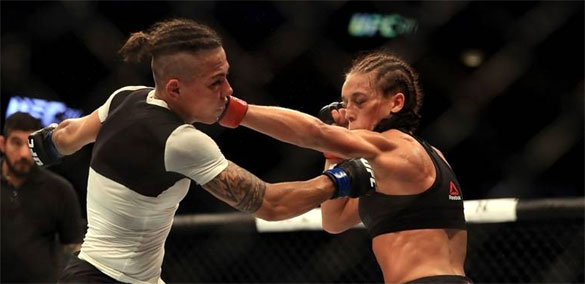 TOP GUN: Brazilian star Jessica Andrade (right) will be one of the biggest attractions at the UFC Fight Island in Abu Dhabi. - AFP file
-----
Jessica Andrade squares off against Rose Namajunas in the UFC 251 Fight Island's first non-title bout on Sunday
Jessica Andrade and Rose Namajunas are two of a kind in the UFC women's strawweight division. These two former champions have the most finishes (four each) and both will seek to bounce back from demoralising losses.
The UFC 251 Fight Island's first non-title fight presents them a shot at redemption and a prospective clash against champion Zhang Weili.
For both the fighters, Sunday's bout is a rematch of last year's championship fight and their flashback is quite intriguing too.
While defending her belt at the UFC 237 in May 2019, Namajunas was on a roll and dominated Andrade until a split-second knockout slam floored the champion.
And in her first title defence in August, Andrade was knocked down by Weili in just 42 seconds. Both fighters have been embarrassed by their failures and this main card is a chance to bury the ghosts of 2019.
Andrade, a Brazilian brawler with power punches, is hungry for success.
"I am training three times a day. I am focused. I hope this fight leads to a title shot," the number one ranked strawweight contender told reporters in virtual media day from the Fight Island.
An experienced Andrade has made a lot of adjustments to her style. "Rose thinks she knows me but I have changed a lot since our last fight. I want to win this fight but we will have to see who wants it more."
Andrade has a high percentage of takedown accuracy and tops in strikes landed every 60 seconds. But she hasn't been touted as favourite here. However, she warned: "I have been always underestimated but I don't mind. I want to enter the cage and show the warrior inside me."
Meanwhile, Namajunas, the number two ranked contender, is set to enter the octagon for the first time since her loss to Andrade. It was a devastating loss for the American and she took timeout to recover. Namajunas reconnected with her grandmother in Lithuania and head coach in Minnesota, and focussed on enjoying life rather than worrying about the reasons for the loss.
"The most important thing was self-belief. My biggest challenge was to bring back the confidence in me. I had a long training ground. Now there is a level of excitement with correcting my mistakes and to see how my training has been."
Namajunas has the most submissions in her division and confident about her chances on Sunday.
"I am fully prepared. I am a normal born finisher. When I am in for 15 minutes, the finish will present itself."
There is more women's action on the main card with Amanda Ribas taking on Paige VanZant in the flyweight division. Ribas is on a 9-1win-loss streak and considered a top talent by Andrade and others.
"I am beginning my career. I have my feet on the floor. The best energies are in me. I am very excited as being in the main card is an amazing experience for me. I have put all my heart into this fight," Ribas said.
The perky Ribas is training with her team, including her father and brother. She knows that VanZant, who is returning from injury, is a tricky opponent.
"She is a little crazy. I have to prepare for everything. And I am prepared for the best Paige VanZant ever," Ribas said, before adding that she would be celebrating the win with a chocolate.
https://www.khaleejtimes.com/ufc-abu-dhabi-women-fighters-get-a-shot-at-redemption
--------
Egypt moves to encourage women to report sexual crimes
Hamza Hendawi
July 9, 2020
Egypt's government has drafted an amendment to the country's criminal law to allow the protection of the identity of victims of sexual crimes, a move designed to encourage more women to report such offences to authorities.
News of the amendment comes as Egypt is gripped by a MeToo moment of its own, with scores of victims of sexual harassment or assault breaking their silence and sharing their experiences online.
The unusually candid accounts from victims followed last week's arrest of a man in his early 20s who, according to activists and online testimonies, had sexually assaulted or blackmailed up to 50 women.
Prosecutors have accused the man, a former student at the American University in Cairo, of attempting to sexually assault two women and an underage girl and blackmailing others.
The audacity of his alleged actions has dominated the national conversation and unleashed a wave of anger over the lack of proportionate prosecution of the perpetrators of sex crimes. It has also triggered soul searching by many about the inferiority of women's status in Egypt's patriarchal society and how they are commonly objectified in public spaces.
The National Council for Women, a state agency with a mandate to protect women's rights and welfare, said it had received a staggering 400 complaints and inquiries about violence against women between July 1 and 5.
Egypt, an overwhelmingly Muslim nation of 100 million, is notorious for sexual harassment. Its capital Cairo, home to some 25 million people, was found to be the most dangerous megacity for women in a 2017 poll by the Thomson Reuters Foundation. Ninety-nine per cent of women interviewed in Egypt by the United Nations in 2013 reported sexual harassment.
Significantly, the harassment comes from males of all ages, including boys as young as 9 or 10, and takes place in a multitude of places that include the streets, public transport, shopping malls, parks, beaches, cinemas and historical sites.
A government statement late on Wednesday said the amendment to the criminal law was designed to protect the reputation of victims of sexual assault, immorality or harassment. Protection of the victims' identity, it said, is decided at the discretion of the investigating judge.
The next step would be for parliament to approve the amendment, a foregone conclusion since the chamber is packed with government supporters.
The amendment was warmly received by the National Council for Women, whose head, Maya Morsi, described it as an "important step that history will remember".
A statement by the council quoted her as saying the change in the criminal law reflects "the interest of the state in combating and eradicating this crime for the protection of Egypt's women and girls".
The public, particularly women, also have welcomed the amendment, but there is some scepticism that the culture of sexual harassment and the perceived inferiority of women's status is far too entrenched in Egypt's conservative society and that a drastic, bottom-up change of attitude is needed.
One major obstacle activists often cite is the belief held by many families and institutions that a victim going public or seeking the prosecution of the perpetrator brings shame or disrepute.
They also claim that society is generally biased in favour of its males when it comes to sexual harassment or assault, often blaming women for bringing such crimes upon themselves. However, Egypt's two highest religious authorities – Al Azhar mosque and the Mufti – have for the first time publicly rejected the popular notion that a woman's attire could be blamed for such crimes. In milestone pronouncements this month, they stressed that women cannot be held responsible at any rate for rape, sexual assault or harassment.
"It's about time," said a 22-year-old woman from Cairo who asked to be identified only by her first name, Farida. "For far too long men and boys harassed women on the streets with impunity. It is not OK to ignore the problem and it's not OK to feel unsafe on the streets."
But the feeling persists that the changes need to go beyond laws.
"As much as I am happy and ecstatic about this big step for women in Egypt, I want to see the officials that will be taking a victim's report deal with her with kindness and compassion rather than passing judgment and making her feel worse," a woman in her 30s wrote on Facebook on Thursday.
"The sexual harassment-rape culture needs to change and it will when more women speak up and more men support them."
https://www.thenational.ae/world/mena/egypt-moves-to-encourage-women-to-report-sexual-crimes-1.1046830
--------
Afghanistan To Appoint Female Deputy Governors, Starting with President's Home Province
July 09, 2020
A new decree from Afghan President Ashraf Ghani states that all of the country's 34 provinces will appoint women as deputy governors.
Syed Shah Saqim, a spokesman for the Independent Directorate of Local Governance (IDLG), said the appointment will start with the southeastern province of Logar, home province of the Afghan president.
Speaking to Radio Free Afghanistan on July 9, Saqim said the appointment of female deputies in all provinces has begun. "One of the women is set to be appointed as deputy governor today in Logar Province, and this will continue in other provinces, as well," he said.
He added that "after being interviewed by the president, the female deputy governors will be selected and appointed based on merit and competence."
Earlier, presidential spokesman SediqSediqqi said the cabinet had decided that women would be appointed deputy governor in every province.
According to information from the president's office, the proposal to elect female deputy governors for all 34 provinces was initiated by the Women's Affairs Ministry and was approved by the cabinet earlier this week.
Vice President Amrullah Saleh also expressed support for including women in high-ranking government positions. In a recent tweet, he stated that "each province, as a MUST, will have a [female] deputy governor. This is part of our structural reform to further empower women."
"This is a quota which has to be implemented in all 34 provinces of Afghanistan," he continued. "It must be done soon. Even if a woman becomes a governor the quota still holds & applies."
Women in Afghanistan have made substantial gains in employment, education, and legal protections since the fall of the hard-line Taliban regime nearly two decades ago. Their regime banned women's employment and education.
However, Afghan women still face numerous challenges because of domestic abuse, discrimination, taboos, and violence.
https://gandhara.rferl.org/a/afghanistan-to-appoint-female-deputy-governors-starting-with-president-s-home-province/30716750.html
--------
Minister stands up for Saudi woman inventor — a victim of cyberbullying
July 04, 2020
Samir Salama
Abu Dhabi: Standing up for a victim of bullying, Saudi Minister of Communications and Information Technology, Abdullah Al Sawah, phoned Aisha Al Saqqaf after she was bullied on social media following publication of information about a new vending machine for masks and gloves. "We are proud of you, creative," Al Sawah told Al Saqqaf.
Al Saqqaf said: "I faced bullying from some trolls, and received criticism about a Saudi-made project that I invented."
Al Saqqaf said she was a sponsored student in Malaysia with her husband, and developed a number of customised self-service and vending devices. "I created many self-service devices to sell single-use batteries for mobile phones, masks and gloves, and prayer rugs," Al Saqqaf added.
Danger at the click of a button
On her exposure to bullying, Al Saqqaf said, "In the age of the internet, the opportunity to bully others has become easier, whereby harassment can take place at the click of a button and reach a wider audience.
"It was a difficult day for me as I watched my effort over the past three years collapse before me, until one of the followers alerted me that most bullies were from fake accounts, some of them from outside Saudi Arabia, and their goal was to thwart projects and aspirations of Saudi youth."
She thanked the minister of communications for his support, "which has proven to everyone that there is no country like Saudi Arabia in its support for creative persons".
Well-being of young people
Cyberbullying or harassing someone on the internet is a faceless evil, which is fast becoming a growing threat for teenagers and can do irreparable damage to the mental health and well-being of young people.
It involves using technology through cell phones and the internet to harass, bully or shame another person. It can take the form of sending threats and negative messages to a person's email account or cell phone, spreading rumours online, sending sexually explicit messages or visuals or circulating sexually suggestive material about a person without his or her consent.
Al Saqqaf expressed her ambition to establish a Saudi factory that exports smart services to the world, develop the financial technology sector and create an attractive platform for investment.
Al Saqqaf affirmed: "Saudi women are capable innovators and inventors. They only need support and encouragement so that they can be an effective building block in society, as they are no less talented than anyone."
https://gulfnews.com/world/gulf/saudi/minister-stands-up-for-saudi-woman-inventor--a-victim-of-cyberbullying-1.72407763
--------
Jordan- Gov't has issued decisions to promote women empowerment, says Adaileh
7/9/2020
Jordan News Agency) Amman, July 9 (Petra) - Minister of State for Media Affairs, Amjad AdaIleh, said Jordan has the political will, led by His Majesty King Abdullah II, and a "great" resolve to support, empower Jordanian women in various fields.
During his meeting on Thursday with the Arab Women Organization of Jordan (AWO)'s president, members, Adaileh cited the recent decisions taken by the government to empower women.
In this context, he said the National Strategy for Women Empowerment 2020-2025 was approved, and the Ministerial Committee for Women Empowerment Directorate was "institutionalized" to become an active unit at the Prime Ministry.
The Jordanian women are "distinguished" in the media sector, with 25 percent women journalists working in the industry, Adaileh said, adding others have assumed leadership positions during the past years.
In turn, the President of the AWO in Jordan, RandaQsous, reviewed the organization's steps in preparing a report on the Kingdom's gender equality situation, supported by the European Union Commission in Amman.
The report, the first in the Arab world, examines the focus on integrating gender in crisis management, and monitoring gender-related achievements and gaps, according to Qsous.
https://menafn.com/1100460774/Jordan-Govt-has-issued-decisions-to-promote-women-empowerment-says-Adaileh
--------
PPP Women MPs Surround Speaker's Dais After Inappropriate Language Used By PTI MP
July 9, 2020
ISLAMABAD: Female lawmakers from PPP surrounded the speaker's dais in the National Assembly after a Pakistan Tehreek-e-Insaf MNA used inappropriate language regarding them during a session today.
The argument started when a call for attention notice was presented in the assembly by PPP over the unannounced load shedding being done in Karachi by the city's sole power supplier K-Electric.
Protests started after a war of word ensued between Energy Minister Omar Ayub and PTI lawmaker Aslam Khan with the female members of the house.
The tensions showed no signs of stopping even after Deputy Speaker Qasim Suri urged the PTI lawmaker to not to speak female lawmakers this way.
"Women, whether they are from the government or opposition, are to be respected," said Suri.
Upon the deputy speaker's request, PTI lawmaker Khan apologised to the lawmakers and stated that he did not target anyone neither did he take anyone's name.
This is not the first time that lawmakers of the PPP and the ruling party have exchanged harsh words against each other.
Last month, PPP lawmaker Naveed Qamar and Minister for Maritime Affairs Ali Zaidi, of the ruling PTI, were also involved in a heated face-off during a session of the National Assembly after Zaidi levelled indirect accusations against the PPP.
https://www.thenews.com.pk/latest/684299-ppp-women-mps-surround-speakers-dais-after-inappropriate-language-used-by-pti-mp
--------
URL: https://www.newageislam.com/islam-women-feminism/un-investigator-calls-saudi-arabia/d/122337
New Age Islam, Islam Online, Islamic Website, African Muslim News, Arab World News, South Asia News, Indian Muslim News, World Muslim News, Women in Islam, Islamic Feminism, Arab Women, Women In Arab, Islamophobia in America, Muslim Women in West, Islam Women and Feminism