New Age Islam News Bureau
11 December 2020
• After Christchurch, New Zealand's Muslim Women Shouldn't Have To Rebuild On Their Own
• Ending Violence against Women 'Crucial' For Peaceful Society, Say Religious Scholars from Different Schools of Faith
• Undeterred By Pandemic, 500 Indian Muslim Women without 'Mehram' Have Applied So Far To Travel for Haj-2021
• US Sanctions Five Houthi Figures Involved In Torturing Women, Children
• Kuwait's New All-Male Parliament Is A Blow For Women's Rights
• Hindu, Christian Women 'Marketed' By Pakistan As 'Concubines' In China: Top US Official
• Police have a small number of women in service, laments Shehla Raza
• Islamic State Claims Killing Of Female TV Presenter In Afghanistan
• Iranian Press Review: Former Vice President For Women's Affairs Jailed
Compiled by New Age Islam News Bureau
URL: https://www.newageislam.com/islam-women-feminism/un-experts-iran-release-womens/d/123728
--------
UN Experts: Iran Must Release Women's Rights Figure and Lawyer Nasrin Sotoudeh
December 09, 2020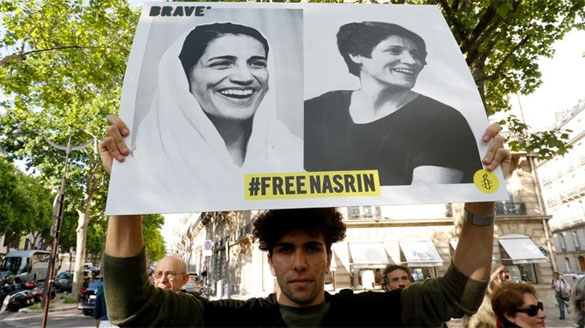 LONDON: UN experts have demanded that Iran release women's rights figure and lawyer Nasrin Sotoudeh after she was returned to prison in the country.
The appeal comes amid growing scrutiny over Tehran's treatment of political prisoners and the high-profile release of Australian academic Kylie Moore-Gilbert last month.
"We are dismayed that the authorities willingly chose to again place Nasrin Sotoudeh at heightened risk by ordering her return to prison at this time, despite her positive coronavirus test and the concerned opinions of medical professionals," the group of independent experts appointed by the UN Human Rights Council said. "By ordering her return to prison, Iranian authorities have taken an action that may have life-threatening consequences for her and have further extended her arbitrary imprisonment, in violation of their obligations under international human rights law."
On Dec. 2, Iran's Prosecutor's Office ordered Sotoudeh to return to Qarchak prison the same day, after she had been temporarily released on Nov. 7.
Following her positive coronavirus test, an initial five-day temporary release granted to her was extended by two weeks. At the end of November, doctors prescribed a rest period of an extra two weeks due to her deteriorating health.
"We repeat our call to the Iranian authorities to release Nasrin Sotoudeh as a matter of urgency and to allow her to receive the healthcare and rest she requires," the experts said. "We deeply regret that despite calls by the UN and the international community, Iran continues to criminalize Sotoudeh for her work in defense of human rights."
The experts urged Iranian authorities to quash her convictions and ensure her release while reviewing her criminal case, which several human rights groups have condemned as "outrageous."
Sotoudeh is serving a prison sentence following a conviction on seven charges in March last year.
Her charges and subsequent imprisonment were linked to her legal work and defense of women's rights activists. Grave concerns have been raised by UN experts who say that her detention is "arbitrary."
https://www.arabnews.com/node/1774841/middle-east
--------
After Christchurch, New Zealand's Muslim Women Shouldn't Have To Rebuild On Their Own
Aliya Danzeisen
11 Dec 2020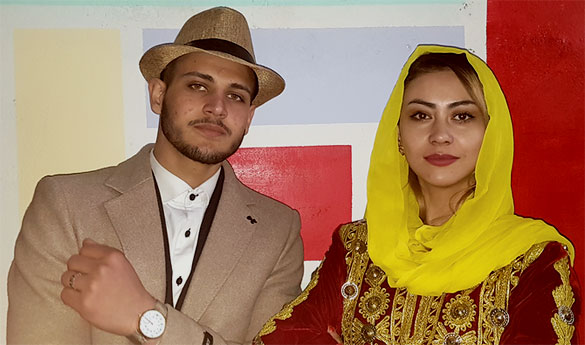 Those left to pick up the pieces after last year's terrorist attacks in Christchurch were mostly women Photograph: Martin Hunter/AAP
-----
In New Zealand, strong women leaders are regularly referred to as wāhine toa. This is not a term used lightly, but rather a title given to women who show exceptional leadership and continue to support those around them even in the face of enormous difficulties. Some might refer to New Zealand's Prime Minister, Jacinda Ardern, as a wāhine toa, but it can be also used for women within general society who display consistent courage and strength.
In the 15 March 2019 Christchurch terrorist attack, 51 people (47 men and four women) died in two mosques. As fate would have it, the majority of those who were lost were male … and the majority of those left to shoulder the impact, to pick up the pieces and to take charge were female – wives, mothers, daughters, sisters. Leading a family is a challenge on a regular day, but under such circumstances, after such a violent, destructive act, it has unsurprisingly been daunting.
There can be no doubt that the last 20 months have been challenging for New Zealand, for our Muslim community and for these women. Trying to rebuild one's life is never easy, but to do so while so many others are also suffering has been an enormous test. Yet, these women are doing exactly that. Like birds whose nests have been knocked down, they were distressed, but slowly and surely, they set out to rebuild themselves and those around them. They are each wāhine toa.
Immediately after the attack, New Zealand set up a royal commission of inquiry to look into whether that terrorism could have been prevented and to determine what should be done so that another such event does not occur. Our community, and within it the women, had hoped the commission would put things right by providing answers as well about also offering restorative justice options for the families. Unfortunately, the commission's report did neither.
On its release this week, it became immediately apparent that the commission's work had been hindered not only by the restrictive terms of reference, but also by the fact the Muslim community had not been allowed to see, hear or challenge relevant information. As no public hearings had been held, conflicting testimony was unresolved and significant matters left unattended.
While the commissioners found major problems and concerns with the government's efforts prior to the attack and made 44 solid recommendations that will require an overhaul of ministries and several agencies, the report surprisingly did not conclude the attack was preventable and did not apportion blame.
Of the nearly 800 pages of findings and recommendations, the commission focused on rebuilding the systems and did not offer the government substantive ideas on how to restore our people. In less than three pages of the report, the impacted were told they would have to approach the government themselves. Basically, our families were left to fend for themselves.
At the report's public release, the heads of the New Zealand police, our Security Intelligence Service and the prime minister apologised on behalf of the government and indicated all recommendations would be adopted. But like the commission, they have thus far avoided discussing what efforts they intend to take to ensure the impacted are restored as best possible to where they were prior to the attack.
By sheer coincidence and Covid-related date changes, the Islamic Women's Council of New Zealand, the national umbrella organisation for Muslim women, will meet this weekend at its 30th annual conference in Christchurch. Muslim women from around the New Zealand will come together for sisterhood, rejuvenation and spirituality, but also to discuss the matters that are impacting their lives. The commission's report will be an item discussed as will the whereto from here. We will continue to advocate and to seek solutions to strengthen and uplift our women.
While these women, each a wāhine toa, have shown amazing resilience, like flowers that bloom on charred soil after a fire, they should not have to shoulder this burden on their own. The council will work to support them. We ask that the New Zealand government do the same.
Aliya Danzeisen has led the government engagement for the Islamic Women's Council of New Zealand for seven years and has played a key advocacy role in getting support for the Kiwi Muslim community.
https://www.theguardian.com/world/commentisfree/2020/dec/11/new-zealands-christchurch-muslim-women-should-not-have-to-bear-the-burden-of-rebuilding-after-christchurch-on-their-own
--------
Ending Violence against Women 'Crucial' For Peaceful Society, Say Religious Scholars from Different Schools of Faith
08 Dec 2020
Religious scholars from different schools of faith stressed that it was "crucial" to end violence of all kinds against women in order to build a peaceful society and maintain interfaith harmony, a press statement by EVAW Alliance KP and UN Women said on Tuesday.
The scholars were attending a dialogue, jointly organised by the Khyber Pakhtunkhwa (KP) office of UN Women and the EVAW Alliance KP, to observe the 16 Days of Activism against Gender-Based Violence (GBV). The scholars also signed a declaration condemning gender-based violence and vowed to spread awareness in their respective communities to put an end to the practice.
They also acknowledged that while any individual can be a victim of GBV, in Pakistan, women, "being the most vulnerable segment of society and deprived of their basic rights", were more likely to face such violence, followed by members of the transgender community. The scholars emphasised that it was the state's responsibility to protect the vulnerable sections of society.
"There is a need to strengthen state-run social protection networks and ensure the provision of required support to vulnerable groups," the press release quoted the scholars as saying.
"For prevention of gender-based violence, the state has primary responsibility to protect its citizens and religious leaders have a strong potential to influence the lives and behaviour of those who follow their faith and share their beliefs," they further said.
Explaining the role of religious leaders in efforts against GBV, EVAW/G Alliance co-Chair Qamar Naseem said that scholars had great influence over people and can help in "shaping the behaviour of local communities".
"It is essential to engage religious scholars from different faith groups, as a practical strategy, to raise awareness on gender-based violence and address the issue," Naseem was quoted as saying.
Provincial head of United Nations Women KP, Zainab Qaisar Khan, said that gender-based violence was not limited to domestic abuse, sexual violence including rape and honour crimes and added: "It can happen anywhere, anytime and across all classes irrespective of education level and income status. It can happen against boys, men, elderly and transgender but mostly the target are women and girls."
https://www.dawn.com/news/1594710/ending-violence-against-women-crucial-for-peaceful-society-say-religious-scholars
--------
Undeterred By Pandemic, 500 Indian Muslim Women without 'Mehram' Have Applied So Far To Travel for Haj-2021
Dec 10, 2020
NEW DELHI: Even as fear of Covid-19, stringent protocols and higher costs involved due to necessary safety arrangements, has so far kept away many prospective applicants from registering for Haj-2021, there are around 500 women without Mahram (male companion) who figure on the list of 42,000 odd applicants who meet all the norms.
On Thursday, which was supposed to be the last day for submission of applications, Union minister for minority affairs, Mukhtar Abbas Naqvi said that applications for Haj 2021 (scheduled for June-July) can now be submitted till January 10.
A tweak in policy two years back enabled for the first time Muslim women above 45 years of age to travel in groups of four or more without mehram for Haj. The number of Muslim women who travelled to Madina in this category was 1,340 in 2018 and 2,340 in 2019. Over the years the maximum applicants have been from Kerala and officials from the Haj committee of India said this year too the maximum number of applications in the 'without mehram' category have been from Kerala so far.
Besides these 500 new women applicants more than 2,100 women, who had applied in this category for Haj 2020 but could not go due to the pandemic-imposed travel restrictions, also have the option to travel next year based on their previous application.
For Haj 2020, the Haj committee received nearly 2.15 lakh applications of which 1.40 lakh were approved. However, all approved applicants were reimbursed when the travel for Haj was put off after Saudi Arabia requested India to consider not sending pilgrims in view of the safety concerns arising out of the pandemic.
The age restrictions for applicants wherein those below 18 and those who are 65 years and above cannot apply due to the pandemic is a factor preventing many prospective applicants from registering. Also the cost of Haj due to arrangements to be made related to stay and social distancing in Saudi Arabia and during travelling has gone up.
Naqvi said that after thorough discussions and feedback received from Saudi Arabia, the Embarkation Points-wise estimated cost per Haj pilgrim has been reduced. The estimated cost per Haj pilgrim after reduction is in the range of Rs 3.30 lakh to Rs 4 lakh. During Haj - 2019 the minimum cost was around Rs 2.30 lakh.
https://timesofindia.indiatimes.com/india/undeterred-by-pandemic-500-muslim-women-without-mehram-have-applied-so-far-to-travel-for-haj-2021/articleshow/79667034.cms
--------
US sanctions five Houthi figures involved in torturing women, children
December 10, 2020
RIYADH: The US Treasury has imposed sanctions on five Yemeni citizens and Houthi members in Yemen said to be involved in torturing women and children.
The statement said the figures are designated for "seniors human rights abuses."
The sanctions were imposed on several officials including Mutlaq Amer Al-Marani, deputy head of the Houthi security office; Abdul Qader Al-Shami, a leader in the Houthi militia; Abdul Hakim Al-Khawani, head of the security apparatus of the Houthi militia.
https://www.arabnews.com/node/1775356/middle-east
--------
Kuwait's new all-male parliament is a blow for women's rights
Jennifer Holleis
10.12.2020
Less than a week after Kuwait's 4.8 million people (including 3.4 million foreign workers without voting rights) elected new members for the next four-year term of their national assembly, the shock that none of the female candidates made it, is setting in. In total, 326 candidates were vying for the 50-member legislature, 29 were women.
"We need fundamental changes," says Alanoud Al Sharekh, Director at Ibtkar Strategic Consultancy and co-founder of "Mudhawi's List," the country's first and only online platform for female candidates.
It's been 15 years since the the oil-rich country, a major US-ally, introduced the right to vote and to run for office for women. However, many tribes and Islamists are openly advocating against women in politics.
"In Kuwait people don't yet believe in women's political leadership," Alanoud Al Sharekh says. She wishes there was a quota in Kuwait. "I've been fighting for this for many years and will continue."
According to UN Women, the UN's entity for gender equality and the empowerment of women, Kuwait ranked 176 out of 193 for its percentage of women in parliament in 2020.
Discouraging, yes; stopping women, no
Michael Herb, a Middle East analyst and founder of the Kuwait Politics Database, confirms that Kuwaiti society hasn't shifted from its traditional view of women. "The votes for women were not trivial this time, but voters didn't prioritize voting for women," he says.
Herb doesn't believe that a quota could be introduced any time soon. "It is hard to see this coming from the current situation as it would have to be imposed by the government since the members of parliament are not under pressure from voters to implement a quota; and it would reduce the number of seats available to them in the next election." He also stresses that Kuwaiti society is not becoming less conservative. "On the other hand, I am convinced that Kuwaiti women will keep running and return to parliament," he says.
A recent study by Marwa Shalaby, director of Women's Rights in the Middle East program at Rice University's Baker Institute for Public Policy, also shows that the lack of a political party system and quota mechanism doesn't help Kuwaiti women in politics.
Kristin Smith Diwan, senior resident scholar at the Arab Gulf States Institute in Washington, agrees: "I think Kuwait will need to think about institutional solutions such as quotas. And most importantly, issues of consequence to women will get a fair hearing. Kuwait really needs this female perspective in its policy making."
Changes are needed as soon as possible
"It is my mission, I will continue pushing my topics," says Alia Al Khalid. The 45-year-old managing director from downtown Kuwait City won 1,370 votes in the second electoral district. Her political agenda is to reform the educational system, as well as the economic structure of the oil-dependent country. Al Khalid doesn't beat around the bush: "Some citizens can't resonate with what I stand for," she says. "Our cultural mindset has been for ages that women depend on men." Though Al Khaled is supported by her immediate family, she also experienced bullying. Yet she is willing to run again in four years.
Pushing towards 'Vision 2035'
39-year-old Bibi Ashour, Kuwait's first district candidate who holds a PhD in policy development and focuses on education, isn't giving up either. "I am disappointed, but the circumstances of the campaigning time have been tough as well," she says. Due to strict COVID-19 restrictions she and the other candidates were limited to social media for campaigning. "Our system is very old and not comparable with other highly developed countries," she says. She highlights her expertise on "Vision 2035," a future-oriented agenda the country's late Sheikh Sabah al-Ahmed al-Sabah introduced and which is being continued by his half-brother, the 83-year-old Sheikh Sabah al-Ahmed al-Sabah.
"From Bibi's plan for 'Vision 35' to the protection of women in our society, who will pursue these topics in an all-male parliament?" asks analyst Alanoud Al Sharekh. She says she's gearing up again for the next time she supports women with their campaigns.
https://www.dw.com/en/kuwaits-new-all-male-parliament-is-a-blow-for-womens-rights/a-55897172
--------
Hindu, Christian women 'marketed' by Pakistan as 'concubines' in China: Top US official
Dec 10, 2020
US Ambassador-at-Large for International Religious Freedom Samuel Brownback has said that Pakistan is marketing Hindu and Christian women as "concubines" and "forced brides" to China.
"We just had really a difficult webinar this morning on forced brides into China, and one of the source places is Pakistan religious minorities, Christians and Hindu women being marketed as concubines or forced brides into China because there's not effective support, and then there's discrimination against the religious minorities that make them more vulnerable," he said.
He mentioned this as one of the reasons for designating Pakistan as a country of particular concern (CPC) under the International Religious Freedom Act.
Because of the one-child policy imposed by China for decades, there is an acute shortage of women given the cultural preference for boys leading to Chinese men importing women from other countries as brides, mistresses and labourers.
Brownback was responding to a question as to why Pompeo designated Pakistan as a country of particular concern and not India. The top American diplomat said that half of the world's people that are locked up for apostasy or blasphemy are in Pakistani jails.
"(In) Pakistan – a lot of their actions (violations of religious freedom) are done by the government. In India much of its communal violence. And then when that takes place, we try to determine whether or not there has been effective police enforcement, judicial action after communal violence takes place," he told reporters during a conference call.
US Secretary of State Mike Pompeo on Monday designated Pakistan and China along with eight other countries that are of particular concern for engaging in or tolerating "systematic, ongoing, egregious violations of religious freedom." The US Commission for International Religious Freedom (USCIRF) had recommended to the State Department to designate India also as a country of particular concern (CPC). Notably, the State Department did not accept the recommendation.
India has rejected the USCIRF's observations against the country in its annual report.
In addition to Pakistan, Pompeo put China, Myanmar Eritrea, Iran, Nigeria, North Korea, Saudi Arabia, Tajikistan and Turkmenistan on the CPC list.
https://www.wionews.com/south-asia/hindu-christian-women-marketed-by-pakistan-as-concubines-in-china-top-us-official-348703
--------
Police have a small number of women in service, laments Shehla Raza
December 11, 2020
Sindh Women Development Minister Syeda Shehla Raza has lamented that only a small number of women is working with the police force.
At least 10 per cent of police should comprise of women as per the constitution, she said Thursday, while addressing a programme to promote the '1094 helpline service' of the Sindh government to report the cases of gender-based violence.
The provincial minister said women should be encouraged to join the police force so they should at least constitute 10 per cent of the police strength.
She said the '1094 helpline service' of Sindh's Women Development Department had been working round-the-clock. The minister said the services of different cellular network companies would be availed to do a social messaging campaign to let people know of the helpline facility in Sindh.
She claimed the laws adopted by the Sindh government to protect women's rights had been appreciated at the international level. Raza said the services of prominent lawyers had been employed to provide better legal counselling service through the women complaint centres.
She appreciated the services and efforts of women for the progress and the development of Pakistan as "the participation of women in the legislatures, the judiciary and the administration is praiseworthy".
She said women were associated with different walks of life, including higher education, research and politics. The minister said Sindh's Women Development Department had initiated several programmes to encourage skilled women so they could be connected with the buyers of their products in the market.
She said Sindh's Women Development Department had been providing legal counselling and other assistance to help the victims of domestic violence, harassment at workplace and other women facing other issues related to the rights and the protection of women.
The minister said the economic empowerment of women was highly important in enabling them to play their due part in the process of national development.
To a question, she said female victims in the cases of unlawful child marriages were housed at shelter homes with the court permission till they attained adulthood.
https://www.thenews.com.pk/print/756660-police-have-a-small-number-of-women-in-service-laments-shehla-raza
--------
Islamic State claims killing of female TV presenter in Afghanistan
Dec 10, 2020
JALALABAD, (KABUL): Islamic State claimed responsibility for the shooting death of a female TV presenter and women's rights activist in Afghanistan on Thursday, an attack that underscored an increasing trend of violence against journalists in the country.
Malalai Maiwand, a presenter at Enikas Radio and TV in the eastern province of Nangarhar, was killed along with her driver in the attack on their vehicle in the regional capital Jalalabad, taking the total number of journalists and media workers killed this year in Afghanistan to 10.
"She was on the way to the office when the incident happened," said Attaullah Khogyani, spokesman for the provincial governor.
Nangarhar has been a hotbed of militant activity, most notably involving Islamic State, which issued its claim of responsibility via its Telegram communications channel, calling her a "pro-regime" journalist.
Maiwand, who was 25, was not the first in her family to be targeted. Five years ago, her mother, also an activist, was killed by unknown gunmen. Enikas has been targeted before, with its owner, Engineer Zalmay, kidnapped for ransom in 2018.
"With the killing of Malalai, the working field for female journalists is getting more smaller and the journalists may not dare to continue their jobs the way they were doing before," Nai, an Afghan media advocacy group, said in a statement.
Last month, Elyas Dayee, a Radio Azadi journalist, was killed in a bomb blast in the southern province of Helmand, and Yama Siawash, a former TOLOnews presenter, was killed in a similar blast in Kabul.
The Afghan government, the German Embassy, European Union delegation and Britain's ambassador condemned growing attacks on journalists and activists.
Afghan interior ministry spokesman Tariq Arian said that in the last decade and a half, the vast majority of journalists killed had been victims of Islamist Taliban militants.
International donors and governments have voiced apprehension about a possible reversal of progress on women's rights over the last two decades if the Taliban return to any sort of power with the withdrawal of foreign troops from the country scheduled next year.
The Taliban's ultra-hardline rule in 1996-2001 was marked by oppressive laws for women up until the group was toppled following a U.S.-led invasion of Afghanistan.
https://timesofindia.indiatimes.com/world/south-asia/islamic-state-claims-killing-of-female-tv-presenter-in-afghanistan/articleshow/79666496.cms
--------
Iranian press review: Former vice president for women's affairs jailed
10 December 2020
Journalists and reformist politicians jailed
Pressure on civil society and outspoken politicians is increasingly dramatically, with Iran's conservative judicial officials handing down prison sentences to journalists, human rights activists and reformists politicians in President Hassan Rouhani's administration.
On Saturday, Fars news agency reported that Shahindokht Molaverdi, Iran's vice president for women's affairs in Rouhani's first cabinet (2013–17), was sentenced to 30 months in prison.
A branch of Iran's Islamic Revolutionary Court has found her guilty of "leaking classified information with the aim of disturbing national security" and "promoting depravity and sexual perversion".
Molaverdi, a 55-year-old lawyer and academic, has denied all charges, saying that she would appeal the verdict.
According to local media the sentence was handed down to Molaverdi because she has spoken out against the execution of dissidents and the pressures on the minority Baha'i community, as well her support for gender equality in education.
Last week, another high-ranking official in Rouhani's administration was also summoned to a branch of civil servants' court and released on bail after the court hearing, Tasnim news agency reported.
Isa Kalantari, Rouhani's deputy and head of Iran's Department of Environment, was summoned to court for comments he made about Iran's former supreme leader Aytollah Ruhollah Khomeini, in a 2017 interview.
A 40-second video from this interview has gone viral on Iranian social media, in which Kalantari says that Khomeini was "an illegitimate child" of the United States.
Following the spread of the video, Kalantari has publicly apologised for his comments. However, conservative politicians and media demanded his trial.
Meanwhile, Iranian journalists have also come under fire by the country's judiciary.
On Tuesday, Ensaf News reported that Kayvan Samimi, veteran journalist and head of Iran's freedom of the press association, was summoned to the Evin prison in Tehran to serve a three-year sentence.
The Committee to Protect Journalists (CPJ) has condemned the imprisoning of the 72-year-old journalist, who suffers from heart complications.
CPJ's Middle East and North Africa Program Coordinator Sherif Mansour said: "Jailing an elderly journalist in the middle of a raging pandemic shows how much contempt the Iranian judiciary has for the press."
In another blow to freedom of press, Iran's Islamic Revolutionary Guard Corps (IRGC) intelligence branch arrested Vida Rabbani, Iranian journalist and a member of the reformist Union of Islamic Iran People Party.
On 4 December, Bahare Hedayat, a prominent Iranian student activist and former political prisoner, wrote on Twitter that Rabbani has gone on a hunger strike to protest her "illegal arrest".
Medicine shortage worsens
Iranians with kidney and liver transplants, as well as those receiving treatment for blood cancer, have faced tougher issues in finding their necessary medication since the imposition of new sanctions on Iran's economy by the US administration of President Donald Trump.
Since 2018, the United States has imposed over 1,000 sanctions on all sections of Iran's economy and banking system, disabling the country from trading with other nations, as a part of Washington's maximum pressure campaign against Tehran.
Iran's healthcare system has been smashed by the sanctions as foreign companies and banks are reluctant to trade with Iran because of them.
The Ebtekar daily, in an article about the patients who could not find their medication in Iran, wrote that the import of medicines for cancer and special diseases was totally stopped, while the Iranian-made versions of the same medicines were not of corresponding quality.
The current medicine shortage in Iran has also caused anger at officials, according to the daily.
"Don't they [officials] know that we don't have medicine?" Farshid, who has undergone a kidney transplant surgery two years ago, told the paper.
"If they don't know that, then what do they know? Is it my crime that I was born in Iran? I don't want to die. I'm only 25 years old. I want to live."
On Monday, Abdolnaser Hemmati, governor of the Central Bank of Iran, announced that Tehran's attempts to make advance payments for Covid-19 vaccines had failed because of US sanctions on the county's banking system.
Students climb mountains to access virtual learning
The Shahrvand daily has reported that students living in rural parts of the southwestern Fars province have been climbing mountains every day in order to access the internet they need to use the Shad homegrown app for virtual learning.
In November, the government shut down schools in Iran after a third wave of the coronavirus outbreak hit the country.
The daily reported that to have access to the internet, over 50 students in Chah Tala village walked for five kilometres to the top of the mountains to reach a location with a strong and stable internet connection.
For this daily journey, usually one of the parents or older siblings accompany the primary school students of Chah Tala. However, on some days students as young as eight years old have to go alone on their daily search for an internet connection.
Following the closing of schools in Iran, a group of philanthropists has donated tablets to Chah Tala's school-age children. However, students in this village cannot yet participate in virtual classes due to internet connection issues.
According to Shahrvand, no internet coverage is available in 216 villages in the Fars province and 250 villages in the province have no access to electricity.
https://www.middleeasteye.net/news/iranian-press-review-irans-judiciary-hands-prison-terms-journalists-and-rouhanis-deputies
--------
URL: https://www.newageislam.com/islam-women-feminism/un-experts-iran-release-womens/d/123728
New Age Islam, Islam Online, Islamic Website, African Muslim News, Arab World News, South Asia News, Indian Muslim News, World Muslim News, Women in Islam, Islamic Feminism, Arab Women, Women In Arab, Islamophobia in America, Muslim Women in West, Islam Women and Feminism