New Age Islam News Bureau
8 Apr 2017
• Lahore: Women Police Cadets Flex Muscles in Passing out Parade
• Tehran Holds First Marathon, But With Restrictions on Women
• Egyptians Recount Sexual Harassment, Angering Conservatives
• Muslim Woman Asked To Remove Hijab for Mugshot
Compiled by New Age Islam News Bureau
URL: https://www.newageislam.com/islam-women-feminism/un-chief-selects-malala-yousafzai/d/110697
-------
UN Chief Selects Malala Yousafzai to Be a UN Messenger of Peace
Apr 08, 2017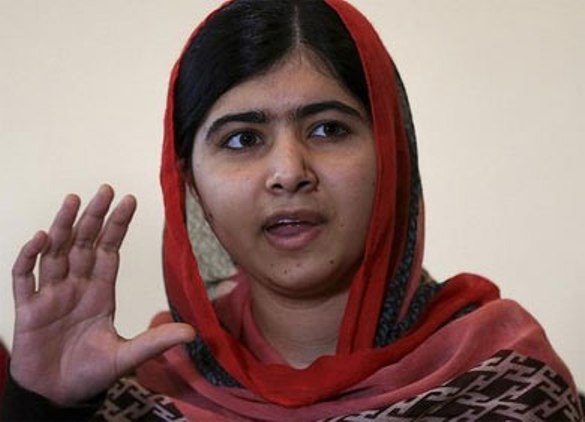 Malala Yousafzai to awarded UN Messenger of Peace Honour
Secretary-General Antonio Guterres has selected Pakistani Nobel Peace Prize laureate Malala Yousafzai to be a UN messenger of peace, the highest honour bestowed by the UN chief on a global citizen.
UN spokesman Stephane Dujarric announced Friday that the 19-year-old education advocate will focus worldwide attention on the need for all girls to go to school.
She will be officially designated at a ceremony on Monday and then hold a conversation with Guterres and youth representatives from around the world on girls' education, he said.
Yousafzai became the youngest-ever Nobel laureate in 2014, when she was recognised for her advocacy of the right of all children to education. Her campaign led to a Taliban assassination attempt near her home in Swat that left her severely wounded. She went to Britain for medical treatment and now goes to school there.
"Even in the face of grave danger, Malala Yousafzai has shown an unwavering commitment to the rights of women, girls and all people," Guterres said.
"Her courageous activism for girls' education has already energised so many people around the world," he said in a statement.
"Now as our youngest-ever UN Messenger of Peace, Malala can do even more to help create a more just and peaceful world."
Other messengers of peace including actors Michael Douglas and Leonardo DiCaprio, primatologist Jane Goodall and musicians Daniel Barenboim and Yo-Yo Ma.
Messengers of Peace volunteer "their time, talent and passion" in different fields to help focus global attention on the work of the United Nations, according to the UN.
https://www.dawn.com/news/1325684/un-chief-selects-malala-for-top-honour
-------
Lahore: Women police cadets flex muscles in passing out parade
08 April,2017
LAHORE (Dunya News) – Passing out parade of ninth batch of lady police officers held at Chung's training college in Lahore today (Saturday).
According to details, Inspector General (IG) Punjab Mushtaq Sukhera was chief guest at the event who felicitated the passing out cadets and advised them to serve the nation and the country honestly.
While witnessing the parade, the chief guest said that training standard has been improved in Pakistan.
Police have empowered the females by giving them training, he added.
On the other hand, as many as 330 lady police officers including 12 Federal Investigation Agency (FIA) personnel were passed out in the ceremony.
http://dunyanews.tv/en/Pakistan/382743-Lahore-Women-police-cadets-flex-muscles-in-passin
-------
Tehran holds first marathon, but with restrictions on women
Apr 08, 2017
TEHRAN: Hundreds of runners took part in Tehran's first-ever marathon on Friday, but many women were outraged to find they could only run a short distance in a closed-off stadium.
While men ran through Iran's capital in the morning, women were allowed to run just 10 kilometres in Azadi stadium in the afternoon – with no male spectators or officials permitted.
Many were baffled by the move, since there are no rules against men and women running together in Iran – and joggers of both sexes are often seen in parks and public areas.
Women to run on "indoor tracks" in Iran Marathon
"I registered but I quit. I took back my 500,000 rials because we were deceived," Nasim, an architect in her 30s, told AFP.
"When they separate us, it is like they are casting us aside. They are insulting us. Everywhere in the world, marathons are held on public streets – not in a closed space," she said.
Sports Minister Massoud Solanifar denied claims that the separation of sexes was imposed at the last minute.
"From the start, there was no chance the competition would be mixed," he told Iranian media.
Professional sporting events are strictly segregated in Iran. Women are not even allowed into sports stadiums to watch football – although they were allowed to watch Friday's marathon.
"I didn't know the run would be segregated and if had, I think I would not have signed up," said Hedieh Madani, a 28-year-old teacher.
Two women arrested in Iran for riding motorcycle
"The way the women's section was organised is very offensive. I usually run with my friend outdoors. It's really nothing special. If you go to parks, you see men and women running."
Several dozen foreigners took part in the marathon, from around 40 different countries.
"I'm very disappointed that I can't do the full distance because I trained for it, but my husband is running so I will cheer him on," said Cecile Maceron, a French runner who had travelled to Iran specifically for the event.
The organisers had said around 30 Americans would run, but only one Iranian-American showed up.
Among the men, at least, the event was well-received.
"I have just run my first marathon and it was great. The route was good, there were quite a lot of people cheering us on. For a first marathon, it was a big success," said Thomas, a 22-year-old French lawyer who has lived in the city since January.
Only amateurs took part in the inaugural event, but the organisers say they hope to attract professional runners in the coming years.
http://nation.com.pk/international/07-Apr-2017/tehran-holds-first-marathon-but-with-restrictions-on-women
-------
Egyptians recount sexual harassment, angering conservatives
Apr 08, 2017
Hundreds of Egyptian women and girls have come out to denounce sexual harassment and share personal stories about it on social media, breaking a taboo and raising the ire of some in the country's conservative majority.
In posts on Facebook and Twitter from the weekend to Wednesday, rare, candid stories focused on women's first experiences of harassment, almost all of which occurred in childhood and some involving family members and teachers.
The campaign promoted by a recent university graduate laid bare a phenomenon endemic to the streets of Egypt's crowded cities, where over the years women have faced sexual harassment by men or groups of men at a variety of public gatherings, protests or celebrations.
"I didn't know that there were so many others who went through this, I realized I wasn't alone," said 18-year-old high school student Haidi Gamal, who recounted three physical harassment incidents around the age of six by a relative, older schoolmates and a grocery shop owner.
She said she chose to speak out about harassment because many do not believe it is so widespread, and she wanted people in her circle to know. "I thought if someone that they know writes about it, they'll believe it," she said.
One woman recounted being assaulted by her own grandfather, and another by an emergency doctor who was treating her while she was in critical condition. Several reported being punished by parents and terrorized into silence when they recounted the incidents.
Alaa Emad is one of those who revived the Arabic hashtag, "The first harassment attempt was at the age of ... "
"We've gone from women not talking about it, to telling stories about it on their own Facebook pages, and some people don't like that," says Emad, adding that despite being insulted and attacked with some hateful messages from strangers, the participation showed that attitudes were slowly changing.
Those denouncing the campaign repeated common justifications for sexual harassment overheard in Egypt: that women are responsible for inviting it through provocative clothing or actions. Others advised women to keep such stories to themselves to protect their honor and preserve their country's image.
"This is a filthy, useless hashtag. What do we care how and when people harassed you? You are at fault just like the harasser," one said.
Another social media user lamented the openness of women about their experiences, saying: "Women have become so crude, Muslim women are better than to disgrace themselves like this."
The magnitude of Egypt's sexual violence problem came to light in the years following the 2011 popular uprising that overthrew long-time autocrat Hosni Mubarak, when mass rape and sexual assault occurred during several protests.
Since then, organized efforts by civil society to combat the phenomenon encouraged women to be more outspoken about it, despite the insistence of a large sector in society to deny its existence.
In a rare acknowledgement of sexual violence by an official, President Abdel-Fattah el-Sissi visited one of his female supporters in the hospital the day after she was severely assaulted during celebrations of his election in June 2014.
However, the problem persists. Last Friday, videos filmed by bystanders and posted online showed dozens of men surrounding and sexually harassing a woman in the province of Zagazig in north Cairo, before the police rescued her.
http://abcnews.go.com/International/wireStory/egyptians-recount-sexual-harassment-angering-conservatives-46642998
-------
Muslim Woman Asked To Remove Hijab For Mugshot
April 7, 2017
WHEATON, IL — Rafath Waheed, a Muslim woman, wears a defiant grin in her mugshot, but one thing is notably missing: her hijab. When DuPage County Sheriff's deputies arrested Rafath Waheed on March 15 for felony perjury and felony forgery, they acknowledged that they asked her to remove her headscarf for her mugshot.
Muslims consider it deeply insulting for a woman to be seen without her head covering. The mugshot highlights an ongoing conflict in the nation's charged political climate about whether standard police procedure violates respect for Muslim religious practices.
The sheriff's office says it's standard protocol for police to require arrestees to remove hats or other head coverings so officers can check for contraband or weapons, the Chicago Tribune reported. The person in custody must take a mugshot with their head uncovered, police said, regardless of whether it conflicts with someone's religious practices.
Waheed was photographed three times — something that's out of the ordinary for mugshots, police said. One photo showed Waheed without her headscarf, another with the traditional head covering and a third with the headscarf and her glasses. Initially, the police only released the mugshot photo with Waheed's head uncovered, something that some Muslims consider extremely offensive and disrespectful. A similar issue in New York resulted in a lawsuit against the NYPD.
Chicago's suburbs are re-evaluating their practices regarding mugshots. Many Illinois police departments do not have a standard procedure regarding religious practices and personal privacy. "When it comes to religious symbols, we don't have any policy," Robert Marshall, chief of police in nearby Naperville, told the Chicago Tribune. That's something that's expected to change in the near future after the controversy over Waheed's photo.
Get free real-time news alerts from the Wheaton Patch.
Rafath Waheed, 61, of Lisle, was arrested on March 15 on two felony counts of perjury and two felony counts of issuing a forged document in an attempt to gain a trustee seat at the College of DuPage board.
https://patch.com/illinois/wheaton/muslim-woman-asked-remove-hijab-mugshot
-------
URL: https://www.newageislam.com/islam-women-feminism/un-chief-selects-malala-yousafzai/d/110697
New Age Islam, Islam Online, Islamic Website, African Muslim News, Arab World News, South Asia News, Indian Muslim News, World Muslim News, Women in Islam, Islamic Feminism, Arab Women, Women In Arab, Islamophobia in America, Muslim Women in West, Islam Women and Feminism