New Age Islam News Bureau
24 Oct 2015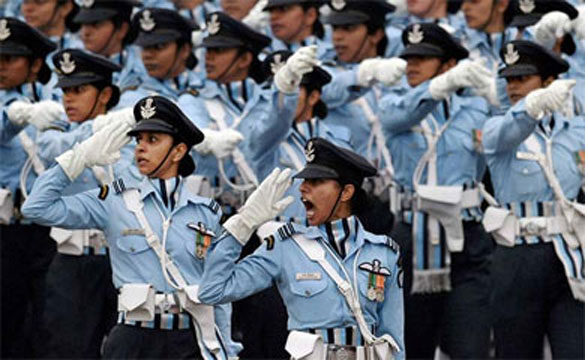 There are around 1,500 women in the Air Force, including 94 pilots and 14 navigators. (PTI Photo)
---------
• UN Calls for Protection against Sex Abuse of Refugee Women and Children in Europe
• Hijab-Wearing Election Worker in Toronto Kept Quiet While Voter Compared Niqabs to Gorilla Mask
• Indian Defence Ministry Nod for Women Fighter Pilots in Indian Air Force
• Delhi's Lt Governor to be Part of High-Level Panel on Women Safety
• Woman Invades Male Territory in Riyadh
• Safety Tips Every Woman Must Know
• UAE Community Project Helps Women in Hospitality Sector
• In India A Woman Guides People to Observe Muharram in A Village Devoid Of Muslims
• Geeta, the Mute and Deaf Indian Woman to Return To India Monday from Pakistan
• Maryam Nawaz Sharif Aspiring To Play Bigger Role
• For Ford's Warriors in Pink, Breast Cancer Is a Winning Battle
Compiled by New Age Islam News Bureau
URL: https://newageislam.com/islam-women-feminism/un-calls-protection-sex-abuse/d/105040
-------
UN Calls for Protection against Sex Abuse of Refugee Women and Children In Europe
Oct 23, 2015
The United Nations has raised alarm over sexual violence and abuse against refugee and migrant women and children as they are desperately pushing their way into Europe.
During a press briefing at the Palais des Nations in Geneva on Friday, UN refugee agency (UNHCR) spokeswoman Melissa Fleming said that the agency had received "credible testimonies" and reports about children, who were engaged in "survival sex" to pay their way onward, and women, who were forced to have sex due to the lack of basic security particularly in overcrowded reception centres.
"From testimony and reports we have received there have been instances of children engaging in survival sex to pay smugglers to continue their journey, either because they have run out money, or because they have been robbed," she said, adding that lonely children can be particularly vulnerable as they lack the protection and care of an adult.
Children who are held in detention centers along with some adults would also face "great risks" of being abused by the adults, Fleming added, asking authorities to find, as a matter of urgency, alternatives to the detention of children.
Refugee children carry some water bottles as a handicapped asylum seeker is assisted by her mother and a Hungarian police officer at the registration center of the Hungarian-Serbian border in Röszke, Hungary, on September 17, 2015. (AFP)
Insecure routes to desired destinations and lack of enough lighting and separated spaces for single women in refugee camps, among others, are factors that heighten the risk of sexual assaults against women, Fleming added.
"UNHCR appeals to all concerned national authorities in Europe to take measures to ensure the protection of women and girls, including through providing adequate and safe reception facilities," she further noted, adding that some children "may also be placed in detention in some countries, including with adults, posing great risks to them."
According to the UN refugee agency, more than 644,000 refugees and migrants have arrived in Europe by sea so far this year. Of these, over a third, 34 percent, are women and children who are particularly vulnerable to abuse as they cross Europe's frontiers.
Most of the asylum seekers who risk their lives to reach Europe are reportedly fleeing conflict-hit zones in Africa and the Middle East, particularly Syria. However, officials in the European countries are divided over how to deal with refugees.
http://www.presstv.ir/Detail/2015/10/23/434687/UN-UNHCR-Melissa-Fleming-refugees-sexual-abuse-Europe
----------
Hijab-Wearing Election Worker in Toronto Kept Quiet While Voter Compared Niqabs to Gorilla Mask
Victor Ferreira
October 22, 2015
TORONTO — Samira Warsame said she felt like an animal on election day when she was working at a Toronto polling station and her supervisors told her to "be quiet" after a voter compared the Niqab to a gorilla mask.
When Warsame, who was wearing a Hijab, not a Niqab, tried to defend Islam, her Elections Canada supervisor and another woman accused her of being partisan. She says she was silenced.
"They took my voice away from me," a crying Warsame said. "It wasn't just me he was attacking, it was the whole Muslim community."
The 21-year-old, who worked as an Elections Canada registration officer, said she was the victim of an Islamophobic attack her employer did nothing to prevent.
"Since this was such a huge debate, they should have had some sort of security," she said. "They need to protect the people that need to be protected."
Warsame said she was working a 12-hour shift Monday and by 1:45 p.m. had helped hundreds of voters at St. Andrew's Public School in the Scarborough Centre riding.
A man she describes as white and 40 years old, "with a big belly," walked into the gym to vote.
He asked a poll clerk why he couldn't wear a gorilla mask while casting his ballot if Muslim women could wear niqabs, Warsame said.
Voters are not required to show their faces at the ballot boxes. They're given the option of swearing an oath and providing identification that displays their name and address instead.
The man and the poll clerk both laughed when the suggestion of wearing a gorilla mask was made. Warsame didn't find it funny.
The man demanded to speak to a supervisor, who Warsame said was standing next to her. In the middle of speaking to her supervisor, the man turned and looked at her.
"If they get to cover their face then how come I can't wear a gorilla mask?" he said.
Humiliated, she attempted to interrupt, "Can I say something?"
But she says he spoke louder: "Why does she get to wear it?"
Her supervisor and a woman wearing a "personnel" tag both turned around, simultaneously put a finger to their lips, and told her to be quiet.
"They weren't telling him to be quiet, they were telling me."
Warsame, who said she was "bawling my eyes out," was allegedly told to leave the room because she had to calm down and couldn't be partisan.
When the woman joined her in the washroom to calm her down, Warsame said it only made it worse. She said she was told she shouldn't have acted like that and shouldn't "take it personally."
That only served to give her a case of déjà-vu.
Last year, at a Tim Hortons, a man called her a "black whore" and "uncivilized." He then told her to not "take it personally."
Warsame said she refused to go back to work Monday. At home, she was still crying when she called Scarborough Centre's returning officer, Brian Reid.
In an audio recording of the conversation obtained by the National Post, Reid tells Warsame he doesn't know what can be done.
"I don't know what to suggest," he said. "I mean, if you want to talk to someone else at Elections Canada, you can certainly do that. I don't know what else they can do but apologize, look into it, and then talk to me.
"Unfortunately there are stupid people out there and unfortunately stupid people get to vote too."
Elections Canada spokeswoman Diane Benson said in an email the incident is being investigated.
"It is of utmost importance to Elections Canada that all election workers feel comfortable and safe while working during our elections," she wrote. "All election workers are guided by our code of ethics."
Toronto police Const. Jenifferjit Sidhu said she couldn't speculate whether criminal charges could be applied. Warsame would have to file a police report before the incident could be investigated.
The incident has left Warsame frightened, she says. It's hard for her to tell the story without bursting into tears.
"There's no way that I can leave the house without thinking I'm going to be attacked again," Warsame said. "On the way home from school at night, I'm literally scared for the next person to come on the bus and say something to me."
http://news.nationalpost.com/toronto/hijab-wearing-election-worker-says-she-was-told-to-keep-quiet-while-voter-compared-niqabs-to-gorilla-mask
----------
Indian Defence Ministry Nod for Women Fighter Pilots in Indian Air Force
All India | Reported by Vishnu Som, Edited by Shuchi Shukla
October 24, 2015
NEW DELHI: In seven months, the first batch of Indian women will begin to train as fighter pilots of the Indian Air Force in a move that breaks a glass ceiling that has existed for decades.
In another year following that, with the Ministry of Defence giving its nod for their induction in combat roles, the first Indian women combat pilots will be in the cockpits of frontline fighter jets of the Air Force in June 2017.
Ministry of Defence Approves induction of women into the Fighter (Combat) Stream," ministry spokesperson Sitanshu Kar said in a tweet today and added that first women fighter pilots would be selected from the batch presently undergoing training at the Air Force Academy.
Those selected will begin to train as fighter pilots in seven months. After successful completion of training, first Indian women combat pilots will be in the cockpits of frontline fighter jets in June 2017.
Earlier this month, on 83rd Air Force Day, Air Chief Marshal Arup Raha had announced that women would soon be inducted as fighter pilots, making IAF the first of the three services to have women in active front-line combat roles.
"This progressive step is in keeping with the aspirations of Indian women and is in line with contemporary trends in armed forces of developed nations," the ministry said in a statement today.
There are around 1,500 women in the Air Force, including 94 pilots and 14 navigators. At the moment, they serve as transport and helicopter pilots in the IAF but are not exposed to direct combat. With today's decision, they have now become eligible for induction in all branches and streams of the IAF.
In 2010, women in the Army and the Air Force were allowed full term service by the Delhi High Court, which commented that women officers "deserve better from the government."
Last month, women naval officers also scored this milestone, with the High Court saying it would "frown upon any endeavor to block progress of women."
Till five years ago, women military officers were entitled only to a limited service span.
The Ministry of Defence has also taken up a comprehensive review pertaining to induction of women in Armed Forces both in short service commission and permanent commission (SSC & PC) and once finalised more and more branches would be opened up for women.
http://www.ndtv.com/india-news/defence-ministry-nod-for-women-fighter-pilots-in-indian-air-force-1235909
------
Delhi's Lt Governor to be Part of High-Level Panel on Women Safety
Delhi | Press Trust of India
October 24, 2015
NEW DELHI: A high-level committee including the likes of Lt Governor, Delhi Commission for Women chairperson and Delhi Police Commissioner among others will be constituted to review the existing women safety measures in the city.
The decision was today taken during a meeting between Lt Governor Najeeb Jung and DCW chief Swati Maliwal in which the latter raised the issue of poor coordination among the Centre, the Delhi government and police leading to a lack of coordinated response towards women safety.
"A committee will be constituted that will look into the issues related to the safety of women in Delhi. It will include Lt Governor, Delhi Police Commissioner, Home Secretary of Delhi government, WCD Secretary and me.
"The committee will review the existing women safety measures to check crimes against women in the national capital," Ms Maliwal said.
The forum meeting will take place twice a month. Meetings have been called on November 3 and 4 to work out the details, she said.
During the meeting with the LG, Ms Maliwal discussed about the FIRs and charge sheets filed in such cases and the complaints that have come in through the Delhi Police's Himmat mobile app for women safety.
The DCW chief yesterday met Union Home Minister Rajnath Singh and discussed several issues related to women safety including that of fixing accountability of police in wake of increasing crimes against women and minors.
http://www.ndtv.com/delhi-news/lt-governor-to-be-part-of-high-level-panel-on-women-safety-1235815
-----
Woman Invades Male Territory in Riyadh
24 October 2015
RIYADH: The job of washing cars is generally considered a male profession. However, poverty has forced a woman in her twenties to invade this territory.
Fatma, who lives in a neighbourhood in southern Riyadh, washes cars in the street using a towel, a bucket of water and detergent, local media has reported.
As she washes the cars, she asks the driver to pay her a small amount of cash in return. She wakes up early in the morning, eager to achieve the highest possible income, and heads to car parking lots in front of large commercial centres as her work location. There, Fatma sets her own working and resting times with no conflict or instructions from any supervisor.
However, the hot sun, heat, dust and car exhaust fumes are not easy to deal with, let alone the strange looks by passers-by, who obviously are surprised by the unusual scene. Nonetheless, all these challenges have not prevented Fatma from returning to work every day, and the monopoly of male car washers who try to prevent her from doing this job.
http://www.arabnews.com/saudi-arabia/news/824946
----------
Safety Tips Every Woman Must Know
Oct 24, 2015
Violence against women is a cross cultural phenomenon, whether the assailant was someone the woman knew or a complete stranger. And it can happen anywhere.
In a report released by the United Nations, according to a 2013 global review of available data, 35 per cent of women worldwide have experienced either physical and/or sexual violence. Women and girls represent 55 per cent of the estimated 20.9 million victims of forced labour worldwide. Women in urban areas are twice as likely as men to experience violence.
The other side of this grim picture is that women can learn to defend themselves, so if they ever become victims of an attack, they can fight back. The following safety tips and self-defence techniques can make the difference between life and death.
Sempai Shelly Blanco has been teaching children, teenage girls, and women self-defence techniques for years, empowering women to defend themselves if the need arose. In this report, we share with our readers these life saving tips.
Sempai is a Japanese honorary title given to a person, which means mentor or senior.
She hadn't always been so strong and confident. Sempai Shelly Blanco began practicing Martial Arts after having been brutally attacked in her apartment. She wanted to learn how to defend herself and also to alleviate the fear that she carried with her after that attack. She began to study martial arts; she learned hard-core self-defence that gave her the confidence to know that she could defend herself, and destroyed the fear that she had been living with for so many years.
Now, Blanco is a full-time martial artist and instructor and co-owner of a martial arts centre in her town.
What every woman needs to know:
1. Walk with a purpose. Whenever you are walking alone, down the street or in an empty parking lot, be attentive and do not look distracted. Do not talk on your phone, check text messages, listen to your I Pod, or touch up your nails when you are alone in a public place. Pay attention to what is going on around you. By being aware of your surroundings and walking with a purpose, you are sending a message to any would-be attacker that you are not someone to mess with.
2. Cross the street or step into a busy store if you think someone is following you. If you are in an elevator, or on the stairwell, or in the parking lot and a man makes you feel uncomfortable or unsafe, look him straight in the eye and try to give off a confident attitude. An attacker is looking for an easy victim, someone shy and distracted, who will not stand up for herself. By looking him in the eye and appearing unafraid, you are showing him that you will stand up for yourself and fight back. You can also identify the person's face to the police, which makes you a less desirable target to this predator.
3. Use your voice. If someone is chasing you or grabs hold of you or if you feel in danger, use your voice. Holler as loud as you can, "Call 911!" Do not yell, "Help!" or "I've been robbed!" because that will only cause fear to any onlookers, and they may freeze from the fear and not know what to do. If you shout, "Call 911!" you are giving people clear directions, and telling them what to do.
4. Do not get out of your car in a dark, empty parking lot. You can always request a security guard or someone you trust to escort you to your car if you are afraid or if you are alone outside at night.
5. If a robber confronts you and demands your wallet or your purse, you should give it to them immediately. In most cases of street robbery, the robber turns violent only after the victim refuses to comply. Nothing is worth your life. Money comes and goes and it can be replaced.
6. Strike and strike hard. If you are ever in a situation where an attacker grabs hold of you and your life is threatened, fight back. The idea is to inflict enough pain or damage so that you have time to run away to safety. Areas to strike at are the eyes, nose, the hollow base at the neck, and the knees. Grab hold of his finger and bend it backwards, and break it if you can.
7. Your elbow is the strongest point on your body. If you get close enough, use it. Don't be afraid to fight if you feel threatened in any way. Statistics show that women who don't resist are more likely to be assaulted and sustain more serious injuries than women who fight back. Again, your goal is not to stay and fight; it is to break away from your attacker so you can run for help.
8. Never get in a stranger's car. If you are walking and anyone drives by and tells you to get in their car, whether they have a weapon or not, do not get in the car. The reason the attacker wants to move you to a different location is probably because he has something horrendous planned and wants to take you to a place where he thinks he could get away with it. Your answer must be no; never get in the car.
9. Do not open the door to your house unless you know exactly who it is. Even if it's someone who claims to be from the electric company, if you're not expecting them, call the company first and verify if they have sent anyone to your house, why, and who the employee is. The minute you open the door, your home, yourself, and your family are vulnerable.
10. Enroll in a self defense class; you can never know when you may be in a position that you need to defend yourself or your family. Learn self-defense strategies, practice them regularly, and stay physically fit!
http://saudigazette.com.sa/life/safety-tips-every-woman-must-know/
--------
UAE Community Project Helps Women in Hospitality Sector
October 16, 2015
Dubai: Soe Soe Min from Myanmar has always wished for an opportunity to improve her English language skills to better communicate with customers at the hotel where she works.
At times, when communicating with business travellers on the phone, she says her lack of proficiency in English lets her down. "I don't think I have enough words in my vocabulary, I can do my job better if I spoke better," she says.
Little did she know then that this opportunity would one day come to her doorstep thanks to four young women who came up with a community-led project to empower low-income expatriate women working in the hospitality industry to acquire English language skills.
Today, Soe Soe and 16 other women working in various departments at Dusit Thani are attending a weekly English class in the hotel to improve their communication skills as part of the Lotus Effect project.
Lotus Effect, a project run by three expats and one Emirati — Soukaina Rachidi, Shibani Suri, Sally Dabbour and Aisha Al Bedawi — is part of the year-long E7 Daughters of the Emirate initiative, being funded by Emirates NBD.
The E7 Daughters of the Emirates initiative itself was launched in April this year by Emirates NBD and Promise of a Generation (POAG), a Dubai community project that took shape seven years ago thanks to four expatriate women of different nationalities who came together in the city.
POAG seeks to promote culture and heritage, and endeavours to provide education and career options to enhance opportunity for the less fortunate. It is also committed to furthering awareness on the environment, public health and family besides promoting women's leadership.
E7 Daughters of the Emirates invited women from across the UAE to apply for the programme. Thirty-five young women, five from each emirate, were selected to join the inaugural summit in April. During the summit the women received training which they used to begin their nine-month journey to implement social programmes that would have a positive impact on the UAE society.
After pitching the idea to Emirates NBD in June, The Lotus Effect project, one among other proposals aimed at helping the community, received Dh20,000 in funding and the Lotus Effect team is now actively implementing the first phase with Dusit Thani employees.
Classroom setting
"Women working in the hospitality industry receive little to no support," said Aisha. a 20-year-old Zayed University student and creative director of Lotus Effect. "We came up with this project to give expat women the skills they need in their daily lives and to also increase customer satisfaction in preparation for the 20 million visitors who will visit the UAE for Expo 2020."
In a traditional classroom setting every Friday, the 'students' from the hotel spend two hours away from work in a fun and creative environment, talking, interacting and role playing with an English instructor.
Mobile learning platform
In one class, students were asked to form groups for a dialogue exercise and suggest good places to visit in their respective home countries. The instructor helped them correct their grammatical errors when they faltered in their attempts.
Soukaina, Lotus Effect's communications and marketing director, said, "We are doing this for [the women] not only to see the UAE be at the forefront of economic and human development, but also for the women to be able help their own countries develop if they decide to return home."
As part of the Lotus Effect project, the team decided to include a mobile-learning platform whereby students can complete their assignments outside class at their convenience through their phones or laptops. "We knew two hours a week was not enough, so we thought that since we live in a modern age, we need to exploit its advantages."
Members of the team also join the class in weekly shifts to boost the women's confidence and interact with them.
"We live in different emirates, but we need to show the students we care about them, this is why we join the classes," said Soukaina.
The students' curriculum was crafted by a Dubai-based English language instructor, in a manner that allows the employees to get full-time exposure to the language.
Investing in employee training, said members of the Lotus Effect team, can bring the hotel plenty of benefits, such as higher profits and better quality of service.
Most of the employees at Dusit Thani are from Vietnam, Thailand, Philippines, Sri Lanka and Myanmar. Many of them seemed very eager to improve their English language skills, like Jennylove Aimee from the Philippines.
Takeaways
"Everyone uses English here and I want to learn how to use proper words and be able to pronounce them correctly," Jennylove told Gulf News after attending her class. "I like the fact that we have dialogue exercises; it refreshes my mind and teaches me how to string sentences together properly."
According to a Harvard Business Report, job seekers in the developing world with exceptional English can earn 30—50 per cent more than the national average.
Dusit Thani, which was the first to adopt the Lotus Effect, believes that English, being a universal language, is a vital tool in effective communication, especially since Dubai is a melting pot of traditions and cultures.
"With improved communication skills [clarity of speech, eloquence, choice of words] to transcend cultural differences, the team will be able to connect with our guests in a more convenient and accurate manner," said Swati Anand, a training manager at the hotel.
The team behind the Lotus Effect plan to extend the project if they continue to receive the support they need. They are open to partnering with other hotels interested in hosting the language programme as they move to the second phase of their project in January.
"We are taking it step by step and would love to make it grow," said Soukaina. "We see the interest in adopting the programme so, if all goes well, we want to help as many hotel employees as we can, including men, because empowering women has to include men."
http://gulfnews.com/news/uae/society/uae-community-project-helps-women-in-hospitality-sector-1.1600924
----------
In India A Woman Guides People to Observe Muharram in A Village Devoid Of Muslims
October 24, 2015
In the Islamic lunar calendar, Muharram marks the first of the four sacred months of the year. The tenth day of the Muharram called the Ashura commemorates the martyrdom of Hussein ibn Ali, Prophet Mohammed's grandson at the Battle of Karbala.
During Muharram rituals are predominantly carried out by men and women play a limited role.
This is not the case in Bhujang Nagar, a village located in Ballari, Karnataka. People in this village observe Muhurram in an uncustomary manner.
Bhujang Nagar is a village devoid of Muslim households. It is home to 6,000 villagers and all of them observe Muharram under the guidance of 52-year old woman, Banubi.
Villagers in Bhujang Nagar have been following Muharram with the same ardour for the past five years under Banubi's adept guidance.
Advocate and former Gram Panchayat member Banakar Manjunath told the Times of India, "The population here is a mix of Lingayats, SCs and STs but everyone come together to observe Muharram,"
For four decades Banubi's husband used to perform all the rituals in the village. Banakar Manjunath said, "When he died five years ago, Banubi said she wanted continue with the rituals and guide us. We agreed and are happy to follow her instructions. Her son Dastagir holds `Peeralu Devaru' (God) and makes certain observations during the ritual."
"We are known in the district for maintaining communal harmony. We have now gone a step forward, observing Muharram under a woman's guidance. When the proposal to observe Muharram under the guidance of a woman came up, leaders of all communities agreed heartily." said Ambali Timmappa, President, Gajanan Yuvaka Sangh.
http://indiatoday.intoday.in/story/woman-guides-people-to-observe-muharram-in-a-village-devoid-of-muslims/1/506254.html
----------
Geeta, the Mute and Deaf Indian Woman to Return To India Monday from Pakistan
October 24, 2015
NEW DELHI - A mute and deaf Indian woman who has been stuck in Pakistan for more than a decade because she could not remember where she came from will return home on Monday after apparently identifying her family.
India's foreign ministry said Friday that the young woman, known only as Geeta, would undergo DNA testing to establish whether she is related to the people claiming to be her family.
The prospect of a long-awaited reunion comes after Geeta indicated earlier this month that she recognised a photograph of a family from the eastern state of Bihar sent to her by Indian authorities.
"Geeta has already identified one family as possibly being that of her parents," foreign ministry spokesman Vikas Swarup said at a media briefing in New Delhi.
"We will be doing DNA tests to establish conclusive proof.
Geeta, who is believed to be in her twenties, will be accompanied by members of Edhi Foundation, the charity that has been looking after her in Pakistan.
She was 11 or 12 when police found her, alone and disorientated with no identity papers, on a train that had crossed the border from India into Lahore.
She was believed to have strayed into Pakistani territory by mistake, but could not remember or explain exactly where she was from.
Pakistani police handed her over to the Edhi Foundation, the largest charity in the country, and she now lives in one of their shelters in Karachi.
Even the name "Geeta" was given to her by Edhi staff.
If her DNA does not match that of the family, who have travelled to Delhi specially to greet her, authorities have said they will find a home for Geeta in a "suitable institution".
India's government pledged in August to bring her home, after a hit Bollywood film returned the case to the media spotlight.
"Bajrangi Bhaijaan", featuring Indian superstars Salman Khan and Kareena Kapoor, tells the mirror image of Geeta's story: a mute young Pakistani woman trapped in India.
Swarup rejected criticism in some media that Geeta's return was hasty given that her ties with the family were not yet established.
"Everything we have done so far has been with the full knowledge and concurrence of Geeta and Edhi Foundation," he said.
http://nation.com.pk/national/24-Oct-2015/geeta-to-return-to-india-monday
----------
Maryam Nawaz Sharif Aspiring To Play Bigger Role
October 24, 2015
ISLAMABAD - Nearly a year after a court asked her to step down as chairperson of Prime Minister's Youth Loan Programme, Maryam Nawaz Sharif is aspiring now to play an even bigger role as she vows to promote girls education in country.
The prime minister's daughter made the declaration as she stepped into the limelight of the visit to the White House.
Maryam Nawaz Sharif had decided to resign after a Pakistan Tehrik-e-Insaf petitioner challenged the criteria for appointing her as head of the PM's youth programme.
PTI leader Zubair Niazi had filed the petition, saying the impugned appointment was a result of sheer nepotism.
On Thursday, Maryam's speech in the Blue Room, along with the US First Lady Michelle Obama, was received glowingly by her party's workers and viewed keenly by opposition politicians.
Maryam Nawaz Sharif announced that she is embarking on the internationally important project—Let Girls Learn—an initiative of Michelle Obama.
During the event in the Blue Room, the US First Lady announced a new partnership to further adolescent girls' education in Pakistan.
And Maryam Nawaz Sharif will execute the project for which Michelle Obama announced a $70 million additional contribution to educate adolescent girls in Pakistan.
The US president and first lady launched the "Let Girls Learn" initiative this year to help more than 60 million girls worldwide who cannot attend school.
They have also appealed world leaders to join hands and ensure that girls are not deprived of their basic education.
According to USAID, the Let Girls Learn programme in Pakistan will provide $70 million to new and ongoing USAID programmes benefiting more than 200,000 adolescent girls aged between 10 and 19 years.
Maryam Nawaz Sharif used Twitter, the micro blogging site, to exhibit her enthusiasm during the U.S. visit.
She changed her profile picture on her twitter account; viewed there now shaking hands with the US first lady.
And, she also changed the header, indicating how important and effective the visit was.
Having a Masters Degree in English Literature and Ph.D in political sciences, Maryam Nawaz Sharif is staunch advocate of literacy in the country.
She has dabbled in politics only briefly: she took part in bolstering image of PML-N in 2012.
Maryam's has been more active in overseeing Sharif Trust, a sequence of learning institutes including girls' education.
PML-N leader close to Maryam Nawaz believe the daughter of Prime Minister Nawaz Sharif has multi-tasking ability.
They seem to think that she can have a bright political future but say that only time will when she will formally enter politics.
Jugnu Mohsin, spouse of prominent journalist Najam Sethi who has tutored and groomed Maryam Nawaz, told The Nation she will thoroughly examine her activities in the White House first and then will be able to comment whether her visit was fruitful.
Although Maryam's prominence on political landscape has met with criticism, particularly from PTI, sources in PML-N say that she calls the shots in the party, especially looking after its image and engagements on the social media.
http://nation.com.pk/national/24-Oct-2015/maryam-aspiring-to-play-bigger-role
----------
For Ford's Warriors in Pink, Breast Cancer Is A Winning Battle
Oct 24, 2015
Ford Motor Company has been empowering brave warriors in their battles against breast cancer for the past 21 years. Keen on providing all the support needed by breast cancer patients, the company has developed, along the years, various activities.
Among Ford's efforts is the "Warriors in Pink" clothing and accessories line which was introduced to the international market in 2006 with the aim of funding numerous organizations supporting this cause. But Ford regards financial support alone as insufficient to help patients in their journey and it, therefore, aspires to support them emotionally as well by sharing inspirational stories of breast cancer survivors.
Following the notable success of last year's activity, Ford organized several photo sessions for survivors across the Middle East region and hopes that their Models of Courage will inspire patients in their battles and encourage women to get regular check-ups.
In this respect, Warriors in Pink, organized by Ford Middle East and North Africa, made its way to Saudi Arabia with the hope of raising awareness to millions of other Saudi women.
Jihan Ashmawi, a member of Zahra Association and breast cancer researcher, and Dr. Zahra Al-Moabi, activist, TV presenter and family counselor, were this year's "Models of Courage".
Participating in a photo shoot at Salmontini Restaurant Le Resto at Jeddah Corniche, the two survivors modeled the 2015 apparel and accessories collection of Ford's Warriors in Pink, and showed leadership through their perseverance, courage and hope.
Ashmawi expressed her joy for taking a part in this inspiring campaign. Inviting all women to get regular check-ups, she said, "Don't undermine the importance of an early diagnosis, as it could guarantee a rapid recovery."
Al-Moabi stressed the importance of remaining positive throughout the treatment. She affirmed that "positive energy is the real cure", encouraging all women "to be fighters, not just patients."
Sue Nigoghossian, general manager of communications at Ford Middle-East and North Africa, said, "Supporting women in the fight against breast cancer is fundamental for their recovery, which is why we believe that it is each and everyone's duty to join the battle. We are delighted and proud of the Warriors in Pink campaign success, and hope to further raise awareness around the importance of early detection."
Much awareness is needed as scientific research predicts that 1 in 8 women will develop invasive breast cancer, with 85 percent of these patients having no family history of the disease. Fortunately, one can make a difference in the lives of these women, simply by purchasing any item of the Warriors in Pink line. Net proceeds from the sales will be donated to a charity group of choice.
Committed to supporting breast cancer patients, Ford has dedicated more than $120 million to this cause. — SG
http://saudigazette.com.sa/saudi-arabia/for-fords-warriors-in-pink-breast-cancer-is-a-winning-battle/
----------
URL: https://newageislam.com/islam-women-feminism/un-calls-protection-sex-abuse/d/105040